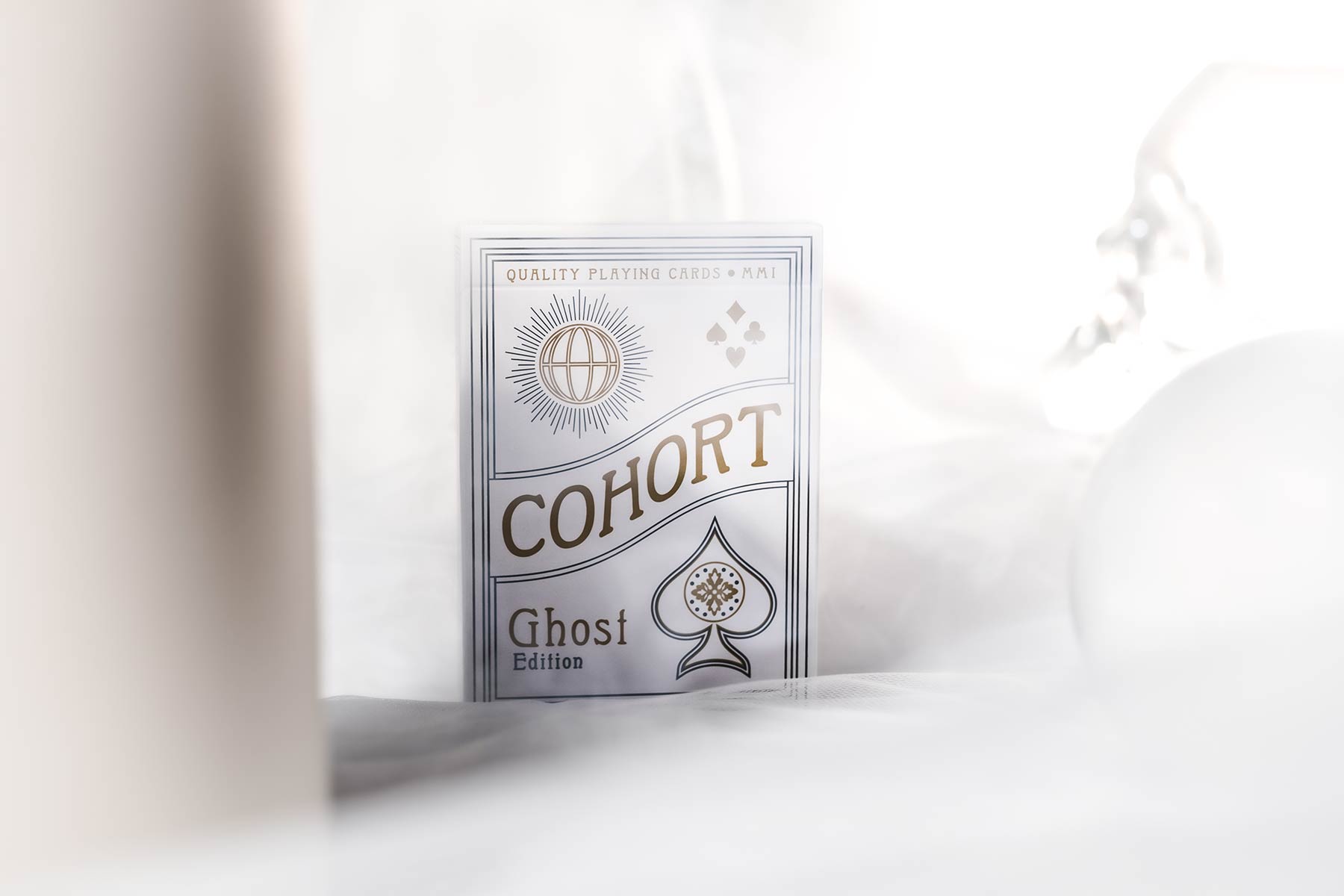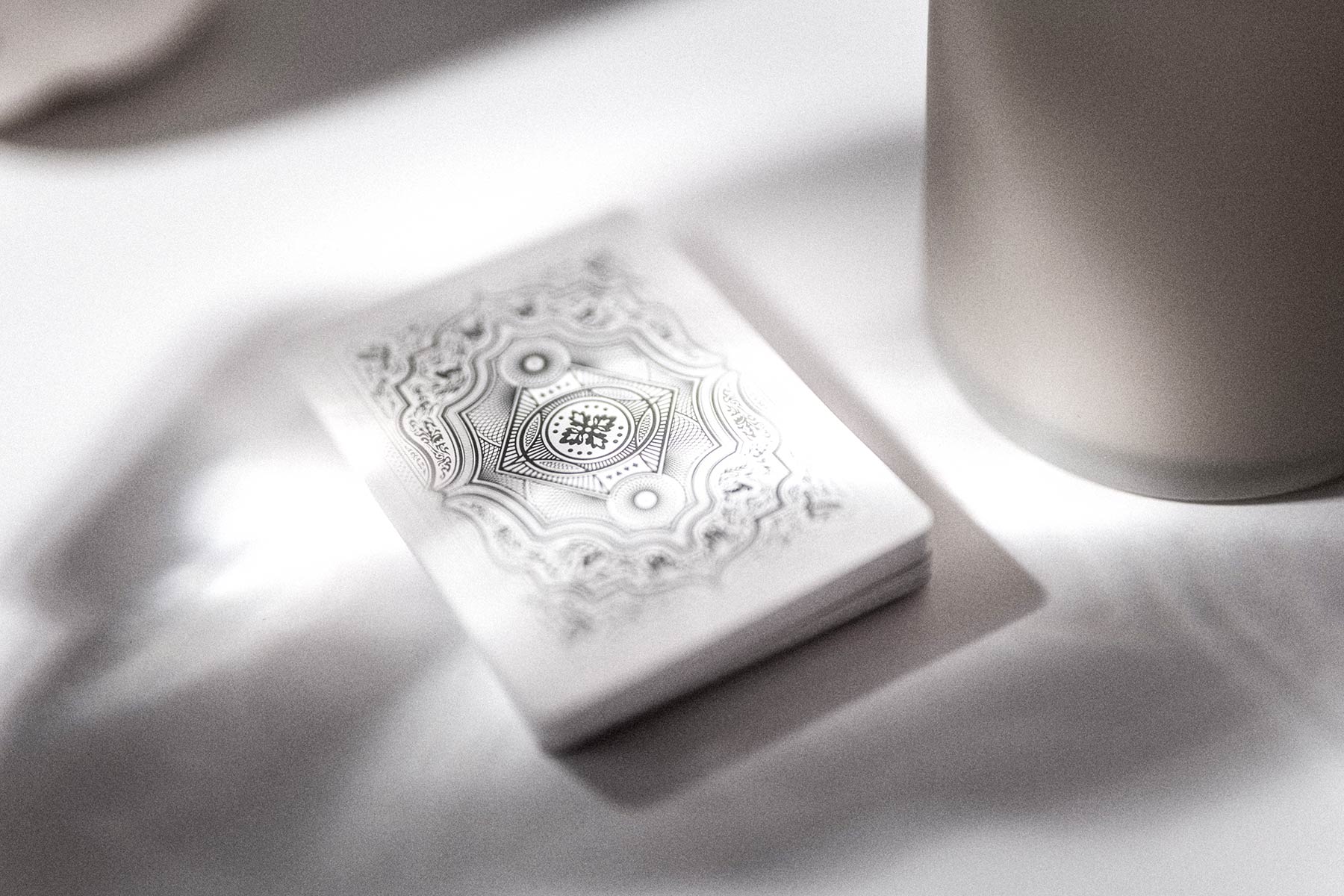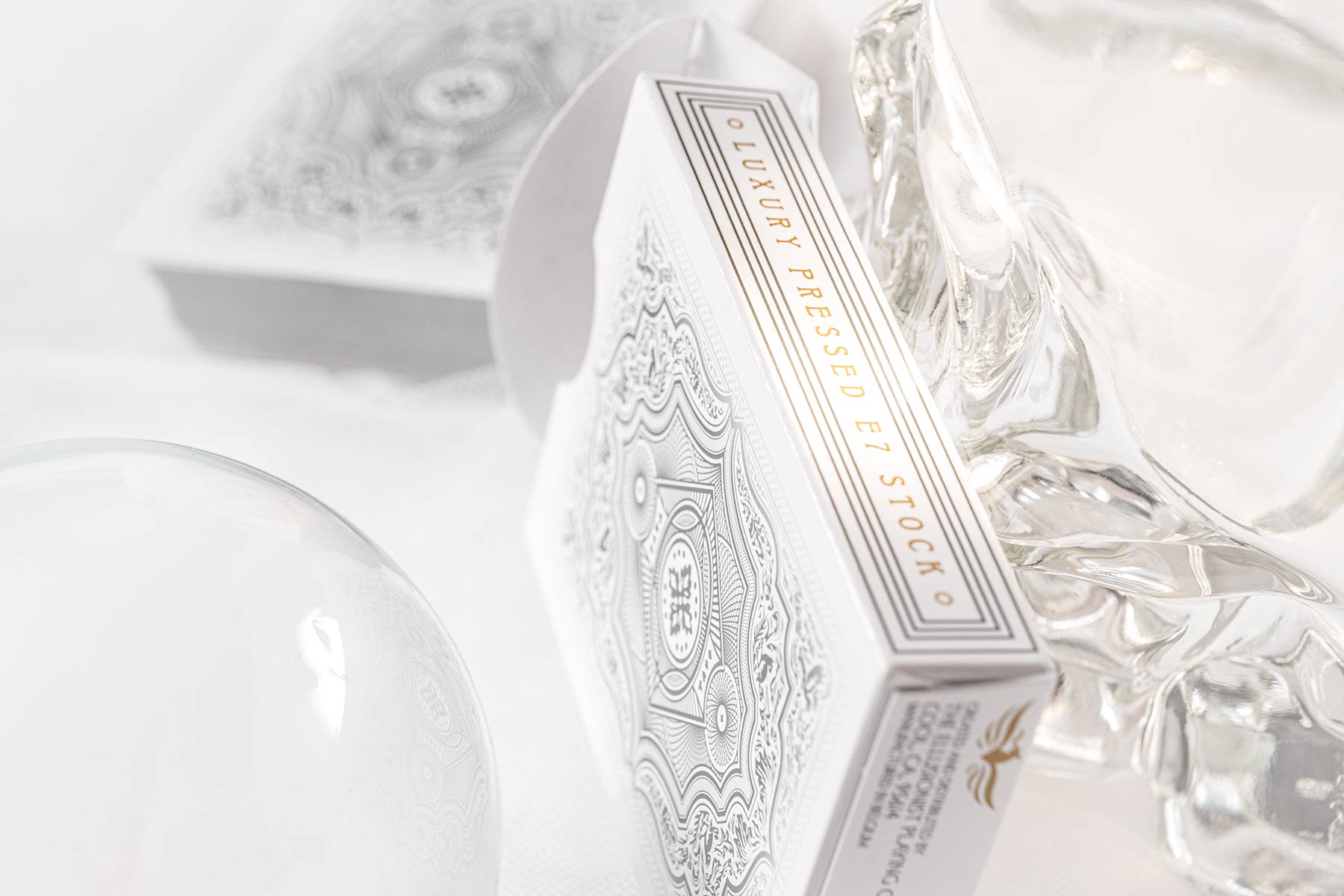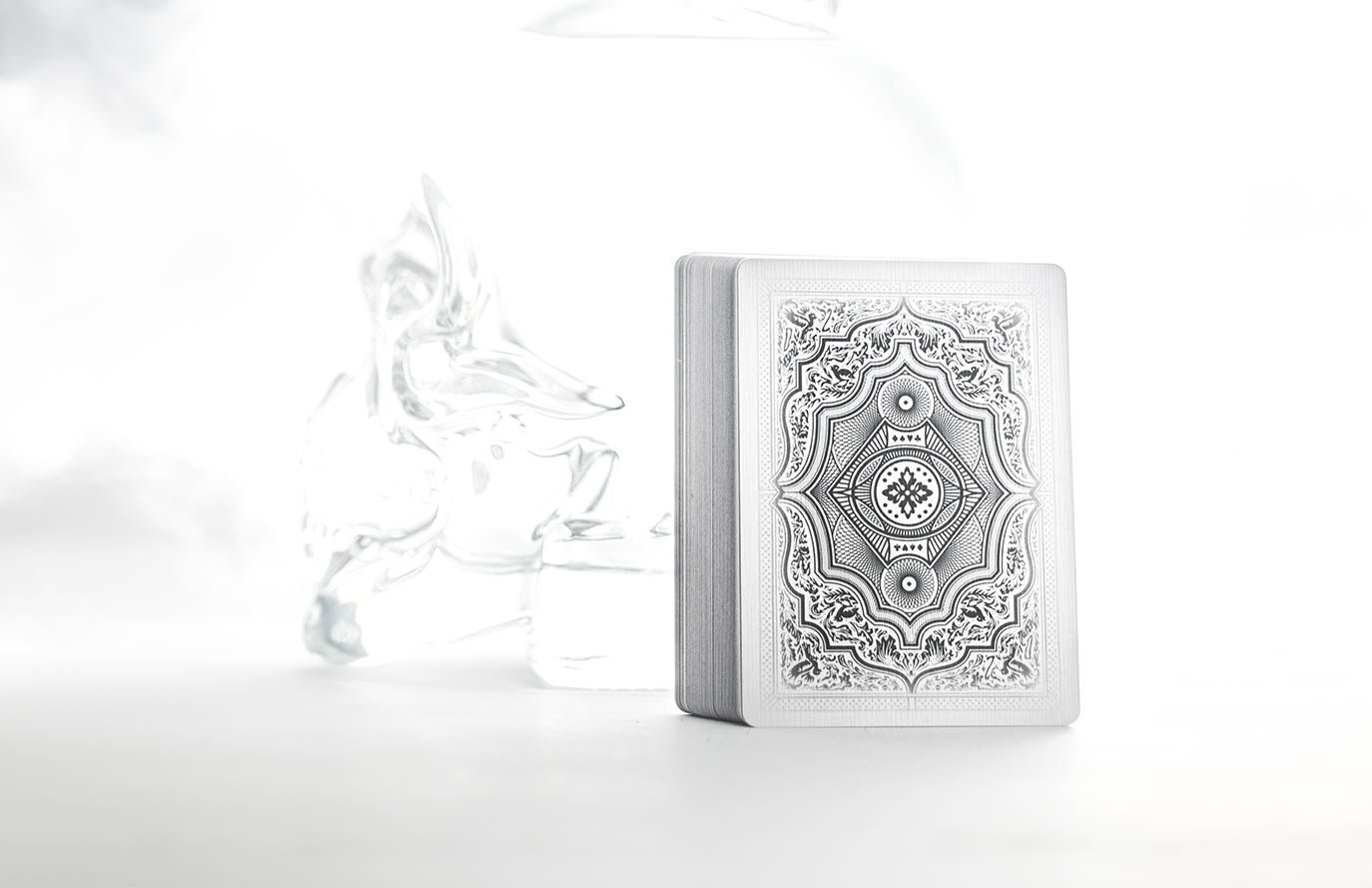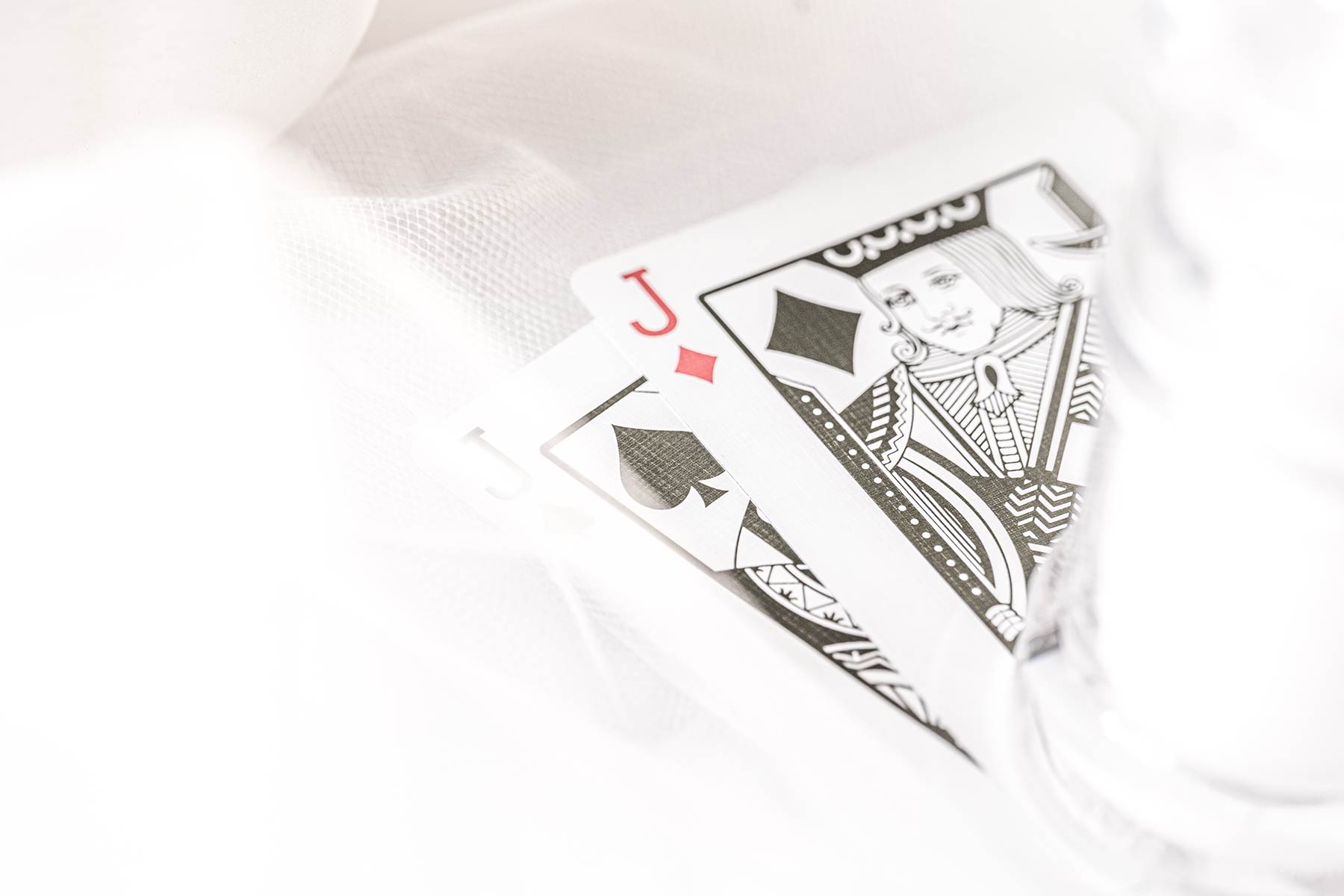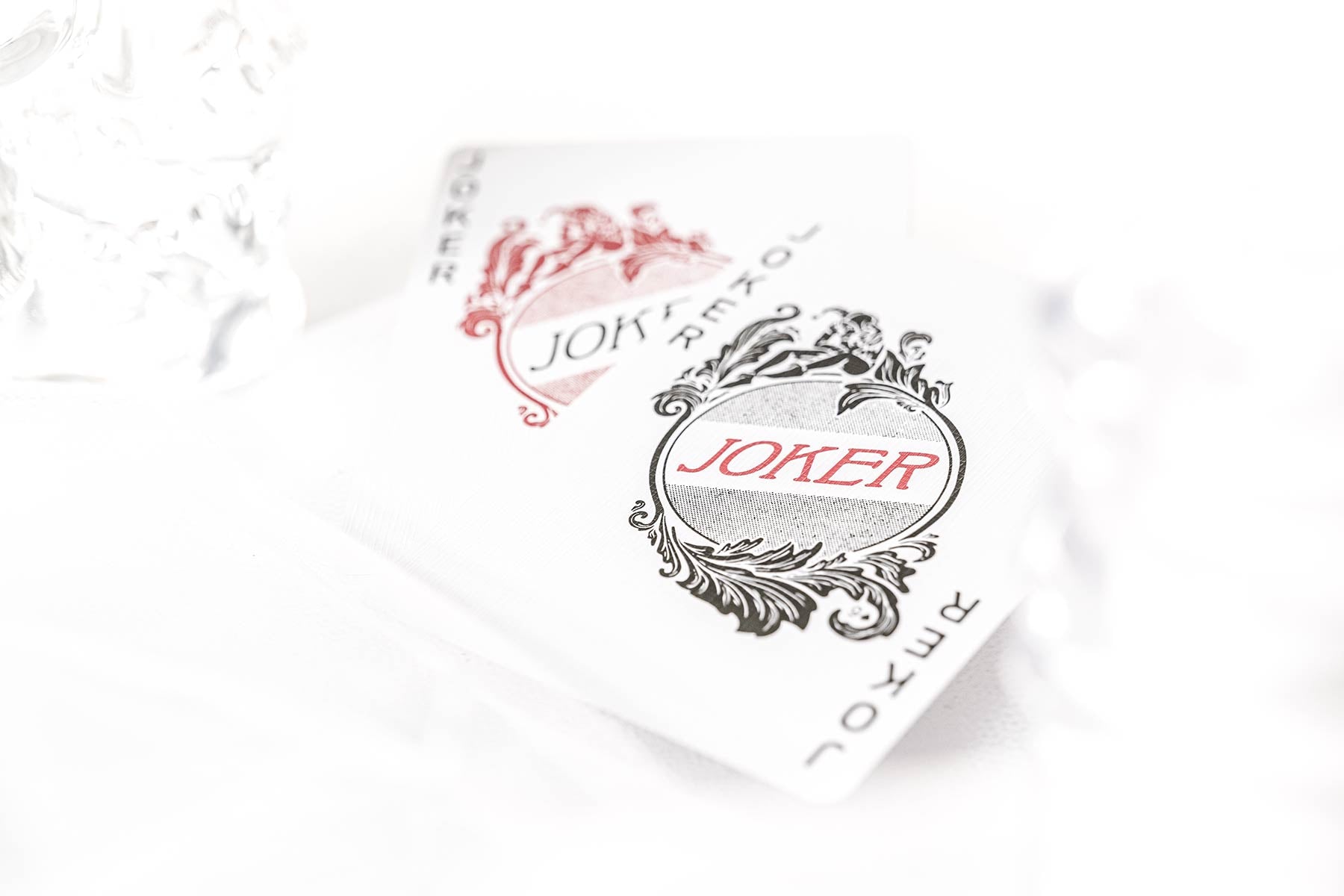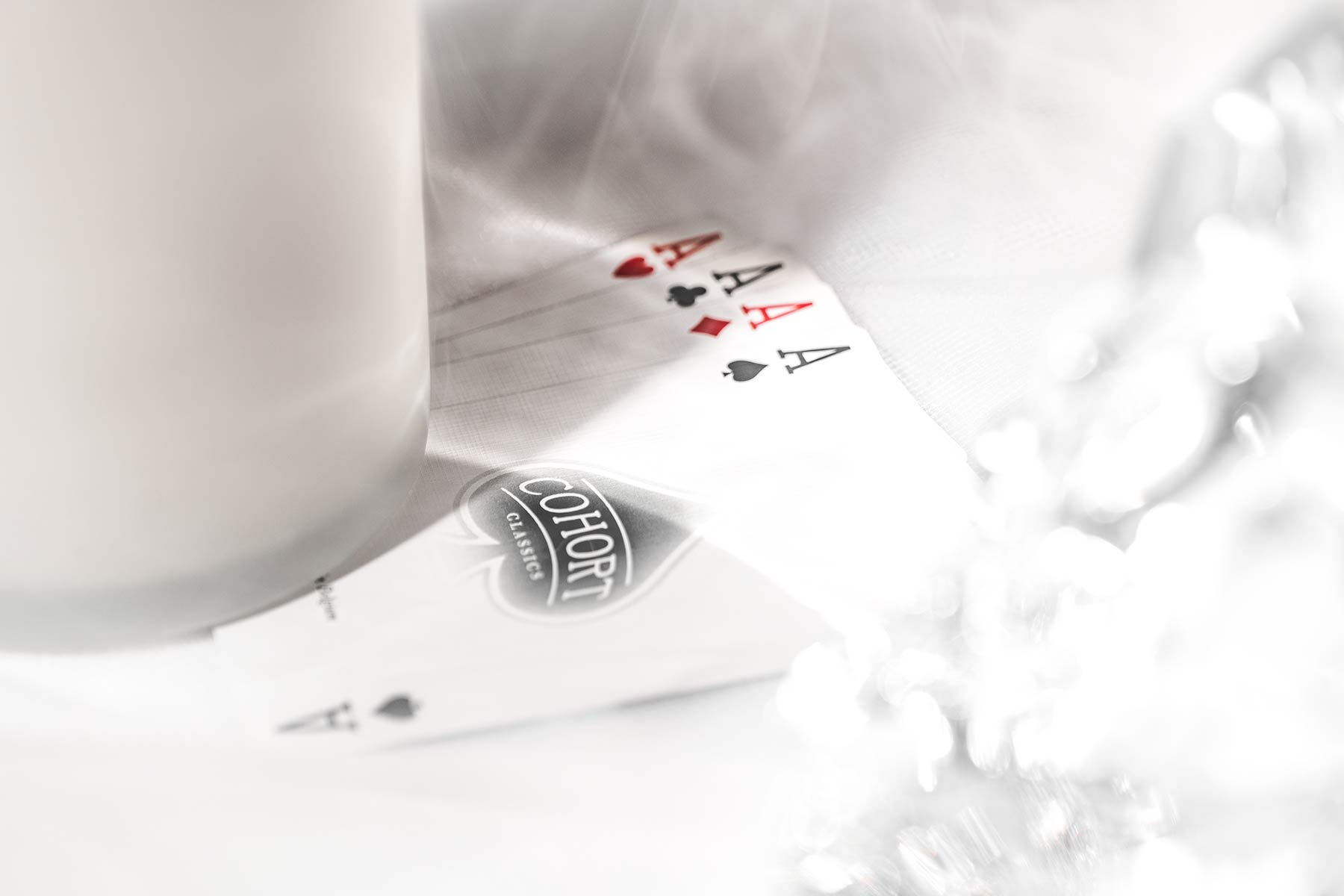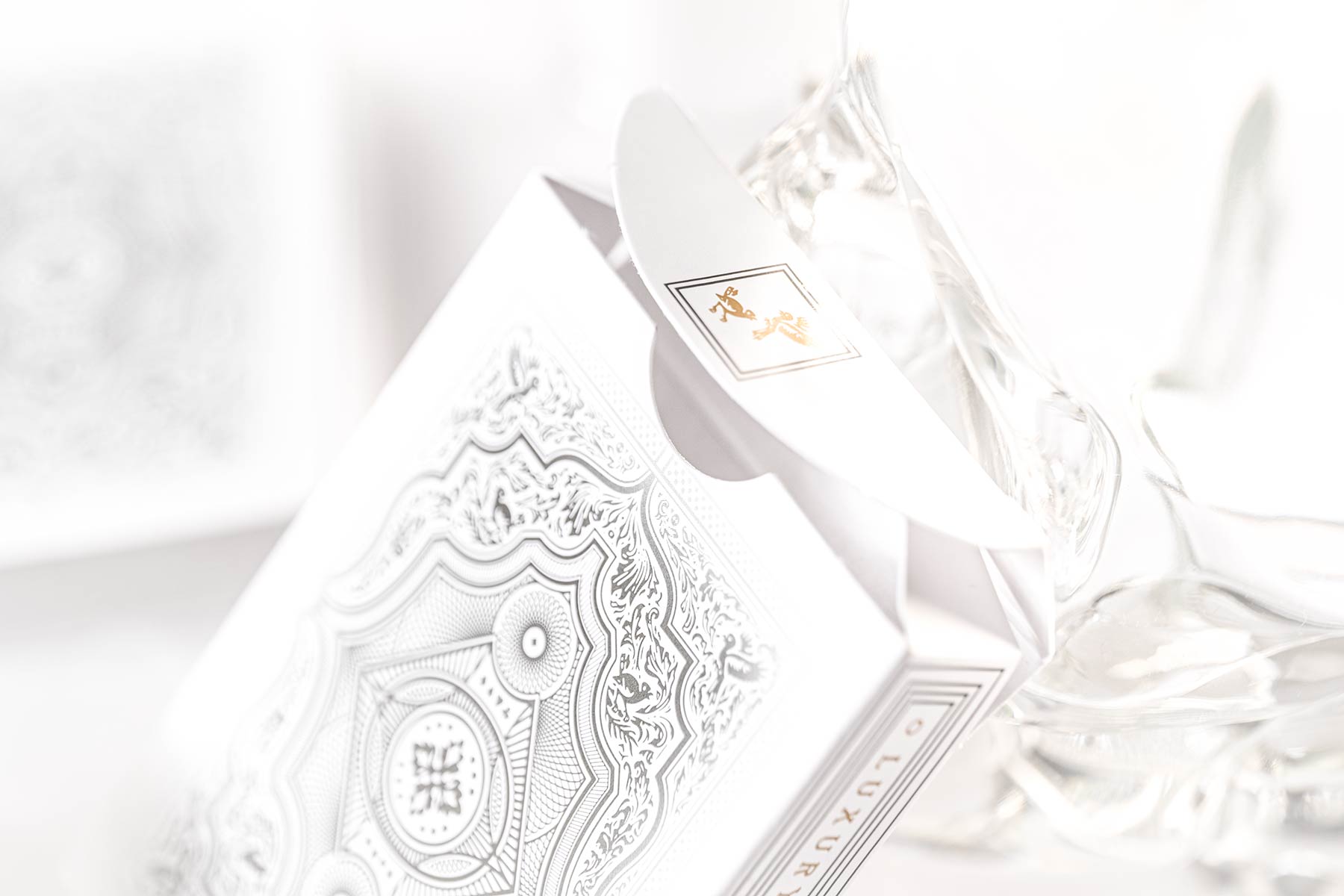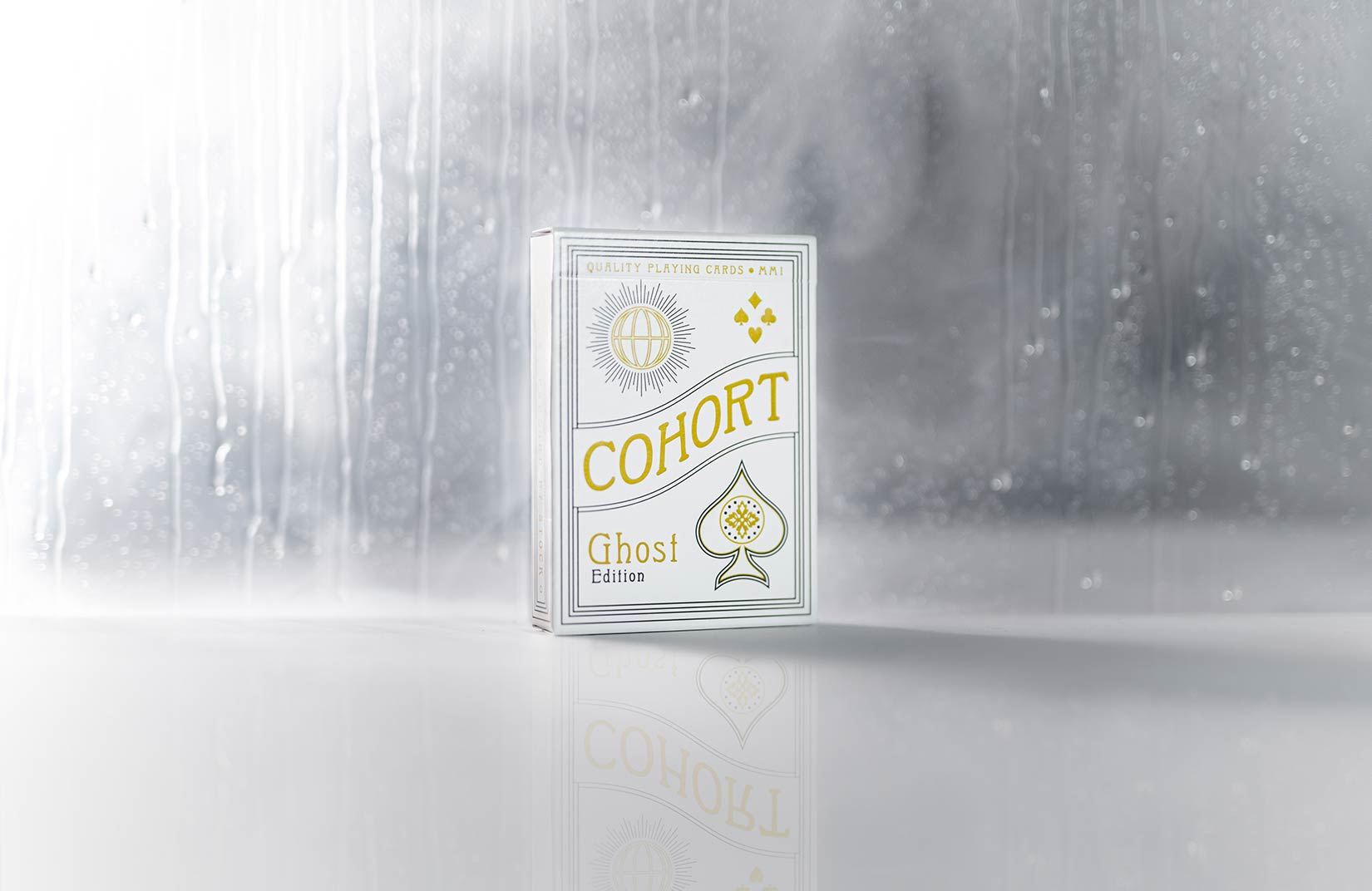 Ghost Cohorts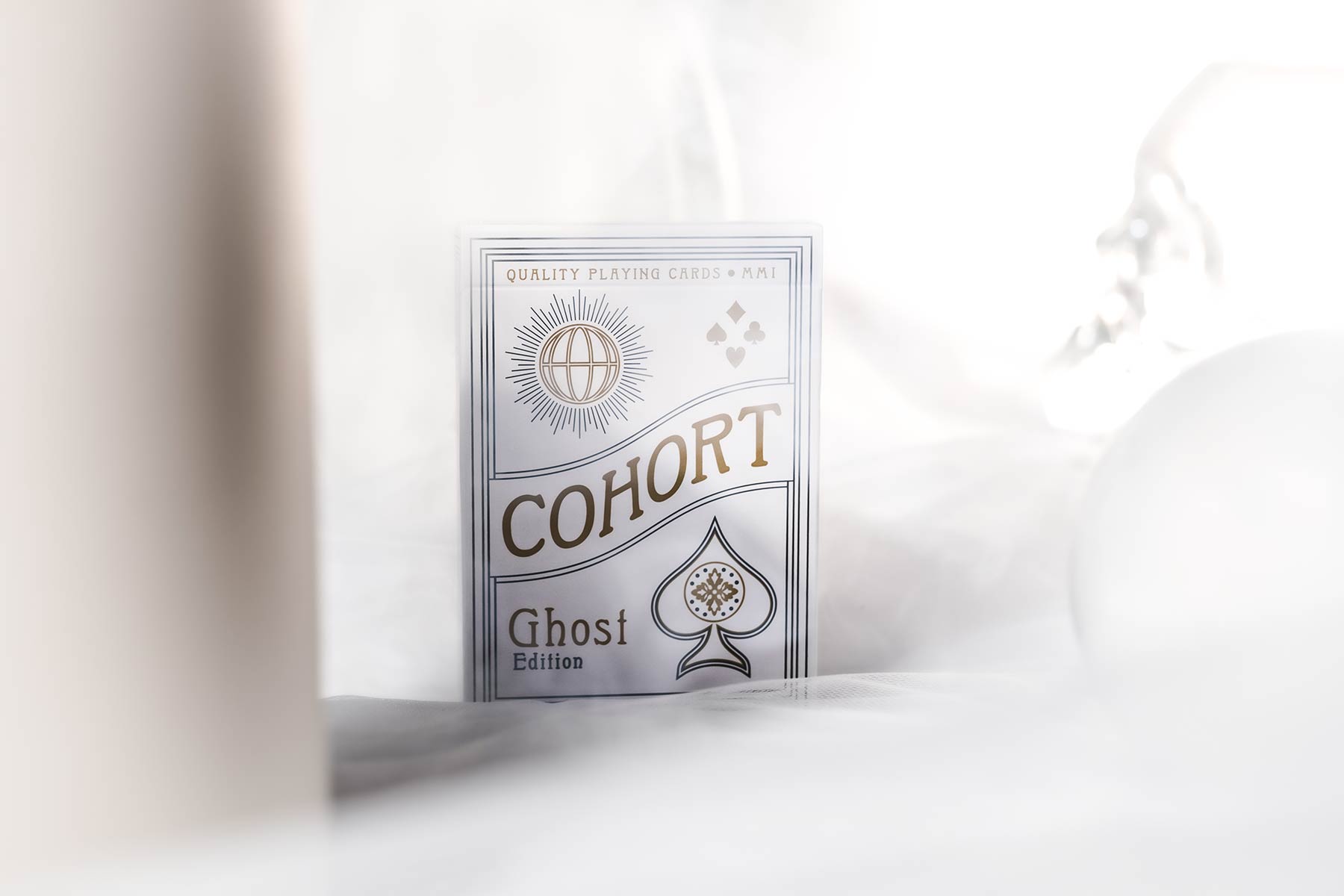 The latest in the Ellusionist Cohort deck series, these are the Cohort Ghosts. 

Crafty mystery deck buyers are already selling these decks for $21 on eBay, so they're in high demand. 
Printed on luxury pressed E7 stock, that you've come to love from our other Cohort decks. 
-----
Our favorite marked deck is finally available in Ghost White.
This vintage casino-style deck was designed with simplicity in mind. From our classic court cards to the nostalgic back design, Cohorts were engineered to look unassuming on the card table or in the hands of a master card mechanic.
Each deck comes with 52 cards, 2 jokers, 1 double-backer and a duplicate Queen of spades (for obvious magical reasons).
Hidden within the lines of the intricate back design are markings undetectable to the untrained eye. Easily readable for any magician, card mechanic or mentalist out there.
Printed on our brand new luxury pressed E7 stock in a ghostly white, this is the crushed stock deck you've been waiting for. We worked hand-in-hand with Cartamundi to find an answer to 'Bicycle Crushed' and boy did we deliver!
People often comment on Cartamundi's stock... "Their stock would be perfect if it was just a bit thinner" ... NOW IT IS.
This is one deck that you need to feel to believe.
Get your Ghost Cohorts NOW.
This product is rated 4.9 of 5.0 stars.
It has received 101 reviews.
Love them!
My go to deck. Love the black and white design and great markings! Love them and would recommend 100%
Fabulous Cohorts
Red, Blue or White ... Cohorts are fabulous as real "workers" with a maximum of stealth. You'll love them, too. Try them and see for yourself.
Smooth and pretty deck of cards!
Excellent all-purpose deck of cards. It's a must for both magicians and card collectors.
Ghost Cohorts
Great product great for playing with and getting wows from the crowd amazing product
One of my favorites!
I have loved all of the Cohorts decks, but my favorite has to be the Ghost and green editions. I used to love the Bicycle Ghost deck before it was discontinued, so the Ghost Cohorts are a great tribute to that deck. This deck has an alluring and haunting vibe which is perfect for my performance style, especially when using these for cartomancy readings. Not only does this deck look beautiful, it also handles phenomenally. I've been playing with this deck quite a bit lately and I've had a difficult time putting them down. I picked up nine of them because I love them so much!
Sexy Cards
So smooth, very pretty, invisible marking system
Awesome cards!
Have bought multiple decks from them, great set, no complaints.
Very cool
The Ghost Cohorts are beautiful, and very clever. Huge fan.
Ghost Cohorts - my new favourite deck
Just received the Ghost Cohorts. I'm new to magic and just started learning some effects with a marked deck. The markings are easy to read quickly, but in addition the cards look so cool and handle superbly
Awesome
Simply great cards. Feel great, look great, perform great.