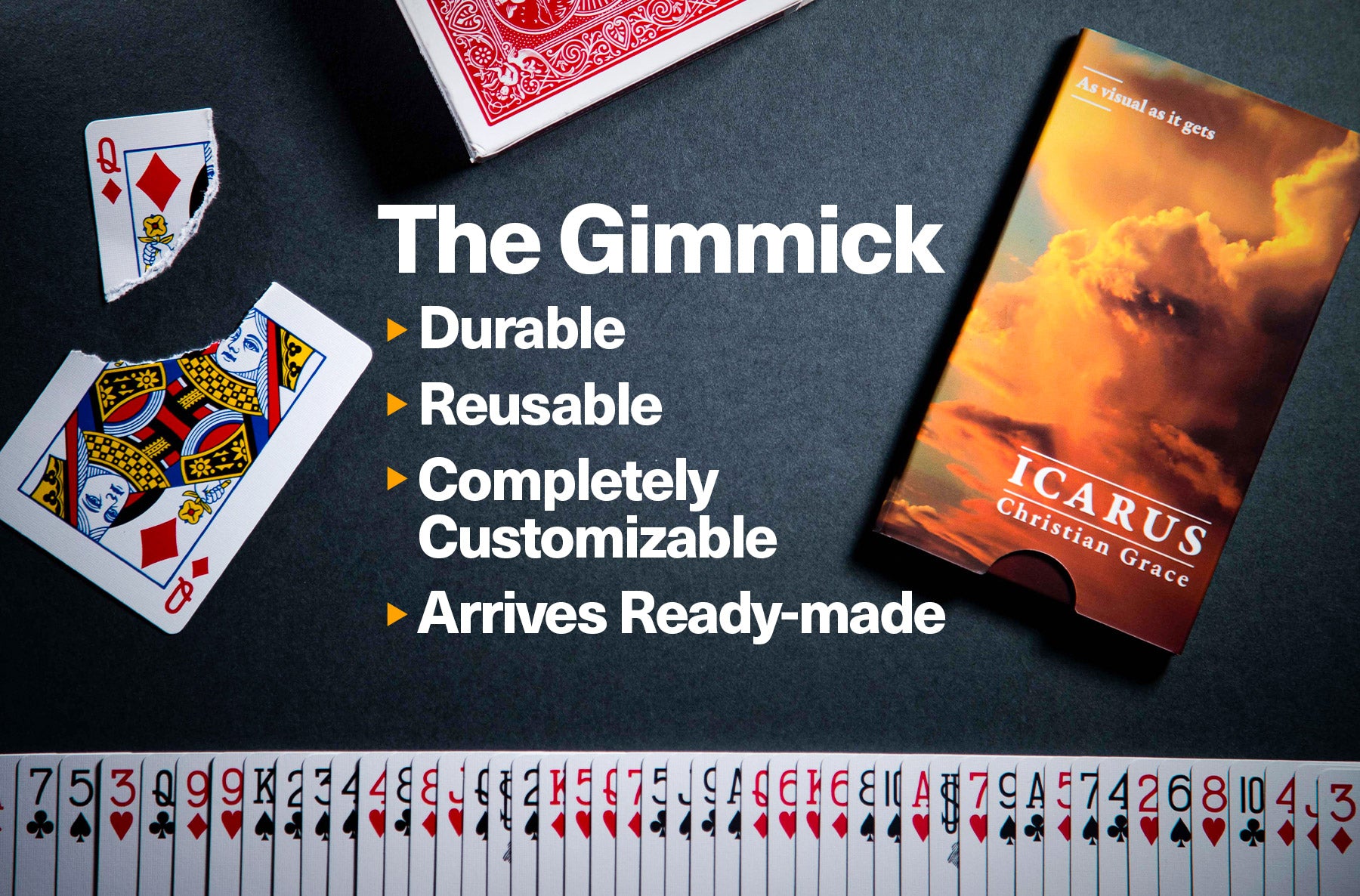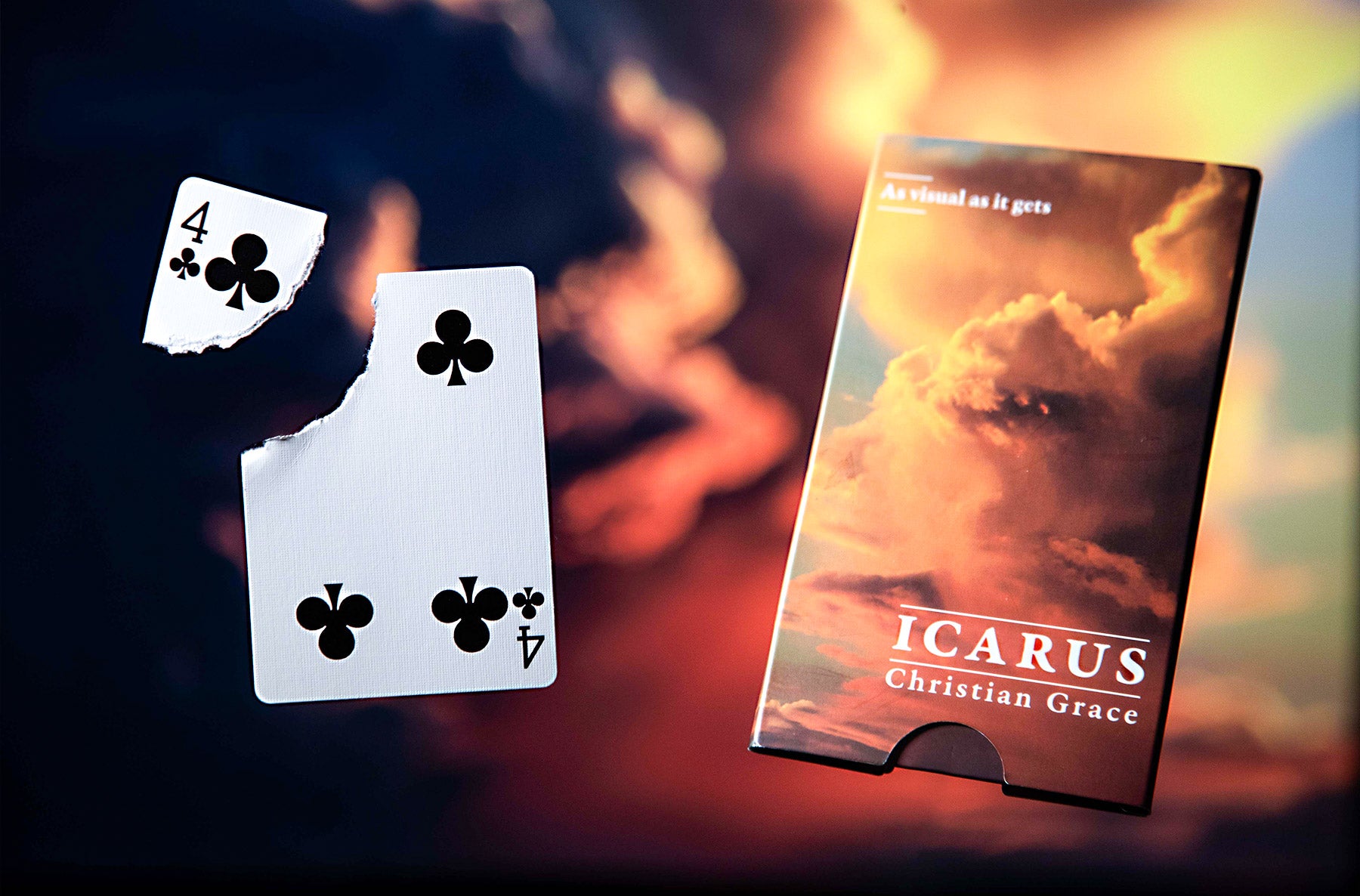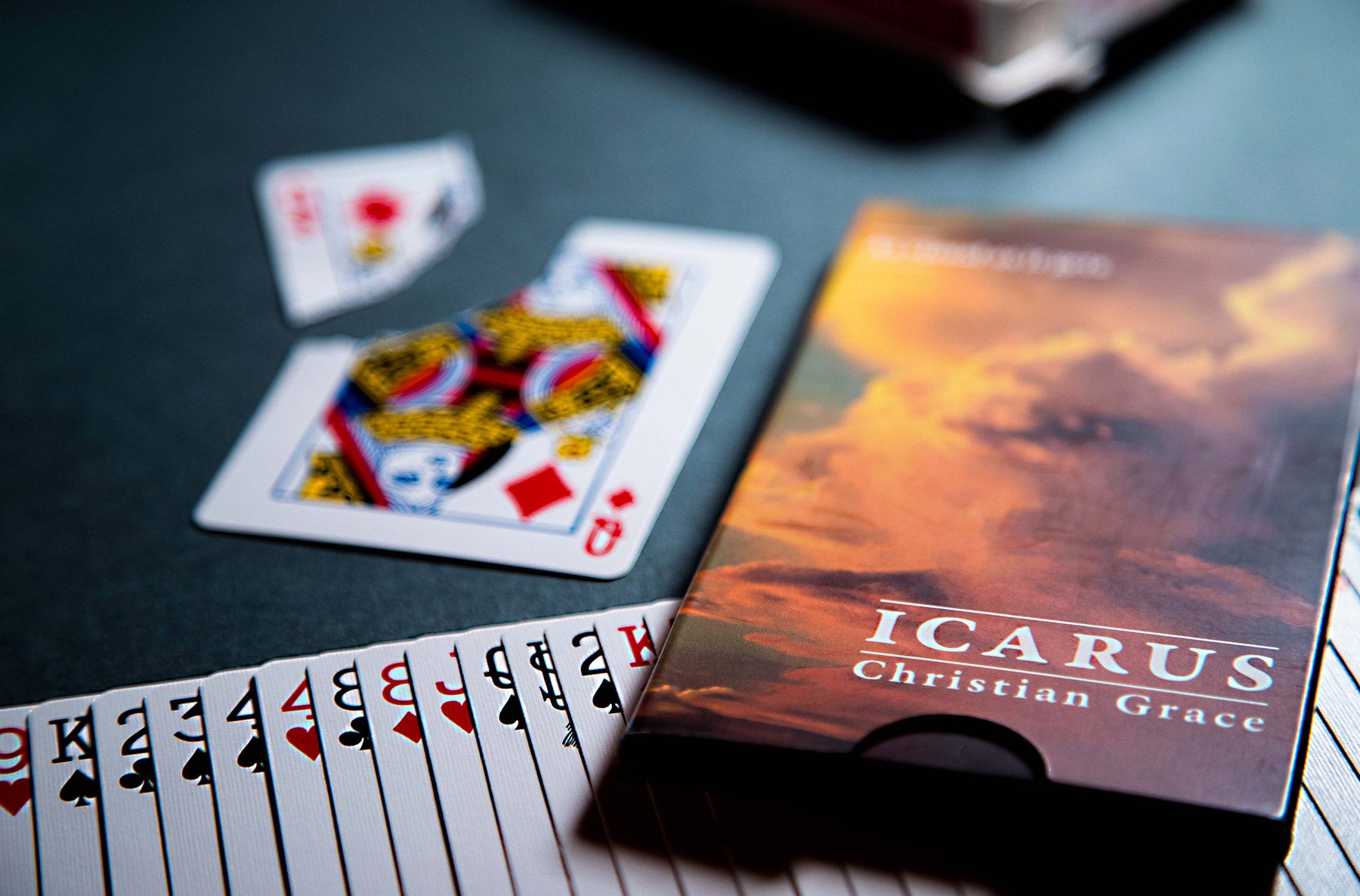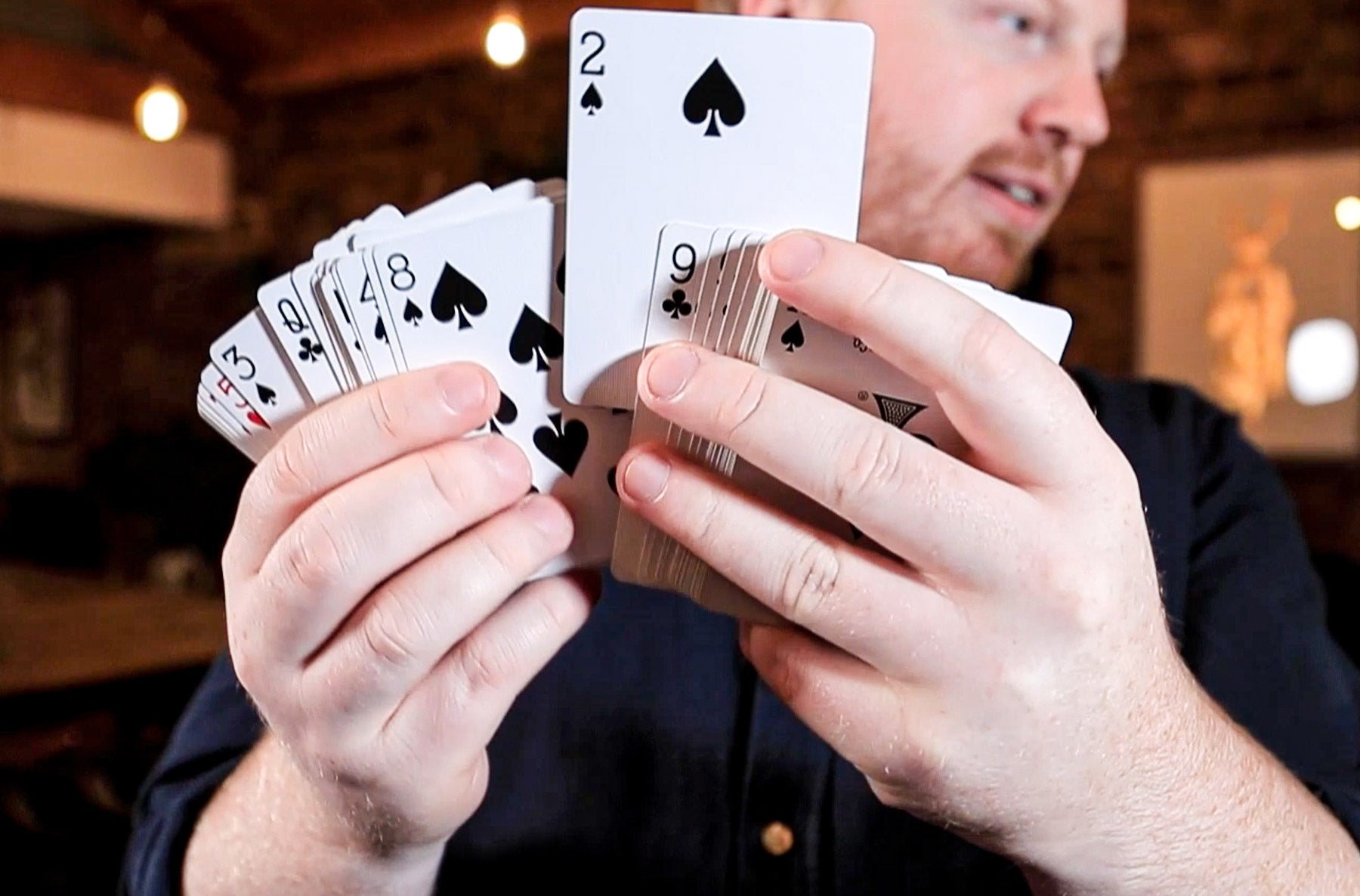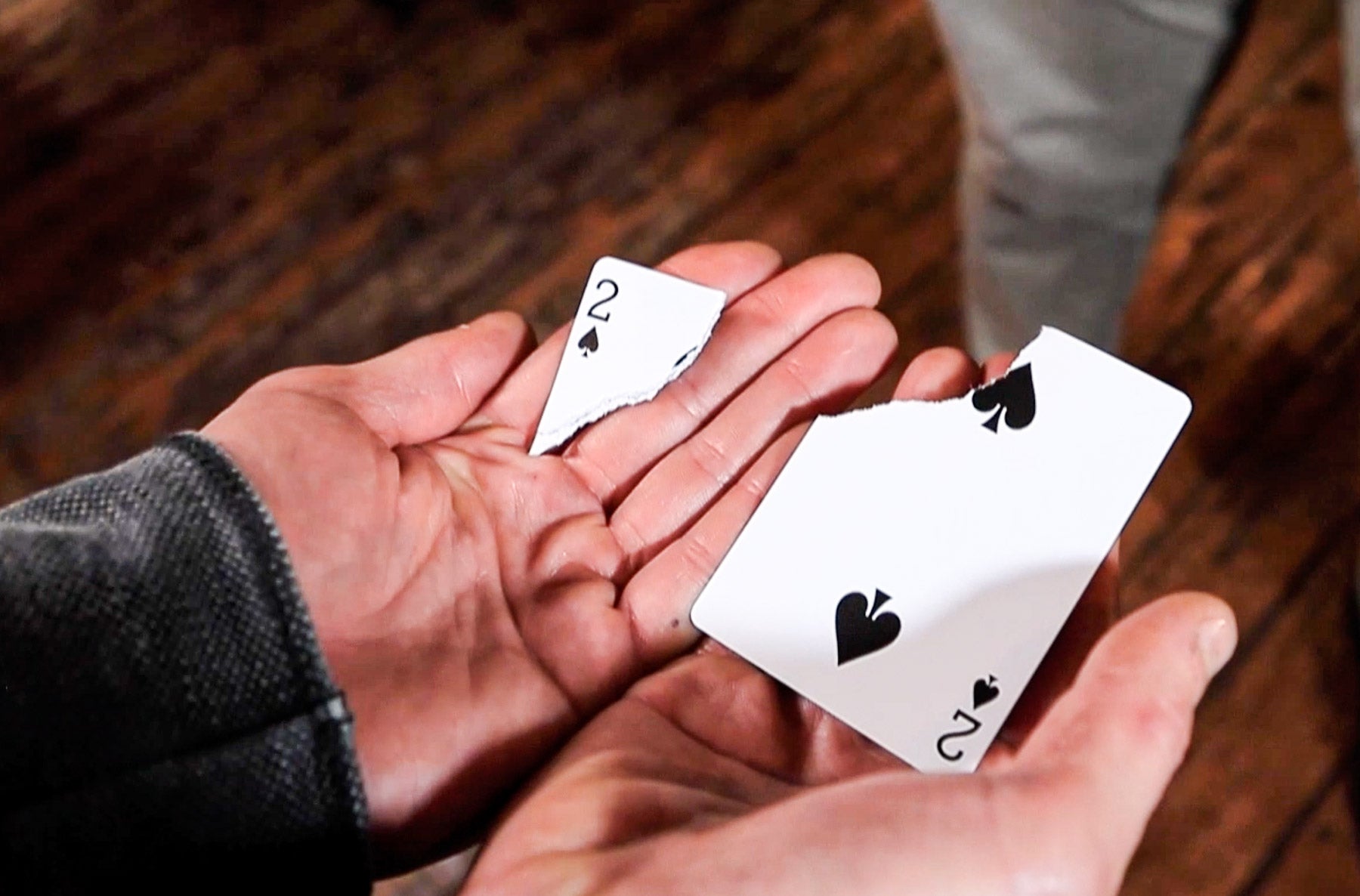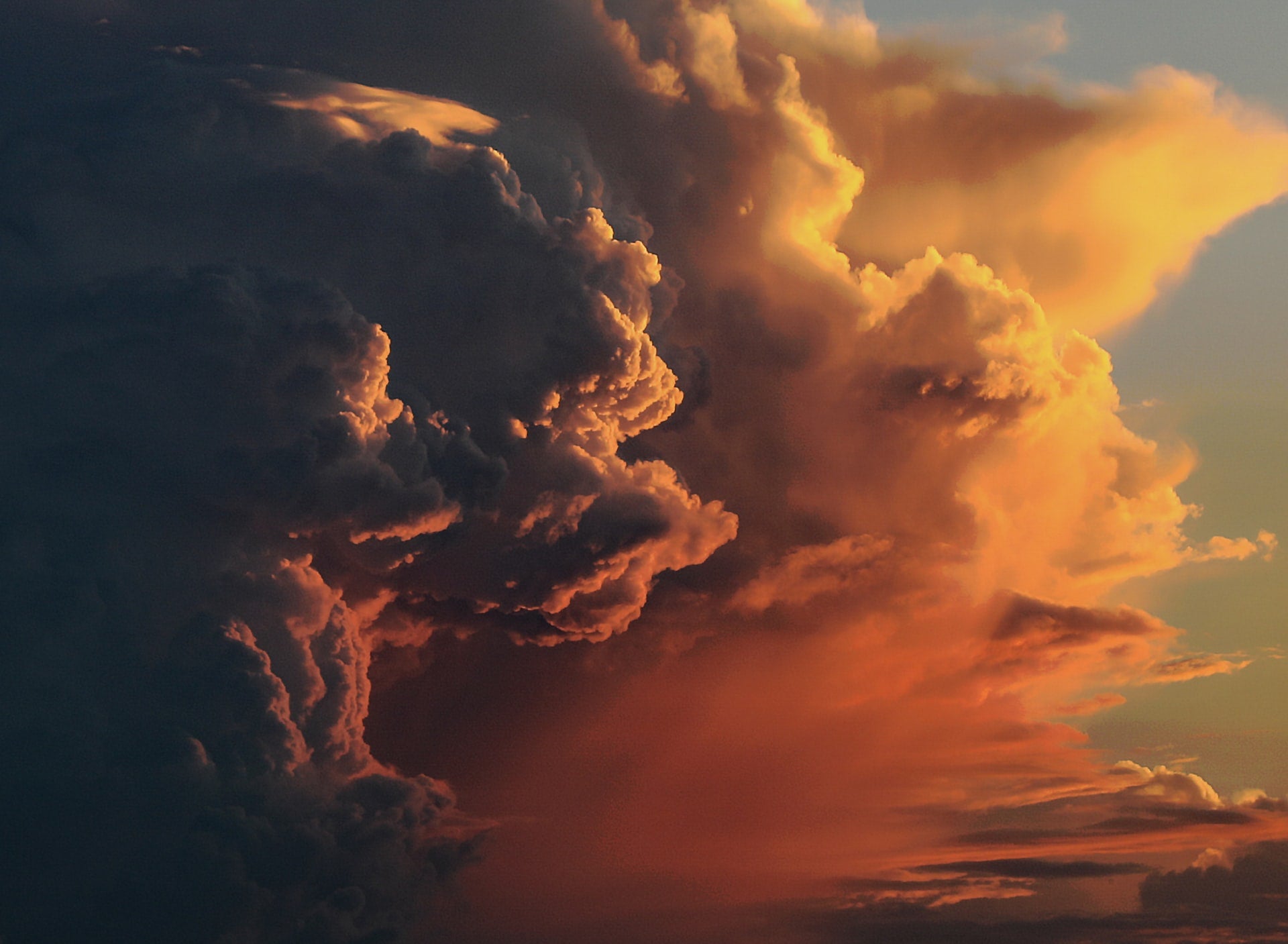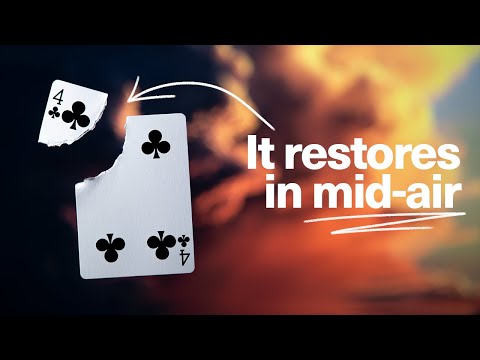 Icarus
*AS VISUAL AS IT GETS*
Icarus is a gimmick used to perform a mid-air restoration of a torn playing card - that ends totally clean.


✔️ Durable
✔️ Reusable
✔️ Completely Customizable
✔️ Arrives Ready-made
This is a PRE-ORDER product. It and
YOUR ENTIRE ORDER

is estimated to ship around Fri Oct 13/2023.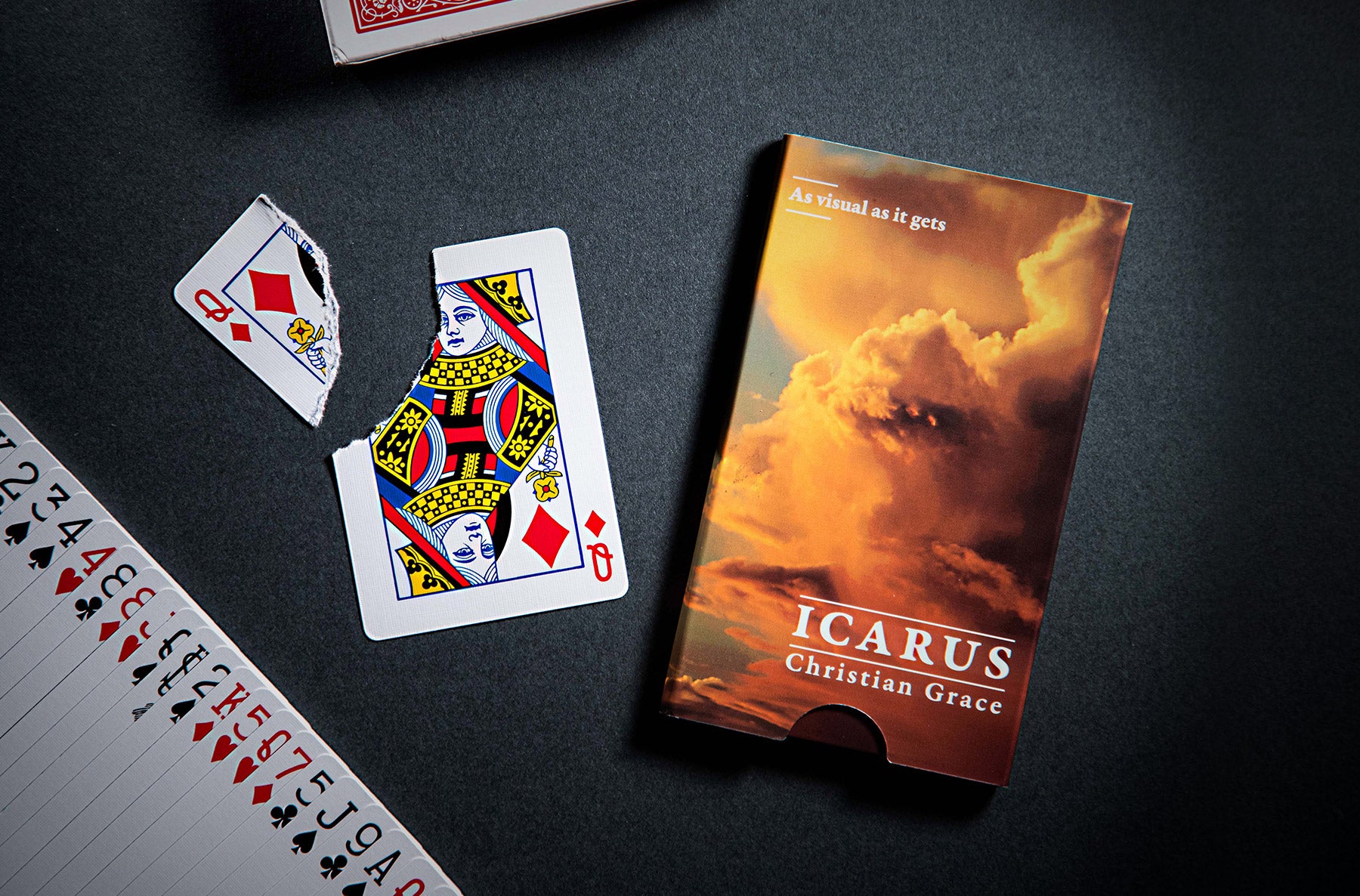 Icarus
Sale price

$29.95
Regular price
(/)
A mid-air restoration of a torn playing card - that ends totally clean.
Icarus is a trick only Christian Grace could create. An effortless display of insane visuals, but with a satisfying & practical method.

As the broken pieces are thrust towards the table, they unite in mid-air to end as a completely clean, inspectable solid.


It's an effortless display of insane visuals but with a satisfying practical method. 
It's fun - it's fast and the restoration happens in mid-air - or as it lands in the spectator's hands. 

THE GIMMICK
Ready-made Gimmick
Fully Customizable 
Durable
Reusable 
Each gimmick is
handmade in the US
by the Ellusionist Team's expert gimmick-maker, 'Davey Rockit'.
It's designed to be
completely universal
, so it doesn't matter if you're left or right-handed...
It fits to you.
Icarus also comes ready-made in the box
, we include everything you need to perform it within minutes.
No annoying DIY.
And although it comes pre-made with a Blue Bicycle Rider Back design,
it can be fully customized to any deck.
NOTE: Because each gimmick is handmade, for precision and durability, they are only available in limited quantities. 
---
Get ICARUS Today.
---
This product is rated 4.9 of 5.0 stars.
It has received 48 reviews.
Icarus - Amazing effect!
Love the simplicity and the great effect!
You will STUN THEM with Icarus!!!!!!
I patiently waited for this, wondering if it works in the "real" world…. It doesn't just work… it absolutely STUNS!!!!! The reactions are shock and unbelief, followed by cheering and laughing!!!! Oh and a healthy dose of " how the ______ did you do that" and " that's the best magic trick I've ever seen" leaving everyone begging for more. No guarantee… but don't be surprised if your food and drinks are free the rest of the evening… and several inquiries of " hey do you do events?"
I absolutely LOVE this effect!!!! Thank you Ellusionist and thank you Christian!
Amazingly cleaver
Such a visual presentation has to be on my list , before I receive gimmick already been practicing the moves thanks to the download instructions, make sure you practice so when all pieces together you have a strong and confident presentation, a must have ! Plus you can do other changes with that special move
Elite and modern magic
I love what E does to create new and alternative moves to old classics! I've already gone through almost three decks when I performed Icarus! I love doing it every chance I get when I go to the store and show a cashier a new way to tear and restore a card!
Icarus
This is a good product so please don't get what I write wrong. This effect really needs to be practiced. It would be better for private or birthday party. You will need to take time setting up the effect before performing it. It's not an instant reset. It's a manual reset. So it may look good for 1 street performance but after that you will need to set it up in secret for your next street performance otherwise people will see you mess with the secret of Icarus.
A Great Routine A Great Teacher
Great video production, Very clever routine,
The teaching is excellent, he shows the set up which is very easy to follow, this is for left and right had people, he shows all the moves in slow mo, great camera angles, including close ups, nearer the end he goes into more detail on the moves explaining your angles and explains everything you need to no.
Great Routine, And A Great Teacher.
Genius
This is just genius. So visual, I love it!
Extremely deceptive, very satisfying.
Very easy to learn, well made gimmick, great instruction.
Icarus
When I saw this it was an automatic buy shipping was fast too so that's another plus easy to do I used this at some of my gigs and the reactions was incredible. Definitely leaving a 5 star don't hesitate buy it !