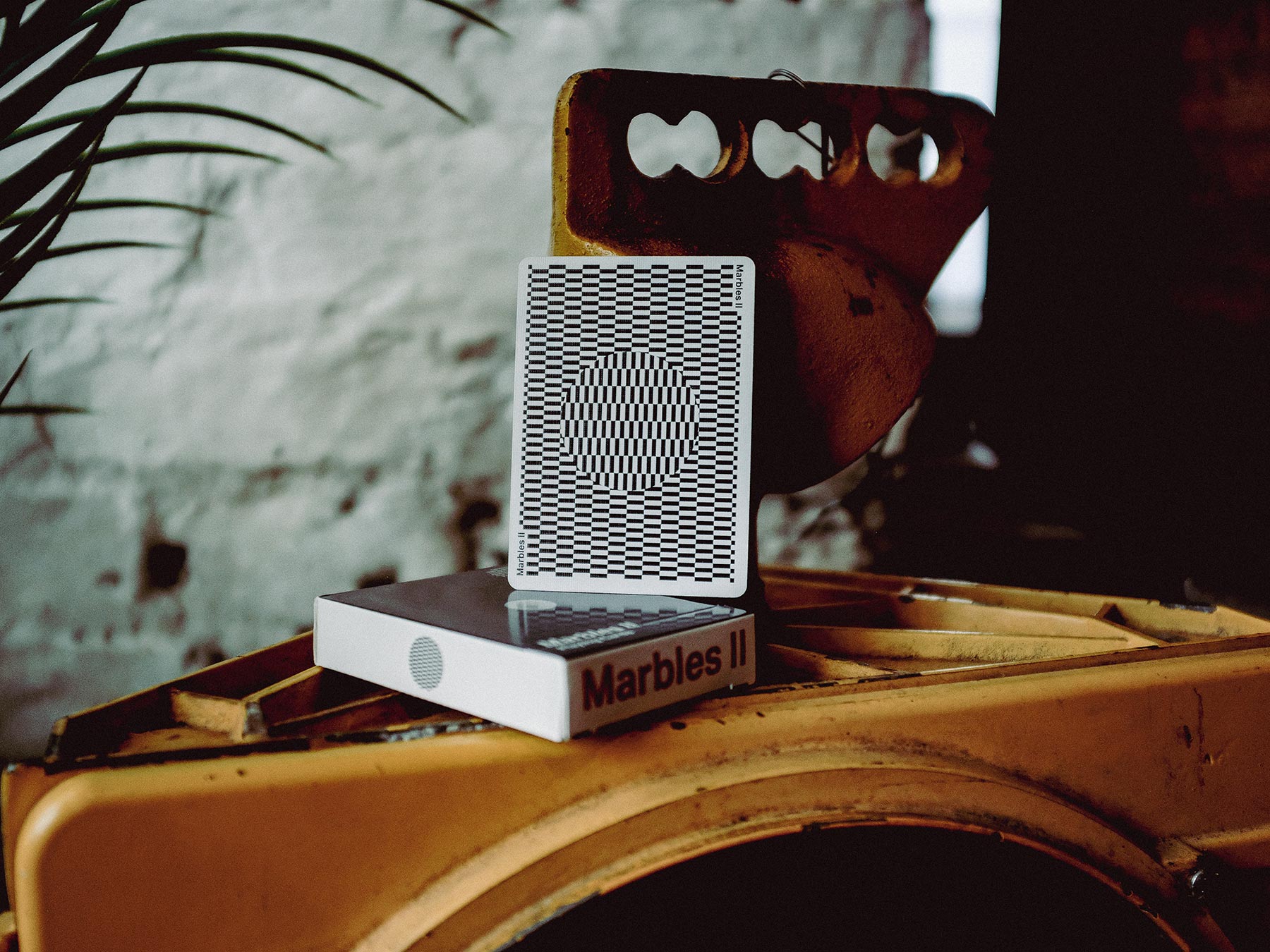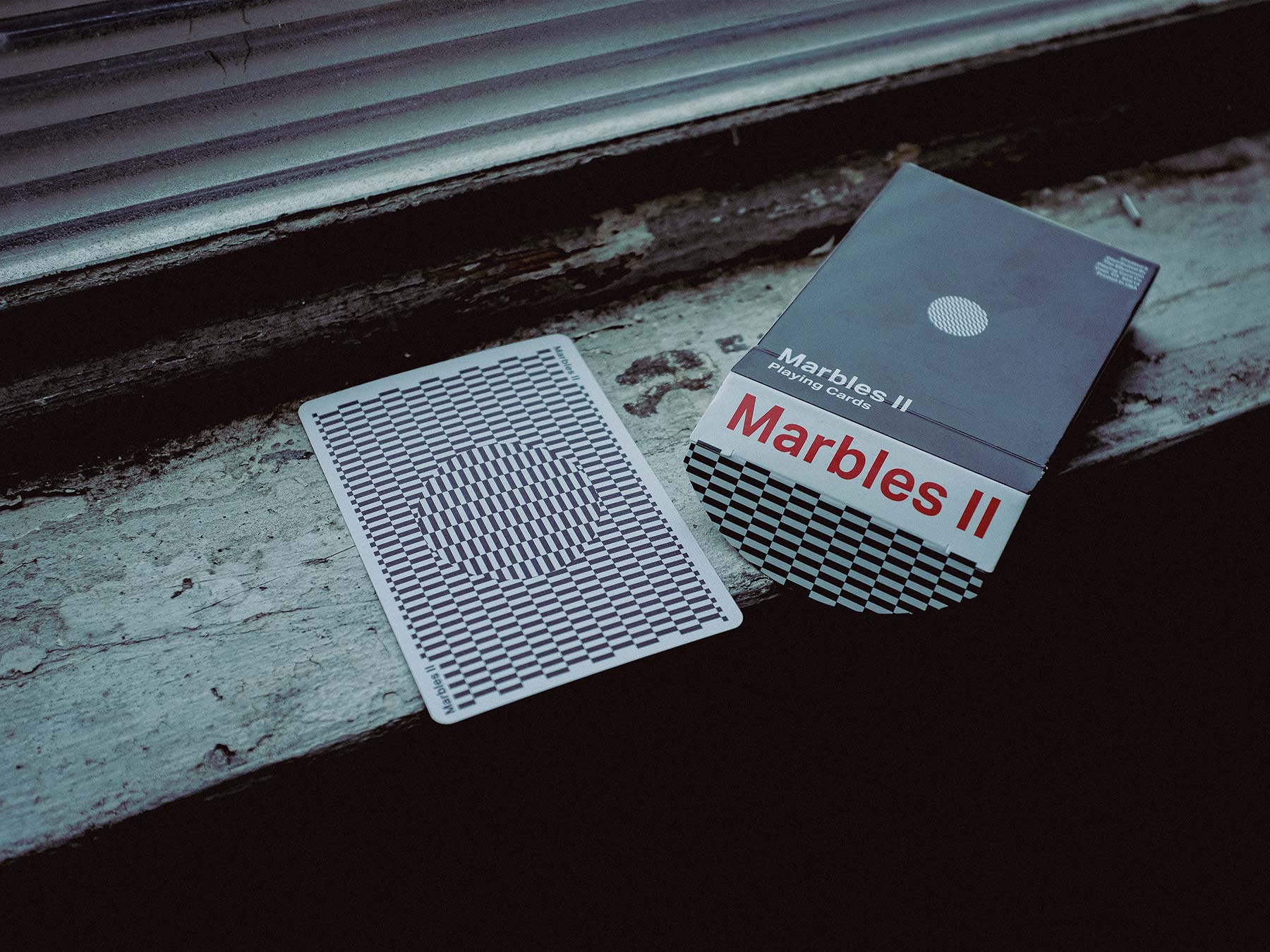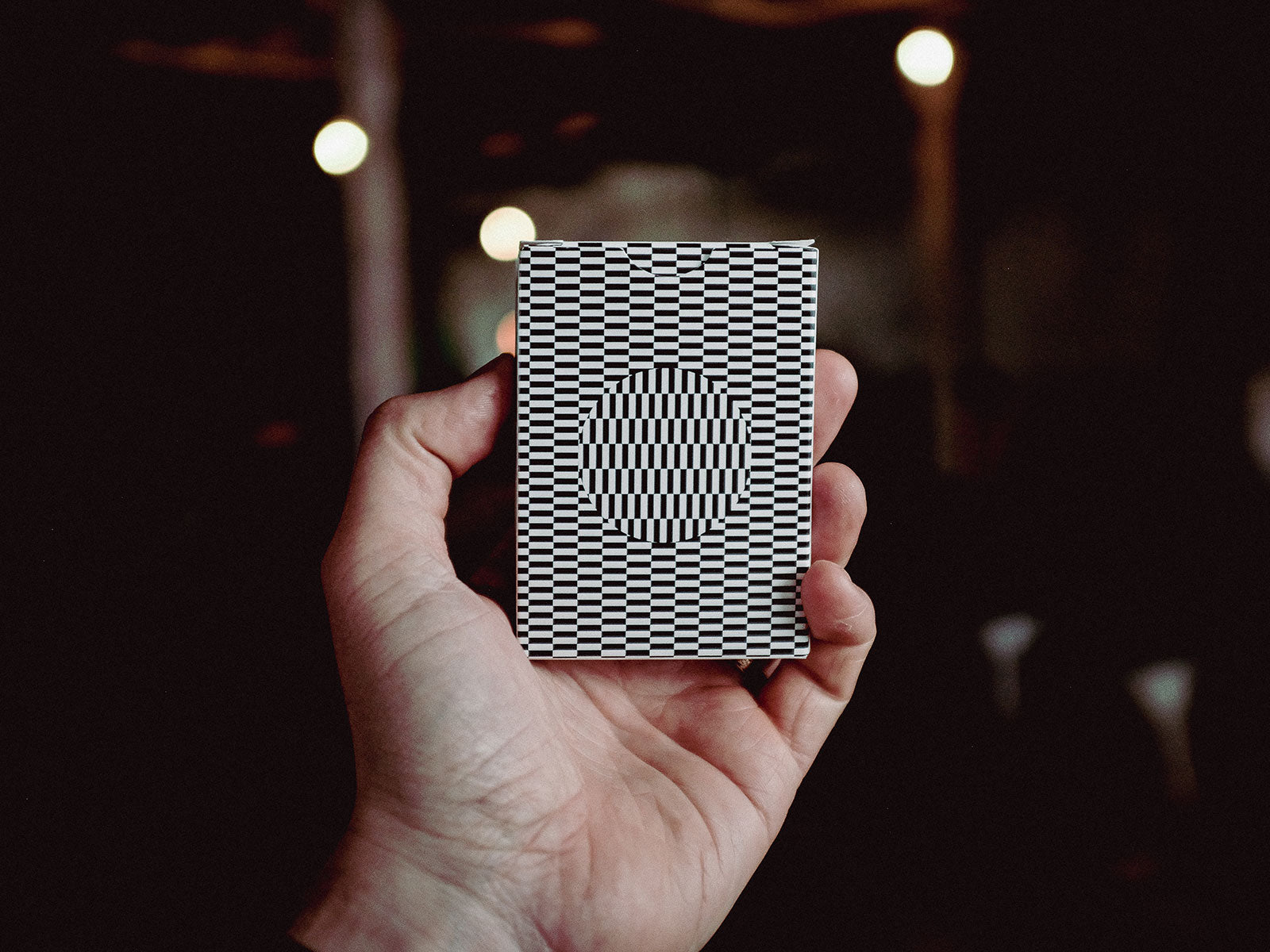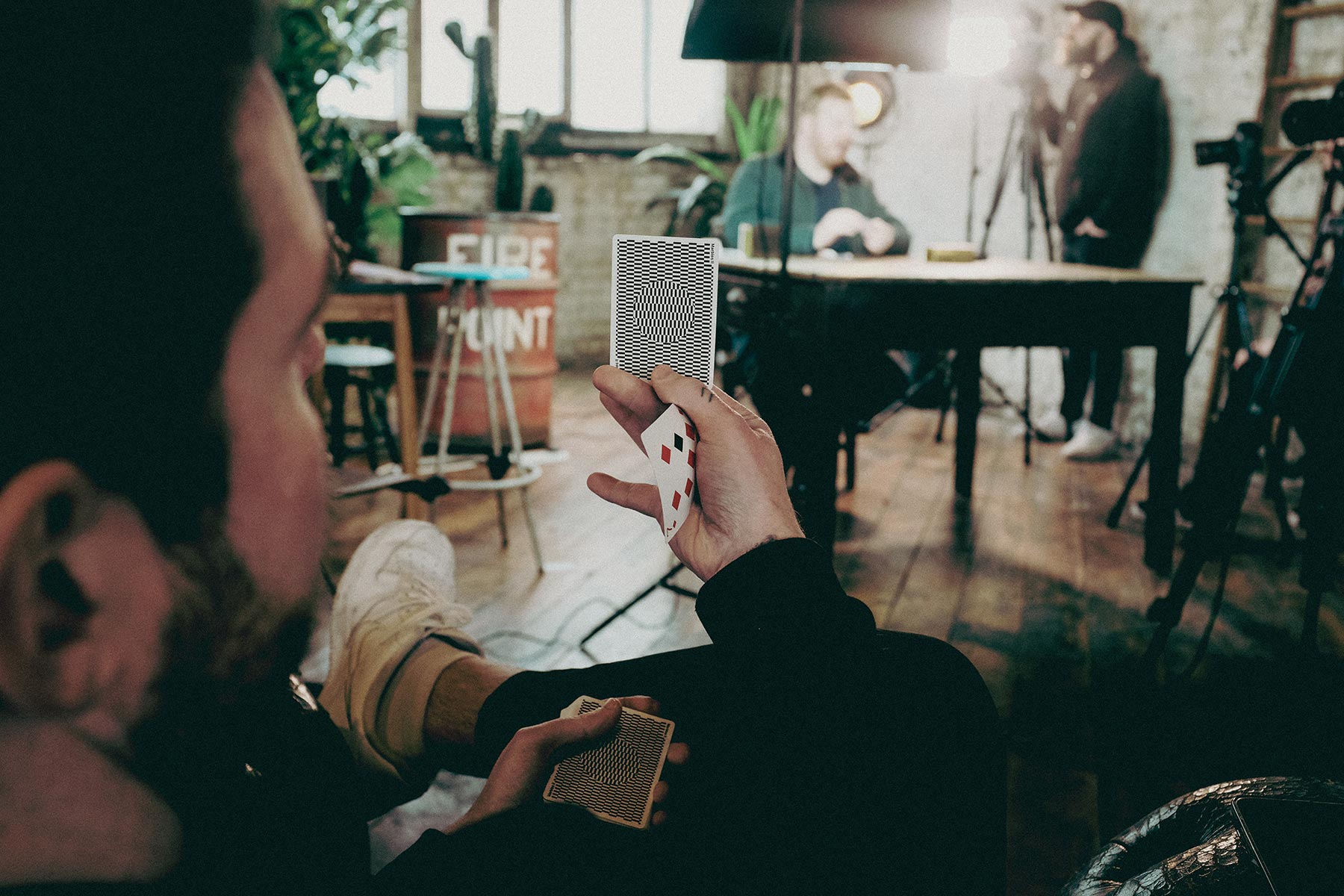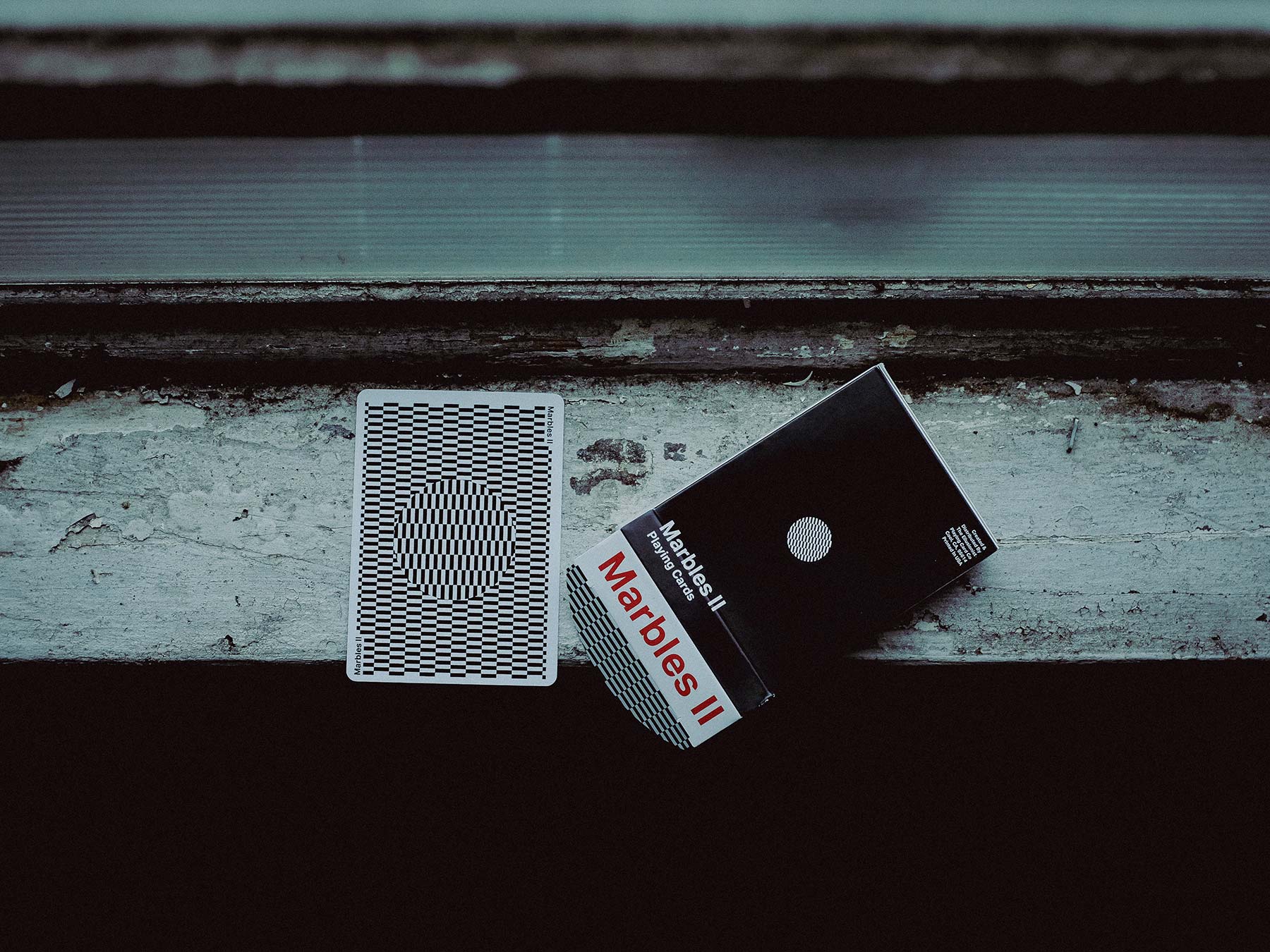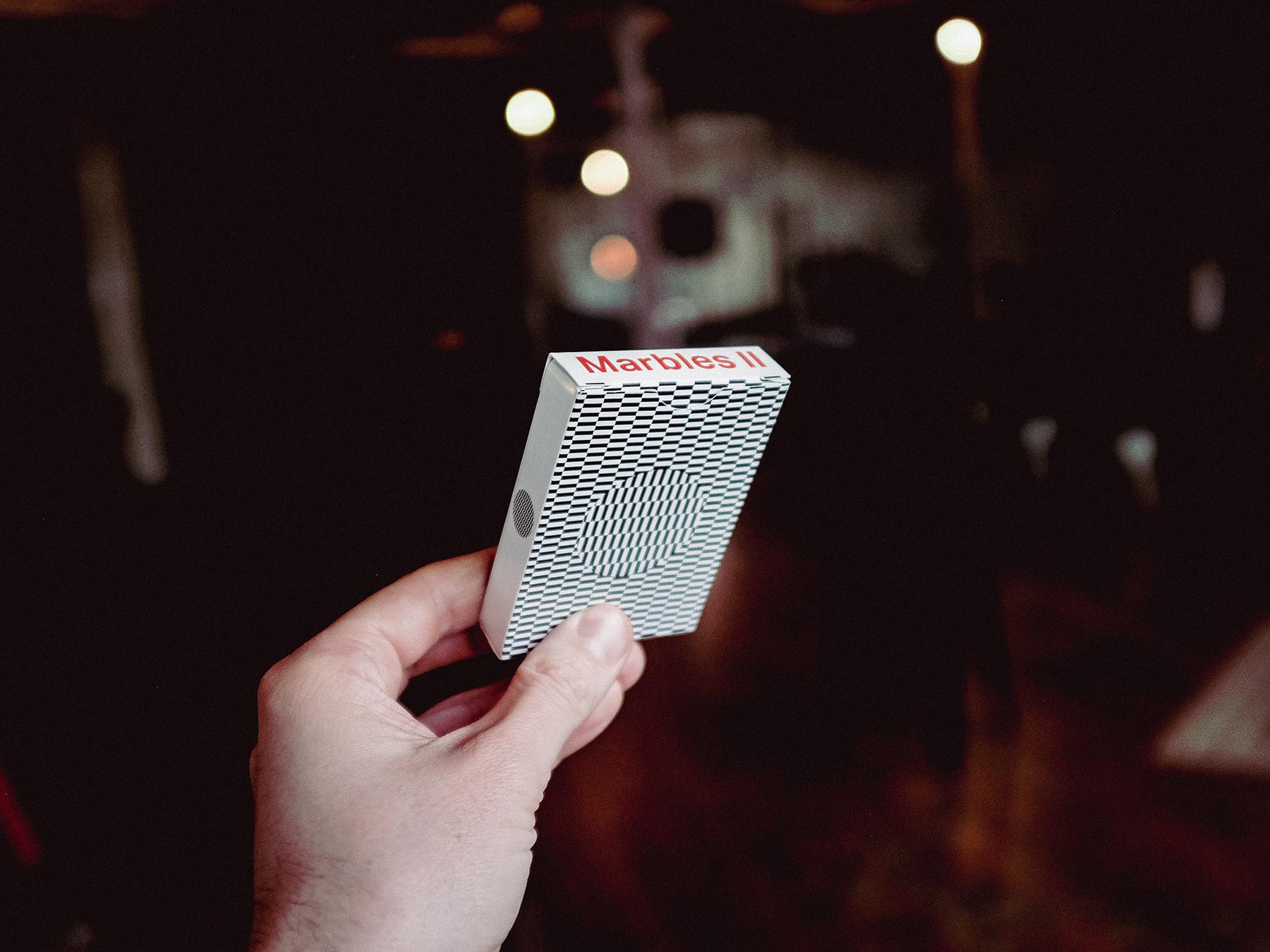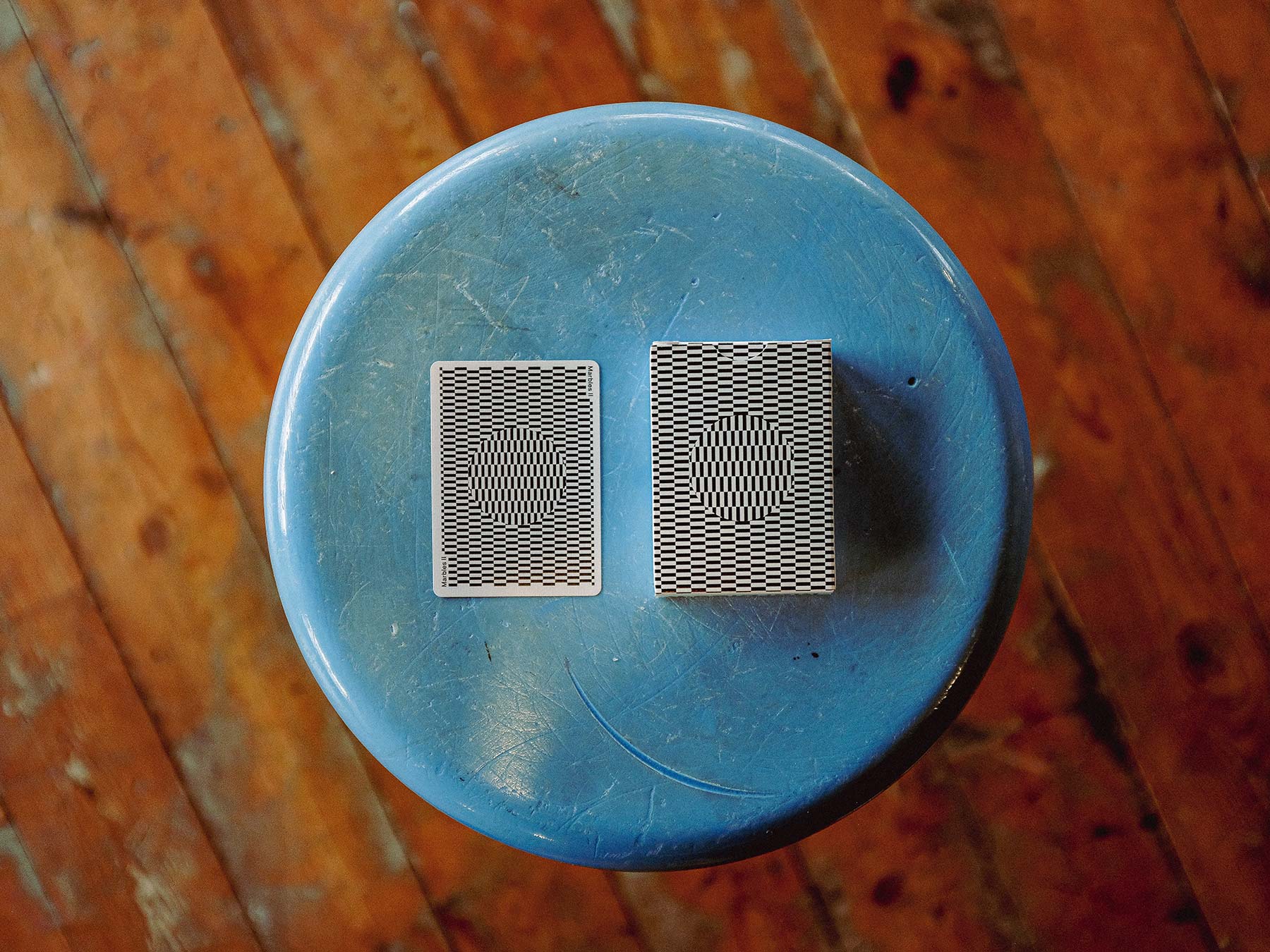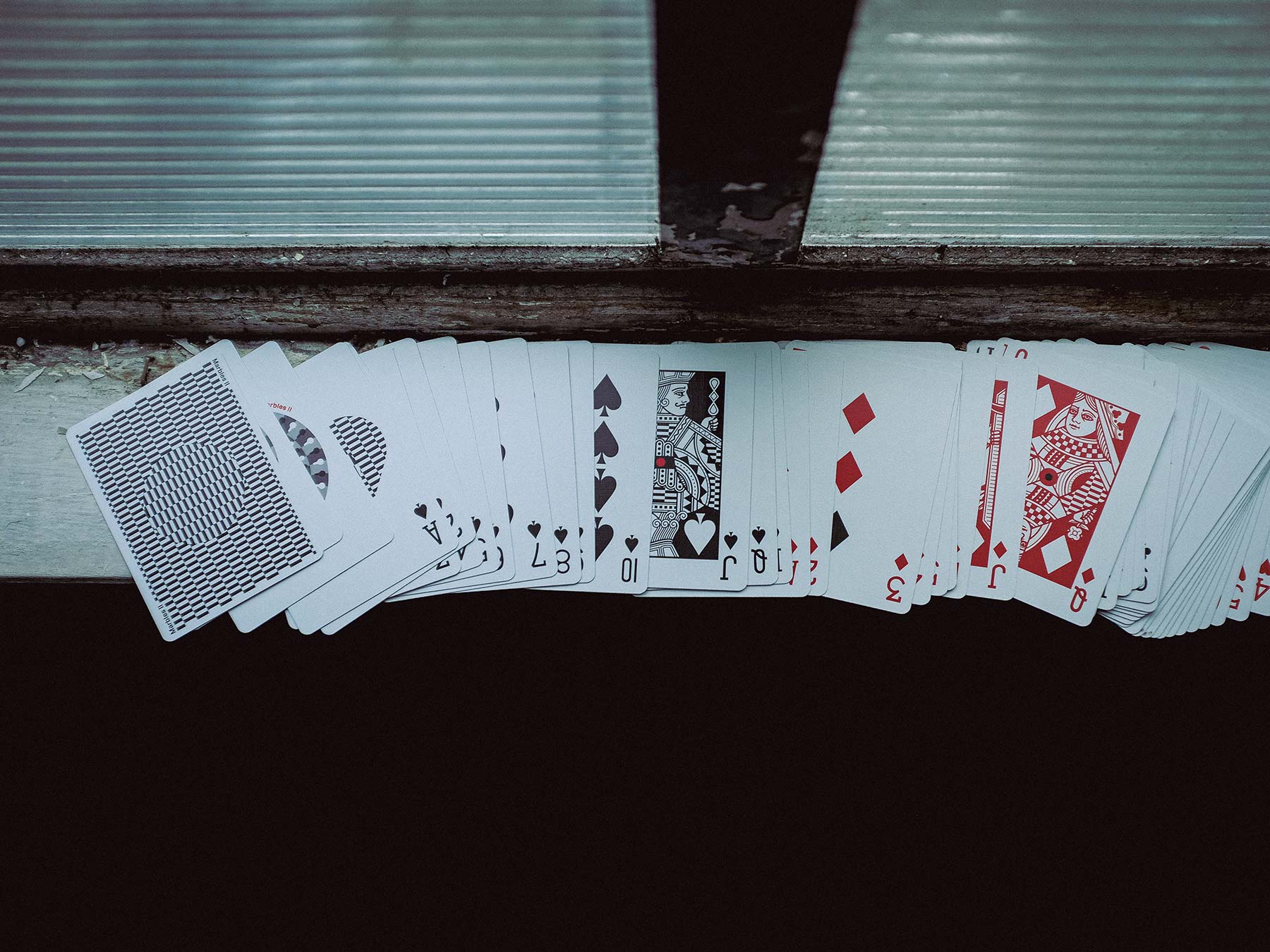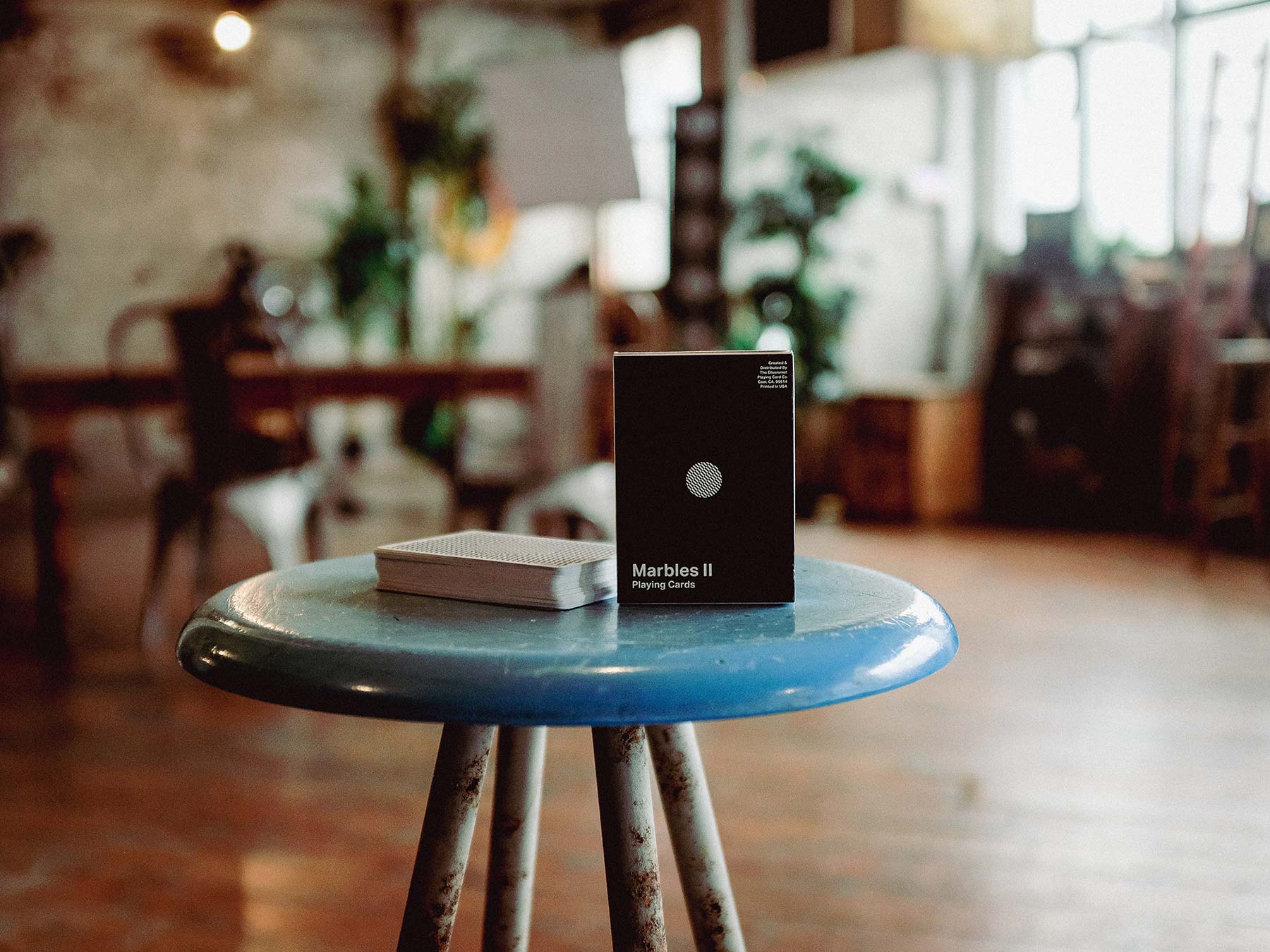 Marbles II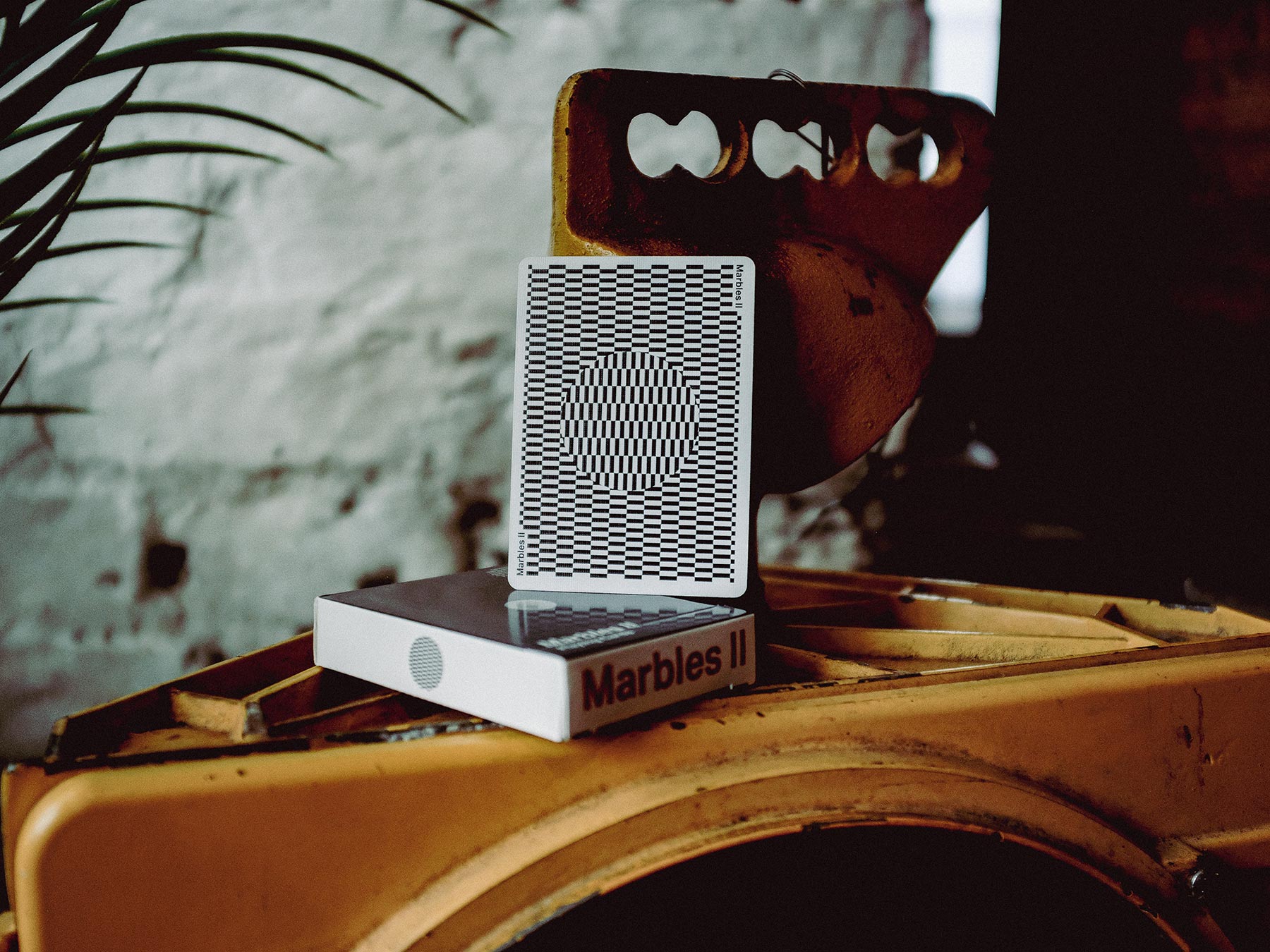 They move at 100mph... When held perfectly still. 

A few years ago we held a deck design tournament and after 3 punishing rounds, the people's champ was Marbles. A trippy, colorful deck that dominated the competition.
But what most people didn't know, was that Marbles had a trippier, more bizarre brother. Marbles II. At the time, people just weren't ready to see them. 

Featuring a wild optical illusion on the back of the cards, Marbles II is a deck that doesn't ask for attention... It just takes it. 
The cards aren't really moving, but your eyes will tell you a different story. This makes Marbles II one of the most fun decks you're ever likely to play with - but don't just take our word for it.
Marbles II is the best-selling Mystery Deck of all time...
"How? It's brand new, isn't it?"
True, but before we reveal brand new decks, we secretly give them to Mystery Deck buyers first. 

Without a doubt, this is the most highly-reviewed, most purchased Mystery Deck in history.

Check out some of our Marbles II reviews below...
"Everything we see is perspective - not truth."
There's a huge crossover between magic and optical illusions. A lot of people think magic is just that - a trick of the eye or mind. 
That's what drew us to creating this deck. 
The deck is printed here in the United States, on USPCC Crushed Stock. It's a thinner, durable stock that takes a hammering and just smiles right back at you. 
From the tucks to the aces and everything in between, Marbles II is tailor-made. There are no copy/paste features or untouched faces. This is custom, through and through.
Get your Marbles II decks today, while stocks last.
---
This product is rated 4.9 of 5.0 stars.
It has received 31 reviews.
Marbles II
Amazing deck. Love it. Finally got my hand on it and I am happy. Awesome design.
A crazy deck
I just saw it, and it blew my mind. Awesome deck of cards.
Marbles II
These cards are really very cool when you get them in your hands. I wasn't sure if I liked the colour scheme and design, but once I had them in my hand that uncertainty was gone!
The tuck box has a Scarface movie poster vibe in its colours and shapes, and the opening flap at the bottom is a cool little detail!
The pattern on the cards can make your head spin if you look too closely, but it looks great is displays, fans and just generally moving them around in your hands.
The stock actually feels very similar to the E7 stock used for other Ellusionist cards. I've found it supple, easy to work with, remarkably thin, but also surprisingly durable!
Great design
The design of these cards is one of my favourites. The high quality printing allows the optical illusion to really appear as if it is moving, and it creates this level of enhancement to ur magic aura! Definitely recommend
Different but Awesome!!
Amazing design. Back design with it's optical illusion effect. The bold courts! And the single offset opposite color pip on each face card! Makes this deck stand out among the rest.. The whole design is brilliant! Great for anything, gaming, magic but especially for cardistry! Love it!
Pretty deck
Love the illusion effect! Great for magic
Thought I lost my marbles…
Visually appealing yet sophisticated. Good mix of hues! Satisfied but still urning.
Great Deck
I really like the optics of this deck. Sometimes I can actually see the lines moving.
amazing cards
the cards are perfect they look awesome. they are really an optical illusion. service and shipping was fast as well.