Venom: Levitation System
Venom is the most versatile levitation system of all time. Just minutes after opening all of your fears of thread work are immediately settled.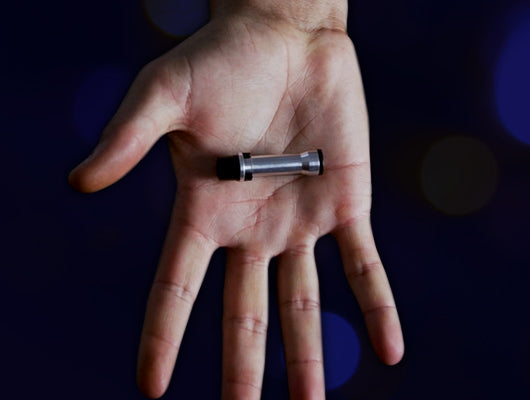 Venom
Complete Levitation System
Venom is the most complete and versatile levitation system of all time

Unlock True telekinetic power.

You don't have to go to the store; this 100% mechanical system produces faultless visuals with no batteries required.

With Venom you can:

Float borrowed items.
Move objects without touching them
Vanish or produce coins, rings & more

Designed so you can perform without fear.

The real secret to Venom is the ingenious hook-up of these mechanical beasts. If you've ever worked with invisible thread before it often breaks too easily or never looks natural. Gone are those days.

Just minutes after opening, all of your fears of thread work are immediately settled.
Arthur Chavaudret finally divulges his revolutionary concepts, techniques and effects to you. Empowering you to explore a style of magic that you previously thought was impossible.

Threadwork is now 100% under your control.
---
⭐⭐⭐⭐⭐ 
"Having tried a number of ITR I think I can say that it is probably the best on the market."
- Jannekeyn
---
How this device is different:
Each package contains not one, but TWO ITRs handcrafted from aluminium & polycarbonate by master craftsmen in France… ensuring quality that lasts a lifetime of performances.

Super strong invisible thread

No batteries required… works for as long as you do

Broken threads reset almost instantly

The Venom system is totally customizable.

Beginner or not, the video contains over 2 hours of expert tuition so that you can use your system right away.
For the first time, you will be able to perform visible miracles with invisible thread.

EACH PACKAGE INCLUDES:

2 x fully loaded VENOM ITR's
1 x Customization accessory
Online video with 8 new effects, concepts and ideas.


Order Venom Today
This product is rated 4.5 of 5.0 stars.
It has received 68 reviews.
Venom is amazing
So much better than loops and other thread reels. Genius invention and the effects taught are fire🔥🔥🔥🔥. Props to the creator for such a useful and practical utility device!
Excellent Product.
It is a bit pricey, but you are paying for an incredibly high quality ITR device(s). But the content and instructional videos and tutorials that span roughly an hour and a half to 2 hours. Each component is completely replaceable and easier to set up than most other devices I've used. The effects are my personal favorite upon ITR once practiced.
Nice reel
Thread Boss on steroids.
The Venom is a different configuration of of the spool drive mechanism. Pricey. But you get two, which is very useful. Venom is nice to own. It's built well...and nifty.
I give it five stars because it compares above the rest in its class and style.
Venom
I have bought the venom before and i am buying it again. It is a very well made product, with powerful,mind blowing levitations. I love this product. I would recommend to anyone looking to up their IT game.
The best ITR
This levitation system is the best in the market by far, it is always ready to perform, it has only a little distance limitation but thats not a big deal for me to perform close up magic !
The best system you can get!
Do yourself a favor and get this. The instructions are very well thought out and the device itself is top notch! Would have paid 20 times the amount I did for this.
Venom
All I can say is, this thing is a GAME CHANGER. A must to have 10/10
My first gimmick and I dove to the deep end of the ITR pool
I always failed at attempting magic, but saw ITR and it caught my attention. Next thing I know I went head first into ITR with the Venom after watching a trailer. Next thing I know I made a purchase through Ellusionist, watched a great quality tutorial video
while it shipped quick and arrived quick.
Fast foward a week and I have zero purchase regret while putting out a show for a select few people so far. The only advice I have is not to do the levitating ring trick in front of a cat! Learned my lesson!
Venom Review
I debated and did alot of research before ordering Venom! I read both good and not so good, but after receiving my unit, I can honestly say, It is worth it. Very well designed and built product. Highly recommend this product!!!
Rick!
Venom
An awesome tool that even a newbie like me can work with