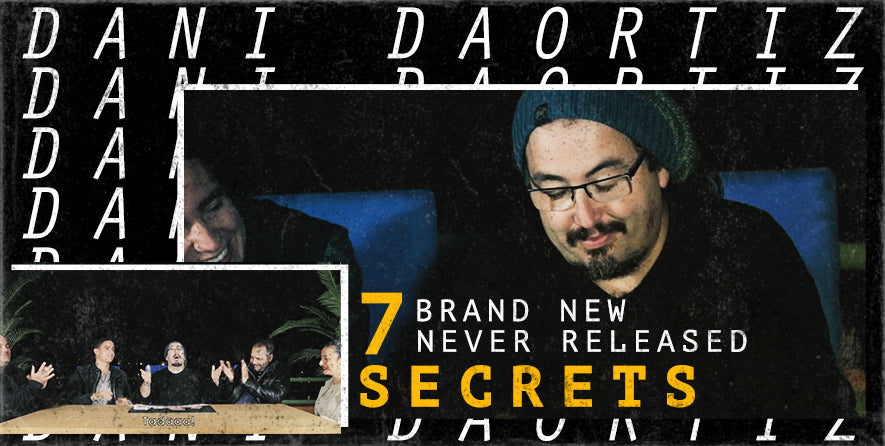 7 Secrets
Dani is like a wind-up toy for magic. Once he's fully primed to go, nothing can stop him.
These 7 secrets are the go-to routines he uses to destroy the magicians who already own his material.
Taught in expert detail and accompanied by Dani's full performances - so you not only know how it's done, you'll know how it's performed too.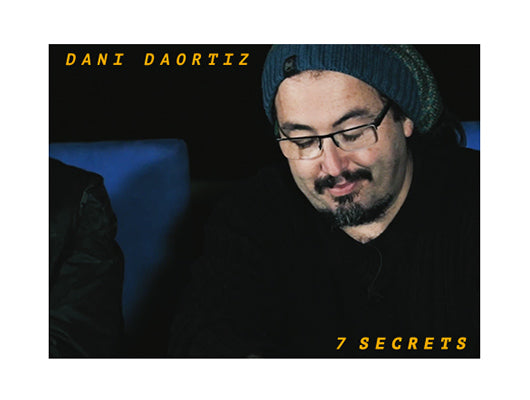 7 BRAND NEW, NEVER RELEASED SECRETS

We met Dani in a 'knock-off' Starbucks in a dusty corner of a Vegas Casino 4 months ago. Our cups said Java Vegas on the side, but we didn't notice.
Our eyes were fixated on Dani, his hands, his movement, his words.

Dani is like a wind-up toy for magic. Once he's fully primed to go, nothing can stop him. You just have to sit back, turn off the part of your brain that tries not to get fooled... and go with it.

We've worked with Dani on a project before, but by the time we'd finished our 'Java Vegas' coffee we were all best friends. He invited us to stay with him at his villa in Malaga, Spain and got 3 of his most creative friends to join the party.

For the next few days we hit RECORD and never pressed 'stop'.

7 Secrets is every unpublished miracle that was captured.
---

SECRET #1 Psychological Color Change - This routine is worth twice the price of this project alone. It's a color changing deck routine like no other. It will fool you every time you watch it because it doesn't rely on sleight of hand, it relies on a unique psychological technique that fools the mind, not the eyes.
SECRET #2 Card in Bread - This is Dani's card in object effect. With no need for complicated surgery on lemons, Dani makes lemonade with half second prep. No mercury folding, a signed card appears inside a bread roll or similar sized object.

SECRET #3 Different - All cards are black, except for one red card. The spectator is invited to find the only card that's different when dealt in a circle. They make their choice and now all the cards turn red, except for one black card. This is like 3 card monte with 7 cards. More cards, more impact. Easy to do, with no difficult sleight of hand.
SECRET #4 Card in Card - In the beginning of the trailer Dani talks about his favorite effect. An effect he's been saving for a upcoming book with Juan Tamariz, the Maestro himself. It's an ode to Hofzinser, but this effect is so visual, you've just got to see it. People assume that a lot of Dani's material relies on misdirection, but when you apply his genius to anything, the result will always be genius. A MUST SEE. 

SECRET #5 Thought of ACAAN - A prediction is made and the spectator freely thinks of a number. They deal down to that number, any number and choose a card. The deck is shown to be normal but their number and card perfectly match your prediction. ULTRA-POWERFUL and almost self working.

SECRET #6 DaOrtiz Vanishing Card Technique - This is the cleverest vanish of a card we've seen in 2 decades of teaching magic. It's perfect. To accompany this technique Dani teaches his new card in box routine where a selected card appears inside the box that was sitting on the table the entire time. A must-learn for ALL magicians.

SECRET #7 Coin in Sugar - For the first time ever, DaOrtiz throws out the deck and swaps it for a coin. This, to his and our knowledge is the first coin effect he's ever published. Imagine how powerful Dani's established thinking is with a brand new tool - a borrowed coin.

BONUS EFFECTS: Dani will also teach 2 of his favorite tricks to perform in restaurants or when out for coffee with friends. We're not going to tell you what these are, they're exclusive for buyers only.
 
---
These 7 secrets are the go-to routines he uses to destroy the magicians who already own his material.

As a creator he keeps pushing forward by burning the bridge behind him. Now his secrets are your secrets too.
Taught in expert detail and accompanied by Dani's full performances - so you not only know how it's done, you'll know how it's performed too.
As Dani teaches in this project, it's not the method, it's what's hidden within the method where the real value is.
Download '7 Secrets' and start learning INSTANTLY.
This product is rated 4.6 of 5.0 stars.
It has received 19 reviews.
Dani Daortiz, a master magician, presents his secrets in a way that is both educational and enter...
"7 Secrets of Dani Daortiz" is a fantastic resource for anyone interested in not just magic tricks, but also the art of performance itself. What makes this offering stand out is its comprehensive coverage of both the technical aspects of magic and the equally important elements of showmanship and audience engagement.
Dani Daortiz, a master magician, presents his secrets in a way that is both educational and entertaining. His style is engaging and dynamic, making the learning experience feel more like watching a captivating show about magic rather than just a tutorial. This approach enhances the learning process, as it keeps the viewer thoroughly entertained while imparting valuable knowledge.
A key strength of this resource is its focus on crowd control and audience interaction. Magic is not just about performing tricks; it's about creating a connection with the audience, and Daortiz excels in teaching this aspect. His methods and insights into audience psychology are invaluable for any aspiring magician.
The lessons go beyond mere trickery, delving into the nuances of presentation, timing, and the subtle art of misdirection. This broader perspective on magic makes "7 Secrets of Dani Daortiz" more than just a magic tutorial; it's a deep dive into the artistry and psychology behind successful magic performances.
In summary, "7 Secrets of Dani Daortiz" is an amazing resource that offers much more than just magic tricks. It's an immersive educational experience that combines skill, art, and psychology, all presented by a charismatic and knowledgeable magician. Whether you're a beginner or an experienced magician, this resource is sure to enhance your understanding and execution of the magical arts.
The Greatest and most Generous
Dani DaOrtiz is 1 of the world's true great artists and, in not just my opinion, the greatest card magician in the world right next to Juan Tamariz and Lennart Green. So what are the chances that the greatest card magician in the world will be the most generous? THIS is what you get from Dani's downloads. Every single download gives you way more than what is advertised. Because he is such a generous and intuitive instructor, you get to learn more in 30 minutes of Dani's instruction than in 30 days of basic training. I have to say in general, Ellusionist knows how to pick and present the very best of the magic arts. Bravo!
7 Secrets
Honestly Dani is one of the best if not the best card magicians alive today so if you want to up your card magic to the next level I'd definitely recommend this not only does he show you amazing card magic but within these 7 secrets it also gives you ideas about your own card magic the only flaw is if you're a beginner it is going to be hard to master these tricks
7 Secrets
Love all of Dani's stuff. He made it easy to understand and follow.
Everything Dani puts out is great
Highly recommended. Dani is a wizard.
Great download!!!
I just love Dani and how much he has to share with us. I highly recommend this product.
Fantastic
Dani really is a master performer and his ideas, philosophy and psychology perfectly fit his style to deliver absolute miracles to the audience. I highly recommend to purchase 7 secrets because in my opinion his work is so original and somehow uncommon, especially if you're not familiar with him. It's a mix of clever methods used in a perfect way and well thought routines. Of course, there is one Daortiz only and you might have to adapt some of this content to fit your own style. NONETHELESS, even if you're not performing, you will learn something !! So do yourself a favor and buy it, the content is simply amazing and so entertaining
A must have!
Ellusionist could have easily charged double! Creative! Thank you!
Wonderful Worker Material
As aways Dani has some brilliant effects in here. Great routines for real workers. Even if you don't perform any of the tricks taught (but you will) watching a master like Dani and learning his ideas, thought process is the real value in here.
Seven secrets - a great set of tricks
Danny's explanation of the tricks are as usual funny and full of energy. You are fooled over and over again. This package contains a good set of tricks.