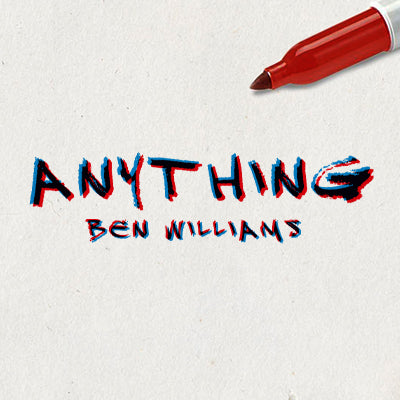 Anything
Sale price

$5.00
Regular price

$10.00
(/)
Over 2 HOURS of tuition and method.
Words, names, birthdays, personal information… ANYTHING
This staggering prediction routine from Ben Williams brings a practical twist to the "One ahead" technique and allows you to predict almost anything. This is a routine that can be impromptu and performed at any time, in a performance setting or just out in the streets.
Anything is a very efficient way of performing a prediction routine that can be done with… 
No peaks or impressions
Performed at anytime
Done in multiple variations
Ben Williams will have you reading minds in minutes, taking you through this devious routine with excellent coaching and experience. Williams also adds almost an hour of bonus tips and tricks that will ensure you are blowing the minds of all your spectators.
This 100% accurate, easy to do routine is available now on Magic Stream. I'm reading your mind right now… I know you're going to watch it. 
Learn it now.
This product is rated 4.9 of 5.0 stars.
It has received 16 reviews.
An improvement on an old mentalism concept
If you have learned the "one -ah*** principal and thought, "ok..but I feel like my audience will figure that out", I know EXACTLY how you feel. Every time I preformed that old concept, it felt kind of silly. And even if I acted my ass off, there was still a major doubt in the minds of my audience.
Anything is the solution to that problem. While similar, its such a simple improvement that makes A WORLDS DIFFERENCE. I just started preforming Anything and the reactions I have recieved are stunning. People literally grabbing me, asking how in the hell did you just do that. You have to tell me. That's impossible!
This is my new closer!
Great concept for an old affect
Really useful for a one ahead method. Like the idea and have been looking to use it in a set
Awesome
The second I bought it I disconnected from the world I learned and want to perform it and it works amazing and for 2 Dollars...
One of the best buys of the year.
Excellent Tutorial for 2$
For 2$,this is incredible. The amount of instructions and detail put into it is mind blowing. The method is simple but the presentation is superb. 5 Stars!
The best One Ahead teachings
What else do you look for, here you will find the best one ahead complete teachings, i mean everything yes everything related to this principle, for this small amount and you are thinking to read another review 🤔 go for itttt....
Anything
I add to the chorus of praise. Ben Williams is articulate, clear, and inventive. The method is an assembly of individual components, each of which I 'knew' in isolation. Putting them together in an impact-building way, with excellent patter and justification makes this a masterclass, and for a very modest price.
Ellusionist is amazing
I quit learning magic in the 6th grade and have come back to build on mentalism and the assortment of tricks and effects available are not short of amazing.
Lots of great stuff
For 3 bucks, you can't beat this. You can do anything. I also learned a lot of subtleties and ideas for presenting and preparing your ideas. Very simple to do. I'm now a big fan.
New Look; Classic Technique
First, you can't go wrong at this price — even if you're just curious, go for it. But if you actually want to put it to use??? This will give you maybe the biggest bang for the buck ever. The foundational technique is older than your grandma, but the way it's presented is new. And the explanation is top notch. More info than you absolutely need, but I always like more info than less. This is my new "hey, show my friend something" effect.