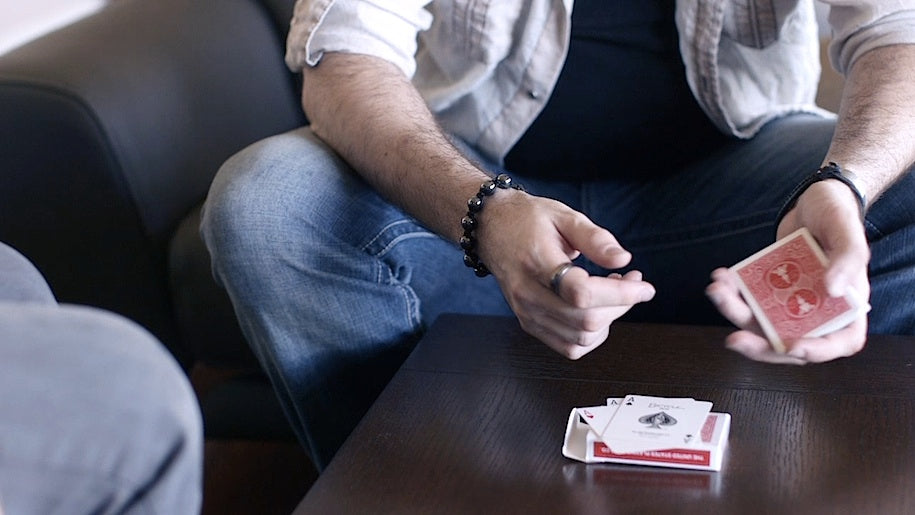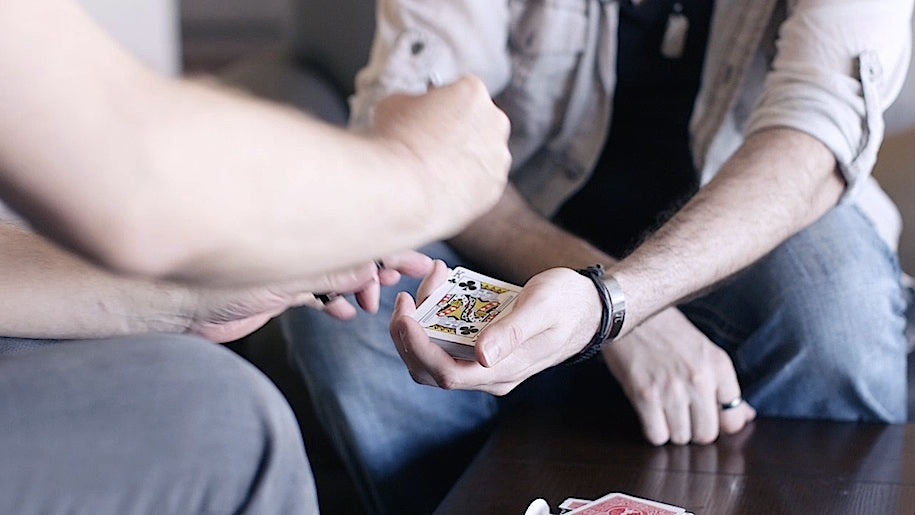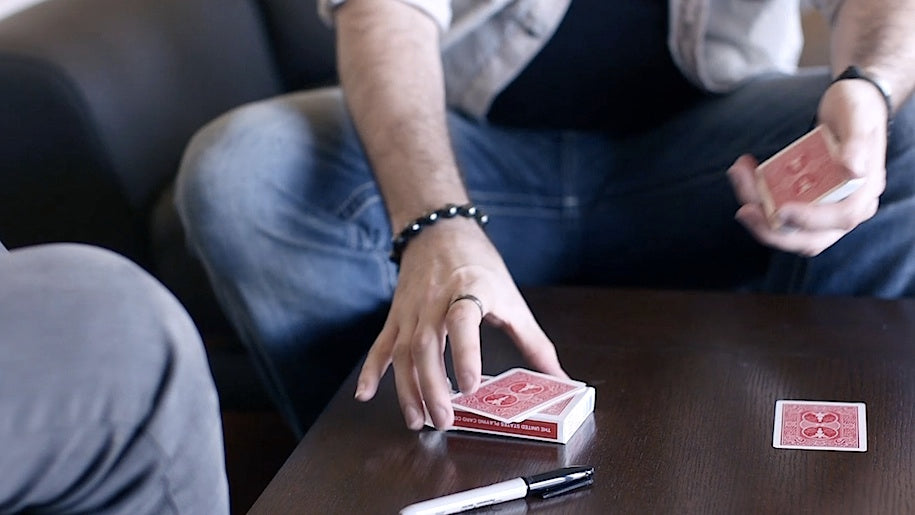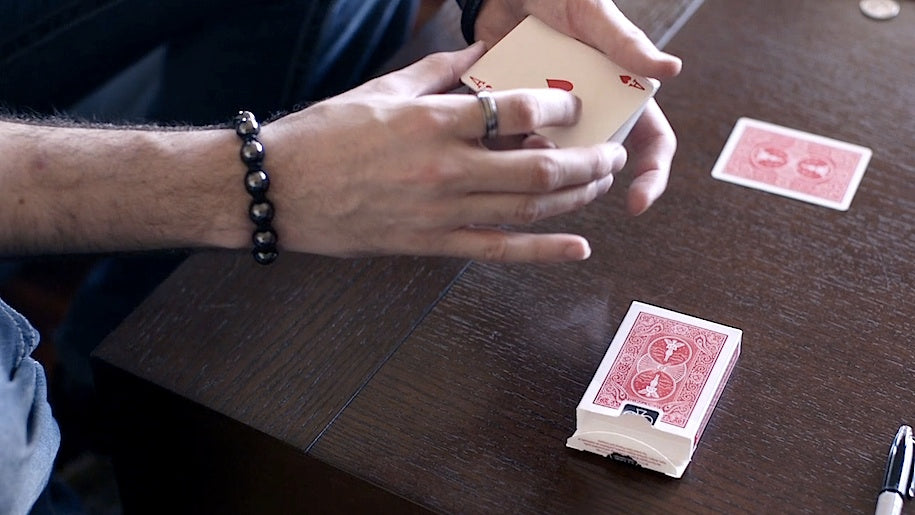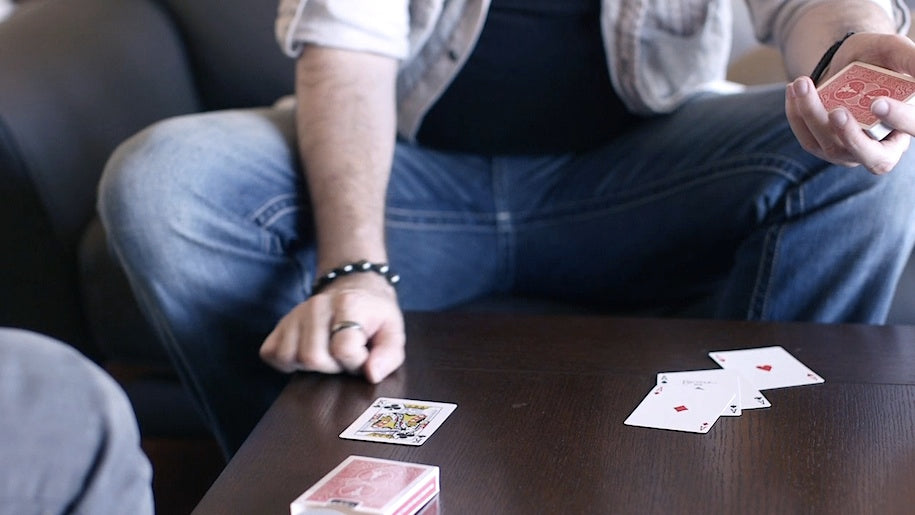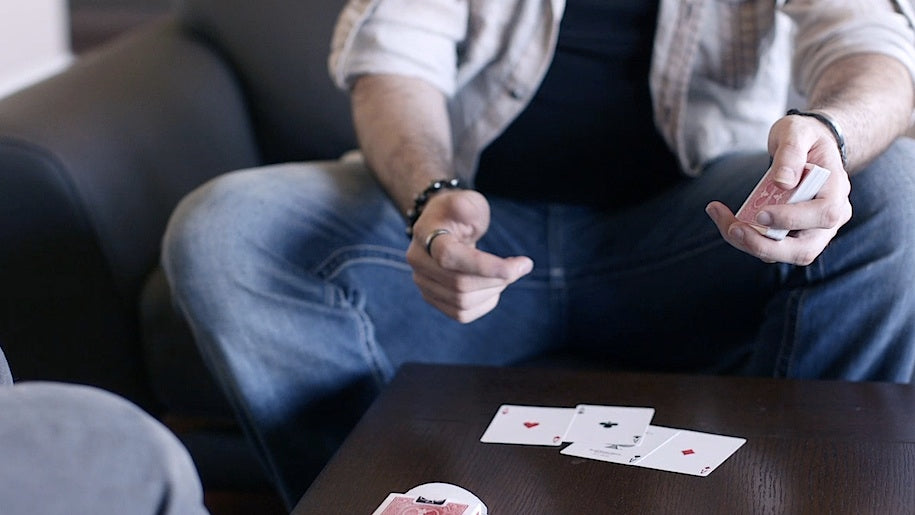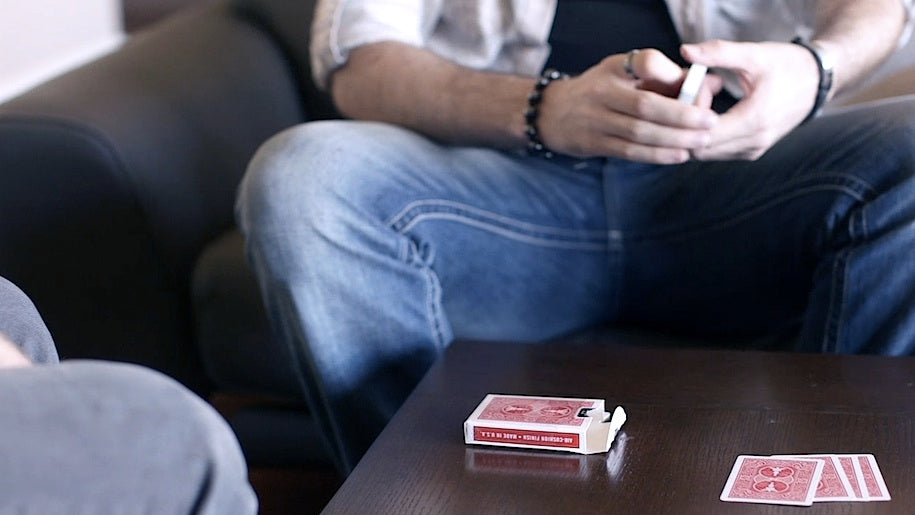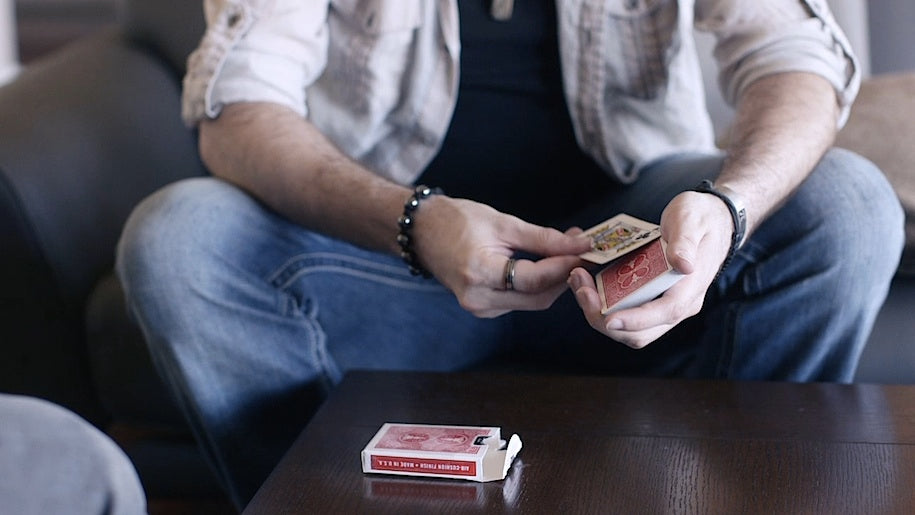 The Blur Transpo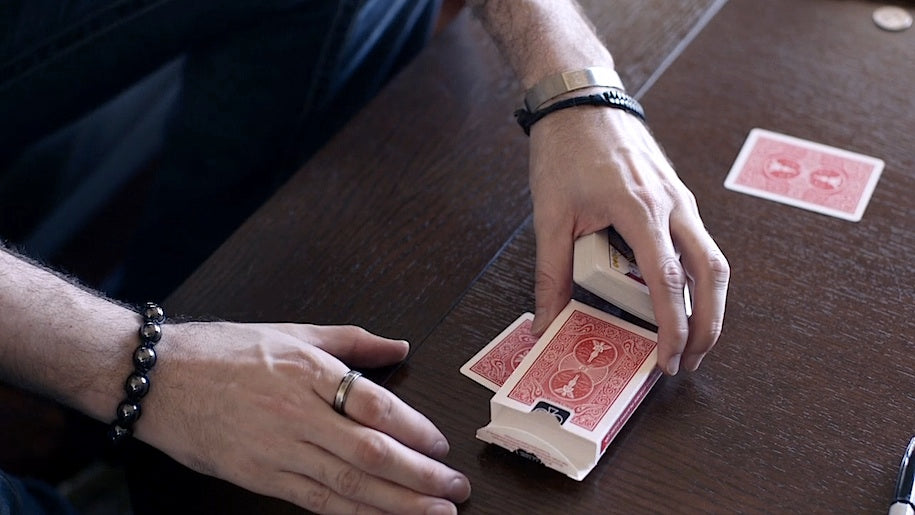 Four aces are peeled off the deck and set on top of a card box. Meanwhile, a card is chosen and signed by the spectator, then set on the table, far from the aces. The Aces are verified to still be visible, before being set beneath the card box. The magician pauses for a second, then turns over the previously selected card... to reveal the four aces.

But if the Aces are where the selection was, then the selection… The card box is lifted and the spectator turns over their signed card. Sure enough - they've changed places.

Justin Miller has created a transposition of four aces and a signed playing card using original moves created by him, moves which are used throughout a number of his effects. In nearly twenty minutes of thorough teaching, Miller explains his newly created sleights and subtleties, revealing a modular effect that's bound to please even the most hardened move-monkey.

This product is rated 4.9 of 5.0 stars.
It has received 13 reviews.
Review for the Blur Transpo
Honestly one of the best effects for the price. It's easy to learn and will definitely blow minds
Summary
jm is so genius.very good transpo effect.explain well in the video.difficulties in some sleight but have to practice more.nevertheless,good transpo.must buy!
Summary
This trick is very fun and teaches a lot of subtle moves to use for future sleight of hand. The moves are briefly covered and require more explanation for the beginner. I am new to magic (<6 months) and would strongly recommend that this trick be purchased either prior to or in addition with a basic sleight of hand video/course/book. I know that there are a plethora of beginner videos/courses on ellusionist.com to choose from. A beginner can pull this off, but again will not have the finess points of an intermediate or master magician. Justin Miller does a good job at coaching and uses easy language to ease you into his world. He makes it simple without making you feel dumb. I would recommend any trick from him.
Summary
Blur Transport has without a doubt one of the best tricks I have brought. If I had to describe the trick in one word I would say, INCREDIBLE! The reactions I got when performing the trick are quite funny because it shocks the spectator or even scares them a little bit. This trick is definatly worth all the money. :)
Summary
It's a great product..........I'm a college kid on campus and the reactions I get from this is incredible. I love this effect !!!!!!
Summary
I really like this video. I'm just starting out in magic (still in my first 6 months), and I'm a big JM fan. I love the way he teaches his tricks, and this trick is no exception there. The way this trick is an exception is that in teaching the trick he teaches multiple moves that have multiple uses outside this trick.
If you watch the trailer and don't really want to learn to do this trick, you should still consider purchasing this video. This video is a toolbox of moves for you to use in other tricks that you can make.
Not to mention the trick is fun.
Summary
JM does a great job giving you a lot of value for your money. This one does not disappoint. You will learn a lot of good principles as well as some excellent sleights. The effect itself is a grand tour de fource for your spectators as they witness cards transposing and changing identities with each other under almost test conditions. Almost a form of Metamorphosis with a deck of cards. For this price take a chance and get something that will make you smile and teach you something as well. Your spectators will thank you!
Summary
This is a fun trick to perform in my opinion, and Justin Miller is an amazing teacher. I love all of his effects and they're very original. This one is great for your routine.
Summary
this is the best 5 dollars I spent JM is the best teacher out there as well as with the rest of the E team i bought all three of his new effects because I lost my magic performance three weeks ago that iv ben doing for 16 years as a magician and I added all three of his effects to my new performance and got nothing but the most insane reaction ever my advice buy all three now
Summary
Yet again another great effect by JM. Love this guys stuff, always simple, powerful, and actually usable in a real environment. JM gos into great detail teaching this. easy to do, and you will be doing it within the hour with a little practice! went down a treat at a gig yesterday! "DOWNLOAD IT NOW!"