Bulletproof Sleeving
In BulletProof Sleeving, Justin will teach you his personal methods and techniques for making your sleeving buttery smooth and oh-so visual.
The best part is, sleeving is an underused utility that YOU ALREADY OWN.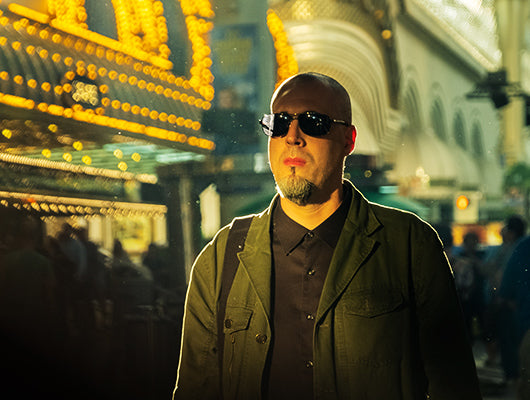 BECOME BULLETPROOF WITH AN UNUSED UTILITY THAT YOU ALREADY OWN.
Justin Miller is back with the definitive guide to sleeving, combining over 30 years of self-taught experience and knowledge. Justin Miller brings you the tools to becoming a master sleever, packing in three decades of tried and tested tips, tricks, and ideas into an extensive two-hour tutorial.
"It's a secret assailant to murder your audience. That's what sleeving is."

- Justin Miller.
We followed Justin Miller around the streets of Las Vegas for 4 days, capturing countless performances.
His movements and techniques were genius, but like all genius', his unconventional way of thinking has propelled him decades ahead of the rest of us.
Now he's going to share those secrets with YOU.
"Do you think I would go out there and use sleeving in my everyday life if I didn't know it was the most powerful thing to use."

– Justin Miller
In BulletProof Sleeving, Justin will teach you his personal methods and techniques for making your sleeving buttery smooth and oh-so visual.
You'll have access to Justin's complete theory on sleeving and 12 of his own unique routines that will leave any spectator's jaw on the floor.
The best part is, sleeving is an underused utility that YOU ALREADY OWN.
Pen Vanishes/Switches: Learn how to vanish or switch a pen at a moment's notice. Justin will teach you what pens to use and when to use them.
Muscle Pass to Sleeve: An underused move that takes your sleeving to the big leagues. You'll hit your target 100% every time.
Sleeving a coin: Justin will take you through his technique for properly sleeving a coin, with bulletproof accuracy.
Coin Through Hand: Melt a coin through the palm of your hand. Unlike most magic, this is so clean you can instantly repeat it & NEVER get caught.
Coins to Glass: A two-stage coin transpo where the coins appear in impossible places right in front of your spectators' eyes.
Color Blind: A color-changing sharpie routine, that relies on sleight of hand, misdirection, sleeving and the secret we're about to teach you. Once mastered you have a killer effect in your back pocket at all times. (Or up your sleeve)
Ring in Sharpie: Turn a borrowed ring into a portal and slowly pull a sharpie out of the metal. All done in the spectators' hands.
Brothers United: A coins across routine that cuts out the tricky sleight-of-hand and uses nothing but sleeving.
Sacagawea: Justin's unique take on the classic Copper/Silver routine done with no gimmicks… Just sleeving. Leave those gaffs at home baby!
Cards Across: No need for palming, this classic plot has been given the Bulletproof treatment. Justin uses nothing but Sleeving to re-distribute the dirty work and leave your spectators fried.
Silver Dream Alternative Ending: A brand new climax to Justin's first Ellusionist best seller (he's had a lot of them), Silver Dream, from 2006.
Bonus Features: Learn about Justin's process, how he creates and why he loves sleeving with our bonus Q & A. Plus, see Justin in action on the streets of Las Vegas performing some of these face-melting effects.


Justin doesn't just teach you how to sleeve. He teaches you when to sleeve, what to sleeve, what to wear when you're sleeving, how to sleeve with your sleeves rolled up and every little detail he's developed from doing these moves time and time again.
Bulletproof Sleeving isn't a guide for beginners, hobbyists or even professionals, this is for ANY magician that wants to add sleeving to their sets, or take their existing sleeving from bog-standard to Bulletproof.
DOWNLOAD
TODAY

.
This product is rated 4.8 of 5.0 stars.
It has received 15 reviews.
Bulletproof
I have watched only the first half, but i am already very happy with that video. Sick effects, and good teaching.
Also They are having fun and it feels good to share that moment with them.
I am happy to be soon viewing part 2
What the...
I was thinking a long time if i should buy this or not.
And now I can say, WHY DID I WAIST SO MUCH TIME!!
I was working a long time to become a "good" sleever!
But, for me, this is the best technique I ever see.it works for beginners and I'm sure that a pro would love this to.
This technique looks and feels so freaking awesome... I can't get enough from it.
And for this price you get so much...buy it... Really... Buy it
Justin did a great job on this and the routines are awesome.
Sure you have to practice... But show me a trick where you don't have to practice.
So I say it again
Stop to think about it
buy it
Practise
And blow them away🤘
A sleeving masterclass
This is not a series of tricks using sleeving, although there are some really great routines on there. What Justin gives you is a system for sleeving any kind of small object with very natural movement. This is probably the main strength of his style of sleeving. Every movement looks the way it's supposed too. I can't recommend this highly enough! Oh and once you get started it is really hard not to sleeve everything
Justin is the best
One of the best videos from Ellusionist! Justin goes into great detail explaining how to sleeve in different situations and clothes. Very valuable information for slight of hand performers.
Flip Stick Vanish felt more difficult to me than sleeving a pen OR a coin, honestly!
It is amazing how beautiful this looks and what I learned within ONLY ONE rainy Sunday absorbing this Video! Totally unexpected and never though possible on my end. Honestly, I found the flip stick vanish to be more difficult and I never had a reason to learn it - now I definitely do have a reason and Justin's teachings are wonderful for the most part. It's so much fun and now I cannot wait to perfect it and perform for someone! Sure, it still takes some time to get 'bulletproof' but it's within reach and as metioned: fun!
Sleeving is such a underused utility that everyone already own. Whether you're a beginner, intermediate or even an expert, bullet proof sleeving can take your magic to a whole new level of astonishment. Last but certainly not least... It's Justin Millier we're talking about man ofcourse it would be amazing. Highly recommended 👍👍
Justin Miller Strikes Again!
This is probably my favorite thing to come from Justin Miller. I still haven't gotten his Silver Dream from way back when, but I feel like this is even better, because it starts with the basics and you can create your own routines. Justin is an amazing magician and teacher. If I could give this more than 5 stars, I would.
Summary
I enjoy it when (E) decides to put out a real project. I'm not big on one trick wonders. This is a tool and it replaces an insane amount of gimmicks. Also f@ck off for trying to get your 5 seconds dogging Justin's work in a previous comment. I can't stand when a "magician" knocks a real worker. Good shit Justin
garry
Brilliant, great video, great demonstrations, and a lot of in depth explanations on how too by Justin Miller