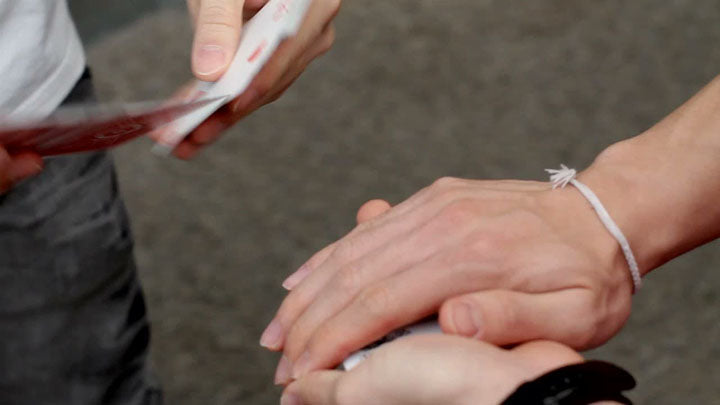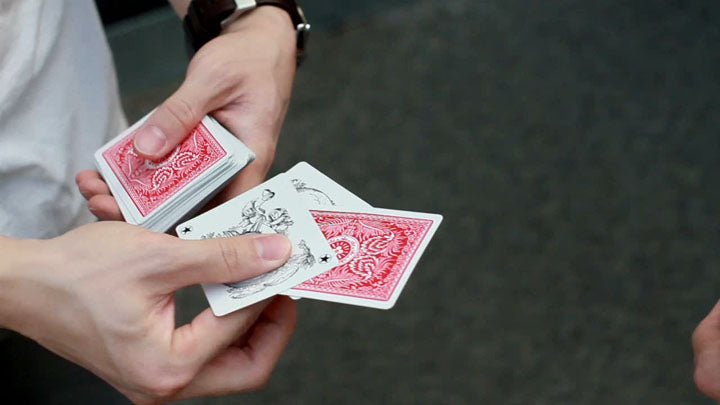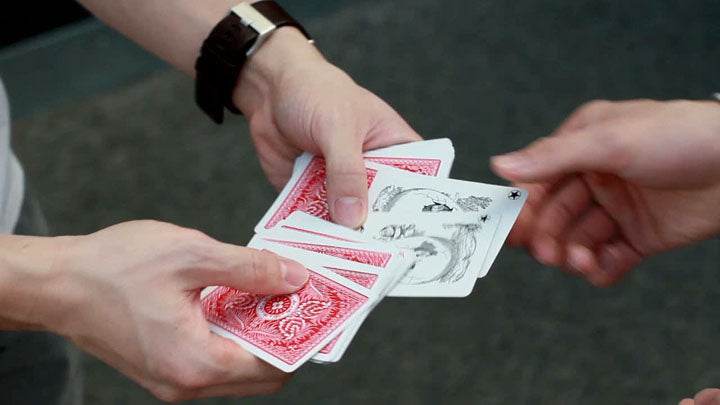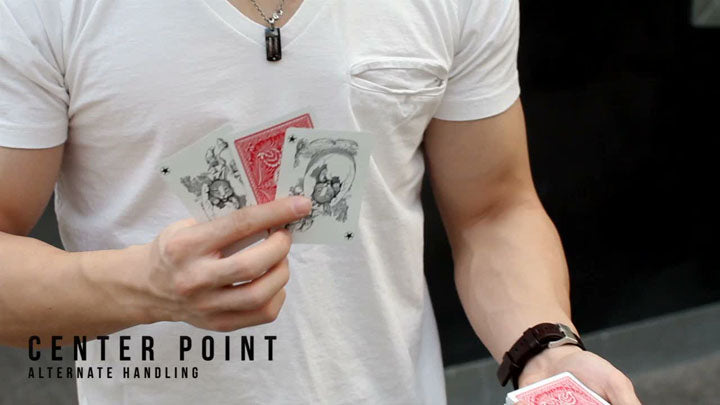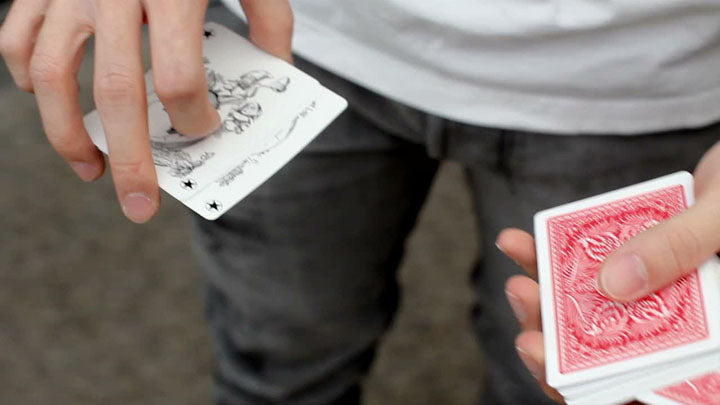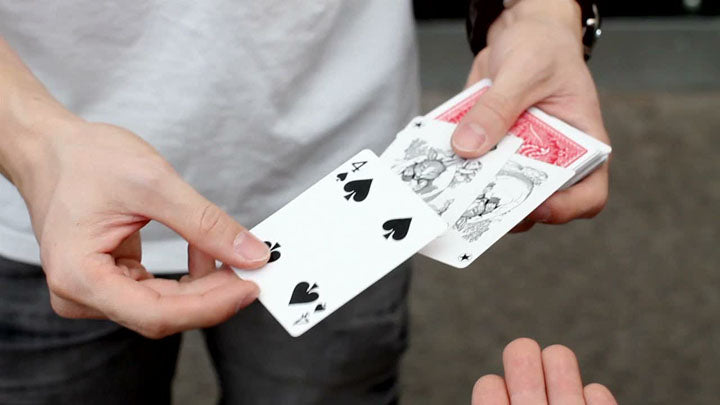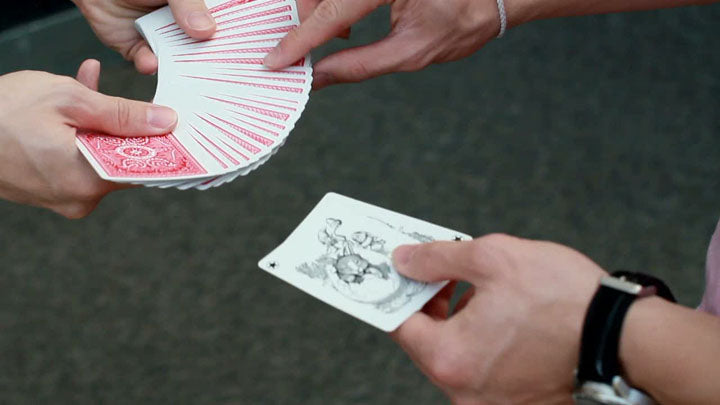 Center Point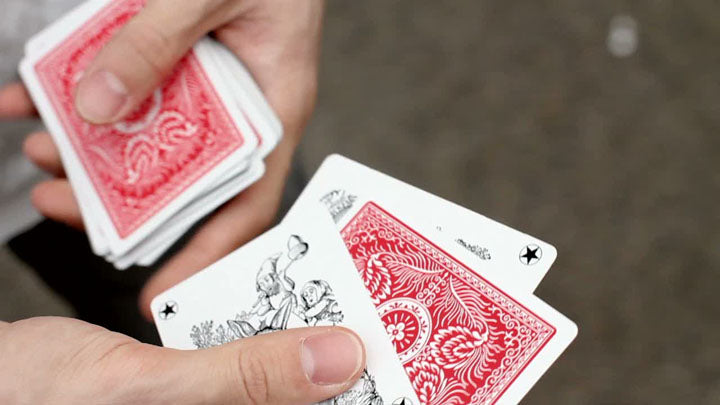 Center Point is a 3 phase visual sandwich routine that is so visually powerful that it can be ended after the first or second phase. Each segment is that strong.
Patrick includes several handlings on each phase for you to choose depending on what style fits you the best. This effect can be done with no preparation. It can be used to end an Ambitious Card routine or be a stand alone effect itself. There's no way a card appears that fast without a gimmick. But it does, and there isn't. Impromptu through and through.
A selected signed card is lost back into the deck, only to instantly appear between two visible jokers. Their card then vanishes from between the jokers back into the deck, and finally vanishes from the deck only to appears between the spectators hands.
This product is rated 4.4 of 5.0 stars.
It has received 22 reviews.
Move monkeys welcome..
This is a great addition to the toolbox. HOWEVER this is not easy, so non move monkey beware. This is quite the ambitious undertaking and very Kevin Chow-ish. Once learned though, you will use it near nonstop.
Summary
Great effect, with that said, very difficult to perform. Definitely for more advanced magicians. I myself have not started to preform this and am still practicing. The move is very similar to the one used in "Vector", thought I would mention that seeing as I bought both of them the same day and was a little sad that they were basically the same just presented different.
Summary
My favorite sandwich routine! Not a single day i don't practice this. It is not for Beginners. In almost 10 years of doing magic this is by far my best close-up effect I've performed. Gets amazing reactions and it is a reputation maker. Buy it now!!
Summary
The sleights taught in the video make the video worth buying. Very good. I need some practice but this will be one of my highlighted tricks.
Quality Trick, Quality teacher, Quality price!
i love this trick! it's a tricky one, but if you're willing to put in the time then you will not be disapointed.
the only thing i will say is that i had to come up with my own handlings for one of the parts, as it's a little angle sensative and it doesnt suit how i like to perform, but that wasnt a problem at all.
one word...Amazing
its a little hard for me specially because i have kinda small hands but like everything, practice makes perfect. its super clean with extremely visual hard hitting effects...when i saw it i knew i had to get it and it was worth every penny...for 10 bucks it really is a steal!!!!!!
Awesome
Amazing trick, but only for people who are willing to dedicate a lot of time for practice. This trick has taught me many moves and I managed to create my own tricks using the very same moves... Just want to say again for emphasis, that this will require a lot of practice but trust me, it's worth it.
Mr. Kun I salute you
Mr. Kun. I am your #1 fan! Center point is an outstanding trick! I have a little trouble with outjogging the card inbetween the jokers but with practice im sure it will come along. I will soon add Vector to my tricks. Cant wait!
AWSOME
Wen i got this trick i thought that i would never learn how to perfect it.two days later peaple at school are saying "how did you do that"? and "do it agian".thanks patrick your magic teaching is easy to follow and listen to your AWSOME .
Much more than just a simple routine!
Center Point by Patrick Kunvatanagarn:
This is not just a simple sandwich card routine. I just got this a few hours ago, and already I have expanded to applying some of the moves that Pat has combined into many other card tricks. This will definitely be placed into my performance routines.
In less than half an hour, you start off with 2 classic moves with a slight tweak that alone is worth the price of the video. Then each phase has multiple handlings that allow for many different ways to perform this routine.
Most of the moves will not be foreign to experienced card mechanics, but with the timing, tips and combination of moves that Patrick supplies here, you have one gem of magic knowledge.
The foundational move for the sudden and astonishing appearance of the sandwiched card is not the easiest to perform, but if you have any experiences with color changes and instant transpositions, you already know that this one will be well worth it.
All three phases can be a great trick in itself. The extra card controls included in the video are very useful. Best of all, this can be done anywhere, anytime, with any deck, even with business cards (just tried it). But with practice, experience, timing, and a good deck, you can even make this trick LITERALLY fly into the face and hands of your spectators.