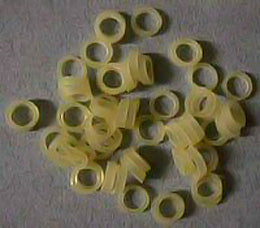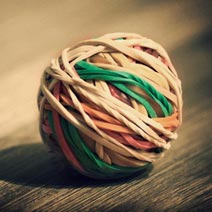 Folding Coin & Coinbite Rubberband Replacements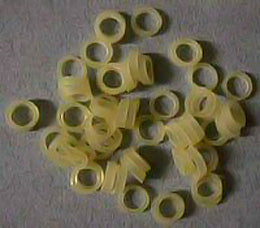 The name says it all. Eventually your coinbite's or keybite's band will break and or wear out. You'll not want to get caught off-guard when this happens.
Get these now.
This product is rated 4.5 of 5.0 stars.
It has received 11 reviews.
Exactly what it says...
Perfect replacement for your quarter folding coin. You get a TON of bands in there. A few might snap, but thats why you have extra! Keep them in the fridge and the rubber will last longer!
Keybite & Coinbite Rubberband Replacements
Yup
These rubber bands work. I'm trying to imagine how long it will take to run out of them.
Dave
Nice trick. Bands will come in handy. Does anyone know where to buy the matching real keys?
Summary
Great bands and they work great. If you use the coin bite daily then this is a good buy!!
Great original trick
The coinbite is a great original trick that i use all the time.
Great service but, unfortunately didn't work.
I needed to replace the rubberband in my "coin bite" and Ellusionist was my first choice. Same exceptional customer service I've learned to expect from Ellusionist. Unfortunately, the bands were a little too thick and wouldn't fit in the groove.
Just what was needed
Perfect for fixing the keybite gimmick. Very easy to fix with these bands.
Summary
The coinbite replacement rubber bands are needed if you have the coinbite or going to purchase it. They do break sort of easy. I do believe that $4 is a little much. I think a $1 or $2 is much better.
Works Like It Should
First of let me say that I only gave 4 stars because of the price. $4? Really? Should be $1, but anyways. As far as quality goes, they work. I didn't buy my "coin bite" gimmick from Ellusionist.com, but these bands still work perfect with it.