Ephemera
In over 40 minutes of expert tuition, Tony Chang's protege flips the lid on every move, trick & tip he has ever created.
No secrets, no holding back. Everything laid bare.
Pure, unadulterated sleight-of-hand.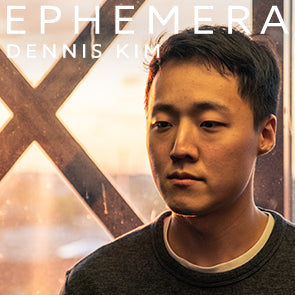 Ephemera
Sale price

$10.00
Regular price

$19.95
(/)
Special Forces operators have a slogan: "Slow is smooth. Smooth is fast."
The same applies to card magic.
Dennis Kim's Ephemera is an assembly of smooth visual moves.
"I PASS THE TORCH TO DENNIS" - TONY CHANG 
TRICKS
PORTRAIT OF ESCHER - Dennis' favorite trick to perform. By concentrating on a freely selected card, all other card faces vanish. Then, the card they thought they saw is the ONLY blank card in the deck.
EPHEMERA - A Blackjack pair vanishes completely, but before your spectators mind can accept it as fact, they instantly arrive back in your hands. A 'WTF' moment. 
SILK ROAD - This gets the #1 spot for us and is worth the price of admission. A 4-to-1 transposition that's 100% dirty and ludicrously bold but looks SOOO good. Instant must-learn. 
PARTING - Calling all move monkeys. Oh, there you are... Parting (as seen in the trailer) is a double sandwich routine that moonlights as a 4 card location effect. Get out the band-aids. Your fingers are gonna hurt after this. 
SLEIGHTS
DPS - The diagonal palm shift is one of the most useful and under-utilized steals in magic. Dennis teaches you a way to pull it off invisibly. Without obvious finger movements. 
JECHT LIFT - Okay, we'll be honest. We thought this was a single card flourish when we saw it. Are you fooled too? Dennis teaches you this perfect double turnover where the cards stick together like glue. 
KNUCKLE PALM - A variation on the Erdnase palm technique that uses no breaks and no get-ready to flawlessly palm a card from the bottom of the deck. 
VERNON TRANSFER - Switch 4 cards for 4 cards whilst turning the deck over. Dennis' take on Vernon's famous transfer is almost like an optical illusion. The motion and move are dance partners. 
+ BONUS TIPS on the pinky count, palming & sleight-of-hand angles.
In over 40 minutes of expert tuition, Tony Chang's protege flips the lid on every move, trick & tip he has ever created.
No secrets, no holding back. Everything laid bare.
Pure, unadulterated sleight-of-hand.
Download EPHEMERA.
This product is rated 4.8 of 5.0 stars.
It has received 16 reviews.
Some really nice ideas
This download has some really nice ideas for move monkeys. I really liked his version of the DPS and the trick where the cards turned blank. It was a bit short for my liking but the content was all good
LOVE IT
The things you learn here ARE SO GOOD. It's actually crazy fun and also crazy difficult but so worth it. Would recommend learning anything from here. It's really fun to do and the tips on palming is really useful! Dennis is a genius.
AMAZING
It makes me feel so much better knowing that someone as good as Dennis has windows like me, but can still palm. I would pay the price of the download just for his tips on palming and the jecht lift. I don't need to tell you about the jecht lift, it's amazing. Dennis has saved my life! I was literally drowning, so he came by (yes, there was a halo around his head) with a life vest, pulled me ashore, and revived me. All he had to do was make a freaking amazing double lift. Thank you Dennis Kim. Highly recommended!!
stunning
Ephemera is an extremely well balanced download, with original knuckle busting sleights to satisfy all move monkeys but with some fantastic insight into simple moves you thought you knew everything about. For example: I used to despair at the idea of a classic palm, due to my windows, but Kim teaches you how to get around windows, going into angles and with performance tips. This download is really worth the money. It is forty minutes long but doesn't fell like it's trying to take up time. The instructions for moves are concise and well explained, and they don't drag on and spend an excess amount of time to the point of boredom. There are also some true gems in here, jecht lift is a stupendous move and portrait of escher gets stunning reactions for laymen.Obviously you need to be educated in sleight of hand before learning this. I'd recommend this for anyone who is on the level of somewhat being able to perform an anti-faro. Nowhere close to perfect one though, just one or two cards perfectly anti faroed. Obviously this doesn't apply to everyone. It's just what I'd recommend in terms of sleight level before learning this. In short: ephemera is a great download for anyone who loves sleight of hand. I hope this review helps somebody decide they'd like to buy it.
Love it
Recently got back into sleight of hand, this was one of the first videos I picked up(in over 20 years). Very happy with it and the fact that I am able to watch it over and over again perfect it, helps out a lot.
INSANE
Dennis Kim is a certified BEAST. Along with amazing subtleties on handling and bonus ideas, Kim shows off his myriad of skills that are worth well over the price of admission. "Silk Road" and "Portrait of Escher" are my favorites out of the project due to the sheer beauty and elegance they carry. The only critique I could give is that there is one effect not taught on the download that was shown in the preview. Even though it looks cool, I did not miss it. Top marks!!!!!!!!!
LOVE IT
He's amazing at thesemoves. Watching it gives me happiness, super well taught.
Forrest
The routines are gorgeous. Well articulated and thought out. This is the kind of card magic I want to see and perform. Congratulations Dennis you?ve developed masterful works. Honestly I?ve been reaching for everything Tony has ever taught as well because of this project, well done. You do your instructor proud.
sam
Product is fantastic! So good!
Some of the moves are very challenging. If you can perfect it, you can definitely amaze people away.
david
This makes me so fucking happy. Dennis Kim, you are a genius.