Erdnase x Madison
THE RETELLING OF A LEGEND. Written in 1902 by a careful rounder or convincing fraud, The Expert At The Card Table has ingrained itself into the tapestry of modern magic. This is Madison's take on the legend of Erdnase.
This is a download only product.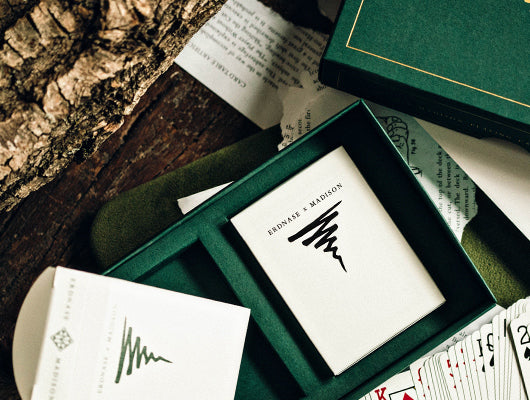 1 year ago I decided to take on a legend who turned out to be a fake. I locked myself in a room, void of all distractions and shut down my social media accounts.
Studying, memorizing and mastering the infamous book from 1902: The Expert at the Card Table by S. W. Erdnase.
It's taken me all around the world to find out more about the man. Exploring LA, New York, Paris & London in the search of answers.
This huge collection is not just about me teaching you everything from the myth Erdnase created.

The secrets within this truly unique project have influenced my career over 15 years. I realized I'm better  than Erdnase, and I can prove it.
Even though the original box set is no longer available, I can still offer you my experience & knowledge through the digital medium. You'll have access to the downloads an and annotated PDF version of Expert at the Card table.
This will be my last major project.
-DM
The Second Deal
The Bottom Deal
The Greek Deal
False Shuffle Theory
ITH False Riffle Shuffle
False Overhand Shuffle
Vice Shuffle
Ghost Shuffle
Perfect Riffle Shuffle
Push-Through Shuffle
Broken Bridge Shuffle
Blackjack Strip
Coat Shuffle
The Table Blackout Shift
Table Riffle Shuffle
Over Cut
The Madison Shift
SWE Shift
The Broken Pass
The Classic Pass
Frank Hop
Ghost Cut
Amnesia Cut
Bypass Cut
Broken Running Cut
Jacket Shuffle
Ladder Shuffle
Scratch Cut
Slip Cut 1
Slip Cut 2
Single-Handed Shift
The Classic Palm
The Gamblers Cop
The Hotel Cop
The Turnover Pass
The Squeeze Shift
Brag
Ten Steal
The Top Cop
The Slip Cop
No Soap Theory
Stacking Ideals
Slug Controls
Mexican Switch
Erdnase Color Change
Containing 8 hours of instructional walkthroughs that can be binged upon in a day, or studied over decades. This challenges the norm that we've chosen to accept. There are 5 major sections, each as formidable as the other. Stream directly to any device while you're on the go, or download and study each video second by second.
Accompanying the videos is an digital annotated copy of Expert at the Card table. See what was running through the head of Daniel Madison as he was studying the material himself.
"I'm better than Erdnase, and I can prove it."
Daniel Madison
This product is rated 4.8 of 5.0 stars.
It has received 70 reviews.
The cardist's bible?
This is a great set and a great view into the mind of Daniel. He delves into the nuances, positives, and flaws of the book often referred to as the card handlers bible. Unfortunately, much like the bible, this book is often owned but much less often read completely, and MUCH MUCH less often understood. Daniel scours through the moves, gives his insights and how HE would do it, then piggybacks off of his other projects to further display how something ought to REALLY be done. VERY GOOD insight, very good instruction AND inspiration to create your own path.
Erdanse × Madison
It was the most perfect video I have seen
This is great!!
Just been getting back into magic after a very long break. Was going to finally start to read Erdnase and getting this video bundle is definitely going to help me avoid many frustrating hours.
Watching the first video has shown me quite a nice revelation of making things more manageable.
Perfect
Great intro to Erdnase and Madison. It's both motivational and instructional.
Foundational Knowledge
Madison breaks down this foundational book, further aided by his videos. Anyone interested in slight of hand needs this.
Solid and Thourough
Easy to navigate through to find what I'm looking for and very thorough in coverage of specific moves
Comprehensive And Well Taught
This is my first serious entry into the world of sleight of hand card work. I struggled with the original text of the book and I knew it was going to take a serious amount of time just to decipher what was being shared. I knew I needed to try this. Wasn't an easy choice, especially considering the cost was slightly prohibitive, but I can say now that it is worth every cent. Even though I m still only working on table shuffles (the first section) I am already blown away by what is on offer here and how well it is being taught. I'm certain that is going to be the strong foundation for the card work I learn in future. There is so much wisdom in here as well and Madison shares his thoughts and some of his own subtle changes he's made to fit this into his style that is very insightful. He's really laying it all out on the table here. So much value. If you're serious about acquiring these types of skills, don't hesitate. Get it!
Erdnase x Madison - An Iconoclastic Approach to the 'Bible'.
'Erdnase x Madison' provides about eight hours of instructional tutorials inspired by the content provided in the card 'Bible', 'The Expert at the Table' by Erdnase. Madison is respectful of Erdnase, but not reverential. I really appreciated that Madison often challenges and even criticizes the content of the book, often sharing his own techniques that achieve the same effect that are cleaner and/or easier. At the end Madison remarks that the project was not what he expected, and the video wasn't what I expected either. Rather than work through all the content in the book, Madison chooses to focus on certain sections, such as false shuffles and dealing. If, like me, you've had the 'Bible' sitting on the shelf gathering dust, these lessons will have you getting it down, and giving it another look.
Finally a guide to eatct
As a up and coming card sharp, this Gide finally bypasses the need to devote diagrams. DM makes cards more beautiful by showing the work and skill involved in manipulating a deck of card.
Card mechanics at its best.
If you have trouble with the book or are just more of a visual learner this instructional is a must have. Madison also shows why certain things are better the way he does them. Explains his theory on certain elements. For the information provided here, the video is priceless.