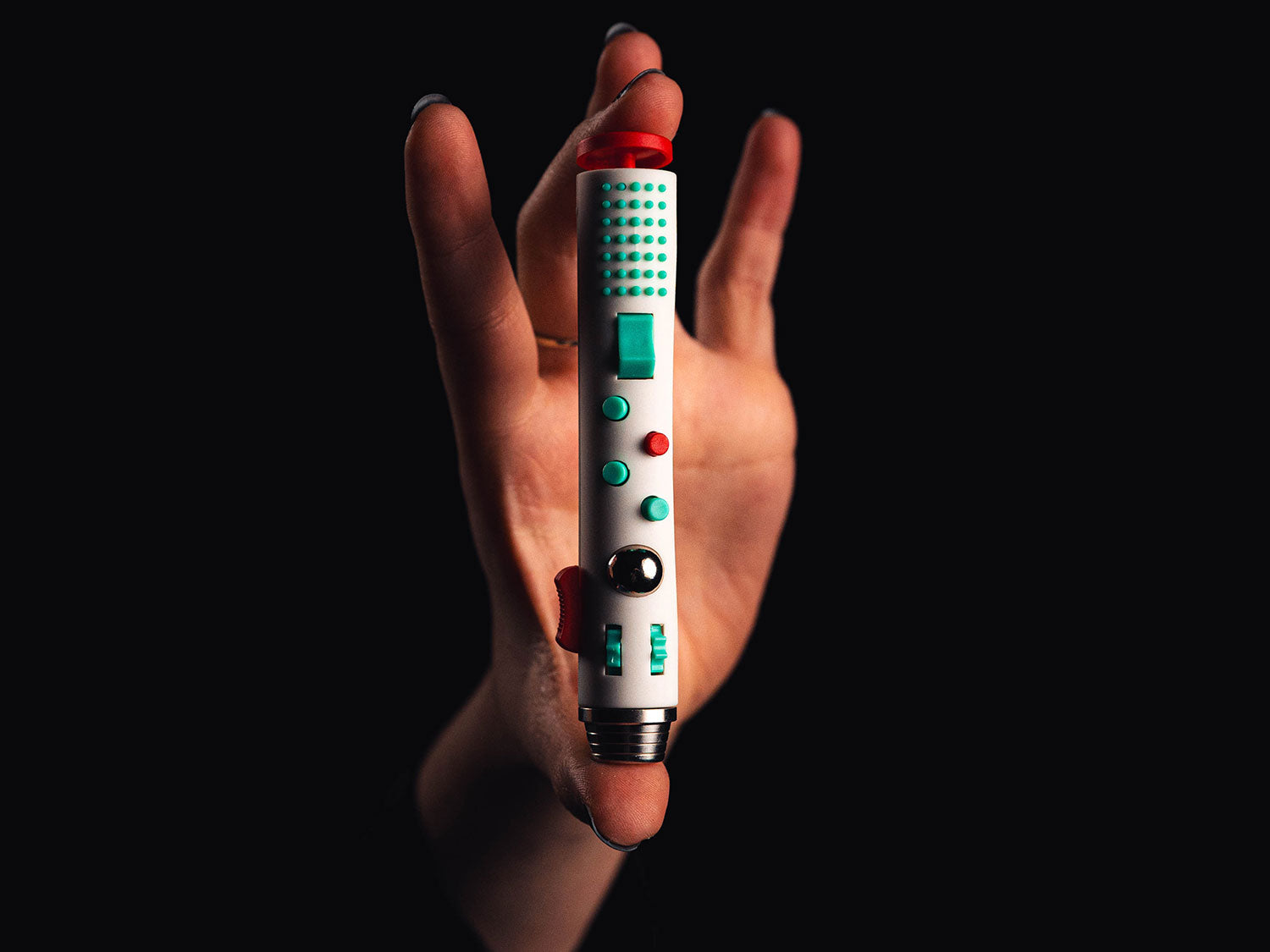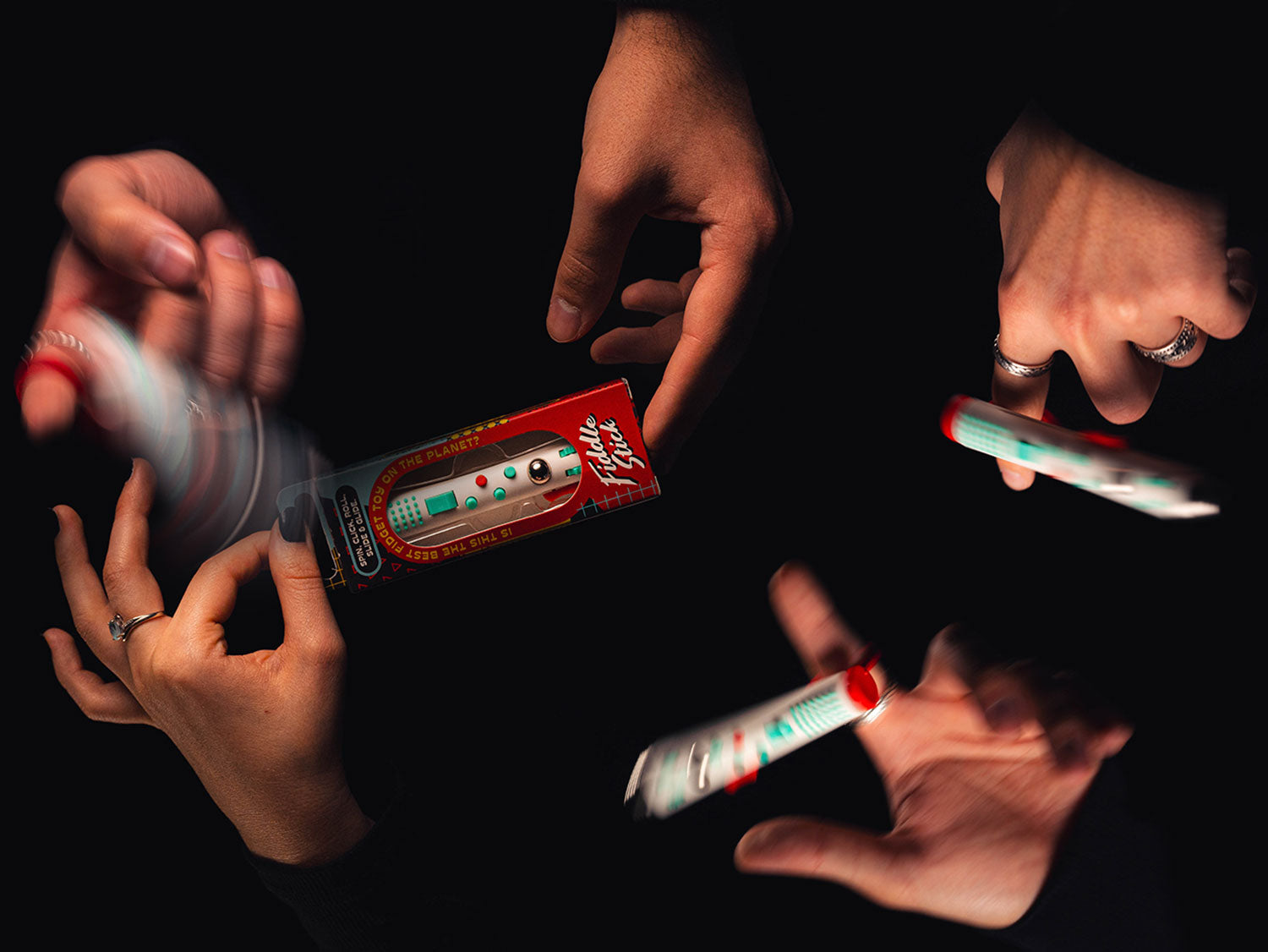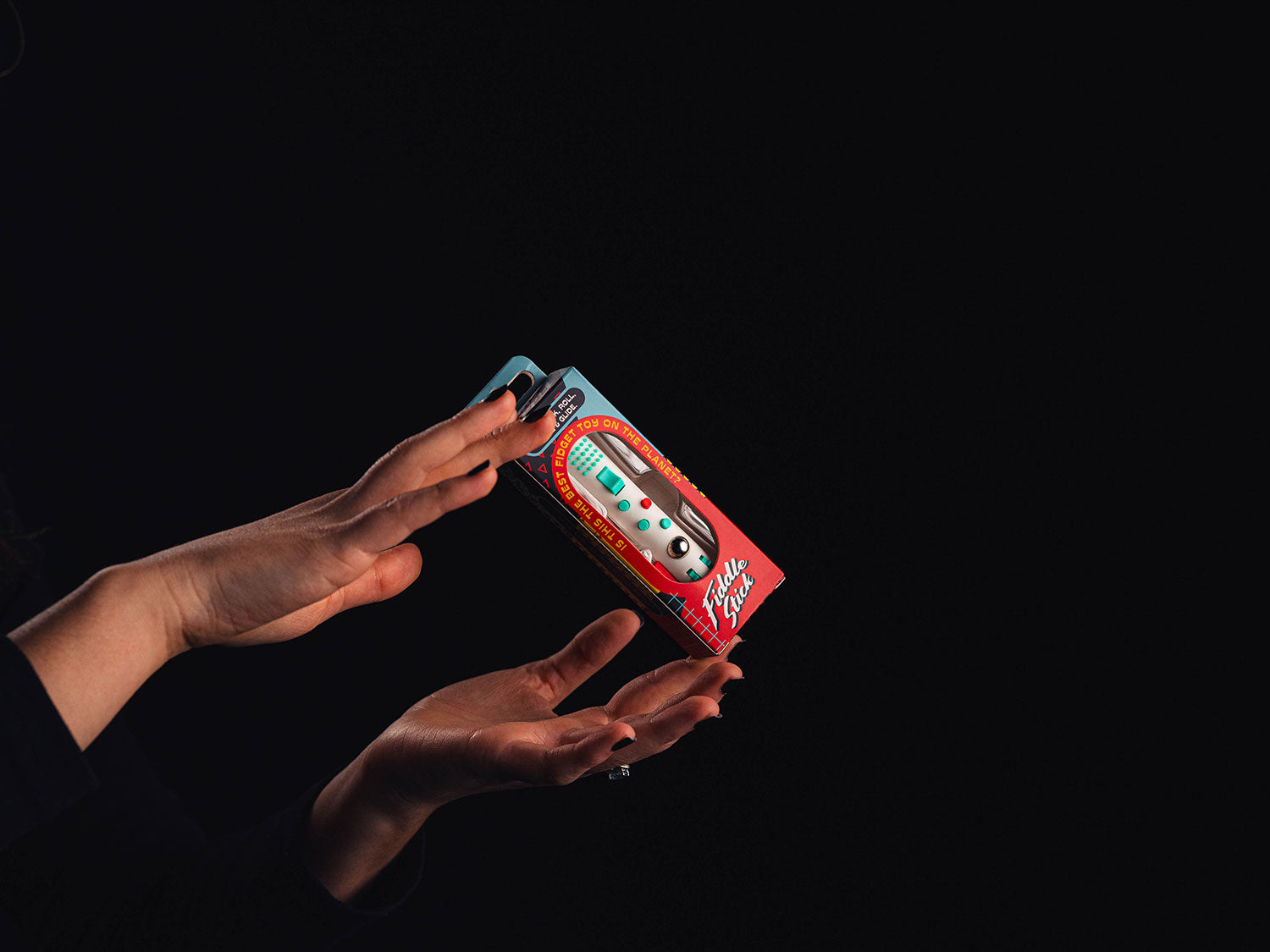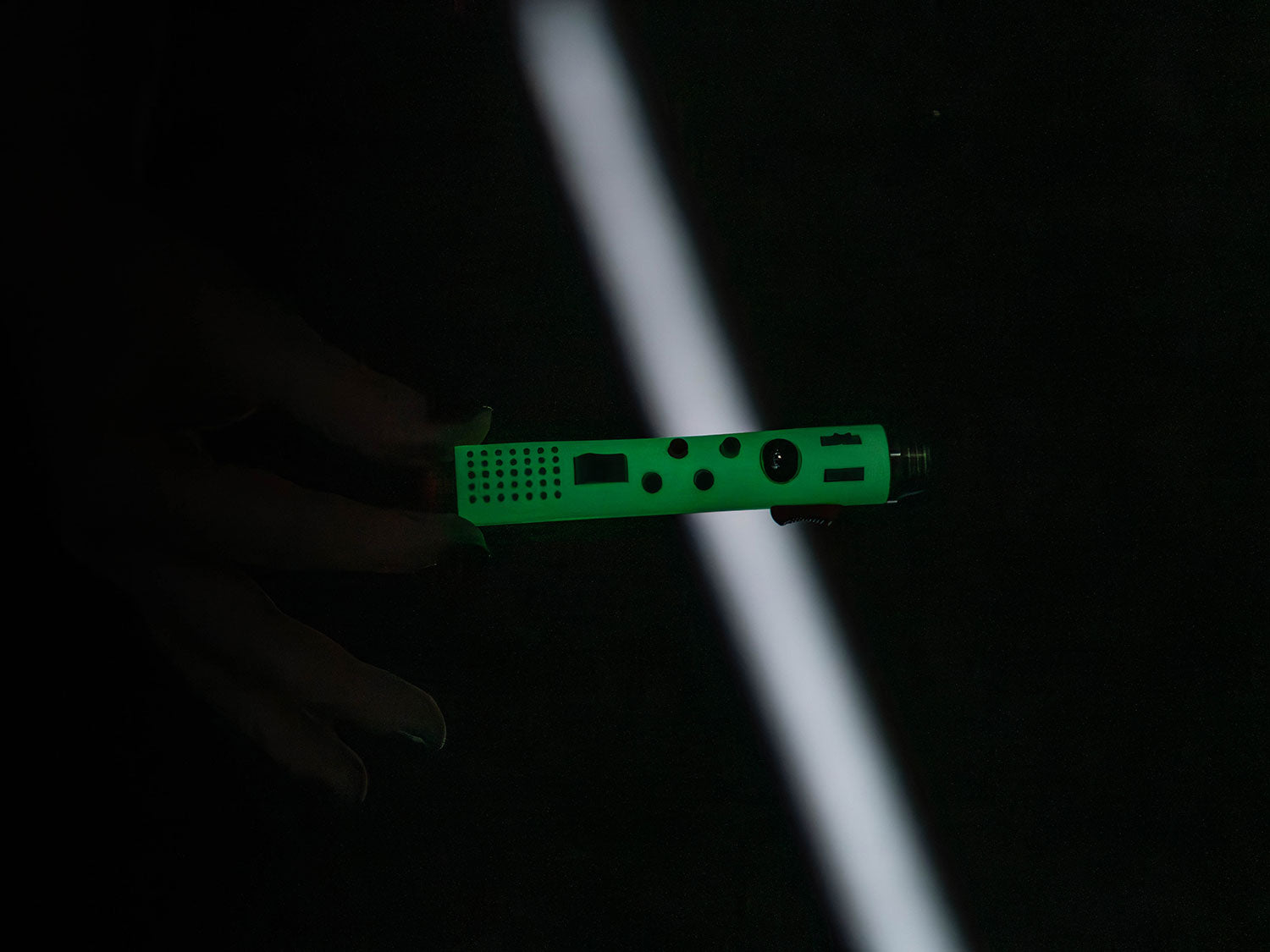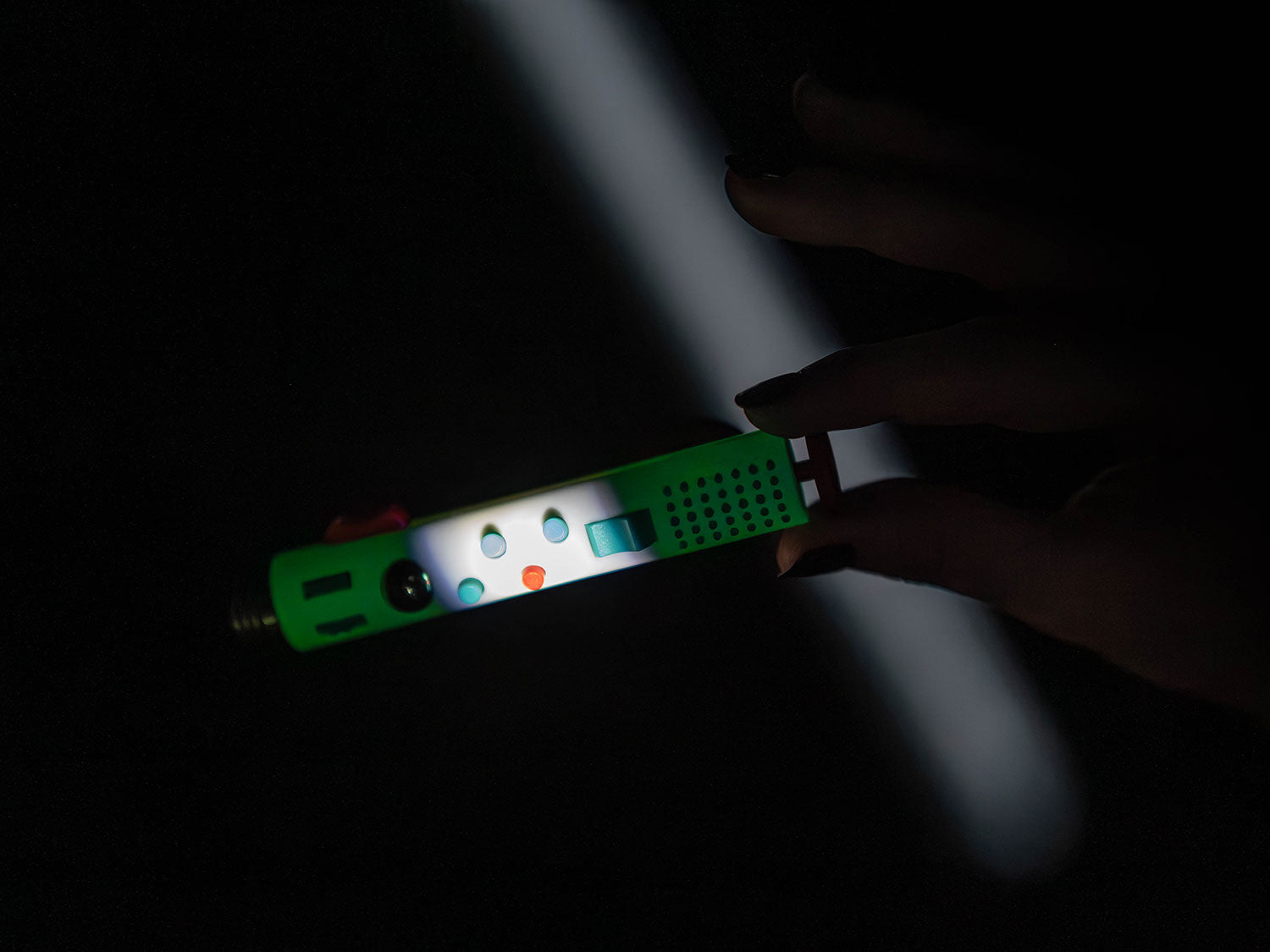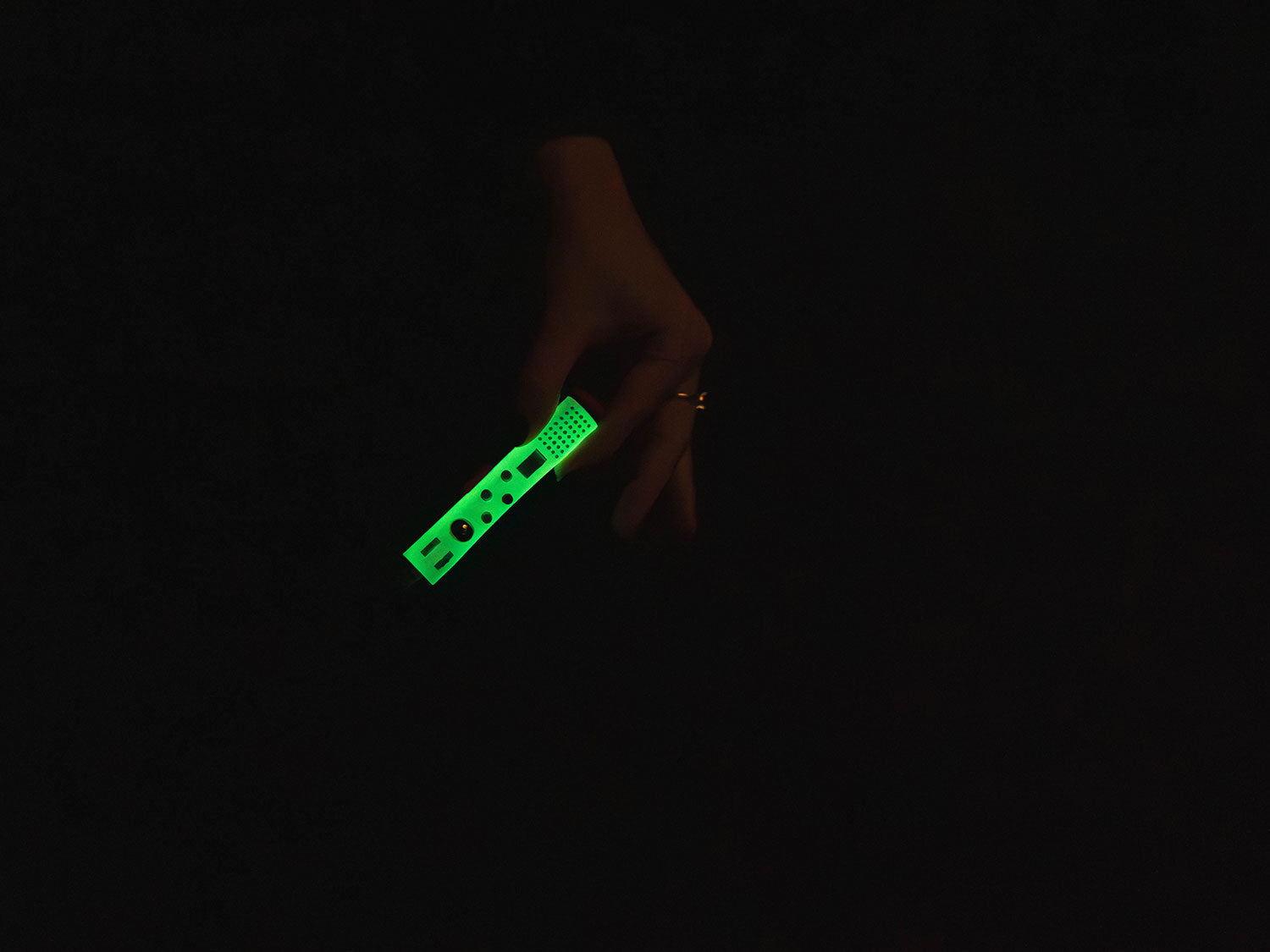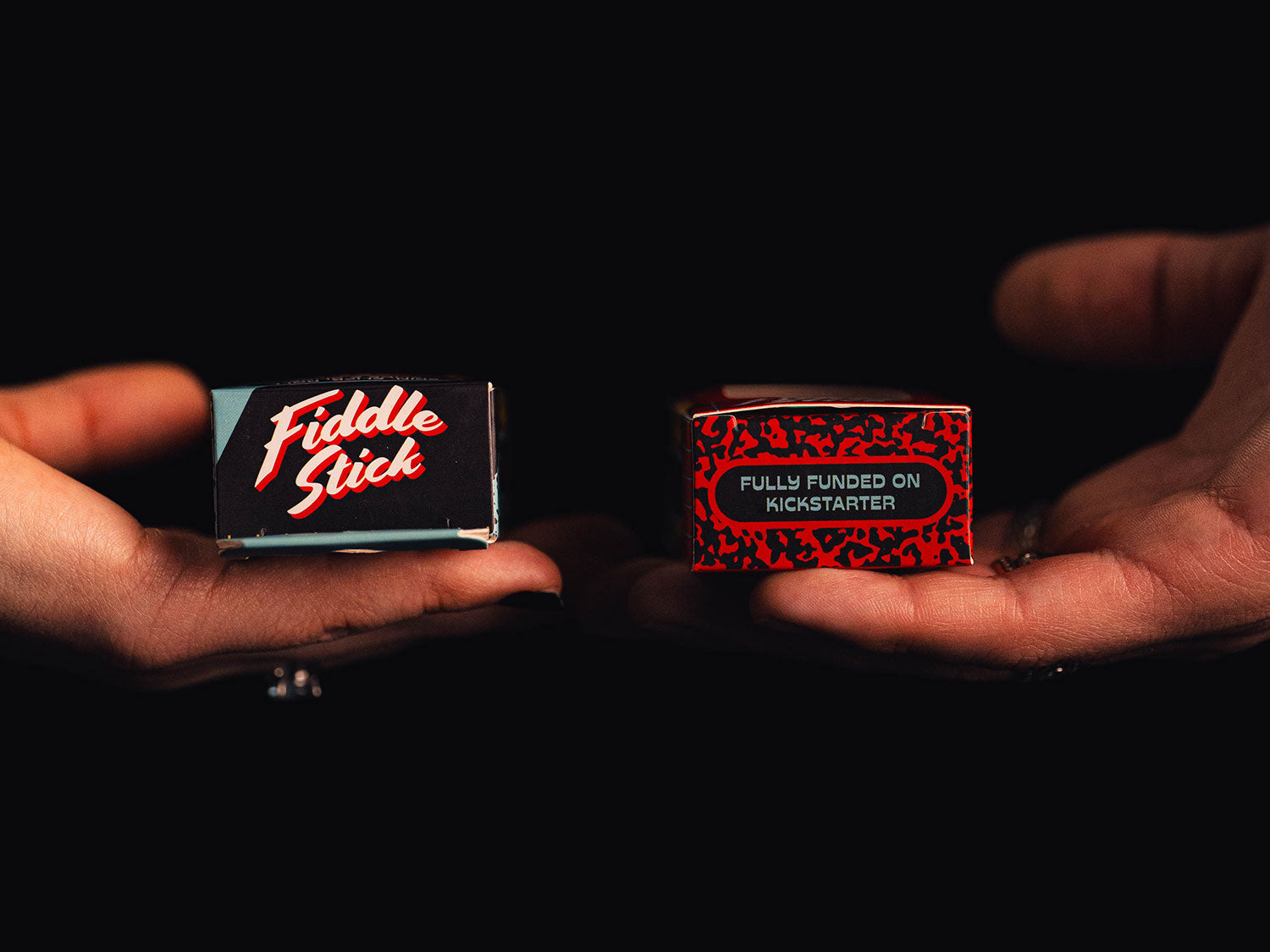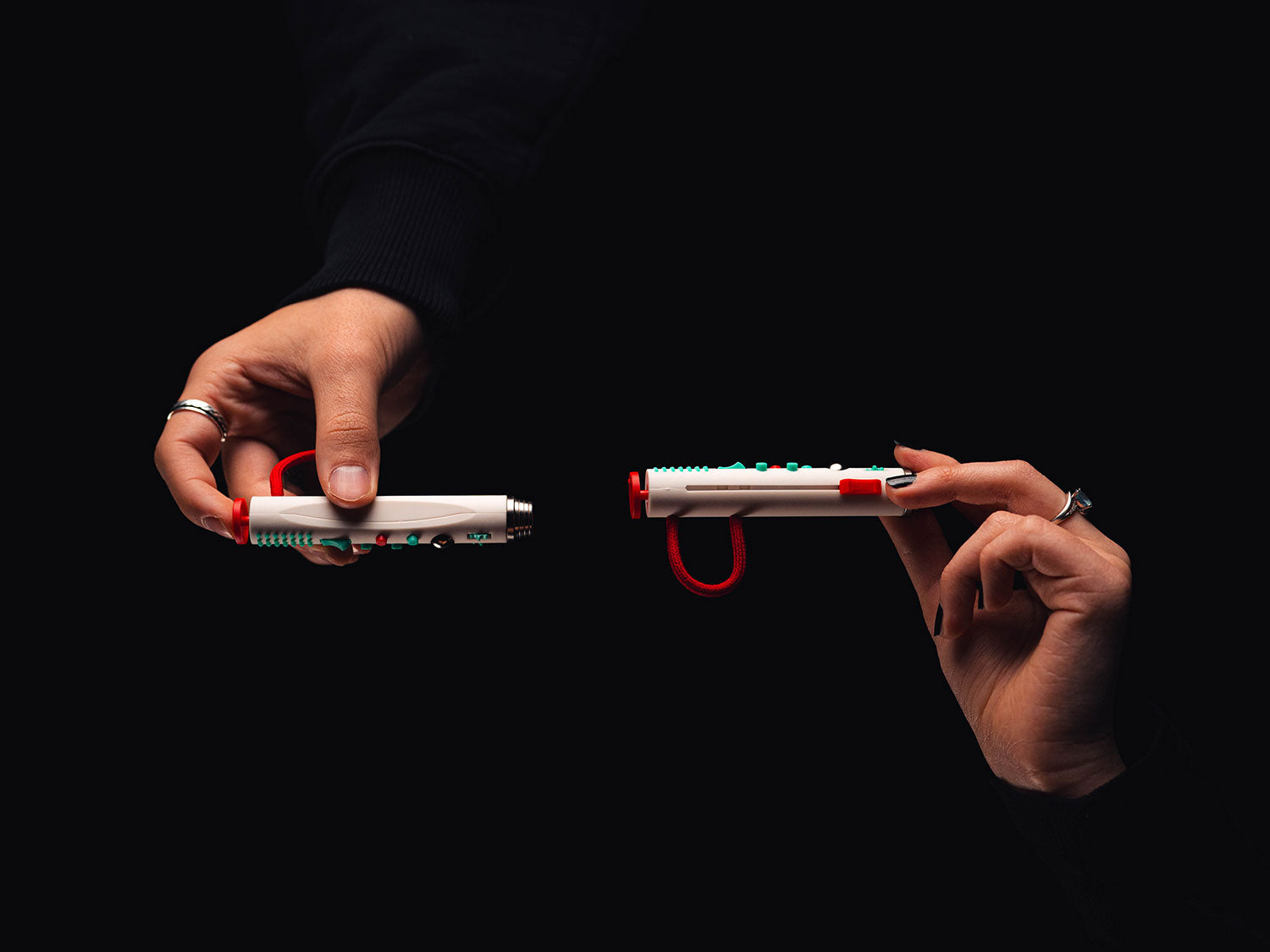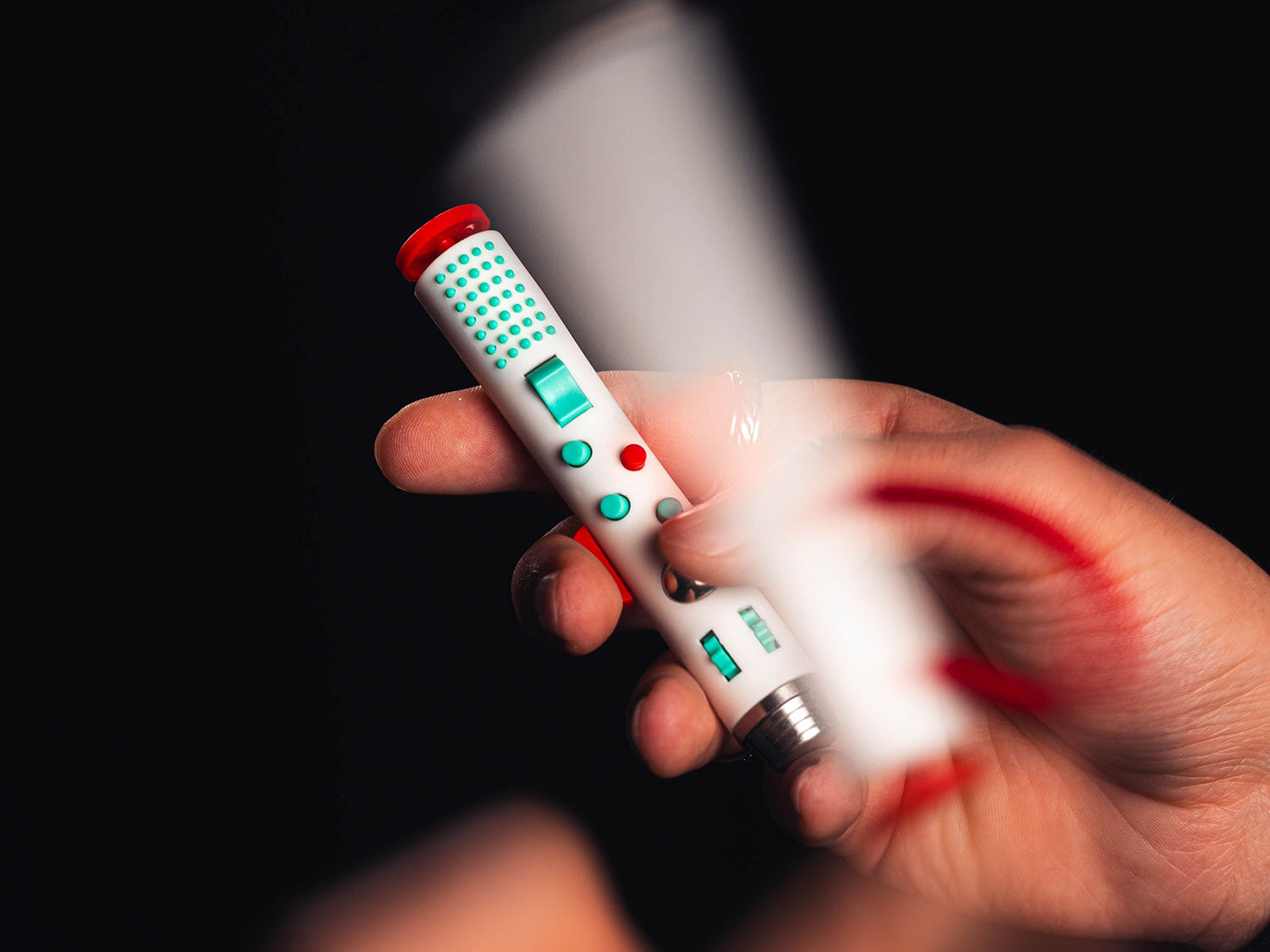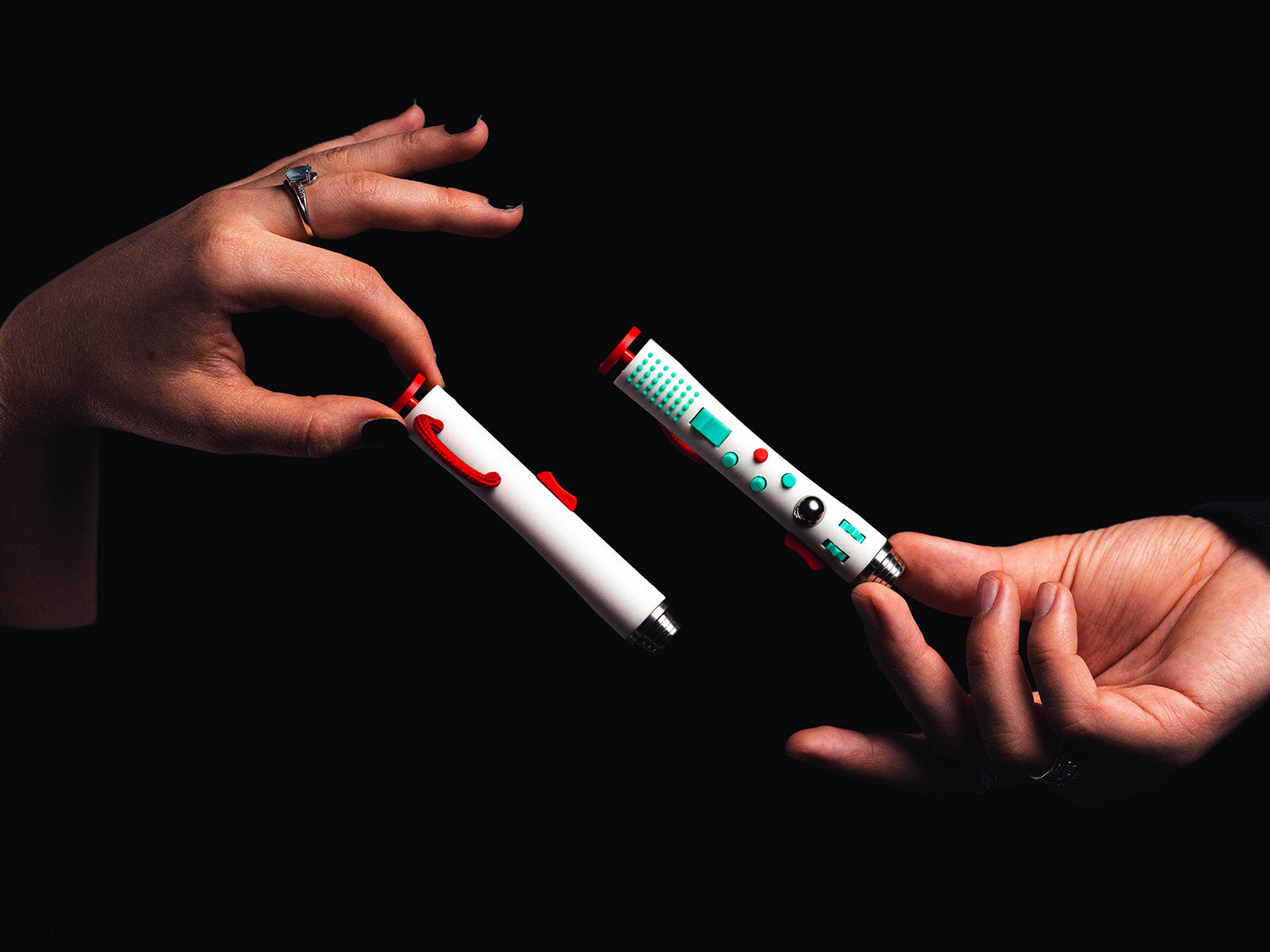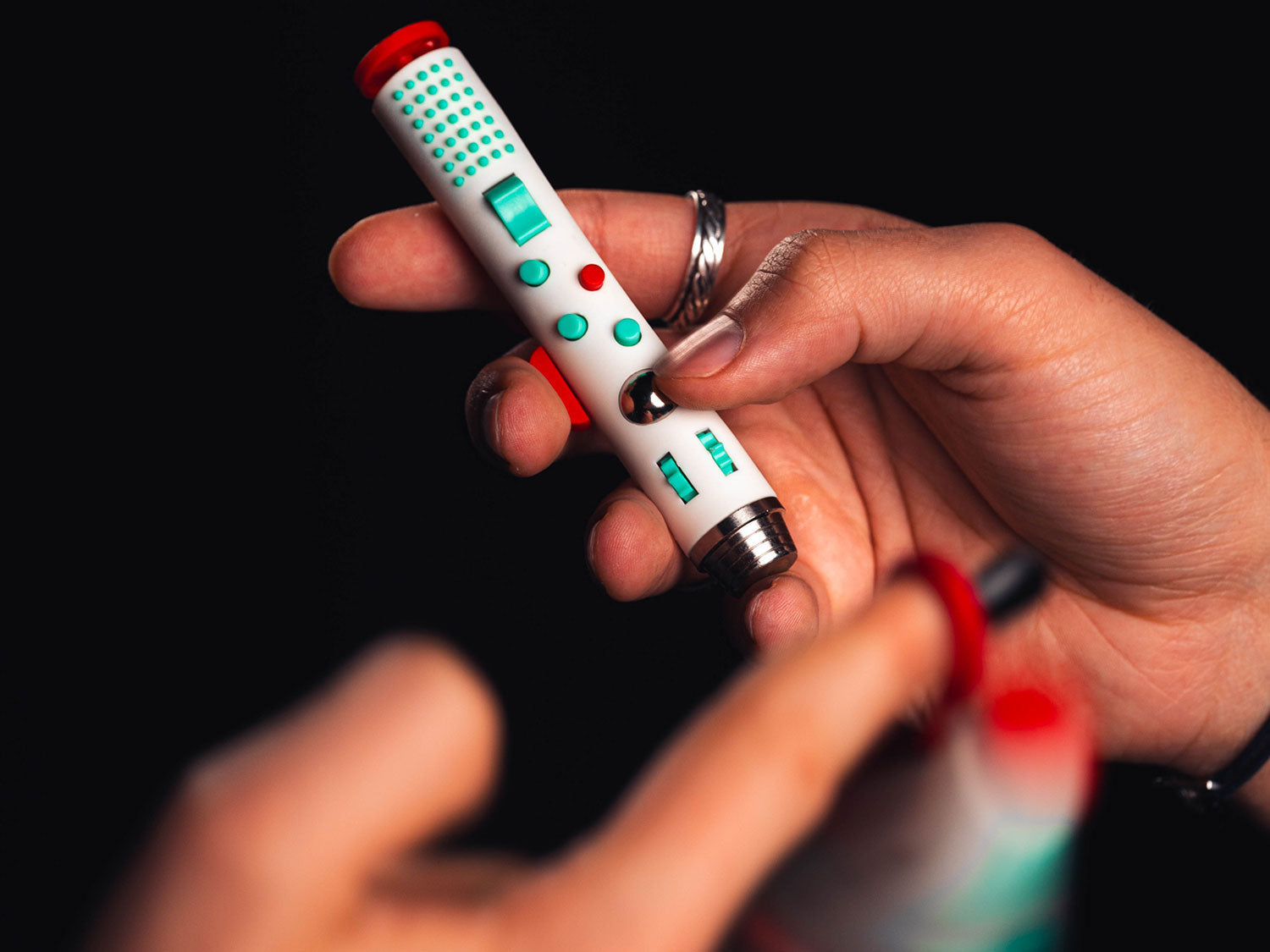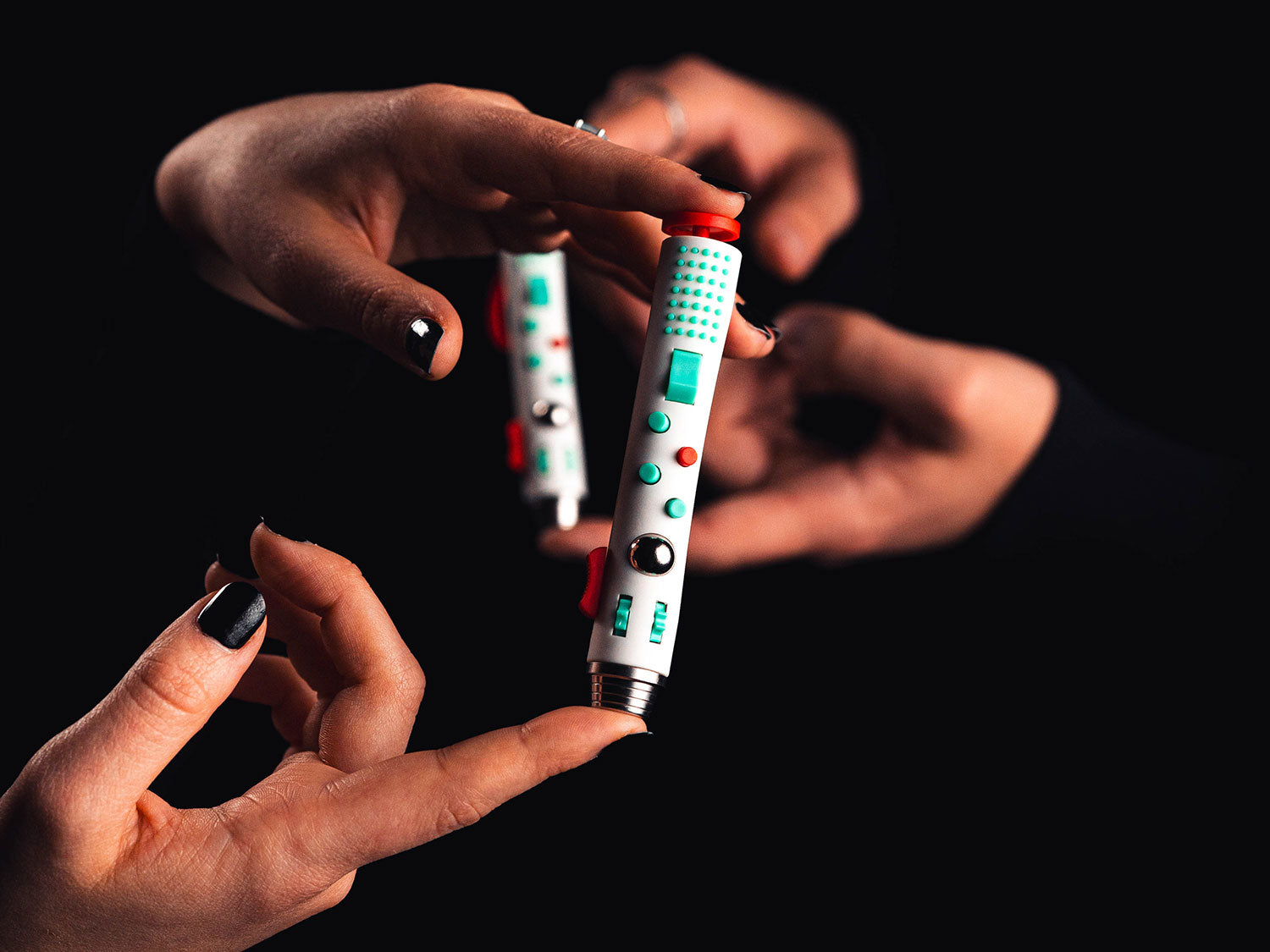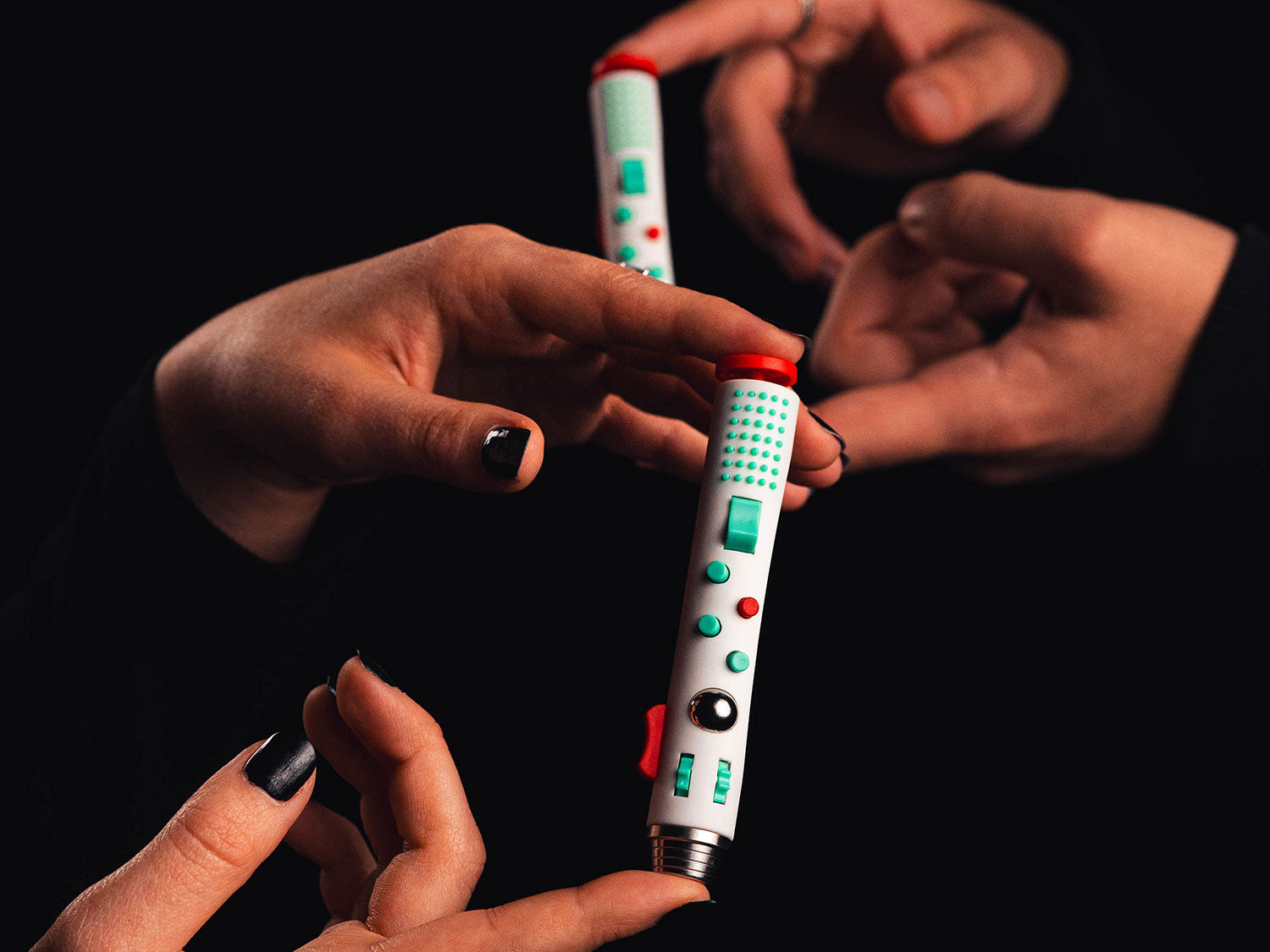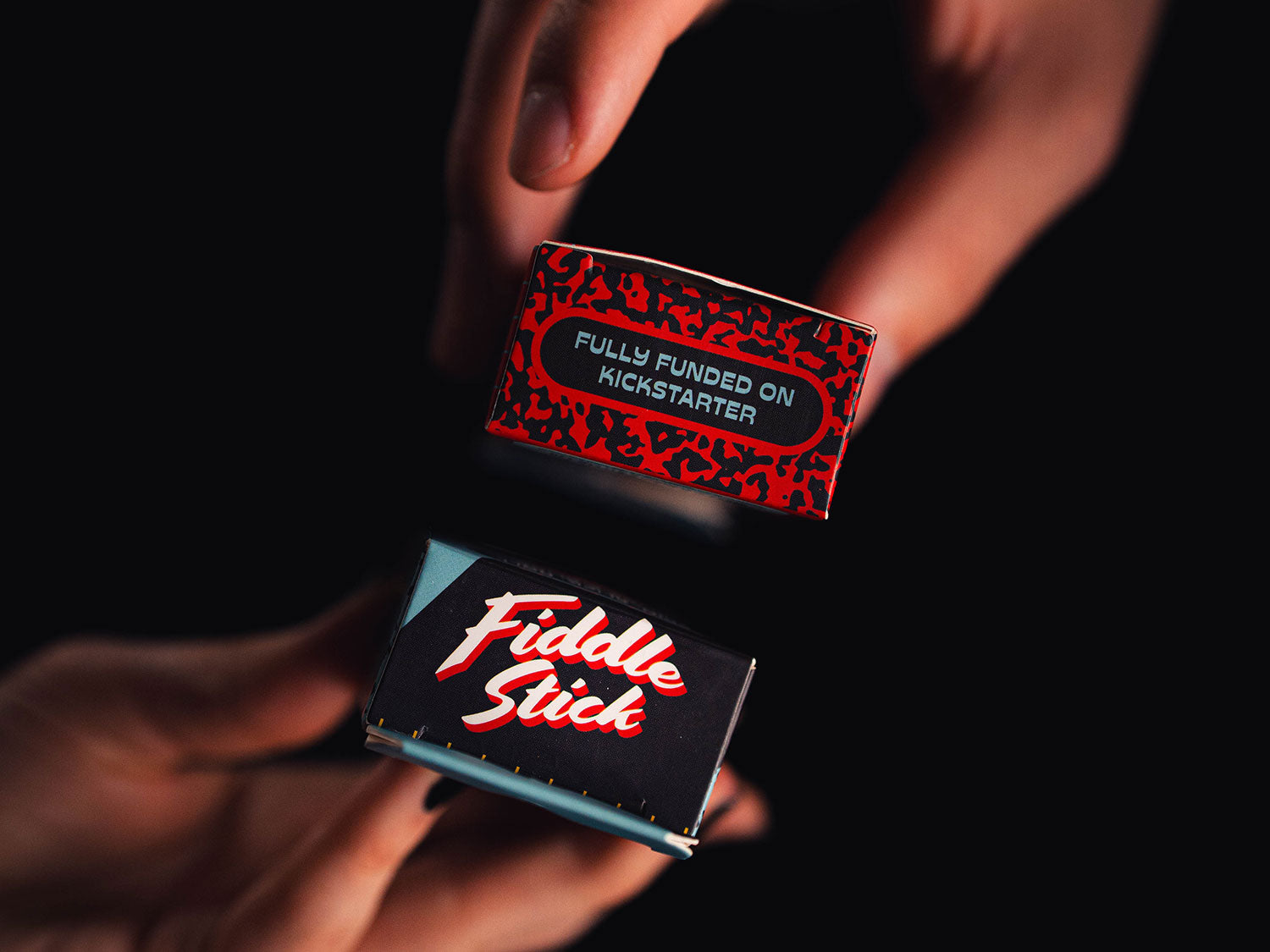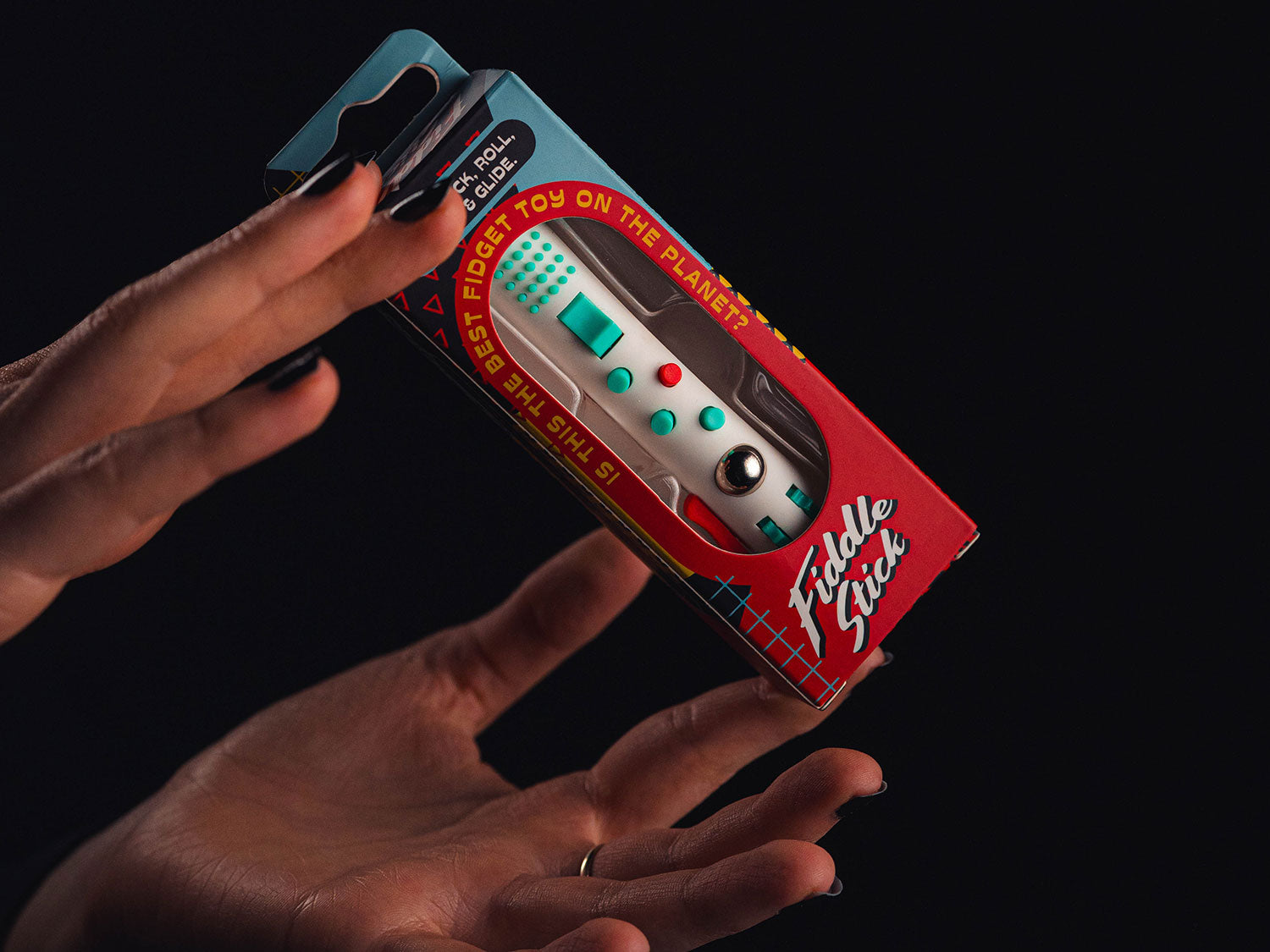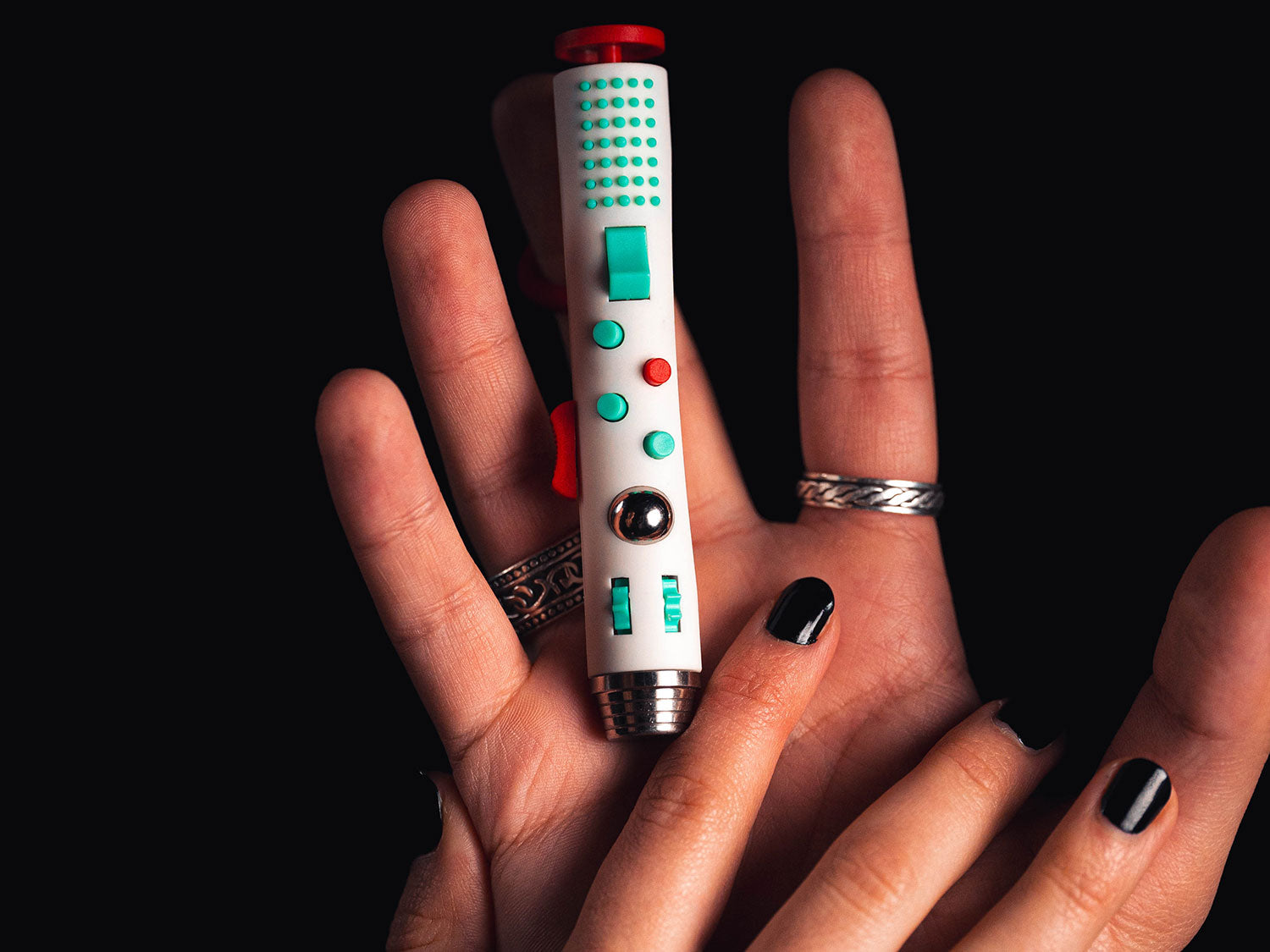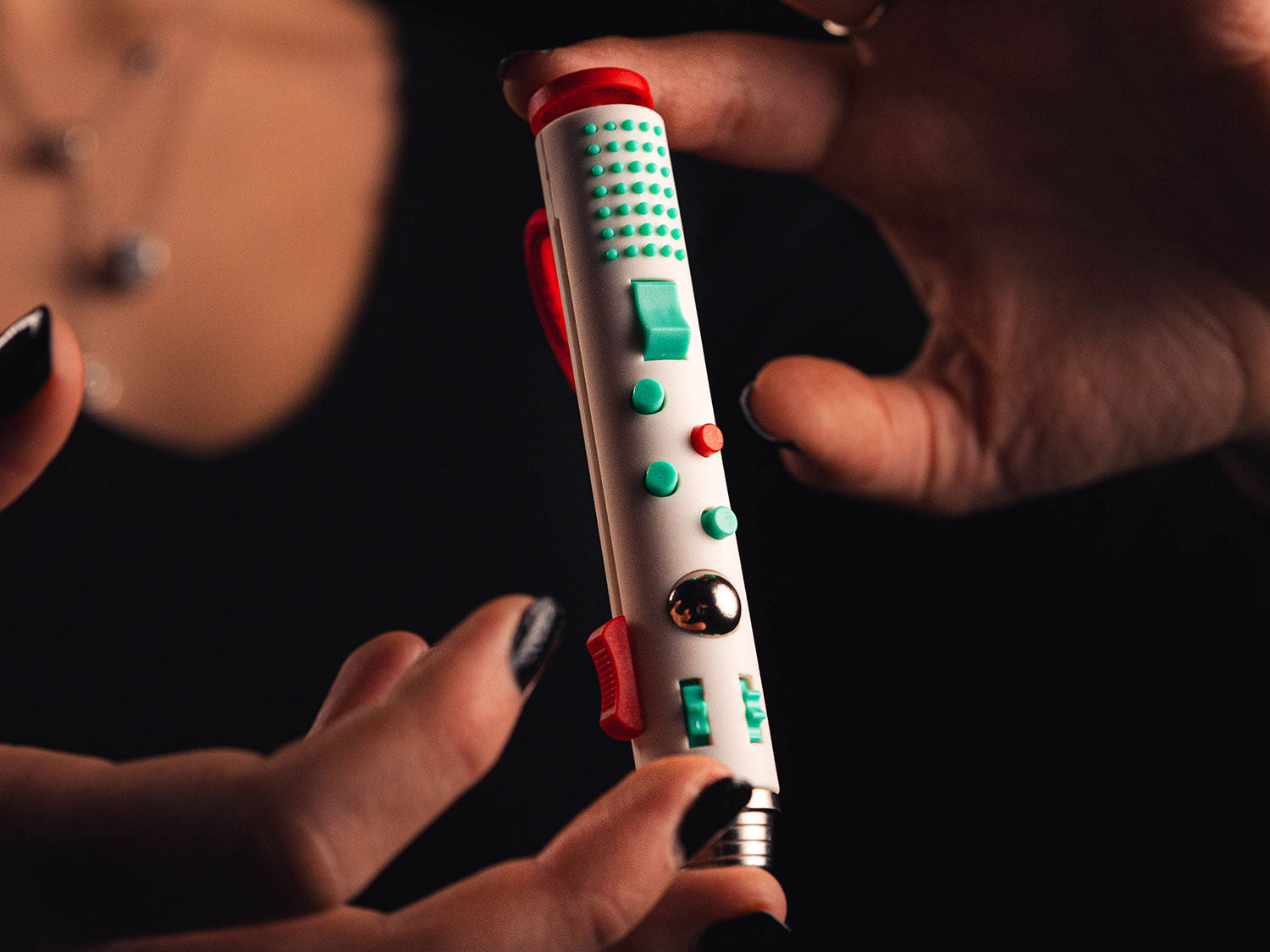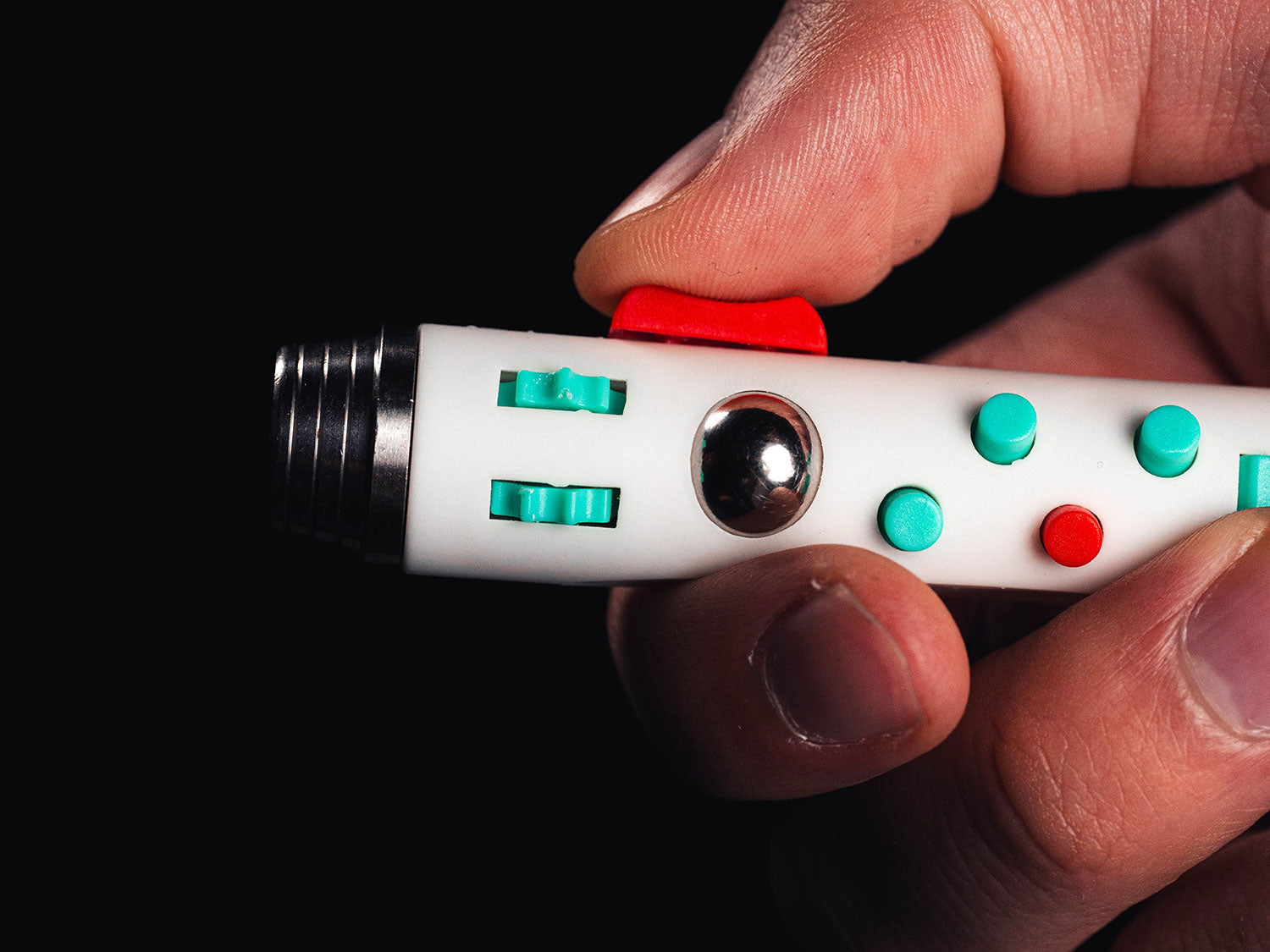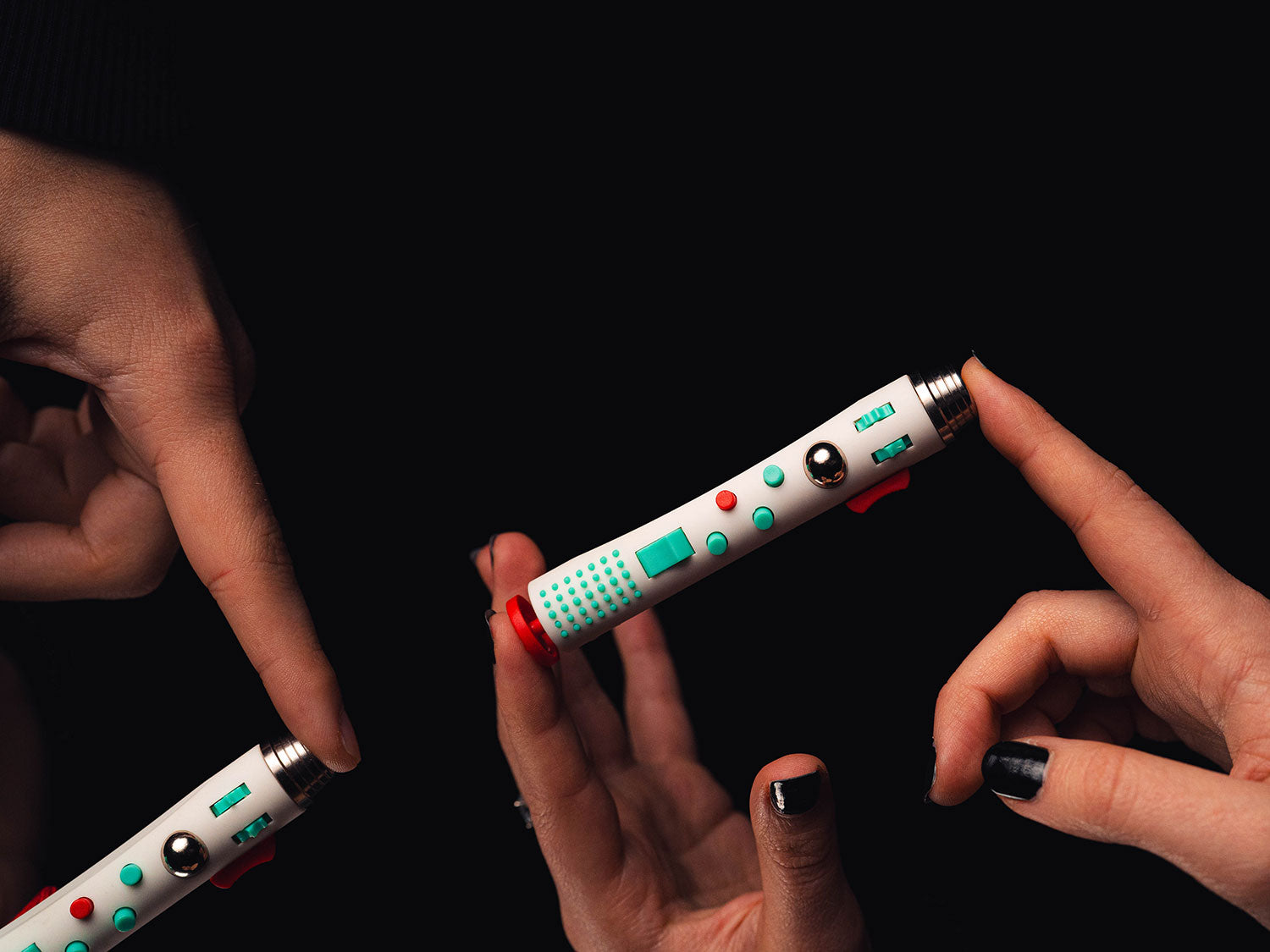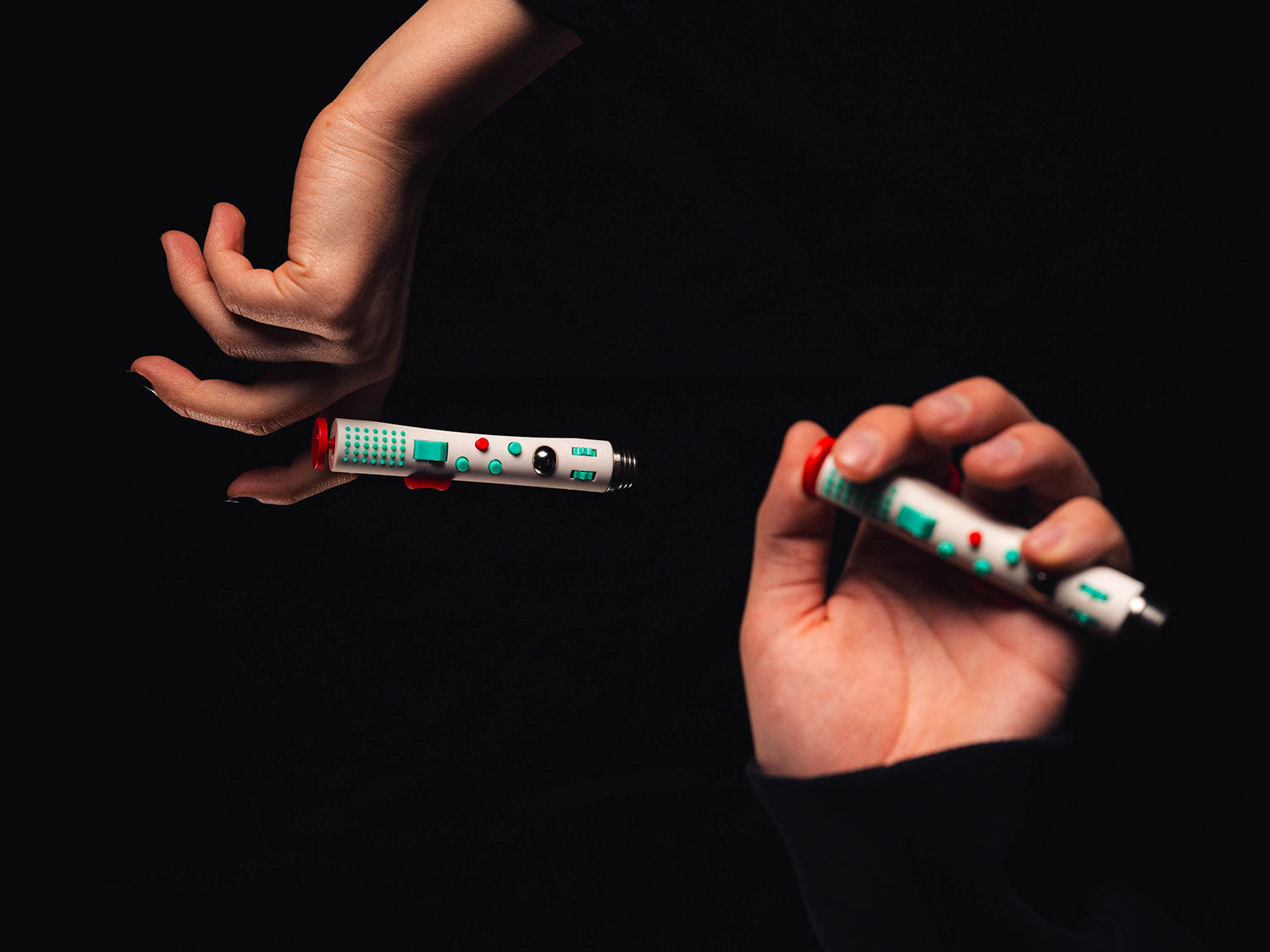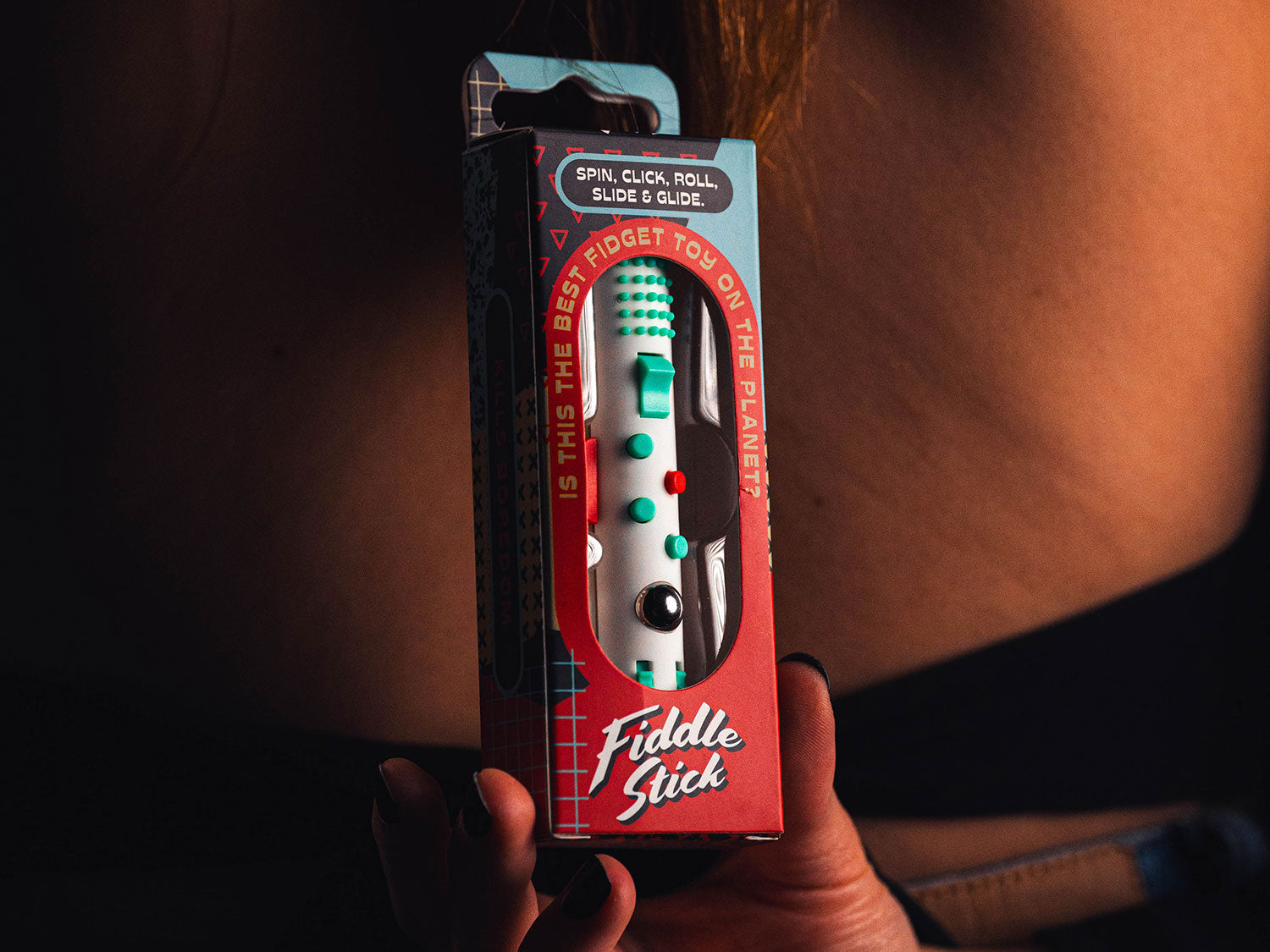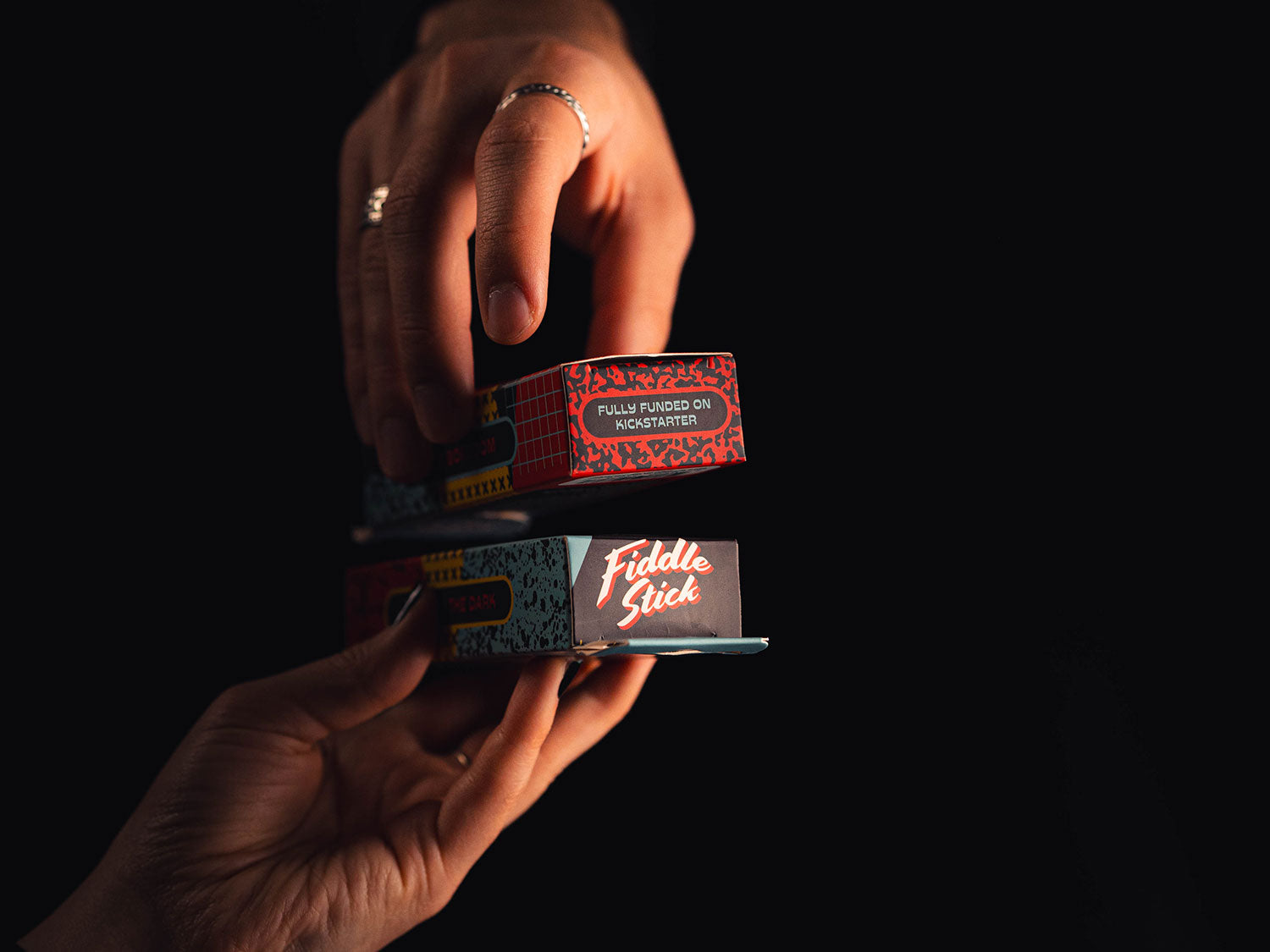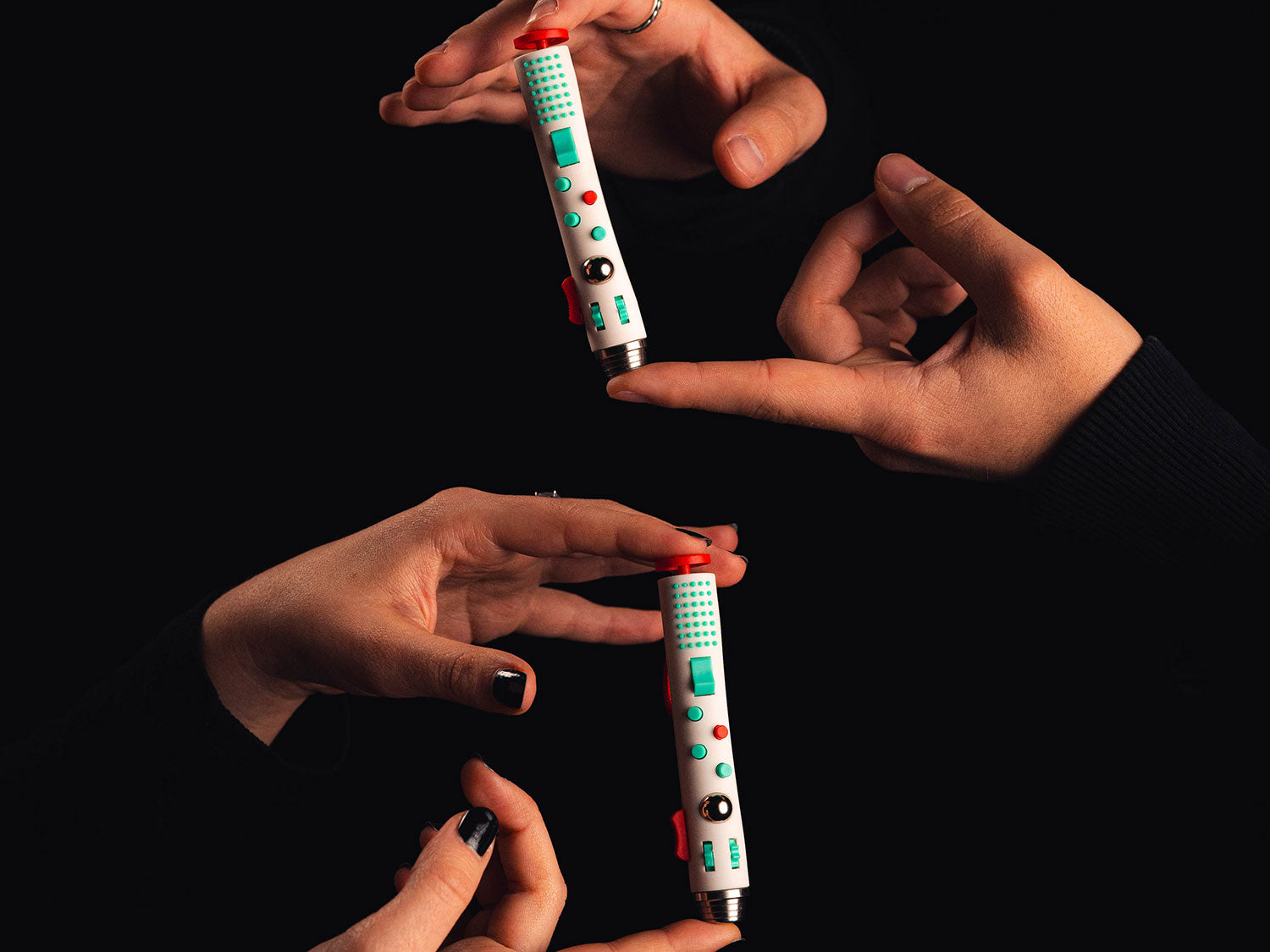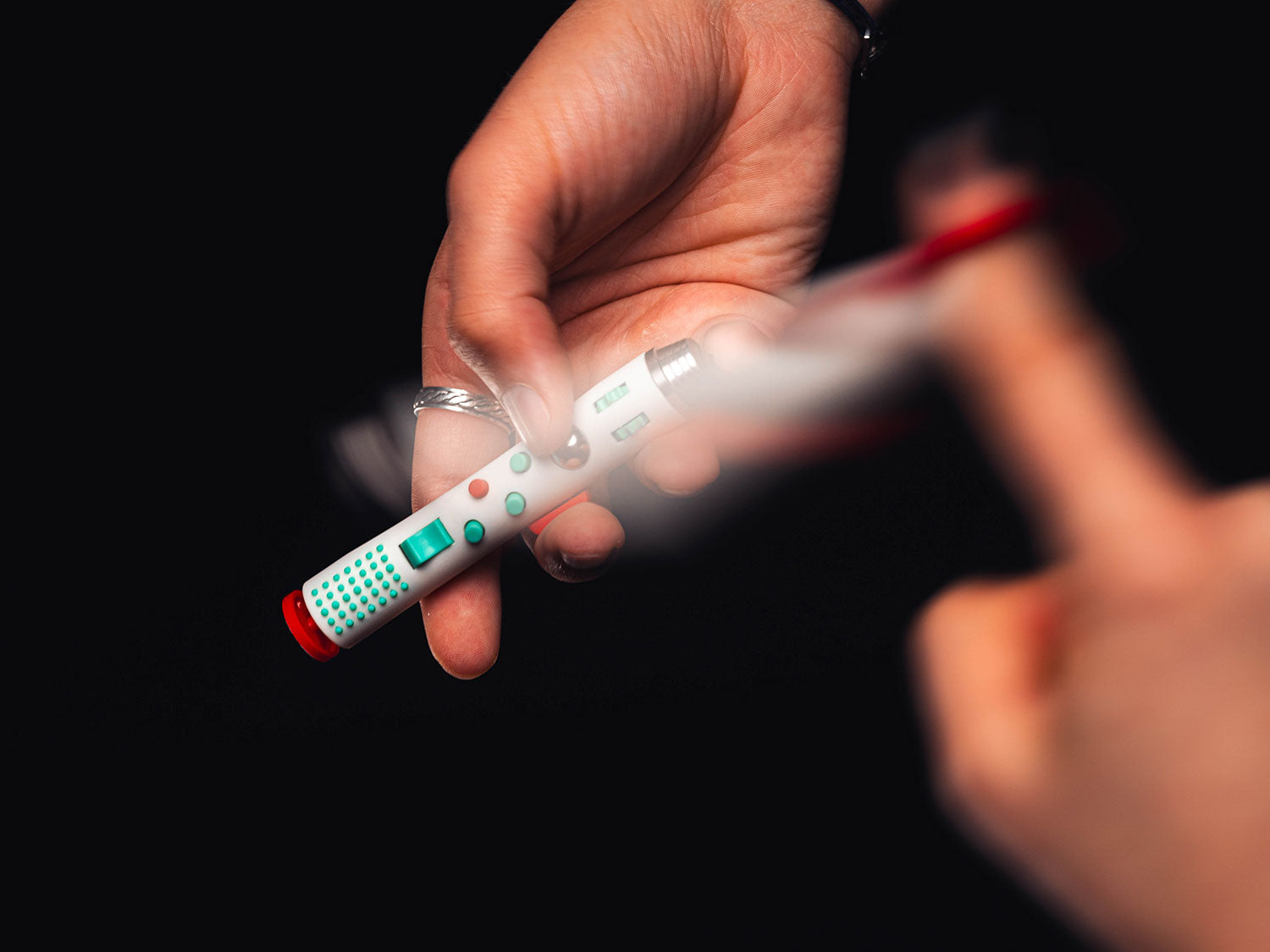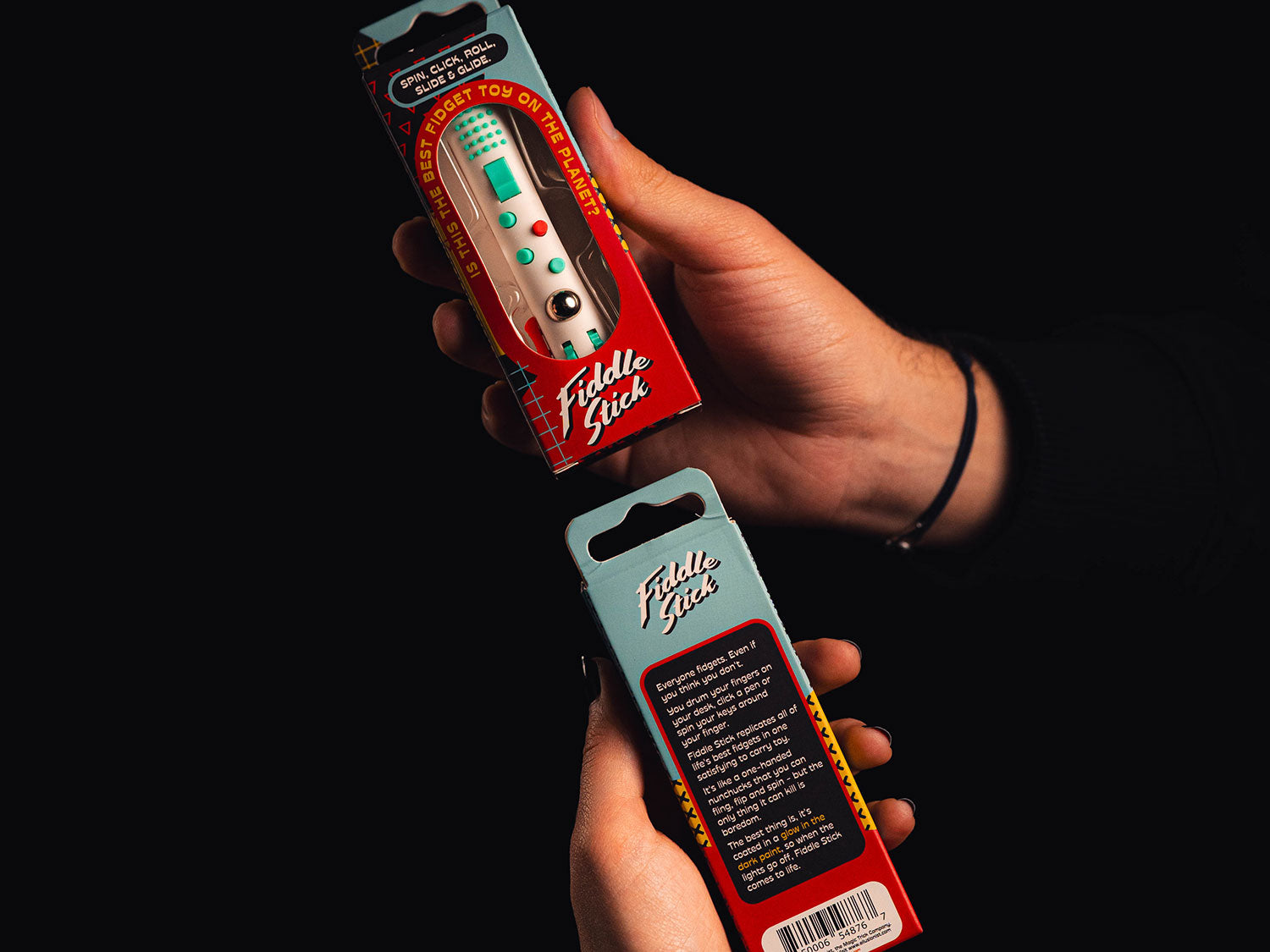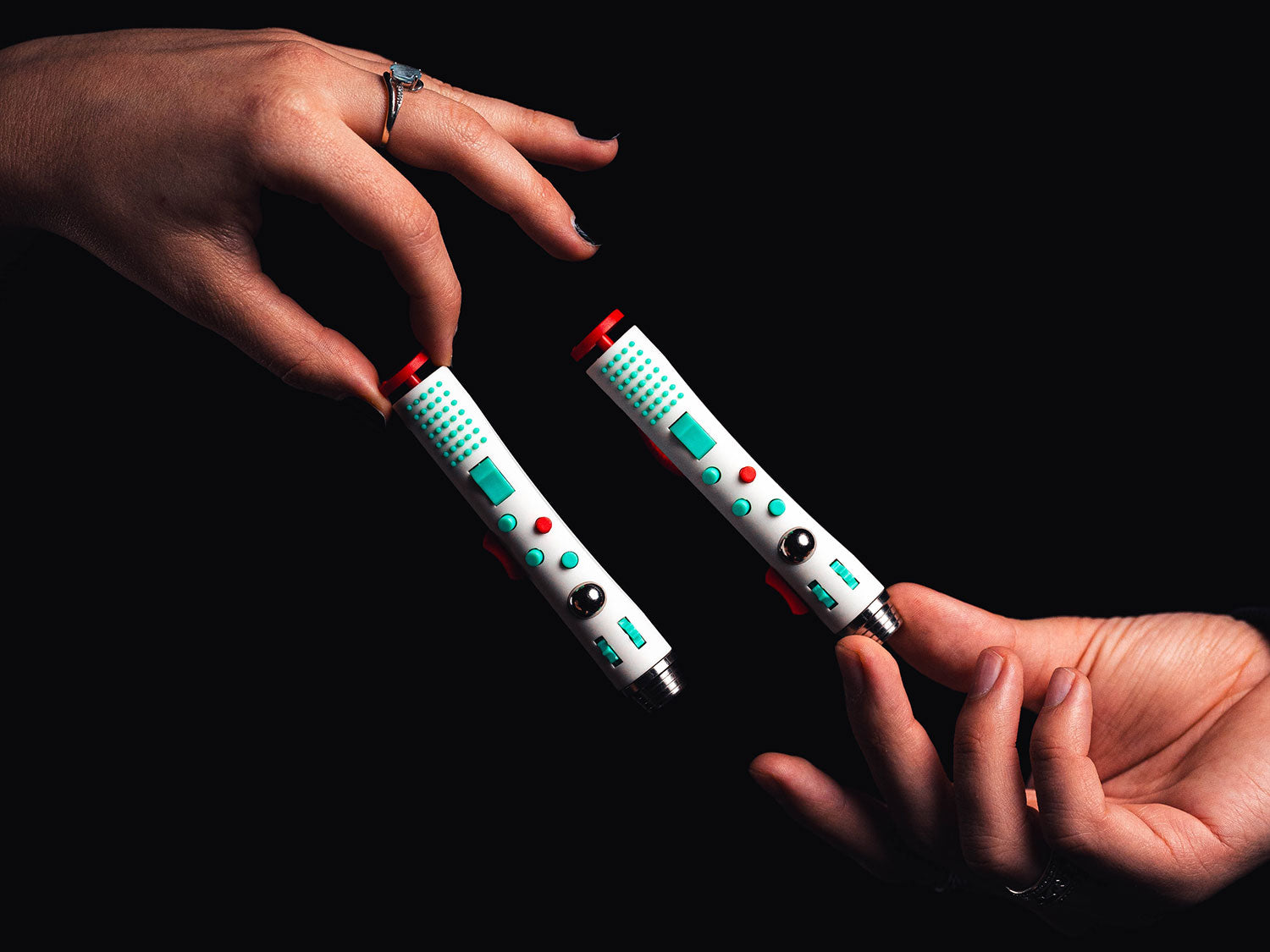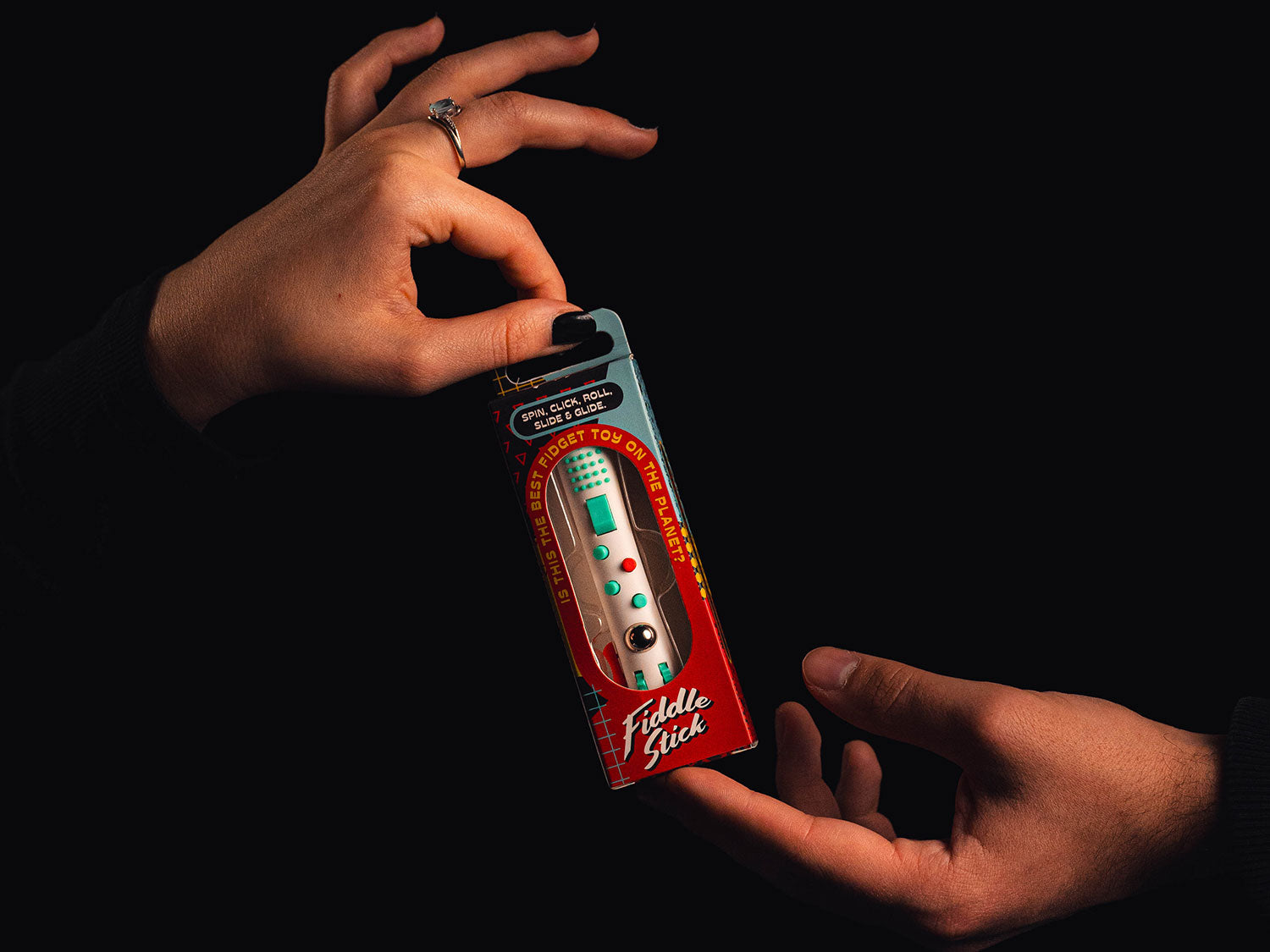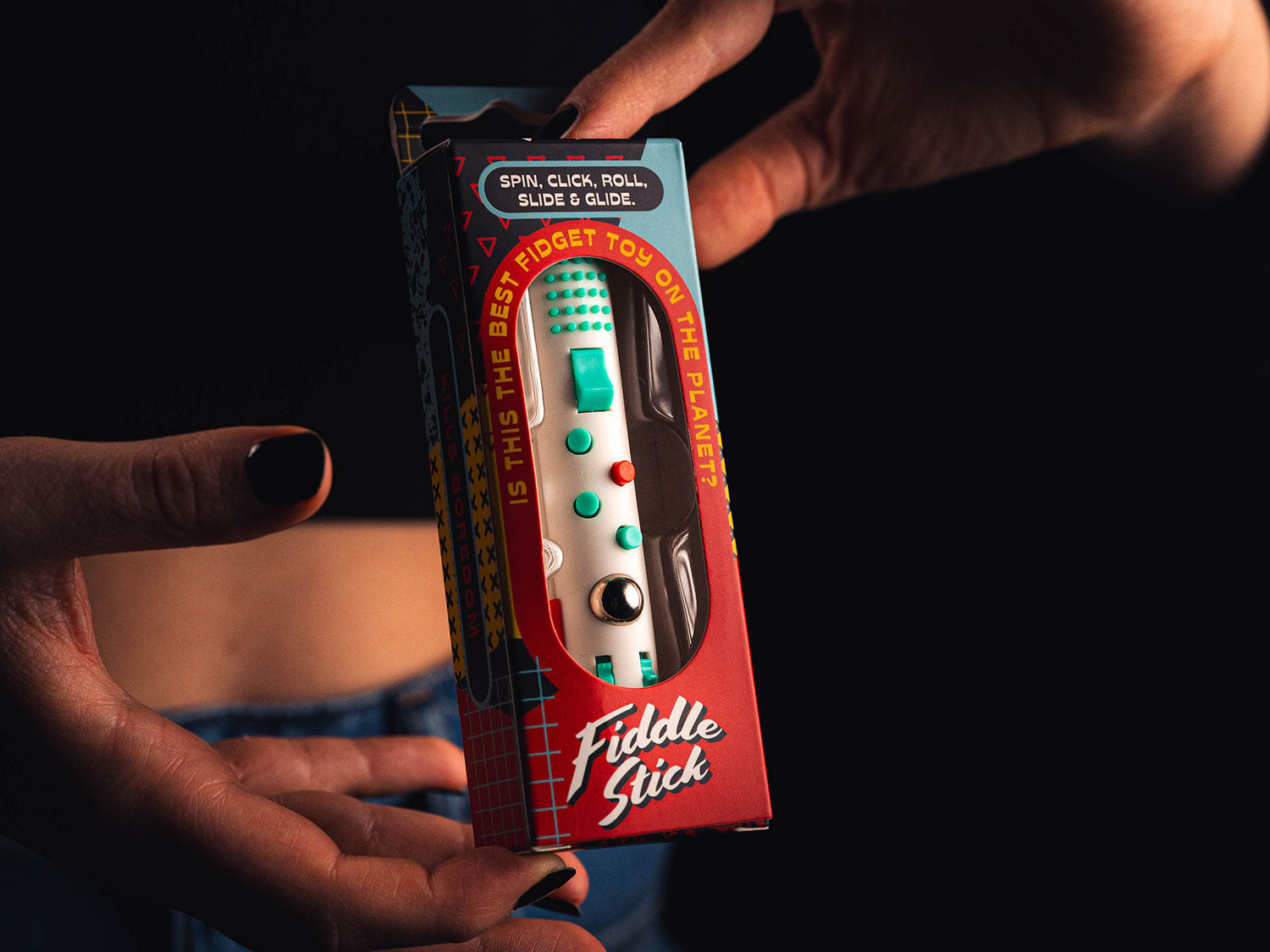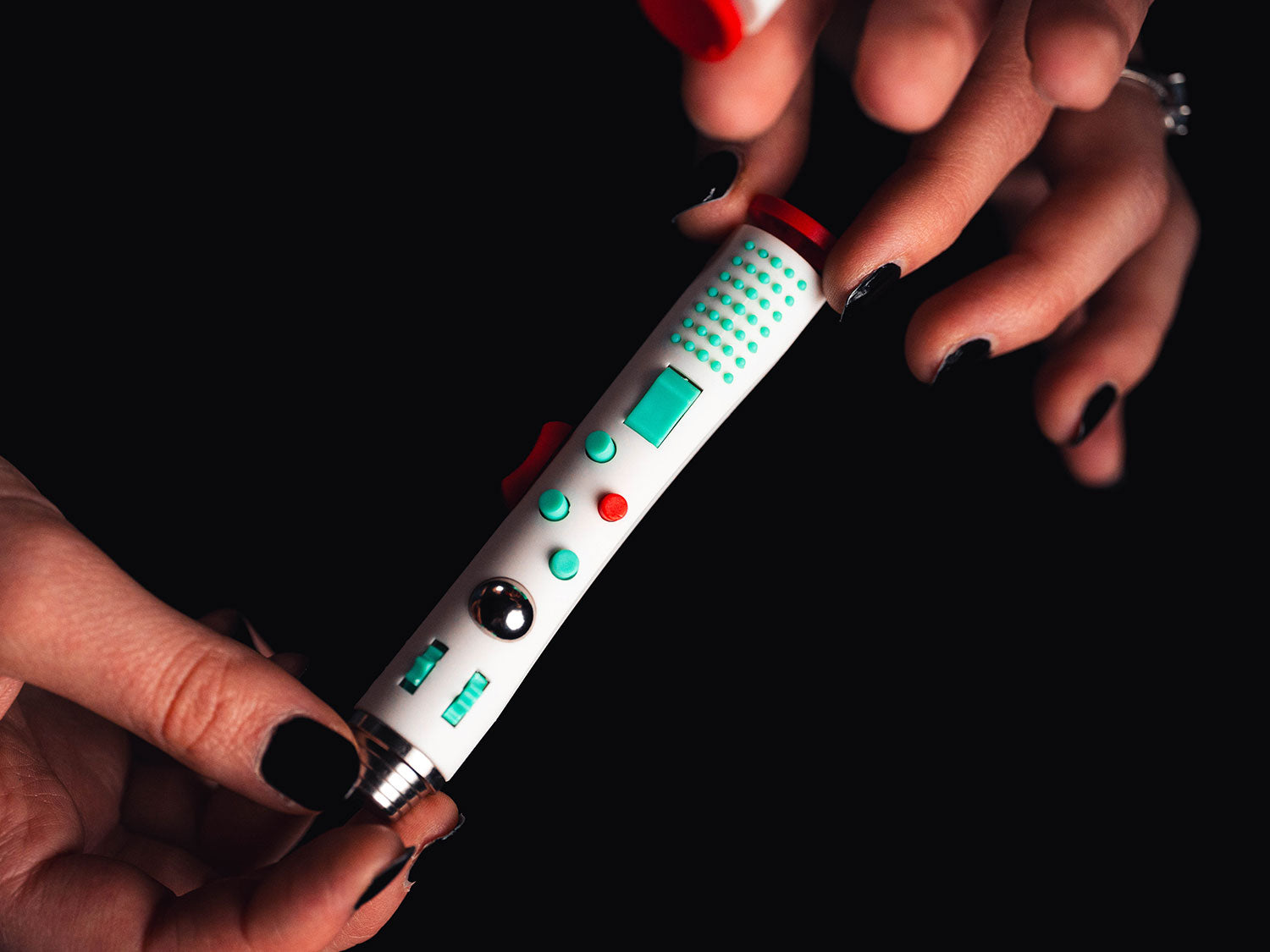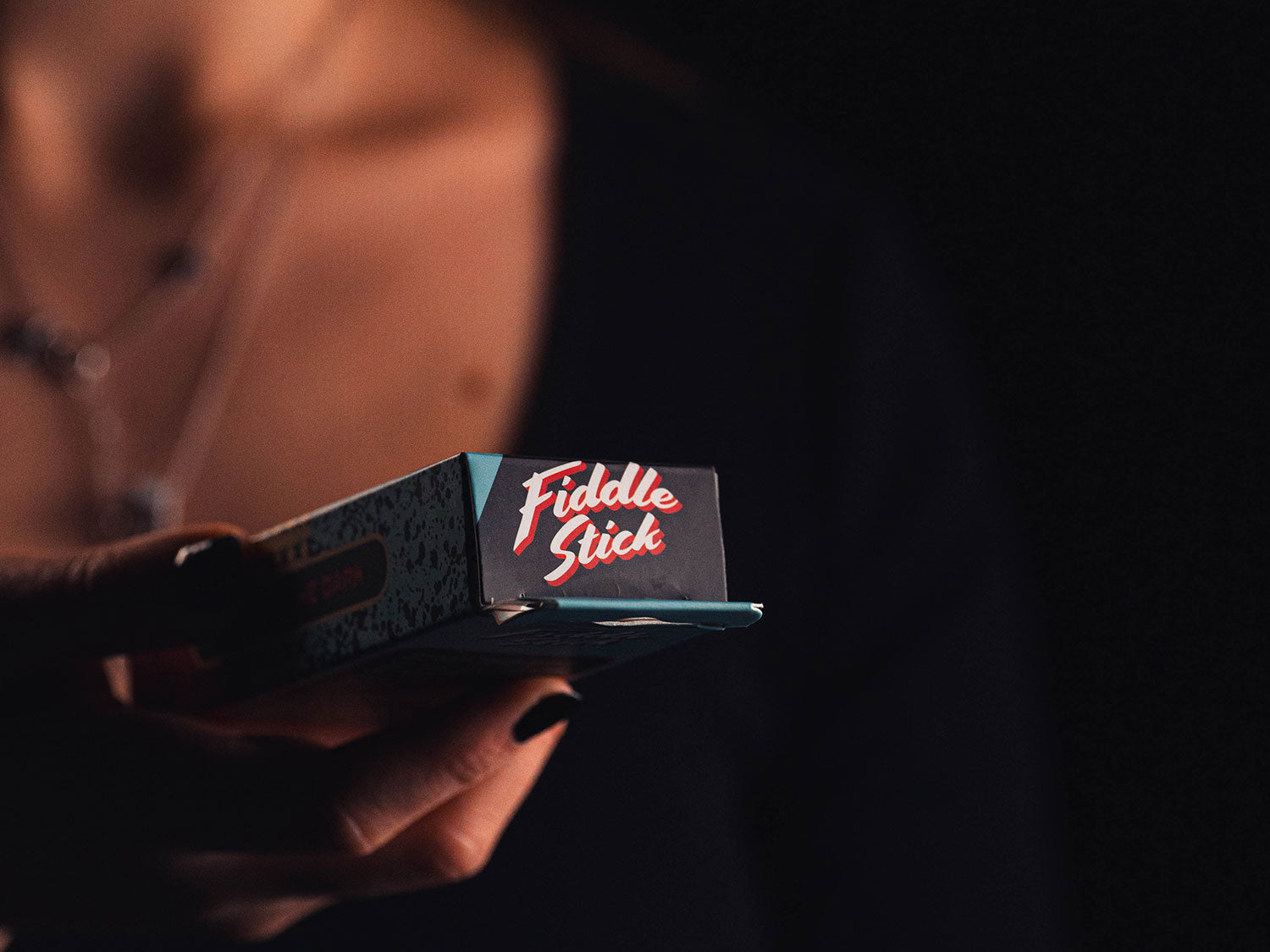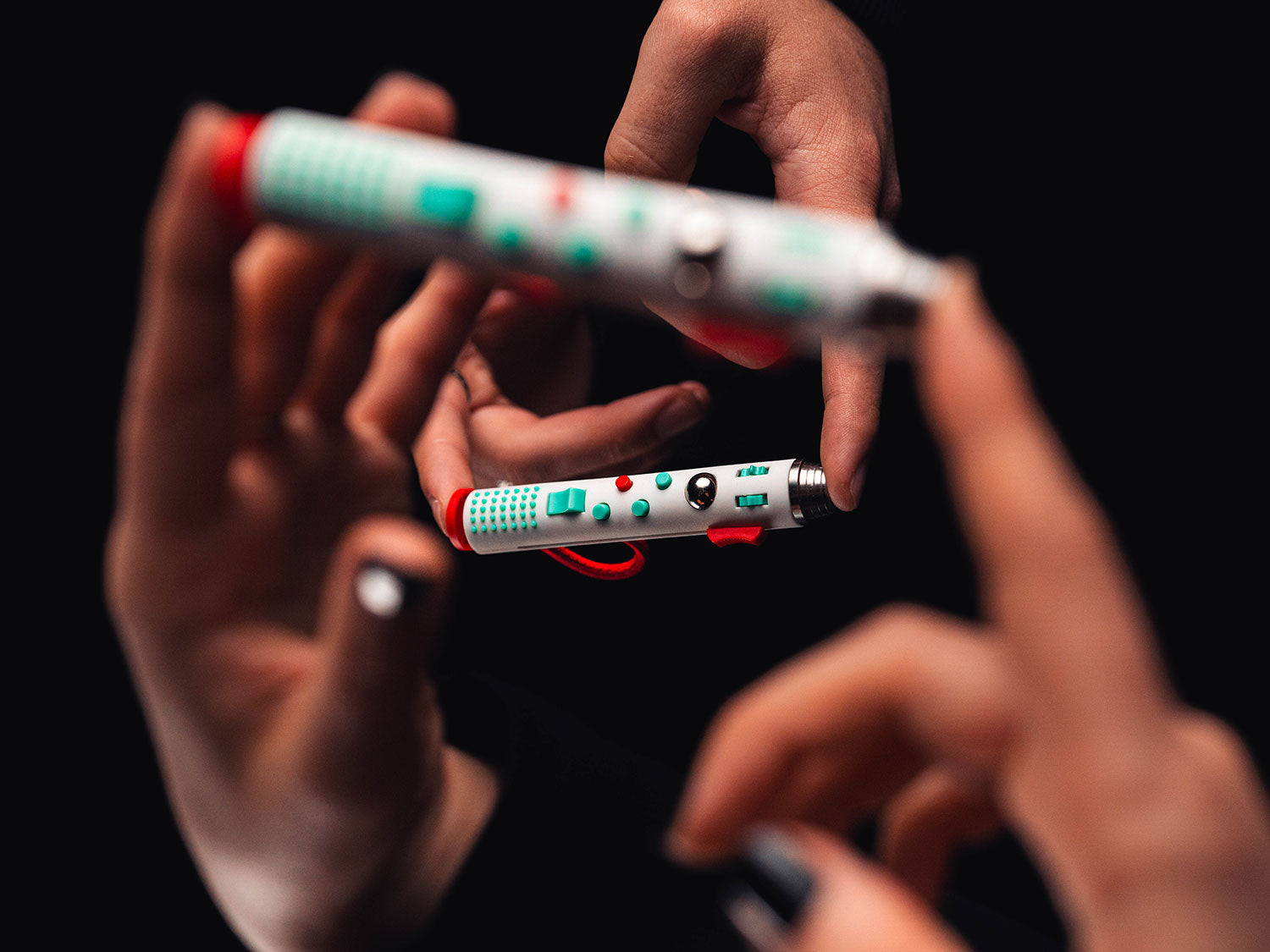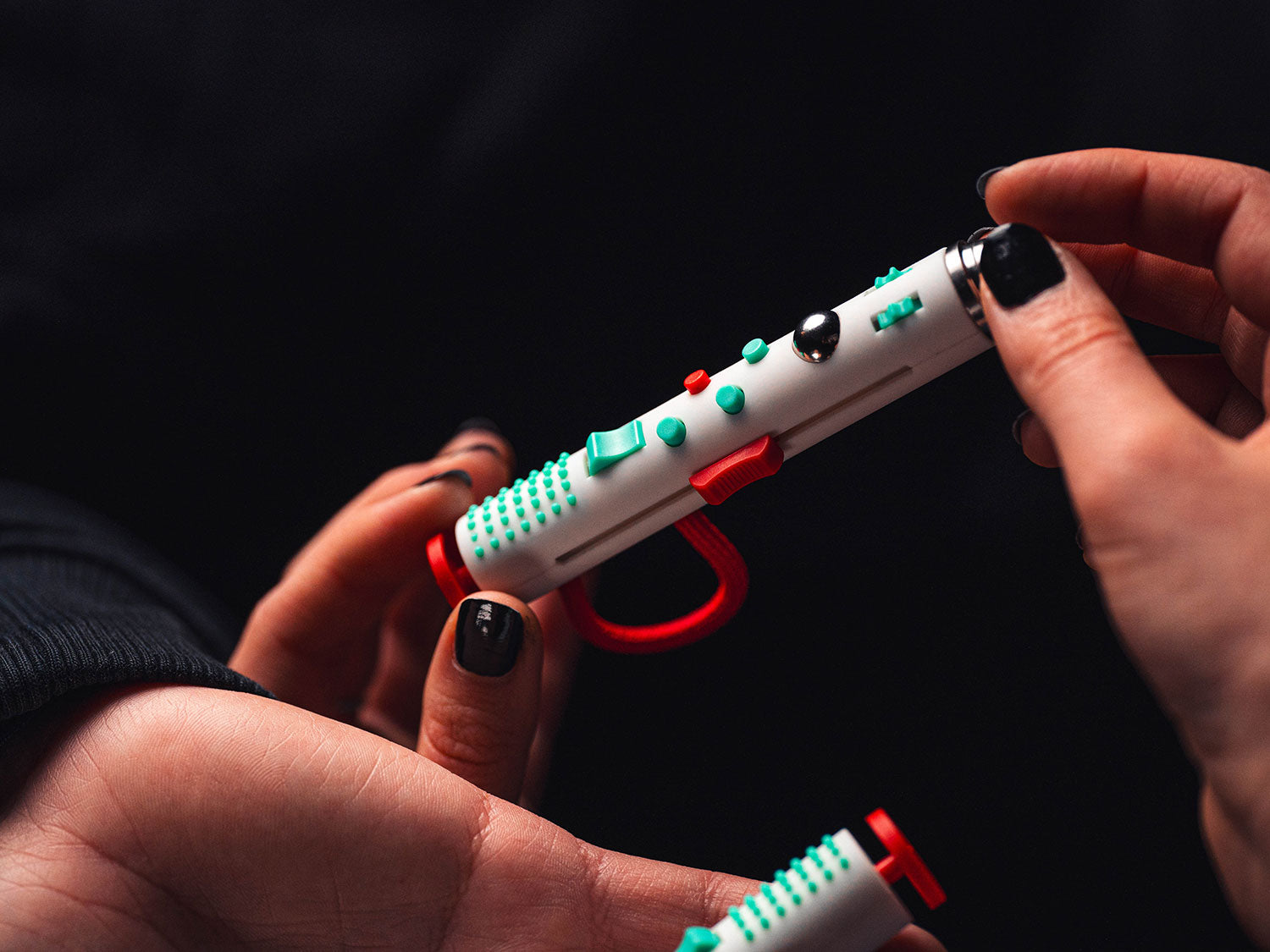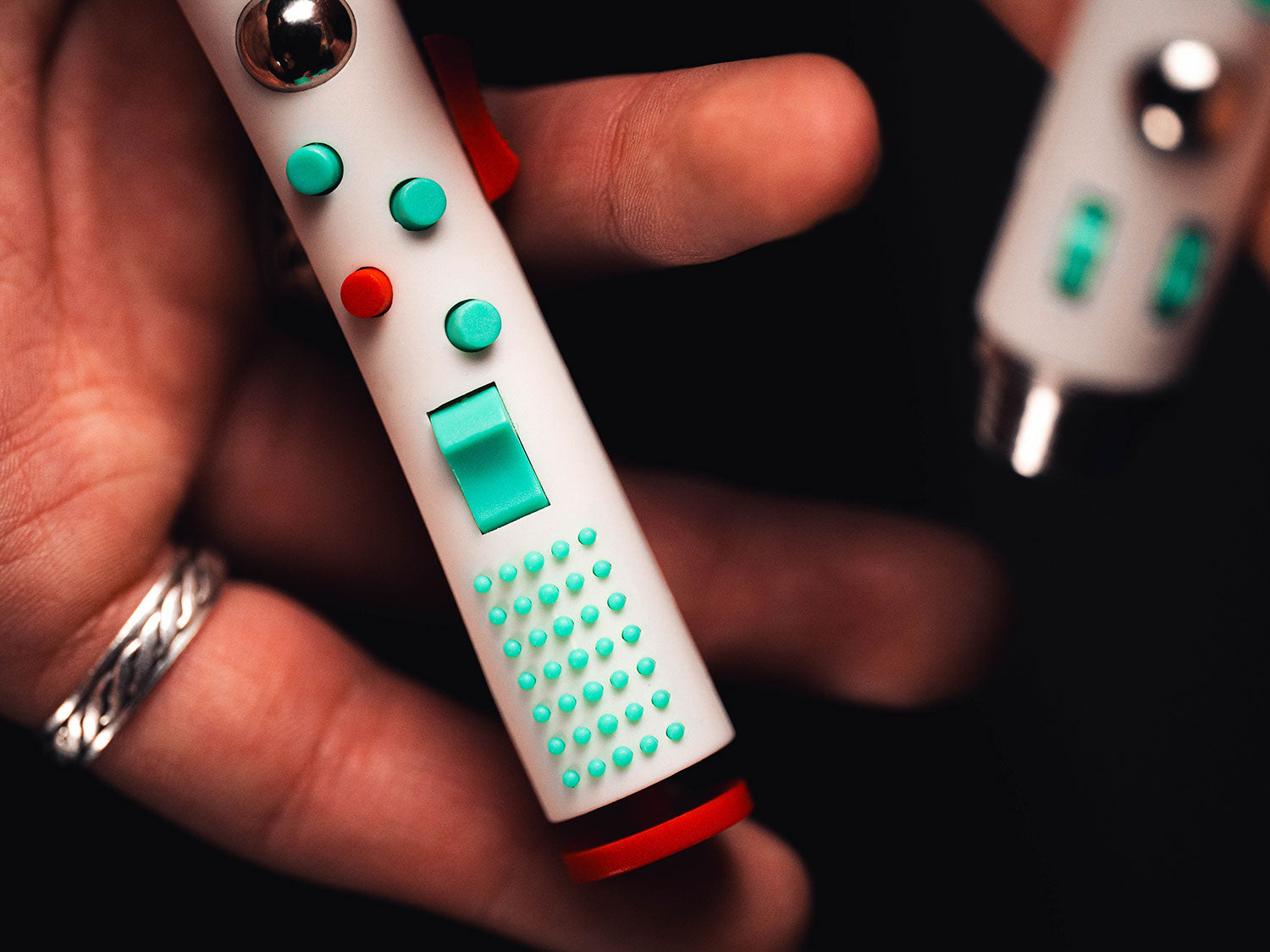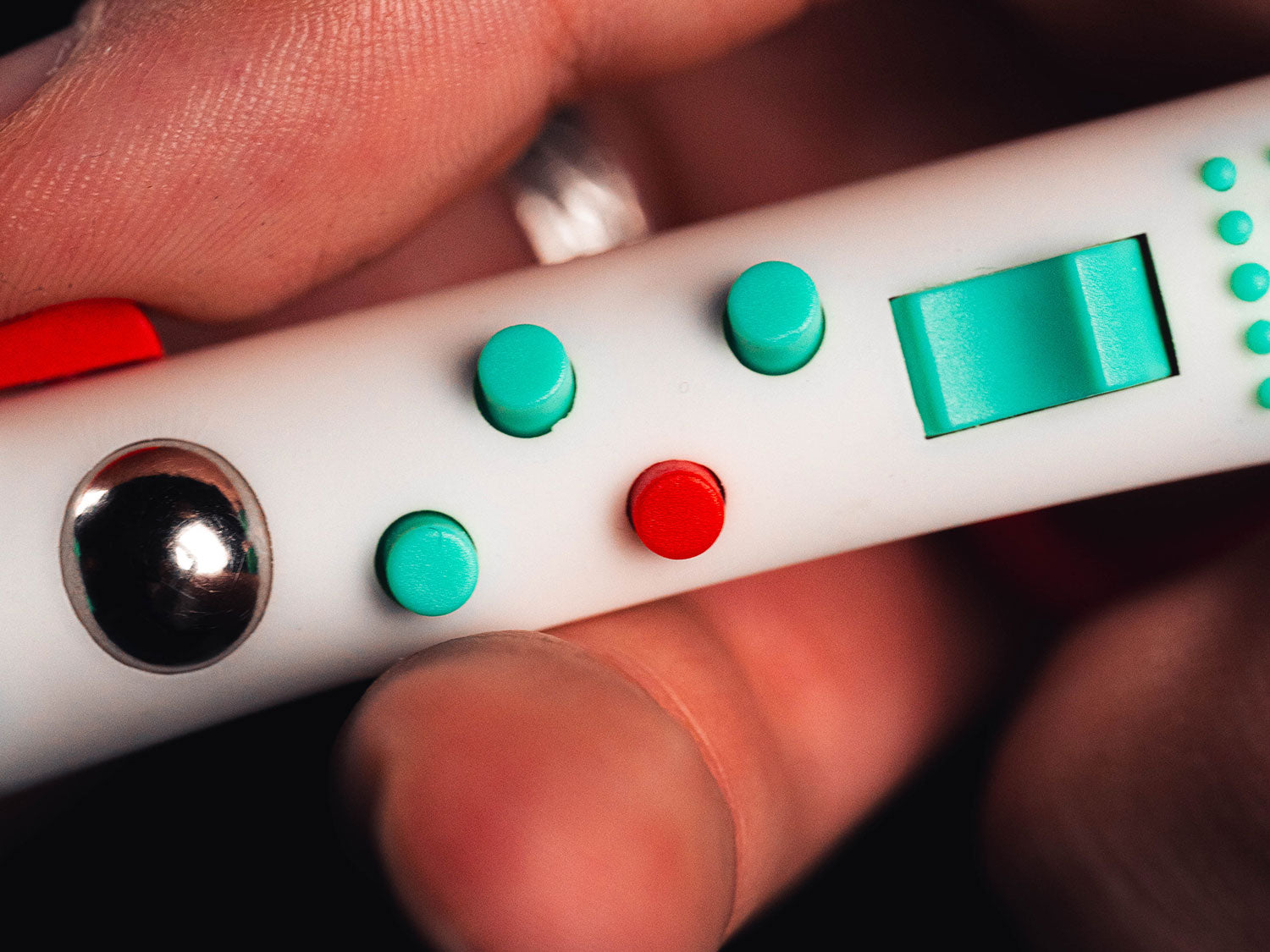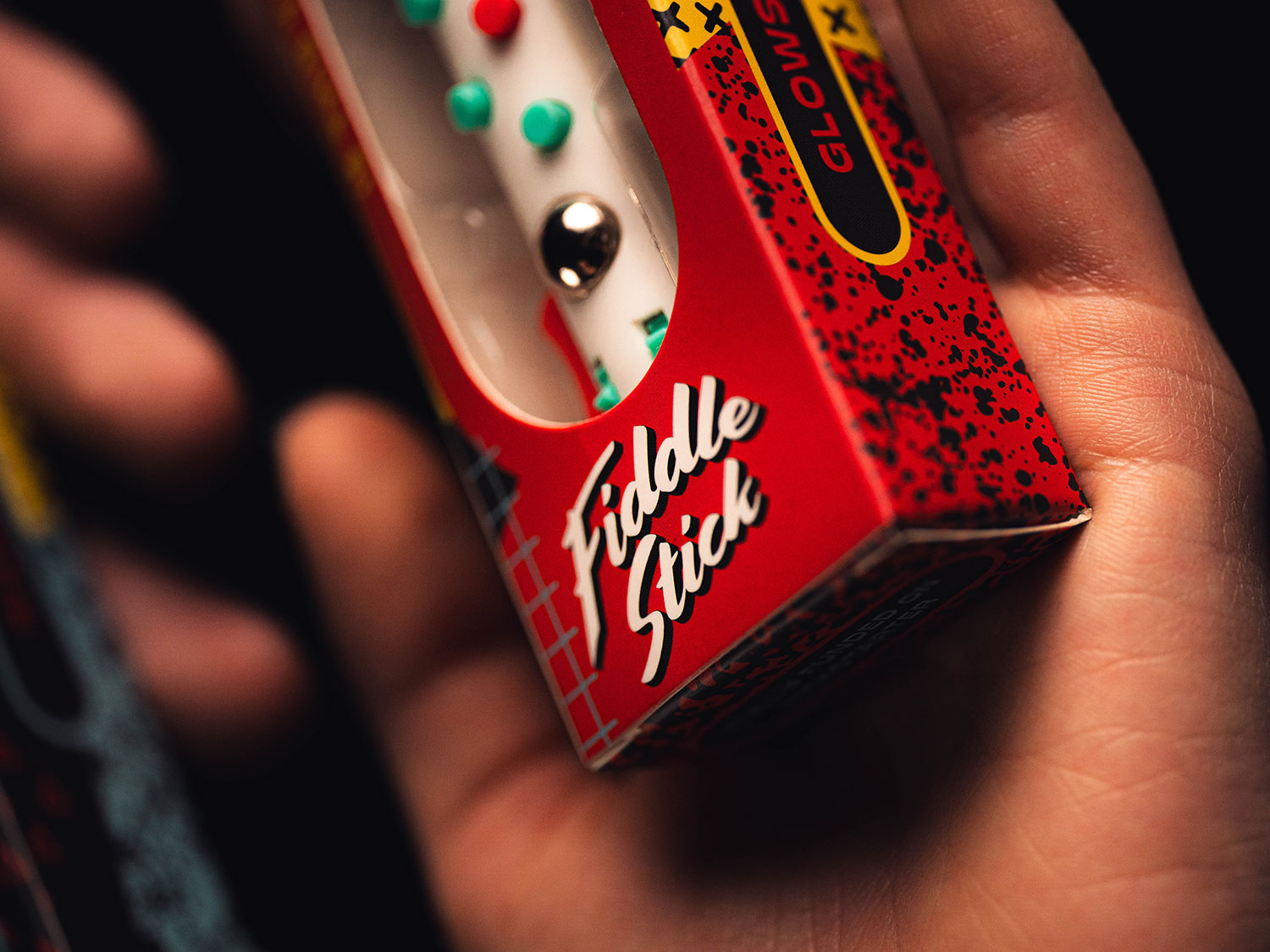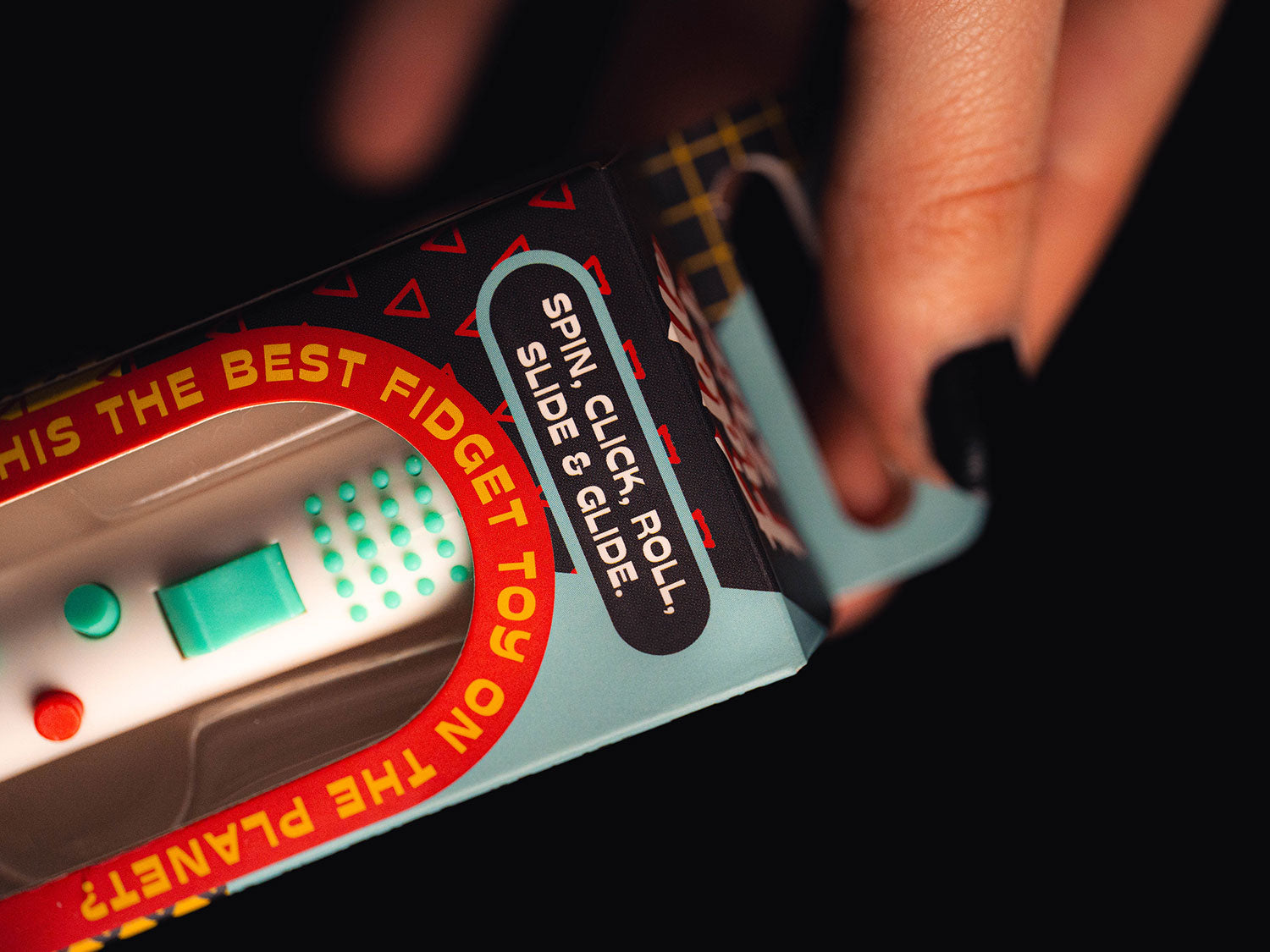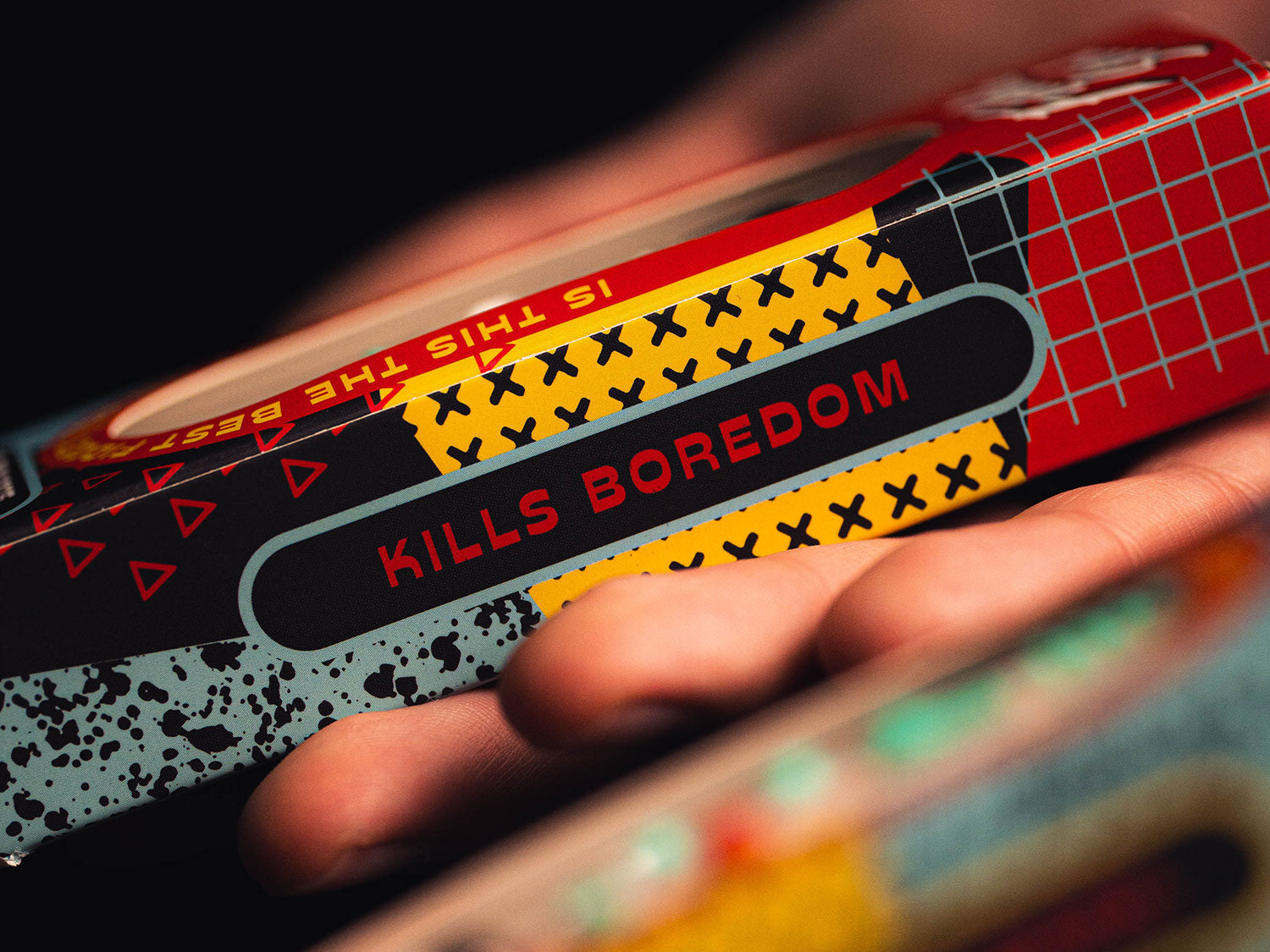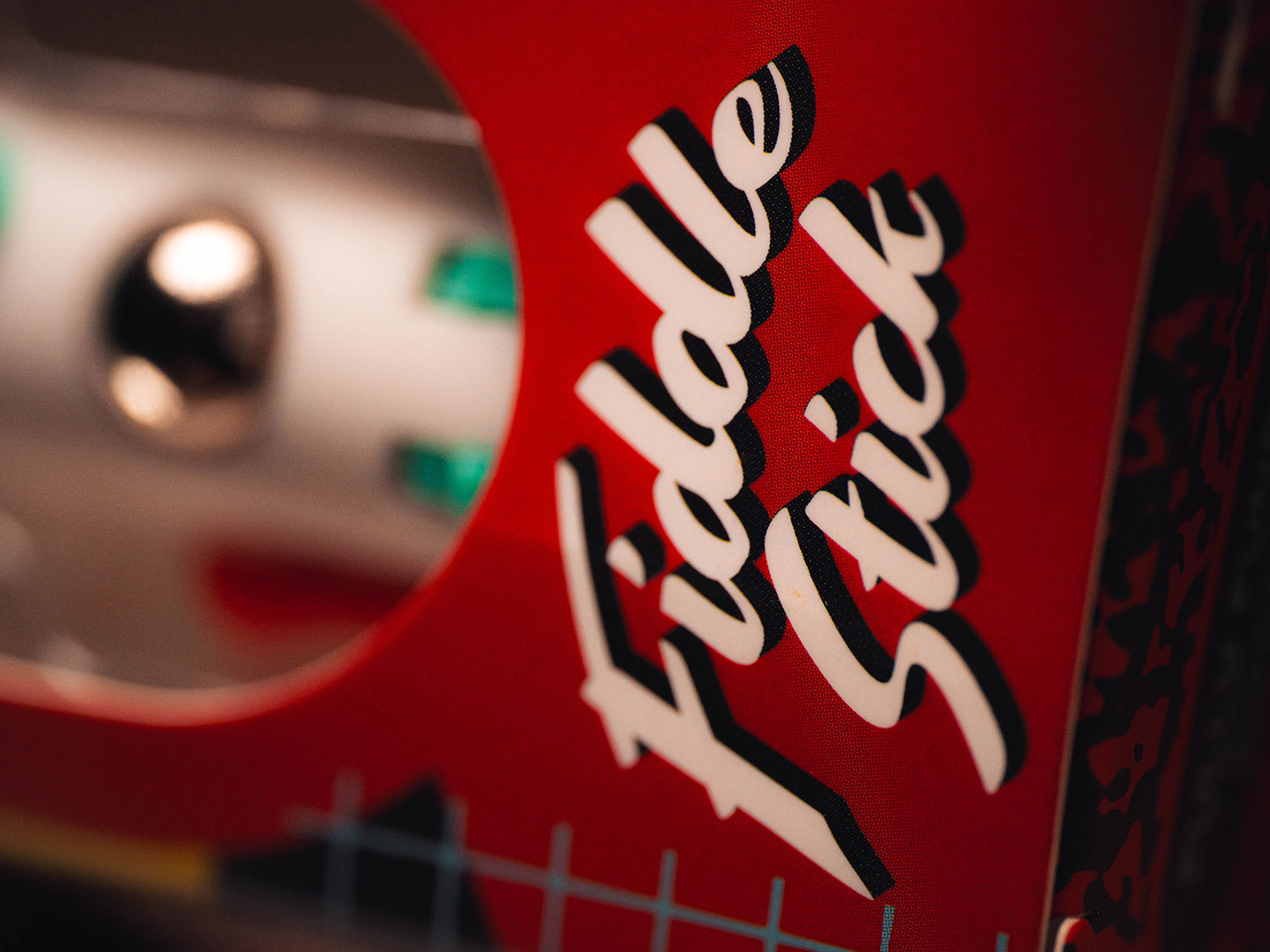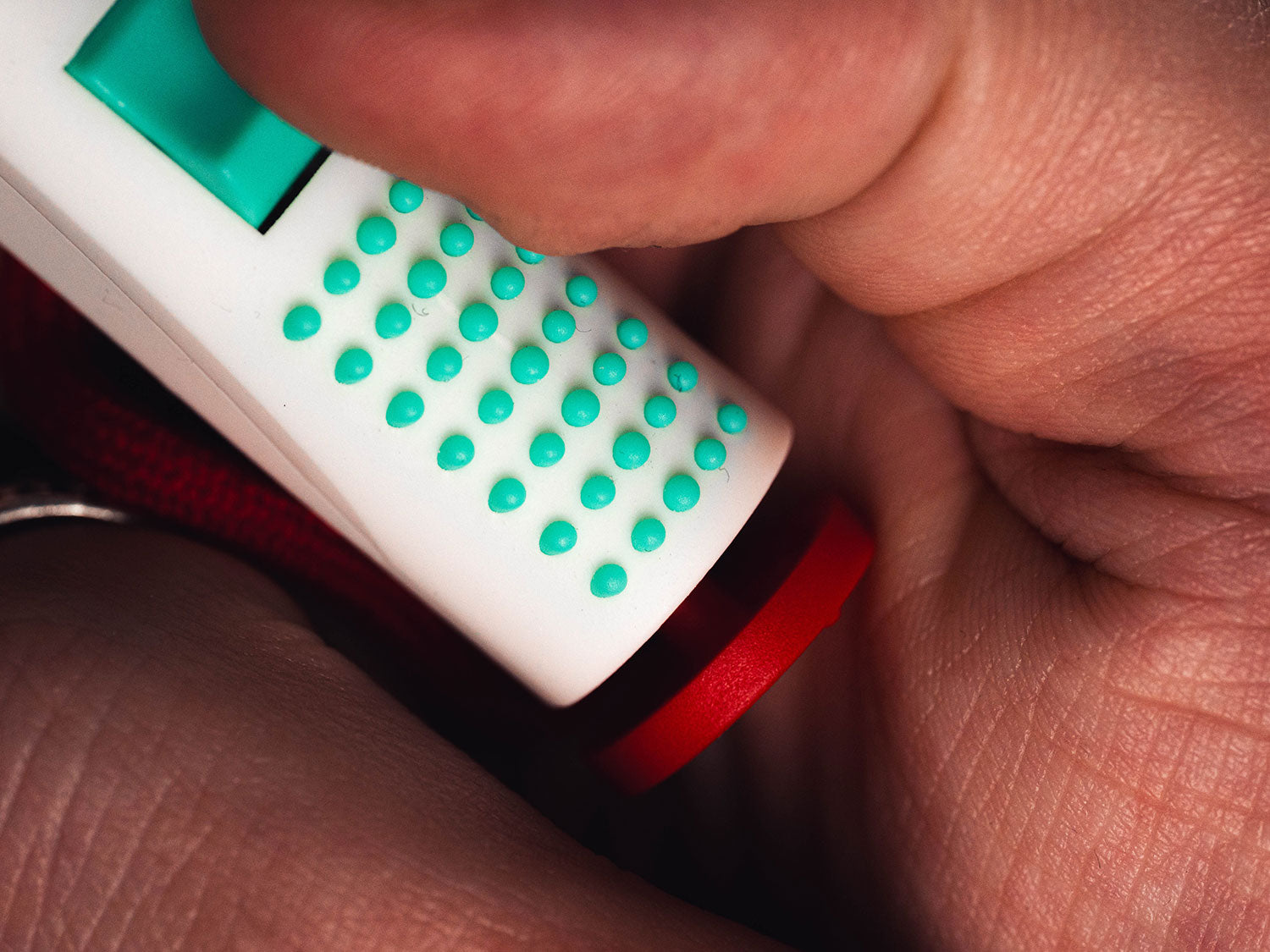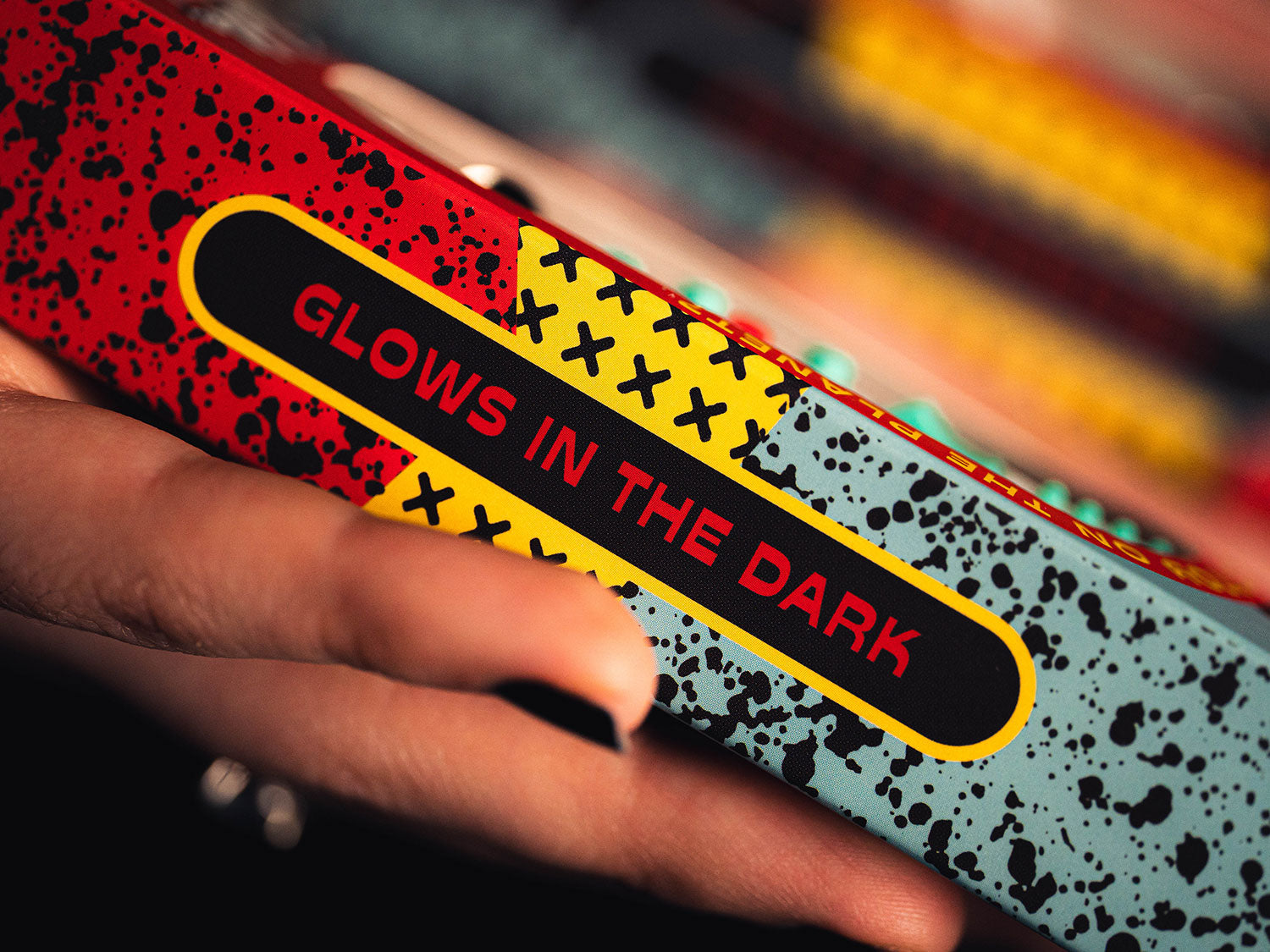 Fiddle Stick
BRAND NEW v2: Glow in the dark Fiddle Stick is now in stock & ready to ship today.
Note: No spinner required/included. It glows!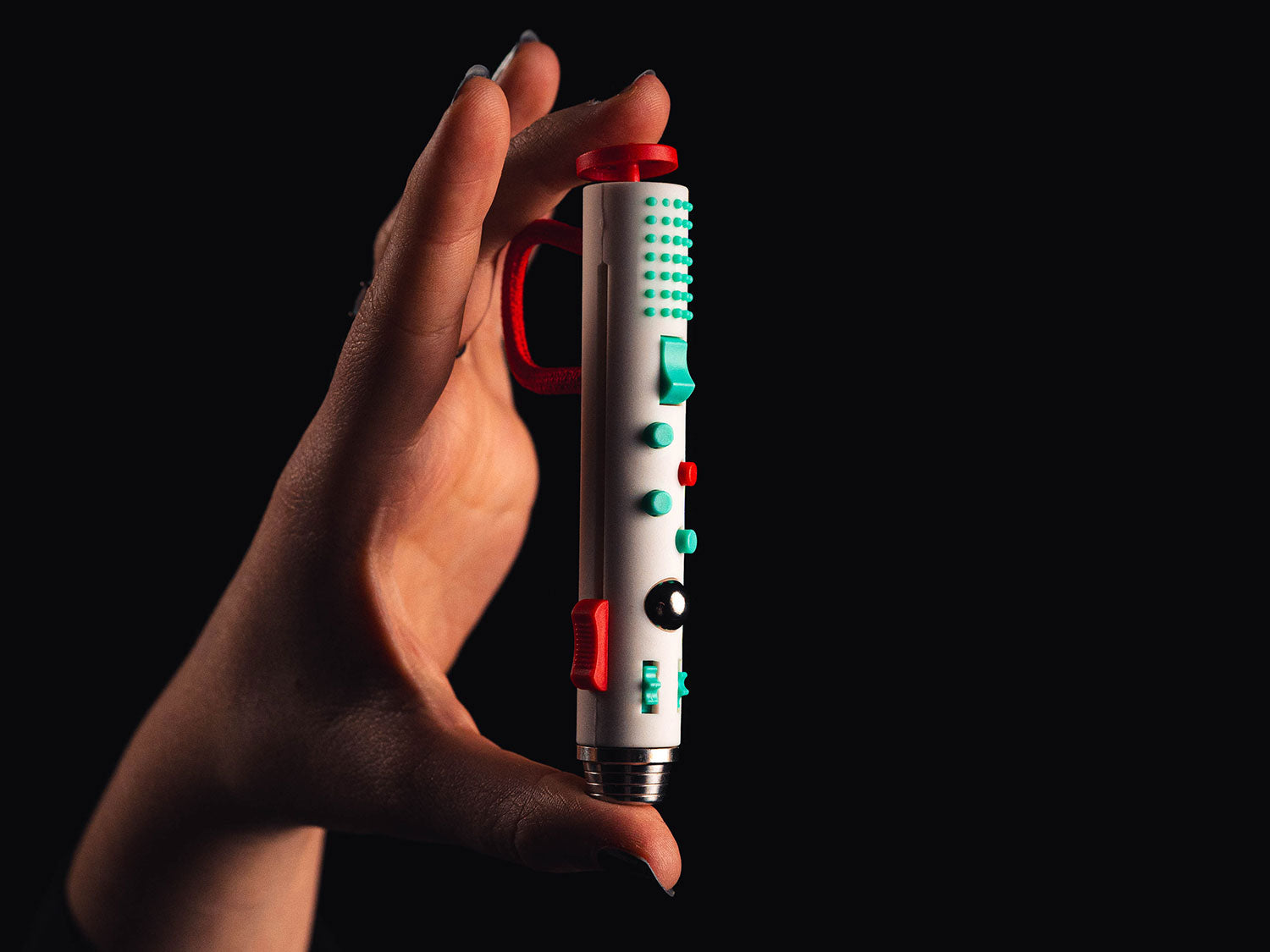 ---
NOTE: New 'Glow in the dark' white Fiddle Stick does not have the spinner attachment.
---
WHAT IS THE FIDDLE STICK? 
1. It's like a one-handed NUNCHUCKS you can fling, flip & spin. 
2. It's a FIDGET TOY (on steroids) you can CLICK, ROLL, GLIDE & SLIDE. 
HOW TO USE IT - THE FULL BREAKDOWN
In minimalist mode, the Fiddle Stick has 9 amazing features to satisfy even the most hardcore fidgeter. They are... 
WHO IS IT FOR?
Designed for both KIDS and ADULTS, Fiddle Stick is a sleek and ergonomic fit for ANYONE. It stays discrete, so you can fidget anywhere, anytime. At school, at the office... you name it!
 WHY FIDGET? 
Everyone fidgets! 
You drum your fingers on your desk. Spin your keys, click a pen, or flip a coin a hundred times.... We've all done it.
Actually, fidgeting has been proven to increase cognitive ability, concentration and alertness during activities. Multiple studies have proven tools like Fiddle Stick can actually aid those with ADHD, anxiety Autism & Dementia.
This makes Fiddle Stick more than a toy. It's a tool to exercise your brain.  
Fiddle Stick has benefits that go beyond just FUN!
Jet Black is for the stealthy Fidgeters out there. Sleek & unassuming to allow you to flip, spin, click or roll ANYWHERE. At school, at the office, during meetings, or even waiting in line for some ice-cream.
 Hot Pink is for those looking to make a statement. Don't be afraid to Fidget. The Hot Pink Fiddle Stick commands attention... and keeps it. 
An ice cold color because your moves are FIRE. This is for those who are introverts at heart, but looking to break the mold. You can with an Electric Blue Fiddle Stick. 
Which color do you LOVE? 
THE INVENTOR 
Adam Wilber is an inventor, magician & public speaker. He's travelled the world creating products that bring wonder. 
His most notable product Pyro Mini went viral in 2015, setting the internet 'ablaze'. 
With Fiddle Stick, he created a purpose-built fidget toy to suit his needs. Something that opened the door to moves, flips and tricks. Something that quenched his fidgeting thirst whilst sitting in airports from gig to gig. 
Fiddle Stick is like the Kendama of the fidget-world, basic enough for anyone to do it, but diverse enough for some people to pull off the craziest tricks imaginable. 
What can YOU come up with?
This product is rated 4.7 of 5.0 stars.
It has received 286 reviews.
Glow in the dark Fiddlestick
The Fiddlestick seems to good quality. It is exactly what I was looking for. It has a plethora of different things to fiddle with. I am very happy with my purchase.
I LOVE IT
THIS IS THE BEST FIDGET TOY EVER I'D LOVE TO RELAX USING IT PLEASE RELASE IT!!!!!!!!!!!!!!!
Great fidget toy
Got this to have to with me while sitting at my desk at work and it is amazing. Everyone ask to check to it and I have started many great conversations with it.
I love the fiddle stick
These fiddle sticks are a huge succes here, they are fun to use and the children love to play with them
10/10 customer service
The fiddle stick is an amazing, perfect fidget. I have bought several of them. The customer service for the site is unmatched, and I'm so happy I stumbled across it.
amazing item
loved buying it and it's a great thing to fiddle with and have fun with.
Fiddle stick!
My daughter absolutely loves it
Fiddle stick
Absolutely amazing it help me with my ADHD so much, great product
The Fiddle Stick is Great
I got the Fiddle Stick from the mailbox today, and it is so far exactly as advertised. Now I need to study the trick videos.
Awesome design and lights
Overall awesome design and love the lights. It would be nice if the little metal end piece could attach to the spinner or somewhere so it doesn't get lost.