Flap
No more visible lines and thick creases.
Hondo's ingenious method for seamless flap creation takes color changes to a whole new dimension.
Change any playing card, into any playing card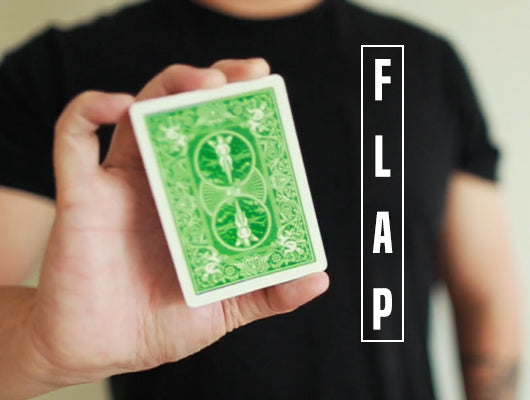 Flap
Sale price

$9.98
Regular price

$19.95
(/)
WHAT YOU JUST SAW WAS DONE WITH A FLAP CARD.
FLAP CARDS ALLOW FOR THE

MOST PERFECT

COLOR CHANGES
ON EARTH
There has always been one major drawback to building a flap card.
Visible lines and thick creases down the centre of the card allow the spectator to spot the gimmick if they get too close.
Not anymore.
Hondo's ingenious method for seamless flap creation takes color changes to a whole new dimension.
No harsh creases that can be spotted by your spectator.
Much more than a gimmick tutorial
, this is a masterclass where Hondo shares his most intimate secrets to
allow you to create
any color change you've desired.
Change any playing card, into any playing card.
You'll learn:
- Card Splitting
- How to make Hondo's signature FLAP cards
- A genius locking system
- Triple change gimmicks.
Hondo is the worlds' leading authority
on the creation of flap cards.
With about 3 hours of expert instruction

,
you'll learn how the Flap Gimmick has been single-handedly reinvented into a seamless device that holds up under close scrutiny.
This is something all magicians absolutely
need
. It's a revolution in card magic.
Available to Download INSTANTLY.
Learn the method NOW.
This product is rated 4.8 of 5.0 stars.
It has received 36 reviews.
The definitive guide to all things flap
Love this video. Hondo's explanations and attention to detail are great and will have you creating amazing flap cards in no time!
Follow the leader
Hondo Chen is clearly the best at the design, creation and operation of the flap card…an ingenious masterpiece of illusion. This video makes it all very clear why that's so. Excellent video if you're thinking of getting into the amazing flap card magic
Great
Products are always great. This instructional is going to be a bit challenging but is well worth it.
Thanks
Flap Tastic
"Flap" is a must for anyone wanting to make a flap card that does exactly what you want it to do. Hondo Chen's instructional video is worth every penny. With his knowledge and experience he will have you flapping cards by the time the video ends. Patients is the key. If he says tie three knots there's a reason. I highly recommend having Flap in your library...you won't regret it!
The flap video goes into a lot of detail 😀
Flap by Hondo
Flap by Hondo is one of the easiest, most impressive effects ever made. I have spent countless hours now trying to make my own as good as he does and I'm still enjoying the process. A worthwhile investment.
The masterclass by the master himself
Here he teaches everything to construct an amazing gimmick. A must get if you're into flaps
John
My first purchased copy had no subtitles. This one does have them and they are really well done so all the small but very important points become clear. A very nice video and worth every penny.
Sahil
Hands down the best $20 I've ever spent....the method is genius and explained in the utmost detail possible...The only con is that the audio is Chinese but the subtitles are excellent....you get over 3 hours worth of videos which is more than you could ever bargain for...what are you waiting for...go for it!!
Summary
Definitely FIVE STARS for this.
The problem I keep encountering with these videos and tutorials is why aren't there detailed instructions for blanks?
It's nice to talk about techniques that "would" be used for a blank flap card but (unless I missed it while watching this) never a tutorial to make one.
If it's not possible to then cool, I've had failed attempt after attempt.