FU2
F.U.2 is the ultimate heckler stopper. An explicit piece of art that jumps up in the middle of a trick like a hilarious jack in the box.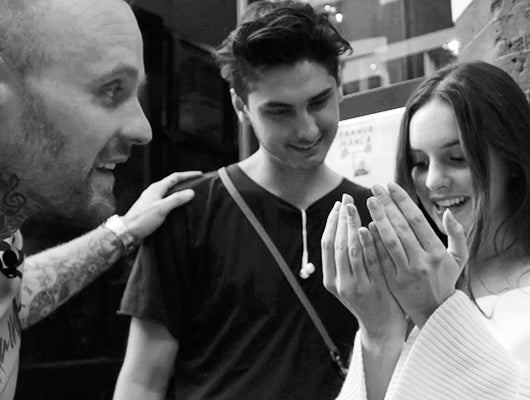 FU2
Sale price

$7.50
Regular price

$14.95
(/)
WARNING! Not suitable for magicians under 18 years old. Please ensure you meet the age requirements before purchasing. 
F.U.2 is the ultimate heckler stopper.
An explicit piece of art that jumps up in the middle of a trick like a hilarious jack in the box.
They think you're doing the best mystery card trick on earth... maybe you are.
A prediction is placed on their hand and they're told not to look. They then choose a card. (It's a force... No B.S. here)
When they turn it over, expecting the named card to be there, a big hand flipping the bird greets them. 'F*CK YOU' is spelled out in full above it.
Everyone laughs.
At this moment you could get an elephant to drive a bus into the room and nobody would notice. They believe it was just a joke.
They read the guarantee on the card. No need for switches.
It says the EXACT card they chose in the small print...
BAM. Fireworks go off, men and women flock to you while confetti falls from the open sky.
You don't just do magic. YOU ARE MAGIC.
Get f*cked today.
REAL TALK. THIS IS WHAT HAPPENED WITH THE ORIGINAL F.U. DECK RELEASE
NOTE: To ensure promises are kept to Asi Wind, we've removed Pack #4 from the mix. That means that 13 cards won't be available, ensuring nobody can put together their own F.U. deck by buying a bunch of these. If you're looking for that kind of effect we recommend Asi's Gypsy Queen.
WHAT YOU GET
Each pack contains 13 random F.U. cards. All cards are in random order (pack #1 is not A through K of spades for example), but by buying different packs (1, 2, or 3) we can guarantee you'll receive no doublers.
This ensures a varied performance without the need to force the same card on every spectator.
With each purchase, you'll get access to the full FU2 download, showing you exactly how to use this one gag card during your performances. Each card is forced, so during the explanations Lloyd Barnes will teach you 8 different techniques to force a playing card. Including surefire psychological forces and his personal favorite way to force a playing card.
Lloyd will also recommend some other sources for you to check out that can be used with this routine. So no matter what situation you find yourself in, you'll always have multiple techniques to pull from.
CREDITS: 
We'd like to publicly credit EVERY SINGLE PERSON who's ever used the words "Fuck You" in their magic tricks or in conjunction with playing cards. 
So far its: 
Jerry Sadowitz (1987)
David Sleaze (1980)
Adam Rubin (2010)
Peter McKinnon (2012)
Harrison Greenbaum (2010?) 
Lloyd Barnes (2016)
Oliver Stearn (Year unknown) 
Josh Maddocks (2008)
Solly (2017) 
Erik Kappelman (2018) 
Dominic Thibodeau Deveault (2009) 
Paul Mitchell (2018) 
Carlos Ortiz (Year unknown)
Ruben Dobson (2017) 
Tom Wright (2018)
Lino Luna (2017) 
& we're almost positive it's many many more of you too. Email support@ellusionist.com if you've ever said "fuck you" during a card trick or written it on a card and we'll add your name to this page too. Nobody owns that phrase. Not even us. 
We'd also like to specialliy credit these people for using the fine print as a card reveltaion too: 
Jay Sankey - Fine Print (2009)
Lloyd Barnes - FU Deck (2016)
Tom Wright - Parental Guidance (2018)
This product is rated 4.9 of 5.0 stars.
It has received 18 reviews.
great laugh
I picked this up a bit ago and have been preforming it for a while. it's simple, easy and everyone gets a good laugh then the reaction. I just preformed this less than 20 minutes ago to two guys who came into my work and they were soaking it up.
Genius and flexible!
I love this trick! I don't really have enough gags in my show but this is definitely a great and simple piece of magic that gets an amazing laugh. There are SO many methods which I always love. Great and easy to follow explanation. Would 100% recommend to anyone looking for a great mentalism piece with many methods and gets amazing reactions.
Brilliant reveal
Very happy with my purchase. This will get some great reactions!
It's hilarious!
My dad opened the gift and totally loved it. He did the trick on a couple friends and they thought it was hilarious.
Fu2
This is so off the wall. Catches people way off guard. I'm having a blast performing it.
Great trick to perform for people you like AND hate
This is a fun trick to perform in the right environment, but I am sure both friends and enemies will love it!
Funny as F*#€!!!
This is great for hackers or just to make friends laugh with the big middle finger… give someone the finger without actually giving them the finger. Definitely recommend if this fits your style/character.
FU2
Everything I could have asked for. I'm performing for the very first time tonight and these are going in!!
Amzing reaction
If you want a great reaction, make sure you get this pack. Perform it to my friends and everyone just burst to laughter.
Always have a trick on you!
If you have your wallet and phone on you, you got this trick on you. It's hilarious and has a strong kicker ITS AMAZING I CANT STOP DOING IT THANK U E