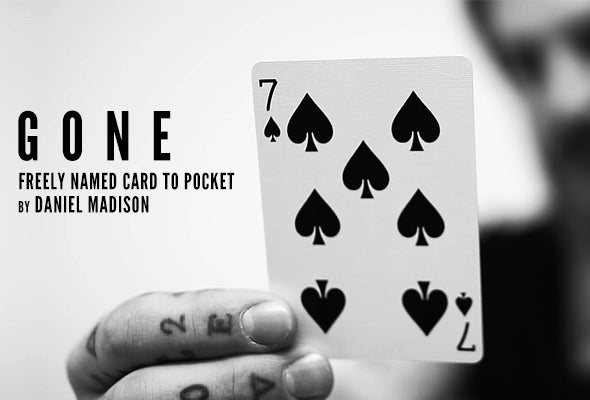 Gone
Sale price

$9.95
Regular price

$14.95
(/)
A demonstration of mentalism, coincidence or magic - Gone is one of those tricks that sticks in your mind long after it's over.
It's the type of effect that gets conventions buzzing - and it's one typical of Daniel Madison. Strong, clean and direct.
The performer begins by naming their own favorite
card and asks a spectator to freely name any other card. The deck of cards is spread and seen to be in new deck order - but where the spectator's card should be, is instead the performer's. The spectator's card? It's been in the performer's pocket since before the trick began.
Throw out your Invisible Deck, you've just found your new go-to.
This is Gone.
This product is rated 4.7 of 5.0 stars.
It has received 22 reviews.
Wish I Found Ellusionist Sooner
I was extremely happy with my recent of purchase of decks from Ellusionist. I was introduced to your site in a review on Cohort decks by David of Magic Orthodoxy. I love the feel and the ease of reading the marks on the Cohorts. I enjoyed shopping on your site, making a purchase was seamless and I received my order quick. I will definitely be back, I hope you don't get away from decks totally, even though it's a tough market right now.
Perfect
I found it very useful because in my opinion the downloads are beautiful to learn magic so very nice.
Review of Gone
Sooooooo simple to do and crazy powerful concept, honestly any card magician with any sense should get it, it's worth double it's cost!
Summary
Very nice effect, this is a regular deck and there's no real gimmicks other than a tiny cheeky adjustment to a card to produce a heavily strong revaluation fair to say its for a medium level magician i also doubt a beginner would have much of a problem in learning and performing this well within a few hours practise,a good all round effect thanks Dean.
Summary
Absolutely phenomenal. While the effect seems like it would take some incredibly difficult sleight of hand, it is actually something incredibly simple to pull off. You will want to dedicate a minor amount of time to practice, though, just to make it as natural as possible. Due to it having 2 incredibly strong, hard-hitting moments, and the fact that it is done with a regular deck, Gone will certainly be replacing the ID for the spot in my repertoire.
Summary
What a so easy, original and freaking trick! It will take a bit of practice (and succeed by controlling your audience). The effect is amazing! Your 7 of Spades in the deck will create a huge surprise. And if you continue the trick like Daniel Madison did with the other card in your pocket, you will rock without any doubt. Really love to perform with this one.
Summary
The great thing about DM is the simplicity yet effectiveness... Mind blowing yet easy to learn... I believe every trick.has a high level of practice it deserves His are always fun 2 practice...
Summary
Great reactions the spectator will never know what hits them when you perform this
Summary
OH..MY..GOD.. This trick is absolutely amazing. I preformed it in 5 minutes after watching the tutorial I preformed to my friends and parents and they were mind blown. This trick is great! Highly recommend!!!
Summary
Great trick, and great reactions, only one part needs a bit of practice, or if you're great at misdirection, none at all. A must buy for this price!