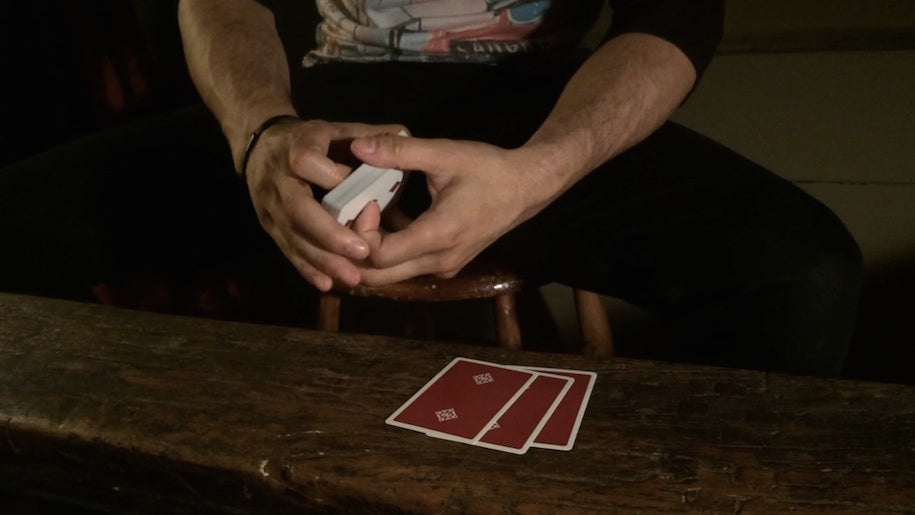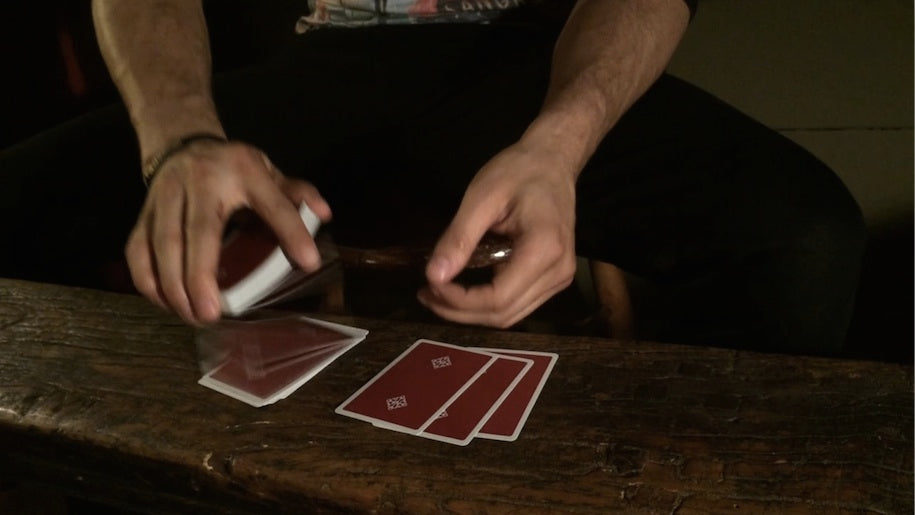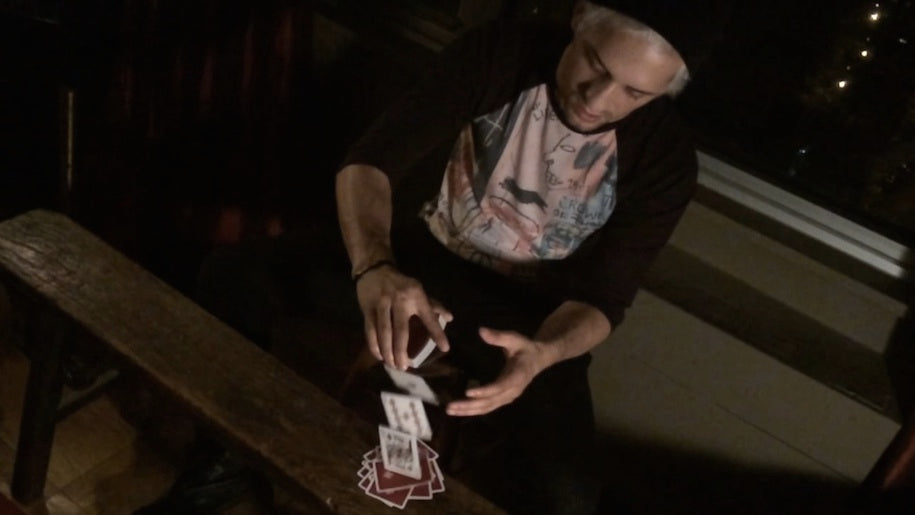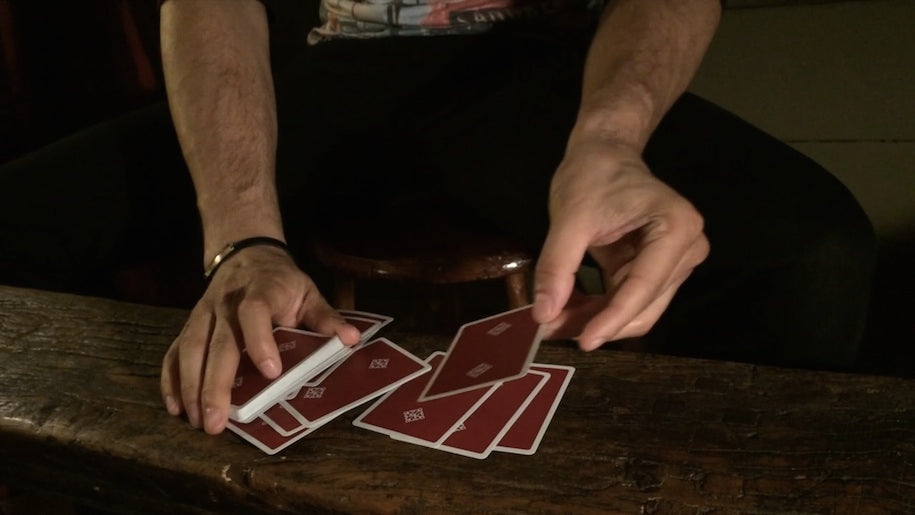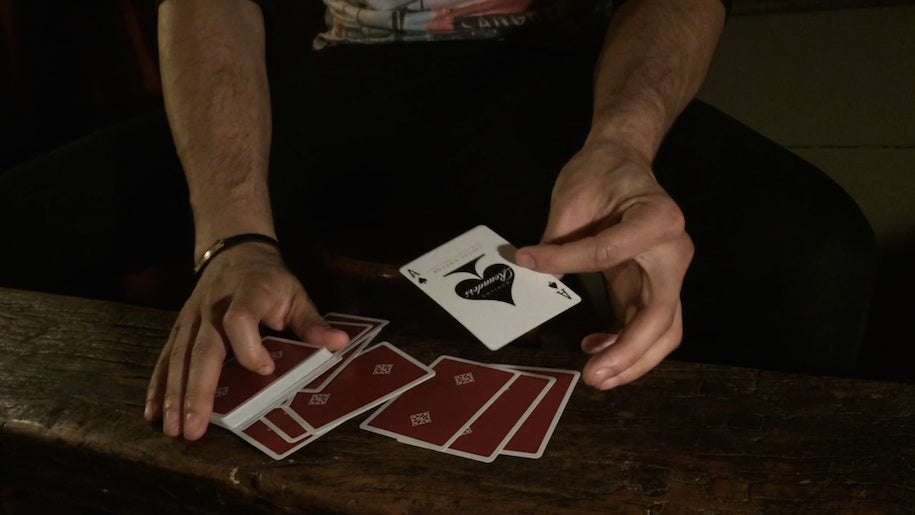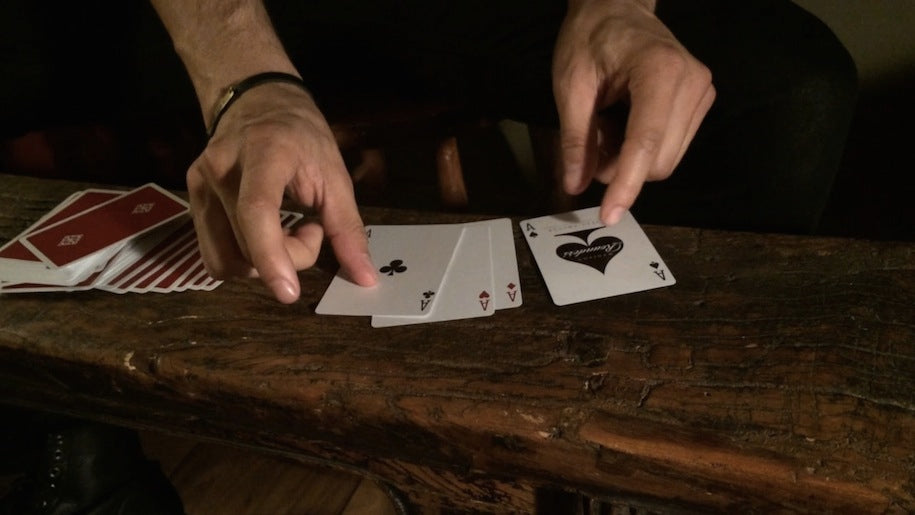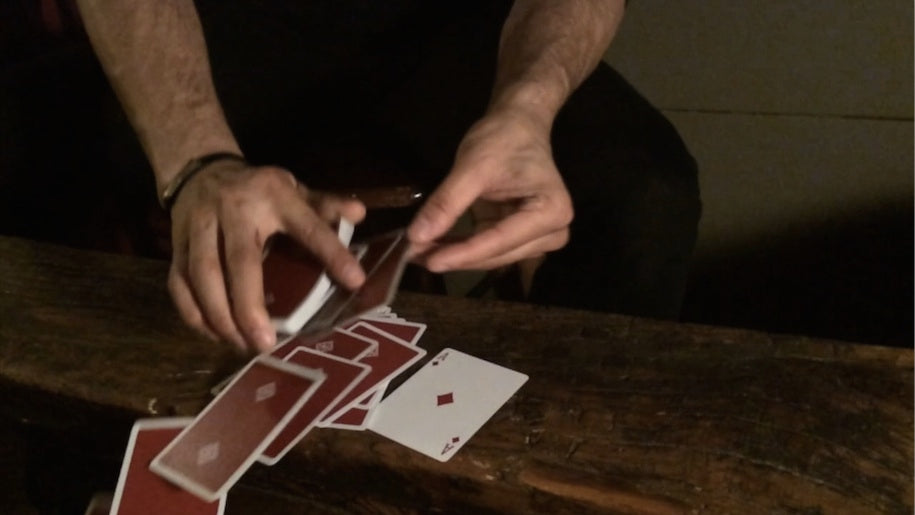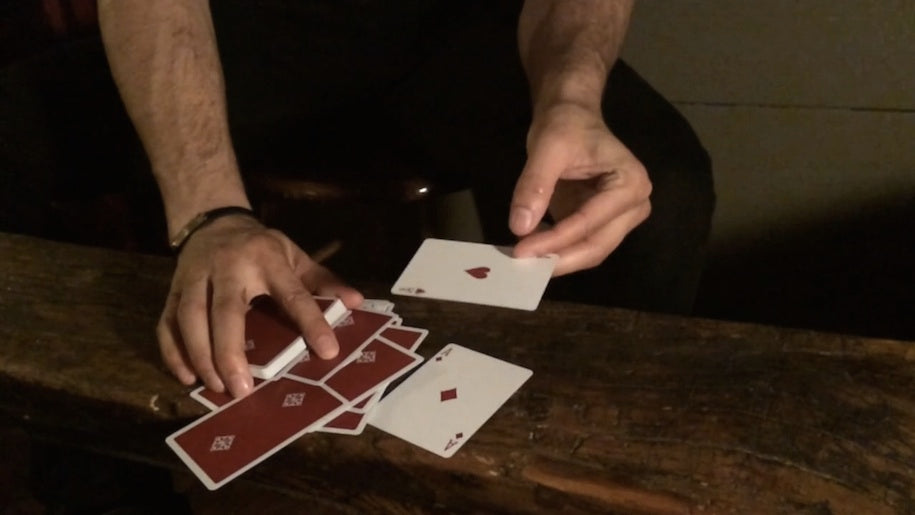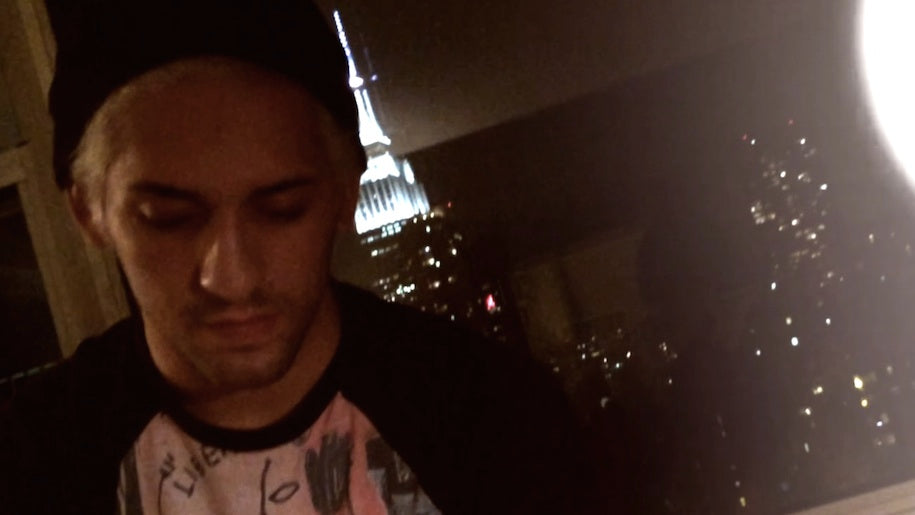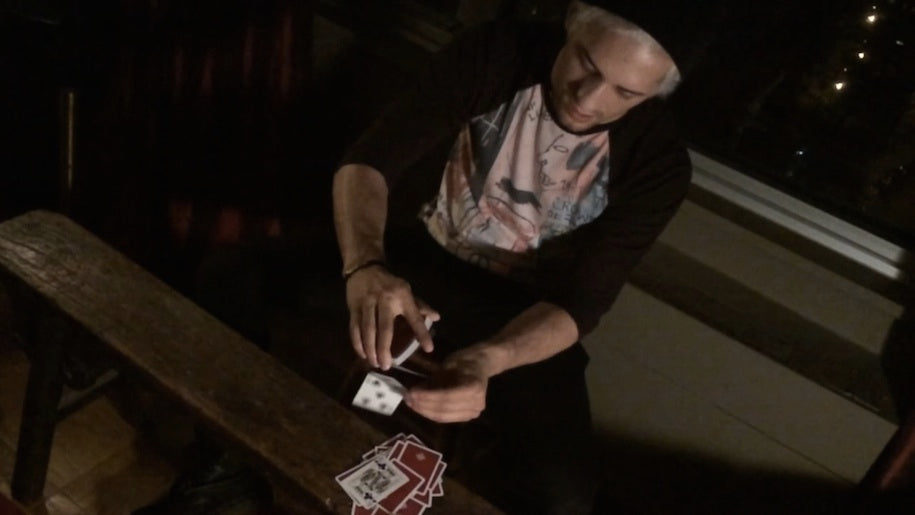 Grab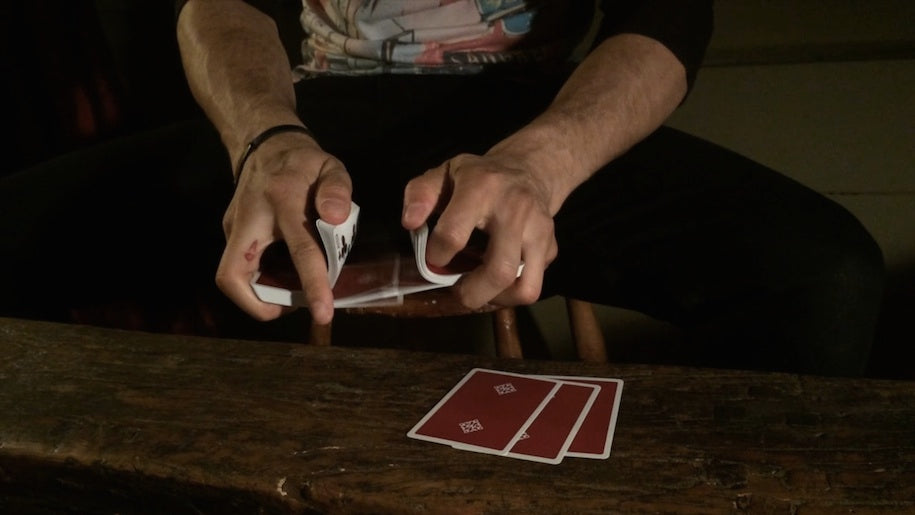 Grab
Sale price

$9.95
Regular price
(/)
Is it time for YOU to leave?

Like David Carradine's snatching of a pebble from his master's hand in 'Kung Fu' (video to the left for those too young to remember), Mark Calabrese developed and honed a skill that has to be seen to be believed (or is it a skill?).

When rumor of this 'skill' reached Daniel Madison, he boarded the red eye from London to New York to learn just how this incredible feat could be possible.

What Mark Calabrese has created is a technique to pull a named playing card from the middle of a spring of cards with pin-point accuracy. Unlike other versions of this effect you may have seen before - this is no illusion. The selected card is truly in the middle of the deck, and is truly pulled out from a standard dribble.

The possibilities for this feat are limitless. It can be used as a demonstration of skill - pulling out a necessary card for a poker hand, a matching card in a pair, a spectator chosen card (which can of course be signed) or even to force a word, number or card.

Shot in a New York Loft a few blocks from the Empire State Building, Daniel Madison and Mark Calabrese discuss the handling, psychology, performance tips and routine ideas in over 32 minutes of solid teaching.

Grab yourself a winning routine. Download it now.
This product is rated 4.8 of 5.0 stars.
It has received 12 reviews.
Great Success
Me like the Store, its a very nice
Brilliant!
It's smart it's smoothhh and you've got arguably 2 out of the top 10 card workers in the world giving you tips and tricks. No brainer.
Cool Idea
Grab is a simple yet powerful concept that allows for a virtually impromptu miracle. This download has also got me excited about an old principle once again, which has sparked even more creative endeavors. Absolutely worth it.
One of my favorite effects bought. It will take some practice to get the timing right, but once you have it you feel like a ninja. It does take skill, but it's not entirely skill. You're not just taking a borrowed deck and doing this. There will be some easy preparation. But you can use the deck normally in your everyday performances
Summary
I really love this trick.Very practical and impressive.It's not just a trick. It's more like skill move.Yes, there is a gimmick.But still look like only skill, especially for the layman.I think it's awesome.
I perform this trick all the time.Everybody likes it.
It also does not take much time.If someone says show me a trick and if you do not have much time, it can be done quickly.Perfect for bar tables.This is one of the advantages of the trick.However, do not perform too fast.The audience must follow the trick.They need to understand that, this trick requires skill.Otherwise the trick will not get the right reaction and you don't want that :)
One of the most important things is the trick is very fair.
The audience can shuffle the deck. When you take the deck back, you'll cut the deck (From the right spot) and everything is okay.You are completely ready to perform this trick.
The instruction video could be better.I don't say it is bad but it could be better.
I think it should be better video for such an elegant trick.This is not a big problem, still successful video.This is just my opinion.
So anyway I like it very much.I would recommend it to everyone.
Thank you Mark CALABRESE.
Summary
I just recently got back into magic after about a six year hiatus. Over the last couple of weeks, I have spent hours upon hours searching for an effect to grab my attention (pun intended), and reignite the spark. This is that effect.
To me, the beauty really is in its simplicity. It's quick, direct, and about as fair as you can get for a card trick. For whatever reason, neither the demo video nor the explanation cover the fact that you CAN shuffle the deck before pulling the card out.
I am genuinely excited to practice this as well, and I've never been more motivated to master an effect. I can tell this will be my favorite for quite some time.
Summary
It will take some real dedication to get your timing down on this one. It is totally worth the effort. The trick is easy to learn and is well explained. On a side note when you pull it off , it makes you look so bad (bleep).
Summary
I'll explain why I think it's five stars in a few but awesome and clever trick. Its very simple with just a couple of min of practice. I give it five stars because of the method the trick uses. I think the little methods we come across the art of magic are forgotten about. After watching the video made me recap on the the little simple methods we all come across on a card magic book and question am I'm using these sleights, methods to there fullest potential.
Summary
I have to say that GRAB is great! What a neat application of an often forgotten and underused tool. Very nice! I can't think of a reason NOT to add this to your arsenal.
Good use of old concept
This is a good use of an old concept, but it needs practice to do it smoothly.
It needs some preparation, but it is easy to do.