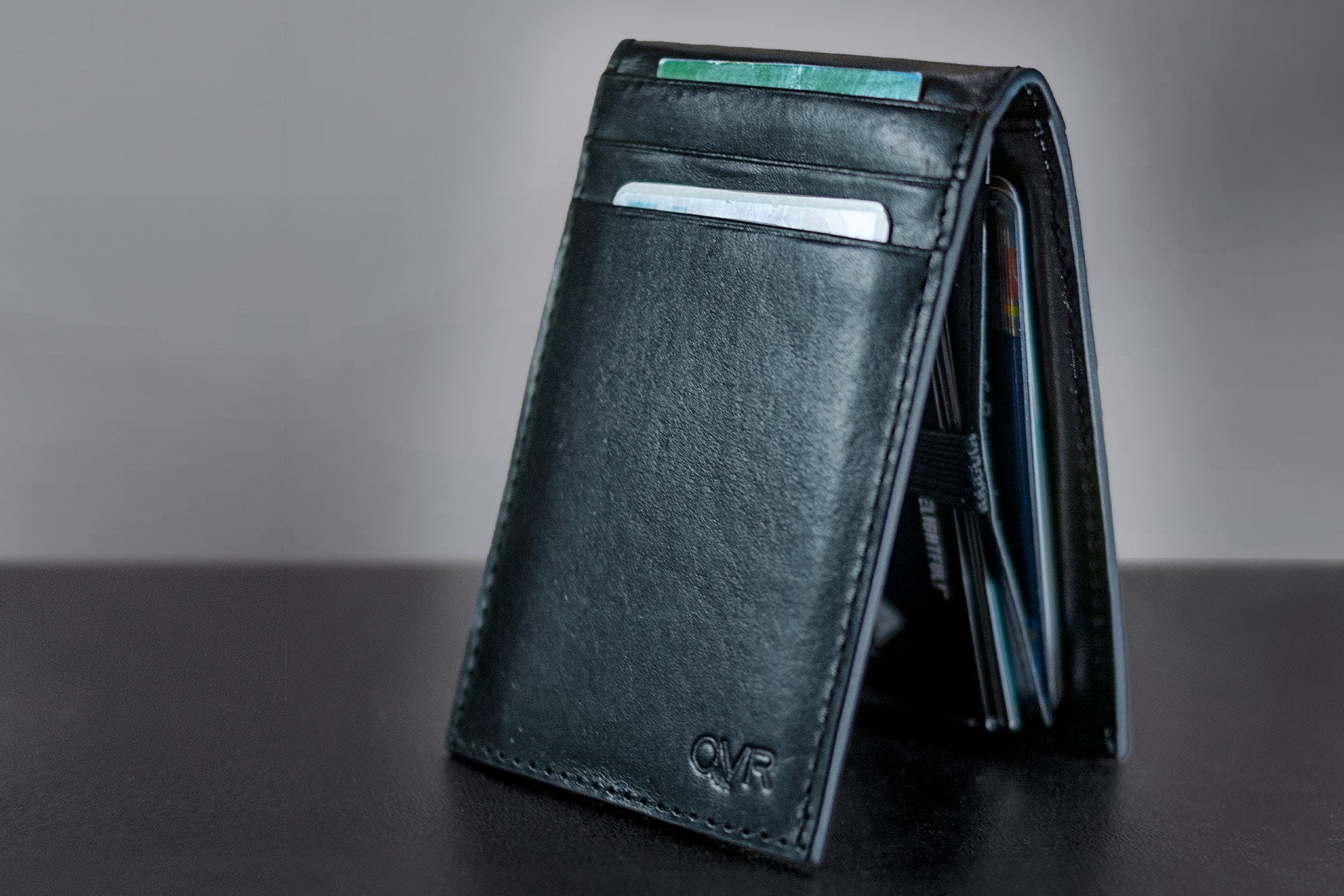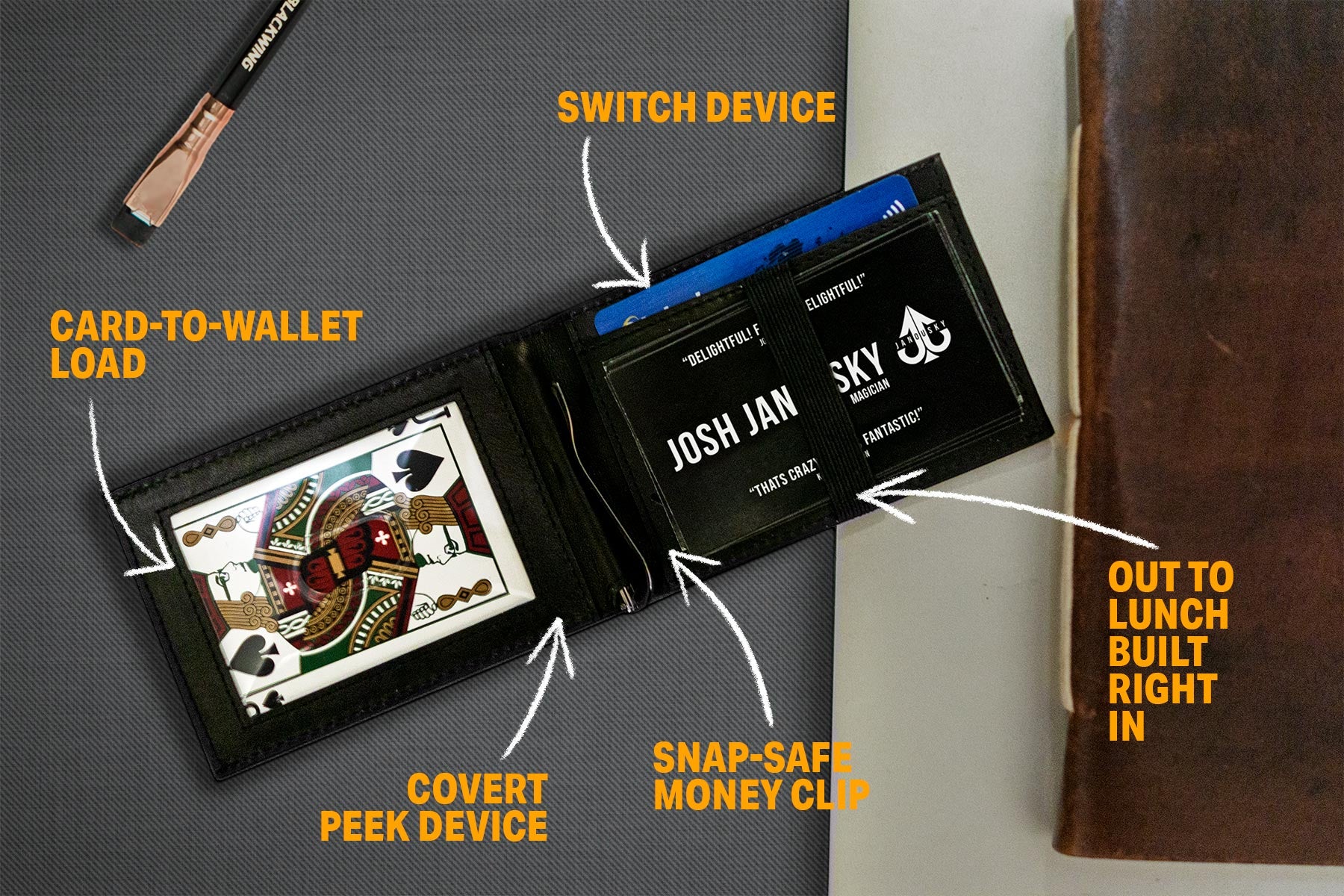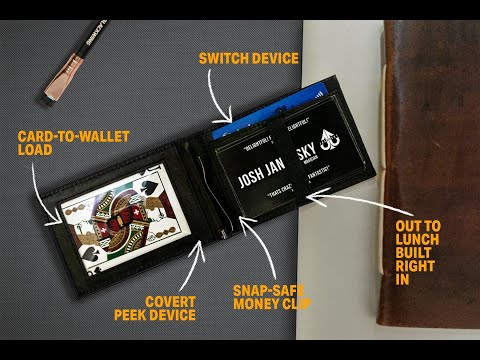 Hermes Wallet
Replace all of your existing wallets - with just one.
Hermes is a:
- peek device
- card-to-wallet
- switch utility
- and has

out-to-lunch

built right in.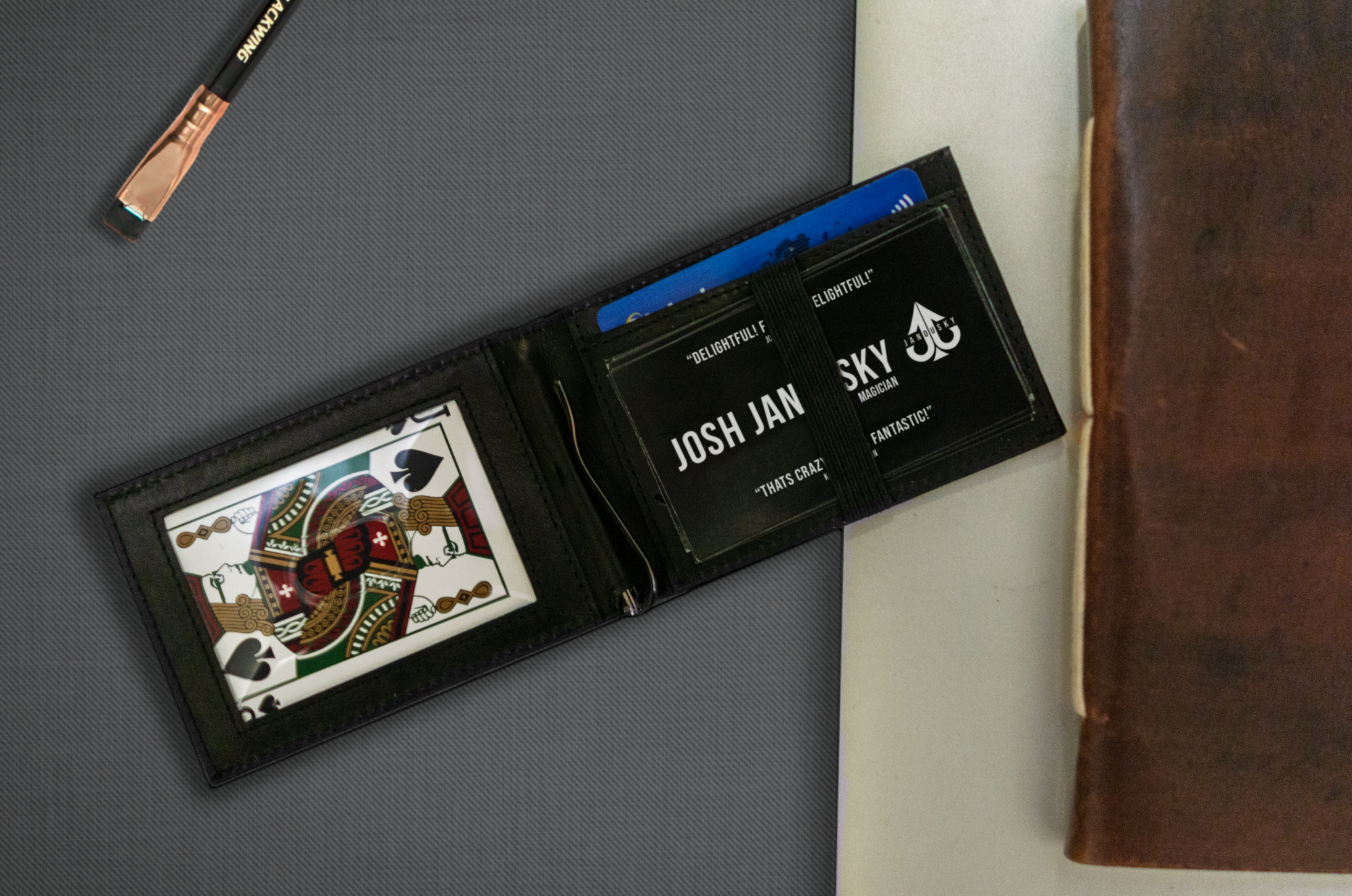 MORE THAN JUST ANOTHER WALLET

Read minds, switch cards & produce signed selections

HERMES is more than just another magic wallet, this was made by Quiver. Known to be the Rolex of magician's leather goods.

Anyone who's bought a quiver-branded product in the past has received a quality that reaches far beyond their expectations.

That's why creator Josh Janousky knew there was only one place to take his ideas.
The result is HERMES. A slim, minimalist wallet that aims to consolidate multiple must-haves into one sleek package.



Hermes is a:

Peek Utility
Card to Wallet
Out to Lunch
& Switching Device (Cameron Francis' fantastic Wallet Transformer)

You can definitely find cheaper magic wallets - but you won't find better.
Hermes can hold anywhere from 6-9 credit cards with ease (depending on your configuration), 10 business cards, your ID, and your cash, all while still being only 1.59 cm thick.
AN OPINION YOU CAN TRUST... CHECK OUT MAGICORTHODOXY'S REVIEW OF HERMES 
Dressed up or dressed down, Hermes never looks out of place...
Hermes is a hip-style leather billfold wallet. Perfect for formal and casual performances.
Replace

all

your existing wallets - with just one
A card-to-wallet, peek device, out to lunch & switch utility... all in one.
GET A COLD-READING BONUS
When you purchase Hermes, you will receive detailed instructions to learn multiple routines for each function of the wallet, along with real-world performance tips.
As a BONUS with the instructions is an hour-long masterclass with mentalism expert Spidey.
In it, he discusses never-before-released tips and tricks for cold reading (a powerful mentalism technique), along with how to make your mentalism feel more authentic.
This product is rated 4.9 of 5.0 stars.
It has received 69 reviews.
Unreal
Such a great product that not only gives amazing routines to utilise the wallet but also saves pocket space as it holds other tricks (e.g. mentalism billets). As well as this, the cold reading insight by Spidey is amazing.
Best all around magic wallet
It does what it does very well. Lots of space for your regular human things. Wallet transformer thingy is not for me so I put some edc mentalism stuff to that pocket. I now have a whole mentalism routine contained in this wallet. Its hard to believe it does all that and even full it is small, slim and stylish.
Something needs to be said for quality of instruction...
I would give the wallet itself 4 stars, because it DOES need to be worked in a bit more than others. But...well...WORK it IN, then (an idea is to "overstuff" to make loading etc easier in the future as the leather will stretch)! The effects and instruction with this product are really top notch. Both the AMOUNT of information given as well as the content. I have nearly every wallet out there. I generally rotate between 3 wallets, and this instantly made it into that rotation. Given the quality of the wallet and the instruction, this could have been a MUCH pricier product...but they even managed to keep THAT down.
Amazing wallet
I just love how many features there is definitely worth it!
Simplicity and Power
I'm an amateur magician, that business colleague or friend who happens to know how to turn a moment into magic. Any props I use must seem incidental, unsurprising, self-explanatory, and above suspicion. Since I am not a collector of magic paraphernalia, I shop only for tools that meet those requirements. Hoping to find the sweet spot between innocent utility and insidious versatility, I looked around for contemporary, practical wallet: something I would have chosen for everyday use anyhow that happens to be thoughtfully packed with utility features to enable the miraculous. What I found is Josh Janousky's Hermes Wallet.
Slick yet sneaky, the streamlined Hermes fits the moment's fashion. But it also supports multiple flavors of card to wallet (in the magician's hands or in the spectator's, found among credit cards in the pull tab, tucked into a lateral pocket, or trapped in the id viewer), covert and overt peek, out to lunch, and more. The wallet's physical features, including subtleties of folding and stitching, make it a versatile framework for creativity.
To ensure a foundation of skills and stimulate creativity in presentation, the purchase includes access to three hours of well-structured video content. This includes a 10-minute guide to optional gimmickry, nearly 30 minutes of instruction covering at least three methods each for controlling, palming, and stealing cards, over an hour of step-by-step guidance through at least six distinct routines exercising the Hermes Wallet's many features, and over an hour of training on common issues in cold reading to support the item's use in mentalism.
The Hermes Wallet may not do everything, but I don't need everything; I need excellence. The Hermes Wallet does quite a lot and does it with excellence, providing subtle, varied card to wallet infrastructure in a stylish everyday accessory.
Love this wallet
I have to say the Hermes wallet is the best of its kind. I'm working on it now to get all the uses down. It's excellent and it well made too.
My every day carry wallet
I love having a wallet I can carry every day which allows me to do so many things. It has a slim design that makes it easy on the pocket and it also is able to hold everything I need.
As the wallet is not meant to "teach" you every trick and illusion, the tutorials are more of a series of variations of methods. That's exactly what I expected, but there is still some benefit in learning or purchasing a full "out to lunch" type effect / routine and adapting it to use with the wallet. (This looks WAY better than a rubberband! More professional too.)
Highly recommend.
Best prop
Is really easy to use, very stylish, great material, well explained, adaptable to any kind of magic, surely a wallet you want to carry on in your day to day
The Herald of Magic
The wallet is good as an everyday carry. I like that it is slim as I don't like very thick magic wallets. I love the setup for card to wallet. While I personally will never let a spectator hold my wallet, (I live in Jacksonville, FL. DUUUUVALLLLL) You can certainly do so for the reveal. The creator goes into great detail over how to do card to wallet including multiple sleights. In tutorials, I will usually find one gem of a sleight that I will hold onto and the tutorial has great ones. As for one of the peeks, not a fan. The information has to be in one particular area and it relies on the spectator to put it there. For me, it's not a problem to get them to do that. It's just that you'll have too much negative space on the card and it feels forced. The other method is diabolical and more in line with how I like peeks to go. Spectator can write anywhere and you get a glimpse even if they are looking at it with you. I have tried it out on some friends and they could see nothing. As I said it is DIABOLICAL. I am not a big out to lunch guy but there is a great section on this as well. The money clip holds a few of my every day carrys. Overall I'd say for the tutorial provided, the construction of the wallet, and the many effects you can perform. This is well worth the price.
Easy
It is so easy to load. Recommend it very much.