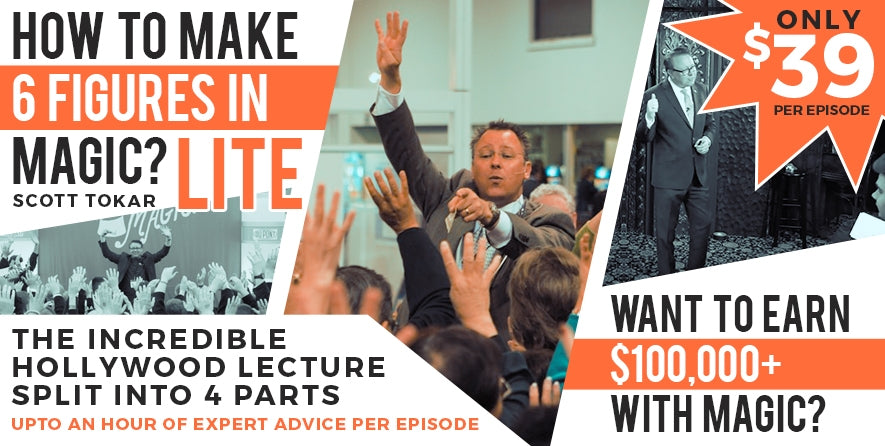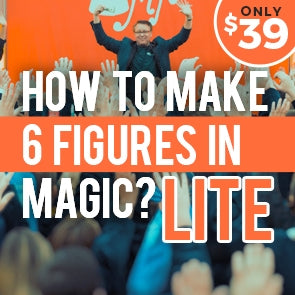 How to Make 6 Figures LITE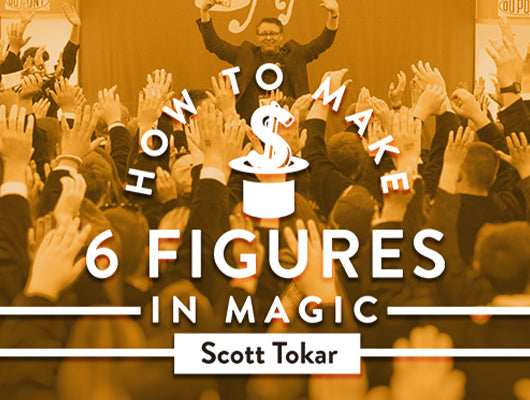 I was in the audience when a portion of this was filmed in Hollywood... just in listening to Scott's portion, I already have made more this month than I did when I was a full time Engineer. Scott really shows how to make a TRUE business out of Magic.
- DEREK OSTOVANI
We've broken down Scott Tokar's Hollywood lecture into four affordable sections. Giving you the opportunity to try before you buy, as you take your career to the next level.
Six Figures- PART 1 introduces Scott Tokar as one of the leading experts in professional magic. Tokar will lay down the secrets to:
• 100k +
• National median income
• Perspective
• Your Goal
• Determining your pay
• Going pro
• Making six figures
• Art vs Business
• Quitting your job
• Striving for excellence
• Ethics
• Finding a mentor
• Learning your craft
• Contact management software
• Leads and sales
• Phone contact sheet
• Contract and agreements
• Contract riders
• Work life Balance
Part one is jammed packed with tons of tips and tricks to help you right out of the gate. Don't wait any longer, take your first step now!
Six Figures- Part 2 takes you through growing your brand and all things money.  Get professional insight on:
• Invoices
• Money
• Your Brand
• Taxes and Licences
• Search engine optimization
• Your website
• Email & Social media
• Agents
• Selling to agents
• Selling direct
• Repeat bookings
• How much should you charge
• What do your competitors charge
• What is your 100k potential
• Chuck E. Cheese
• Dave and Busters
This section will help you analyze your brand and product to see if its 100k ready. Don't miss out on any of these secrets, dive in to part 2 now!
Six Figures- Part 3 is about looking at the people, places and quality of your product. You learn tips on:
• Selling quality
• Every magic package
• Cross advertising opportunities
• Co-op marketing
• Supply and demand
• Giving yourself a raise
• What is your market
• Becoming an expert at one thing
• Creating an act for a venue
• Restaurants
• Bar magic
• Birthday party magic
• Private party magic
• Street preforming
• Trade shows
• Sales meetings
• Keynote speaking
• Cruise ships
• Nightclubs and comedy clubs
• YouTube
• Fairs and festivals
• Gospel magic and schools
• Libraries and scouts
Part three goes over a ton of different venues and how to make sure each one gets a quality performance. This section is a must watch, download it now!
Six Figures- Part 4 is a crash course in marketing 101, a crucial part in building your brand. You will learn:
• General practitioner
• Creating your own market
• Marketing 101
• Your storefront
• Your logo
• The corporate look
• Your URL
• Business cards
• Web pages
• Conversions
• Search engines
• In person promotion
• Your email voice
• Email marketing
• Snail mail marketing
• Outboard phone marketing
• Exposure
• YouTube Marketing
• Social media marketing
• Secondary web presence
• Encouragement
• Blogging
• Yellow pages
• Traditional advertising
• News and announcements
• Publicity stunts
• Dress the part
• Needs and wants
• Leaving your client hungry
• Environmental sensitivity
• Growing your business
• Organizations and associations
• Music
• Being self sufficient
• Your phone voice
• SUCCESS
Part 4 finishes off strong with some of the most crucial information about getting your name out there, and how to build a following. Learn these vital secrets now!
NORMALLY THIS COURSE COSTS $349 (SEE THE FULL COURSE HERE)
Take the opportunity to kick the tires and TEST Six Figures for yourself at a fraction of that cost. We guarantee you'll see the difference this makes in building your business and getting to the next level. You're going to want ALL the parts, but start with one or two and test the info. How to Make Six Figures WILL take you to the next level, but it's up to you to take the first step. Start learning today.
---
From Brad Christian
SCRAPING BY IN LIFE.
I remember those days, those days where I scraped by in life. The weeks and months that drone into years of living "that way". You've all heard the stories, listened to the podcasts, of me scraping by while I did magic on the street in New York. I've scraped for more years that I care to think about.
I hate "NSF" (non-sufficient funds) checks, but would lose $50-$80 a month just because my bank account was never balanced!
Don't you hate hoping you get the next show in time to cover rent? That lifestyle is one you have to get out of. Don't get used to it, get OUT of it.
Tokar's compilation of guerilla business methods in magic should be standard issue in every magician's learning material. Stop buying decks and tricks for just a minute, and start putting a solid living into your bank account. Start learning how to handle your business. And when I say that, I mean taxes, write-offs, legal, record keeping, organization. Organization is the first step toward getting yourself out of Scraping By.


HAVE RABBIT WILL TRAVEL
When I started doing shows at 16, I put an ad in the paper with Have Rabbit Will Travel as the first line. I did loads of kid's shows, birthday parties, church shows, and the occasional adult show. I charged $100-$150 or so. Sometimes I got $200. It takes a lot of those shows to scrape together a living every month.
I learned what worked by trial and error, but I never knew exactly what you should say on the phone with a client. My heart would always race when I heard, "Hi, I'm calling about the ad in the paper". Then my mind would go into overdrive trying to find out what kind of people they were, how much they had to spend, whether I should go a little higher or a little lower….if I should ask for a deposit.
I wish I had a Course that existed like this one.
It would have shortened my years of struggling and boosted my income in mere months instead of years. I would have had a better life, one that didn't have the drama of hoping to make rent by the end of the month.
My point, if you can get the advice that takes you there sooner, do it. That's what we did this project for, so you can get there faster. Of all the people I've taught, you wouldn't believe how many have come up to me at magic conventions, or on the street, who now make their living at magic. How many of them have shared that they have become highly paid professionals which started with Ellusionist videos.
If you're just making that climb, or starting to, let this 18 hour – all inclusive – project of Tokar's help you. Let it take your income and boost it as high as you would like it to be. If you can buy the advice early, do it. Would have saved me 20 years.

- Brad Christian - Ellusionist Founder and CEO
This product is rated 4.3 of 5.0 stars.
It has received 3 reviews.
Buy the full product
You are better off buying the full how to make 6 figures corse. If you buy the lite version you don't get all of the extra videos and files.
This was very helpful
I liked this it was very helpful
Solid overall
I only bought the first and it had some good info. The other parts might have better stuff.