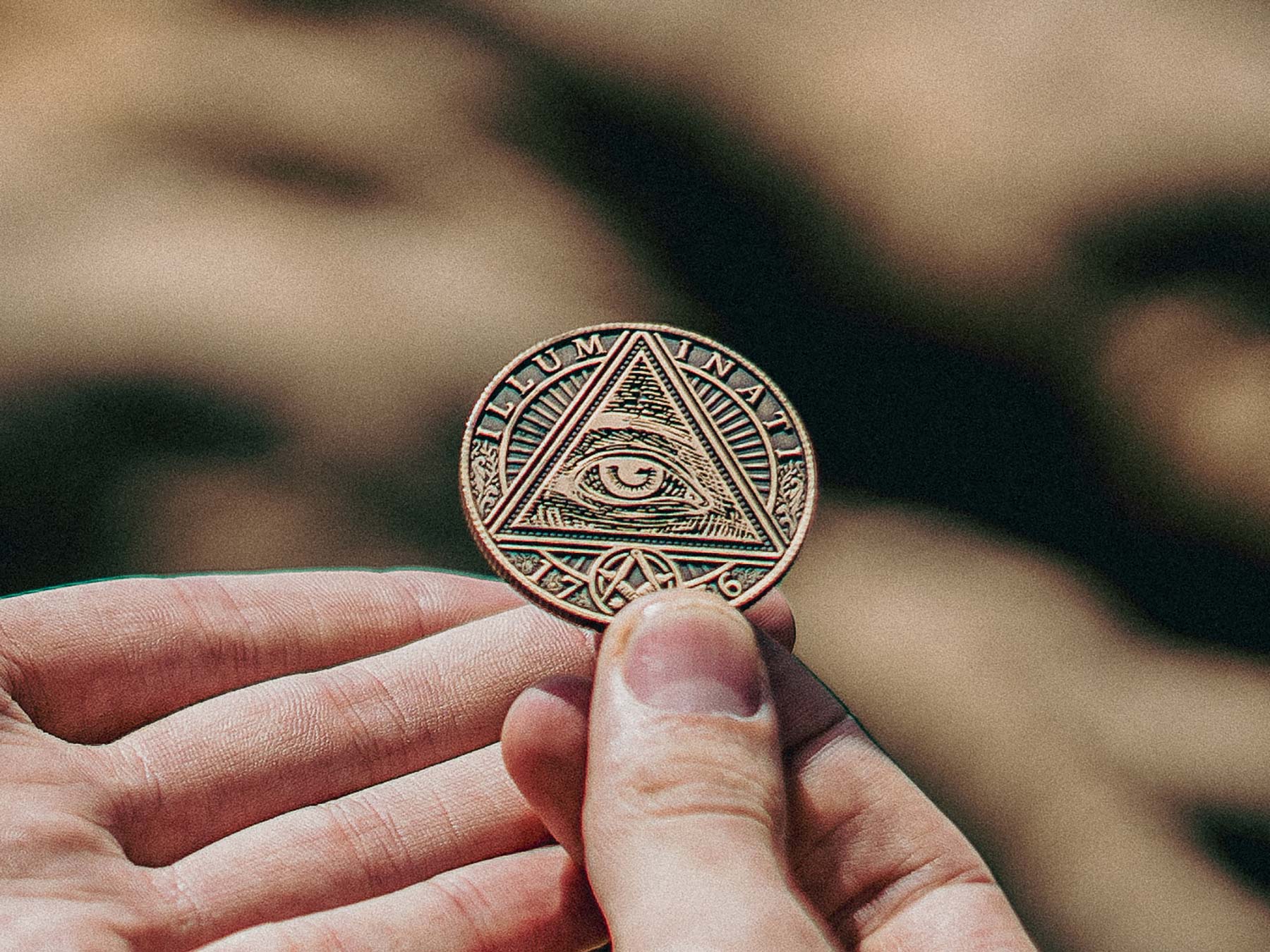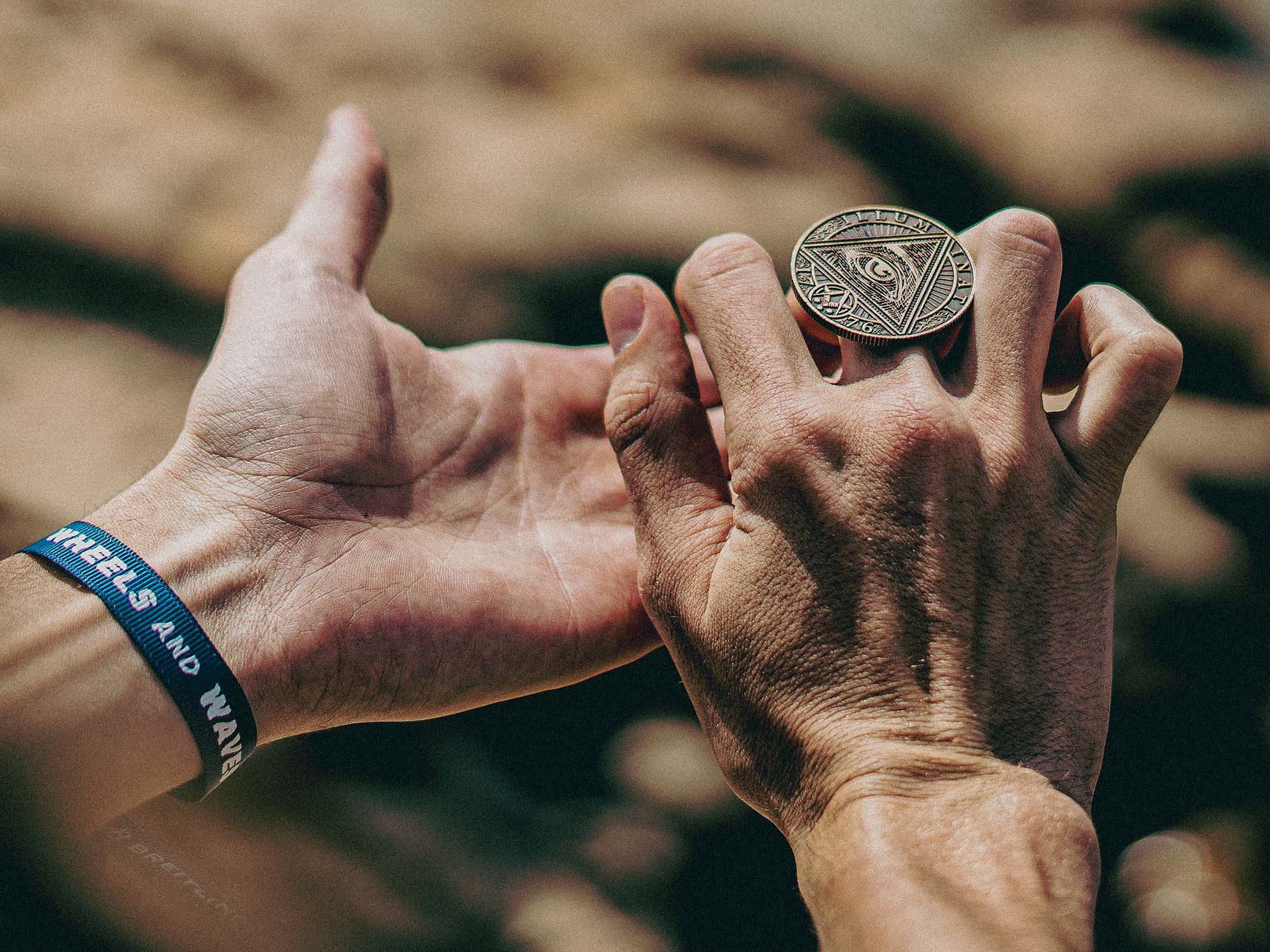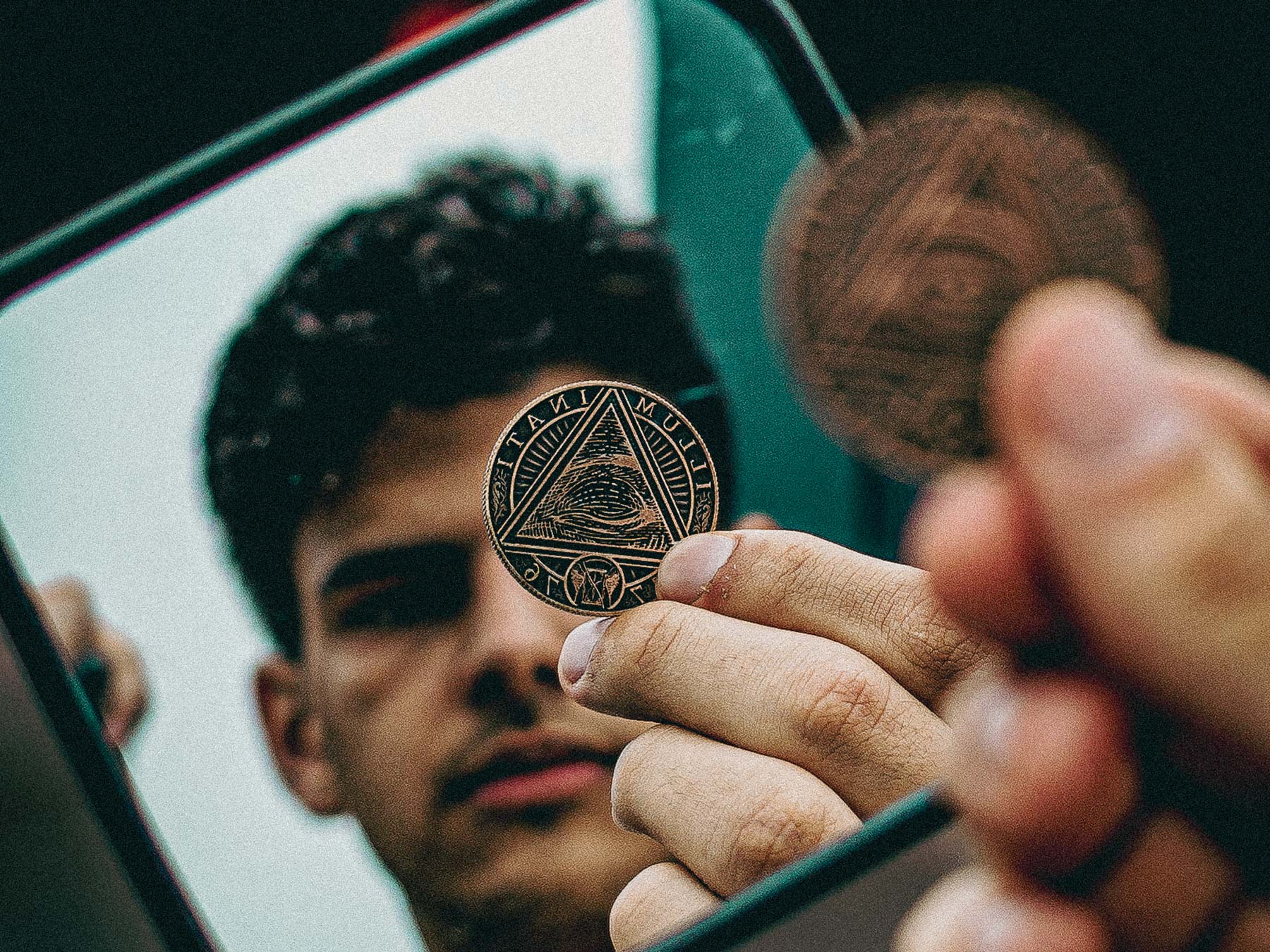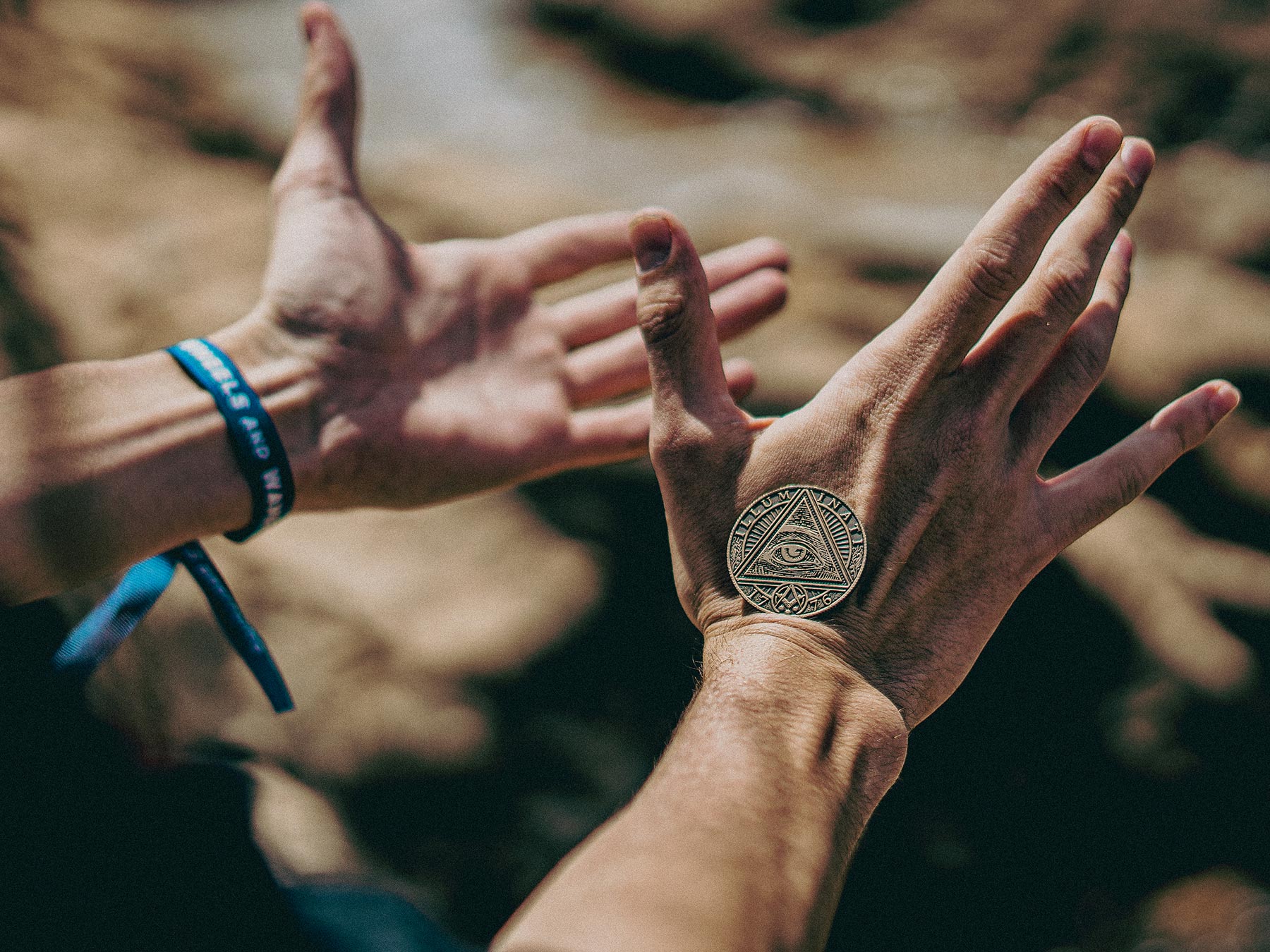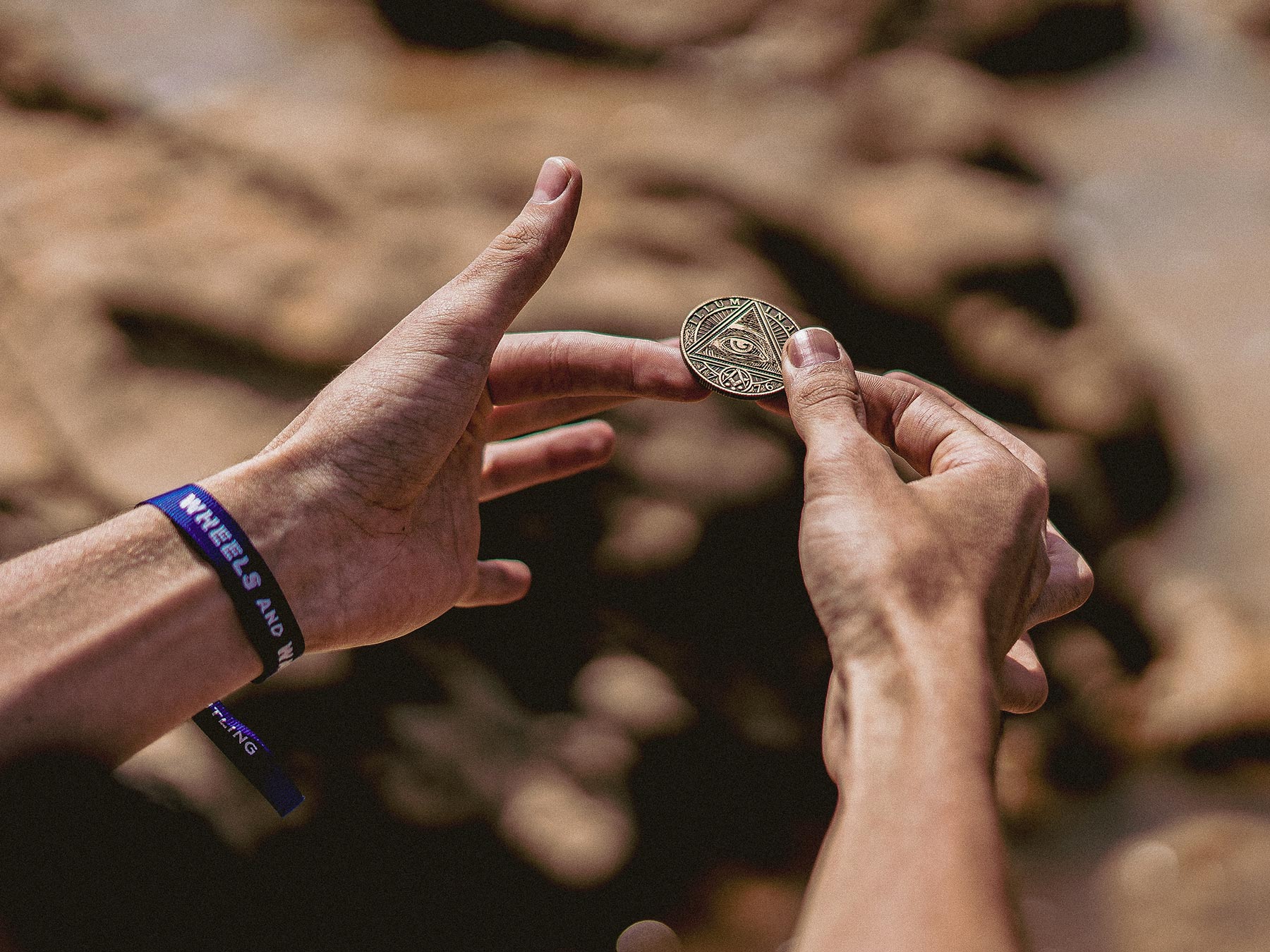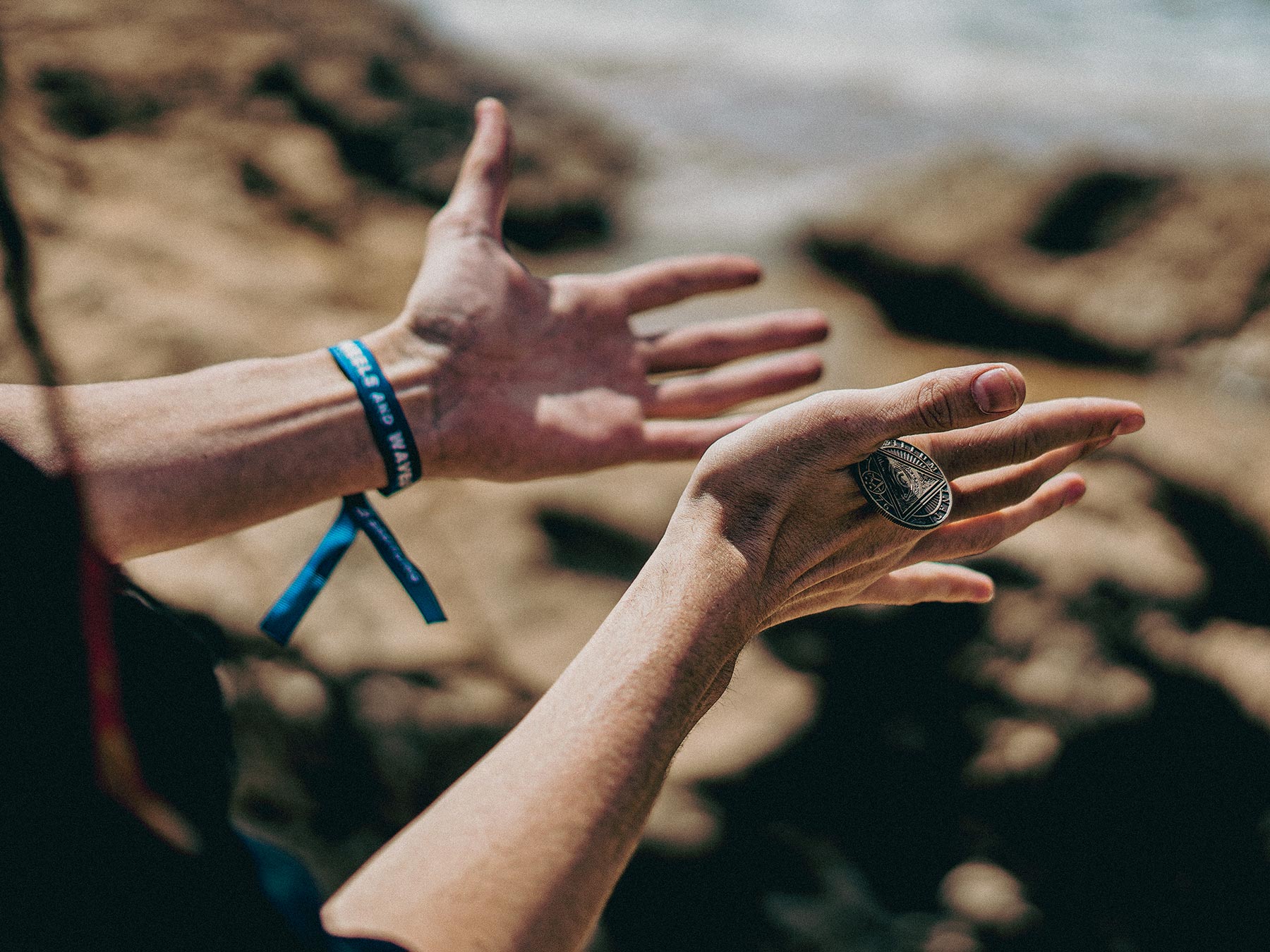 Illuminati Coin
Use coupon code '
ILLUMINATI

' at checkout to save a massive

30% OFF

, when buying any combination of 4 or more coins.

These coins are standard US coin sizes with milled edges (for extra grip) and a ferromagnetic core (for effortless ditches).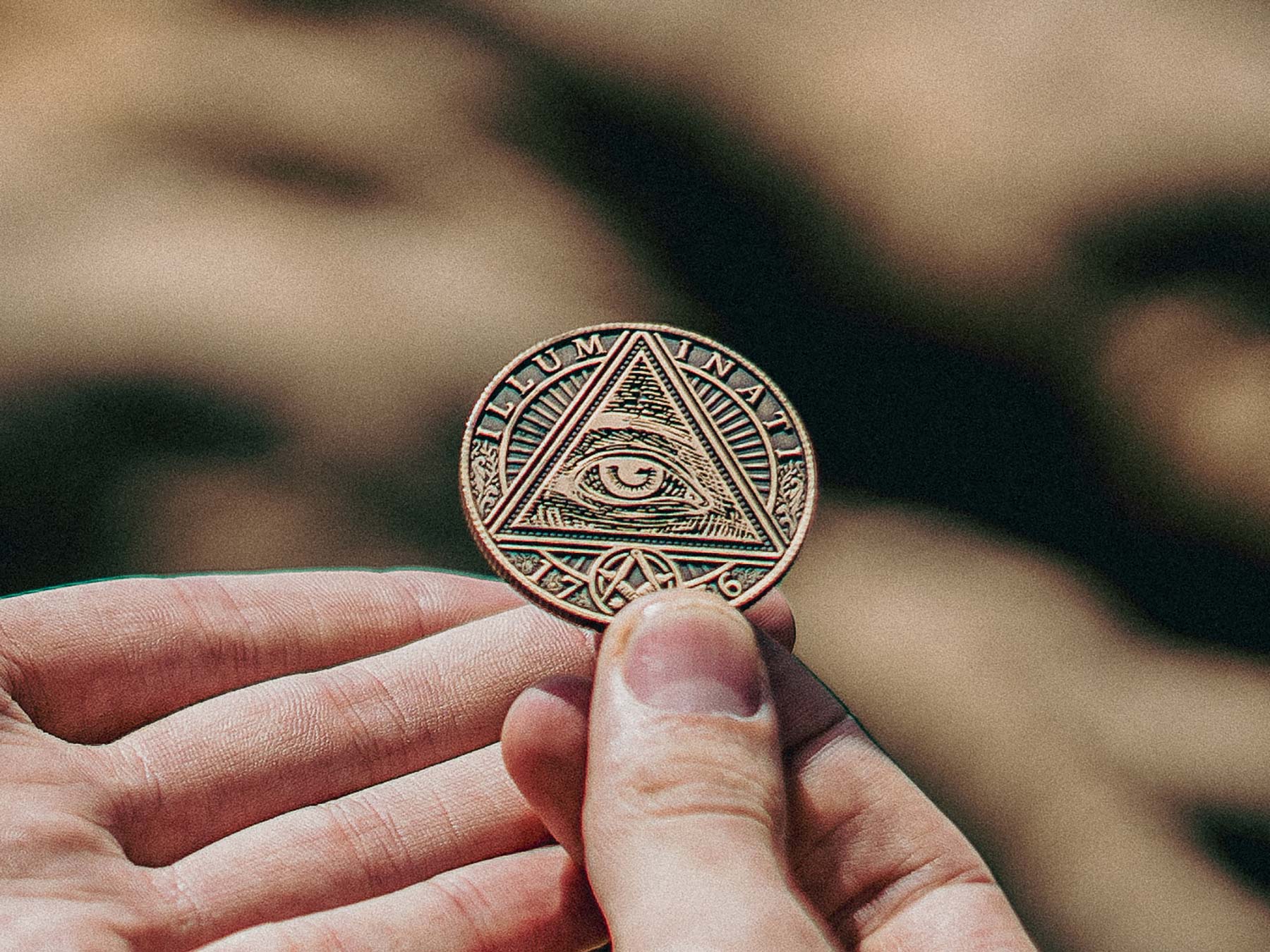 Use coupon code '
ILLUMINATI

' to save a massive

30% OFF

, when buying any combination of 4 or more coins.

 
---
NOTE: These coins are Morgan Dollar size with milled edges (for extra grip) and a ferromagnetic core (for effortless ditches). 
---
The myth of the Illuminati is fascinating. 
A secret society with unlimited power and the ability to wield it. 
Like all good bedtime stories, the legend is salacious, chilling & scary. 
We don't know if any of these stories are true. 
But we do know the Illuminati was real. It was founded on May 1st 1776 in Bavaria - what we know of today as Germany. 
The word is the plural of the Latin illuminates, meaning enlightened...
These coins are a fictional token of membership to this secret society, to entrance your audiences with intrigue. 
Heads, the all-seeing eye is open and always watching. Tails, the eye is closed and unable to pass judgement. 
Being a good performer isn't just about good tricks - it's having the ability to tell good stories. To captivate your audiences and blur the lines of what's real - and what's not.
Get your ILLUMINATI coin today. 
---
Where have you seen this before? Take out a $1 bill from your pocket...
The Eye of Providence, as seen on the US $1 bill, has been perceived by some to be evidence of a conspiracy linking the Founding Fathers of the United States to the Illuminati. Although none of this has ever been confirmed. 
This product is rated 5.0 of 5.0 stars.
It has received 17 reviews.
Illuminati: A Marvelous Edition to Your Magic and Collectibles
Illuminati Coins by Ellusionist are a true gem in the world of magic and collectibles. With their stunning design, premium craftsmanship, and versatility, they offer both magicians and collectors a unique and captivating experience. Whether you're looking to enhance your magic performances or simply appreciate the artistry behind these coins, Illuminati Coins are an investment worth making.
Amazing Coin
It's a wonderful coin produced with an enormous attention to detail.
Haven't been able to put it down since I got it.
Definitely a must have. 10/10
A Stunning Masterpiece - Ellusionist Illuminati Coin Review
I recently had the pleasure of adding the Ellusionist Illuminati Coin to my collection, and I must say, it has exceeded all my expectations. This coin is not just a mere accessory; it's a work of art that beautifully captures the essence of mystery and intrigue that surrounds the Illuminati concept.
From the moment I held the coin in my hands, I was struck by its exquisite craftsmanship. The intricate details etched onto the surface are nothing short of mesmerizing. The coin's weight and texture are just right, giving it a substantial and luxurious feel. The level of attention given to every aspect of its design truly sets it apart from other collector's items.
What makes the Ellusionist Illuminati Coin truly exceptional is its versatility. Whether displayed in a collector's case, used as a conversation starter, or simply carried as a lucky token, this coin effortlessly adapts to any role. The blend of historical symbolism and modern design is a testament to the thought and creativity poured into its creation.
The Illuminati-inspired motifs hold a captivating allure, sparking curiosity and encouraging conversations wherever it's showcased. Its dual nature – a balance between enigmatic mystique and visual aesthetics – makes it a perfect gift for both mystery enthusiasts and art aficionados.
Moreover, Ellusionist's commitment to quality shines through in this coin. The attention to detail is evident not only in the design but also in the packaging. The coin arrived in an elegant box, further enhancing the overall presentation and making it an ideal gift option.
In conclusion, the Ellusionist Illuminati Coin is a must-have for anyone who appreciates the fusion of history, mystery, and art. It's a testament to the dedication and skill of its creators, and it adds a touch of intrigue and sophistication to any collection. Without a doubt, this coin has become one of the highlights of my collection, and I wholeheartedly recommend it to fellow collectors and enthusiasts alike.
Mysterious
Beautiful coin.Even just to show it sparks amazing interest .How why you etc.
Can lead into an amazing story and effect with the coin or coins if one has more than one.Just use your favorite coin routines and these coins elevate it to a higher plane with an interesting story about the power of the llumaniti.Love it.
Great coins
Picked up one of these coins during a sale. I really like it. It's smooth but grippy. The design is absolutely amazing. I am not American and finding dollar size coins can be a hassle sometimes. I ended up buying 3 more at regular price. Can't recommend enough.
One of the best coins I have!
I really liked not only the design on the coin, but also the way it lies in the hand. This is one of the most trick-friendly coins in terms of handling I have. The fact that a coin can be attracted to a magnet can be both a plus and a minus depending on what you're doing, so keep that in mind. I hope that the coating of the coin will not change over time, as it happened to me with pirate coins (it has faded, changed color and erased on the coin that I constantly carry with me), but I will know this only in a few months. In any case, I personally liked the coin very much and can only recommend it!
Awesome and mysterious coin!
This coin has a very mystical and intriguing aura to it. I'm not a coin magician, but I'm a mentalist and I have a couple interesting presentational ideas to use this coin. The engravings are very easy to see, which makes the design pop. Not only does this coin look amazing, it also feels great in the hands. It's got some weight to it and it's great size that feels comfortable in thy hands. I might pick up another one to add to my collection.
Illuminati Coin buy them before they vanish!
These are excellent for palming and controlling. The mystery behind the Illuminati gives you plenty of material for a presentation that can be haunting and mysterious. Great for vanishes and reappearing. Beautifully crafted! If you love coin magic or just collecting coins this is a must have.
Good quality coins
If you're a coin collector, these are great. I am a real human being.