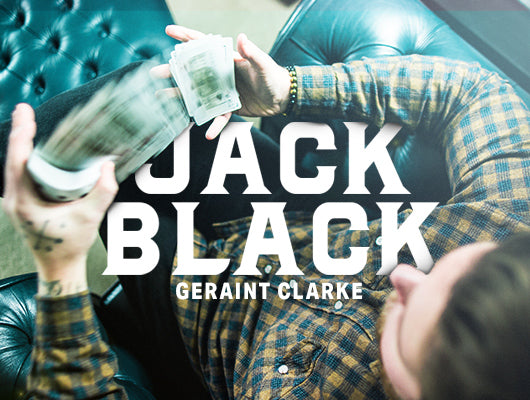 JackBlack is a devastatingly fair, handsfree Blackjack demonstration.
You can control who wins or loses without ever touching the deck.... and the spectator can shuffle multiple times.
Fairly dealing you or themselves either winning or losing hands.
You control luck.
- Handsfree
- Normal Deck
- No Deck Switches
- Spectator Shuffles
However, This isn't a surefire trick that you can perform over and over again, with the same boring outcome.
The great thing about this, is that it never fails, but double Blackjack is one of the best outcomes.
In this download Geraint will talk you through his presentation to ensure the odds of hitting Blackjack are significantly stacked in your favor, and how to recover the trick if they fairly deal themselves a different hand.
He will also teach you his subtleties on how to predict exactly what card they'll need to Win. Confirming you knew what they would deal all along.
Developed over years of real-world performance, we welcome you to the first of the 'Park Cottage Sessions'. 
This is JackBlack.
Learn The Secret TODAY.
This product is rated 4.4 of 5.0 stars.
It has received 16 reviews.
Nice blackjack routine at an unbeatable price!
Like many of you, I've studied blackjack (card counting, strategies, etc.) and have friends and family members who have done the same. So I always wanted to learn another blackjack routine (in addition to Dan and Dave Buck's Blackjack Production and John Guastaferro's Twenty from his At The Table Lecture).
JackBlack is a good addition to anyone's blackjack repertoire. Others have mentioned that the spectator doesn't always get a blackjack hand, but I don't have an issue with that. Also, with proper audience management then you shouldn't come across a spectator who messes up the shuffle.
This routine is priced super low, so it's an excellent value. Download it now before the price goes up!
GENIUS
G the genius. Wow. Just wow. This download had me FLOORED when I saw the effect for the first time, and I was FLOORED yet again when I learned the method. An amazing effect from an amazing mind.
Summary
Very nice trick and makes fun to perform
Summary
This is a really good trick when you are performing for a big group. Because anybody can deal cards ( but just be careful) the way they shuffle make sure they can over hand shuffle then you are in the green. Geraint Clarke is a very good teacher with humor.
Summary
This was my first ever purchase with Ellusionist! I have skimmed the site for months and have plenty of tricks I have been interested in but this one stuck out to me more than any others that I have looked at before.
I love any sort of trick where the spectator is very much in control of the magic as I feel it helps really bring them in and make them feel even more amazed than if you are presenting a trick to them. As I have never downloaded anything from Ellusionist before I didn't know what to expect but I was very happy with the length of the video as it thoroughly goes into detail of how to set the trick up and also how to handle situations that may arise on how the cards are dealt out. Very well put together and I'm sure I will be buying more tricks soon.
Summary
I happened to be at a casino for a few days when this email for this download was received. I thought his routine was smooth and had a rough idea of how it may be done only because I knew what the goal was and I paid way to much attention to the deck manipulation.
I did not fully get the deck layout, of course, and he deserved to get paid for developing this product for release.
You won't be disappointed in buying this. I immediately took a deck with me to dinner, outside of the casino, and began explaining to my friends what they need to know to get the high hand at blackjack.
Well, it works, first pass they dealt me a Blackjack and then doing it again on more time leaving they dealt me the 20 and I ended with the alternate , great ending that you are provided and my friends were just amazed.
It is well thought out, you can end it how you like as he shows you a few ways and for Gods sake everyone buy this from this magician as he deserves it , he priced it right and Geraint you can get a different color of socks. Ha ! Just kidding. Really Geraint WELL DONE and you have now a new follower to see what you produce next. Thanks.
Summary
They shuffle, they deal, doesn't matter. Great principle and a great effect. Self working but still with a jazz feel. But it now, you will use this one.
Summary
I don't usually buy downloads but when I saw the trailer for this I was intrigued.
I watched the download and it's fantastic! Taught very well and the method is genius - it all makes sense.
Really looking forward to adding this to my repertoire and working it in the real world.
Summary
Geraint shared this with me at the beginning of the new year and I fell in love with it. It's now in my go-to borrowed deck effects!
Audience management required!
This is more on me than anything, but be warned that you will have to manage the spectator to keep the trick from failing. There are subtleties to performing this that are more aligned with being a somewhat experienced performer. It is not a self-working effect that will come out right every time, so best be prepared to think on your feet if your spectator is unwittingly uncooperative. The effect itself is great, though, and performance where the performer doesn't touch the cards is always doubly impressive.