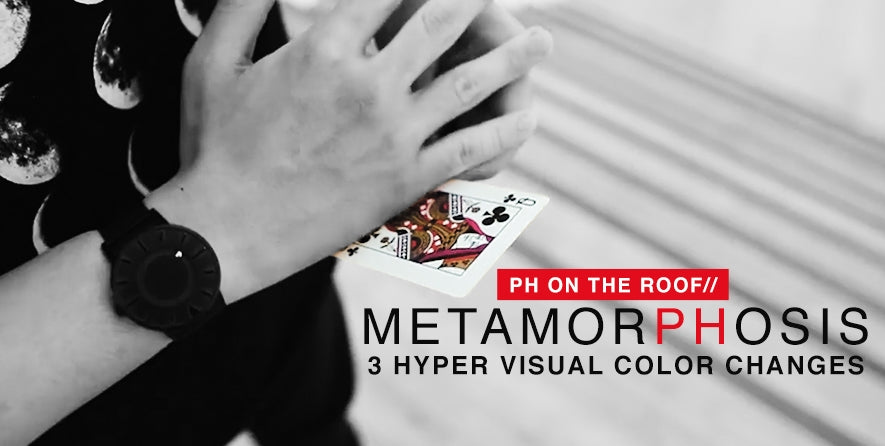 Metamorphosis
PHontheRoof brings "Metamorphosis" to the magic scene….not one, but THREE fiery color changes that are exceptionally useful in real life and MUCH easier than they look.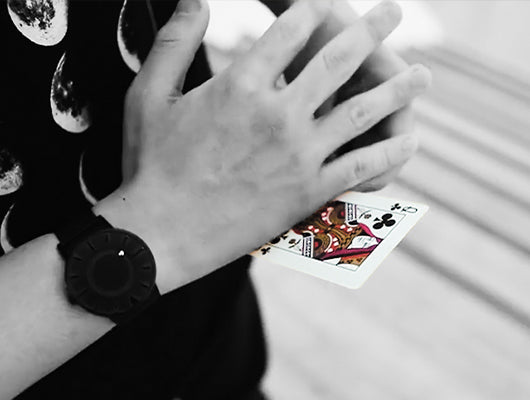 You'll add these vivid moves to your working repertoire in no time.
 
PHontheRoof brings "Metamorphosis" to the magic scene….not one, but THREE fiery color changes that are exceptionally useful in real life and MUCH easier than they look.
 
For the price of one, you'll be getting three new moves to work on.  Start today.
This product is rated 2.8 of 5.0 stars.
It has received 8 reviews.
Summary
The changes are great and not hard at all.
The corner change, the first, was most problematic for me because I grip the deck in the wrong direction. If I work at it long enough I'll get it down. It looks very good though. For an average skilled worker this will be very easy to learn and is a superb table hopping audience approach effect.
The second change is a mind buster. What an idea. You simply flick a face-up card and it changes instantly. Worth the price of the set. This requires beginner level skill.
Last is a single cards change. Not really hard but it does have some viewing concerns. Best done a couple of feet back. In the hands of a master this will look like a miracle. It requires some skill and dedication but is worth the time to learn.
All in all I'm very satisfied with the trio.
Summary
First I have to say that the changes as itself are great! But... The tutorial is without anyone speaking! There are some speaking boxes, but nothing else... The difficulty is intermediate, but if you are a beginner and you take your time this shouldn't be a problem. With spoken explanation 5 stars, but without just 3.5
Summary
The changes itself are great and certainly a good addition to your arsenal. The reason I am only willing to rate it 3 stars is the video though, which obiviously is just as much part of the product as the sleights are.
I am honestly a bit disappointed that the video does not give any spoken explanation. There are explanatory boxes added in post put there are no further tips or explanations. Maybe I am expecting too much but this is how I know it from Theory11. Especially the first change is hard to understand in the first place because everything is shown rather fast and with few bits of explanation.
Great changes and a - in my view- poor video make me give 3 stars.
Summary
Amazing ingenious color changes. there so visual and look ridiculous. However, the tutorial for these color chnages fall flat. There no verbal explanation which makes following along difficult as well as not recieving tips on certain moves that are more difficult. As a result i cant perform or do the first change becuase there needs more explanation. THe last two color changes are simple enough to not need much information but still wouldve been nice. definetly try to learn these color changes however theyre really amazing and visual at a cheap price.
Summary
Not tough slights to master, just looks way better on camera. Teaching is mediocre, no words, just an 8 minute video with a few pauses and text boxes. Nothing too impressive really, wouldn't say its worth the $12
Summary
I?m not sure what to say here. 3 slights covered in 6 minute video with no dialog. At one point in the ?explanation? of each there is a freeze frame with text bubbles describing the key points. Couldn?t bother to spell check the text either. Was really impressed with the demo which trigger me to purchase but for 12$ I?m feeling like I?m going to have to reverse engineering the handling myself by reviewing the video again and again. Nothing is really taught. Dissapointed.
Summary
The video is seven minutes long with no speaking. The only reason why this gets two stars is because the moves themselves deserve a bit of credit. DON'T BUY THIS
Summary
So much missed potential.
The color changes themselves are very nice and worth learning, no question there. Especially for three changes, the price seemed very fair.
The problem is that for ALL 3 changes combined, there is a mere seven minutes devoted to the tutorial. On top of that, there is no voice over at all. Just exposed angles with occasional writing on the screen.
As the product is right now, I can not recommend anyone to buy it.