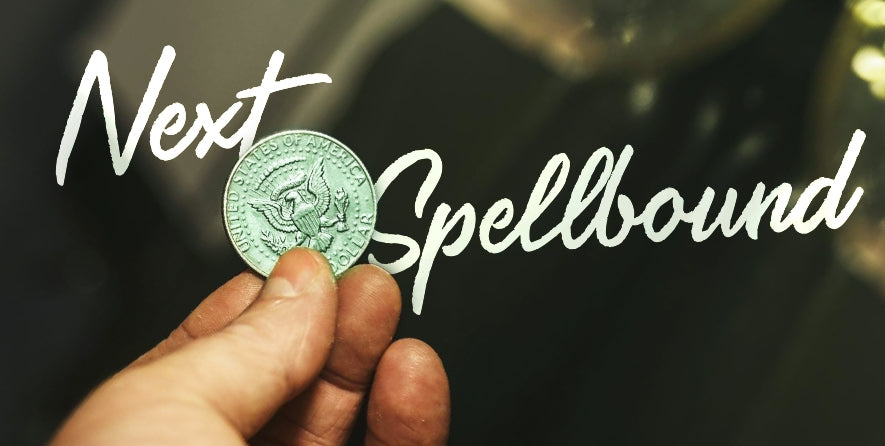 Next Spellbound
An outrageous, hard-hitting, 10-phase handling of Spellbound.
10 moves, 8 changes and just 2 coins used throughout the entire routine… You'd be a liar if you said it didn't fool you.
Steal moves to add to your own coin work, or learn the full routine at a pace that suits you.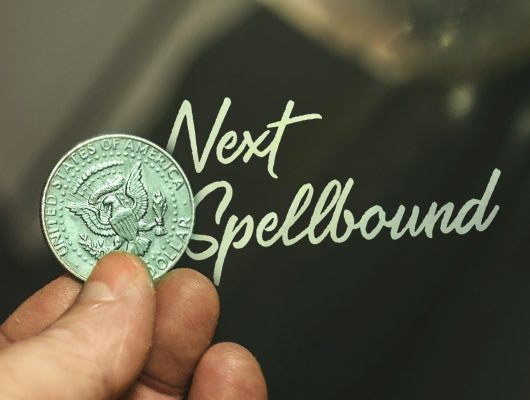 An outrageous, hard-hitting, 10-phase handling of Spellbound.
10 moves, 8 changes and just 2 coins used throughout the entire routine… You'd be a liar if you said it didn't fool you. 
Yuxu expertly guides you through each grip, move and motion as the sequence progresses. Allowing you to perform a completely modular Spellbound routine, making it as easy or as challenging as you want. 
Steal moves to add to your own coin work, or learn the full routine at a pace that suits you. 
With mid-air changes, soft flowing transformations and one of our favourite productions to date,  Next Spellbound skyrockets it's way to the top of coin magic Mount Rushmore. 
No gimmicks, no gaffs and no misdirection required. 
Download Next Spellbound TODAY. 
This product is rated 4.9 of 5.0 stars.
It has received 8 reviews.
Spellbound Plus
This project presents considerably more eye candy than my current spellbound routine. More practice will be needed to make it smooth, but well worth the effort.
Next Spellbound
I love Next Spellbound. I was never really onto coins but saw the trailer for this and had to learn. An amazing routine, awesome moves and the video was clear and easy to learn from every angle. Definitely worth the price!
My next spellbound routine
This is a decent routine , I've only just started learning it but so far I have enjoyed it , it's got a god mix of challenging and easy sleights and it is very well taught
Zachary
So I have always wanted to get more in-depth in coin magic, and I got this and I have to say it is very difficult but if you put the work in you will love the results
Summary
Ok, it has been about a 3-4 year break since I have performed any "magic" publicly at all. During this time I have reviewed what I already know and attempted to catch a few white whale tricks which although I knew the mechanics I just cannot seem to get down. I realized that my sleight of hand needs work and I am not really a card trick kind of guy so I have attempted to work on some of the card illusions and coin illusions that involve sleights with the help of large mirrors and video recording myself. This is where I saw this little video... I knew right away all of what he was doing was sleights and misdirects but his sleight of hand was SOOOOOO GREAT and his movements were very natural that I downloaded it with little thought (his routine is 27 sec and the download is $20 do the math that is over a dollar a second for the reveal). Every move was an obvious sleight to a magician watching but man is this some out of the box work! I had to know his moves. Be warned not just anyone can do these and if you can it will take much practice. I have played guitar for a few decades now and am what I would consider a finger athlete. Magic is not new to me either though as I said I generally stick to illusions that need a little set up and then they work themselves. This is straight up difficult to do even if you know the moves but once you do, there is basically no set up other than having a couple dollar sized coins. He points out many subtle points and demonstrates them clearly for you. Some you really need to infer from what he shows. I will say this, if you are a sleight of hand person with your illusions then this will be easier than if you are not. I am not so slight of the hand and I have bigger hands for a person my size (I am 155pds, 5'8 with an athletic build). I have longer fingers and wear large or extra large gloves when most people my size would go med to smaller large sized. That should give you a rough idea of my hand size. This is why you need to know all this stuff about me... in the video he works dollar sized coins which I did not notice at first. I initially attempted with 50c coins but my hands were too large and several of the holds were too obvious or the coin just fell through no matter what I did. That is when I began looking at what he used and for my silver dollars. When I found one of them I attempted the same moves and this was MUCH BETTER! Real silver dollars are harder to manipulate so I order some especially for magic illusions as many of you likely have done. If you have not got any dollar sized yen or replica palming silver dollars you better order some or this download is going to fluster you unless you have smaller hands. If you are about 10 you probably could get away with 50c pieces and English Pennies but again I would go with the ones made for magic palming specifically that are sold here as well as many other popular magic stores. Another thought... I use the old stand by for magicians of waxing my fingertips as well as the coins ever so slightly before I do sleights like these. The softer waxes are better or sometimes a harder wax for the base with just a little softer wax on top. Again I do not put enough to see unless you really get in and examine the coins. If I use some harder wax then it goes in my pocket for about 20 minutes (the whole container) and by then my body heat makes it more workable for a short time. If you feel the need to let the spectator examine a coin (which I would not) a quick breath, polish on the shirt or pant leg should remove the wax enough so they will not be suspicious or you could just tell them it is your skin cream that you over use. I prefer Michael Ammar Magic wax by Palmer Magic. No one paid me to say this I am just sharing my 2 cents on what is making this work for me. So overall, if you are an adult you will most likely need dollar sized coins and wax for these maneuvers. I do not believe it is mentioned anywhere what size he uses or if he suggested wax. I am strongly saying this as well as this video was EXTREMELY powerful and any one of these coin flourishes would make the novice scratch their heads in wonder. You will need to practice and most likely not be doing the routine for several days or maybe even weeks if you give it the respect it deserves. I would buy this again and when he comes out with a new video not hesitate to purchase it either! Great moves, very easy to follow but challenging to learn! My other thought is possibly adding magnetic coins and a magnet under clothing to ditch/produce them. Maybe I will get some but they are about 50-70 more bucks each and regular coins are 3-6 so until I know the moves (I have lost large expensive magnetic coins before... they bounce and stick to the most invisible places, it sucks) I am not investing more than I have to. My only negative is the music in the background could have been better or just none at all. LOL that is it get this video and decide what kind of wax and coins...
Summary
This is the second Spellbound routine I've purchased and learned by Yuxu and it is excellent!!! The teaching is clear and very easy to understand. Even if you don't do the routine exactly as Yuxu does, there a still a ton of moves and ideas to implement in other coin routines. I honestly can't recommend this enough!
Awesome spellbound, Lousy tutorial
Yuxus spellbound is very cool, but in the tutorial there is no talking. There is music in the background, but since he doesn't talk you could just turn the sound off if you don't like it. some of the moves are pretty difficult, but its totally worth it and there's some easy stuff mixed in. Its crazy this is so cheap.