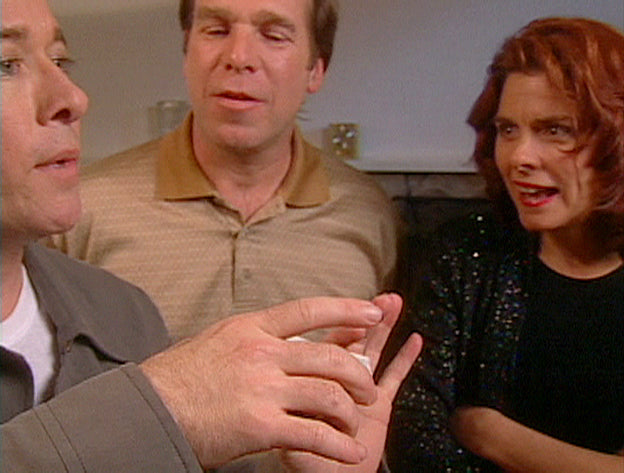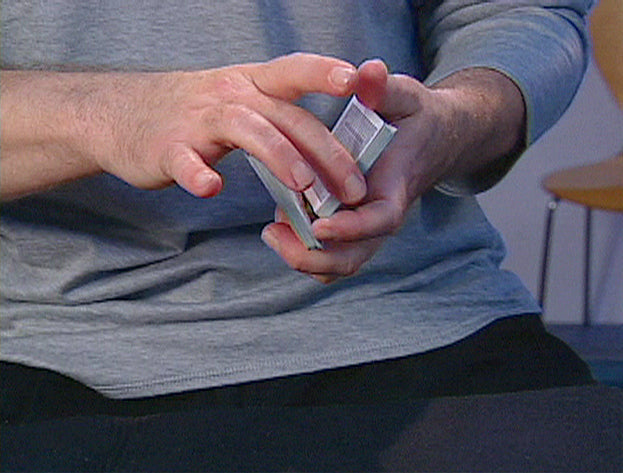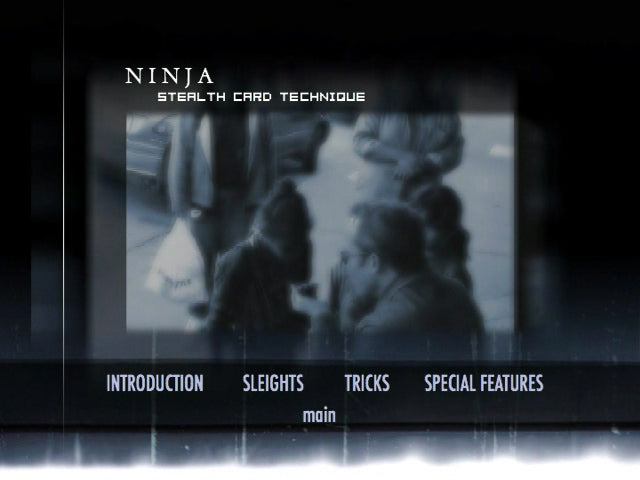 NINJA 1: Stealth Technique
In the Ninja Series you will learn how to create powerful effects that only a small number of people even know about, or do.
Get rid of the "white noise" of shops selling stuff that doesn't teach you magic with razor-hot impact.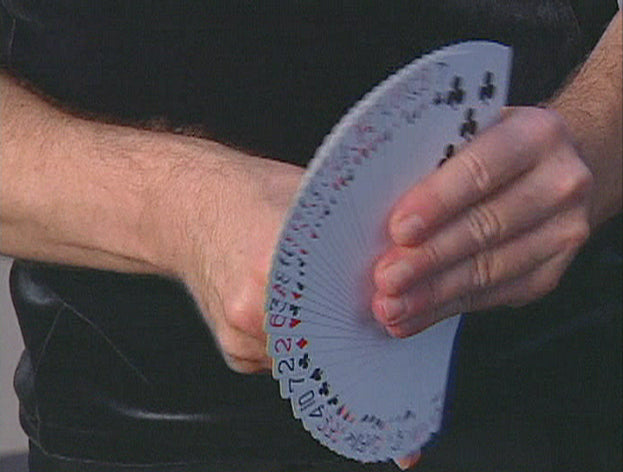 The defiant work that is 'flat out brilliant'

In the Ninja Series you will learn how to create powerful effects that only a small number of people even know about, or do.  Get rid of the "white noise" of shops selling stuff that doesn't teach you magic with razor-hot impact.
Ninja has received ungodly raves from its users.
A card trick either has impact, or it doesn't.
Even if it's a small trick — it must go off like a BOMB in your audience.
It's the one secret to why Blaine succeeded when so many others failed. Use whatever means necessary to create powerful impact....anything goes. This is what seals your fate as a card trick master - even if you can only do some basic card tricks right now.
 
By Brad Christian
ellusionist®.com
Bay Area, S.F.
To do powerful magic you have to make magic look real.
Within Ninja, you are shown the secrets to create powerful effects that only a small number of people even know about or do.

The techniques in Ninja-1 took me years to amass. 
I didn't just "come across" a book or video that taught me how to do this stuff. You did...  you came across this video with my years of searching and studying packed into it. I wish I could have come across my own video 20 years ago.

I learned this stuff from great, great older magicians or from scouring super old, dusty books for hours, weeks - years. I trained with Slydini in New York for I don't know how long - sitting at his little kitchen table with him watching me, over and over yelling at me, "that's not-a da WAY ya DO it!" (Gotta take your lumps.)
The Little Girl...
I was standing in the "Arcade Magic and Novelty" store once in Toronto and watching Nick Fabian (what a card man!) bend down to a little girl who was in the store shopping with her mother.
Nick asked her if she wanted to see a card trick and she said OK. He held out the deck and did the beautiful 'classic color change'...but pretended to pull the top card off into his hand. (It's a different way to do the change — instead of "changing" the card you act like you took the card off the pack into your right hand.)
Then he crumpled his hand and the card "disappeared". 
He so slowly reached under the hem of the little girl's dress and SLOWLY pulled out the card. It was amazing... she couldn't believe it.
Watching Nick change what he did based on the audience he had in the moment — he made it very SIMPLE for that little girl, but brilliant at the same time — these are the lessons I got when I was a kid, as well as hundreds of one on one lessons from the greats who hung around the shop — The Amazing Randi, Harry Smith, and especially Tom Baxter — who seemed to know absolutely everything about absolutely everything.
(Talking about "slow".... if you want a tip that will improve your magic ten-fold right now.... slow down every single thing you do 80% - especially flourishes. I see a ton of video on the net and every last one of you go way, WAY too fast.  Did you know that even the pass doesn't need to be done fast? That's one of the myths we crush in Ninja.)

What is included in Ninja?
Advanced Four Aces
Both my bulletproof versions of cutting to the four aces. 
Use these blistering hot routines one right after the other and you will find out why your reputation as a card master is signed, sealed and hand-delivered. (But no one will play cards with you again.)
I never do anything hard, if it can be done easy.... you'll find a lot of that kind of stuff in this package. 
Vegas Routine
In the Vegas Routine, basically you do a bunch of semi-hard stuff first (and stuff that just looks hard) like the pass and triple cuts and pulling the aces out of nowhere, and then show them (yes, you actually show them) how the pass is done (but you're doing magic with it the whole time!)..... they freak out over that so when you pull out the easier stuff later and TELL them it's hard they don't question you. No one EVER questions you after the opening stuff.
Vegas Cheat is meant to be done with spectators eyes blazing into your hands, as YOU show them the brutally casual misdirection that card sharks use during a game. You show them the illusion that the card shark creates at the card table... using his natural motions to camouflage his moves.
That's what magic IS, it's creating an illusion. Ninja does that like NO other. "The trouble with Ninja is the unfair advantage it gives you..."
The Pass in "Stealth" Mode
I will teach you how to learn the pass fast and easily. (It's not an easy move, you don't want to make it harder.)
Then use stunning, guarded techniques to "cloak" your pass and make it invisible. This is the guarded stuff that you haven't been able to find anywhere.... 
You will literally put your pass into "stealth mode" so that it doesn't show up on people's radar. They can stare at your hands dead on and not see a thing. 
The methods WORK. See it for yourself — I've got kids 14 years old putting home videos of themselves up in our Ninja Forum (a benefit of owning Ninja-1 is belonging to what many refer to as the most helpful Forum on the net, exclusively for Ninja-1 owners*) — and doing it beautifully.
You will get four techniques to make the pass invisible - including one handed down to me long ago - the best I've ever used — which can be done slowly and casually. (I am finally going to make this available, taught step-by-step. This alone is worth the cost of the first series.)
I don't care who you are, if you do the beautiful Ambitious Card Effect - you use the double lift too much.  I'll show you how to replace some of the double lifts with a pass that is invisible, and bring your routine to pure magic art work. 
 
Several ways to make a card appear hopelessly lost in the deck - yet you can maintain control easily.  
Several easy but beautiful triple cuts - two of which are done standing up and are ideal for street magic. Your desired card will be in total control.

The super hot bullet deal...
Make cards rip off the top of the deck using one hand.

You will also get the "one handed pass" that's driving everyone so nuts... I'll tell you why these people have been fooled by misdirection alone... that's the power of the Vegas routine. In part, the whole routine is simply a build up — for this one move that slays people in their seat. And guess what? Compared to the pass, the "one-handed" pass is EASY.
  
It will be one of the best investments you ever made in magic.

---
"I downloaded Ninja:
excellent. 
I find in reviewing them there is nothing new for
me
. I have been practicing magic for over 50 years, so there isn't much I haven't seen or heard about (except stage illusions, which I have no personal interest in).
However, I am not asking for the "money back if not satisfied". To tell you the truth, I am satisfied.
Firstly, everything is exactly as described, so there are no falsehoods to complain about. Secondly, everything is done well, explained directly, and available for watching over and over.
This is excellent instruction which should serve the card worker well. I have spent many times over the cost of this set for videos, books, and lecture notes that are not nearly as useful or as much fun.
I think any finger-flicker who gets this will be encouraged to practice the moves just from seeing how they CAN be done. This is something you can't get from books. Well done!"
 -Gary Labowitz, Springfield, PA
 
---

P.S. One more thing... if you want to be good, you have to take charge of your magic.  You have to cut out the stuff that's the-same-as-everything-else... get rid of it now. 
Even if you're purely a "gentleman's" performer you have to put some street into your tricks to give them impact. 
If you miss out on Ninja - if you wait another day.... you've lost the opportunity to step into a new realm and quickly become really, really good with cards. 

Order Ninja now and get the training that will turn you into a severe "shark" with cards,  including the unbelievable Spin Change - completely free. Do it today... you have nothing to worry about since Ninja comes with an iron clad money back guarantee — there's nothing to lose.
Please read the review below.
*Unfortunately the forums are no longer active, but be sure to check out our Discord Server where people all over the world are sharing ideas and jamming
---
This product is rated 4.7 of 5.0 stars.
It has received 53 reviews.
Ninja 1
I had the original VHS version and the training is very good it helped me a lot with my card work. And this purchase was so i mad a digital copy on my computer
Great resource for utility moves
Fantastic entry level video for the beginner. Brad Christian teaches very well and clearly.
NINJA 1: Stealth Technique
Still Relevant Today
Although this video is fairly old, it is full of great ideas, moves, sleights, and full routines in some cases. I owned this back in 2010 and it got lost in a house move. I repurchased it and am very glad I did. I haven't watched it in several years, but I still get something out of it every time I watch it. I highly recommend the series - I own Ninja 2 as well and it is also very inspirational. If you haven't yet seen the quality of Ellusionist videos, this is a great place to start.
Next Level Stuff
As a beginner magician this is next level stuff for me, and even though I have years of practicing before I'm anywhere near decent with these techniques, I'm motivated and excited! Thanks Ellussionist and the presenter as well!
Raza
I really liked how the pass was taught. I also found Brad's guidance on performing presentation brilliant as well. Brad's teaching was excellent as usual! =)
Summary
This dvd has some great stuff. ADD TO CART.
Summary
Awesome tutorial, will definitely take a beginners skill to the next level. The first move you learn will take some serious practice to be able to do it faster.
Summary
Before I got ninja I had no idea what the pass was, after several weeks of working it I was doing it right in front of people and they had no idea. With all the variations you can disguise you pass no one will ever know you are up to something. Brad walks you through and you come out with a knowledge that you can do amazing SOH right under people's noses.