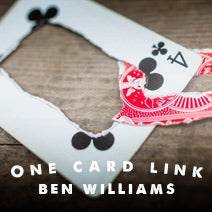 O.C.L.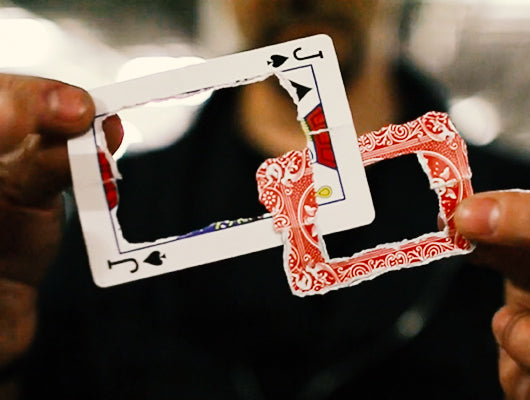 O.C.L.
Sale price

$10.00
Regular price

$19.95
(/)
Two Rings. One Impossible Souvenir
"OCL is not a pipe dream.
This is the real deal

. Destined to go straight into the working repertoire of every magician. Destined to become a classic."

- Richard Sanders
From one playing card you tear two rings
, each of these rings are signed. The two rings are held together, one behind the other. With one smooth motion you
visually link them
. No magnets, no tape, no illusions. They are actually linked.
The best part is, you can
immediately hand it out for inspection
. Nothing to find and perhaps the most impossible souvenir you could give out.
---
---
"The cleanest card link I've ever seen"
- Daniel Madison
For decades magicians all over
the world have tried to create a method for linking two signed rings of playing cards that can then be examined. Other versions have come close but there have always been compromises.
Whether you're performing for a bride and groom at a wedding, at your local residency or just for friends at the bar; Ben goes through every detail step by step to
make your performances flawless
.
Only one card is used
No magnets
No compromises
Both rings are signed by the spectator before they are linked
The link happens visually
It can then be handed out straight away for inspection
The definitive method on linking cards.
Learn OCL today.
This product is rated 4.3 of 5.0 stars.
It has received 32 reviews.
Ingenious Fooler
I was very impressed with the detailed instructions on creating the gimmick. The time it takes to make the card is equal to the impact the trick has on the audience.
Nice idea
Very cool, nevertheless not my cup of tea - I do not like too much tinkering…
O.C.L is just amazing!
Great Explanation, simple but efective.
This is amazing
This is really amazing. You must have some skills but not to much. This is completely illusion. You must have OCL if you interesting illusion.
Devious, simply devious!
I watched and watched the trailer demo and each time I couldn't believe my eyes. I'm a fan of torn and restored and linking cards, but I haven't found a method I can replicate with any competency. After I purchased the download I couldn't believe how devious the method and handling are. You end, literally, completely clean...how?
You give the spectator the completed linked cards as a souvenir to keep...forever!
Although this is an incredible handling, I want to be transparent in advising that if you're considering this, the preparation of the card requires attention to detail. The pre-preparation requires only one card and tools most should already have in their desk drawer.
I've seen other versions and have a few booklets on this effect; however, this is the best I've come across. If you're not afraid of detail prep, I highly recommend this.
Hand crafted brilliance
If you have the skills to split cards, you'll be able to do this. If you don't, maybe this could become the reason to learn them for you. If one is inclined to DIY, then this trick should be considered. I'm still in the learning process, and plan on using this as an impossible object hand out like the woven "Impossibill" I do, rather than switch it in at the end of a routine. It's stand alone power would probably overwhelm even the best routines and the switch could be awkward.
Great piece of magical wonder
This just gets better and better the more they think about it. Its a perfect ilusion. I personally dont worry about making it visual. I find i get a stronger feeling when i hide the link. Under a jacket, a table... it just leaves this question of how? lingering in the air, and they know there cant be a how. Which makes it even deeper.
Summary
I expected this to be much more simpler than what it really was. You have to go through so much trouble to prep for this. But in the end, it is still a brilliant piece. It just shows to go ya how much one can really hide in such a beautiful routine.
Summary
After watching the handling and set-up over and over again, (even from an exposed view, baffled all logic.) When I finally understood the mechanics behind this one card linking effect, that's when it hit me that this was so well thought out that it is diabolically out of the box. The illusion before the card pieces melt through each other is perfect! Ben gives great presentation advise as well as suggested patter where you end clean, up to the point when the linked pieces are given out as a keep sake. As it says in the advertising: "They won't find a thing!" My kind of magic!
Summary
Ben showed me this awhile back and I was astonished back then...
When I saw all the new stuff and thought he put on the new version i was completely blown away!
This went straight into my working repertoire!
That's a classic right there...