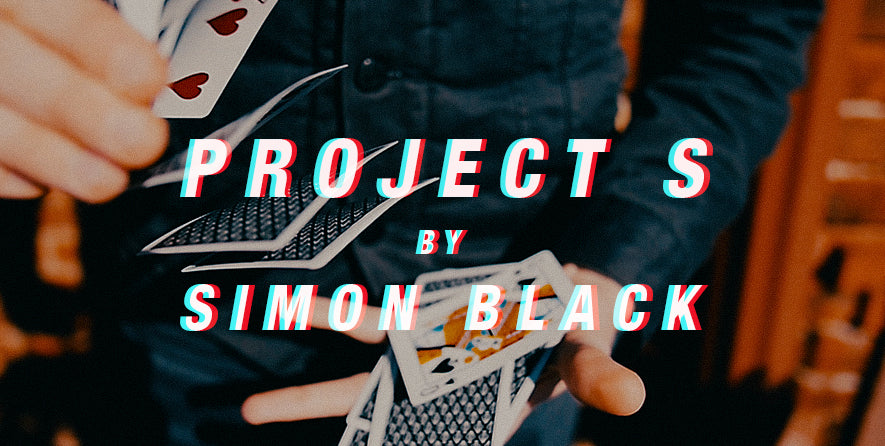 Project S
Project S is Simon Black's anthology. A collection of 17 tricks, forces, productions & sleights.
In over 90 minutes of instruction, Simon opens the pandora's box on what's possible with a normal deck of cards.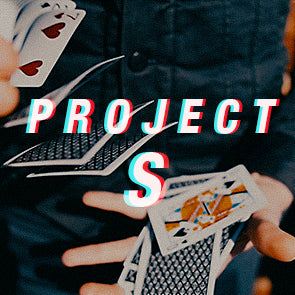 OUR VOTE FOR THE MOST BANG FOR THE BUCK THIS YEAR 

In collaboration with Shin Lim, Ellusionist are proud to introduce you to card-magic behemoth, Simon Black.
Simon has skirted the underground for many years, creating a legend for impromptu magic with cards.
Project S is his anthology. A collection of 17 tricks, forces, productions & sleights.
In over 90 minutes of instruction, Simon opens the pandora's box on what's possible with a normal deck of cards.
Download Project S TODAY.

FULL CONTENTS
Air Bender: a selected card is fairly selected and lost in the pack. In a physics-bending display of skill, the performer balances a deck of cards on its thin edge, and, with nothing but a quick jet of air emitted from the mouth, slices it in two. The packets fall to the table, revealing the selection.
Ascaniesque: a graceful one-handed spread of cards, elegantly dropping 4 seemingly single cards to the table, while a fifth is concealed amongst them.
Asteroid Change: a visual color change in the spectator's hand the likes of which have never before been seen with sleight of hand.
Booster Gold: a visual color change you'll swear uses a flap.
B/T Change: a silky smooth visual color change with a modern remix.
Double Change: a beautifully choreographed visual color change of two cards.
DropSplit: a stunning blendo from the mind of Chris Stanislas, taught here in memoriam.
Fireweed: the cards are bridged after a riffle shuffle, and four kings bloom from the pack as if they were petals from a flower. In a quick turn of events, they change into four aces.
Hofzinser Mod: a slick new spin on an age-old force.
Oh Snap Change: a classic change with almost no cover.
PopSwipe: two cards appear in a split second as if plucked from midair.
Propaine: a vanish of a card in a sandwich that will make you do a double take.
Skywalker Flip: any desired cards flip face-up in the middle of a simple card spring.
StaticShock: a collectors routine on steroids that has to be seen to be believed.
S Classic Force: learn Simon's takes on the best force within the realm of sleight of hand. Never let anyone tell you it's not 100%.
DPS Production: a silly card production that is surprisingly eye-popping.
Tilt-a-Whirl: an insane color change of one card held at the fingertips. The mechanics are almost too much fun.
Learn all 17 Move Monkey items NOW. 
This product is rated 4.0 of 5.0 stars.
It has received 24 reviews.
Amazing
You get so many great moves and routines. All of them are good but my favourites are Oh Snap Change, Skywalker Flip and StaticShock. The forces are also very useful. And the B/T Change is one of the most visual changes I know. This download could sell for 40$ but it only costs 15$ so it was a very good decision to buy it.
Summary
Damn! This should cost a lot more than that. I would pay that much only to learn the BT change.
It is just to much information about sleight of hand. And for those who say it wasn't worth the money then I think they should go on 52 cards channel and learn the double lift first. Because project S is the next level slight of hand. Thanks Simon for sharing this with us for such a little price
Summary
I'm just getting back into magic and performing at parties and such after a 5 or so year break... Also more seriously than before. This download has been awesome. Some of it is a little more complicated, and some not at all. My absolute favorites are Ascaniesque (less difficult), Asteroid Change (difficult) Booster Gold (a little finicky with the angles you need, but less difficult) and last but not at all least... Static Shock. (Fairly Difficult) Such a fun effect! Simon does a great job explaining everything. It's sort of difficult from a front only view, but it's totally workable since he explains it well. If I can do these, so can you.
Summary
Let me start by saying I had so much fun watching the video, that guy reminds me of young Ritchy from IT. When I has a look at the introduction video, I thought 'Wow, cool package", but when I read the reviews, I thought "hmmm..." But honestly, okay, it's all filmed from a front view, but I had no difficulties at all in following what he explains. I didnt have to watch anything twice, or at slow speed, just pay attention to what is happening. The effects arent complete tricks, it are techniques, you can switch out with techniques you use in your routines to make it more flashy. And the effects are absolutely awesome! They are visual, they are flashy and for every single one I immediatelly had ideas for in which routine I wanted to use it, even the one move from which Simon says you probably wont use it, but its fun to do (its exactly what I needed for the routine I'm creating at the moment). And like it says, it are techniques for 'move monkeys', so dont expect this will be for the starting magician, it takes a little skill and practice. However, I myself have been learning magic for like 6 month and the moves I tried so far are going reasonably well, to much better than I expected when watching the introduction video, so even if you're in between beginner and intermediate, with a little patience and persistance, you should be fine. So, 17 flashy moves, that give your routines that extra wow-effect, for this price? This is a great deal, you dont want to miss.
Summary
If you've ever bought any of Simon's other projects, you'll know he is a very smart and creative magician.
While this is advertised as 17 "effects" I prefer to see it as 17 moves as these are really just flashy pieces of magic that don't really need that much patter. The real gems in this will be working how you, the people performing this can use these moves in routines or other intriguing ways.
Examples: I plan on using the Double Change in a Wild Card routine, i'm experimenting with using Booster Gold as a control instead of a visual change (Shin Lim has something similar to this in a lecture). Just start messing around with the moves and you'll have loads of fun.
Overall this will all take a fair deal of practice, but afterwards it'll be worth it .
Summary
Honestly you should buy this for the dry humour, nevermind the magic, Simon's personality makes the whole download so much more enjoyable. That being said, it is a magic tutorial download and a very good one at that, each of the moves are taught very well, Simon has a really nice way of teaching, using precise and simple language, and if you are more of an aural learner this will be a godsend to you. The camera angles are a bit rubbish now and again but you can still make out what's going on, and Simon explains everything in words anyway so it's not a major problem. For the most part you can see everything perfectly fine anyway. All in all, 100% worth $15, if you follow Simon on Instagram you know he has some great stuff, definitely recommend buying it.
Summary
All I can say is must have. honest about everything he shows funny must have
Summary
Let me just begin by this is not a download for beginners. Most of the moves taught here are on a intermediate and complex level. That being said, the sleights are fun to practice and Simon teaches the moves step by step in detail in a really humorous way which makes the video intriguing. $15 for 90 minutes of instructions including 17 effects is a bargain. I am very happy with my purchase. Simon nailed it on this one. Great stuff, Ellusionist.
Summary
Project S is an incredible set of tricks at a very reasonable price. Every trick so far has been worth practicing and had kept me pretty busy. Looking forward to their next release.
Summary
Great buy! I've purchased dozens of videos and products from ellusionist and they never disappoint. OSYN is one such buy that I've had a lot of fun with. I like the slightly more complex tricks that leave people scratching their heads for days. So far I've only been using one of the tricks as it seems to have the greatest effect but my only complaint is for the price it can be a little much. I'm not saying it should be dirt cheap but $25-30 seems like a more fair price. Nevertheless, great trick to perform