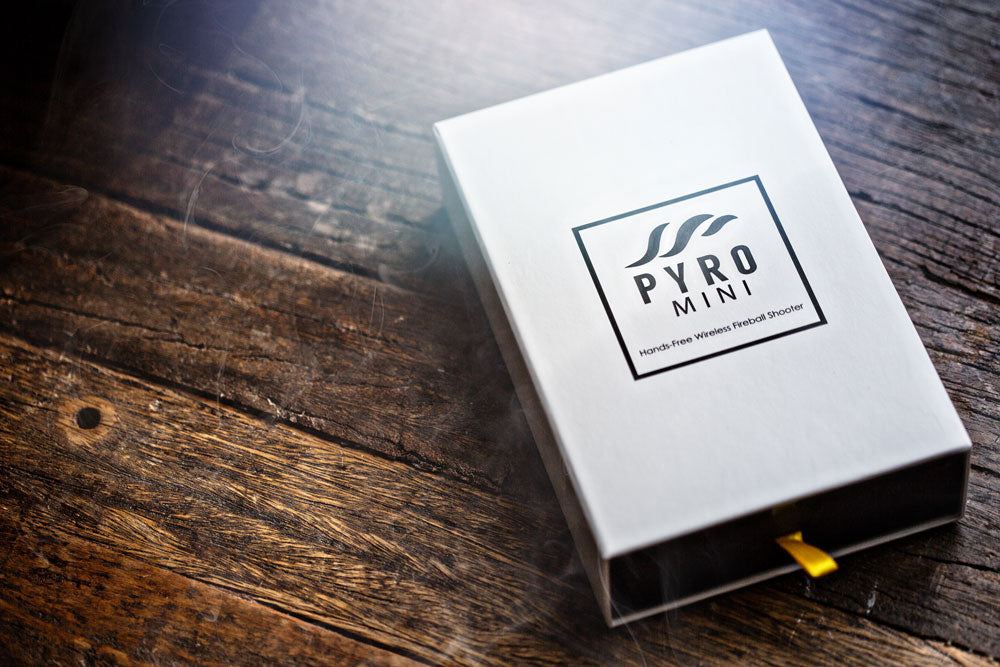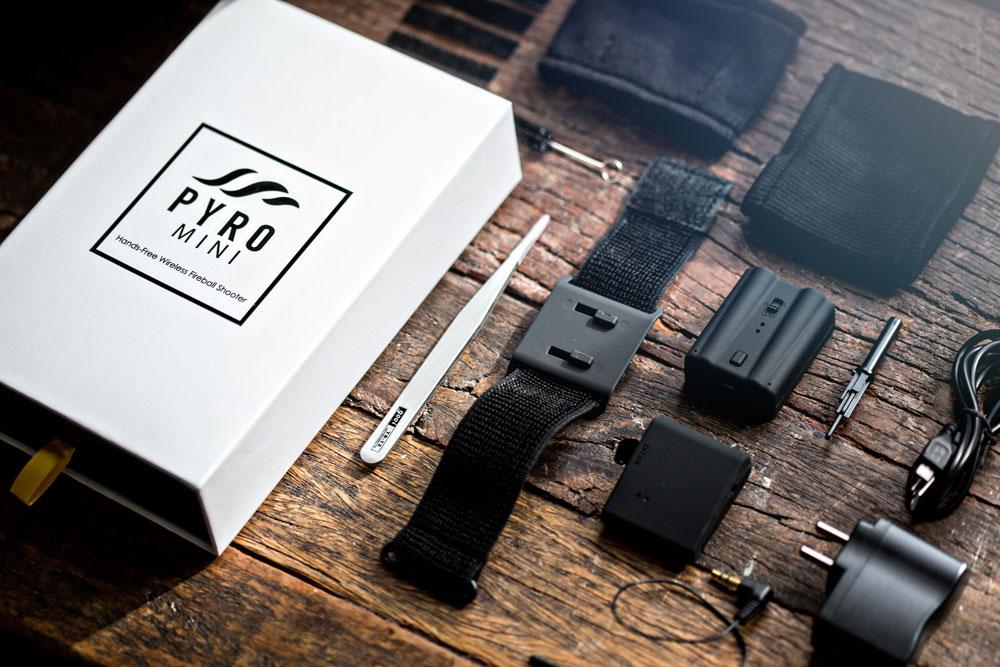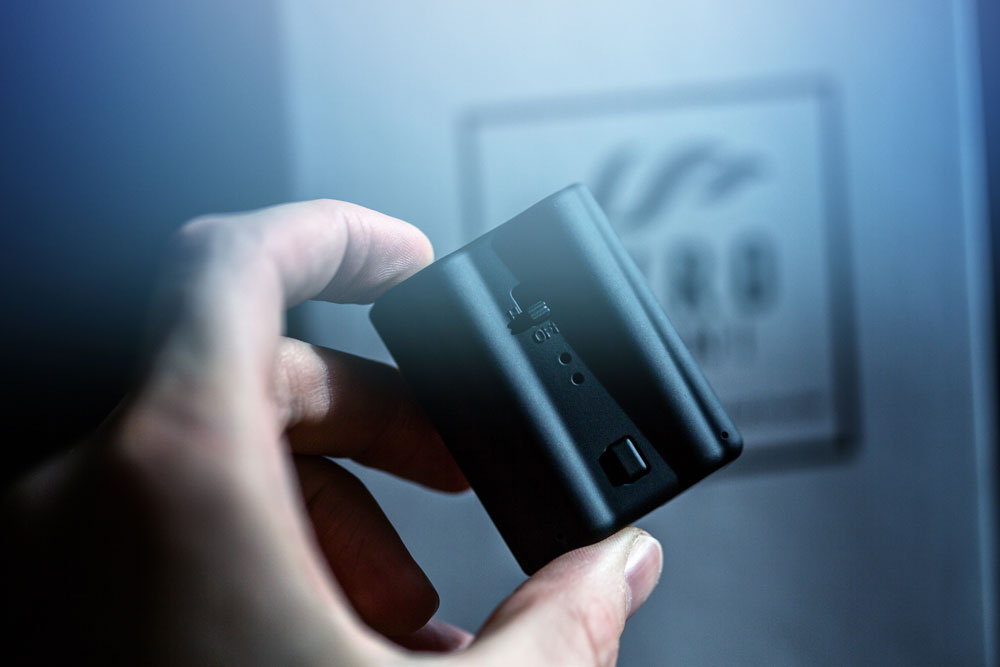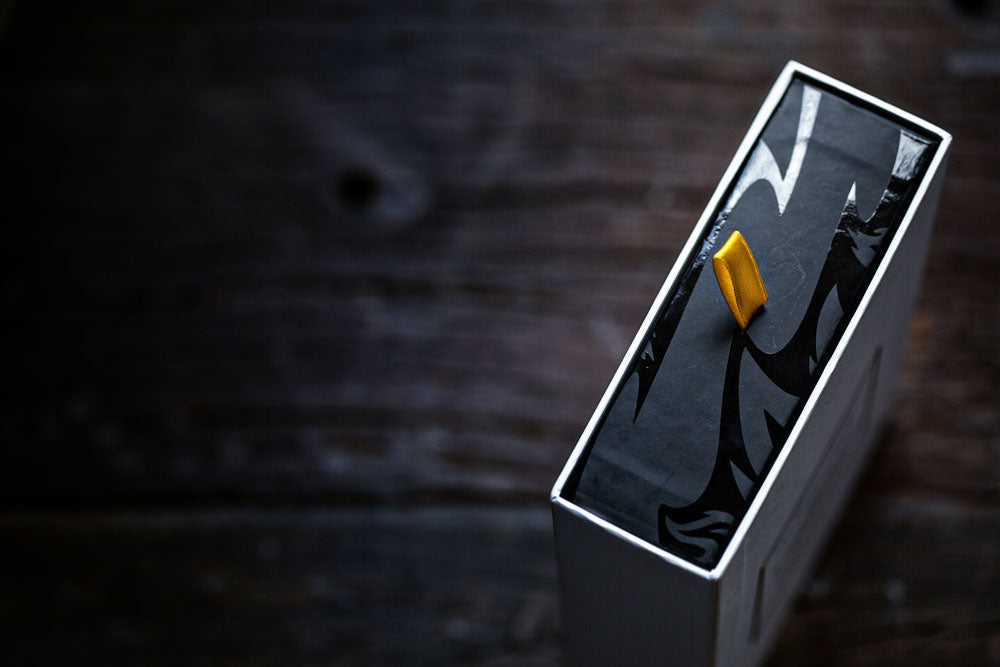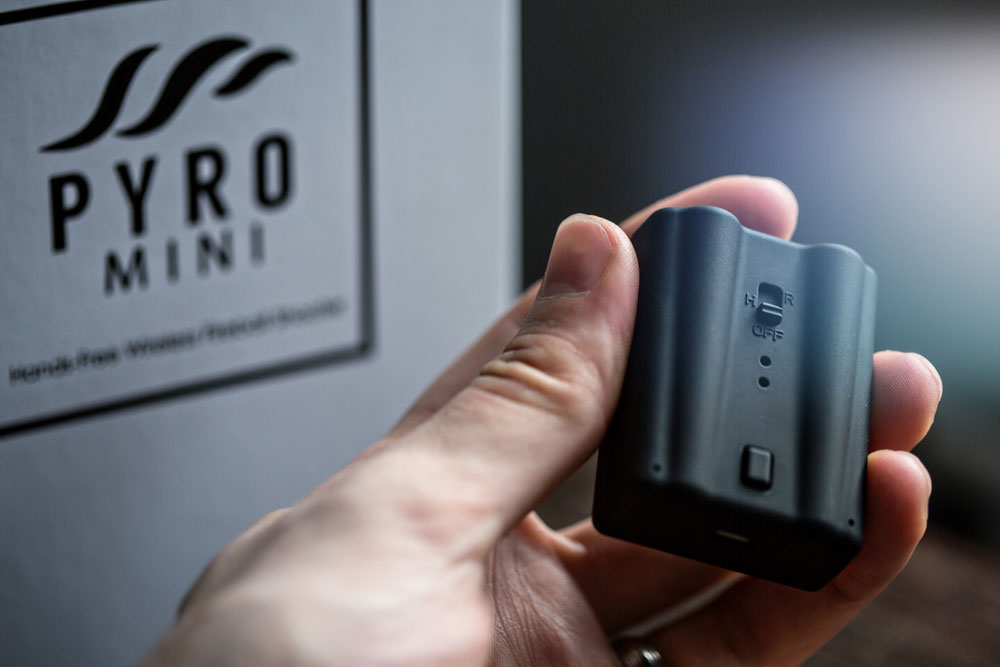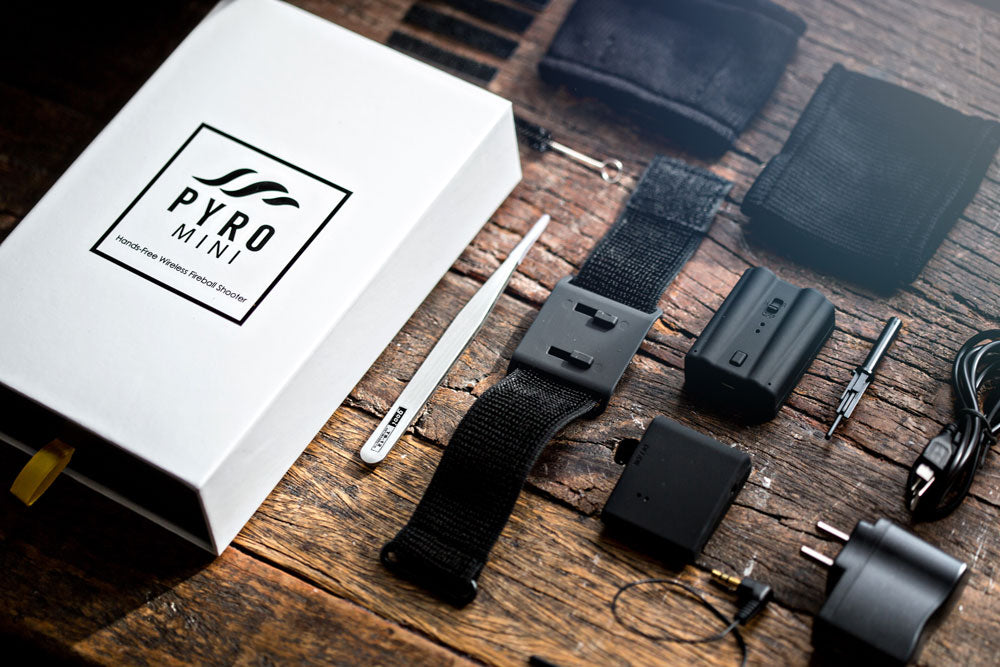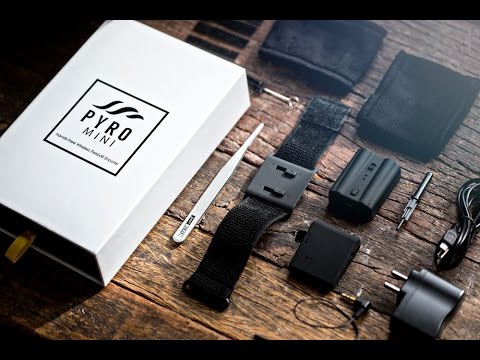 Pyro Mini Fireshooter
Based on the original Pyro, we've refined the mini to make it easier to use, while packing in a host of new features that rival anything you'd see in a James Bond movie.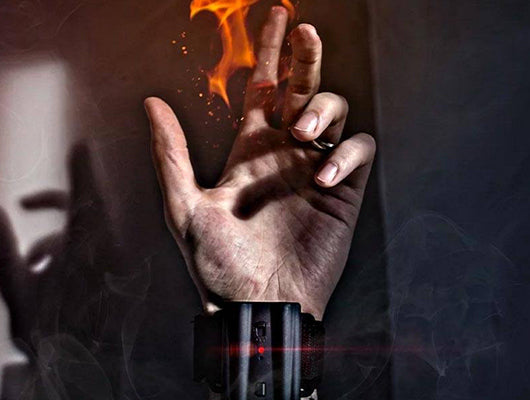 The New Pyro Mini - Less bulk.
More fire.

Shoot balls of fire from your empty hands for under $150.
The viral smash-hit of 2014 has been transformed into a smaller, sleeker and sexier MUST-HAVE.

Based on the original Pyro, we've refined the mini to make it easier to use, while packing in a host of new features that rival anything you'd see in a James Bond movie.

This is not a toy. This is a "badass" device that allows you to launch fireballs from your open palm.


How safe is Pyro?
Pyro's secret is that the barrels are filled with 'flash' paper. A specially-treated tissue paper that burns extremely quickly and is gone in the blink of an eye. Magicians have used flash paper in their acts for decades to get huge reactions from a tiny burst of fire.
Every precaution has been taken to make this safe, but as Pyro shoots real fire, it MUST be handled responsibly. A comprehensive video download is given to guide you through everything you need to know. Thousands upon thousands of units of Pyro have been sold with superb, safe results.
Please Note: You must be 18 or over to purchase and/or use the Pyro Mini Device
60 DAY FULL BARREL TO BARREL MONEY-BACK GUARANTEE
You'll love your new Pyro MINI, but if not
return the unit anytime within 60 days
for a no-questions-asked full-on money back guarantee (minus shipping).
What's New With Pyro Mini?
We've reduced the size of the original Pyro by over 50% to create a compact device that's easier to conceal. 2 barrels with intense firepower.

Built-in trigger on the top of the device to allow you to shoot a fireball from your hand at the push of a button, now the device is small enough to palm.

NO MORE BATTERIES. We've added USB recharging, allowing you to plug in your Pyro to charge up to 600 shots from the in-built lithium battery. Now you can charge it from your laptop, in the car or on your way to a gig.

A DETACHABLE WRIST STRAP enables you to slide the device on or off with ease. Whether you're just shooting fireballs for fun, or you're at a gig, PYRO mini allows you to turn up the heat at a moments notice.

BURST FIRE is the most exciting feature we've added. Now you have the option to hold the remote or trigger down for a few seconds and shoot 2 fireballs at the same time.

By plugging in your antenna to the remote, you get to practice the new burst fire from up to 30ft away.

You can even be in another room.
60 DAY FULL BARREL TO BARREL MONEY BACK GUARANTEE

You'll love your new Pyro MINI, but if not
return the unit anytime within 60 days for a no-questions-asked full-on money back guarantee (minus shipping).

FULL OVERVIEW
Comprehensive Instructional
It is a condition of purchase that you watch the PYRO mini instructional
in its entirety,
prior to operating your unit. Adam Wilber (And Duane Williams for our newest updated version) goes over the safety precautions, correct operation and performance ideas for this device. We've given you multiple ideas to get you started - but the possibilities are truly endless. PYRO mini is a true utility device that opens up a new and exciting side to your magic.
Multiple Shot Capability
Each PYRO mini unit comes with 2 individually triggered barrels, meaning you can shoot off 2 fireballs before a reload is required. We highly recommend you use only the Flash Packs we supply and recommend, with each pack containing enough flash cotton and paper for over 120 uses.
Handsfree Operation
The PYRO mini Unit itself has been designed to contour to the underside of the wrist, leaving the hand shooting the fireball completely empty. The supplied fastener allows the sleeve to hide the unit, while keeping out of the way of the flaming shots. The remote switch has been designed to fit comfortably and discretely in the other hand, activated with a squeeze of the fist. Small and light enough to sit in a pocket when not in use without you - or your spectators - noticing it's there.
Rugged & Reliable
As soon as you open the box and feel the unit yourself, you can feel the quality and level of R&D that has gone into the production of this device. Over three years of refinements and 11 prototypes, both the PYRO mini Unit and the Remote have gone through hell and back, pressure and temperature stressed every individual component - from heater coil through to remote receiver and cycle tested through to failure, to guarantee performance and longevity of the final unit. What you have after all of this, is a device that both Ellusionist and Adam Wilber are proud to stand behind.
Fully Guaranteed
PYRO mini comes with an end to end, 60-day full replacement warranty. While we're confident that if the directions are followed you will not have any issues with the unit, those that may arise can easily be troubleshot. We at Ellusionist stand behind each and every unit sold. If for any reason your unit stops functioning, our support team is available to
answer questions
and walk you through any common issues
personally
. If after speaking to the team your unit still does not function, simply return it within 60 days of purchase for a replacement unit at no cost to you.
PYRO MINI BLOOPERS

Daniel Madison on set with Pyro
'Pyro mini goes way beyond magic and puts an unexplainable, supernatural power in your hands. I don't leave home without it and am constantly finding excuses to shoot fireballs from my empty hands.' - Daniel Madison
INCLUDED WITH YOUR PYRO MINI
Included in your package is 1 Bundle of Flash Cotton and 10 Large Sheets of Flash Paper. Enough for 120 shots. Depending on the size of paper you load. 

This product is rated 4.8 of 5.0 stars.
It has received 217 reviews.
Pyro Mini Fireshooter
Incredible device!! Worked so made me feel like the Great and Powerful Oz from the wizard of Oz!! It really is awesome and creates that illusion that items can spontaneously combust on command yet safe and nondestructive!!
Small device...Girnormous effect!
The Magic Castle hosts a magic swap meet a couple times a year. Being a magic enthusiast, I went to this market place as much as I was able. Many years ago (like a lot of years ago) there was a table where the vendor was selling a small double barreled device that shot flash paper. It was simple, there were two AA (could've been AAA) batteries in a holder and mounted on it were two brass tubes, about an 1/8 in diameter each. At the back end of the barrels was a micro button to activate the heating coils to ignite and fire the flash paper. One of the featured uses in a photograph on display was to mount the device at the neck of a guitar.
Sound similar?
Well yeah...but definitely not.
The device was individually hand-made, approximately three or a little more inches long. It fit (mostly) in the palm of your hand; however, it appeared very cumbersome. While I thought the device was cool (who wouldn't?) but I didn't see any practical uses for it.
Recently, I've discovered Pyro-Mini. This device is compact, concealable in a practical fashion and very versatile (I thought this before I purchased it). The construction of this item is excellent. It was obvious to me, the designing of this device took time and careful planning. And, the quality as you hold it in your hand is very evident.
The one negative I have is when I attempted to pair the device with its remote, nothing happened. I followed the instructions to the letter (several times) and it still didn't work. However, I reached out to customer service and the next day I received a reply with a simple solution (you need to push the remote button while you're pairing the device). The support I received from Ellusionist was excellent.
Awesome!!!
The Pyro Mini is great! We are staging the Wizard of Oz and using it for the Wicked Witch. It is definitely going to wow the audience.
Worked out perfectly
I actually got this as a gift to my boyfriend, he's been wanting one so bad.. it came in great time even got a free gift included! I will recommend this contraption to throw fireballs ANYDAY, so cool! Thank you!
Pyro is amazing
Love this thing already. I have been practicing with it in my backyard and my chickens are amazed every time it shoots off
Back to the Future
Rarely I write any reviews. Not only because my native language is German. But this time I was completely overwhelmed by a number of factors. First of all I received Pyro Mini very fast and very well packed.
The box itself looks wonderful to me like a treasure chest. Then I checked all the instructions which were even for me -as a non native english language customer - very easy and clear to understand and to follow.
The quality of the clips is incredibly good. I can not imagine that something was not teached or touched.
And yes, I agree that it is not only wise but absolutely necessary to see everything from beginning to the end.
The Pyro Mini is a wonderful improved device. I am quite sure that I know and have all similar flame throwing devices invented in the past decades.
Nothing, absolutely nothing comes near Pyro Mini!
It is so easy and safe to work with and the fire balls are incredible.
Also there are enough refills for many shots. However I recommend to buy at the same time additional refills as you will use this device like a child is using a new toy. Of course, it is not a toy. It is an incredible powerful tool in the hand of any professional or beginner.
For sure this is one of the best invests I made in the past few years!
I feel like an idiot, bur would like to share this:
I stupidly watched first the original Pyro instructions and had some questions as the Pyro Mini device is different. In a few hours I received from the customer support a very friendly detailed information and even a link.
I don't know why this happened to me. Maybe because I was completely overwhelmed by this item, appearing coming from the future.
Pyro mini
Is awesome and really excellent for shows
Best of Breed
I have owned several old school versions of this device but this is by far the easiest to use, most reliable, smallest and most versatile. You cant go wrong!
Brilliant
A flashing idea from Adam Wilber