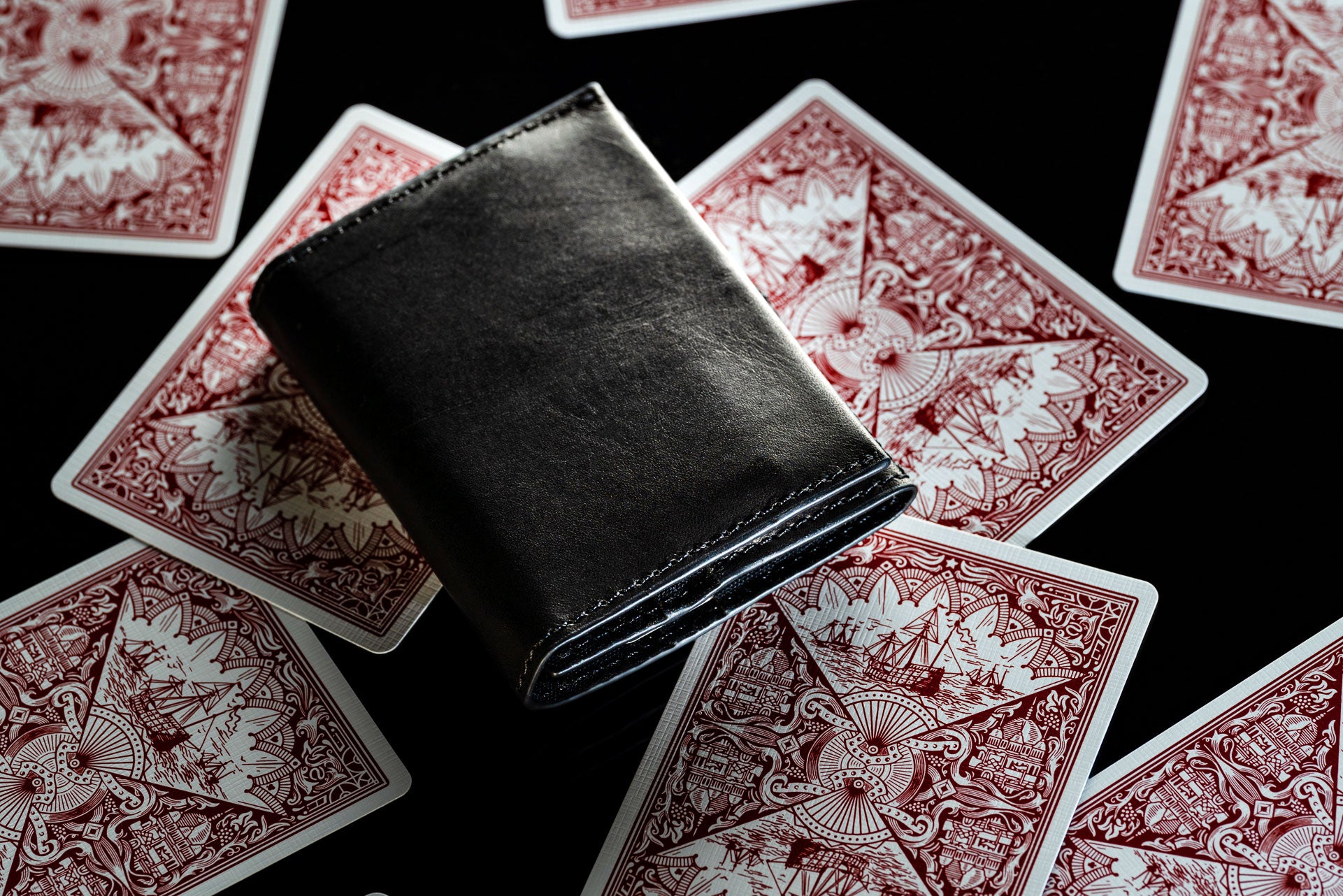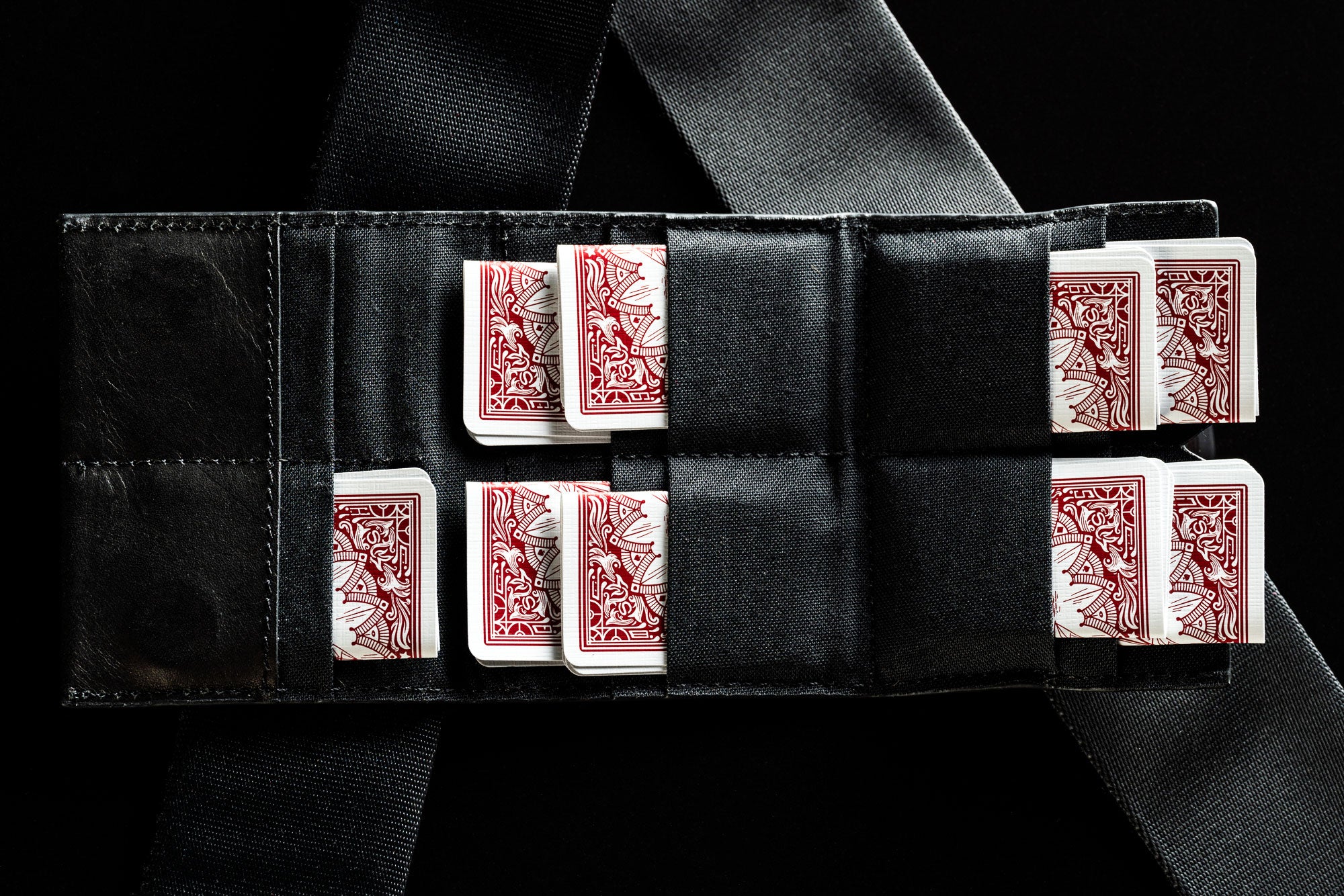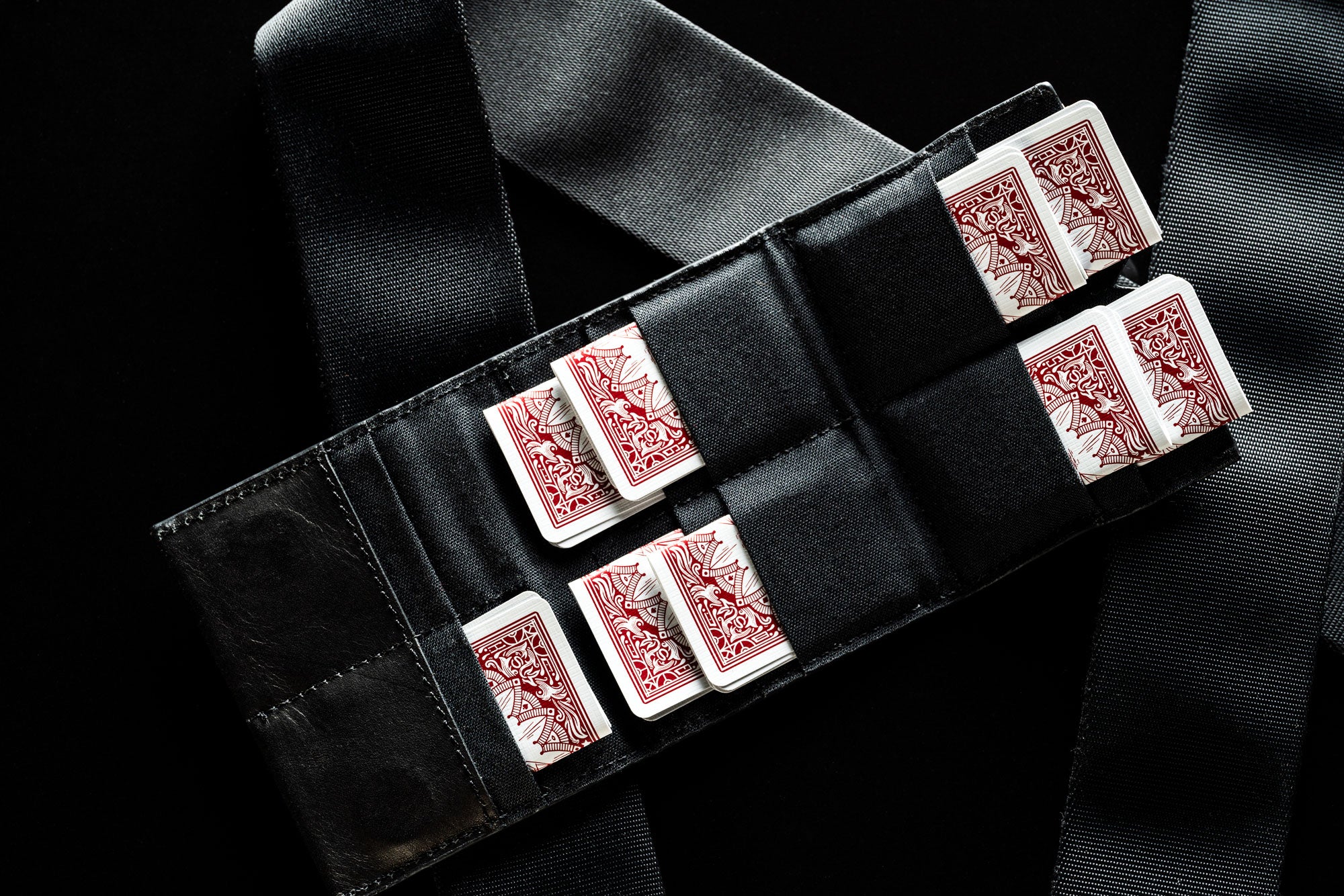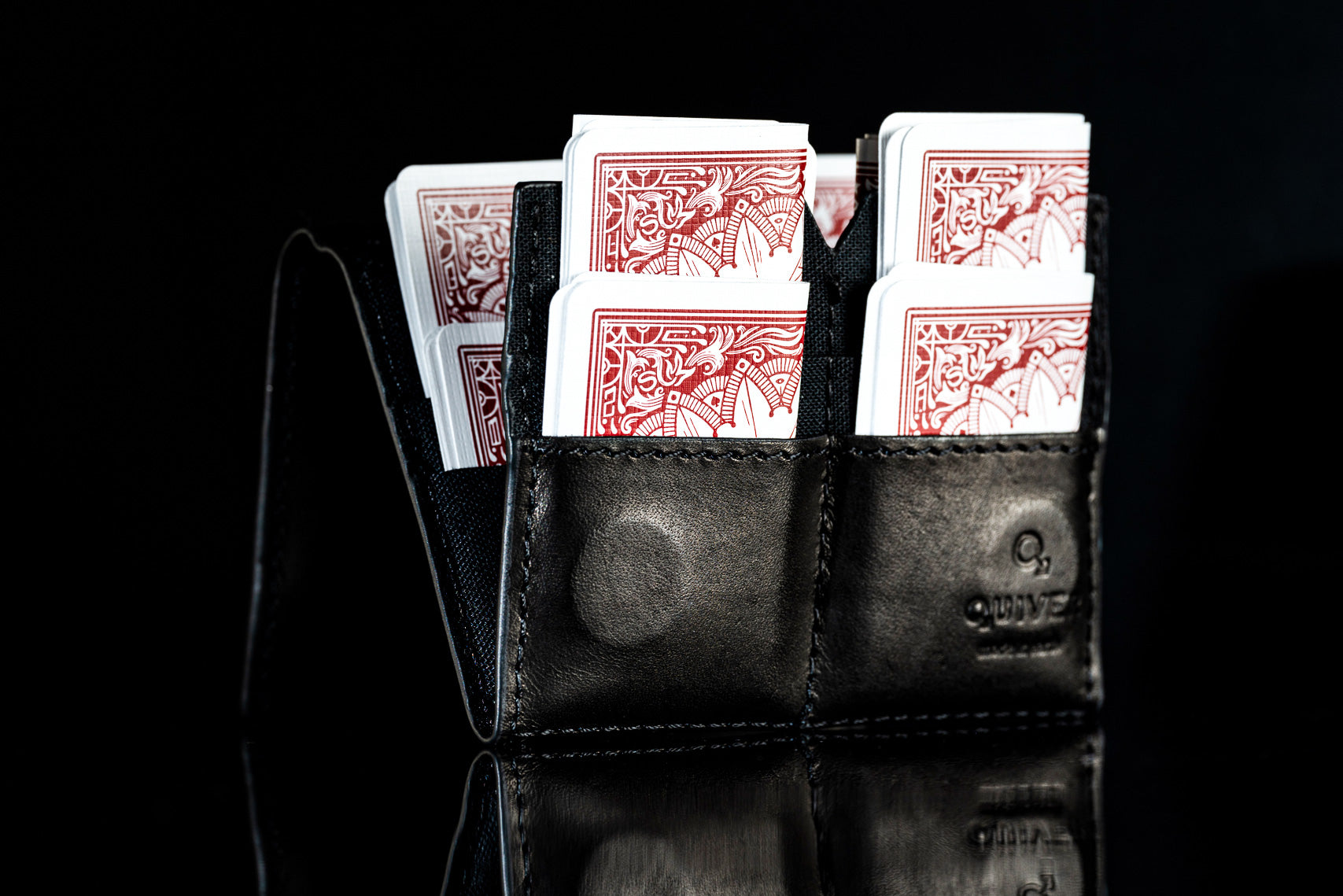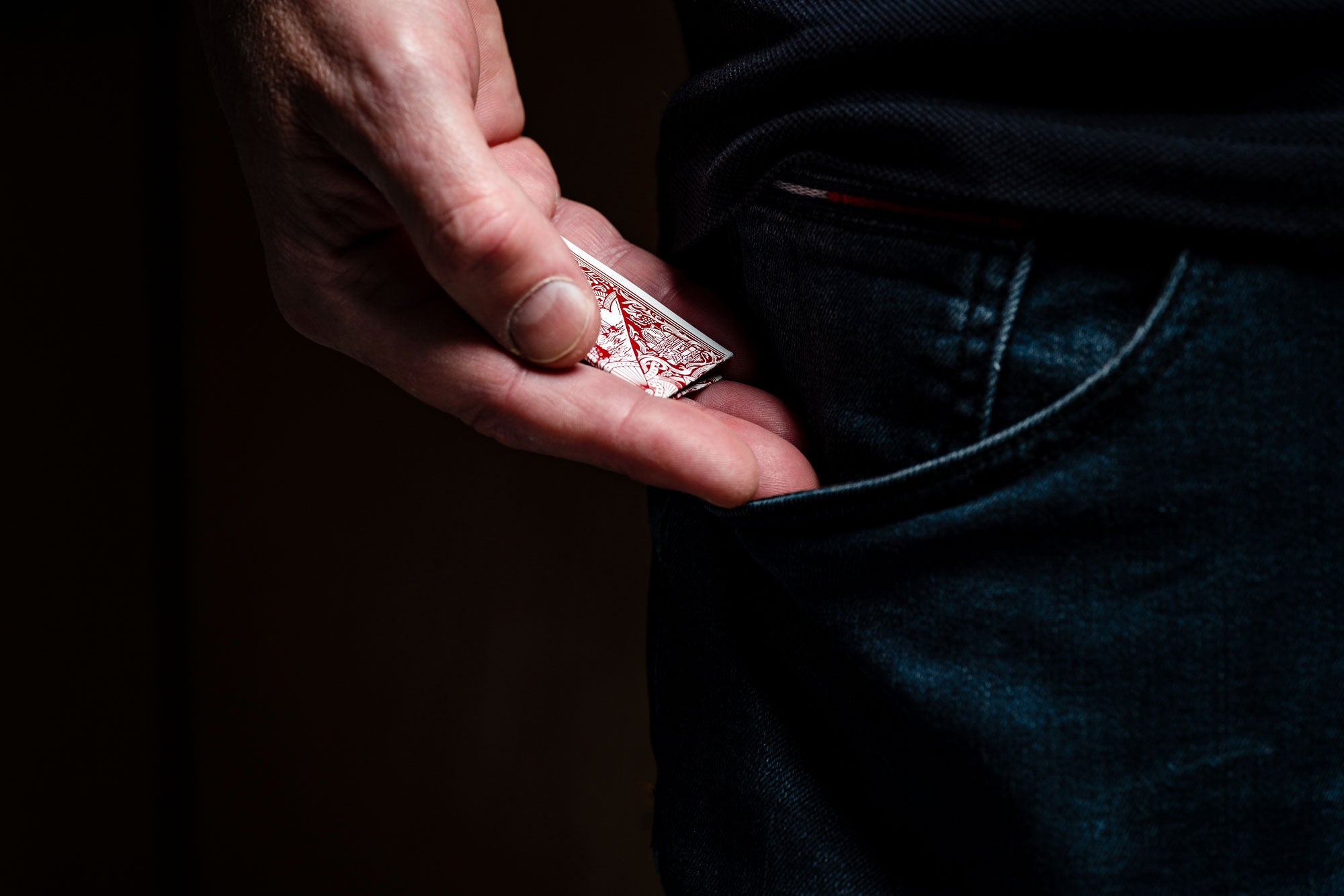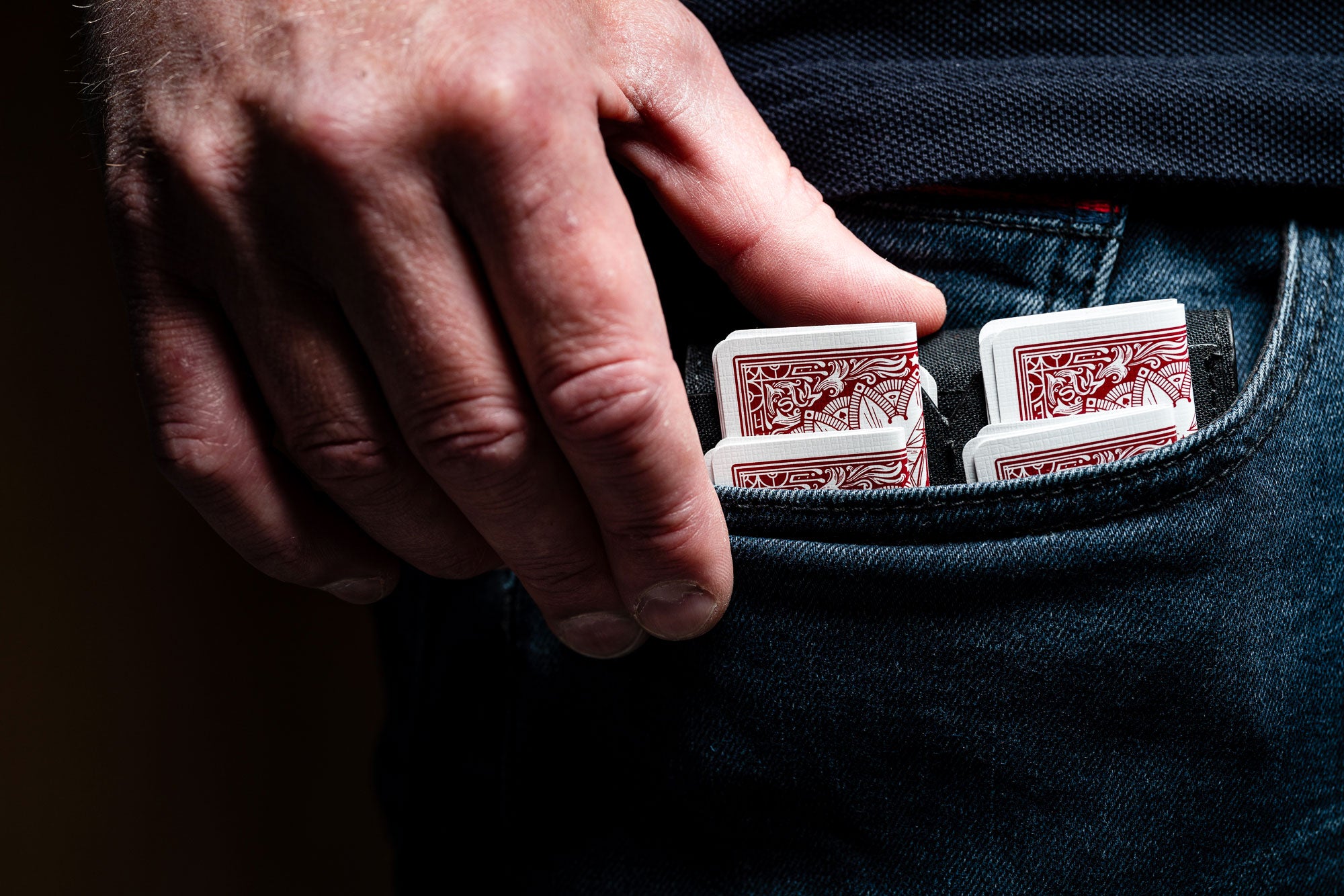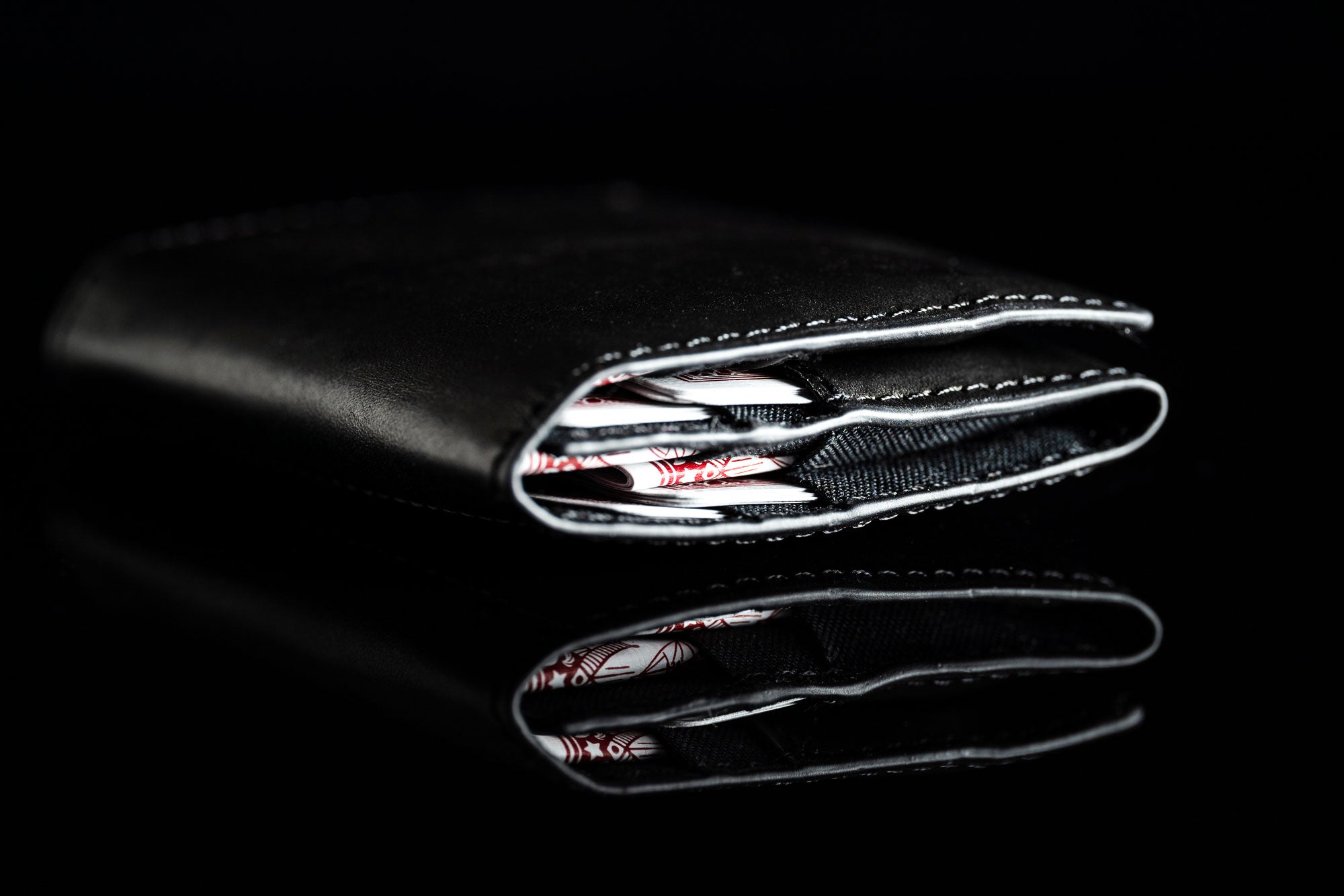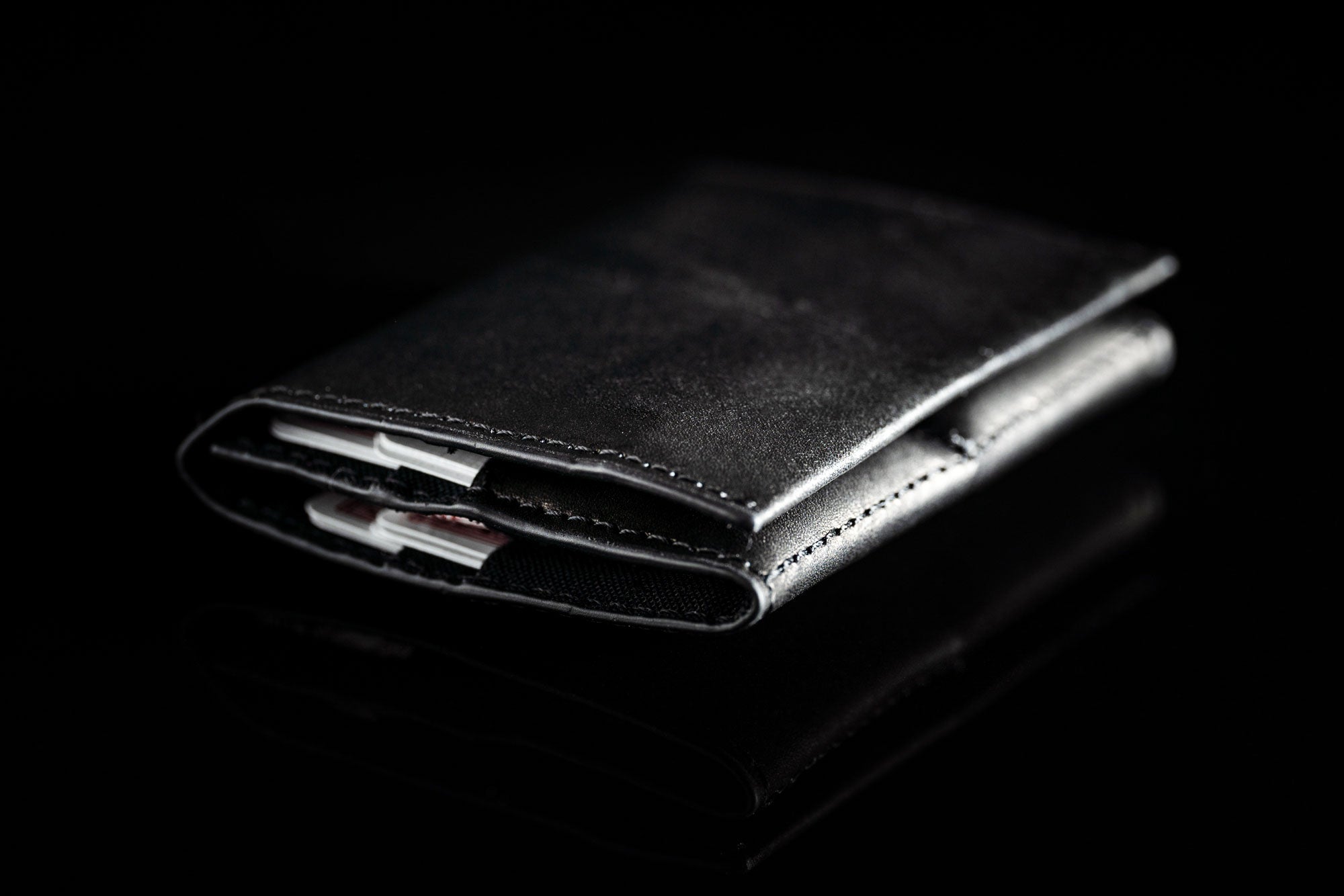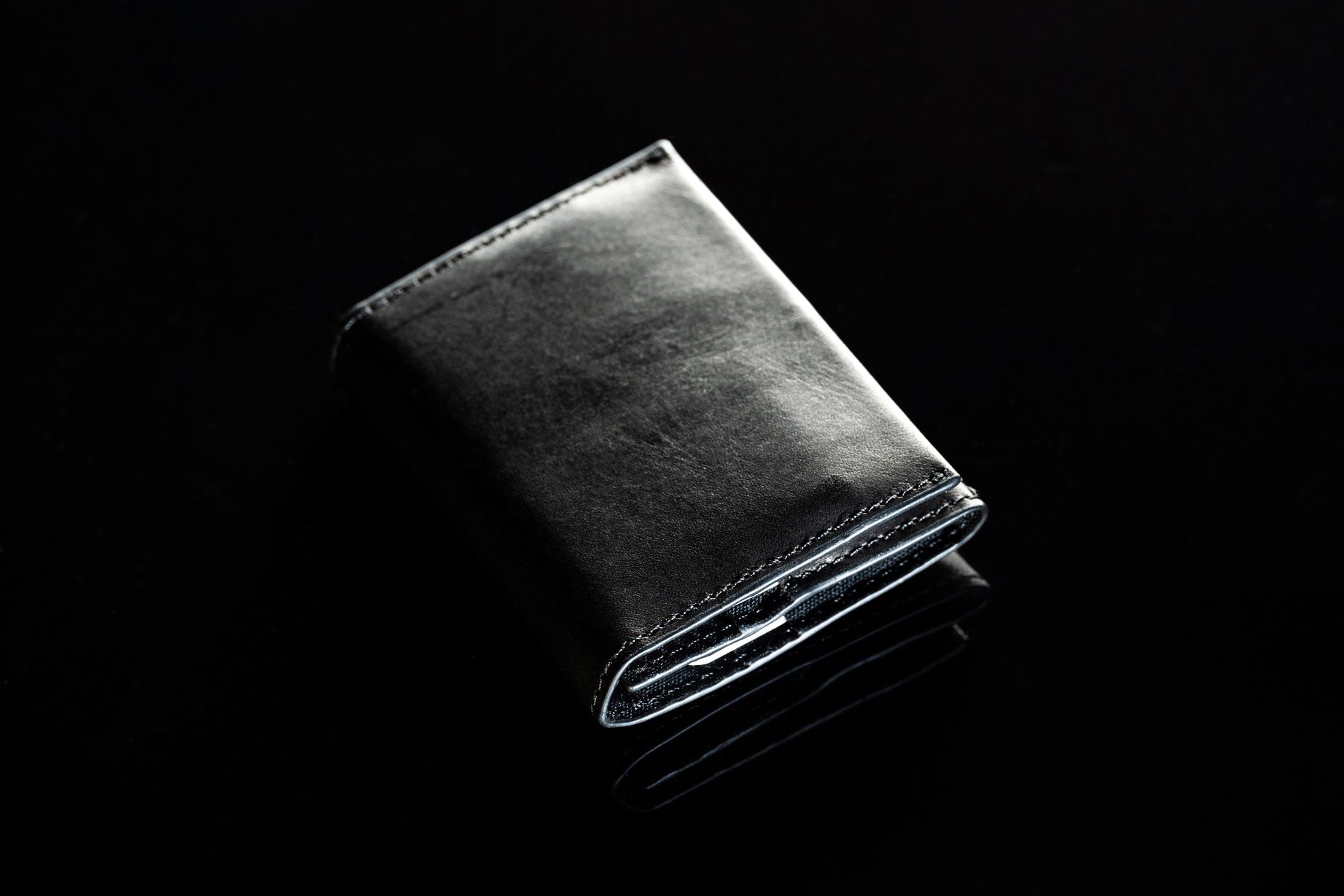 Quiver Compact Index
Slim, sleek & sexy. This true pocket index stores up to 16 cards for you to secretly palm in or produce.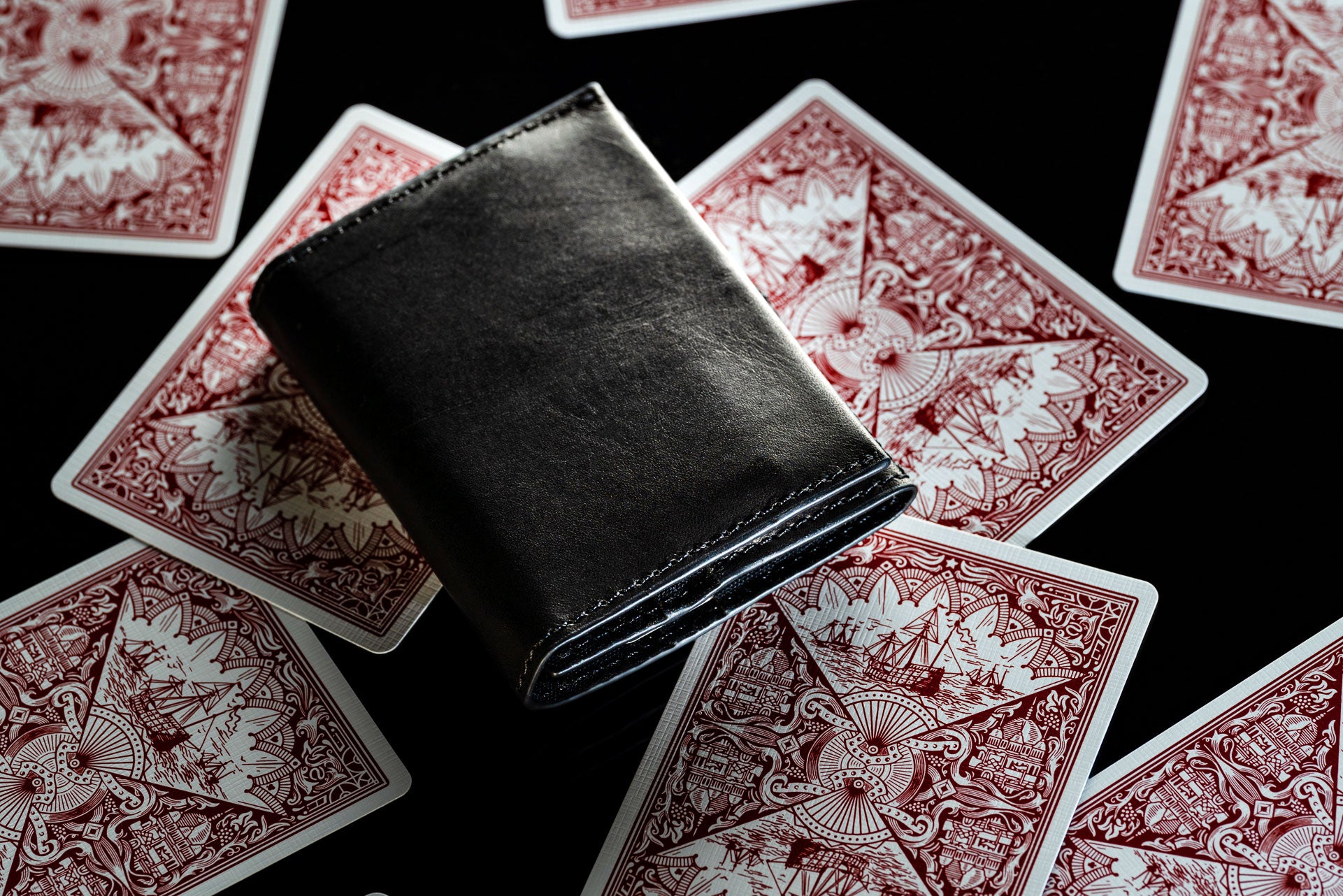 LESS IS
MORE
Indexes are popular in magic. They're used to produce "freely" chosen playing cards at will.

By they usually have one flaw... They're huge.

Kelvin Chow and his Quiver Team have opted to cater for fewer outs - but make it way smaller and sleeker.

This compact index wallet holds up to 16 cards and features a magnetic close.


You could fill it with all the aces and all the court cards of an entire deck... But you could insert less. Maybe just Ace to King of your favorite suit.
Use Quiver Compact Index for:

 'Thought of' card productions
 The

Springboard

principle
 Kolossal Killer
 Equivoque 
 Multiple billet outs... It's not just playing cards
 Switching torn cards for restored
 Plus way more... It really can be tailored to routines you already know.

Made from real, black leather - and stitched to perfection by Quiver's elite craftsmen & women, the index wallet is smaller than a deck of luxury-pressed playing cards.
If you've ever owned anything in the Quiver range before, you know it's worth buying now - and asking questions later. 

Get your Quiver Compact Index Today.
---
NOTE: Quiver Compact Index does not come with any tutorial. This is a pro-series product. Only buy it if you know what you want to do with it.

This product is rated 5.0 of 5.0 stars.
It has received 6 reviews.
Best index EVER !
Best Index EVER ! The quality of the wallet is excellent and I have come up already with a few routines ! Quiver is always the best imo !
Threw me off at first…
When I first received the product, the first thing that stood out to me was the quality of the craftsmanship! Quiver really lives up to its reputation. What threw me off at first was that there was no instructions (it's on the main page I just didn't read it, my bad) however, after messing around with it for less than 30 minutes I was able to figure out how it's supposed to be used. The ideas just started flowing! Awesome product!
Get one today
This compact index ticks all the boxes for an index system and it's something I've been looking for for a long time. The fact that it's made by Quiver you know you are getting something of top quality and will last you for a long time and will fit your pocket and will be part of your everyday carry. If you want to improve your mentalism definetely pick this up. I'm aiming to have a few of this as part of my collection. Get yours today.
The quality I've come to expect from Quiver.
While I don't currently have a use for an index I couldn't pass this up. I own and use a lot of Quiver's products and have never been disappointed with their quality. The pocket index is no different. It is as sleek and small as Ellusionist advertises but, could definitely store a lot of cards. I'm hoping they release an instructional video for it. Until then, I will find a use for it.
Fabulous!
When I first opened this, I was a little bit confused (there is no tutorial). But if you have just a little bit of knowledge about how an index works, you'll figure it out just by playing with it. I was shocked at how easy it was to get the correct card out, and how fast I could do it with literally no practice! If you're interested in index work, this is definitely a great place to start. Not to mention it's made beautifully and feels like it will last a lifetime.
If it's Quiver it's good!
I love the Quiver line of products. Always real leather, always top notch in all areas! This one is no exception. Great little index wallet and open to hundreds of routines that are out there! Get it, it's $30 well spent!