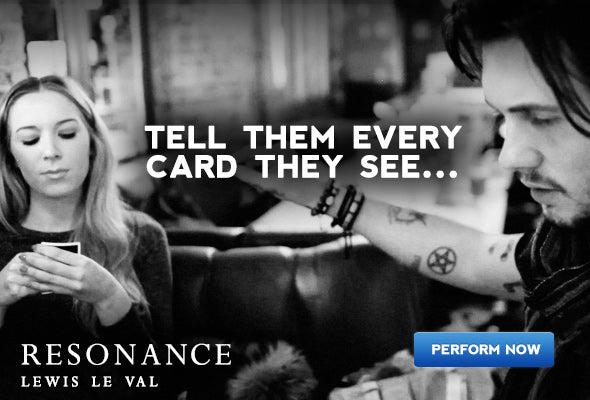 Resonance
Resonance is the ability to see through the eyes of another.
Imagine telling the spectator every single card they see, from a chosen suit in a shuffled deck.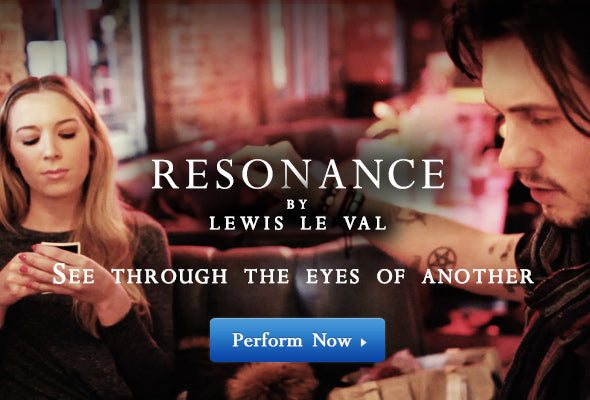 Resonance is the ability to see through the eyes of another. Telling them every single card they see
True story...
In the late 1970's the US Army looked into using parapsychology and 'new age' powers to provide intelligence to give them a significant advantage over their enemy.
Special Forces Intel First Sergeant Glenn Wheaton was a stone-cold killer. A remote-viewing psychic spy.
According to Top Secret documents that were leaked recently, Wheaton's remote viewing skills could readily identify remote locations across space and time... to bring back actual intelligence grade data.
Dangerous power, if in the wrong hands.
Flash forward 37 years and in comes Lewis Le Val. Displaying all the same skills, but admitting to none. The man the US Army wished was real.
Resonance is the ability to see through the eyes of another. Telling them every single card they see, from a chosen suit in a shuffled deck.
Spectator can shuffle
Perform with your eyes closed
No gimmicks needed
The power that Sergeant Wheaton couldn't prove can be yours.
Buy today. Perform instantly.
Format: Download
Difficulty: Intermediate
Duration: 10 minutes
Extras: PDF bonus included with donwload.
This product is rated 4.4 of 5.0 stars.
It has received 10 reviews.
Great Idea !!! Just for the mentalist.
Resonance is a really nice effect.
Easy to do. Unfortunately the reset takes a little time.Highly recommended.
Summary
This hits hard. Not for everyone though. Highly recommend being familiar with some form of false riffle shuffle and also, this is for the mentalist. If mentalism isn't your thing then leave now. You also have to have a slight amount of control over your spectator, and as always ,practice practice practice ! Highly recommend.
Summary
After few performance i realize this trick is so strong when you doing it for a girls the strongest part of this trick is the presentation and having a deck in spectator hands its really sell this effect, i love this kind trick because so simple yet power full.
Summary
This method is fantastic! it reminds me of (*Edited for Exposure*) , but the way Resonance works makes it all the more valuable. It makes the readings more complex and more real. The way people respond when the cards are called out, even after they're shuffled.
Summary
At first I thought it's just another trick,but i found it's the opposite
I am happy that they update the tutorial and explain the technique in details,(update by Daniel Madison ) so stop reading and go buy this trick
Summary
I wanted to review this as it seems E has added to it since the first few reviews below were given. The video is now over 46 minutes long, featuring none other than Daniel Madison giving further explanation and presentation of the effect.
The effect, as taught, I think is stronger than shown in the trailer. Having the spectator do the shuffle (not in the trailer and which Madison provides some additional ideas) really makes this seem impossible.
I am very glad I purchased this one and expect it to be a favorite to perform once I get a bit of practice and the presentation down.
Summary
The video, although short, provides what I believe to be a thorough explanation. The PDF gives everything you need that's not in the video. I love this trick and the reactions it is capable of getting. (I also believe it was worth 5 stars before Daniel Madison's addendum, which didn't seem to do much for me).
Summary
I wasn't really expecting much for 8 dollars, but somehow I was still disappointed. I was expecting something new, but this is not new at all! The whole "spectator shuffles" thing threw me off. This trick is okay, if presented correctly, but I probably won't be using it.
Summary
I really did enjoy learning this effect. I've used it a few times, and it gets great reactions. The only issue I had was the lack of description of the actual method. The PDF file helped a lot, but next time, go through the actual method in the video. Thanks!
Summary
Clicked through to this via the email bait...figured at $7 I'll pick it up. For a 10 minute video, it's disappointing to find that 4 minutes of that are the exact video preview on this page. There's a link to a PDF, which is fine, I suppose.
You'll likely already have a good idea of the method as most of these types of tricks are very similar. What I was curious about, though, was 'spectator can shuffle', which I assumed meant BEFORE the trick starts. That would've made it seem much more impossible but is sadly not the case. The shuffle happens part way into the performance and has to be a specific shuffle. That said, you could incorporate sleights to improve on the setup, so it's a good foundation to build on. I can see it being fun to tinker with.
Regardless, apparent supernatural abilities are always fun to witness, and I'll always support people coming up with new ways to entertain like this. The reaction is what ultimately matters and this certainly causes heads to be scratched.
3 stars for mildly misleading description and shortness of video. I wouldn't class a trick that can be taught in a couple of minutes as 'intermediate'. This is basically self-working, one that feels more like a trick you would learn in that magic book you received for Christmas that one time. Still, Lewis is a charming fellow and there's not much to grumble about at this price. The effect outweighs the lack of content. I'm happy. =]