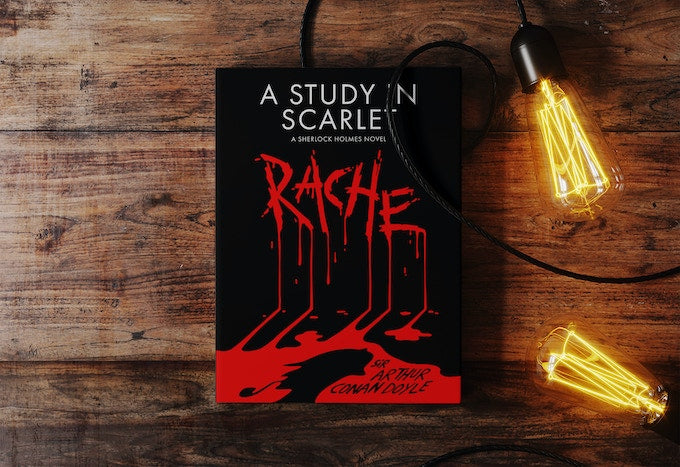 Revolution Book Test
Want another one?
Use coupon code 'SPAREBOOK' at checkout to get half/50% off your 2nd book.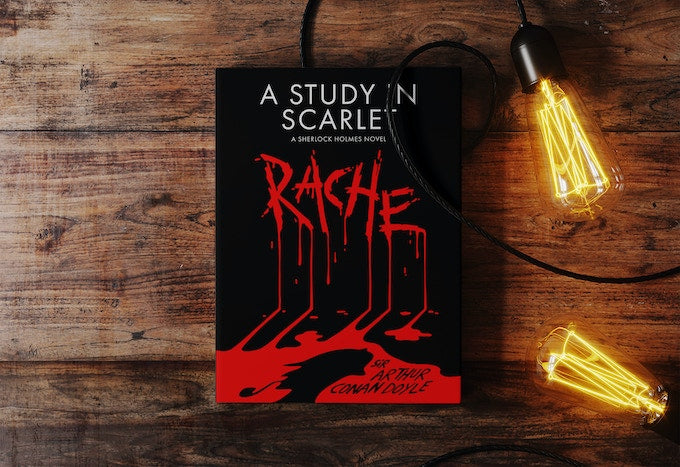 ---
DON'T BE SCARED TO LOSE IT... 
Use coupon code 'SPAREBOOK' at checkout to get half off your 2nd book, that's 50% off. That's one for the road & one for your bookshelf
---
We've gaffed the holy hell outta this classic Sherlock Holmes book.

Re-writing it to feature one of the most powerful book test principles ever devised.

For those that don't know, a 'book test' is a demonstration that allows you to tell someone a word they've chosen, at random, from a book.

With this book, you could perform that effect more than 10 times in a row - and have a different outcome each time.
sidenote: although we don't recommend doing the same trick to the same audience 10 times. 

Because of the way it's structured, your spectator can go to ANY page, a completely free choice - and you'll be able to know their word. They can go forward, back, 2 pages, 3 pages, first line, last line - whatever.


YOU WILL KNOW THE WORD THEY ARE THINKING OF.

No memory work required.
No cut pages.
No peeking.
No force. They can go to ANY page.
---
Get the first 2 Chapters FREE... This is

EXACTLY

what Revolution is...🔓
🔓 Chapter 2 - *New Book Test Principle* The Multiples of Nine -

this is how it works



+ when you buy the book, you instantly get

over 1 hour of tuition

from the best mentalist in the world, Peter Turner
He will teach you: 
🔒 Chapter 3 - How to perform a basic revelation 
🔒 Chapter 4 - Reveal a spectator's memory from their past
🔒 Chapter 5 - Demonstrate a superhuman memory & pretend you've memorized the entire book. 
🔒 Chapter 6 - How to reveal seemingly ANY word from the entire page using a genius crib tactic. 
🔒 Chapter 7 - Perform an incredible number revelation, where the number flipped upside down, spells the word they're thinking of. 
🔒 Chapter 8 - A way to perform a confabulation routine on video for your corporate clients or stage show guests. 
🔒 Chapter 9 - Reveal the name and place that 2 spectators are thinking of. 

🔒 

Chapter 10 - Perform an insane drawing duplication.

🔒 

Chapter 11 - How to know what song they're thinking of
🔒 Chapter 12 - Watch a Jam Session between Peter Turner & Geraint Clarke
What sets Revolution Book Test apart from any other, is that based on the page they choose, there are multiple different routes the effect can go in.
If it's 1 page, it could be a simple word divination. If it's another, we'll teach you how to predict a memory. If it's another, it can work as a multiple prediction (confabulation) routine. If it's another, it can become a drawing duplication.


You can make it as easy or difficult as you want. You can make it look like you've memorized the book. You can also make it look like you've drawn what they chose at random. It's wild!
And because of the 9 principle baked-in, it means you could repeat it immediately after with a completely different word!


For the first time ever, this is no longer just a 'know a word' book test. This is a 'choose how you want to reveal it' book test.


We've never seen anything like it - so it's a guarantee your audiences haven't either.
---
Each book comes with extensive explanation videos from world-renowned mentalist, Peter Turner + a special 'crib sheet' bookmark to ensure there is no memory work required. 
---
This product is rated 4.8 of 5.0 stars.
It has received 17 reviews.
Revolution Book Test Download
Really good
This is so good, there are multiple ways you can reveal the information and there is no force of page number.
Best of all you get video instructions where each chapter is about 15 mins and Pete turner shows you a different reveal. Here are so many golden nuggets but unlike in his lectures which can be hours long there is a golden nugget in each section. The format has forced Pete to condense each reveal explanation down to a much more succinct and easily accessible format.
The book looks genuine and whilst not fully examinable it will pass inspection during a performance.
I think this is great and reasonably priced and learnt so much from the video instructions that I can use elsewhere.
Pete will often demo a bit of performance in the explanation to the cameraman and this was excellent to learn from and see how he jazzes around.
One of my best Ellusionist purchases and I've been a customer since they launched how to do street magic 😊
The best book test ever!,,
This is a simple yet powerful book test. Could not wait to crack it open. Plus it's a real book I know well so I can use that in the routine. Learn the secrets then take off with a fabulous and fun tool. The tutorial is excellent and the ideas only the beginning. I love it.
A clever Book Test that's easily one of my favorites!
I have many book tests, with a wide variety of methods, one of which I consider the most fair and best Book Test of them all which, unfortunately, involves using Technology… that's why this Revolution book test stands a part from all others!
It's almost as fair as my "best" Book Test with the ability for the Spectator to choose any page number while they have the book in their hands, and unlike all other non-tech book tests, there is no peeking, or guessing a letter to get a miss before your hit, you simply know the words on the page once the Spectator chooses a page number… even before they open the book!
My only issues is, the secret "something" that's needed has the printing so small, that it's hard for me to read. I don't know if I can fault Ellusionist for that as maybe I'm just getting too old and my eyes are failing me, but somehow I'm going to have to scan and print a larger version of it. Otherwise, this is a near perfect Book Test with many different ways of demonstrating it! Highly recommended.
Let's just say I am happy I trusted again
This is only my second package from Ellusionist. The first one had problems and I had to pay more for customs fee. After watching the entire tutorial, I have never been so excited about a book test that has so many built-in incredible reveals. Looking forward to performing them when I do get both of my books!
Revolutionary Book Test - BEST Yet!
I have done many book tests over the years and this is the easiest, yet hardest hitting. I can repeat it again (I memorized the secret). While I cringe when someone wants to put something in their show by the weekend, this one you can! A must have for book test lovers!
Revolution Book Test - A Mind-Bending Journey into Mentalism
Introduction:
The world of mentalism has always fascinated both performers and spectators alike. Revolution Book Test, a captivating mentalism routine, offers an innovative twist to this age-old art form. Combining modern technology with classic principles, this book test provides a mesmerizing experience that will leave your audience spellbound. While not without a few minor flaws, Revolution Book Test is an impressive addition to any mentalist's repertoire.
Presentation and Effect:
Revolution Book Test showcases a unique concept that sets it apart from traditional book tests. This routine allows you to perform mind-reading miracles without directly handling the book or knowing its contents. The effect revolves around a freely selected word, chosen by a spectator, and the performer's ability to reveal it without any apparent clues. The book itself becomes a mere prop, while the true magic happens within the spectator's mind.
Ease of Use:
One of the key advantages of Revolution Book Test is its simplicity and ease of use. The routine can be quickly learned and performed with minimal preparation. The instructions are well-written and include detailed explanations, making it accessible to both novice and experienced performers. However, some practice is required to smoothly execute the techniques and ensure a seamless performance.
Quality and Design:
The physical book used in Revolution Book Test is of excellent quality. It appears and feels like an ordinary book, ensuring a natural and unassuming presentation. The design is well thought out, allowing for easy handling and navigation during the routine. It is worth mentioning that the book is available in different editions, providing variety and customization options to suit different performance styles.
Audience Engagement:
Revolution Book Test excels in creating a high level of audience engagement. The routine involves active participation from spectators, making it interactive and captivating. The revelation of the chosen word leaves the audience astounded and questioning the limits of the human mind. This routine is ideal for both small and large audiences, as it can be adapted to different performance settings.
Drawbacks:
While Revolution Book Test offers an intriguing and powerful effect, there are a few drawbacks worth noting. Firstly, the routine heavily relies on the performer's presentation skills and ability to engage the audience. As with any mentalism routine, the success of the performance lies in the performer's showmanship. Additionally, some may find the price of the routine to be a bit steep compared to other mentalism products on the market. However, considering the unique concept and the impact it delivers, the investment may be justified for serious mentalism enthusiasts.
Conclusion:
Revolution Book Test is a mind-bending journey into mentalism that pushes the boundaries of traditional book tests. Its innovative concept, combined with the quality of the physical book and the engaging presentation, make it a worthwhile addition to any mentalist's toolkit. While it requires practice and relies on the performer's skills, the overall impact and astonishment it generates make Revolution Book Test a standout routine that will leave your audience enthralled.
Excellent Product
I have several book tests and this is going to be a favorite I particularly like the multiple endings, and have thought of several more possibilities! I am currently adjusting the routine I use to incorporate this because it works so well with the places and repeat groups I often have.
Excellent book test
I didn't know what to expect from this book test. I have about 80 in my collection and pretty much have "seen 'em all." But even though the core method is old, this book test takes it several steps forward. It has been carefully created and thought out. (The book itself looks great.) Just watch the tuition from Peter Turner, and you'll quickly see that this is not a one-trick-pony. It is incredibly versatile so that you can use it in a standalone routine or in larger effects. The best book test is subjective. It depends on what you want to do: a single word revelation, a word force, a page force, or a more involved page revelation. Then you have to consider whether to use ungimmicked or gimmicked books. Finally, you have to consider method. There are some fantastic book tests that require prodigious memory skills. This one does not. There's a little memory work, for sure, but you can just always use the handy-dandy crib. Overall, this book test is in my top ten. And it's affordable to boot! You can't beat that.
Variety and Presentation Driven
My new favorite book test! This is my #1 due to how how much variety there is. Each performance will be different from the last. Peter does a fantastic job teaching the multitude of presentations that you can do. This is what I believe sets it apart from other book tests. The book test was created with the different presentations in mind. This will for sure be my go to book test going forward!