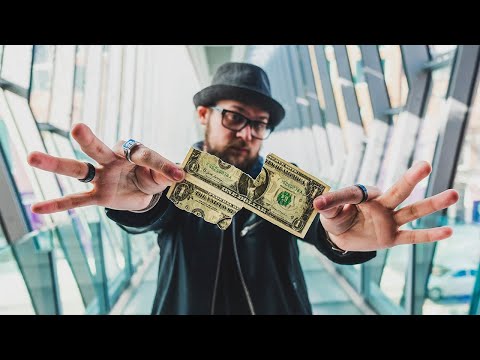 Ripped and Relocated Download
NOTE: This no longer comes with any gimmicks. This is a reduced-price download explaining exactly how the trick works and you'll be able to purchase everything needed to make the gimmick yourself, separately.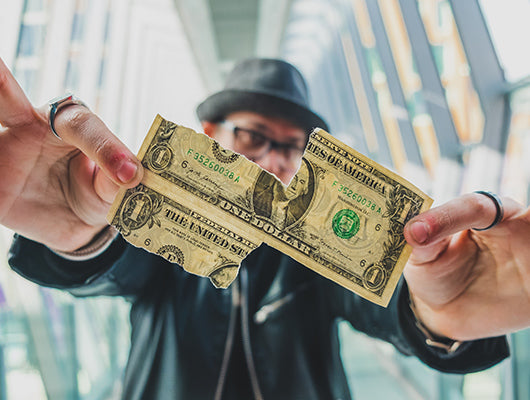 NOTE: This no longer comes with any gimmicks. This is a reduced-price download explaining exactly how the trick works and you'll be able to purchase everything needed to make the gimmick yourself, separately. 
RIP & RELOCATE A CORNER OF A REAL DOLLAR BILL
If Josh Janousky's brain was used for evil, he'd be on America's most wanted list. The things he can do with bills are so scary, they look illegal to the untrained eye.
Ripped & Relocated is his pièce de résistance. (That's French for OMFG it's good)
Borrow a bill, tear a corner from it and permanently re-attach the corner to the bottom of the banknote.
Then, with no switches or funny moves, you extend forward and... give them the bill. It's real, why wouldn't you?
There is no glue, no tape, no rubber cement and no magnets. That corner is actually on there.
For those outside of the US, along with receiving the official gimmick you'll also get access to 3 brand new receipt templates to perform this effect without ever tearing a bill.
The best part is, if you want to give away the receipts or the main Ripped & Relocated Dollar gimmick, they can even be SIGNED. 
Get Ripped & Relocated TODAY.
---
FAQ's
Can the bill be signed?
Yes, it can be borrowed from a spectator and signed.
Can the spectator keep the 'R&R' dollar bill?
Yes, it's a genuine dollar bill that they can treasure forever.
Do they have to keep the bill?
No, Josh will teach you a clean-up where they go home with a fresh dollar and you get to keep the gimmick. 
Is this illegal?
No, it's completely legal. As crazy as this may seem, this is real legal tender with no sticking or glueing.
What if I'm not in the US, can it be done with my local currency?
Once you know the secret, there may be a way for you to achieve the same in your local currency, however 'Ripped & Relocated' comes with a receipt version too. English, Spanish and Chinese receipts are automatically provided with each purchase so you can perform this WHEREVER you are.
But I don't live in a country where they speak those languages?
You can either introduce the gimmicked bill or receipt as an object and say you were just on holiday in <<insert country you want to use>> and you noticed something cool with their receipts, "WATCH"... Or you can use the secret / format provided to make your own gimmicks in a language or country of your choosing.
How much do refills of the Dollar gimmick cost?
Technically it costs slightly more than two dollars to perform this effect if you plan on giving the bill away as a souvenir.
Why is this better than any other TnR card effect?
Using something organic and familiar like bills or receipts makes the magic more believeable. Although many magicians don't want to admit it, introducing a normal deck of cards is still introducing a 'special prop' in your spectators eyes.
 To them, a bill or receipt just feels more impossible. Try it!
This product is rated 4.2 of 5.0 stars.
It has received 23 reviews.
misleading
THIS IS A ONE OFF AND THEY DO NOT TELL YOU THAT ,DO THE TRICK ONCE THEN YOU HAVE NO MORE AND TO GET MORE IS REALLY HARD . I WISH THEY WOUNLD HAVE TOLD ME .
brian
Ok, so let me just say this....this WILL leave your audience in a WTF state of confusion
Tilo
I haven?t bought it yet but enough is enough I?m gettin this!!!!!!!
Summary
This is a wonderfully astonishing piece of impossibilia! When I'm strolling, I always like to carry around something that I only plan on doing once per night...no only for logistics sake, but also because (in this case) I wouldn't want all my guests leaving with the same impossible object... It wouldn't make it special anymore.
And that is the big takeaway for this project. Josh has created something very special here. This is something I absolutely would perform. Josh's teaching is clear without belaboring any points. It comes with somethings to get you started, but it is understood, that more supplies will need to be purchased in order to consistently perform the effect and let the spec keep a souvenir.
If you are looking for a marquee piece for your set, I'd contend that this is a great option. Great job Josh :)
Gerard
Just like his previous releases, Ripped and Relocated is another winner from Josh that can be applied to cash, receipts, coupons, or really, anything made out of paper. Great work!
Summary
This routine reminds me of Danny Garcias Fraud. Both involve a bit of preparation and both end in our astonishment. I recently performed this routine at my restuarant. I was going to ask the spectators for input but sadly they were speechless.
Beau
Worth every penny, Josh always takes the most care and thought into every effect. This is clearly seen with Ripped & Relocated. Well done Josh and Ellusionist.
Summary
Absolutely love this effect! The secret alone is worth the price of the project and the method absolutely fooled me! Considering you?re leaving the spectator with a signed impossible object, the price of the gimmick is so affordable. Highly recommend!!
roby
A great closer.
If you're looking for the trick you can do over and over again all night at your walk-around gig, this isn't it.
If you're looking for a trick to do for the ceo of a big company that hired you that makes sure you get hired again next year, or the trick that makes a celebrity with over a million followers on instagram follow you, then this is a great example.
It's simple, easy to do and can leave spectators speechless. It will cost you some prep and a few dollars every time you perform it, but just like an ultra ball, if you want to catch the big result, it's super effective.
I'd recommend purchasing this and ordering the needed supplies. Then learn the techniques (practice with the printable receipts). And finally keep a couple prepared gimmicks in your wallet ready to go for when you really want to create a special and unique memory.
This creates a lasting impression with money that reminds me a bit of cardiographic with cards. Save it for when it's needed and it's totally worth it!
Summary
Josh has created another winner with Ripped and Relocated. He showed this to me and I wished I had come up with it. The method is very easy and will blow your audiences out of the water.
And to address the concern about refills, yes you do need to buy your own refills, but this effect is also not necessarily meant for table hopping, but rather that special occasion where you are trying to impress a client or somewhere where you plan on performing it, just like many other effects using one-time use gimmicks and refills.
With that out of the way, I think this is a stellar effect and is sure to leave audiences amazed.