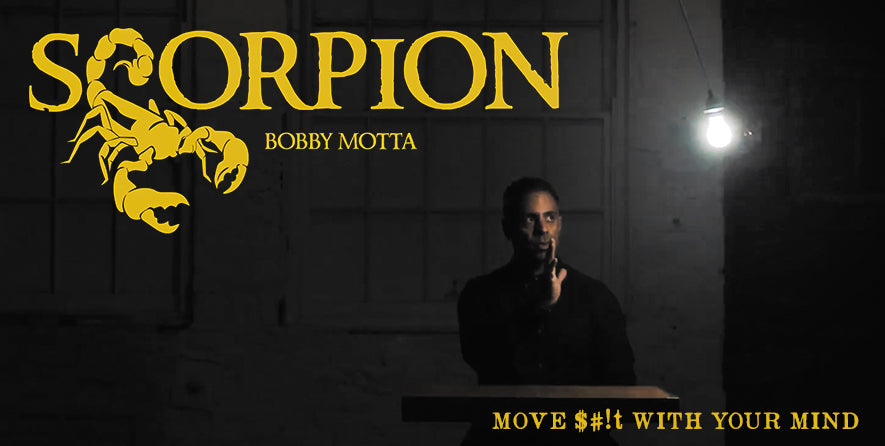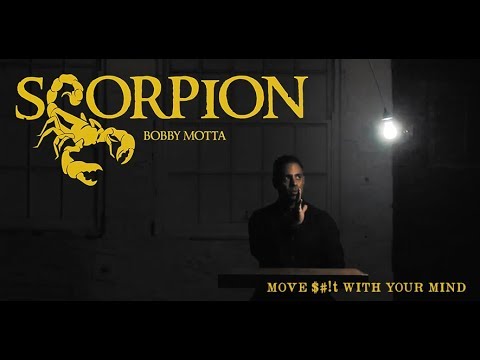 Scorpion Reel
At any time using only YOUR mind, the Scorpion wireless thread reel will actually cause that chosen object to move or fall on command.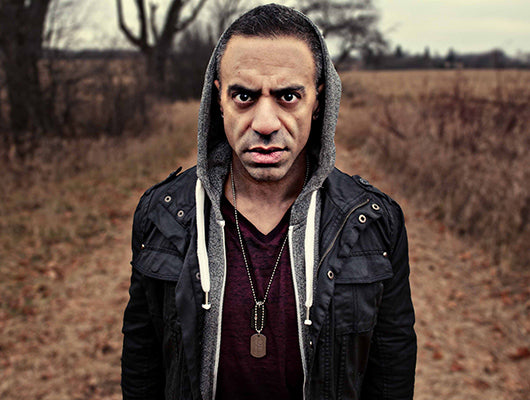 MAKE $#!T MOVE WITH YOUR MIND
---
"So many possibilites... so good!" - Danny Garcia
---
At any time using only YOUR mind, the Scorpion wireless thread reel will actually cause that chosen object to move or fall on command.
You or your spectators are nowhere near the object and an audience member can pick it up, closely inspect it and even take the object home.
In the desert the Scorpion is the un-crowned King. Packing a mighty punch, but never out in the open to take the praise. This device has a similar role and has become an integral part of Bobby Motta's hit show or close-up gigs over the past five years. It's never seen, but it's affects are undeniable.  
As a professional entertainer performing regular weekly shows, countless monthly corporate events or making prestigious television appearances, you need something bullet-proof, dependable and extremely responsive for constant use - both on stage and for close-up applications. Trust in Scorpion. 
WHAT CAN SCORPION DO?
Telekinetic phenomena made real. Move objects from across the room, under a glass - without being anywhere near them. 

Real-time psychokinetic touches metres away from the participants.
Fool skeptics with paranormal activity they swear is REAL.
Create bone-chilling seance movements experienced by one person or thousands. 
WHAT'S IN THE BOX?
NOTE: (In addition to the provided items above you will need a 9 volt battery, not included.)
Featuring an optional magnetic time delay or instant action control triggered by a discreet remote (up to 30 feet away), Scorpion has become a must-have weapon in the arsenal of any professional magician. 
Finally create the appearance of REAL psychokinetic animation and movement. 
Are you ready to take your magic and mentalism to new, diabolical levels?
Get SCORPION. 
This product is rated 4.6 of 5.0 stars.
It has received 18 reviews.
This is good. I have used the Christopher Taylor thing that I believe was first on the market, and I've used this, and they're both good.
Amazing Technology so far
A crazy cool device for some truly visual magic. I'm still in the "just playing around with it" phase, but it is obviously a well made, professional prop. Video instructions are clear and thorough. I can't wait to get good with this and use it in a show.
Scorpion order…
This product is first class. The packaging is very nice and the items within are great looking and sturdy looking. I can't wait to try it out.
A wizard in my pocket!
Took half hour or so to do set up, as it is a little fiddly. That done, this is a great tool to have for any mentalist or magician. Scorpion does have a quality feel to it and the cover was easy to remove and replace. Three settings; instant / delay / magnet activated (for 'hands off' activation). I cannot wait to use this and my imagination is running wild with the potential this little unit offers. What can I move? What can I levitate? Clearly explained instructions on the video, along with some clever ideas. Great customer service from Ellusionist.
A game changer!
This is what I've been waiting for! This is definitely going on my act!
Compact & Optimized device for IT
I've used all the electric IT reel tools such as Vectra Cobra Reel, The Pod, and Spider-Pen. They are all good tools, but each had one or two disadvantages. In particular, torque and portability had a trade-off relationship. Scorpion was a well-balanced tool. I think I will spend a lot of time with Scorpion. I strongly recommend it.
Scorpion Reel / Unreal
So this device is so well crafted it feels like something out Apple's magic factory but its slick, easy to use and the power of this device is 10 times better than the competition on the market. It's easy to setup and so effective - I've been having fun making all sorts of objects move in lockdown. Thank you Ellusionist and thanks Bobby Motta for this awesome product
Scorpion is the best remote control ITR at a great price!
Scorpion has everything you wish for with pull speed control, two reels, and activation by remote button, activation for a 5 second pull and activation by PK ring if you have a ring. Reset takes some time if thread breaks is the only negative point. Highly recommended!!
Not bad but not the same quality as Promystic
Issues with the motor not pulling the thread without teasing it a bit, but seems to be working now. Wish the overall quality was a bit higher, and the ability to change the thread was easier, but overall, it works it's just a bit uggo.