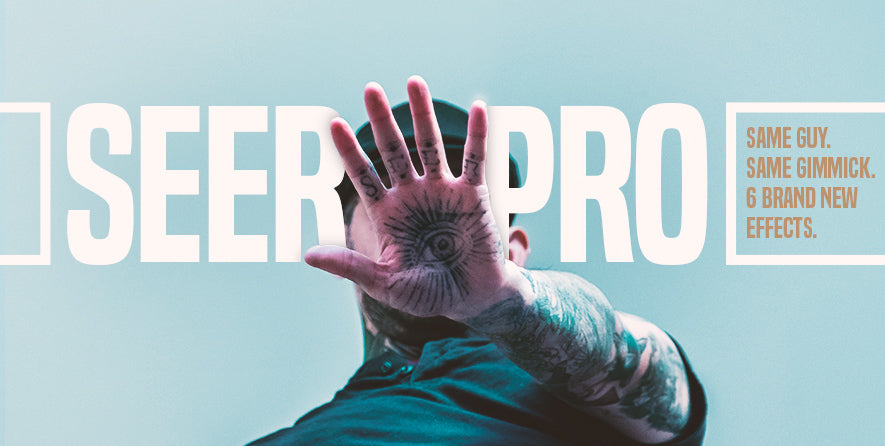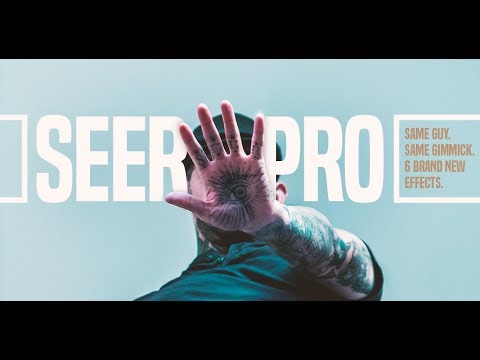 Seer Pro
A tool that helps you transcend sleight of hand and perform utterly impossible card magic. It's ridiculously easy to learn, regardless of skill level, and the best part... EVERY effect can be performed with a borrowed deck!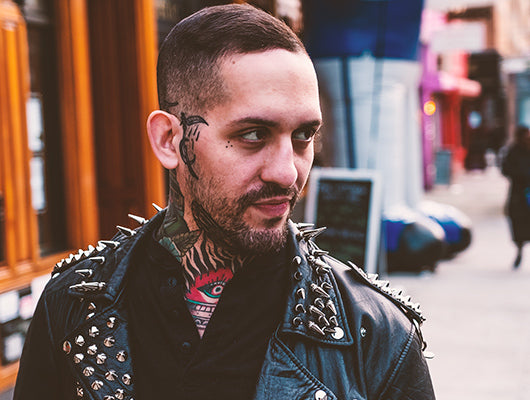 Seer Pro
Sale price

$14.95
Regular price

$19.95
(/)
If you're one of the few people that didn't pick up the Ellusionist smash-hit SEER when it was first released, read on.
Now, almost 5 years later, you have the chance to own an even bigger and better project and go all the way to PRO.
If you've never seen the original SEER trailer. Watch it below, you're going to want this.
When Mark Calabrese first released his smash-hit Seer almost 5 years ago, he lied to us.
He said that was everything he could do with that gimmick (and it was a lot), but we discovered he was secretly working on 6 more powerful applications for SEER. 
Techniques used ESPECIALLY to fool magicians who have bought the original SEER.
He's playing chess, whilst we're all playing checkers... and we don't stand a chance.
SEER was originally a tool that helped you transcend sleight-of-hand and perform utterly impossible card magic. Now it's an anomoly of magic that's so clean, you're fooled even though you know the secret. 
WITH SEER PRO, you'll learn to:
Divine a thought-of-card from a blank deck with your back turned. Sounds crazy? It is.
Find any 4 of a kind that they're thinking of. No peek. No force. Be blindfolded.
Master the underground 'THIRD deal', the easy way. 
Summon the power of the 'KOPYKAT' and perform an ultra-clean 'do as I do' routine. You can even use THEIR deck.
Learn the new way to use SEER while having your hands & deck inspected (insiders will know how powerful this is)

But this only scratches the surface. You are limited only by your imagination!
6 Effects Taught

Bonus Ideas

Approx 1 hour of detailed instruction.

Mark takes your hand and walks you slowly through 6 of his favorite effects in stunning detail. Once learned, you will be inspired to come up with your own applications and effects too!
Seer Pro is ridiculously easy to learn, regardless of skill level, and the best part... if you own the original SEER and the gimmick, you can just get this download and start learning right away.
If magic were a video game, Seer Pro would be the 1-off unlockable weapon that destroys all.
Battle-tested by thousands of buyers and tens of thousands of fooled laymen.
Get your 'Seer Pro' NOW.
AS SEEN ON
"You could use marked cards and a blindfold peek, but you're better than that, what you do is the real stuff"
- Penn Jillette
---

"Never been fooled so bad. I haven't gone a day without it since I learned the secret." - Daniel Madison

"Imagine watching a card trick and not having a f***ing clue how it was done. Now imagine doing it." - Chris Ramsay

"I LOVE Mark's fantastic 'SEER' concept. It's been a secret weapon in my own casual performances for a long time and the reactions it produces are always outstanding. If you are new to "THE SEER" you are in for a rare treat! With THE SEER a new world of "impossible conditions" card magic awaits." - Luke Jermay

"Mark Calabrese destroyed my face with this principle and I'm glad he did because I needed a new face anyways."- Chris Mayhew
---
This product is rated 4.6 of 5.0 stars.
It has received 25 reviews.
This trick fooled my worst skeptics!
I really love seer, this trick is fooling my worst skeptics. I have a lot of friends that like to catch the magician cheating. This trick even fools them. I love it.
Excellent ideas
The ideas in this product pave the way for much creative exploration. Looking forward to experimenting with many different methods. Well done.
My secret weapon
This has been an amazing source of gimmicks, tricks and a great place to find ideas for tricks and performances. Glad Ellusionist found me!
Seer is incredible
After I got it I was skeptical and had doubts. After the tutorial and practice I was a wizard. Definitely recommended this trick for upgrading your card magic
not what I thought!
This is not at all what I thought it was. Its Brilliant! I haven't quite worked up the chops to incorporate it into my walk around quite yet, but rest assured, I am practicing! this is GOLD!
Such a simple way to do a BIG effect
This trick looks AMAZING and the method to it is soooo simple, I couldn't believe it. Definitely recommended!
Brilliant!
Practical and well thaught!
See pro
Amazing trick and so easy to learn! Had a great explanation and I personally use it to improve so many other tricks!
Seer pro
I love this product. It is amazing informative and gets the best results I've seen for what it is.. I've had a lot of fun and to tell the truth it was not that hard to learn some awesome tricks with this gimmick . Mark Calabrese is a phenomenal tutor and magician. It doesn't matter if you are a pro magician or just someone who does it for a hobby this needs to be in your Arsenal end of story