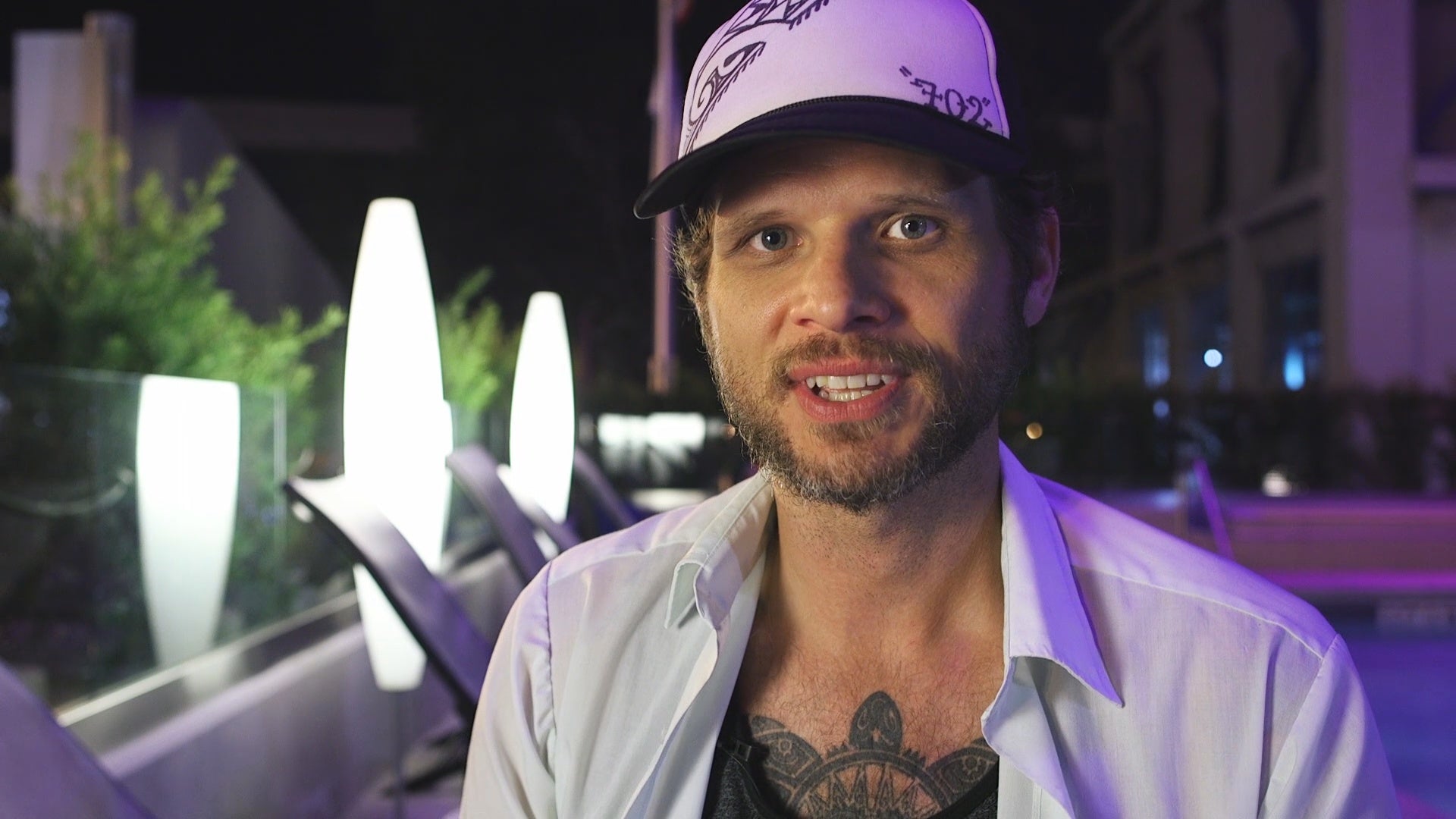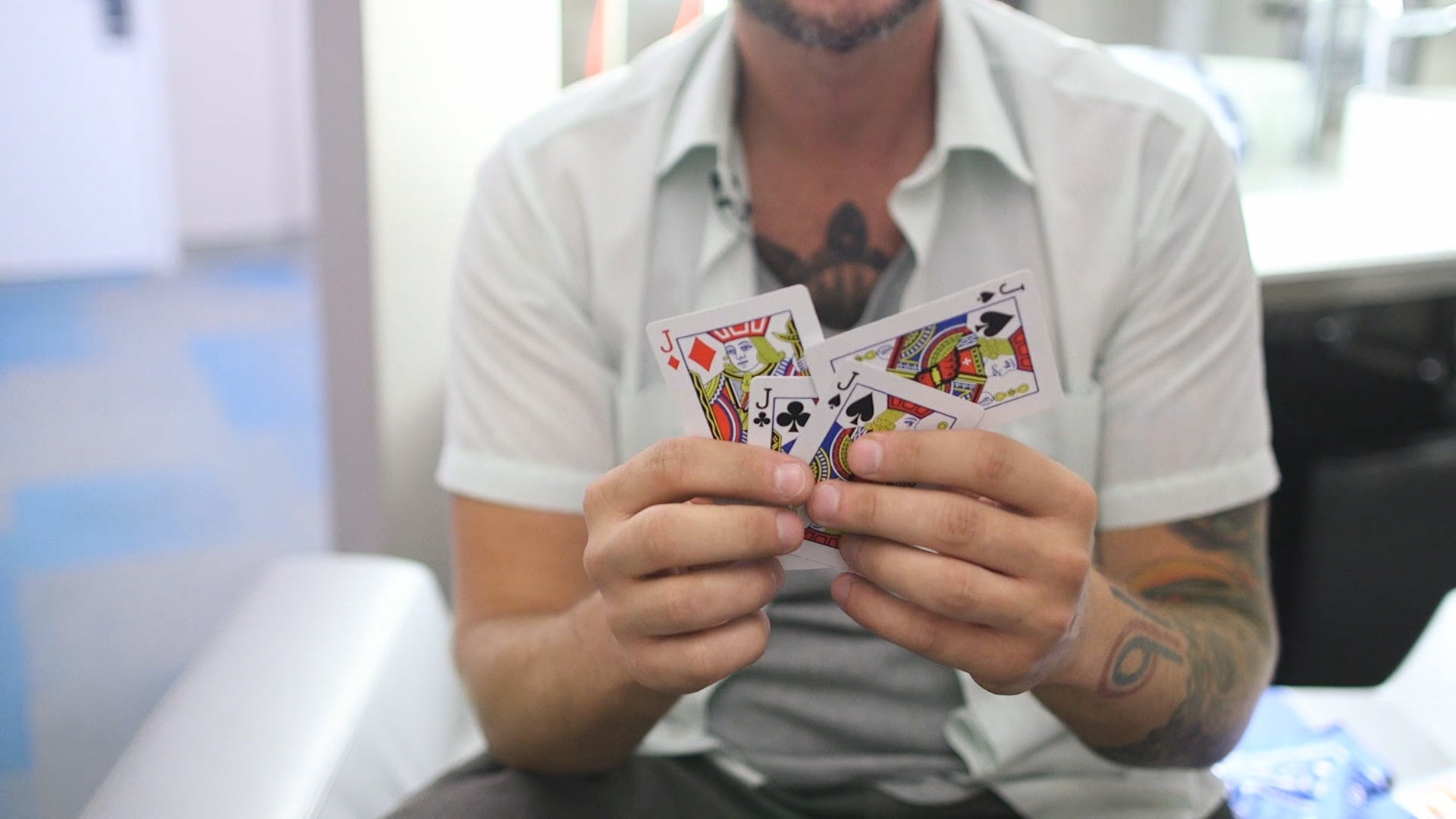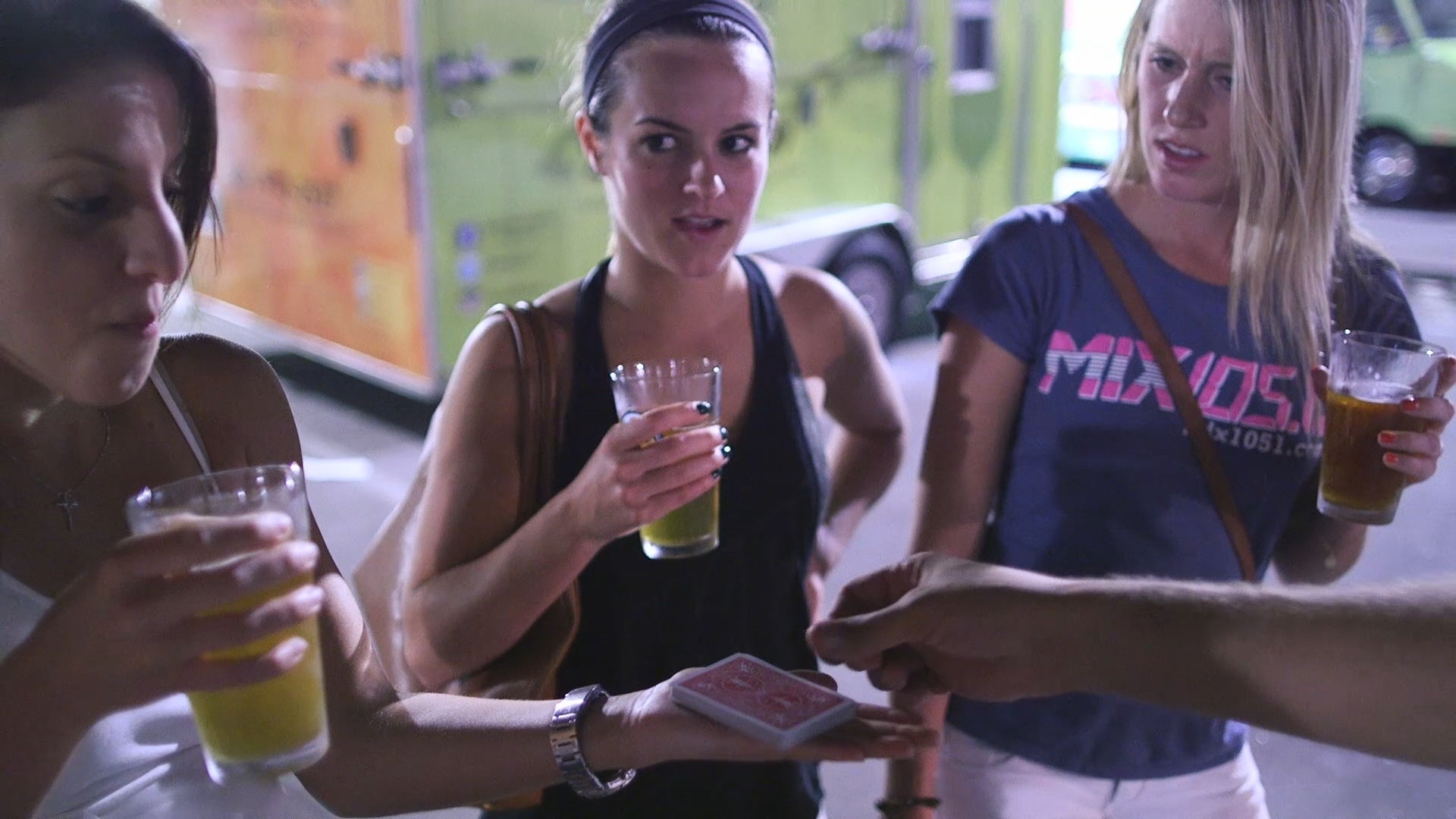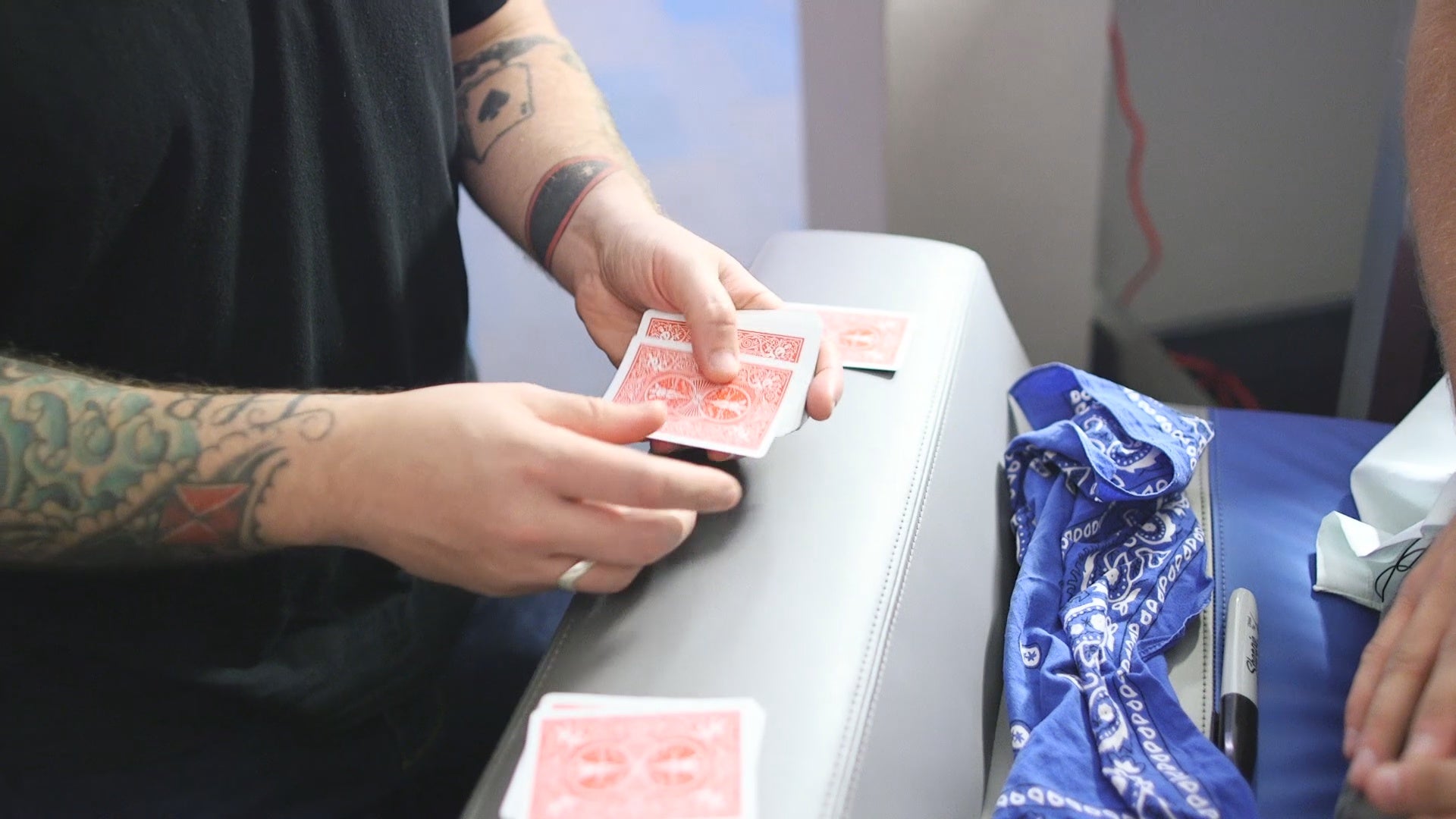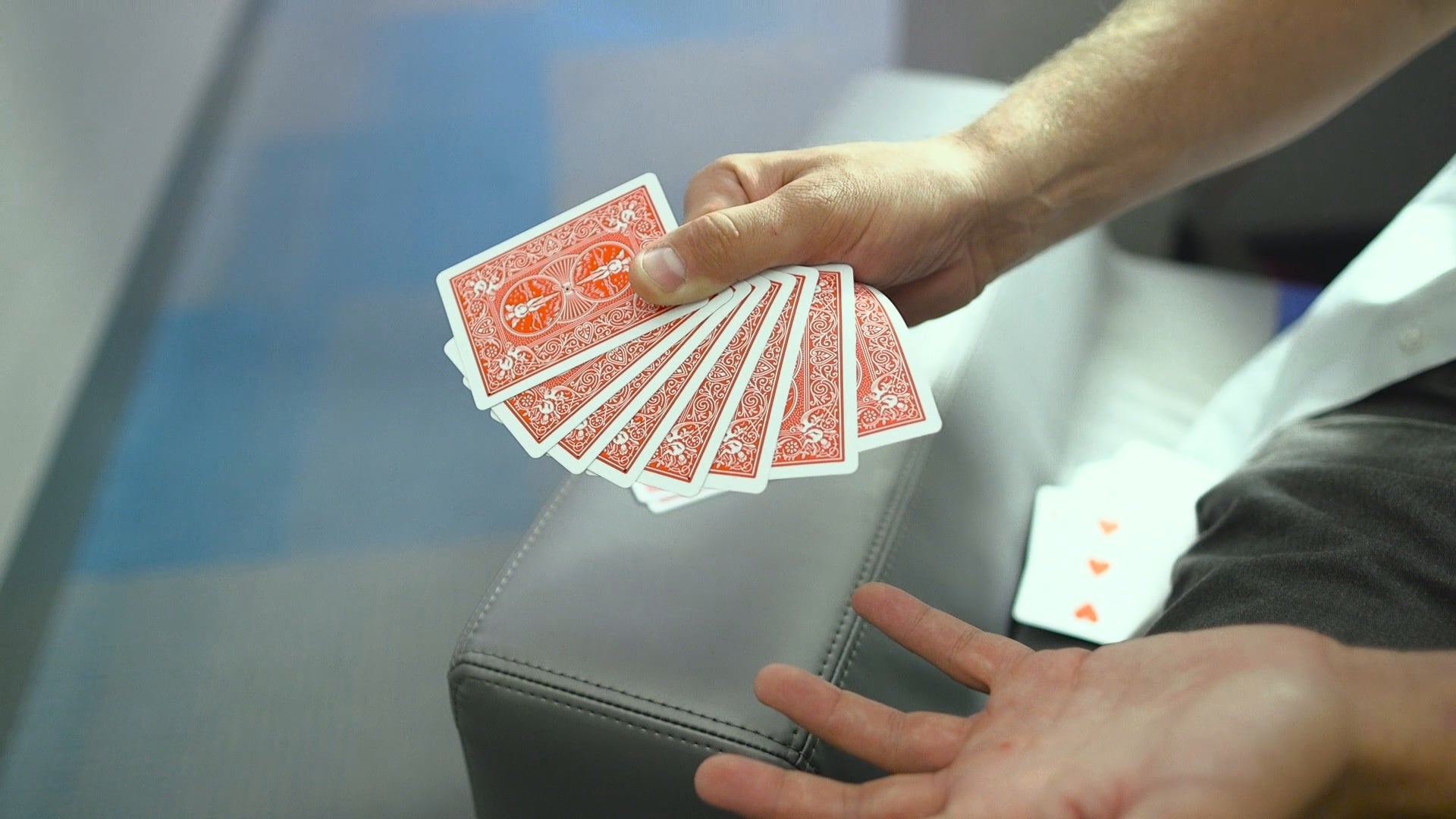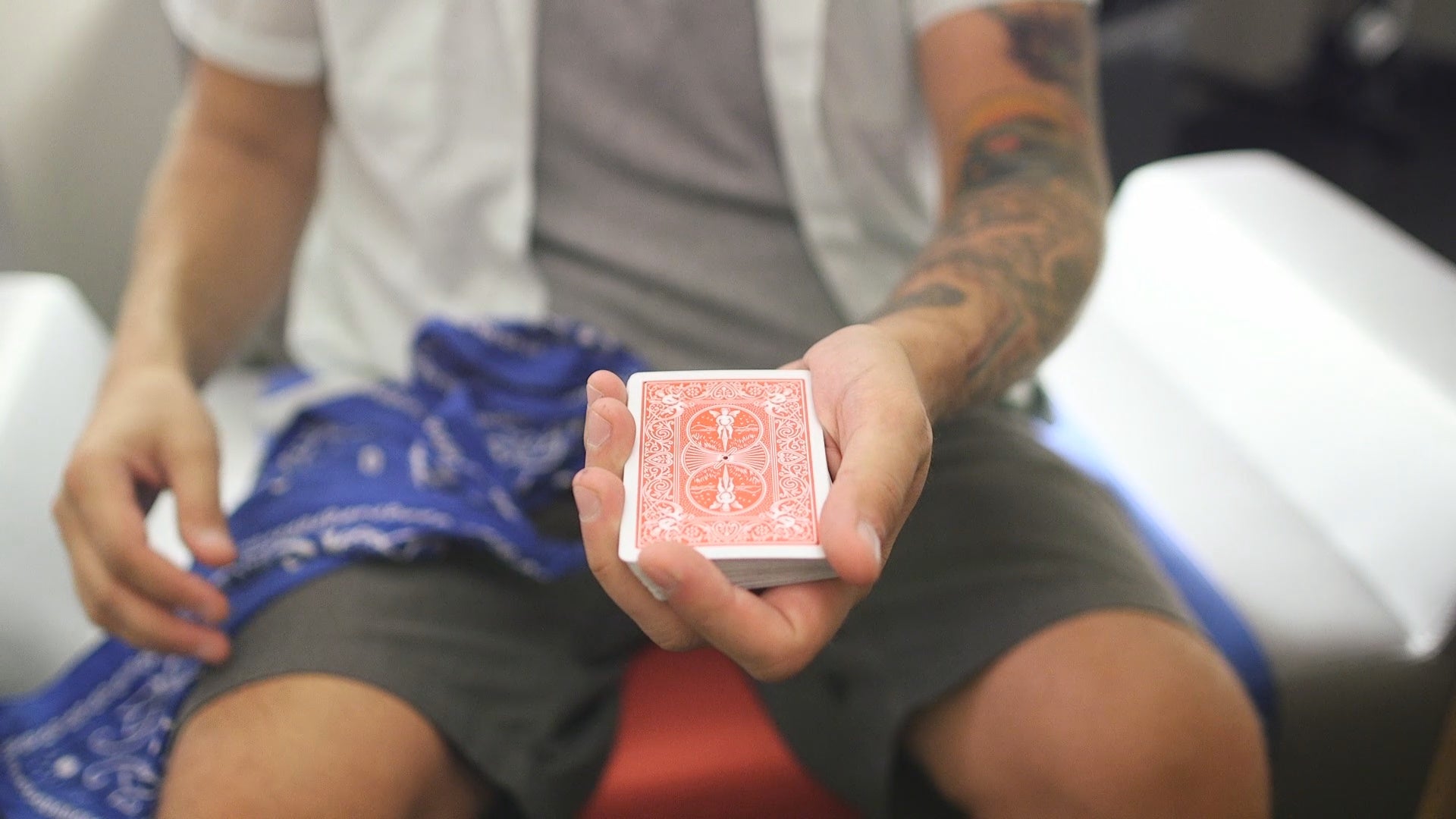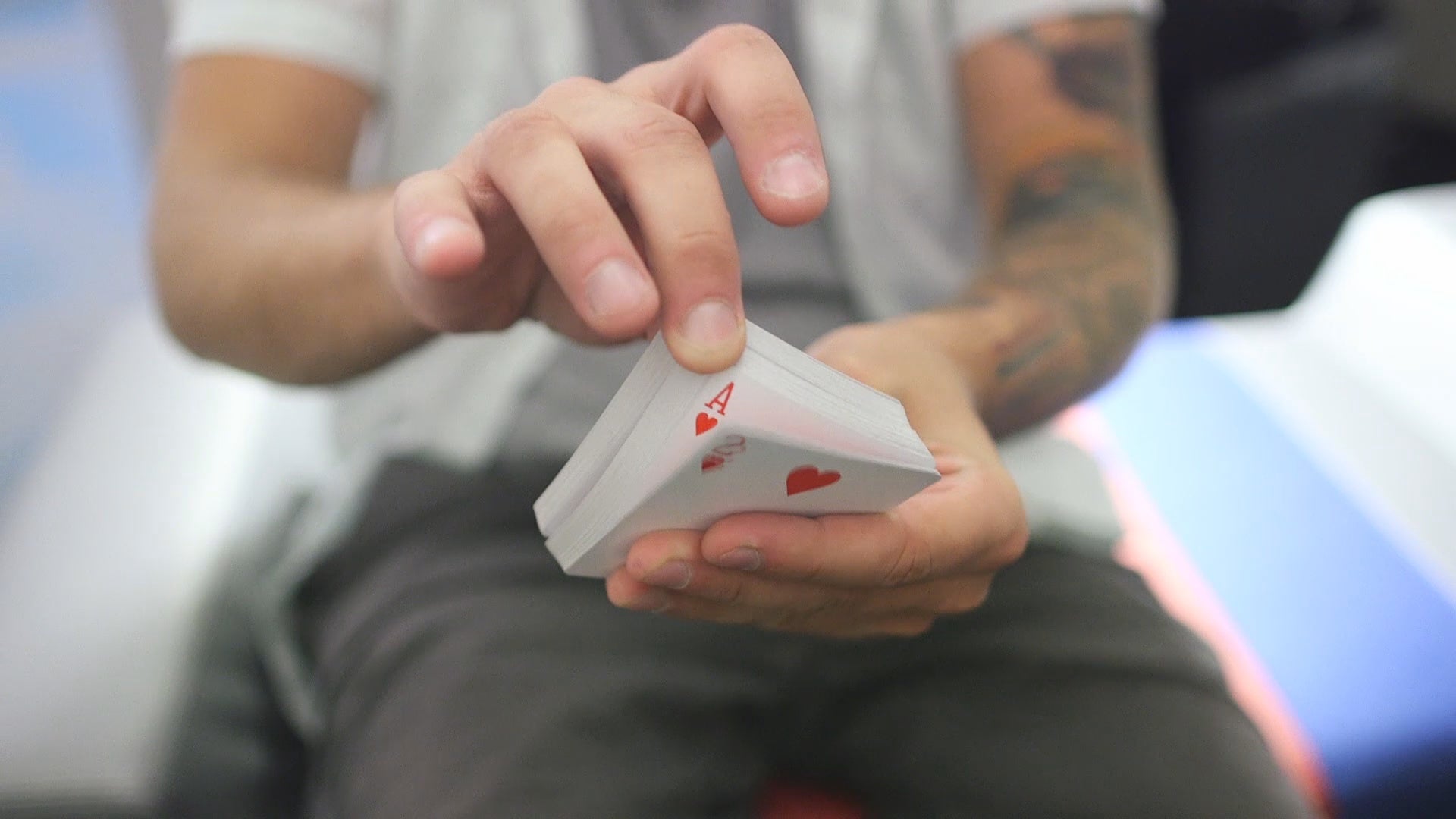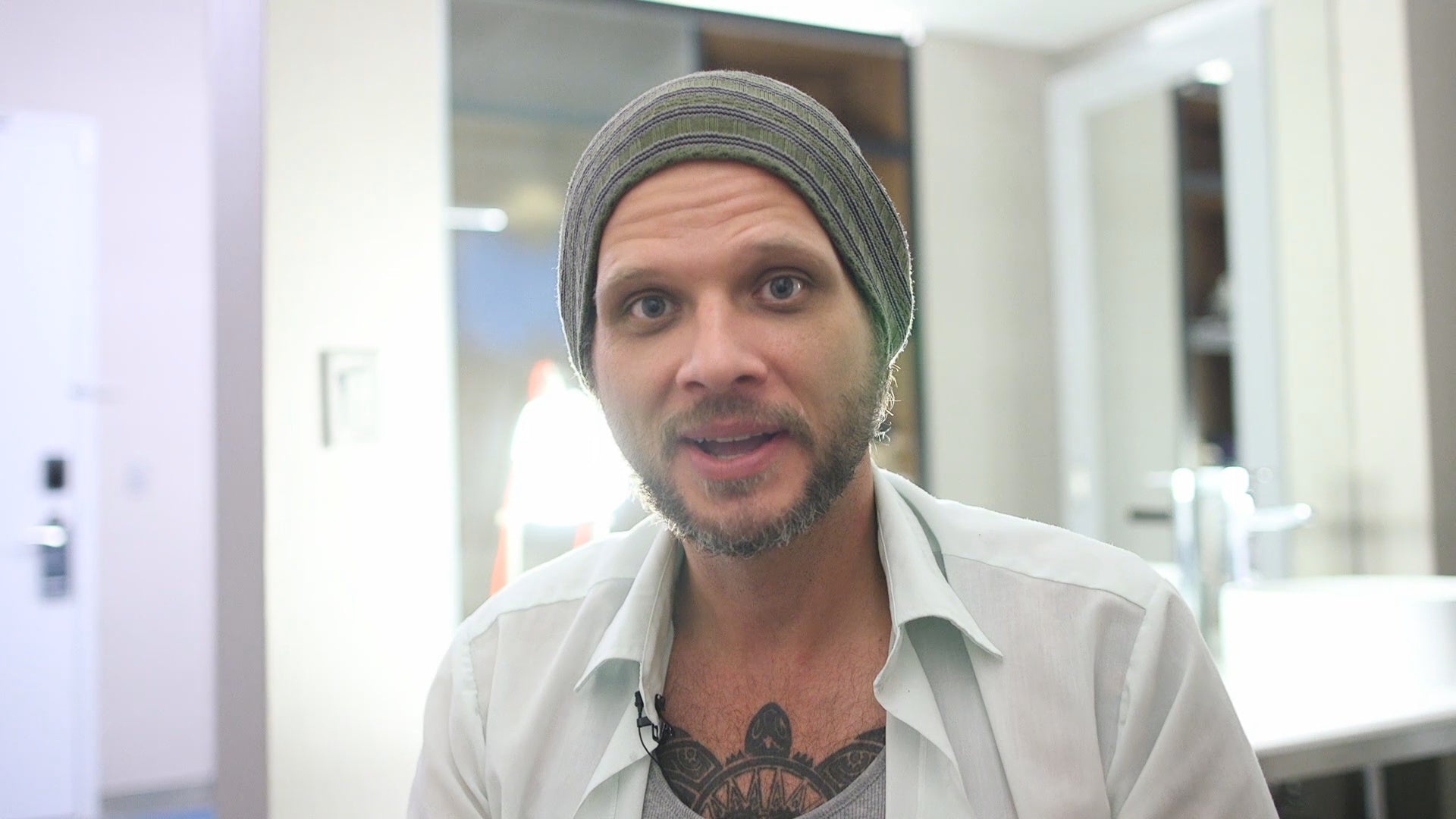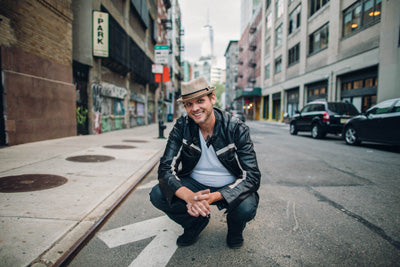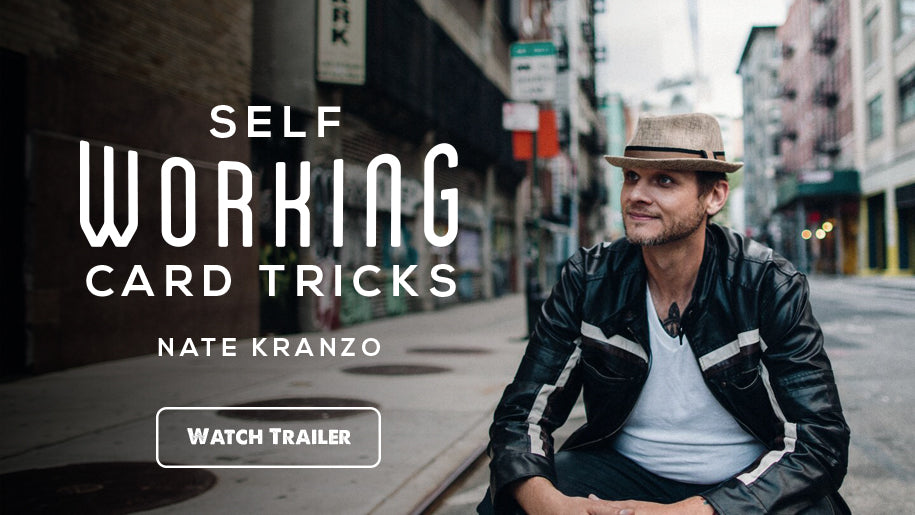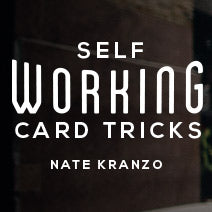 Self Working Card Tricks
Did you know?... Some of the most powerful magic you can perform is completely self-working.
In this download Nate Kranzo equips you with 12 solid miracles that are guaranteed to get amazing reactions.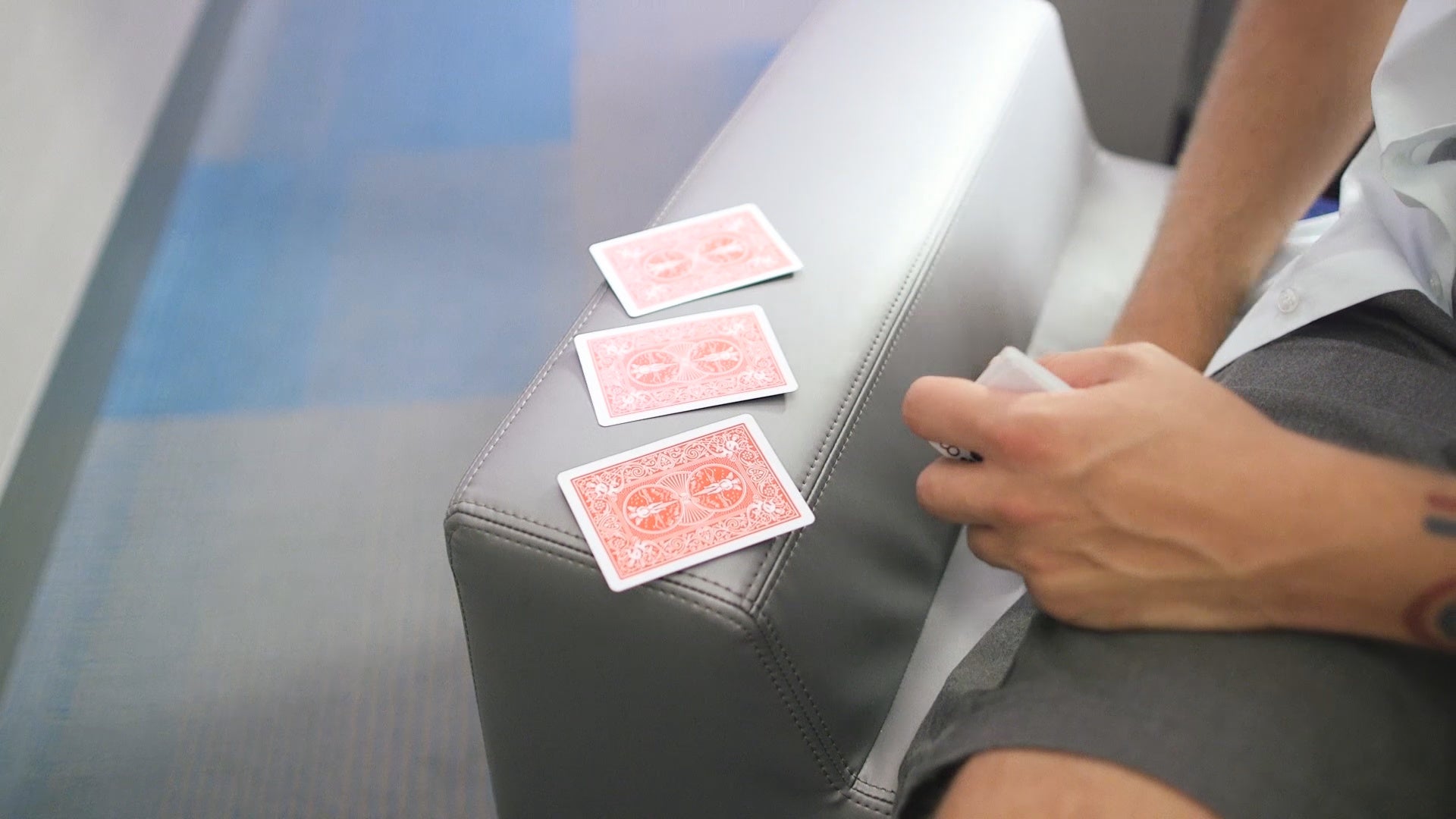 12 Tricks that don't require any sleight-of-hand.
Kranzo is known as one of the most creative minds in magic. Consulting for magicians all over the world for decades.
Here he tells you why you need to start performing self-working card tricks, regardless of your skill level in magic.
Did you know?... Some of the most powerful magic you can perform is completely self-working.
Nate Kranzo equips you with 12 solid miracles that are guaranteed to get amazing reactions. Most can be performed with a borrowed deck. Anytime, anywhere. With some effects taking place in the spectators OWN hands. Whether you're familiar with the fundamentals or not, this download is designed to give you a solid-foundation in magic.
No sleights
No memory work
No perfect faros
Easy to perform, but STRONG enough for a working Pro
Featuring expert teaching from a true legend in magic, Nate takes your hand and guides you through each routine in exquisite detail.
Allowing you to borrow a deck and perform without painstaking practice.
Learn TODAY.
You'll master these effects in minutes:
Blue Poker
1 Blue Jacks visually re-appears to join the other 3 Blue Jacks. When you get rid of the rogue card four times it's revealed that the other 3 Jacks have changed to RED cards.
Sticky Pockets
Two signed selections vanish from the deck and appear impossibly in two separate pockets.
Card Thru Shoe
You forcefully stamp on a spectators selected card and show the card has penetrated your shoe. The card and shoe are immediately examinable.
Marlovator (Ace, 2, 3)
Three cards sink and rise through the deck with just a snap, like they're riding an elevator.
Easy Card Stab
Swiftly stab your lucky card into the deck to find a spectators random selection. NEVER fails.
Hanky Sandwich
Successfully predict a spectators signed card, then watch as one queen finds it and another appears to sandwich the selection in the deck.
Deal With It Aces
The spectator freely deals to the 4 aces in 4 separate piles of cards. Perfect as a psuedo-gambling demonstration.
Quarter Pack
A borrowed quarter melts through the spectators hands & deck, stopping at one card. THEIR selection.
Triple 6
A baffling routine where the spectator stabs 3 cards into different parts of the deck. Each card they've stabbed next to is a 6. Coincidence? We think not.
Anti-flush
The spectator deals you a pretty good hand of poker. 3 of a kind, not too shabby. But when they check the hand they've been left with, it's a Royal flush.
Rossini Behind Your Back
A series of fast snaps make the 4 aces appear behind your back. The spectator is handed the deck and with a snap of their fingers, causes their card to turn face up too.
Blind Luck
The deck is blindfolded and you reach under to pull out 4 cards from different parts of the deck. They're revealed to be the 4 aces.
Format: DVD Download
Difficulty: Easy/Self-working
Duration: Over 1 hour.
This product is rated 3.6 of 5.0 stars.
It has received 10 reviews.
Summary
For a beginner, you'll look like you've been doing magic for a while. If you have some experience, you'll appreciate how little work you have to put in to get amazing reactions. Don't let the idea that because you don't do much, the audience won't be impressed. These are especially great tricks to do when you're audience is burning your hands; after a few of these they'll realize there's nothing to see by paying so much attention to your hands. I recognize a few of the methods here from old books I read when I started, but Nathan has really put them to good use and put a modern twist on it for maximum astonishment. This might not be for everyone, but i really enjoyed it.
Summary
Wow!!! Please be aware that even though the cards are self-working, you may need to do some preparatory work before you perform. That being said, these are simple and some are mind-blowers. Most of all, they are original, and they are simple. They range from very good to over-the-top. I will use 4 of the effects in my act. Overall, I liked the collection a lot. At less than $3 a trick, this is a bargain.
Summary
I never take seriously on self working trick, some of them are too long and too boring.. BUT THIS ONE IS DIFFERENT, i agree when Nate talk about self working easy trick sometime is the strongest trick you can do, because to the spectator mind you do nothing but Magic Ah... Man i love this...project thanks Nate!!!
Good, but not what I was expecting
The videos/tutorials are well made and very clear. I was under the impression that they were truly self working (ie card counting, etc), but they were a little different. The majority of them require prep. Still really impressive tricks, however you wouldn't be able to do with a fresh or borrowed deck.
Amazing Self Working Card Tricks
These card tricks were simple to do and gives very great effect.They were really upto the expectations and worth practicing as a beginner or intermediate magician stand point.
Summary
This is a tricky one to review. I went in quite skeptical, as a lot of self-working tricks lack a certain "wow" factor, and I wanted to see how Kranzo would handle that.
Right off the bat, I have to call out a little bit of false advertising, as some of the tricks (blue poker in particular) require more than just a little setup. That said, self-working card tricks have almost always had to rely on setups, and most of the other ones are very manageable, so I can (mostly) forgive that.
These aren't phenomenal by any means, but honestly, a lot of them are quite fun. Hanky Sandwich, Deal with it Aces, and Triple 6 all use some neat ideas (and warmed me to the prospect of carrying a handkerchief around) and Nathan gives enough presentation detail to make sure you know how to perform them properly.
Overall, there are some fun ideas here, and if you're new to card magic it'll be a fun way to pick up on some misdirection principles.
But get it on sale.
Mike
I feel slightly ripped off. Worth maybe half the price.
Summary
first i thought this is just rubbish because you do need to do some easy sleights and for a lot of them you need to set up or even gimmick(easy) but the reaction i got was pretty good some how better reaction than angle z... but you don't want to buy this if you don't have a table to perform on and for sure you will find some of the tricks useless for you, i guess it was worth it . but just worth it
Summary
Nice thought on the tricks/ideas, but honestly not worth it. I was expecting more of a wow factor with at least one of these, but unfortunately was left hanging in my desire for that. Good magician, but just fell a bit short on this one in my opinion.
Summary
Pros: Nate seems like a nice guy.
Cons:
-Don't confuse "Most can be performed with a borrowed deck" with "impromptu". Probably 3 of them can be done totally impromptu, the rest require set up. They're unusable on their own in a situation where someone hands you a deck and wants to see something straight away. Unless you can actually do sleights ("No sleights") then you're only getting three usable tricks here, and two of those have pretty clear giveaways (I'd never use them except with drunk people or children who won't notice breaks.)
-Most of the tricks that don't require pre-made gimmicks involve stacking the deck. They remind me of the tricks I'd make up at age 8 to show my parents with my children's magic kit, which they'd immediately ruin by asking why I hadn't shuffled the cards. Again, only useful on their own for drunks or children.
-There's some sloppy production in the explanation for Behind Your Back as well where they clearly forgot to edit out the part where he screws up the demonstration. Seems like this was just rushed out the door for a quick buck.
Conclusion: Most of these don't really stand on their own. I'm sure they'd be useful if you're already working routines with sleights and want some variation after you've had an opportunity to start setting up the deck, but as "Self Working Tricks" what good are they on their own? I understand why people are so fussy about DVDs for magic content: you can actually return a physical item for a refund if it's no good. Downloads like this and it's just caveat emptor. And I strongly advise you to take the "caveat" part seriously. This was (I am not exaggerating) the worst purchasing decision of my life. Never have I bought something that was ultimately so useless.