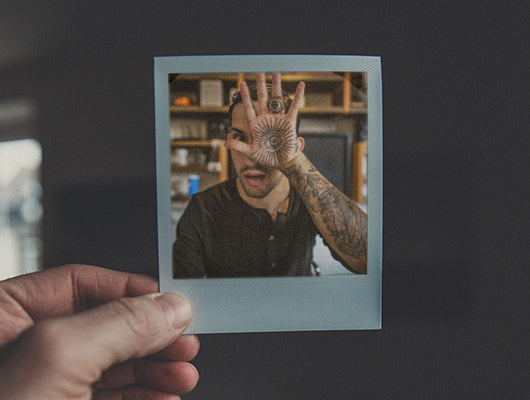 NOTE: Ellusionist would like to credit Nefesch for his effects Social Mind & Username for pre-dating Social Medium. Sometimes genius isn't exclusive to one artist and it seems Mark Calabrese & Nefesch have both created the same effect independently. 
"The method is so genius and invisible." - Brent Braun

Social Medium is a revolutionary new principle to perform impromptu instagram miracles. 
We are living in an age where everyone is connected. Mark Calabrese has taken that connection and turned it into a meaningful moment of magic.

This new technique allows for impossibly fair predictions using the spectators own phone.

• Perform impromptu anytime, anywhere
• Use a borrowed phone and their Instagram
• Use any photo for the prediction
---
"I've been obsessed with this principle ever since Mark told me what he could do with it." - Doug McKenzie
---

Using a spectator's social media account is a guaranteed way of creating a lasting memory... you may even grow your followers in the process. 
A picture speaks a thousand words, so this effect can't help but deliver. 
Get Social Medium Today. 
"...fooled me badly" - Marc Kerstein
This product is rated 4.6 of 5.0 stars.
It has received 5 reviews.
Daniel
A Trick for the 21 millennium. A real worker. Easy to do. I love it.
Summary
Mark has truly figured out a method for connecting with everyday people and their phones. The video tutorials are very in depth and explain every little detail that you need to know. The secret is very clever and covert, sure to be a real fooler. The beauty of this effect is that it uses and exploits a feature found on the Instagram app. This is going to be a favorite trick for me to perform and I highly recommend that you learn it as well. Five Stars!
Summary
I?m not sure why this doesn?t have more than 2 reviews. But it should have way more.
I?ll be up front. Mark and I don?t see eye to eye. AT ALL. That?s a fact . But when it comes to this specific effect, I actually enjoyed learning it. It has a ton of potential. Especially in the right hands. There are way more pros than there are cons. So I?ll only go over the cons.
He mentions his favorite way to do the one move required to make this work. But only does that move one time in the four performances provided. This, I already know the answer too. It?s because it?s not a 100% guaranteed. So he took the easier route. If anyone has ever filmed magic effects for a magic company, the easiest way is always recommended. Especially if it?s 100%
The only other thing that I can honestly make a small arguememt on, ( besides a lot of ums, uhhh and erms during his explinations ) is the Facebook area with Lloyd Barnes . It?s very brief. And doesn?t cover it enough to know exactly how to do it . ( if you?re familiar with electronics and social media, you?ll figure it out )
FB?s functions are different than Instagrams. Not a huge deal. But I?m willing to bet more people have FB than instagram.
Outside of those minor things, this is honestly a powerhouse of a mentalism effect. Which is why I?m left wondering why my review is only the 3rd one.
Summary
Get this now. Really, there is nothing similar out there that works so well. It is very, very easy and you only need someone elses phone and the ability to talk ;) I give it a 4 star rating instead of 5, just because, should Instagram or Facebook change drastically, the used method could not work anymore. As for the explanation, it is detailed, maybe too detailed for what is needed. Hope this can help.