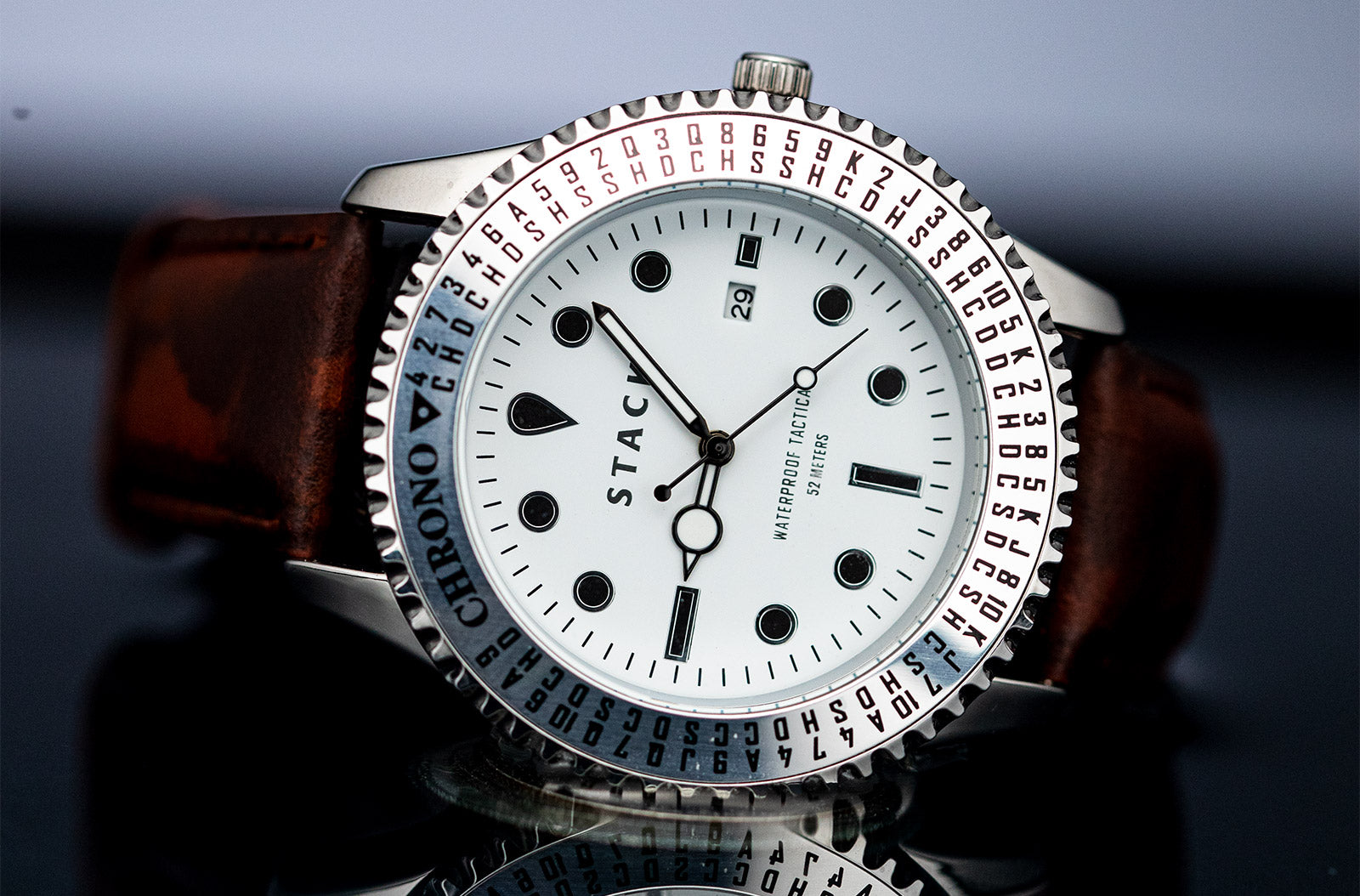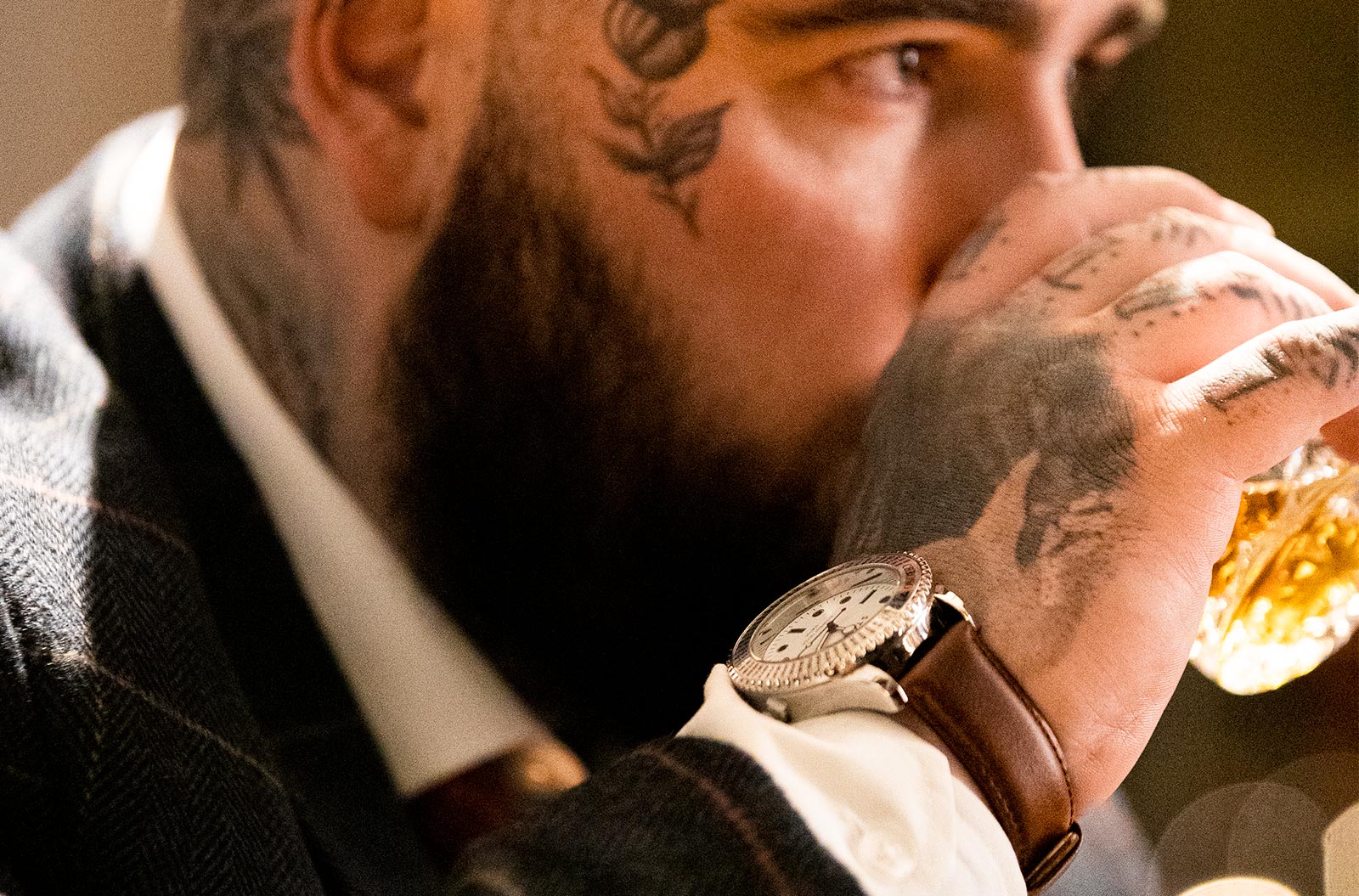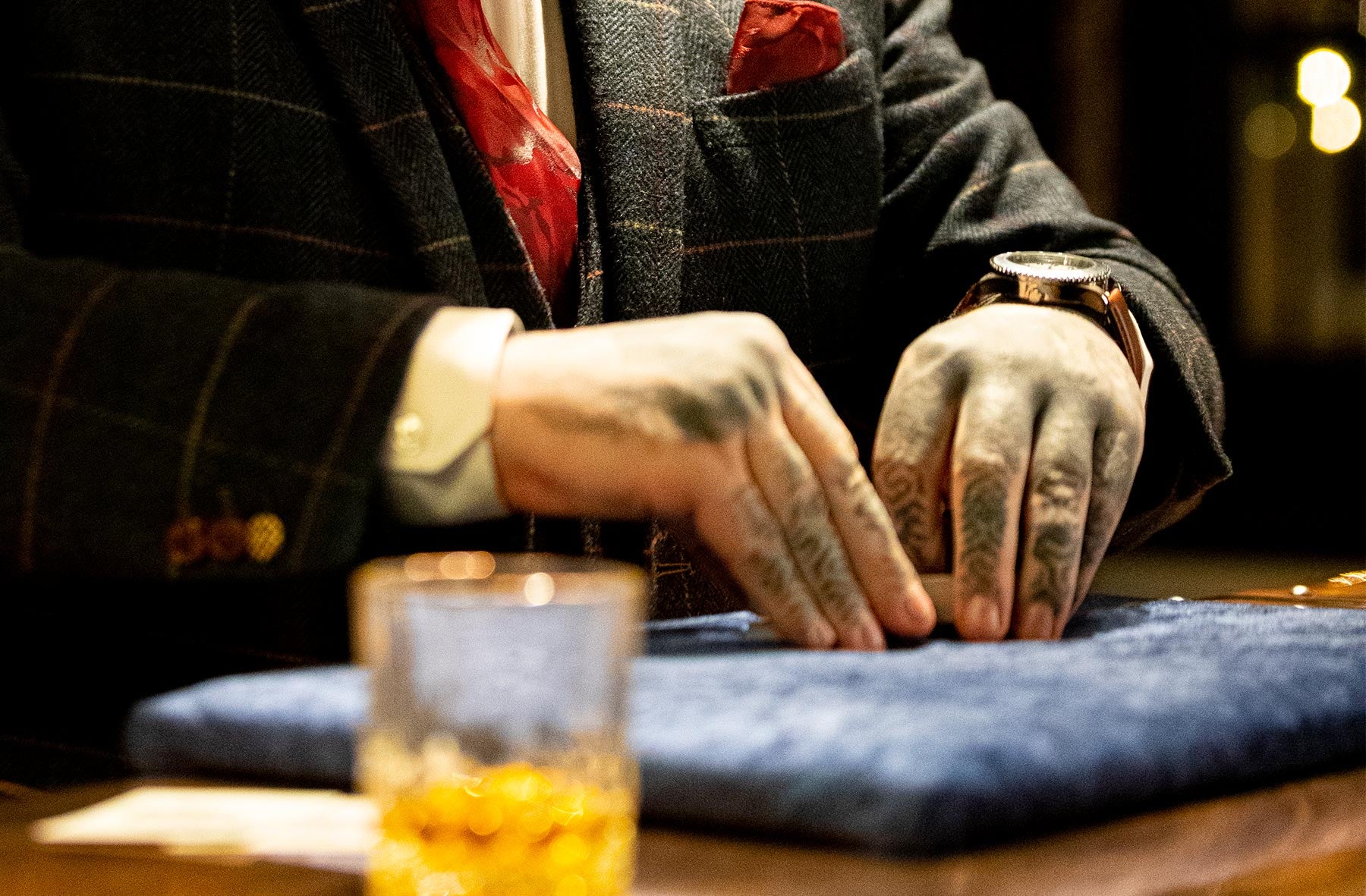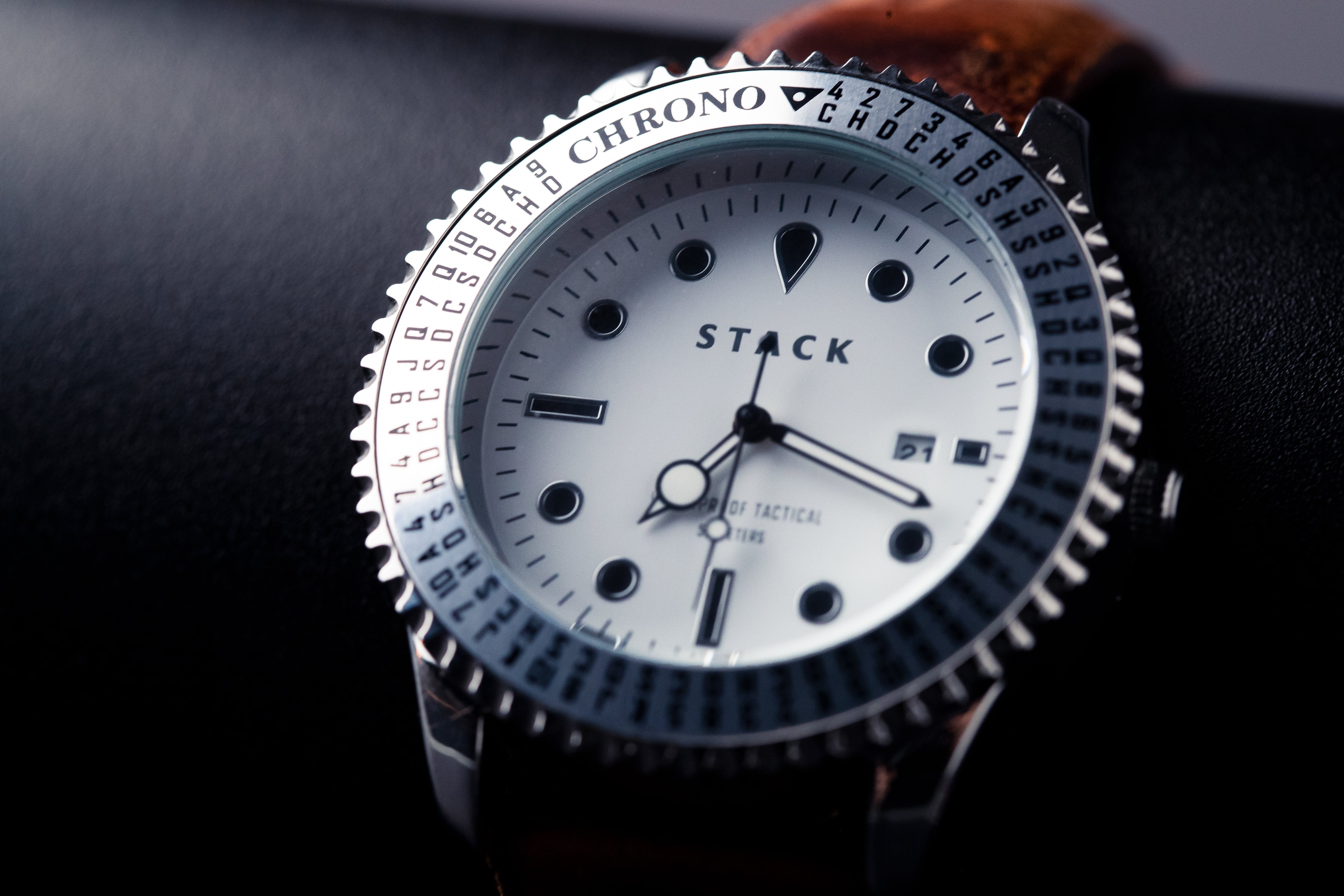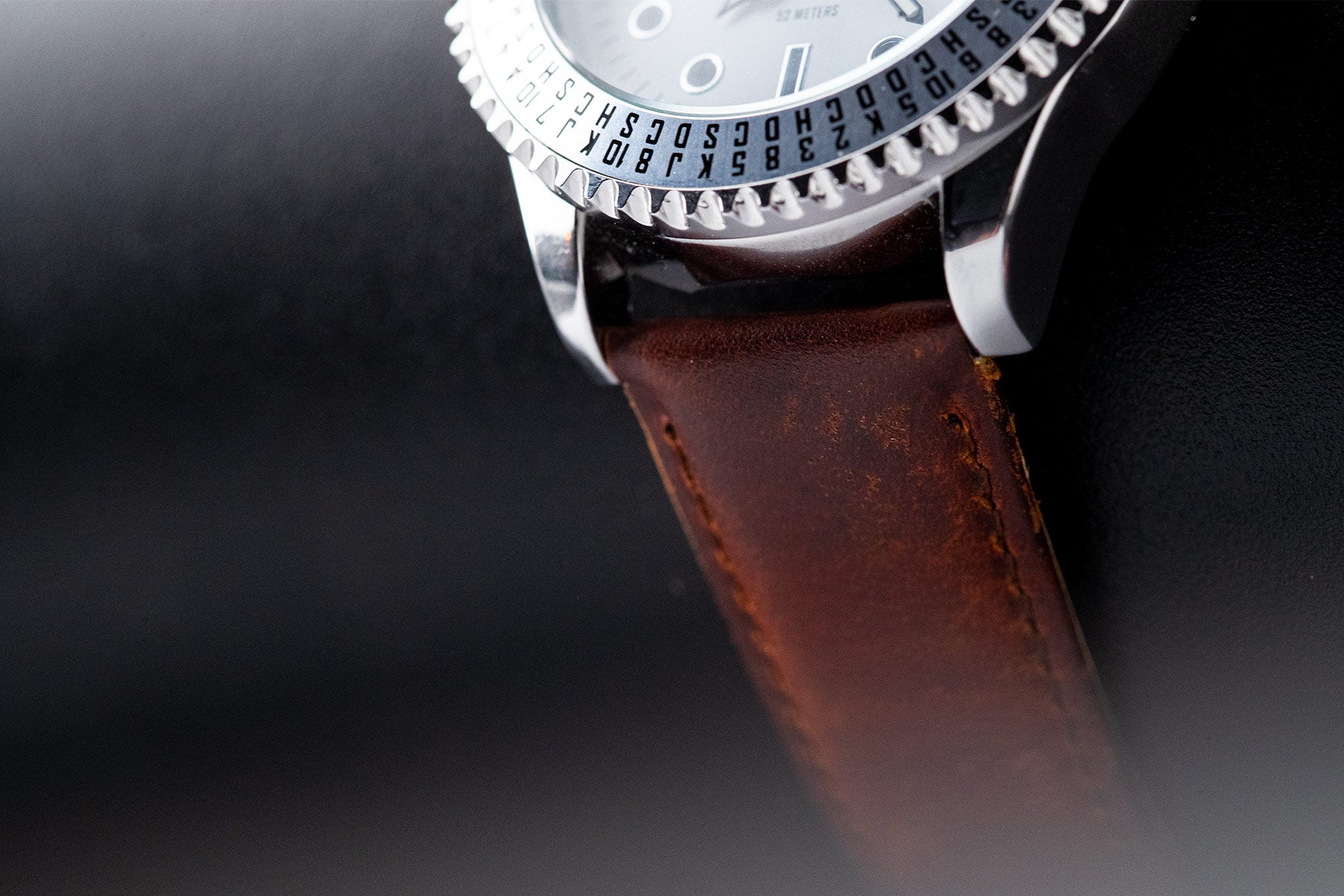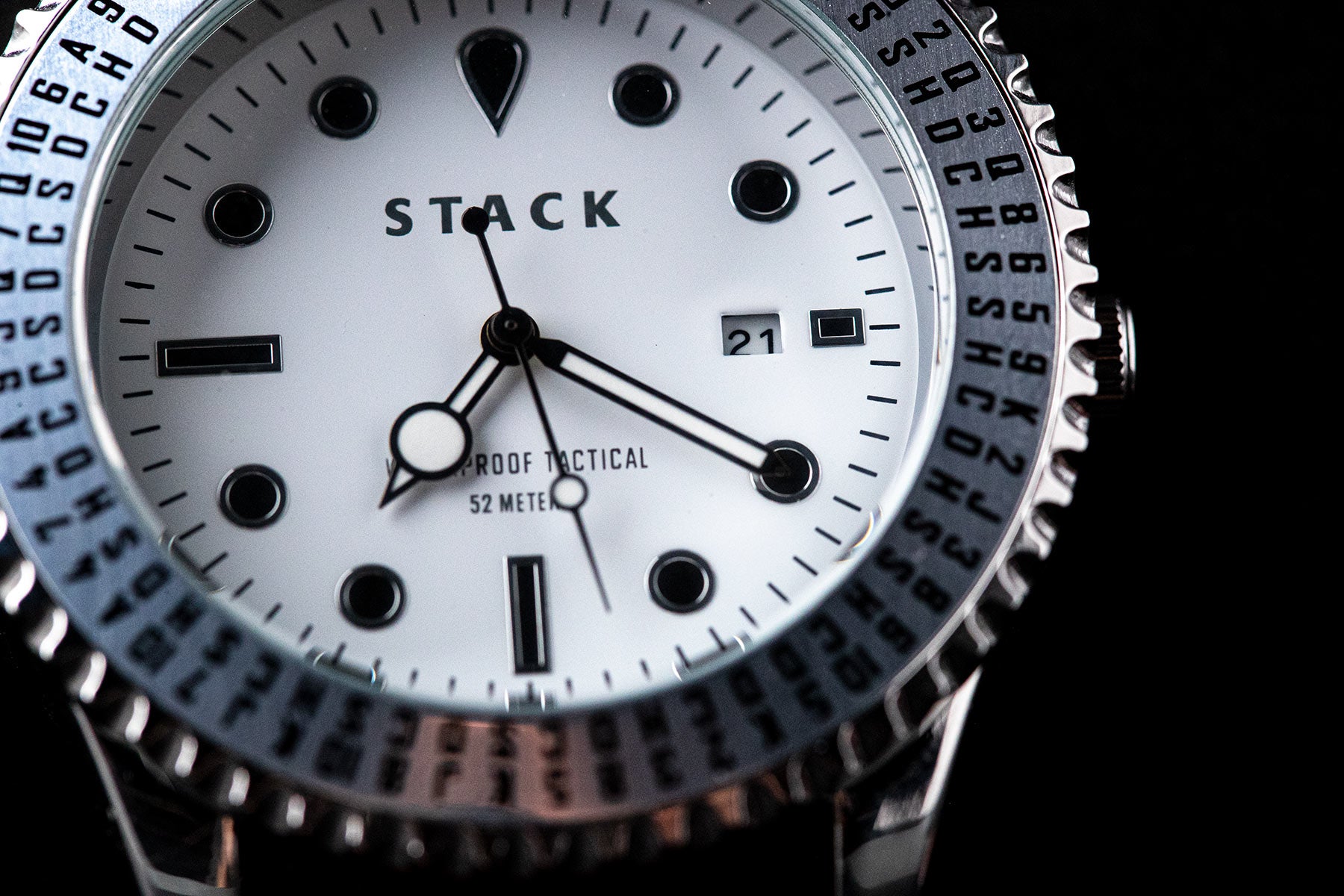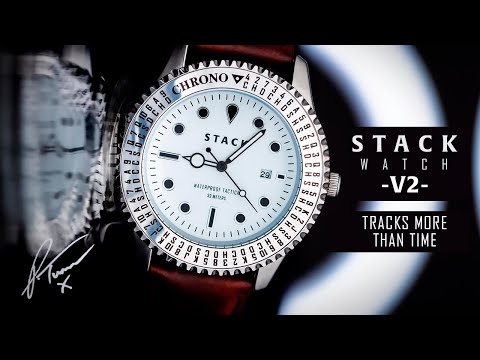 Stack Watch V2
The best-selling magicians wearable of 2020... has a brother. STACK WATCH v2 is covert device for tracking the order of a mixed deck... Without you having to ever know stack.
Don't know what THE STACK WATCH does? Click here to see the original.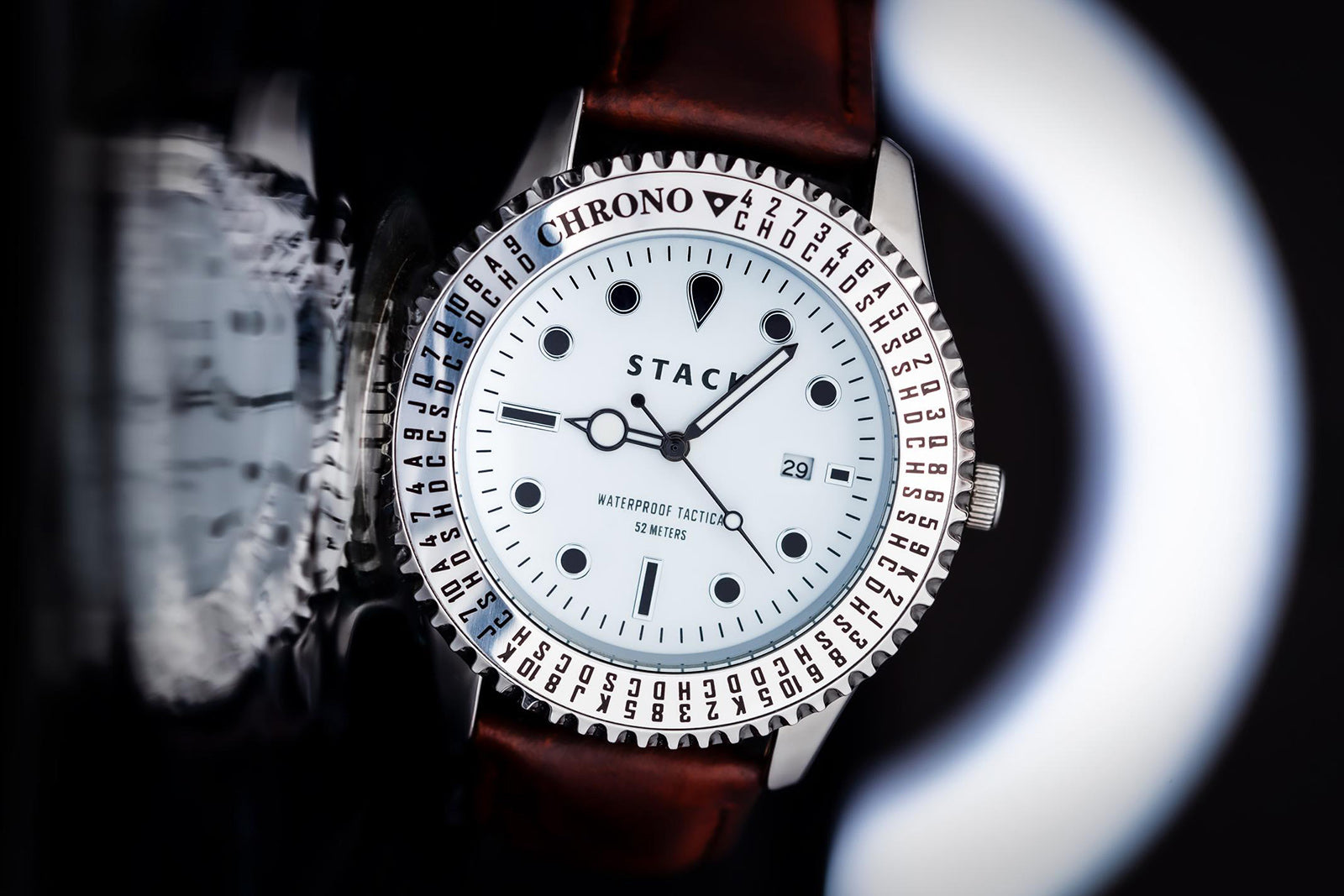 Been living under a rock?
Click here
to check out the original
STACK WATCH
 and the unbelievable ability it has to elevate your card magic.
It's a Mnemonica decoder that allows you to track your stack in real-time
What time is it? What position is the 5 of clubs in mnemonica?

One quick glance at your watch during performance can tell you both pieces of information instantly. 

THE STACK WATCH is the world's first 'anti-memory' wearable for stack work in card magic.

A covert, must-wear device for deciphering a stacked deck... Without you having to ever know stack.

Dynamically tracking the ever-changing position of every card in the deck.
The best part is, by using this watch, some magicians for the first time have actually tricked themselves into learning stack!
The rest, who hate memory work, just rely on STACK WATCH always being there for them... and it is. 
What's new with STACK WATCH v2?
At a glance, this is the younger, more dashing, casual version of the original STACK WATCH. We've added: 
White Dial
Brushed-silver bezel
Brown leather strap
Firmer-twisting stack movement
Date window for bonus routines
The Nitty Gritty...
With the v2 STACK WATCH, we've made some modifications. The original steel band has been replaced by a comfortable, brown leather strap with silver-accent buckle. 
Bezel & case
The bezel and case have been exposed to their natural silver finish and contrasted against each other.
The case is shiny but the bezel a brushed-silver color, to allow for easier location of the playing cards printed on the bezel. 
The bezel is a sub-style, bi-directional bezel, like the kind you'd find on a Rolex. We've removed the 'click' device under the bezel to ensure it stays silent during performance... You can turn it and never raise suspicions. 
NOTE: As request by our STACK WATCH users, we've tightened this new bezel to make it firmer in its movement. 
Added date complication
The final modification is the addition of a 'date complication'. For non-horologists, that's the addition a date window on the freshly-added white dial. 
This extra feature will allow you to add another layer to your performances with thought-of-card or date of birth divinations. 
Luminous Absorption
The new Stack Watch v2's dial is still coated with a luminous absorption material to ensure the key markers are with you 24/7.
It can go as long as you can - and beyond. 
Why use a STACK WATCH?
There's a reason millions of gym memberships go to waste and diets always start 'NEXT' Monday.
People are busy and the lowest task on their priority list gets kicked to the curb.
Mnemonica is without a doubt, one of the strongest, most incredible tools in magic. There's a reason Blaine's TV and private performances contain a lot of mem-deck stuff... but it's damn hard to learn.
You always tell yourself you will, but you won't.
The good news with THE STACK WATCH is that it puts Mnemonica back on the table... Like a giant calorie-free sundae for magic.
You don't need to try to learn it, because the watch is there for you, exactly when you need it. It's instant, requires no work, no memory songs, no concentration and no testing.
Everything you can do with mnemonica has just been made simple because you don't have to learn it.
Don't say I will. Say I don't need to.
The bezel silently surfs around the dial and is completely bidirectional.
This ability to move in a fluid motion can help you track the deck's order, even if it's cut.
Something, up until now, only the most skilled memory-workers could master.
This allows you to achieve STACKED DECK mastery. Everything taught in Tamariz' Mnemonica or Pit Hartling's incredible book 'In Order To Amaze' is now possible to perform with the STACK WATCH.
Watch Stack Watch in Action - Our Launch Live Stream
THE CREATORS
Every idea is like a rock. Every product is a polished jewel.
The jewel was ALWAYS there, under the rough exterior, but it needed exposing. That refining within this industry is where classics are born.
In mid-2019, Peter Turner approached the Ellusionist team at a Penthouse party in Las Vegas. He had the idea of putting a stack crib on a watch face. Instead of numbers, it was playing cards.
52 minutes, washed away by the more important information. The deck.
He'd had the idea for years, but has never released a device to the industry before... and didn't know where to start.
He didn't know STACK, he'd never even tried to learn it, but this new idea would make his efforts obsolete anyway. It just needed to be realized.
Fast forward 14 days and 6 hours later and a DHL delivery driver knocked his door with the very first STACK prototype.
The numbers weren't perfect, the band wasn't tailored, but it was PROOF. Proof that it DOES work.
Later that day, Geraint Clarke joined Pete on a catch-up Skype call and said "Why don't you put the cards on a silent, bidirectional bezel. Like a divers watch."
That one refinement would allow magicians to re-track the order of a mixed (cut multiple times) stacked deck, with nothing but a twist. Something that looks natural and can be done right under the spectator's nose.
The STACK WATCH was born.
Quality over Quantity
This isn't a gimmick. The word gimmick suggests it's cheap, disposable and into minute 14 of its 15 minutes of fame.
The STACK WATCH is a utility timepiece. A tactical decoder that just happens to be hidden on a high-quality watch. No expense spared.
The brown leather band secures a Japanese movement timepiece powered by a quartz ultra SL68 movement.
We started working on this new leather-band version in May 2020, after the first STACK WATCH sold out on pre-order.
In the following months, the Team has received, worn, used and broken tens of prototypes in their pursuit of perfection.
Now, customers can be safe in the knowledge that this wasn't a one and done product. We've produced something for us that we can also sell. Not something to sell, that we'll never use.
No software updates and no pairing... Ever.
Order your STACK WATCH V2 TODAY
This product is rated 4.9 of 5.0 stars.
It has received 80 reviews.
Always be prepared
The StackWatch is a crib. It's a nice looking crib that you can have in plain sight, all the time.
How to properly handle it is perfectly explained in the detailed tutorial.
I have been performing stackwork without a crib, but I like to have a backup plan.
More ideas on how to use the watch in tricks are presented on the tutorial and that's nice.
I can't stop looking at it
This watch feels as good as it looks and I can't stop looking at it. I must admit that I learnt the mnemonica stack using Rick Lax's memorisation method in the time it took for this Watch to arrive BUT the watch will help if/when my memory fails. As always Peter Turner doesn't hold back on his advice and applications for how this can be used in the real world and although I'm yet to try it, the ideas sound solid. This watch will replace my Apple Watch for sure!!
Good quality and look !
This watch is exactly the watch that i want !
Good mechanic without battery, read of the time is easy. The code of the mnemonica is fine.
The videos tutorials are clear and pro.
Very good watch !
Stack watch v2
Awsome, love the watch, and it even looks great.
Wins in both form and function.
Absolutely stunning and eye catching. Sent a picture of it to a non magician friend of mine and he asked "oh is that like one of those old decoder rings?" In a way it is, but it's also a fantastic watch all together. Only drawback is the font is a bit small, but thats unavoidable for a crib so no marks against it.
Stack Watch V2
Excellent service by Ellusionist. The watch is as advertised and of a very high quality. Overall I'm very happy with my purchase.
Excellent experience
The Stack watch 2 definitely does the job and I am happy with this buy. What I was most impressed with was an excellent customer support from Ellusionist. My first Stack watch arrived faulty and after I contacted customer support I was surprised with their quick response which arrived within minutes. New Stack watch was sent to me on the same day and thats really impressive.
Step Up and onward
I've been working on learning mnemonica stack and have always had problems. Once I learned it I still doubted myself with the math needed for ACAAN tricks. The watch is great to have to ensure you are correct and feel relaxed in the process. I had the V1 but with the date setting to use for other predictions, it was a definite step up and I was glad to be able to get my V2.
With that said, the leather band on the V2 it is more comfortable to wear and an all around beautiful watch.
One of the best ways to stay prepared!
Stays on my wrist outside of showering and sleeping! One little piece of gold I've found is some unique packs come "stacked" to match the watch, still in the package. Something about a ACAAN with a sealed pack destroys peoples minds!