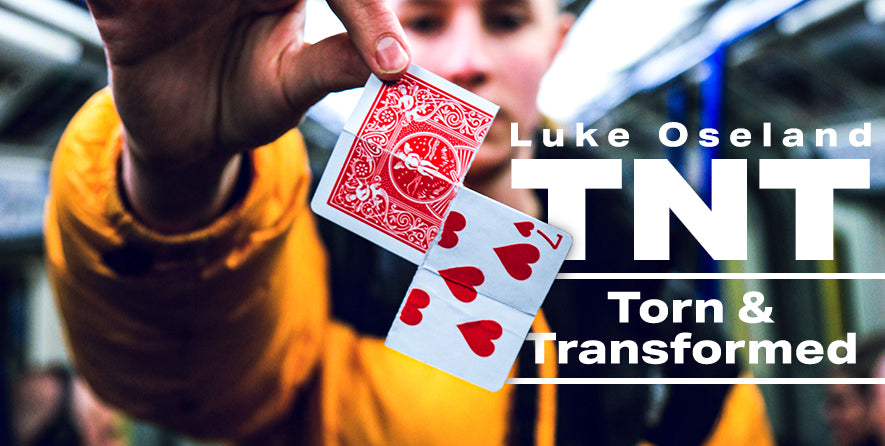 TNT
One card is shown, signed, torn and restored... in the most impossible way.
No longer for sale at Ellusionist, you can view this title (and others) at Magic Stream with your monthly subscription.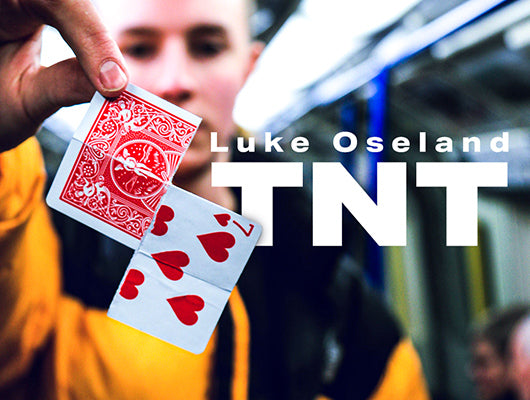 TNT
Sale price

$11.95
Regular price
(/)
AN INSPECTABLE, IMPOSSIBLE OBJECT
One card is shown, signed, torn and restored... in the most impossible way.
There are a million and one 'Torn and Restored' card effects out there, but not many of them, if any, start with one card and end with an inspectable, signed impossible object that you give to your spectator.
TNT, or Torn 'n' Transformed is Luke's creative answer to one of magic's most impressive plots - Tearing & restoring a card.
For those that don't know Luke as a creator, we've had our eye on him for many years. He didn't know it back then, but we knew he had the potential for greatness. (Side-note: you may have seen his debut Ellusionist release PORTAL)
His gimmicks are inventive, flawless and can often be adapted to many other things.
Despite being only 17, you can find his name amongst the 'Magic Consultant' credits in Dynamo's newest TV special. Trust us when we say, this guy knows visual magic.
For TNT, we opened the trailer with a full restoration of this signed card. As magicians, we can all appreciate the visual, the instant restoration and the motivated clean-up.
What you see is what you get.
The gimmick is engineered in such a way that the single, signed card NEVER leaves your audience's sight during performance.
It starts as one signed card and ends as one transformed, signed card.
This can then be immediately handed out to your spectator upon restoring... Making it remarkable.
Relatively easy to make at home, TNT can be prepared ahead of time and added to your deck in an instant.
Learn, build & use TNT TODAY.
This product is rated 4.9 of 5.0 stars.
It has received 16 reviews.
TNT REVIEW
The effect of restoring the card is awesome. I have performed T&R, but this one leaves the spectator in awe and with a special souvenir
Fantastic!
I genuinely had no clue how this was performed and thought it was completely impossible or you wouldn't be able to hand it out. Nope. You end completely clean and are even encouraged to give it out as an impossible souvenir. Great piece of magic.
Nice effect!
Well explained and such a nice effct. Great stuff
TNT
Very deceptive, love the gimmick , can modify once you know the method.
TNT
TNT is more than just a torn and restored trick. It's an impossible object you can leave with the spectator!
Mind bending trick, simple explanation
This trick defies comprehension, yet is explained in a very thorough step by step and detailed way. A steal at this price!
Impossible
Impossible and amazing torn and restored trick and you can make it yourself!
Nicholas
This is a really awesome take on the torn and restored card. It takes a bit of set up but after you do it once it gets faster. Good video quality with step by step instructions. I've been able to perform it for friends and family. It gets excellent reactions!
Summary
Luke showed me this at Blackpool magic convention.
He absolutely blew me away with this. It?s such an awesome torn and restored effect.
The question I always ask myself is ... ?is this workable?
By that I mean. Is it practical. Can it be used in a walk around gig. Sometimes you can by an effect and it?s just not practical enough for walk around scenarios...
For me I would use this in walk around.
I?ve played around with this for a while now. Would I recommend it?
ABSOLUTELY!
Great work Luke! I?m excited to see future releases from you!
Summary
Yes it takes some prep time, but the pay off is worth it! I'd reccommend checking this out!