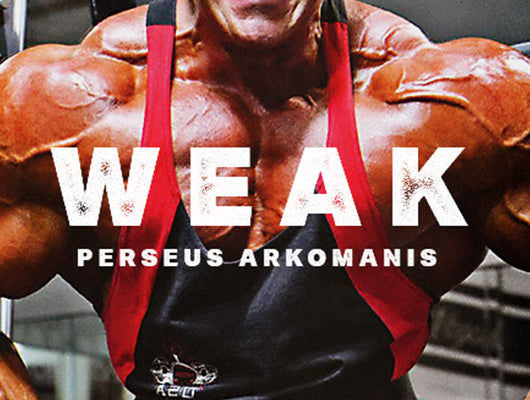 Weak
Sale price

$5.00
Regular price
(/)
Weak is a centuries old myth
brought to life by Perseus Arkomanis. The spectator picks whatever card they want, then you tear the card to show it can be done. With a touch of their elbows, you steal their strength away, and they're unable to tear the card.
We made sure we found the strongest man we could in Greece to go up against WEAK in the trailer. His strength was stolen effortlessly.
Man vs Paper
... a battle that seems easy, but even the strongest can't tear a simple playing card.
Then, with a snap of the fingers, the spectators strength is restored and they tear through the card like a hot knife through butter.
Tired of all the "find your card" effects?
It's time to add a miracle to your arsenal and do something different.
This product is rated 4.8 of 5.0 stars.
It has received 17 reviews.
As Persues mentions, it is very unlikely that someone will be able to tear the gimmick from just their strength. This trick is very powerful for being, not easy or simple, but straight foward. And the beauty of it is that it doesn't have to be the same presentation as what Persues does. There are many takes that someone can do to make it their own. In the tutorial Persues does try to make a small marking so that he knows where the gimmick is and can't find it for a moment. Because he made it quickly and it wasn't necessarely ready, this makes it even more fooling for me once it's ready. My suggestion would be to use cards that aren't symmetrical that way a mark won't fail you.
Super useful!
I use it every performance! Amazing 🤩
Weak is REALLY STRONG
What a masterfully constructed organic routine Perseus Arkomanis has created.
It really should have been named according to the impact it leaves people. "STRONG" comes to mind.
CONVINCE PEOPLE THAT YOU HAVE SUPERPOWER
Use this trick & convince people that you have superhuman ability.
The only hard part is to construct the gimmick (it's actually not that hard for me, still wayyy easy with the step by step instruction), the material is easy to find & the effect itself is super effective.
If you perform it right, this effect can be quite scary for your audience. Imagine meeting someone that can make you WEAK!. Really nice! GOOD JOB Mr Perseus Arkomanis. this one is amazing!
Amazing effect
The effect fools people every time.Also good with the very nice addition of the tips on presentation that is included in the well explained video .
Genius
The method is so simple but effective gets great reactions every time!!!
Summary
I've been using this for years. I also use it in my show. The construction isn't to hard it only should take a few minutes. Some supplies you will have to go buy from the store. All in all I love the effect!
Summary
I would just like to say that this is a really fun trick to perform. Some Pros and Cons.
Pros- Super easy to perform for beginners, or advanced magicians.
- Gimmick can be constructed with house hold items but you will need something else that you might not have at home and will need to get it at a store.
- Gets amazing reactions
Cons-Gimmick may be hard to construct for beginners who are just starting magic.
So overall really great trick, recommend buying it, he does great explanation just the con does bring it down a bit but it is not impossible to do.
Summary
This is a great trick, making the gimmick may take a few attempts to get them looking as good as untouched cards. I would caution you to test them before you take them out in the field. The first gimmicks I created would tear with effort. I emailed the creator for some assistance and he responded, which was great. For 9 bucks can't be beat, a quality trick that is not too difficult to make and if you are a performer you'll earn more in tips from this trick than you ever will paying for it.