Wolf
Wolf is a full hour of routines, moves and subtleties from the repertoire of Branden Wolf. This is magic that looks like you're using gimmicks - but you're completely clean. It's pure coins. The absolute must-have that picks up where Metal leaves off.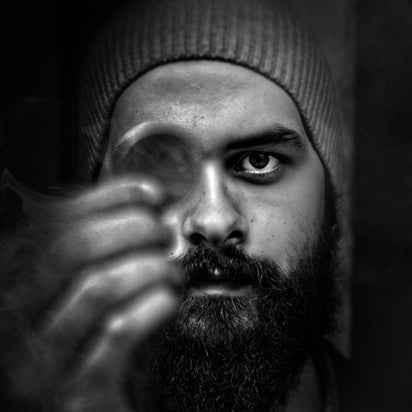 Wolf
Sale price

$14.98
Regular price

$29.95
(/)
It takes a definitive grace to make coin magic look good.
After swapping cards for coins over two years ago, Branden Wolf's movements both astound, and flow with ease.
Branden not only makes each subtlety look 
effortless
 - his updated style brings coin magic out of the stuffy rooms of magic clubs and onto the streets of New York.
Wolf is a full hour of routines, moves and subtleties
 from the repertoire of Branden Wolf. This is magic that looks like you're using gimmicks - but you're completely clean. It's pure coins. The absolute must-have that picks up where Metal leaves off.
On The Download
SLEIGHTS
Balance Palm
Back Thumb Palm
Edge Palm
Finger Palm
T. Nelson Downs Palm
JW Grip
American Drop
Retention Pass
UTILITIES
Fingertip Click Pass
Click Tap
Click Trap
Whip Click
Downs Pop
Coin Roll Vanish
Grey Vanish
Gravity Pass
ROUTINES
Grey Change
Wax Production
Oblique Change
Wolf Spider Vanish
Simple Coins Across
Gravity Pass Tenkai Penny
Iso Production
Mesmer
Two Tone
From color changes to productions, vanishes to transpositions - Branden has turned a single move into a fundamental building block for a full repertoire of fresh routines. Keep an eye out for his spellbound routine 'Mesmer' - it'll have you transfixed, and it's worth the price of the DVD alone.
Pick up the Wolf today.

Format: Download
Difficulty: Intermediate
Duration: 1 Hour

This product is rated 4.7 of 5.0 stars.
It has received 19 reviews.
A MUST have for ALL coin magicians !!!
Wolf Coin Magic is an impressive and captivating magical hour of routines and coin techniques that will leave your audience astounded and thoroughly entertained. These coin effects are perfect for magicians of all skill levels, from beginners to experienced performers.
Lone Wolf...
...if you are looking for DIFFERENT, and great subtleties...this is what you want. This actually combos perfectly with Justin Miller's Silver Dreams.
Wolf Review
Jam-packed with teaching! Good, solid stuff that you will USE, and it is all thoroughly and well taught. Don't miss out on this one.
Fantastic Teaching!
This is a masterclass on technique with coins. The vanishes and appearances I learned went straight into my arsenal of magic. Branden is an amazing teacher who goes in depth into the methods and techniques. If you are looking to take your coin magic to the next level then I 100 percent recommend you get this.
Defies the Status Quo
I came into coin magic through kid books, Bobo sleights and Jay Sankey's Revolutionary Coin magic. Nothing wrong with those classics, and I learned a lot. But this introduced some new concepts perfect for slow, visual effects and larger coins (practically essential). These sleights are so elegant, I still fool myself in the mirror at times. You will want larger coins. Get this to improve your coin magic--it will open up new possibilities. Don't get this thinking you'll have a full routine with transitions, pocketing ideas, etc. Instead, think of these as building blocks to create your own. It's kinda funny what counts as a "routine" in the magic world. I think the word they're looking for is "effect" or what most people call a "trick". But this tends to be the norm with magic tutorials in general so it's not a dig on Wolf. Mesmer is a gorgeous "routine" but lasts about 30 seconds, and is almost too good, in the sense that it could use some build from less impressive to most impressive.
Summary
This is amazing. I was hesitant to get this at first because I thought it involved sleeving and I did not like sleeving too much (I still use sleeves every now and then though). Amazingly, it did not. Branden is an excellent teacher and will show all the details you need to know. Also, watch out for Mesmer! It fooled me so bad.
Video production: 10/10
Teaching: 9/10
Sleights and routines: 9/10
Summary
This is totally worth the money and I'm very happy with this purchase! The content in here is not for beginners and more intermediate to advanced magicians or coin artists. I myself thought that I would be able to do this with ease because I knew how to do some coin tricks with a little sleeving and slydini tricks with coins that are really impressive but WOW! Was I wrong! This content caught me off guard and made me realize how little I knew about coin magic. As Branden Wolf said, when you do coin magic a lot of people think you've said to place the coin in one hand but actually kept it in the other, and I personally think as a spectator that, if that's all a person did with coins, that'll be a waste of your time, unless you've fooled them. Branden Wolf's coin work will take practice but in the end it's totally worth it BELIEVE ME!! ADD THIS TO YOUR CART RIGHT NOW!! YOU WONT BE DISAPPOINTED!
Summary
Definitley a great buy! Everything is taught very well. You will learn alot of coin sleights and techniques. This video is worth your money and time. You will not regret it!
Summary
Absolutely one of the best coin dvd's Ive ever bought! I wish there was a little more variation between some of the tricks, but over GREAT buy. If you want intermediate strong hitting coin magic... Buy WOLF!!
Summary
This has been the best coin video I have ever seen, some moves are a little bit hard, but practice, practice, practice.
Nice work.