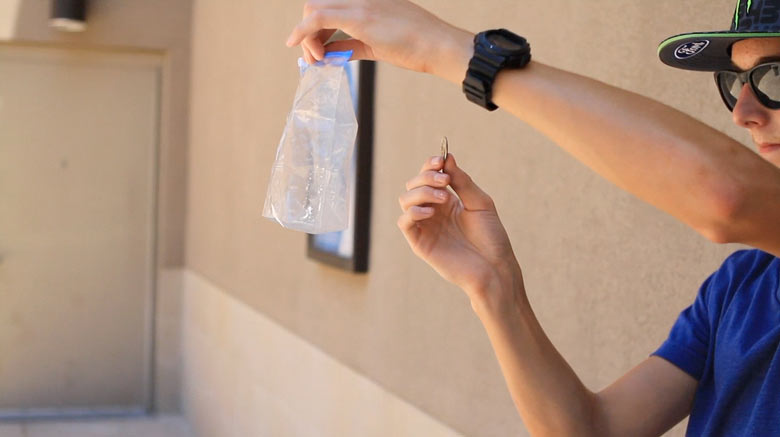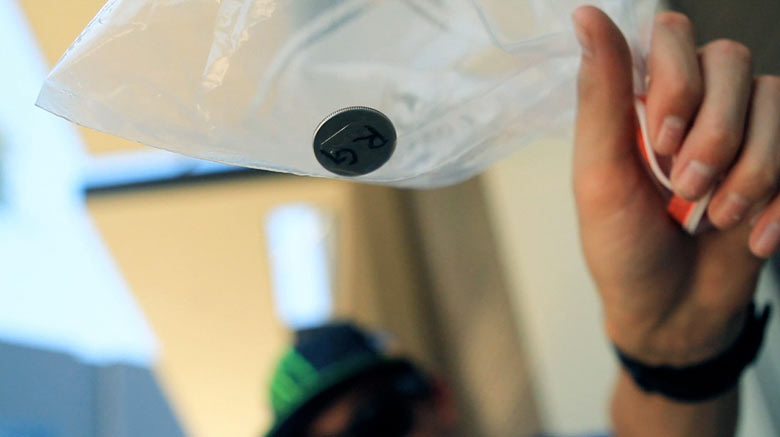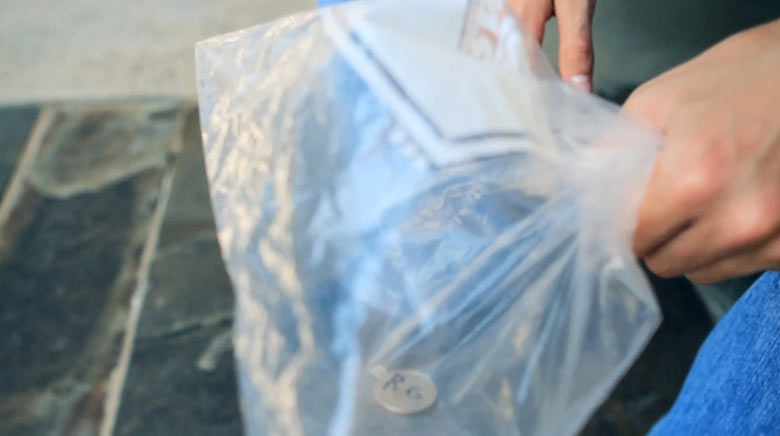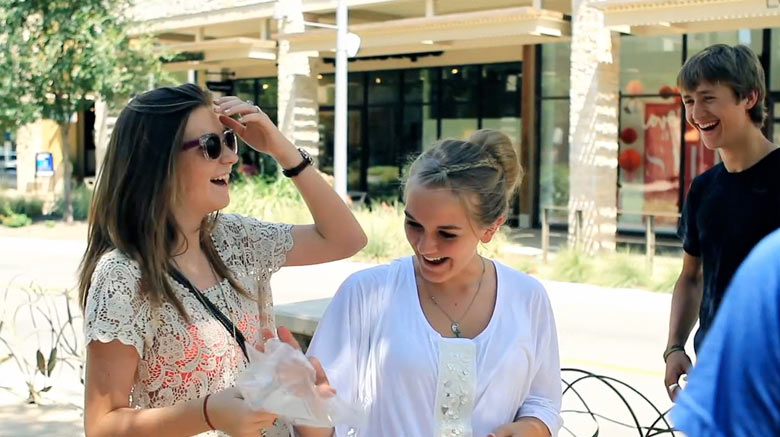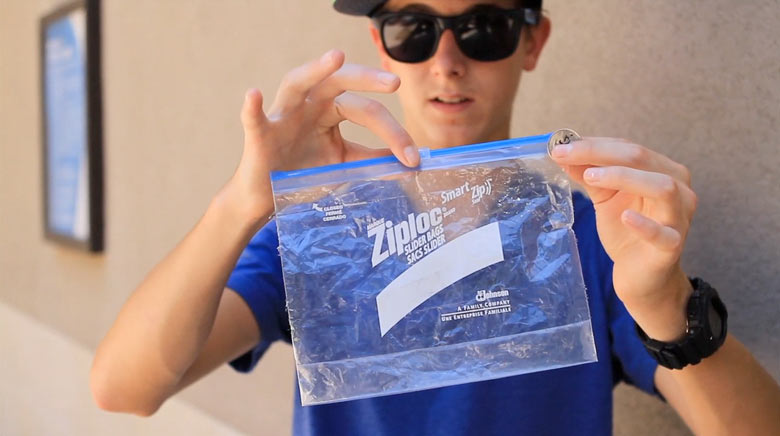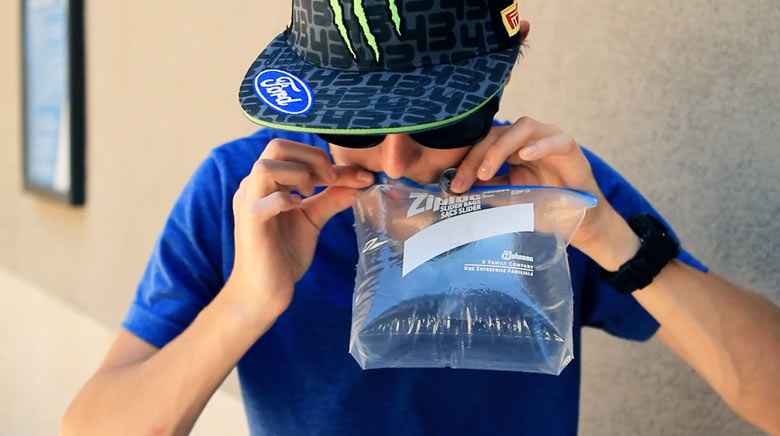 Ziplocked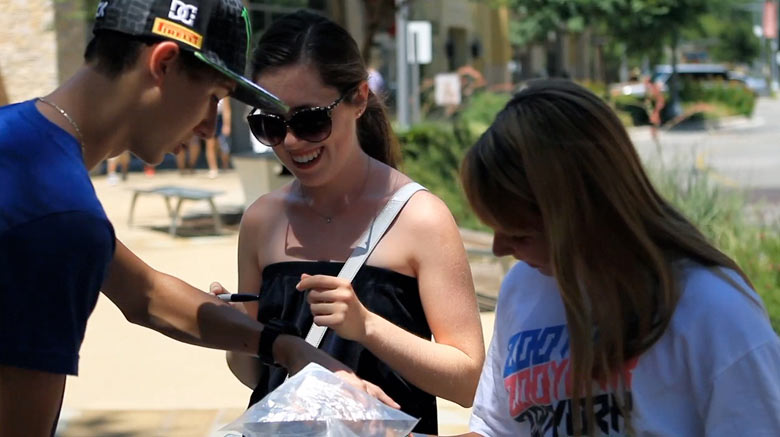 There are hundreds of items penetrating other objects effects out there, so what makes Ziplocked any different? For starters, your spectator can hold the bag. When the magic happens in their hand's, you'll double the reactions.
We also included a version where you can actually 'throw' the object (or signed coin) through thin air into the bag.Yet another first in close up magic. As seen in the demo, the coin literally flies through the air to end up in a sealed Ziplock bag.
Borrow any coin and have your spectator sign it, better yet, borrow their ring, or their house key. Blow up a Ziplock bag. have your spectator hold the neck of the back, and with a light flick, send that object through the walls of the plastic into the bag for the world to see.
They can visually see and feel the object clearly inside.


No switches or duplicates
No magnets, threads, or sticky stuff
Use a regular Ziplocked bag
Easy to learn , easy to perform
Use signed coin or borrowed small objects
As clever as it is simple, Ziplocked had a profound impact on the street and has been in Rob's working repertoire since inception. Give it a try.
This product is rated 3.9 of 5.0 stars.
It has received 28 reviews.
Ziplocked
This is one awesome trick. Great price too. The clean up can be done with confidence, once practiced enough. I love this trick, because it really has that WOW factor. I feel like anyone dedicated to practicing this effect, will really appreciate what it has to offer.
Summary
Very open trick with great applaude from audience
Summary
I thought it was a good effect which it is but the method is kinda noticeable but I have shown so many RANDOM people from like walmart,gas stations places like that.I can tell you I never leave home with out it .
AMAZING
There is only one word to descirbe this effect AMAZING, it is simple, creative, organic, and best of all super visual! Rob completely out did him self with this! FIVE STARS
Great effect for school performances!
I really liked this effect! The method is really clever. Rob explains every detail of this trick. I assure you guys you won't regret buying this trick. I must say that in my experience with this trick, 3-5 people would be your best audience. Great effect! I loved it.
Awesome
I perfomed it for friends and family and got the greatest reaction with this one trick then all my other ones combined. This is a STEAL for $10!
good stuff
just downloaded and watched Ziplocked. Great vid, Rob Greenlee is great. good explanation is clear and he's frickin' funny. Good magic
"grab your money, grab your bags and lets do this. It's going to be awesome"
I like that it is two downloads .m4v and .wmv
I look forward to more videos from him
I wanted to say the method was disappointing, but brillant....
But actually, it's brilliant, the video gives alternate methods, and it really is the same object, no sleights needed. its a quick trick and done. this is not a good opener as described in the video, as you need to lead into it. plus, you cannot perform it twice. but for such a cheap price, you won't be sorry buying it.
Awesome!
It is a simple method... but the crowd goes wild! Very easy to learn and I recommend it to all magicians!
Just..... Perfect.
I never perform effects right after I learn them, but this one I did. PERFECTION. Crowd goes wild, my work is done. Amazing effect and best $10 I ever spent. the method is incredibly simple, but it's the 20 OTHER things you'll learn in the instruction which make this effect great. Thanks E.