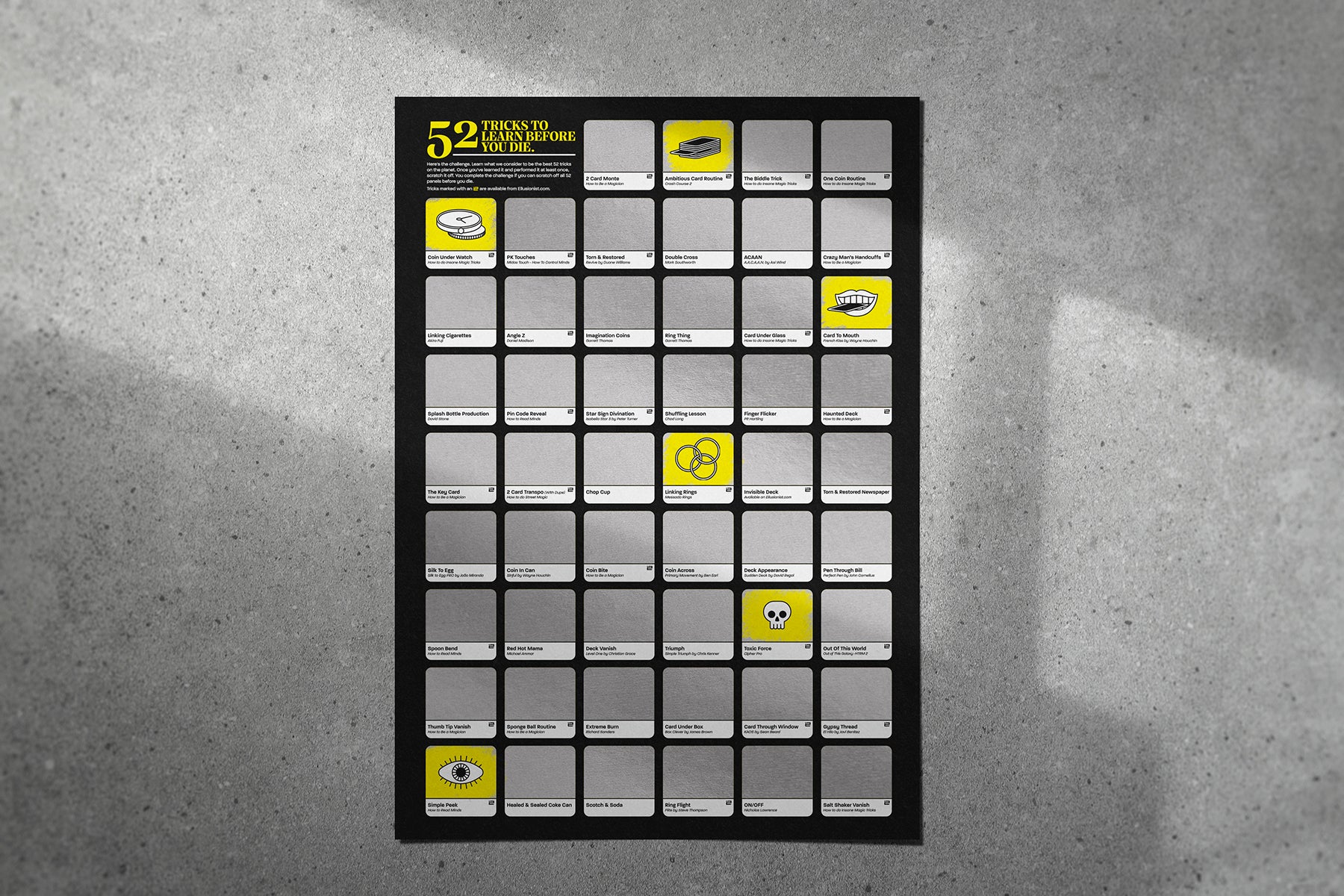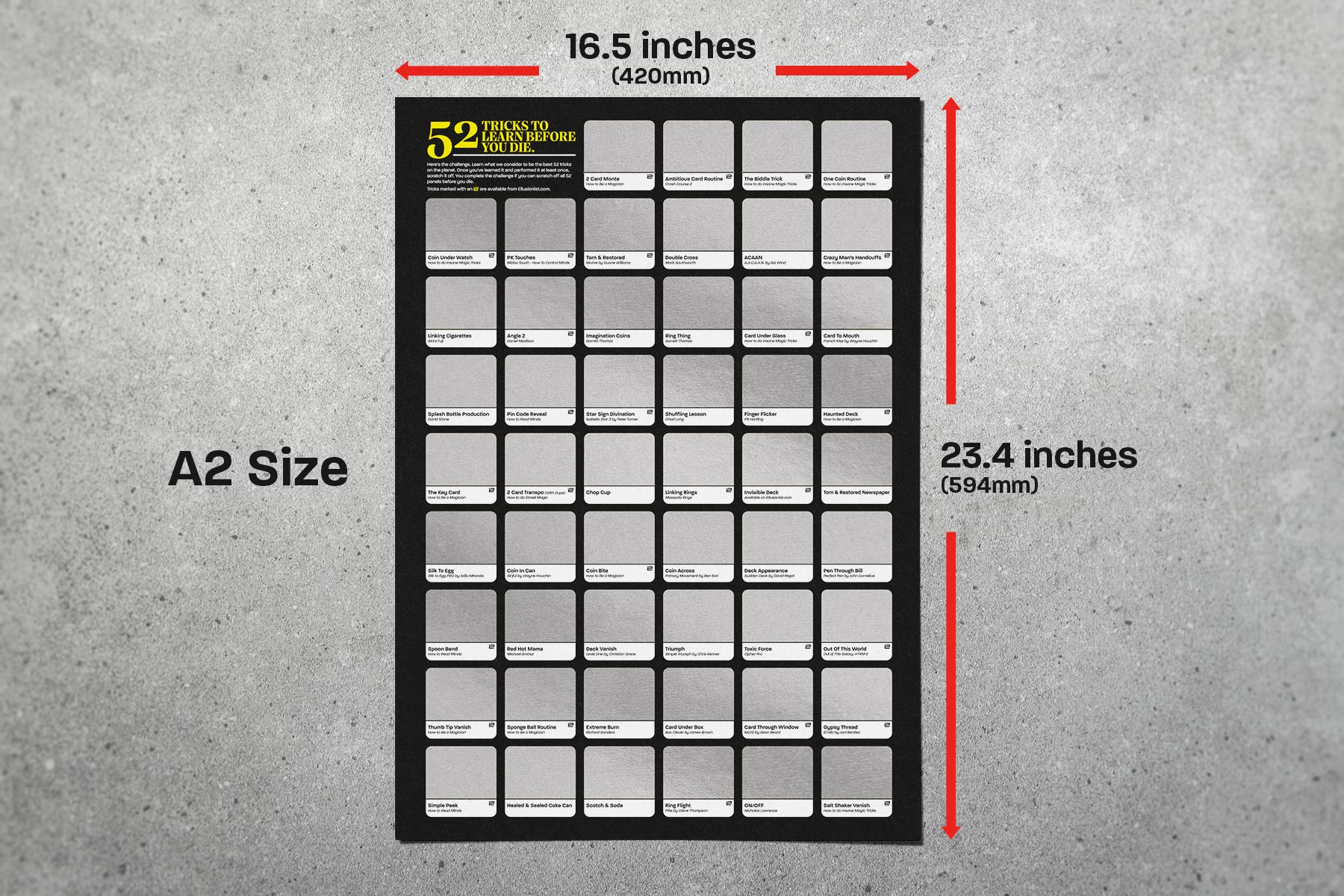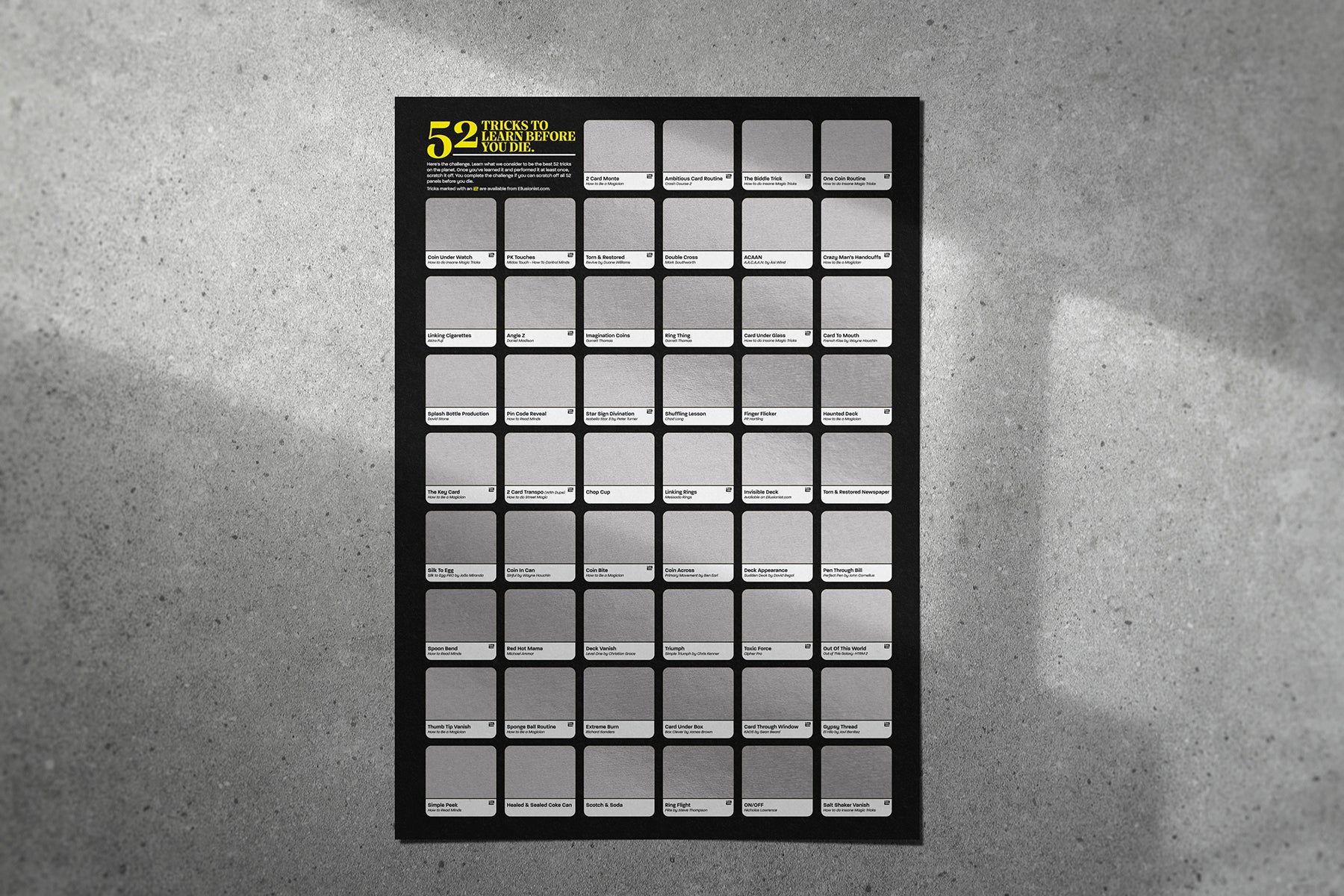 52 Tricks to Learn Before You Die
A scratch-off poster challenge for magicians.
Can you learn all 52 tricks before you die?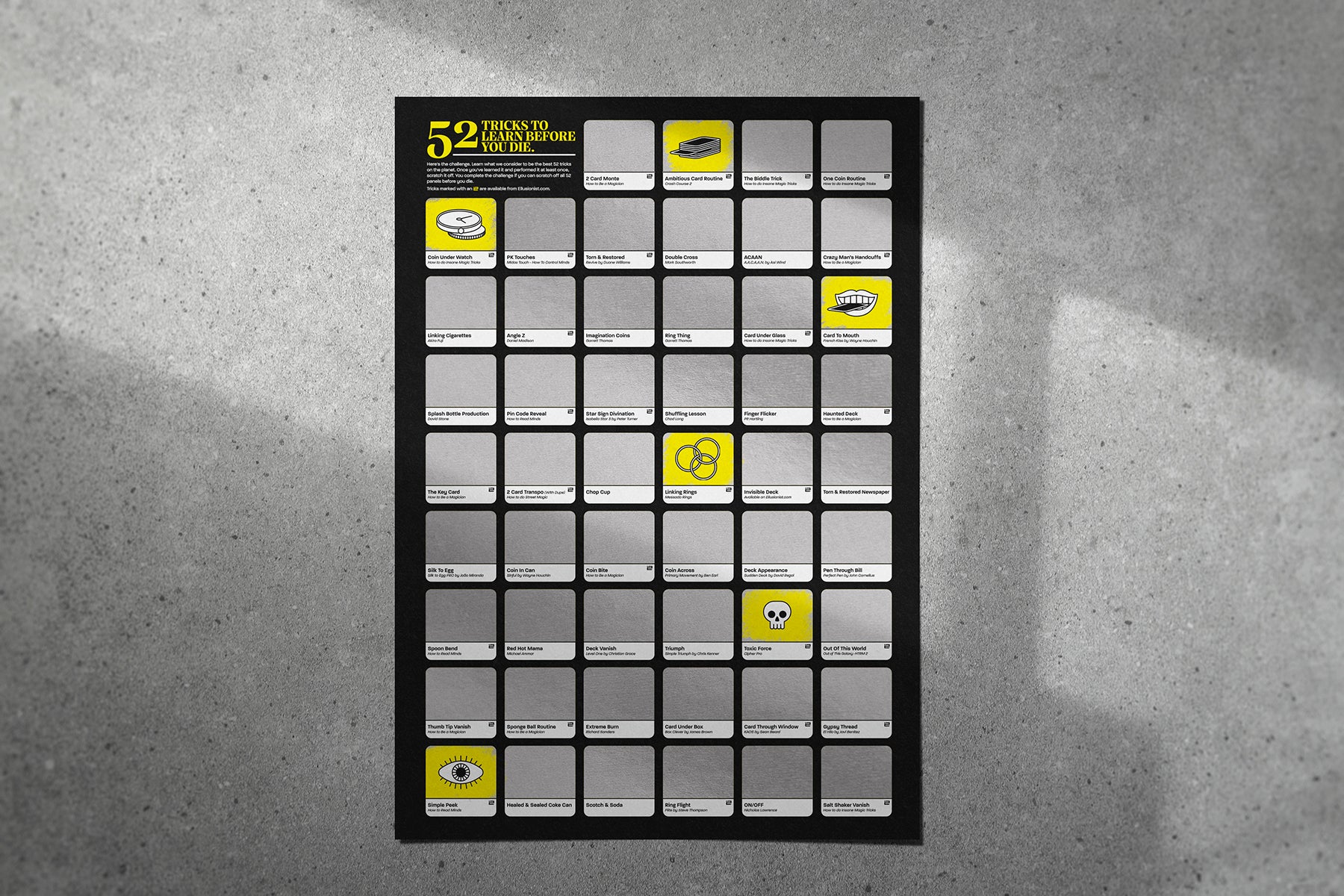 A scratch-off poster challenge for magicians. 
Can you learn all 52 tricks before you die? 
With the help of the magic community, we've created a list of 52 tricks you must learn before you die. 
In this unique scatch-off poster, you'll be greeted with 52 silver squares. 
In the top row, you'll see the plot of the effect. For example 'Out of This World'
If you've learned that trick and performed it at least once, you can scratch it off to reveal the vivid custom illustration below. You've achieved that square. 
If you've never heard of the effect, the line underneath will show you where you can easily learn it. 
Remember: You don't have to go with our suggestion, you can learn any variation of that plot that you like. As long as you know one Torn & Restored, you've achieved that square, it doesn't need to be Revive, for example. 
Sometimes, the trick is so specific to a creator, that we've put the trick name & creator within that square. 

Squares marked with an Ellusionist logo mean that you can learn it at Ellusionist.
But not everything is stocked here. Some you'll need to learn from the creator directly. The fun is in the hunt. 
You complete the challenge when you've scratched off all 52 squares before you die -and you can frame this poster as a piece of art commemorating your achievements. 
Good luck! 
Specifications
Size = A2 (420mm x 594 mm) aka 16.5 inches x 23.4 inches 
Printed on Premium Silk Paper, 250gsm
Treated with silk lamination
Coated with silver scratch-off latex.  
Frame not included. 
Ships separately in a reinforced poster tube. 
---
This product is rated 4.8 of 5.0 stars.
It has received 6 reviews.
Incredible Poster!!!
I love it! Very Nice Design. Working my way through it
What a Poster!
This has got to be my favorite poster from E. It's A2 size , and the real miracle happens when you begin to scratch every trick. It's like a hidden Easter Egg. Love it!
I just had to have this...
As a serious card magic hobbyist, I just thought this is a must have for me. I think of it as my checklist of 52 important card effects to work on. Even if you already do some/most/all of these, it's a good tool to have in order to structure your card magic practice. I love it...and I intend to use it as my daily practice routine...one at a time, until I am sure that I can do the particular effect smoothly and properly, with both patter and technique.
52 Great Suggestions
I was sold on this when I knew that The Invisible Deck and Extreme Burn were on the list. I didn't die yet, so I am still in the game.
Great Idea
Great idea. Perfect size. But some of the tricks listed are no longer available or discontinued.
That's where the fun is. Go hunt them down. Find them. Get talking to the community and trade things they have for things you don't.