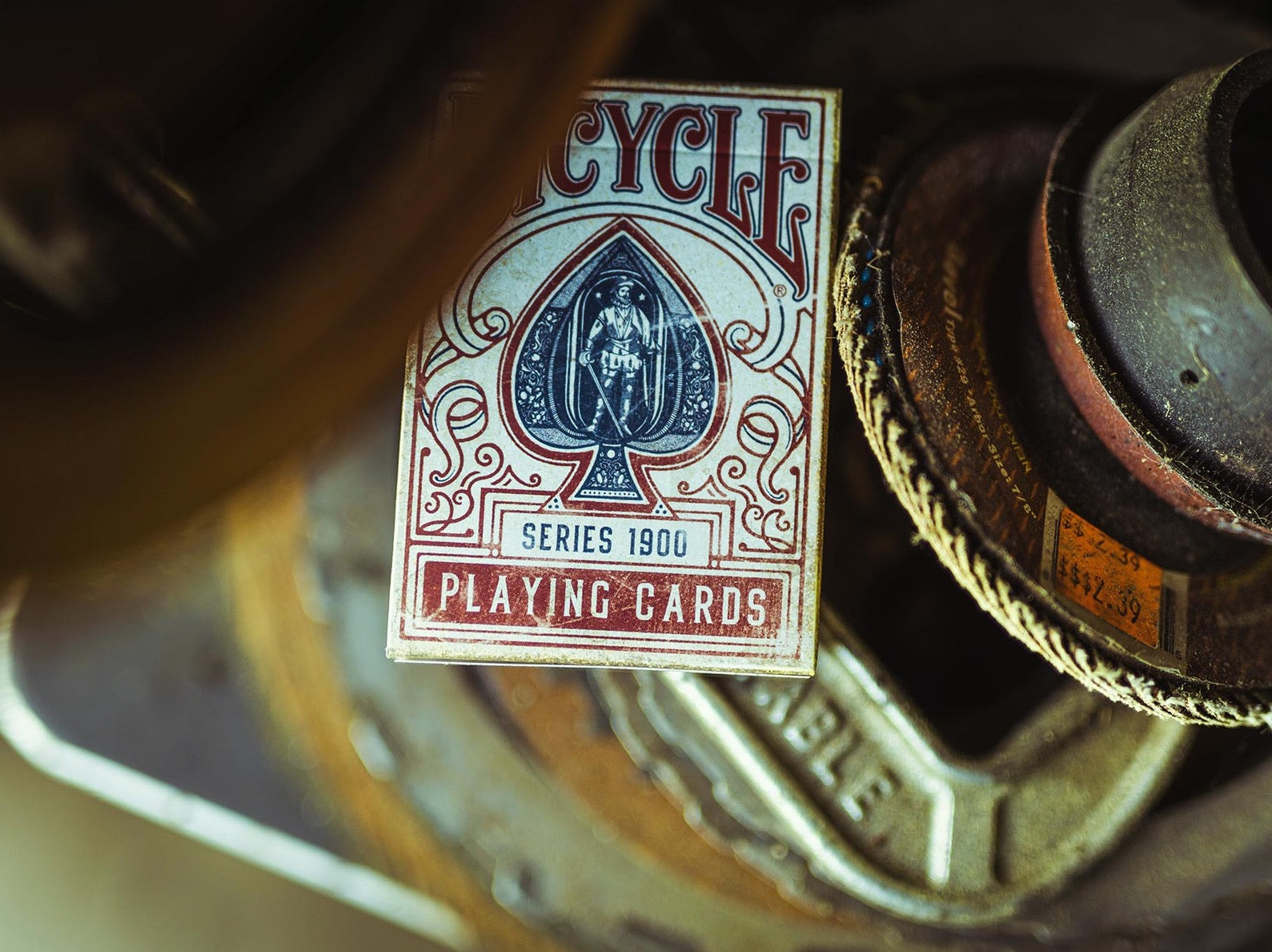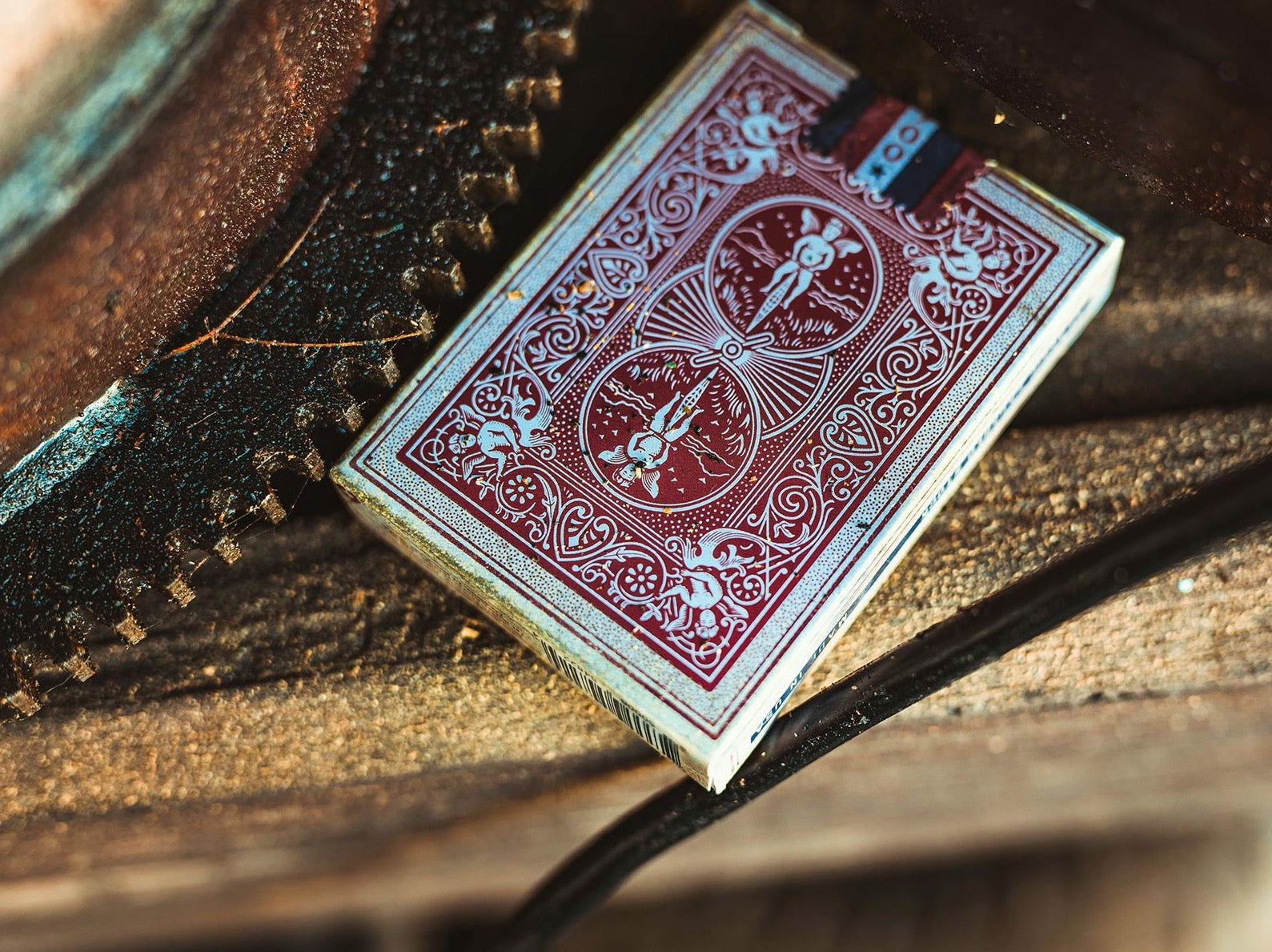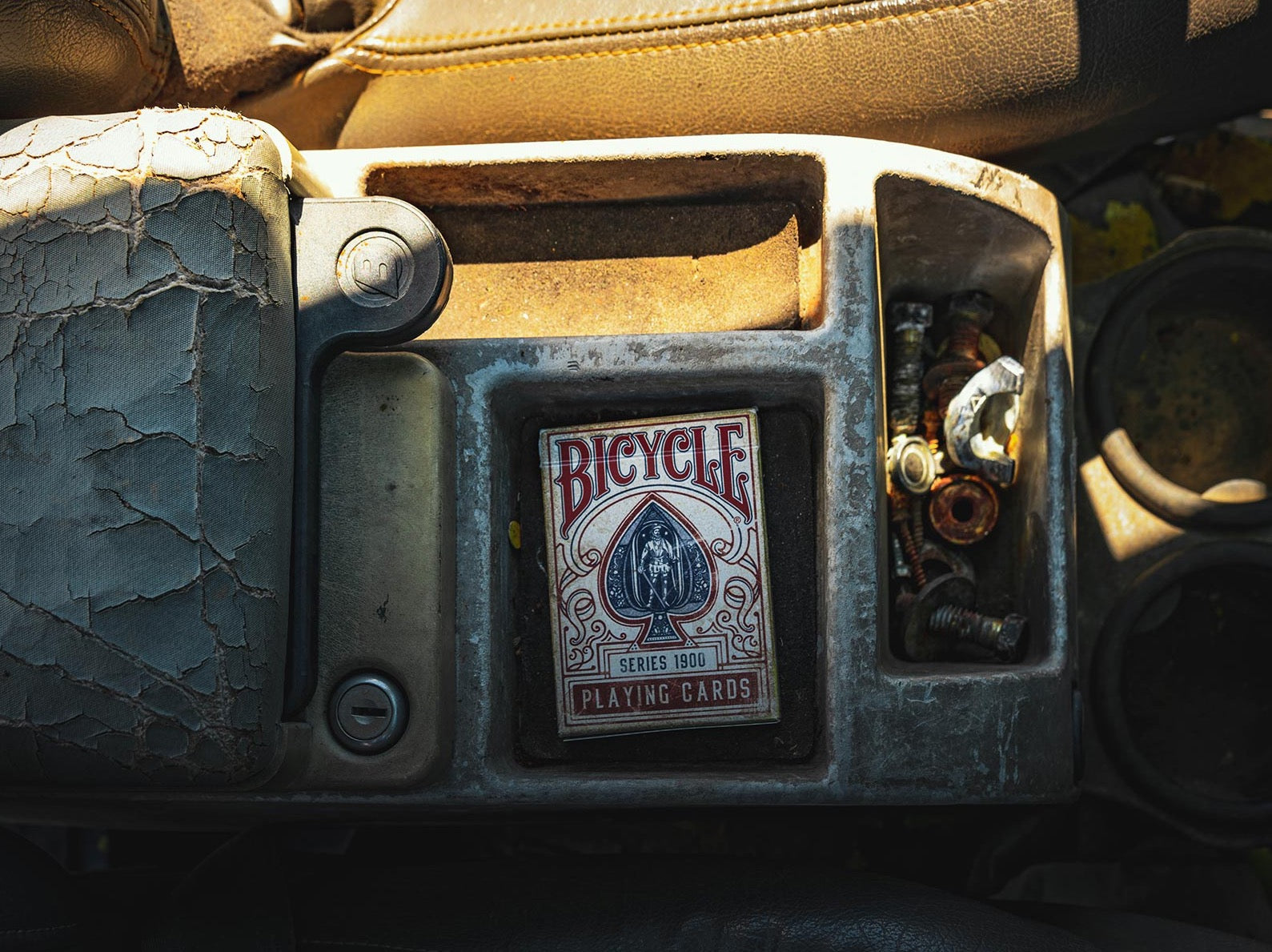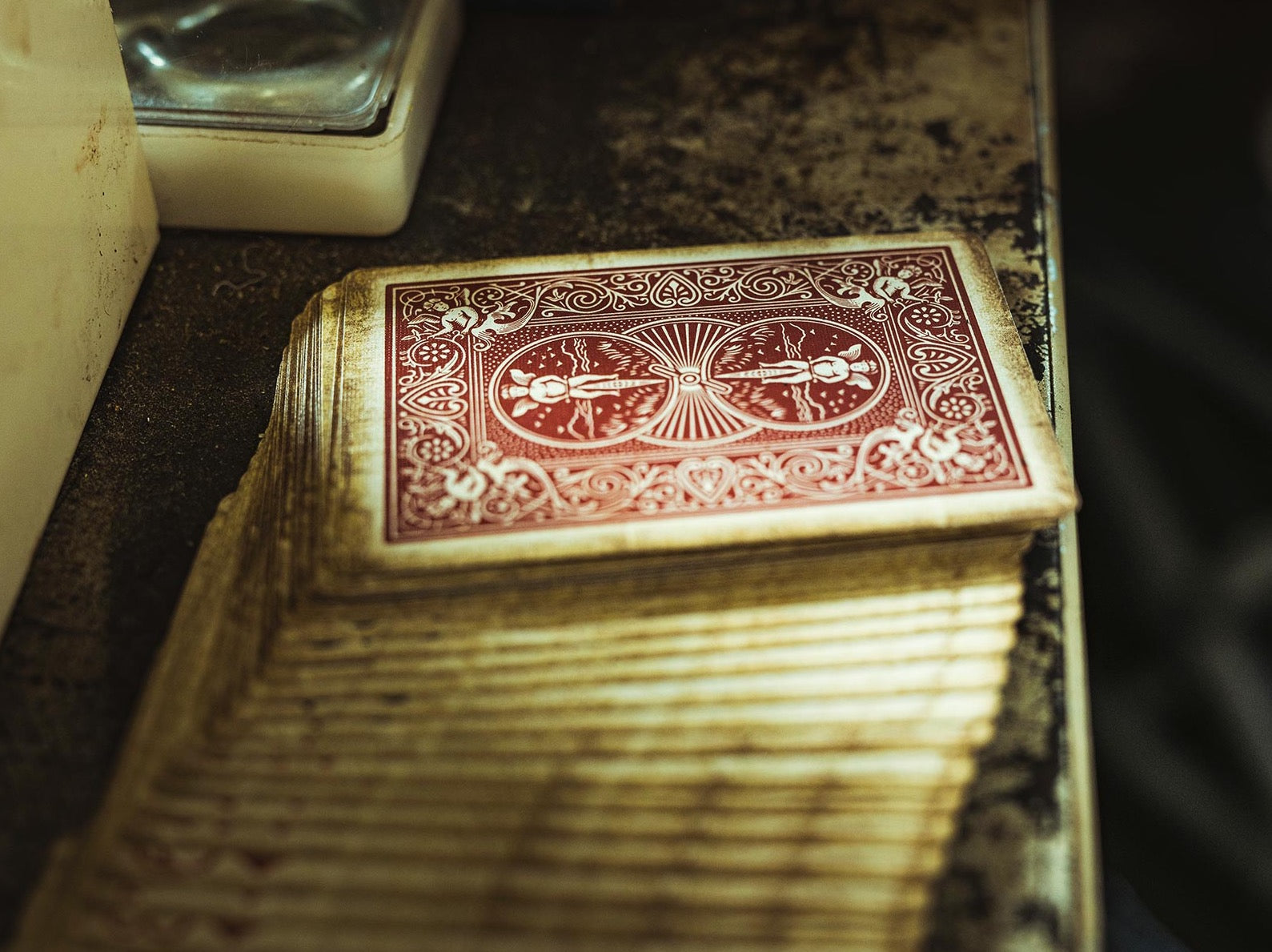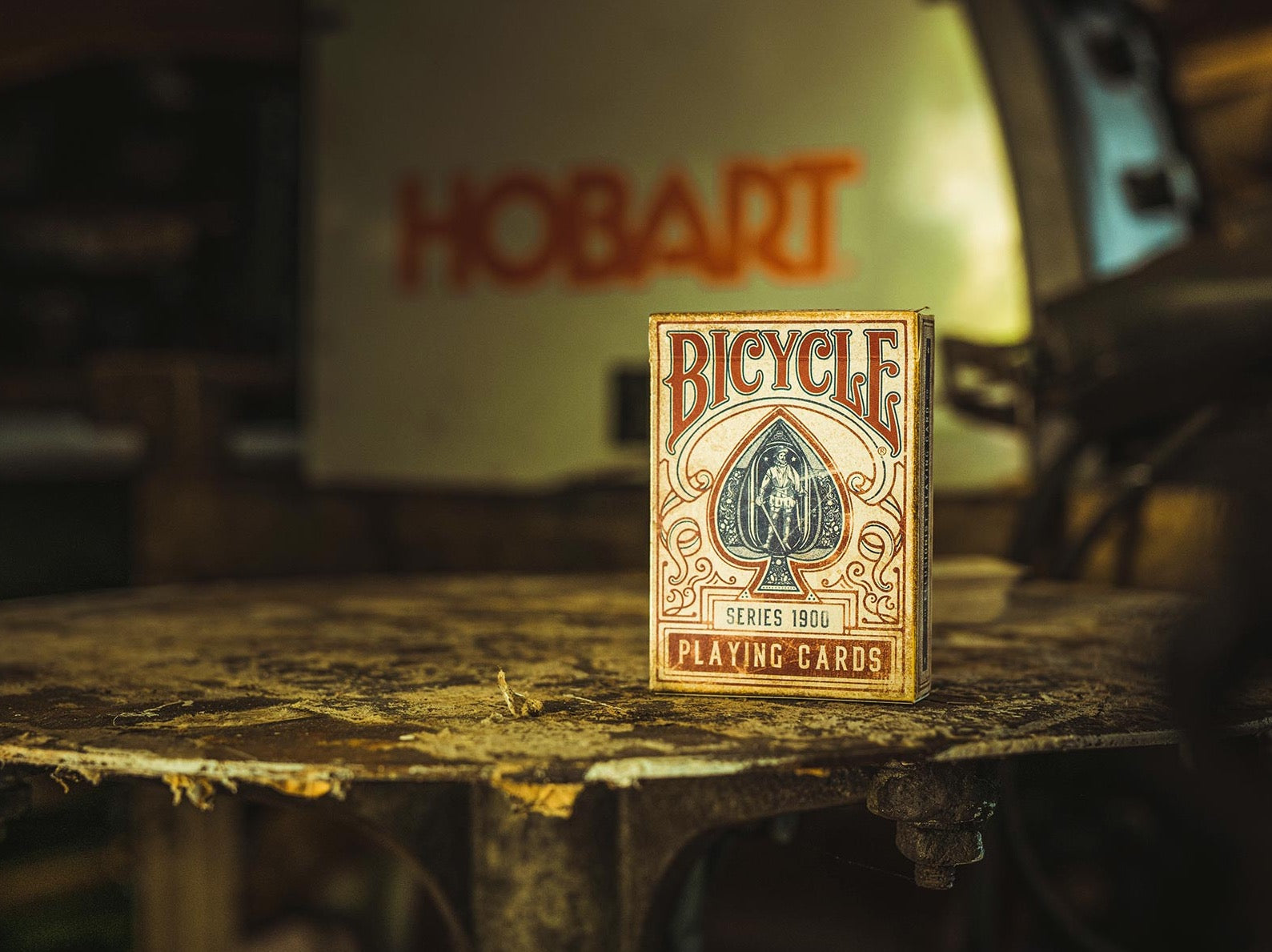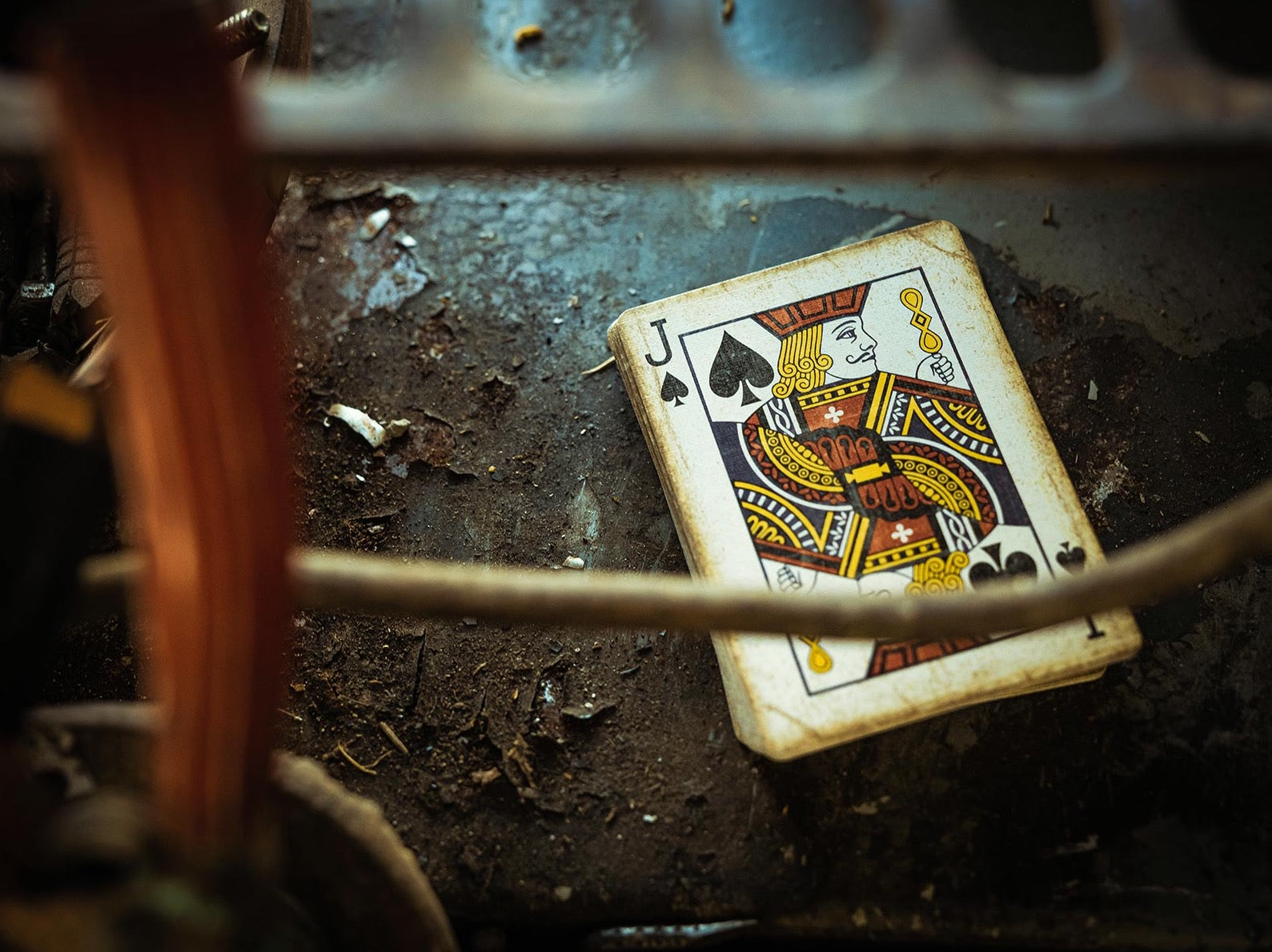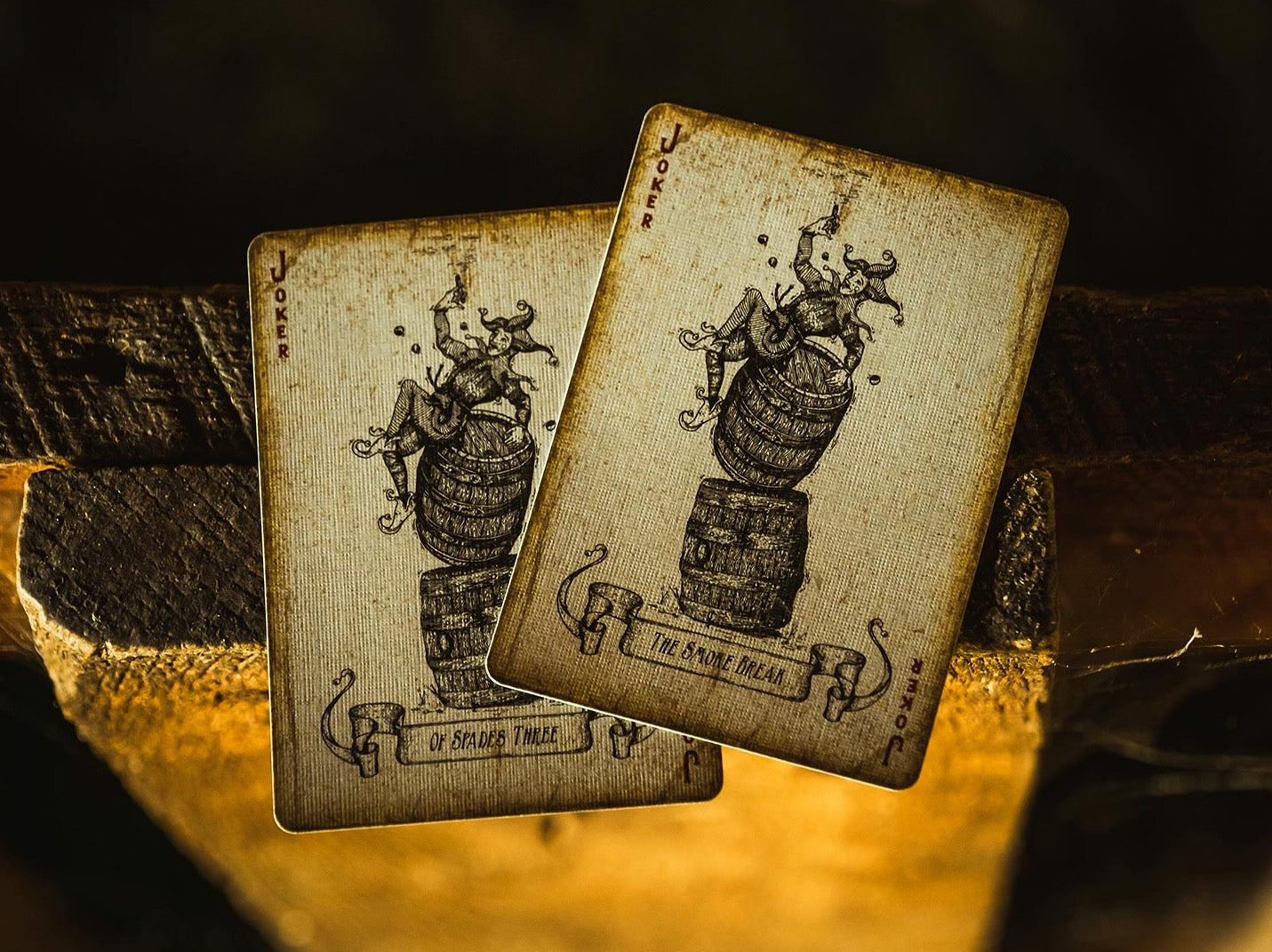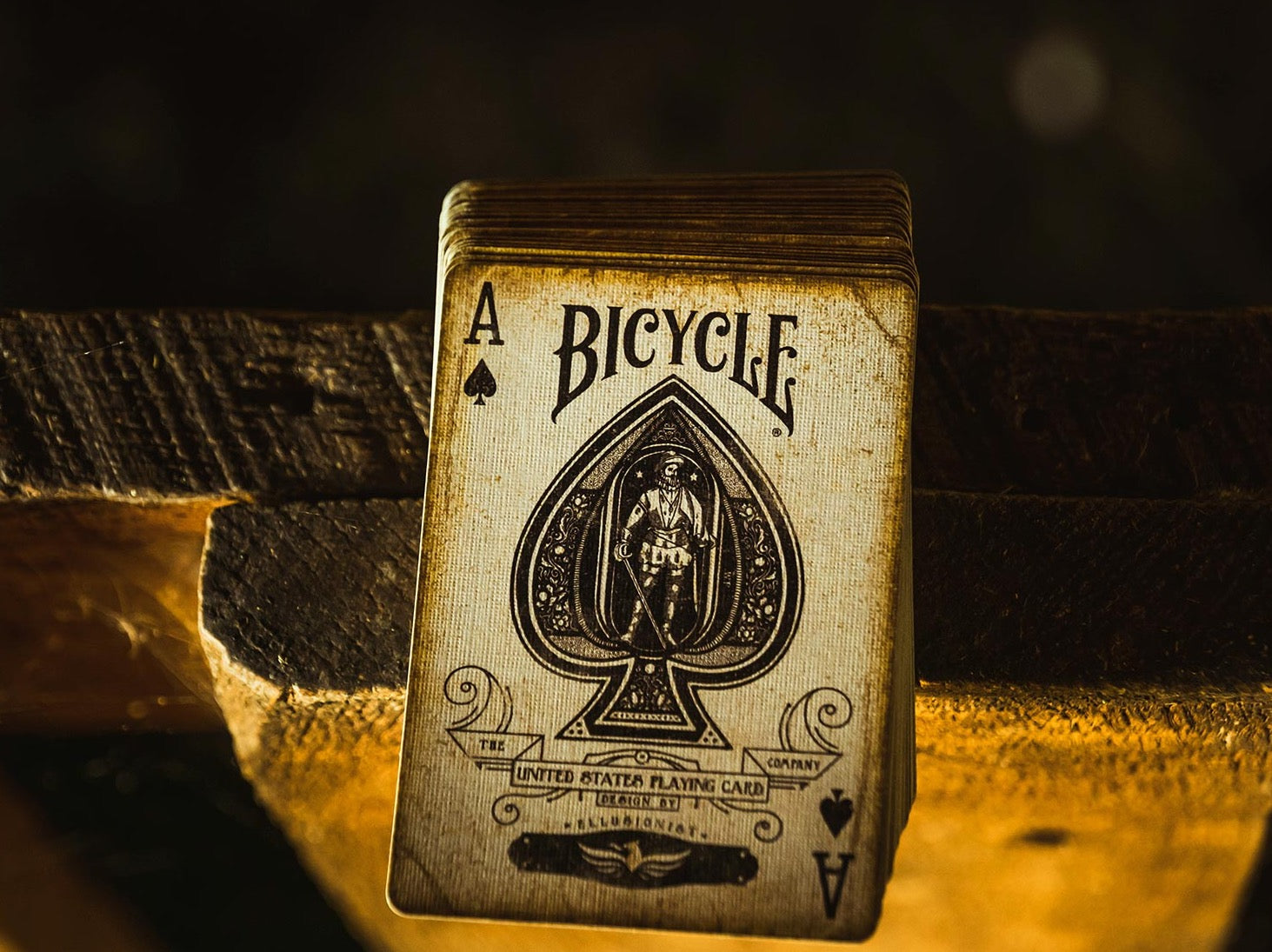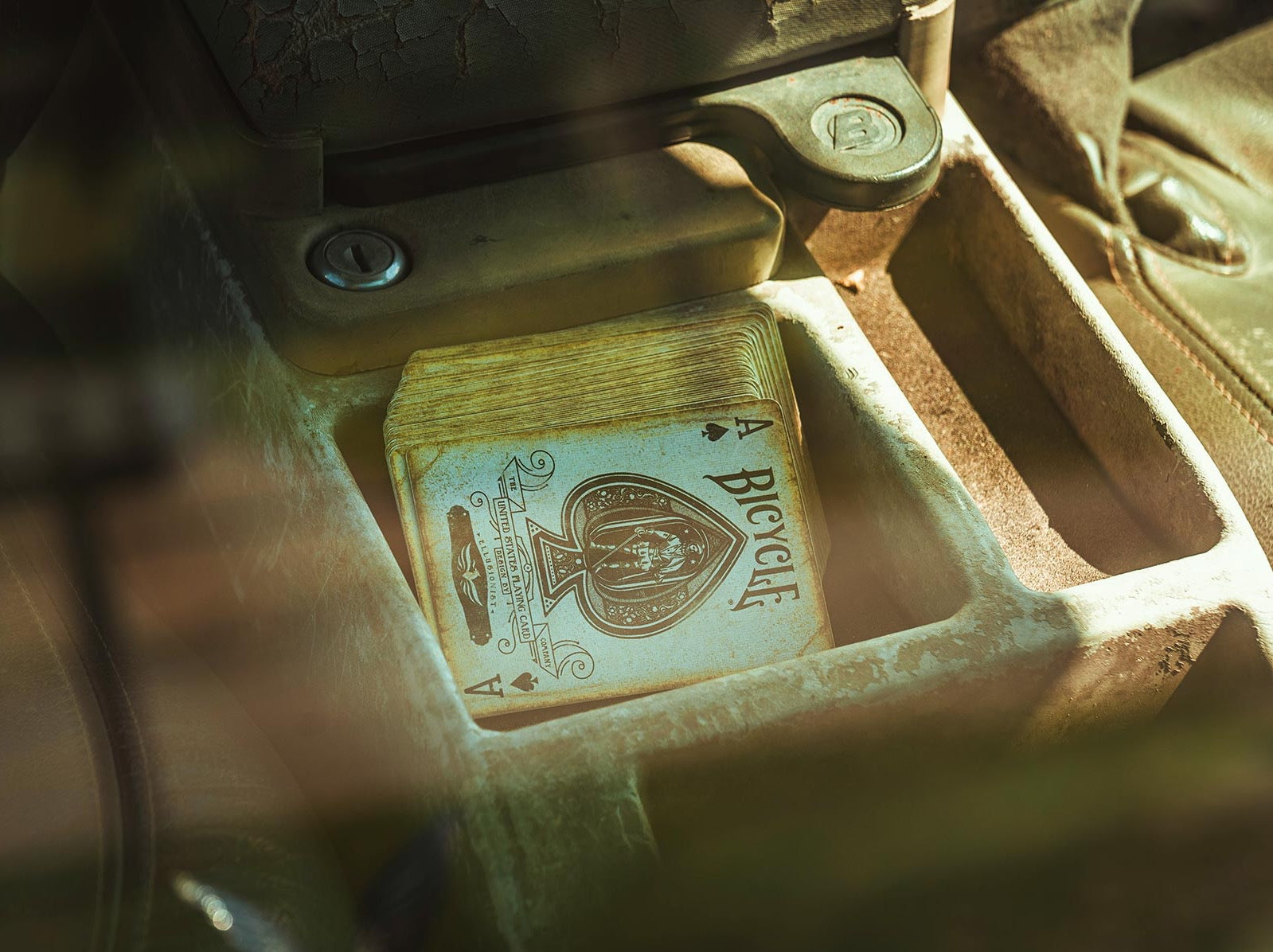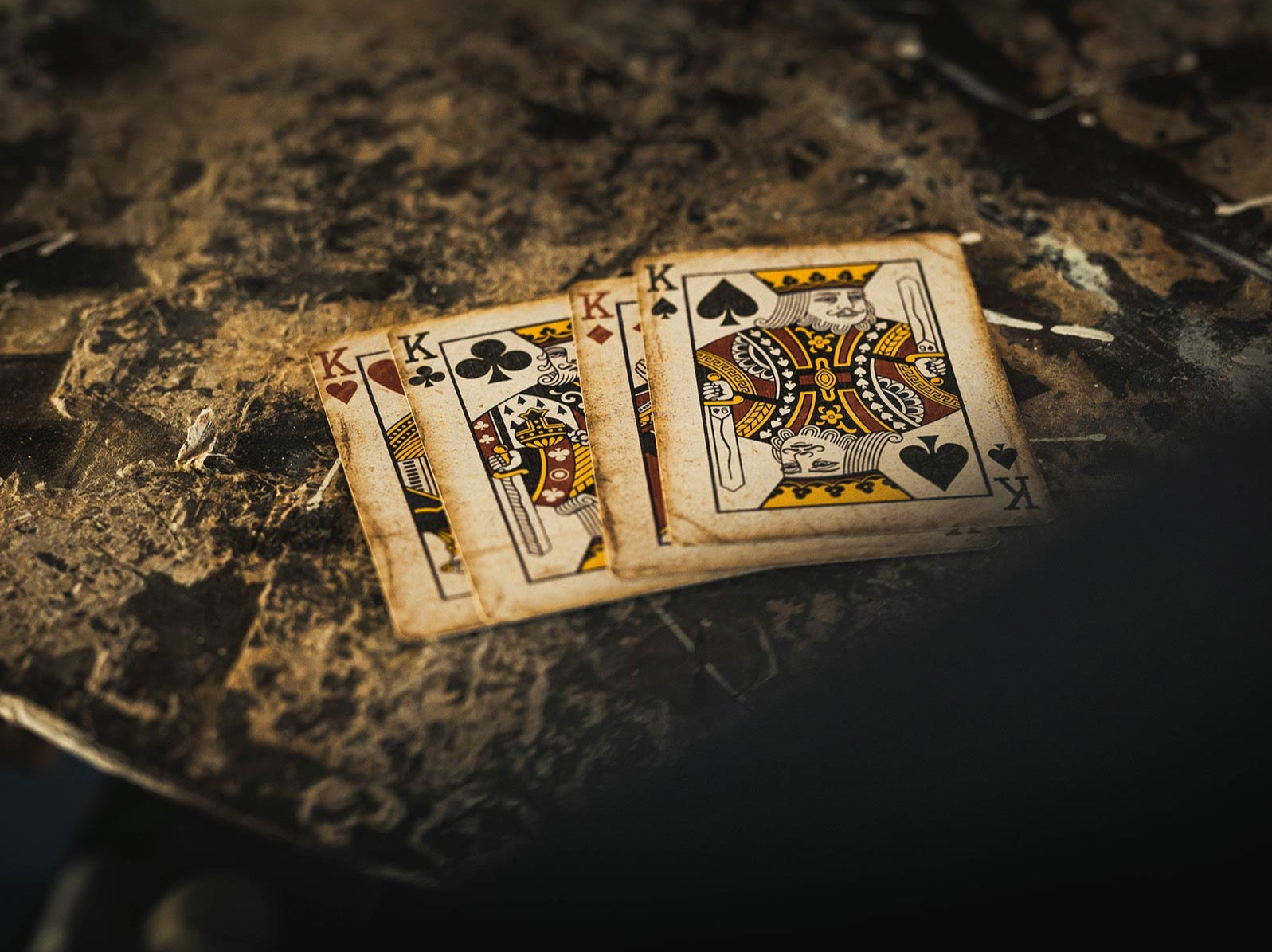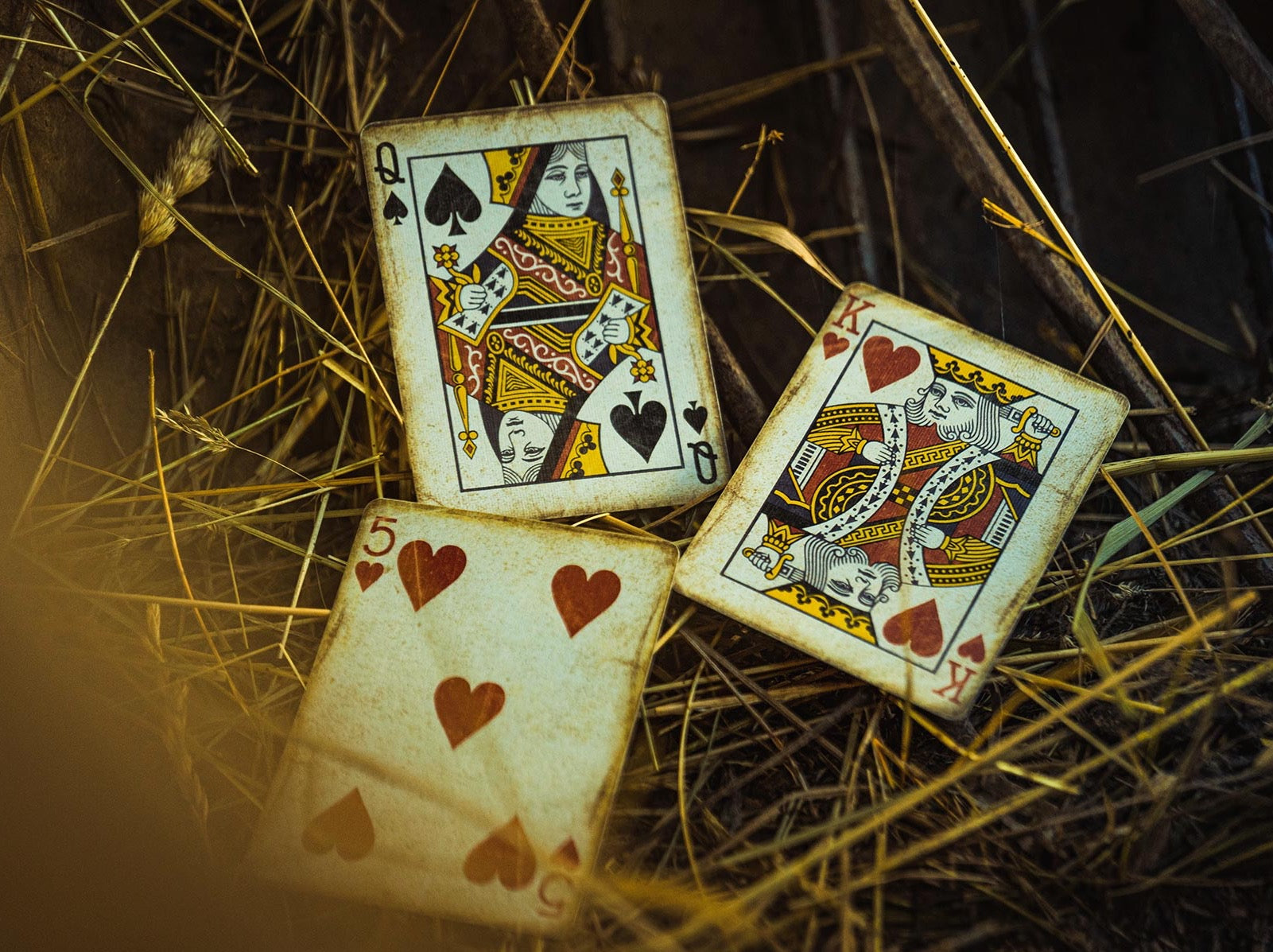 Bicycle 1900 - Red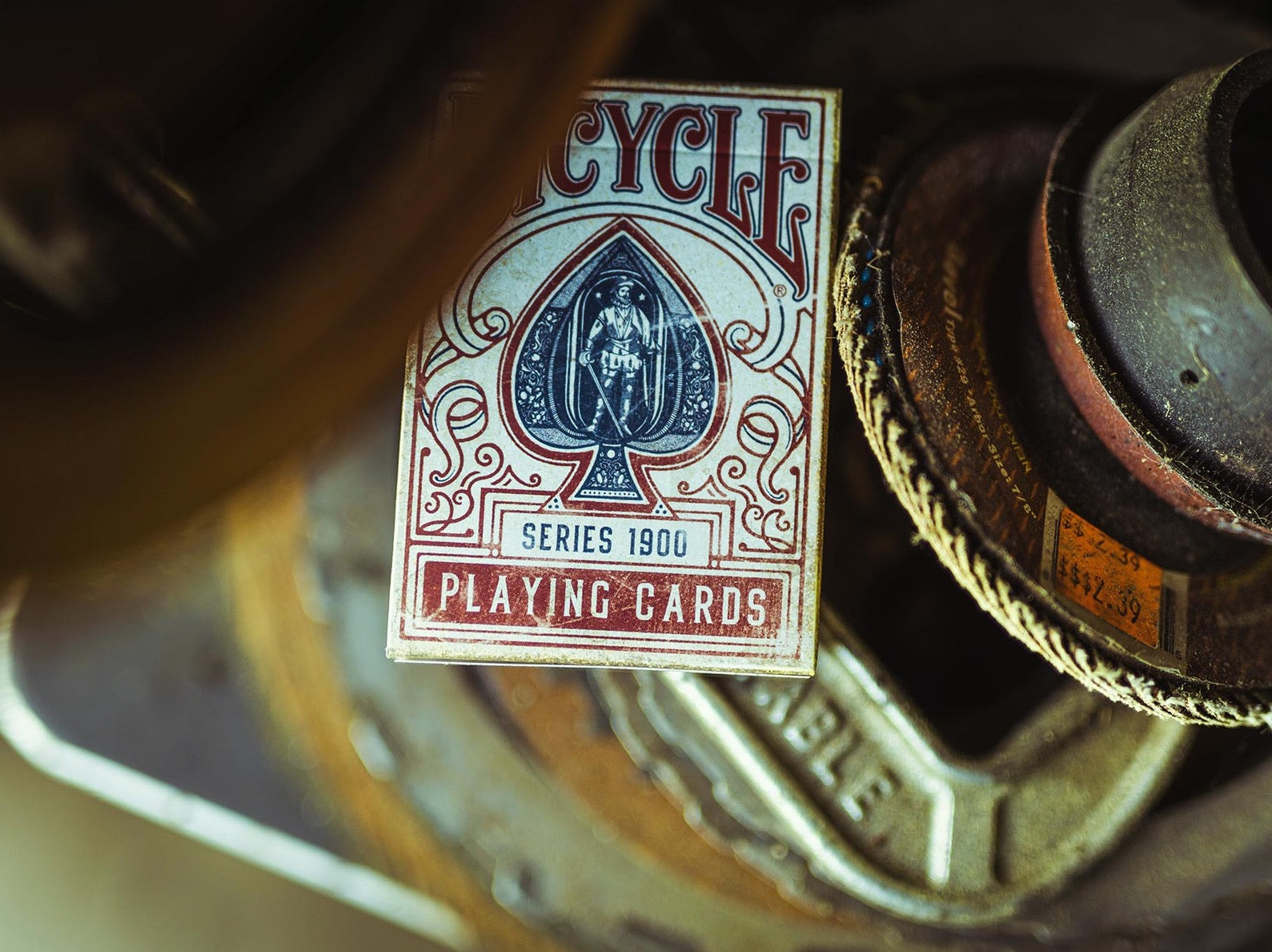 What would a deck of cards look like if it survived over a century?
Two world wars, nineteen presidents, the Titanic's maiden voyage, man's first steps on the moon, McDonald's selling its first burger, new Coke, Woodstock, and countless other historic events.
The Red Bicycle 1900s Deck looks like it's been weathered and abused, exposed to the elements, left to experience every second for over a hundred years.
But these cards are an illusion in themselves, because they may look very old, but they handle superbly. You have to keep telling yourself, this is a new deck of cards.
The faultless follow-up to the ever-popular 1800s deck, the 1900s deck is full of secrets and history.
Finally available in Red Bicycle Rider Back, you'll quickly understand why these cards set the new standard when you start using them yourself.
Grab a piece of history.
Everyone remembers how they got into magic and many of us share the same story.
Our Grandfather, usually quiet, smoking a cigarette in his favorite chair, gets up and walks to an old mahogany cupboard. Pulling out the drawer, he rummages around and dusts off a weathered, stained deck that looks like it has stories to tell.
He shuffles for the first time in 10 years, but somehow, the cards don't evade him. This isn't the first, the tenth of even the hundredth time he's held these cards... He has complete control.

Then, from this unassuming deck comes the best magic trick you've ever seen in your life. The first magic trick you've ever experienced.

There's something more mysterious about an old object conjuring up miracles. It seems more authentic.

Years later, you're standing in front of an audience, about to perform and your patter begins. Your Grandfather showed you your first magic trick and this was the deck he used.

A brand new deck of Red, Bicycle 1900's is introduced, establishing itself as more than a prop. It's now a character in your performance.

Your audience, enthralled by the cocktail of nostalgia and magic, suspects nothing.

They hear the words, they see the deck and they believe.
This product is rated 4.9 of 5.0 stars.
It has received 57 reviews.
Great for old looking cards
Great deck with exactly the look expected. Markings are a little challenging but become more intuitive as you play with them. Beautiful cards for very OLD school plots.
Great feeling, characterful cards
The cards have an excellent feel to them, and whilst the marking system does require a bit of effort to memorize, once you got it down it works really well.
Red 1900
The 1900's cards are created in regards to a "used" or antique style card front, they look worn and well used. But, when performing with them the response from the audience is positive and they are always remarking on the cards themselves. To bring the past to the present use 1900's they are well worth the price and the responses.
Standard quality and fun design
Standard bicycle quality. The design is really cool tough. The only "downside" is the the back design is the same for every card of each color so you can recognize what color your opponent has when playing a game.
Such cool cards
I love these cards. They slip beautifully and with their old used vibe they fool the eye and set the seen with pizzazz
A Nostalgic Journey with Bicycle 1900 Playing Cards
Bicycle 1900 playing cards offer a charming glimpse into the past, capturing the essence of the early 20th century in a modern deck. While it may not be the most versatile deck for all card-related activities, its exquisite design, quality, and collectibility make it a worthy choice for enthusiasts, collectors, and those who appreciate a touch of nostalgia in their card games.
Whether you're a card aficionado or simply enjoy the beauty of vintage design, Bicycle 1900 playing cards provide a delightful blend of artistry and functionality that's worth adding to your collection.
Beautiful deck of cards
Smooth deck of cards. Just a beautiful look the cards give off. Bought 2 decks and also the jokers are just sexy. :)
Great product!
Awesome products as always!
Best!!!!!!
They're playing cards. You're buying them from Ellusionist, so they're good quality. I like these for doing card-swapping tricks with my regular Bicycles and incorporating some time-travel story into them.