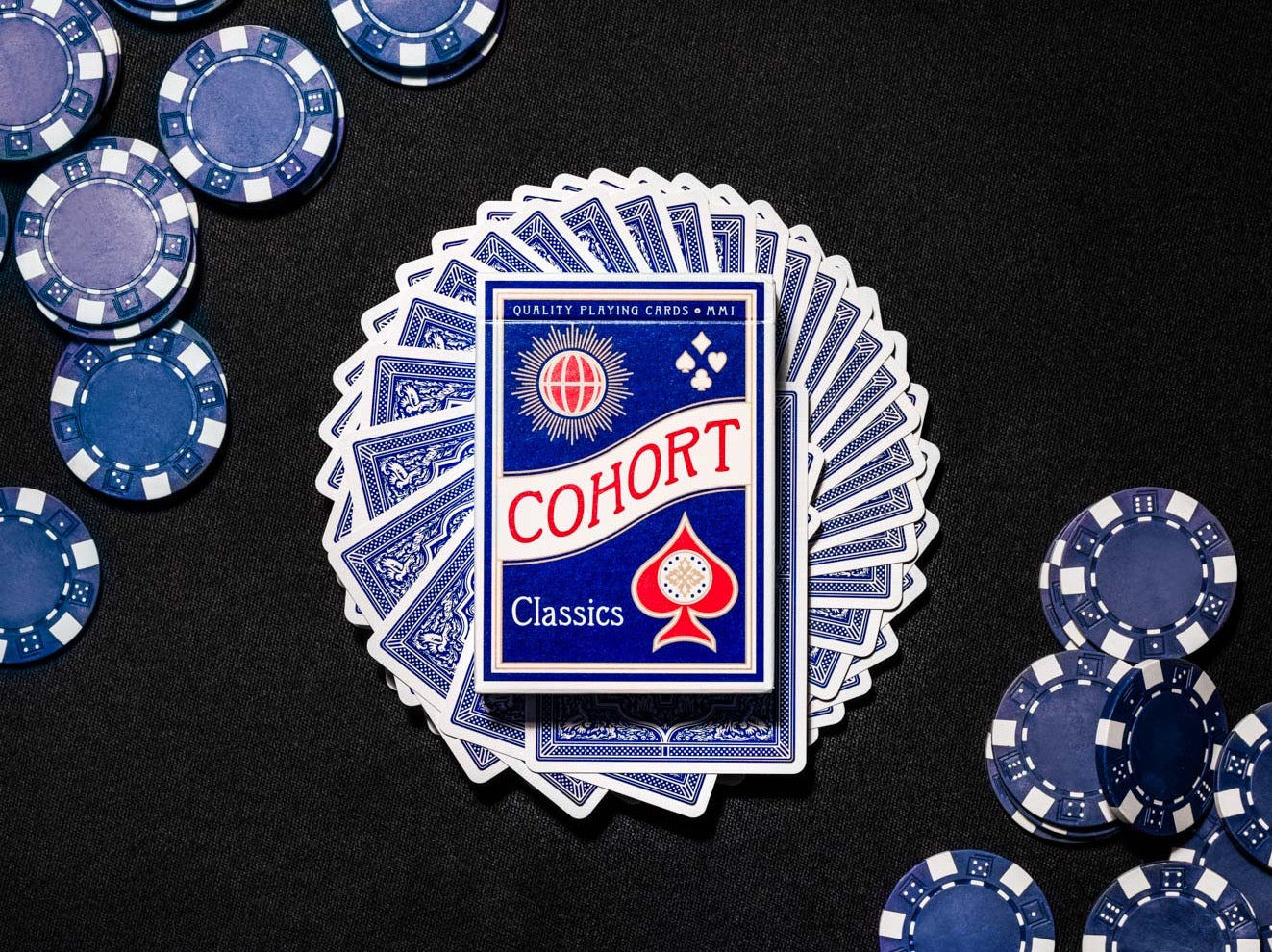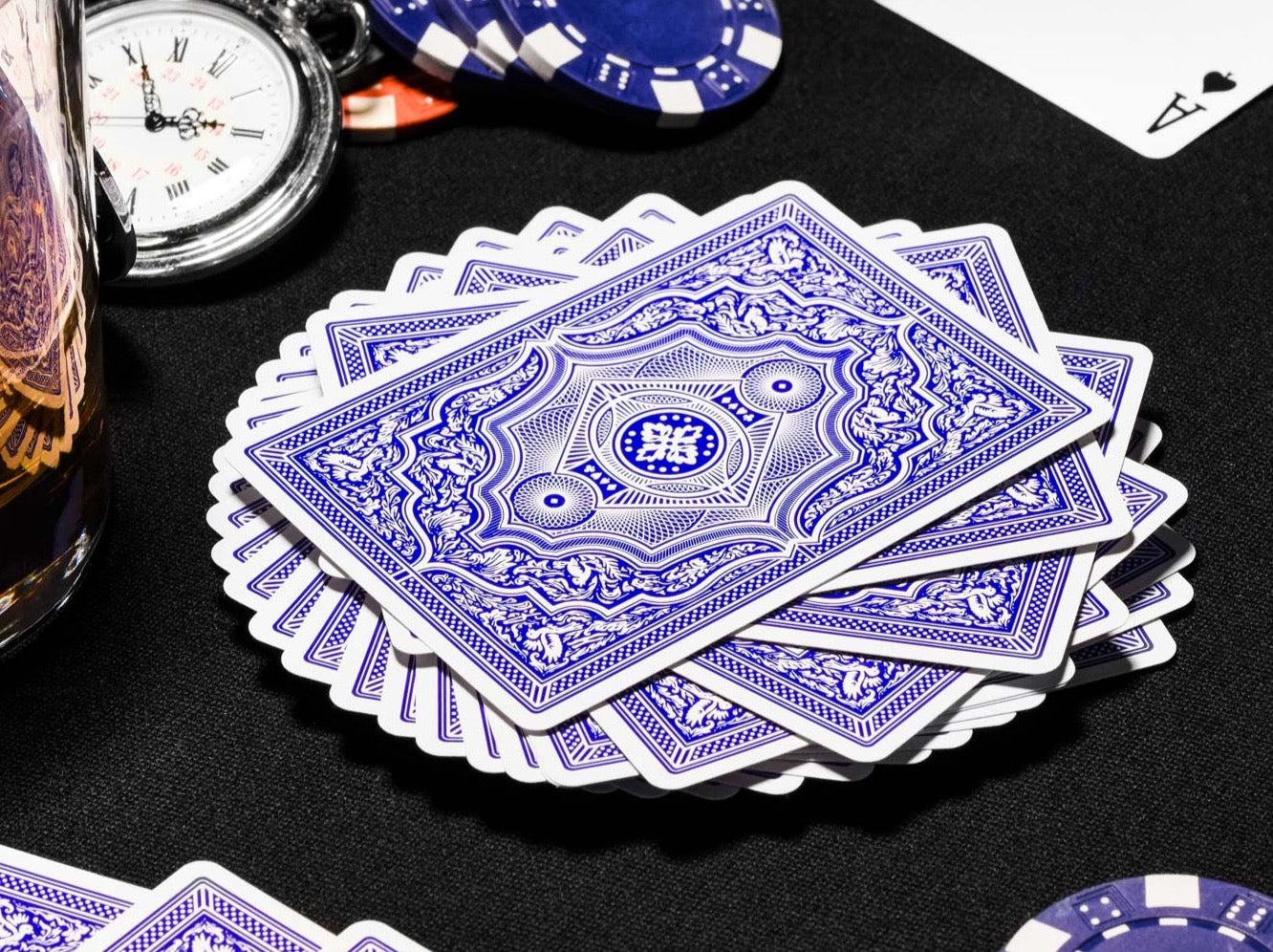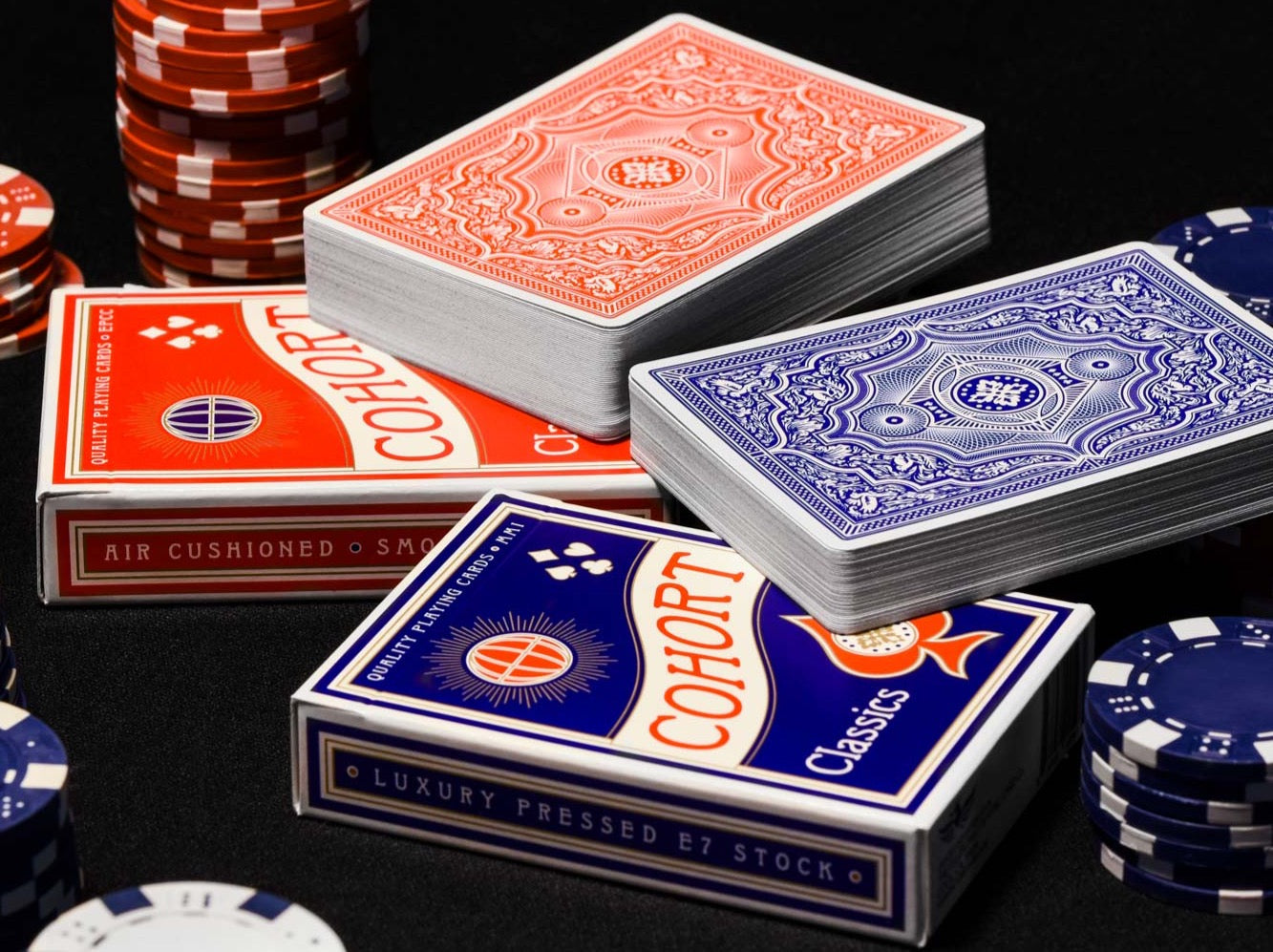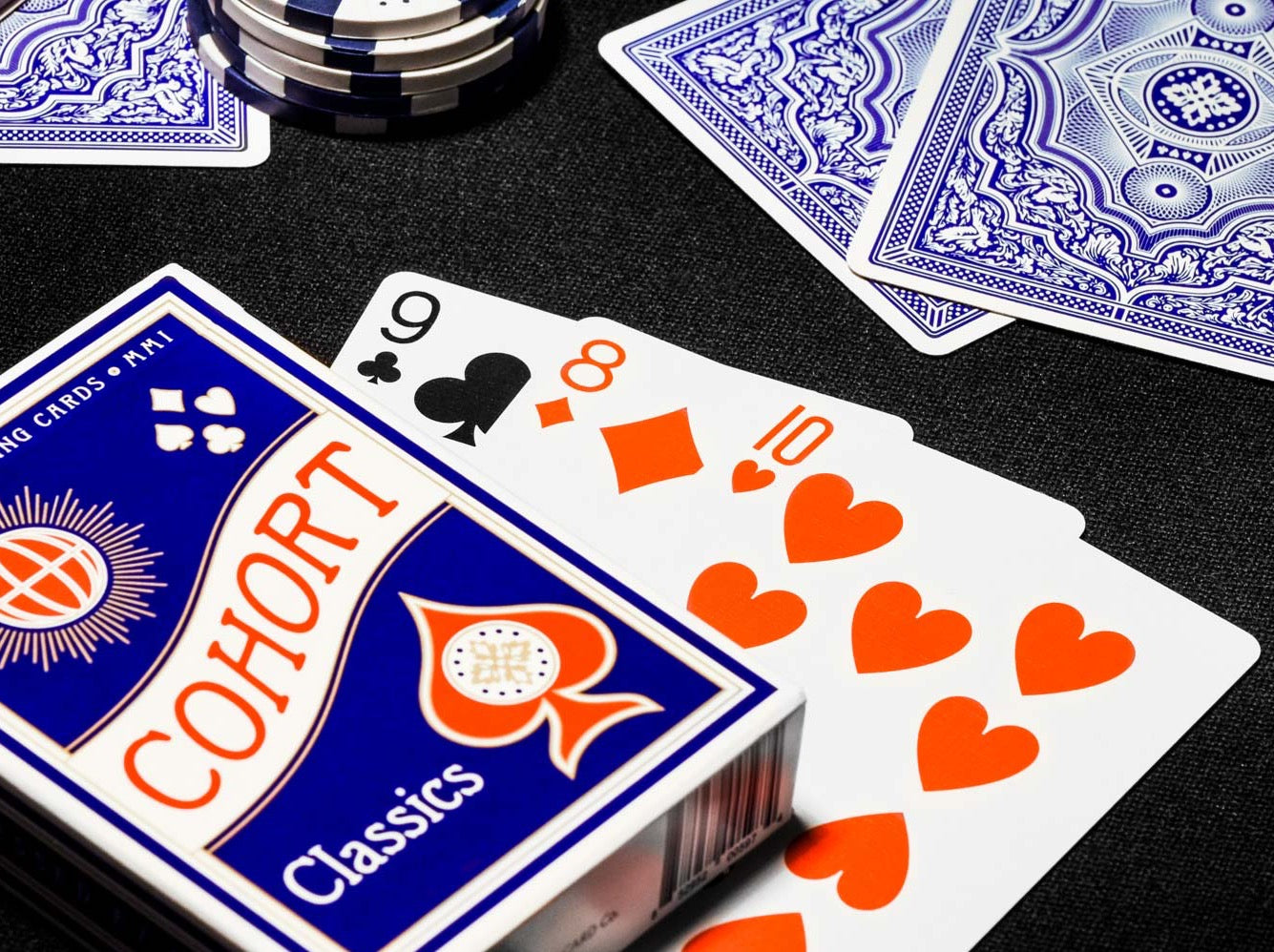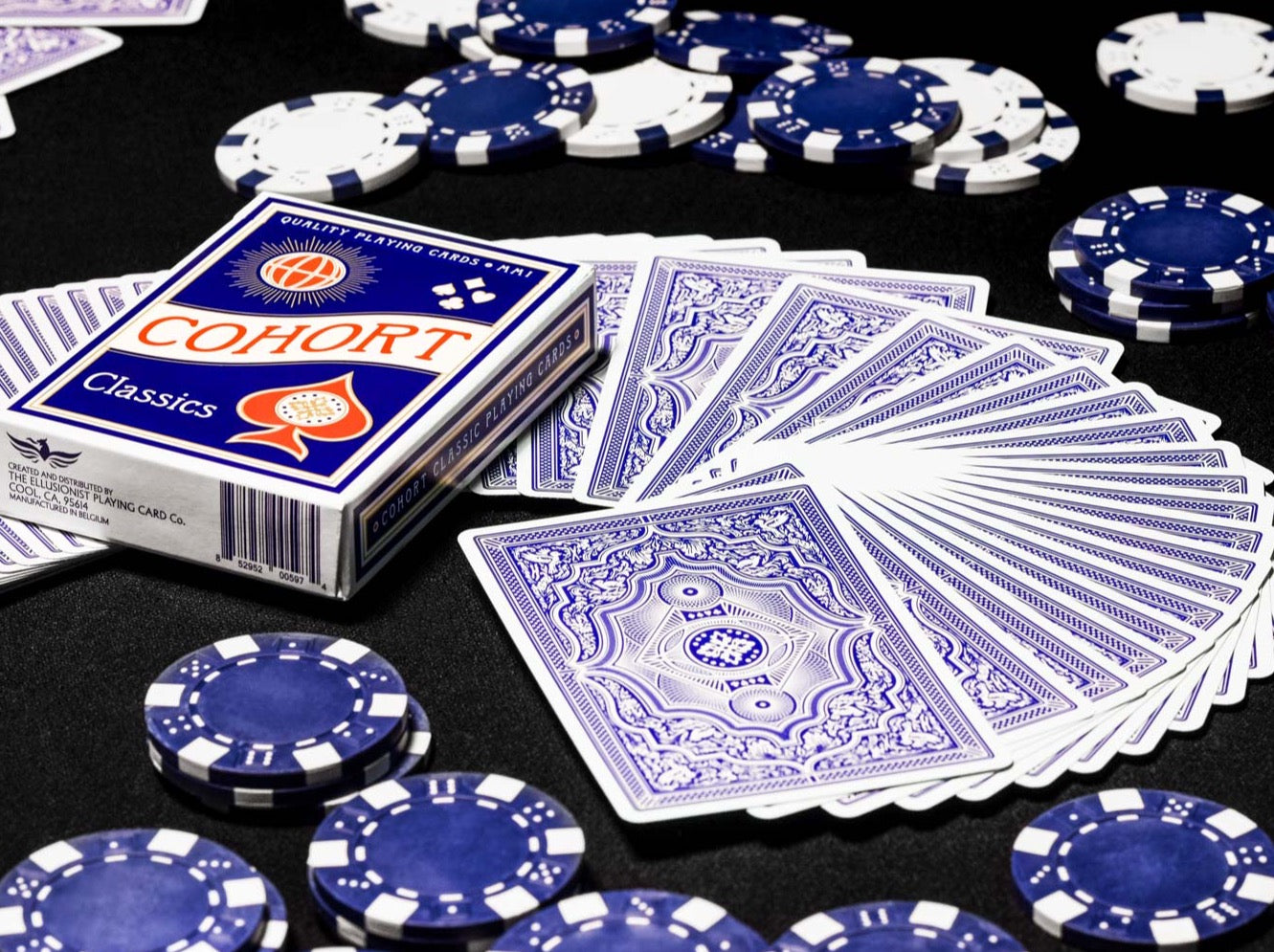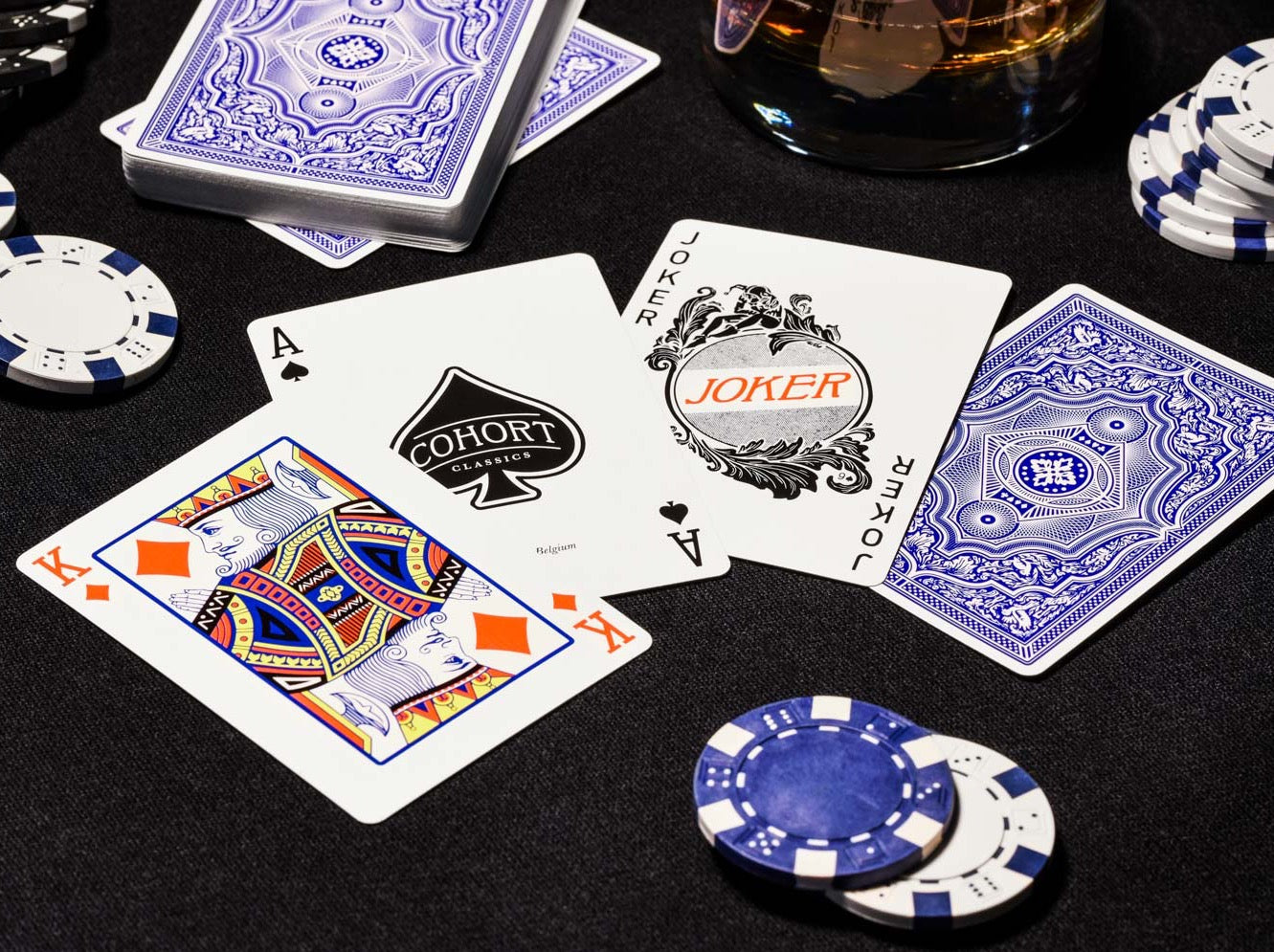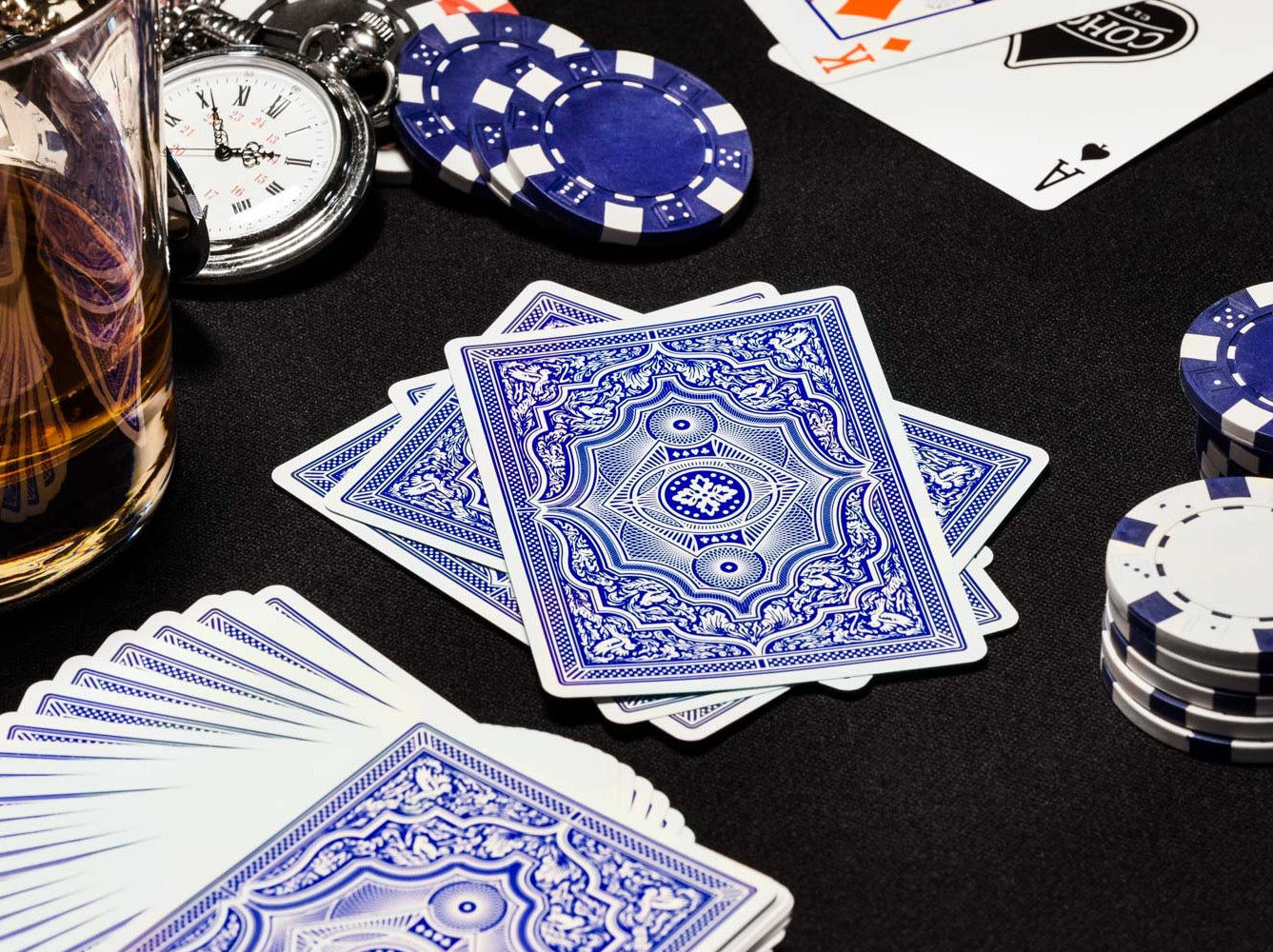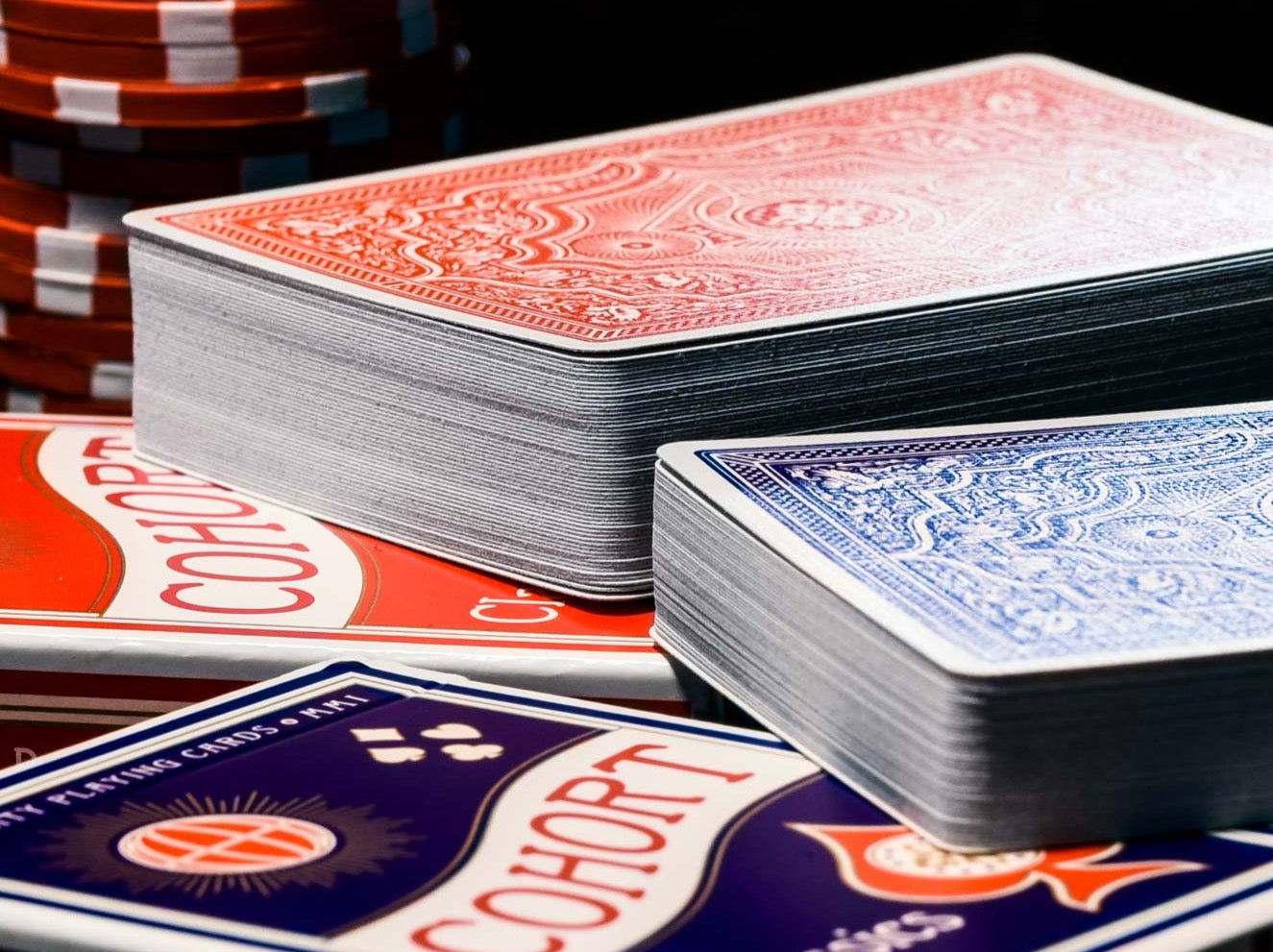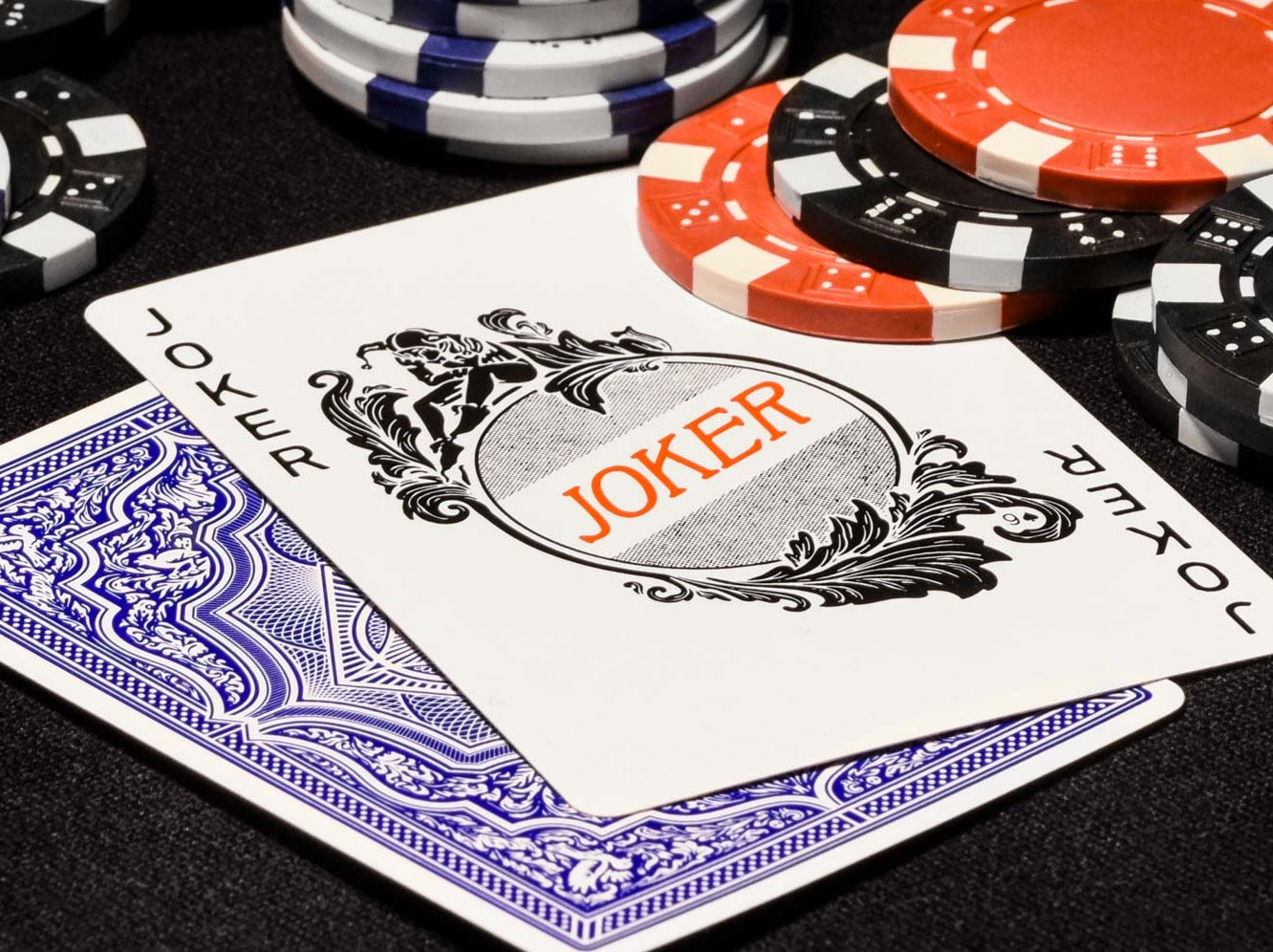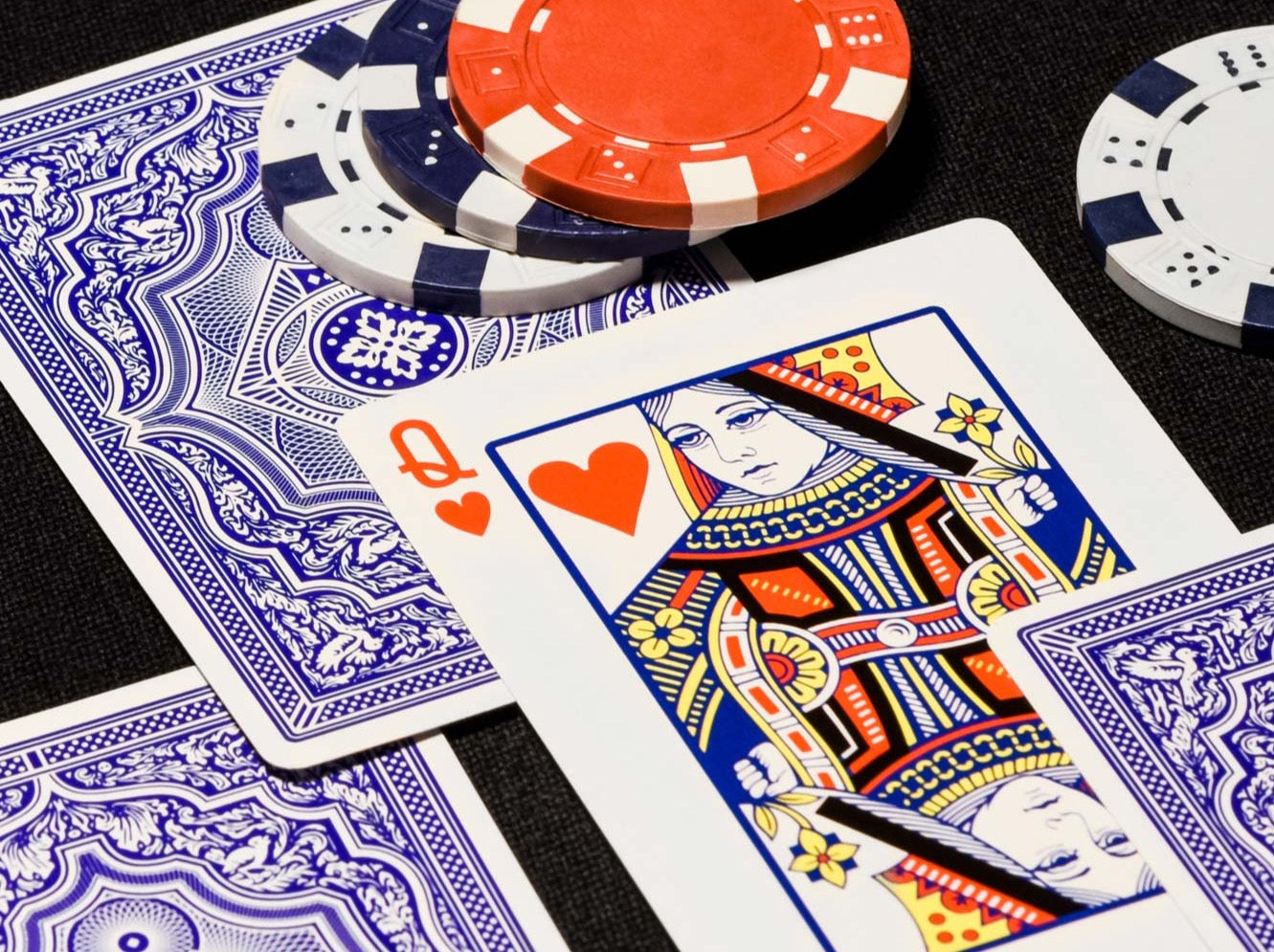 Blue Cohorts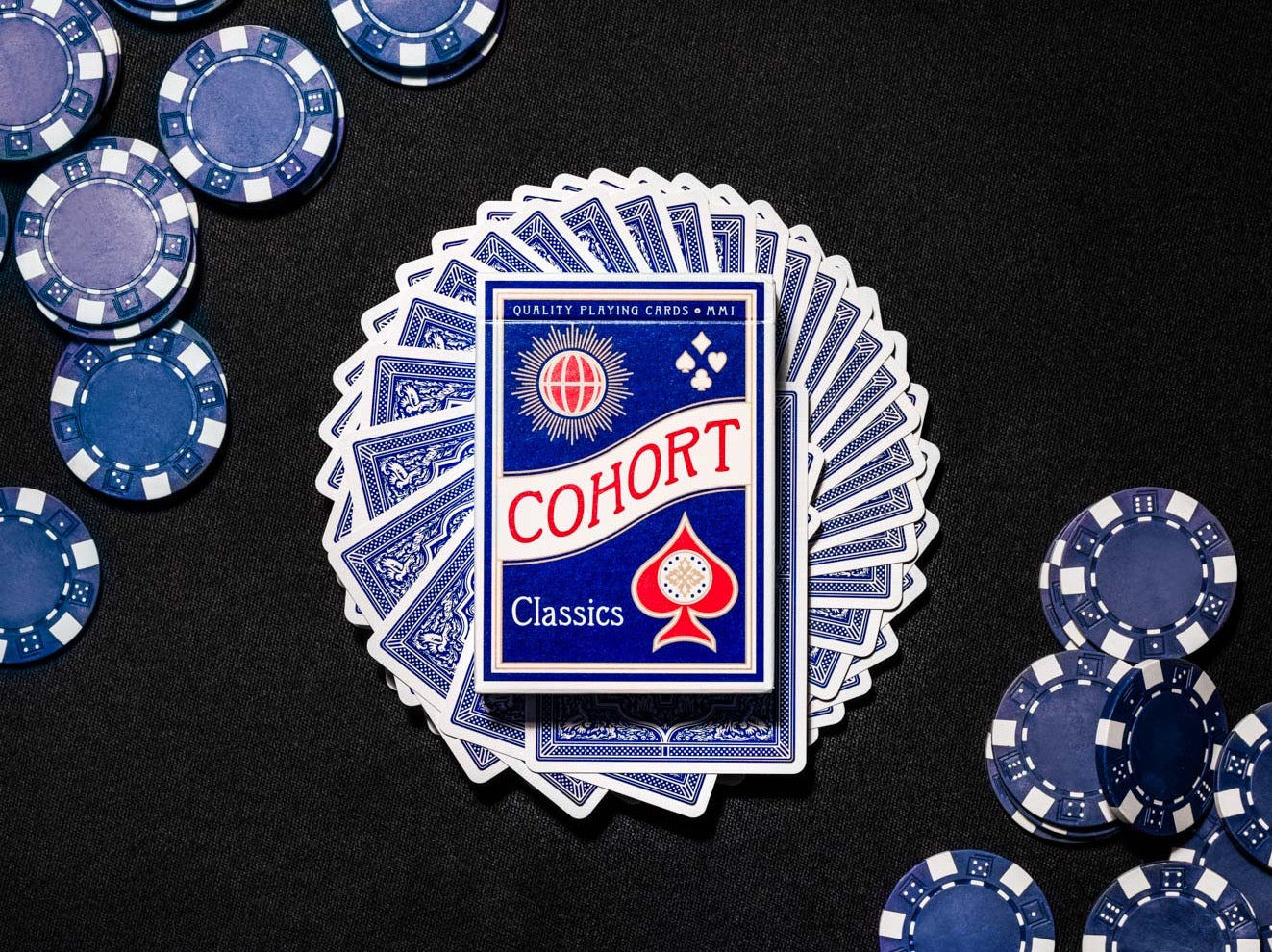 Vintage Casino Playing Cards.
Our favorite marked deck is finally available in BLUE.
This vintage casino style deck was designed with simplicity in mind. From our classic court cards to the nostalgic back design, Cohorts were engineered to look unassuming on the card table or in the hands of a master card mechanic.
Each deck comes with 52 cards, 2 jokers, 1 alternate color double-backer and a duplicate Queen of spades (for obvious magical reasons).
Hidden within the lines of the intricate back design are markings undetectable to the untrained eye. Easily readable for any magician, card mechanic or mentalist out there.
Printed on our brand new luxury pressed E7 stock in a vibrant blue, this is the crushed stock deck you've been waiting for. We worked hand-in-hand with Cartamundi to find an answer to 'Bicycle Crushed' and boy did we deliver!
As an Ellusionist exclusive this is the only place you can get the thinner-stock cards produced with a durable Cartamundi finish.(We have a 6 month exclusive) 
People often comment on Cartamundi's stock... "Their stock would be perfect if it was just a bit thinner" ... NOW IT IS.
This is one deck that you need to feel to believe.
Get your Blue Cohorts NOW.
This product is rated 4.9 of 5.0 stars.
It has received 72 reviews.
Card man's delight
Beautiful cards that handle like butta, they can be clearly read and would be a asset in any card man's inventory.
Best standard looking non-standard cards!
Love that they look like a standard deck of cards but have an amazing marking system. Easy to use making system. They handle great, feel great. Great deck all around. Highly recommend!
Unreal handling
These cards are super. They handle supremely and are very quickly becoming my favourite cards. Also, beyond what the eye can see, these cards contain reader markings, which make these cards very useful to any magician! Could not recommend more!
Solid working deck
Cohorts are quality and priced very well, EVERYTHING you want in a day to day working/performing deck!
Smooth Criminal
Their smoothness is criminal - do I have to say more? ;-)
Blue Cohorts
Great cards. Look and feel amazing. Would recommend.
Cohorts never disappoint
With the finish that's second to none, and a marking system that is so well hidden as well as being able to be read in just a split second, the impossible can be done with this deck! This is one of the decks I don't hesitate to use while doing a show
The cards i always wanted but didn't know i NEEDED
These cards are next level. The design is so soothing to look at. The quality is 10/10. Daily driver for sure.
Great marked deck
Markings super easy to read and they handle brilliantly