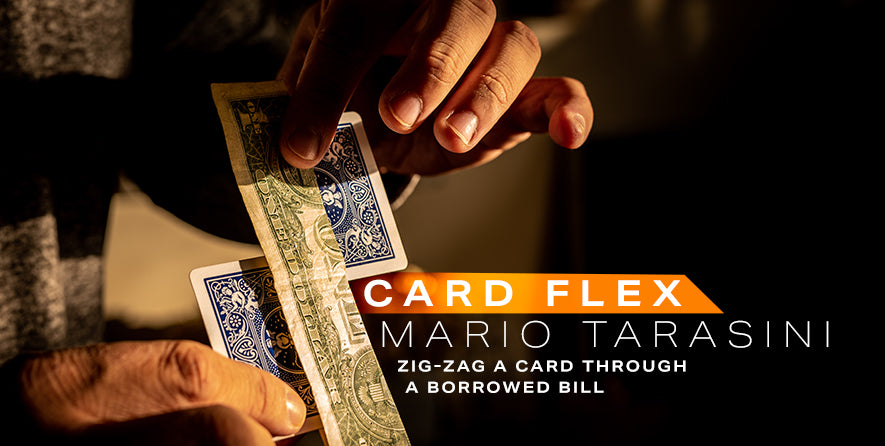 Card Flex
Ask people if they've seen illusions on TV. Particularly that Zig-zag trick where the magician pulls the girls middle away from her body. It's that same trick... but close up.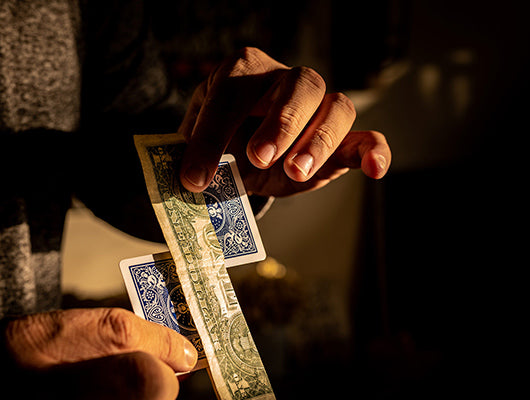 The storyline is ready made.
Ask people if they've seen illusions on TV. Particularly that Zig-zag trick where the magician pulls the girls middle away from her body. It's that same trick... but close up.
Tell them you don't have any big boxes, but you want to show them that trick anyway.
You thought you could probably use their bill (Yes, you can use ANY BORROWED BILL) and a playing card from your pocket... you're a magician, you always have playing cards on you.
The secret is in the precision-made card gimmick. 100% self-contained.
It's incredibly durable and constructed to withstand a level 9000 skeptic.
Card Flex has:
No Black Art
No Glue
No Magnets
No Thread
No Other Cards

Built by hand in the United States, each Bicycle Rider Back gimmick has been quality controlled by a magician to give you the full confidence in performing it.
This product is rated 4.2 of 5.0 stars.
It has received 13 reviews.
Simple amazing effect
Great trick, only problem I had was the tape sticking but it's an easy fix. Can only really preform for one on one. Not a crowd trick. The mechanics and trick itself are great. Would recommend.
Clean Flex!
I am an idiot...don't listen to my 3 star review. Gimmick is very well made and within 10 mins of going through the tutorial and very little practice I showed the wife. I am very pleased with this trick. Thanks
Clean clear close up ( card flex)
This a fantastic new level of claim classic effect that any street magicans effect! It is totally top class for storytelling effect or to talk about. The high history of the art of magic ! This have 2 different types effects a visual perception of a card in a note an amazing new client close up classic of a strong stage magic but now it is up close the zig zag effect! A lot different types effect will probably pop up when you work this new original effect that you can have with you any time you have a deck of cards!
Super Visual!!
You definitely need to watch the instructional video before playing with the gimmick! As long as you do that, and treat the gimmick with respect, you should be fine. It's worth it to see the look on your spectators face!!
Love It
I don't know what the other reviewers were talking about. I love this effect and all the reactions that come with it. This is perfect for both live and online shows and amazes just the same. This paired with quicksilver or stretch cards is sure to fool anyone watching
Card Flex
I bought this for my dads birthday. It came pretty quick and is in great shape. I know he will love it!
Fantastic Gimmick!
Super easy to learn! I fooled my mother-in-law after only an hour or so practice. Definitely worth the money!
My only complaint (as a beginner) is that it is difficult to see where the gimmick "splits"; there is no indication, so you kind of have to figure it out after watching the video. The double sided tape is very strong, so, at first, you aren't sure if you are handling it correctly, or ripping it apart (I was convinced I had runed it for a good 5 minutes before I realized I hadn't)!
I recommend watching the video a few times and then being very gentle with the actual gimmick until you get a feel for how it works. Once you have practiced a few times, it loosens up and is very easy to use. Definitely recommend!
Good for the camera
The gimmick is very fragile but with a little practice you can make it work.
Marco
So I ordered this and I have to say. I?m impressed. As long as you practice you?ll be able to perform this very well. Cody teaches this perfectly and goes through it in detail