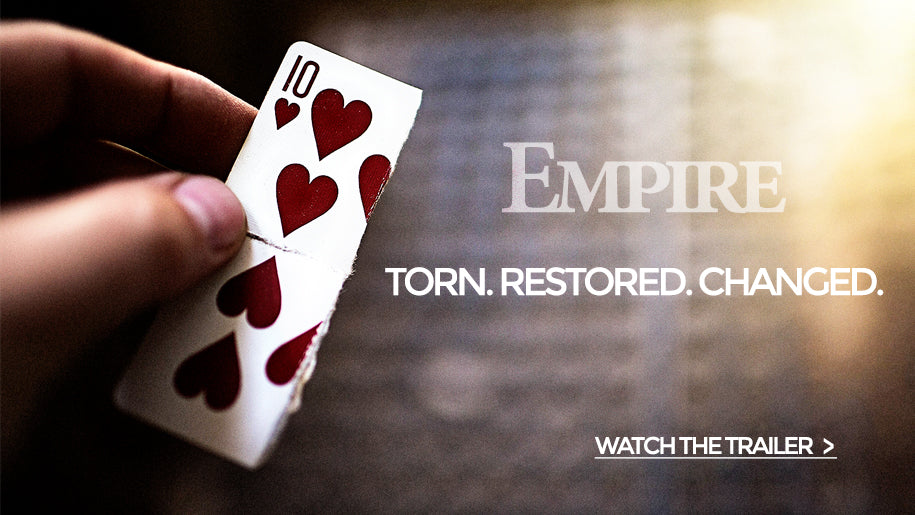 Empire
Sale price

$5.00
Regular price
(/)
TORN. RESTORED. TRANSPOSED.
Empire ruptures the boundaries
of the torn & restored card plot.
The problem with most TnR's is the amount of
'cover'
needed for your dirty work.
We've all done that Bear-claw palm after the restoration. Thinking...
"PLEASE DON'T CATCH ME"
Cody Nottingham to the rescue.
Empire takes all the heat from
your performance with a silky smooth restoration of an indifferent prediction.
Followed by an immediate transposition that they'll
NEVER
see coming.
- No hidden finger-palmed pieces.
- No magnets
- Always ready to perform
There's a million ways to show someone magic, but only one way to make them believe.
Let them feel it.
Download Empire TODAY.
Format: Download/Stream
Difficulty: Easy
Duration: 17 minutes
This product is rated 4.1 of 5.0 stars.
It has received 19 reviews.
Summary
Very nice effect, you can take both the gimmick and some duplicate cards on your wallet. Make 2 or 3 more gimmicks, and you are ready to perform a great piece of illusion. 5/5
Summary
The effect is amazing......for the price is definetly worth......it rocks the spectator at the core......some people say it's not good because you can't handle the gimmicked card to the spectator, but you can easily find a way to switch the gimmik with a normal card......at that point it become's a killer effect
Summary
Ok... Rethink. One of the best reactions I've got since doing... Oh! for god's sake! ITS AMAZING!!
Summary
This trick is easily worth the 5 bucks. Yes it requires you to make a simple gimmick, and yes you pretty much have to make it PERFECT, assuming you want a PERFECT performance, but the angles are great, there are no ditches or super difficult moves, and I feel like it would be a great card trick to do and then move straight onto something else while everybody is still trying to process what they just saw! You will definitely need to practice this one in front of a mirror but once you get it down it is a super simple move and will no doubt get great reactions.
Summary
I saw the trailer for this effect and I instantly added it to my wishlist, only to purchase it a few minutes after. I can safely say that this is truly phenomenal and Cody teaches each stage exceptionally well. The gimmick itself is so simple and you can make it in no time at all. I personally have made some sneaky alterations to the gimmick to enable me to do smoother changes from card to card. Overall this is perhaps one of the neatest effects available for such a low price and I am overjoyed that I could learn this!
Summary
The effect is pretty cool and it's crazy fun and easy to make I really love it so much and please check out my YouTube channel
Summary
Ok, I hate you!
I'm kidding. All I can say is GET IT! It's worth more than 5 bucks, it's simple, visual, easy to perform and I guarantee you'll use every time.
Cody explains everything really well, going into details and an alternative handling. #Worth
Summary
This is a great trick. The gimmick was very easy to construct. I had it perfect on my first try. You will be performing this trick with ease after only a few minutes of practice. You will get great reactions with this trick. 10/10. Definitely worth the 5 dollars
Summary
This is a good trick for the price that is only 5$. Highly recommend getting it and the gimmick is simple.
Summary
It's a great trick, especially for the price but there a couple of down sides. You cannot hand out your card. And the spectator cannot look at their card whilst restoring the card. The tutorial also doesn't match the trailer completely and leaves some guess work on a certain part. But still, its cheap and in the end a really great trick 4/5.