How To Make 6 Figures In Magic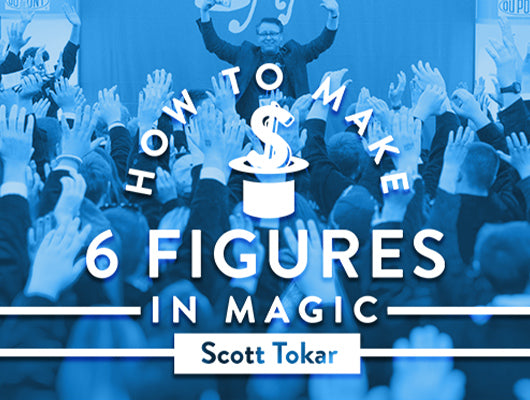 ---
REQUIREMENTS
Access to the Internet.
A willingness to take action at your own pace.
An unrivalled passion to become a full-time magician.
WHO IS THIS FOR
Magicians who dream of a career in magic.
Hobbyists ready to quit their job to do magic full-time.
Professionals looking to get more shows while raising their fee.
Scott Tokar is one of the elite income-producing magicians in the world today, consistently earning far over $???,000 a year (We can't give you his actual figures for obvious reasons, and even if we could, you'd never believe us). He accomplished this by discovering what to do and more importantly, what not to do.
From the humble beginnings of a simple kids show performer, he climbed his way to the top through much trial and error and now works for clients like Microsoft, Cisco, Phillips, Pirelli, Levi's, American Express & countless others.
With 'How To Make 6 Figures In Magic' you'll learn, in great detail, the secrets behind 17 of the industry's top paid performers. Many of which you may never have heard of, but all of which are killing it when it comes to being elite, highly-paid magicians.
This is the ultimate guide to starting, building and maintaining your career in magic.
Do you know the 3 things clients value most when they're hiring entertainment?
Do you know how to generate shows during the off season? 365 days a year.
Do you know guaranteed methods to get a crowd at any event/trade show?
Do you know how to raise your fee from $500 to $5,000 and have nobody blink an eye?
In this course, you'll learn how to:
How to gain complete confidence on the phone with clients.
How a hotel hospitality magazine can help you land more shows easily.
How to use simple psychology to generate the busiest booth at a trade show.
How Scott's motto 'take out the elephants' can get you paid even when customers can't afford your show.
How to make big money working less.
Learn Scott's "OOSOOM" method for locking in clients over the phone.
Increase your business by 25% with one simple step (you should be doing this already)
How Scott generates trade show customers from thin air.
Learn the system that runs Scott's business... and can run yours too.
Learn the 3 main areas of competition at your next event... and how to beat them.
The Full Course - LESSON LIST
1
How to Make 6 Figures in Magic Part 1
2
How to Make 6 Figures in Magic Part 2
3
How to Make 6 Figures in Magic Part 3
---
From Brad Christian
SCRAPING BY IN LIFE.
I remember those days, those days where I scraped by in life. The weeks and months that drone into years of living "that way". You've all heard the stories, listened to the podcasts, of me scraping by while I did magic on the street in New York. I've scraped for more years that I care to think about.
I hate "NSF" (non-sufficient funds) checks, but would lose $50-$80 a month just because my bank account was never balanced!
Don't you hate hoping you get the next show in time to cover rent? That lifestyle is one you have to get out of. Don't get used to it, get OUT of it.
Tokar's compilation of guerilla business methods in magic should be standard issue in every magician's learning material. Stop buying decks and tricks for just a minute, and start putting a solid living into your bank account. Start learning how to handle your business. And when I say that, I mean taxes, write-offs, legal, record keeping, organization. Organization is the first step toward getting yourself out of Scraping By.


HAVE RABBIT WILL TRAVEL
When I started doing shows at 16, I put an ad in the paper with Have Rabbit Will Travel as the first line. I did loads of kid's shows, birthday parties, church shows, and the occasional adult show. I charged $100-$150 or so. Sometimes I got $200. It takes a lot of those shows to scrape together a living every month.
I learned what worked by trial and error, but I never knew exactly what you should say on the phone with a client. My heart would always race when I heard, "Hi, I'm calling about the ad in the paper". Then my mind would go into overdrive trying to find out what kind of people they were, how much they had to spend, whether I should go a little higher or a little lower….if I should ask for a deposit.
I wish I had a Course that existed like this one.
It would have shortened my years of struggling and boosted my income in mere months instead of years. I would have had a better life, one that didn't have the drama of hoping to make rent by the end of the month.
My point, if you can get the advice that takes you there sooner, do it. That's what we did this project for, so you can get there faster. Of all the people I've taught, you wouldn't believe how many have come up to me at magic conventions, or on the street, who now make their living at magic. How many of them have shared that they have become highly paid professionals which started with Ellusionist videos.
If you're just making that climb, or starting to, let this 18 hour – all inclusive – project of Tokar's help you. Let it take your income and boost it as high as you would like it to be. If you can buy the advice early, do it. Would have saved me 20 years.

- Brad Christian - Ellusionist Founder and CEO
Interviews with:
Justin Flom on Magic Online
Kozmo on Street Magic
Adam Wilber on Web Presence & SEO
David Penn on Magic at Weddings
Dana Daniels on Comedy Magic
Bruce Gold on Agents and Bookers
Danny Orleans on Mastering all Magic
David Kaye on Magic for Children
Doc Eason on performing Magic in Bars
Erick Olson on Four Walling Magic
Frank Thurston on Fair Magic
Garrett Thomas on Restaurant Magic
Greg Davidson on Gospel Magic A-Z
Kevin James with Magic on Stage
Levent for Magic on Cruise Ships
Michael Carducci with the 411 on CRM's
Shep Hyken on Public Speaking & Writing
Disclaimer: Although this is HOW you make 6 figures in magic, we cannot guarantee that you WILL make 6 figures per year in magic. Set before you is the formula, tips and tricks that the pro's use. By following these tactics you'll be on your way to earning the living that they do. Some of you may earn much much more than Scott & friends. Some may earn slightly less. This all depends on your efforts, dedication and client portfolio.
This product is rated 4.3 of 5.0 stars.
It has received 7 reviews.
At last
The list of theory like this is almost inexistent, I've been searching for material like this for many years but it was pricey for me, I still give it 5 star because it is a great investment, I just arrived to the US and there is priceless information from contracts to taxes and, as an immigrant, this was very necessary to me. is not the same where I come from. I'm pretty happy that I got it.
Essential!
Scott Tolkar knows a lot about the business of magic from taxes to even business cards he delivers a wealth of knowledge that will guarante some degree of success to the daring magician that dares to undertake on such a journey.
Excel in Your Profession as a Magician
This course is structured in a way that trains you on how to build a business, as a magician, from the ground up. There are 2 things I will suggest. 1) TAKE NOTES! The information is literally being handed to you, which brings me to point number 2) IMPLEMENT THESE TECHNIQUES! You position as a magician will not change overnight, but if you position yourself to play the long game, you will truly make 6 figures a year.
How To Make 6 Figures In Magic
Amazing!
This is an awesome and fully packed course in starting a business (plus all the bits and pieces) in magic. The advice and suggestions in this project are honestly priceless... Stuff I would have never even thought about. Plus they cover most - if not all - markets in magic, from childrens magic, to corporate events and trade shows.
There's 2 reasons I gave it 4 stars and not 5.
1st, the price is a bit high (particularly for New Zealand where our dollar is pretty much double the price)
2nd, whilst the interview sections are great! There is some problems with the quality of the video/audio. Now whilst they have apologized for this problem, I do believe they could have re-recorded or maybe even given subtitles for particular areas. All in all great project!
HtM6FiM
Lots of good advice. The price might appear a bit steep at first but they have wrapped around a lot of content in the package. The wisdom dispensed in the videos can be applied to any business you might be trying to start...not just magic.
So-so
This was quite a lot of money spent without me learning anything helpful. Don't get me wrong... If you know nothing about basic marketing or sales, then this is a great beginner's course that will help you get started but if you're beyond that then this is not for you. I agree with the content it teaches, but I didn't learn anything I didn't already know and applied.