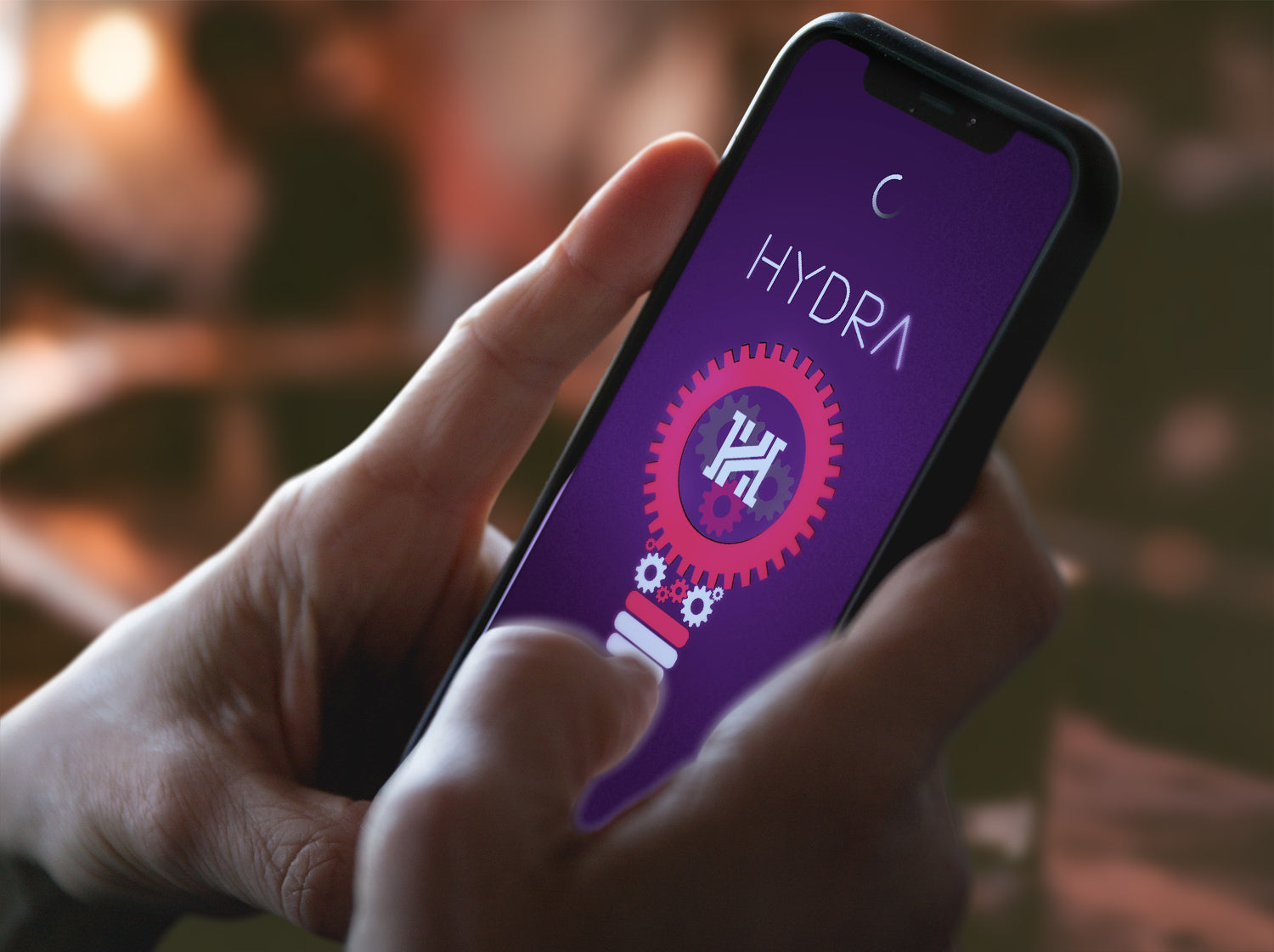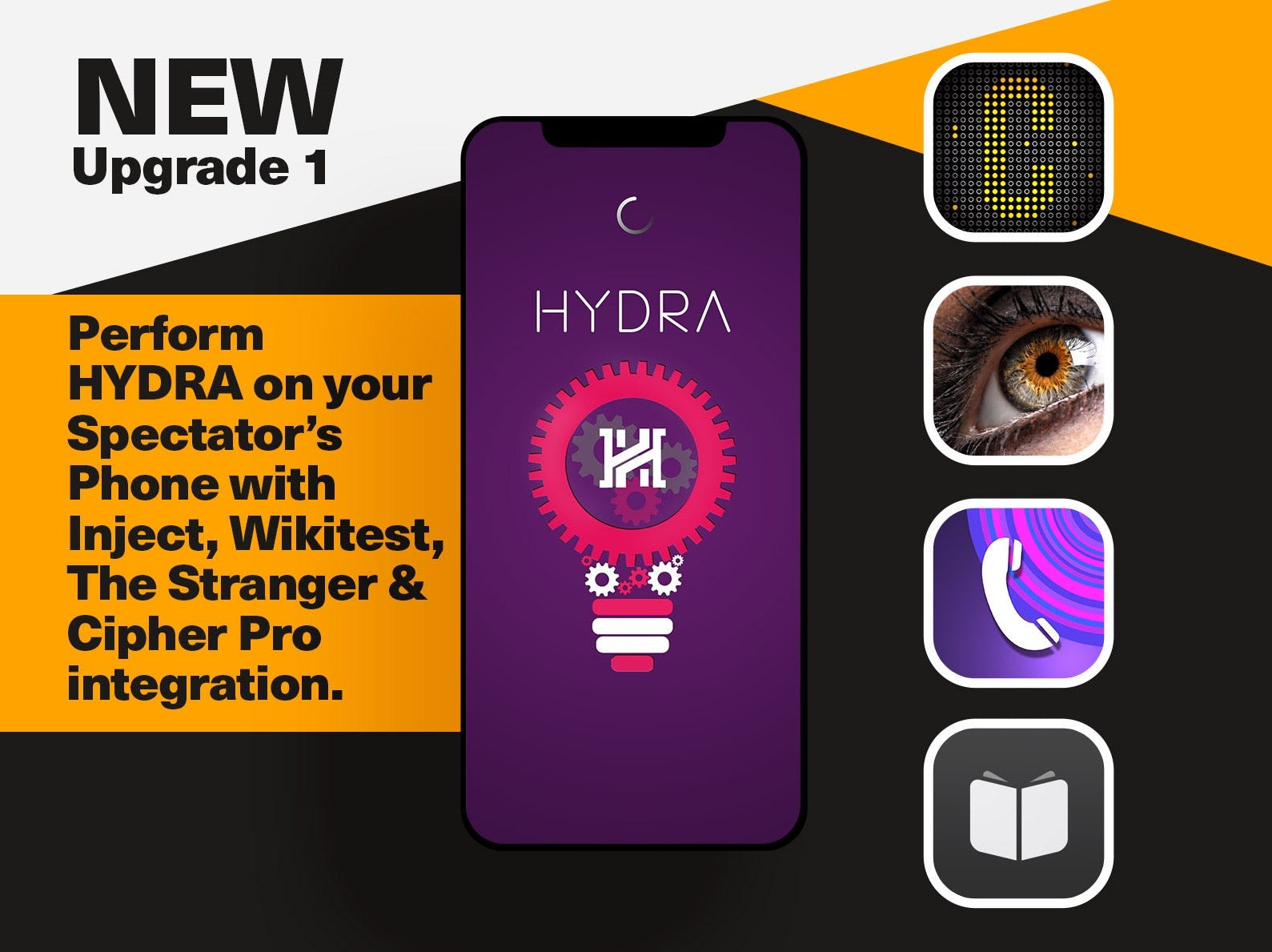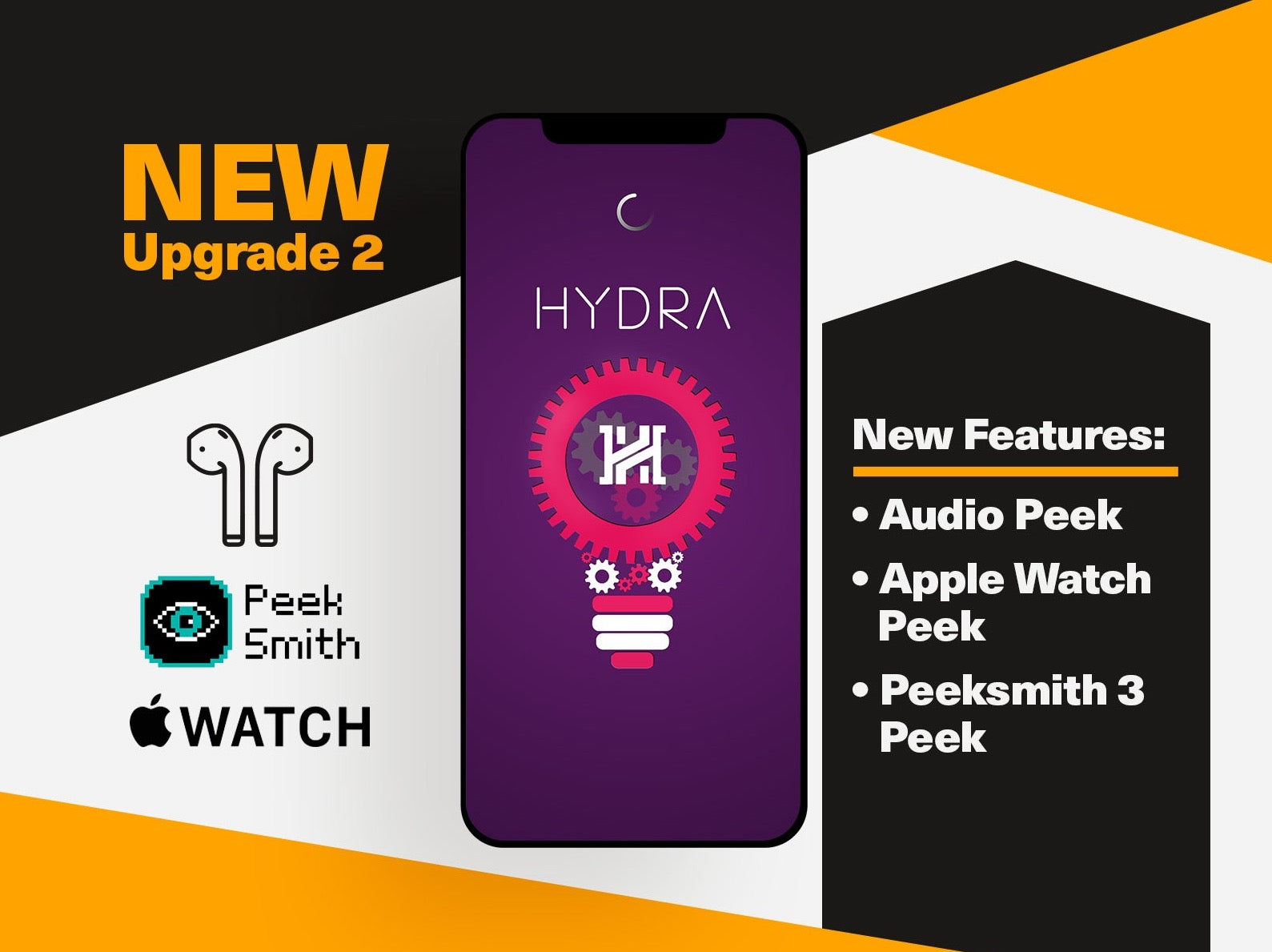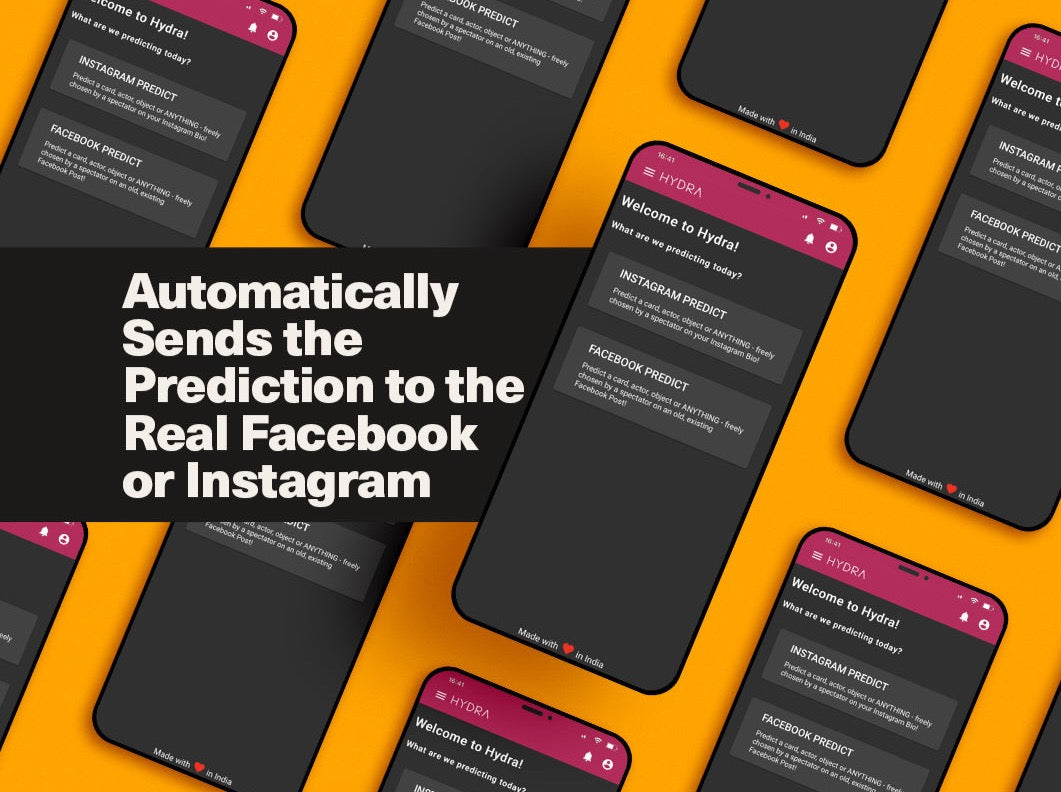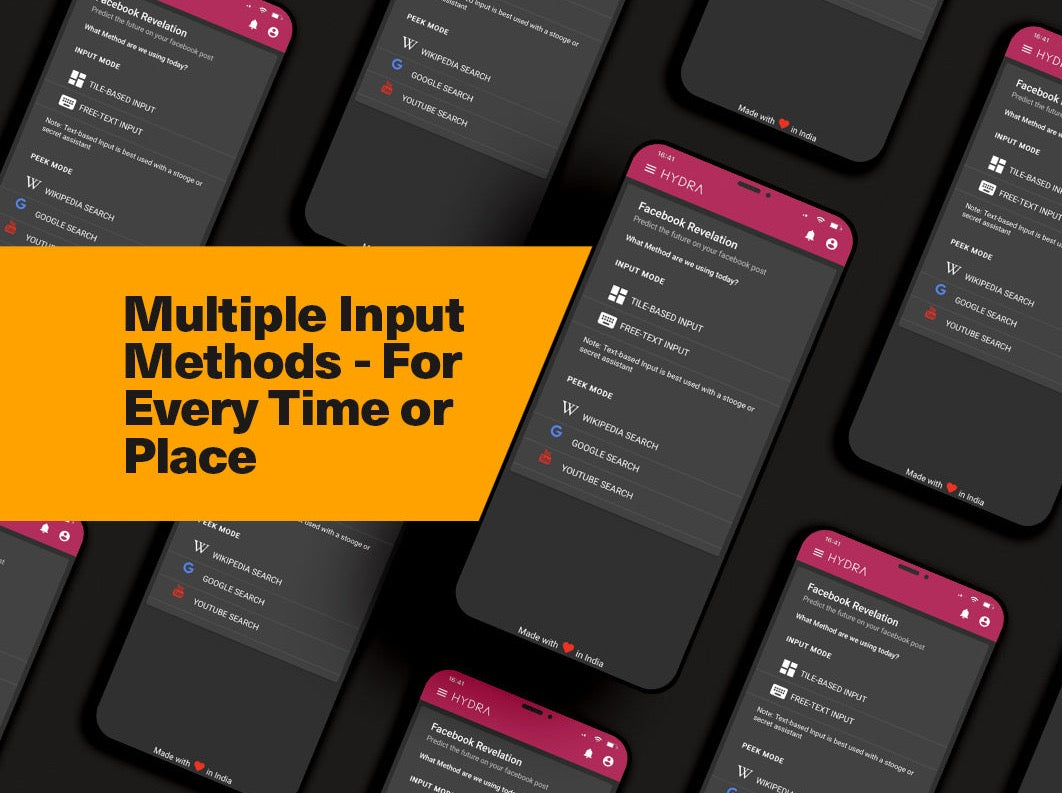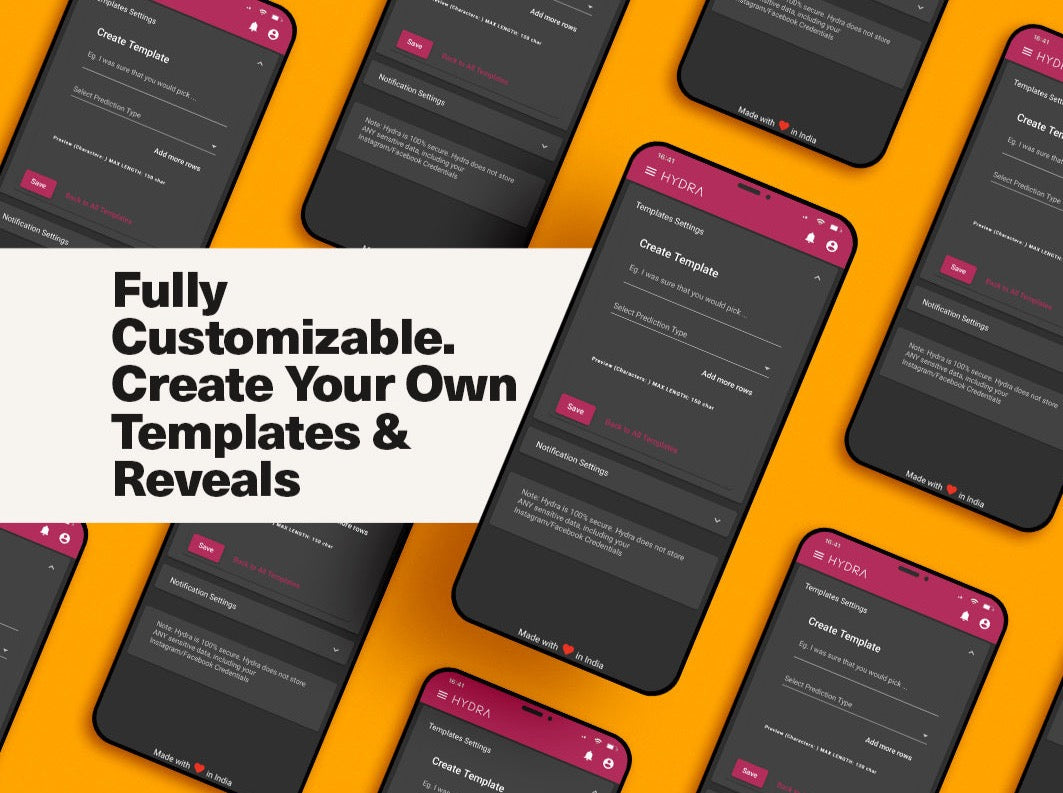 Hydra
With a simple swipe, HYDRA steals the spectator's (absolutely) free choice and creates a prediction on your real Facebook or Instagram profile... in 5 seconds flat.
Real predictions that your audience can view on their phone. You never ever touch it.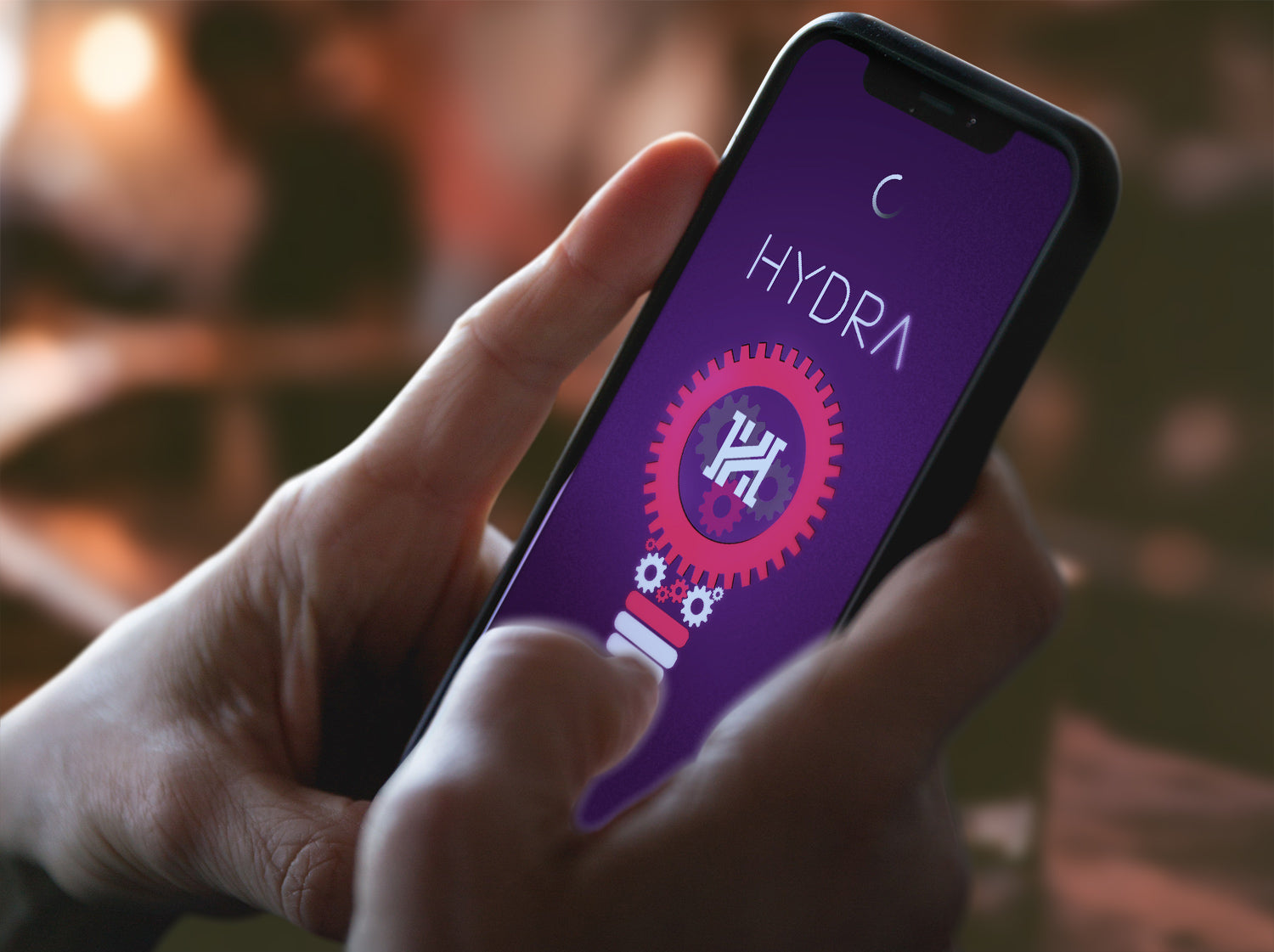 Hydra
Sale price

$39.95
Regular price
(/)
  NEW MIND READING ADD-ON WITH UPGRADE #2  
3 exciting ways to get a peek with HYDRA.
#1 - PeekSmith 3 integration
If you bought a peeksmith 3 device, this app upgrade will allow you to get a peek of whatever they type into Google or YouTube.
That means, by the time they've done their search, you not only know exactly what they searched for - but the HYDRA app has already placed the prediction LIVE on your social media. Without you ever touching the phone.
#2 - Apple Watch Peek
Customers have been asking for this for a long time and it's finally available.

The most popular watch on the planet is the Apple Watch, so if you're looking to go incognito as a mind reader, this is a tool you can't leave home without.

App upgrade 2 now unlocks Apple Watch peek notifications, so with a quick glance at your watch, you know exactly what they searched for.
#3 - The Audio Peek
Wearing AirPods or headphones? The audio peek allows you to secretly HEAR the peek.

HYDRA will read it to you and repeat it as many times as needed.

This is ultra fooling for casual performances, as often, people leave AirPods in, even if nothing is playing.

And on stage, if you're wearing an earpiece it makes the peek completely hands off - and can't be retraced.

This is our favorite new feature of app upgrade 2.
Note: 
this new peek functionality does not work if you are using Wikipedia screens within hydra as your input.
You can still use wikitest and HYDRA will work at placing the word on your socials, but peeks can't be done from the Wikipedia input.
---
  JUICE UP HYDRA BY UNLOCKING UPGRADE #1  
By purchasing this upgrade, it will allow you to perform HYDRA on your spectator's phone. 

You NEVER take your phone out of your pocket. 

Fulfilling the promise of constant innovation and development, HYDRA creator, Shameer, has just dropped his latest unlockable upgrade. 

For those who already own CIPHER PRO, WIKITEST, INJECT, or ELIPS (These 4 apps can be purchased separately from the app store), you'll be able to purchase (from the dropdown above) a special code that integrates HYDRA with those 4 powerhouse apps. 

This enables you to perform MORE deceptive & cleaner effects - using HYDRA.
Effect #1 - CIPHER PRO Integration
With the phone in their hand, you can have a spectator's star sign or pin code appear in your Instagram Bio or Facebook timeline. 
Cipher Pro secretly mines their pin code, star sign etc for you to peek and reveal - but with this HYDRA integration, you can have that information automatically put into your real Instagram bio without EVER taking the phone back. 
It's a hands-off miracle to end all miracles. 
Effect #2 - Inject Integration 
Now your spectator can legitimately search for anything on Google, 
using their own phone
 and you can have it appear in your Instagram Bio or Facebook timeline. 
From the moment they start typing, to the moment it's revealed (also on their phone) - 
you touch nothing
. 
Effect #3 - Stranger Pro Integration
Perform a ridiculously clean Acaan using Stranger Pro.
You might know Stranger as the wizard calling effect, but you can now use stranger pro to send numbers, playing cards or anything to Instagram with this upgrade. 
Jonathan Levit, the creator of Stranger used this upgrade to close his continuous 26 shows in Magic Castle.
Effect #4 - Wikitest Integration

We all love WIKITEST, even David Blaine has used it on his TV specials. 

With HYDRA's Upgrade #1 you'll be able to link the two apps to reveal the chosen word in your Instagram Bio or Facebook timeline. 

Your spectator chooses a word from Wikipedia and can then view that word, predicted far ahead of time on your own social media. A guaranteed 'follow'. 

NOTE: 
You need the WikiTest Pro tools to use Wikitest integration.
Effect #5 - ELIPS Integration
You guessed it. Have any word from the lyric of any song appear as a prediction in your Instagram Bio or Facebook timeline. 

For those using ELIPS, you'll understand the power of a no-force revelation of any word from any song lyric in existence. 

If you're already using that app, with this new upgrade, you'll be able to reveal that word as a pre-written prediction, made days before you ever met your spectator. The best part? It happens on their phone. 
NOTE: You must own the original HYDRA app first & Cipher Pro, Wikitest, ELIPS, Inject or the Stranger to enjoy this upgrade. Purchase the upgrade from the dropdown above. 
HYDRA is a modern multitool for perfect prophecies. Your spectator chooses any word, celebrity, playing card... Literally ANYTHING. No forces. 
With a simple swipe, HYDRA steals the spectator's (absolutely) free choice and creates a prediction on your real Facebook or Instagram profile... in 5 seconds flat*. 
When they look you up on Facebook or Instagram, using their own phone, they'll see you predicted EXACTLY what they thought of. 
HYDRA is one of the most advanced prediction tools we've ever seen.  It solves the problem of your audience assuming your phone is doing something suspicious, or that it's a fake app... because it's their phone the prediction is revealed on. 
Not only that, it can be verified by everyone and anyone who checks... It's really there.
Fully customizable.
Create your own templates.
Multiple input methods. 
Hands-off revelations.
No pre-show or forces. 
No fake social apps. 
This allows you to have one of the cleanest looking performances for any app-based effect. You don't have to type, turn your back, or 'milk' the phone towards you. 
Swipe. Lock. Done. Put it in your pocket. The rest is presentation. 
*ADDED BONUS* Because the prediction is revealed on your spectator's phone, you can now ask your audiences to follow you and increase your fan base while performing. It's a double-whammy. 
Hydra is so versatile, it can be performed in-person or over Zoom. Here are some performances from Perseus Arkomanis, JT Chalatsis, Nevin Sanchez, and the creator: Shameer Salim. 
With HYDRA, you can perform 1-on-1, using your own phone as the input device, or you can use a secret assistant to input the information for you. Your call, you have options. 
Ellusionist first connected with expert app-designer, Shameer Salim, to completely overhaul our beloved Cipher, Tempus, Predictagram & Picasso Pro apps.
The guy is a genius and doesn't slouch with his code. The end result is an app you can rely on - and one that is far superior to anything we'd ever created before. 
Bug fixes, updates, and new features are baked into the price of HYDRA. Shameer will be on hand to provide support and development every step of the way. 
*The quote of '5 seconds flat' relates to testing on Instagram. Facebook can take up to 8 seconds according to the creator. 
CREDITS
"Changing the bio on Instagram is an effect originally conceived and developed by Marc Kerstein and released as "BioSwap." When I reached out to Marc and explained the similarities and differences between Hydra and BioSwap, he graciously understood and gave me a go-ahead." - Shameer Salim
Ellusionist would also like to thank Marc Kerstein for his permission to release HYDRA.
This product is rated 4.9 of 5.0 stars.
It has received 194 reviews.
Can I go beyond 5 stars?
Purely put Hydra is hands down one of the reasons I am able to be a working pro. It gets me so many gigs.
We all know magic apps can go extinct after a number of years, but I pray to every magic god that it will be available a long long time yet!!
Shameer is a genius and his service via the fb group is awesome.
Thanks again
Absolutely Amazing!
I got hydra about a month ago took about 2 days to get the hang of. Been using the effect a lot and I must say that i LOVE this app and the integration with inject. Never seen so many shocked faces in my life! 10/10 recommended!
HYDRA
This app opens the possibilities of digital magic to a new level. It is one of my best purchase of all time in term of app.
Easy to set up, easy to do. A must have for each modern magician !
WOW!
This is my first review on Ellusionist but I just had to comment on Hydra. I downloaded the program and had it set up within minutes of watching the tutorial. While I don't use Instagram much, I followed the same path demonstrated for Instagram and had my Facebook setup up and "running" in no time.
Now for the best part, the reveal leaves spectators speechless, and shaking their heads. I also purchased Hacker and have begun to use them in conjunction with each other in a small routine that creates a miracle in the spectators hand, and ON THEIR PHONE. By the end, they truly believe that I got into their head!
The price of Hydra is reasonable when you see the impact it creates. If you can spring for Hacker either now or at a later time, together with Hydra you have back to back stunners that will leave them scratching their heads.
I highly recommend either or both!
Hydra
What a great app! The reactions are through the roof! If you don't have it yet, just do yourself a favor and add to cart now! And after that, get the 2 upgrades! Thank me later!
More followers!!!
I've only had Hydra for a short time, but you can call me McDonald's because I'm lovin' it! It's gains me new followers each time I perform it.
Wow!
Excellent release from Shameer and Ellusionist, as a professional who works every day I can say that this is a great addition to my show, plus it is always ready to go, which makes it an excellent edc. Shameer's support excellent.
Killer effect
This is a magical app superstar! It will leave your spectators spellbound!!
One of the best magic app
I use hydra every day and it works perfectly