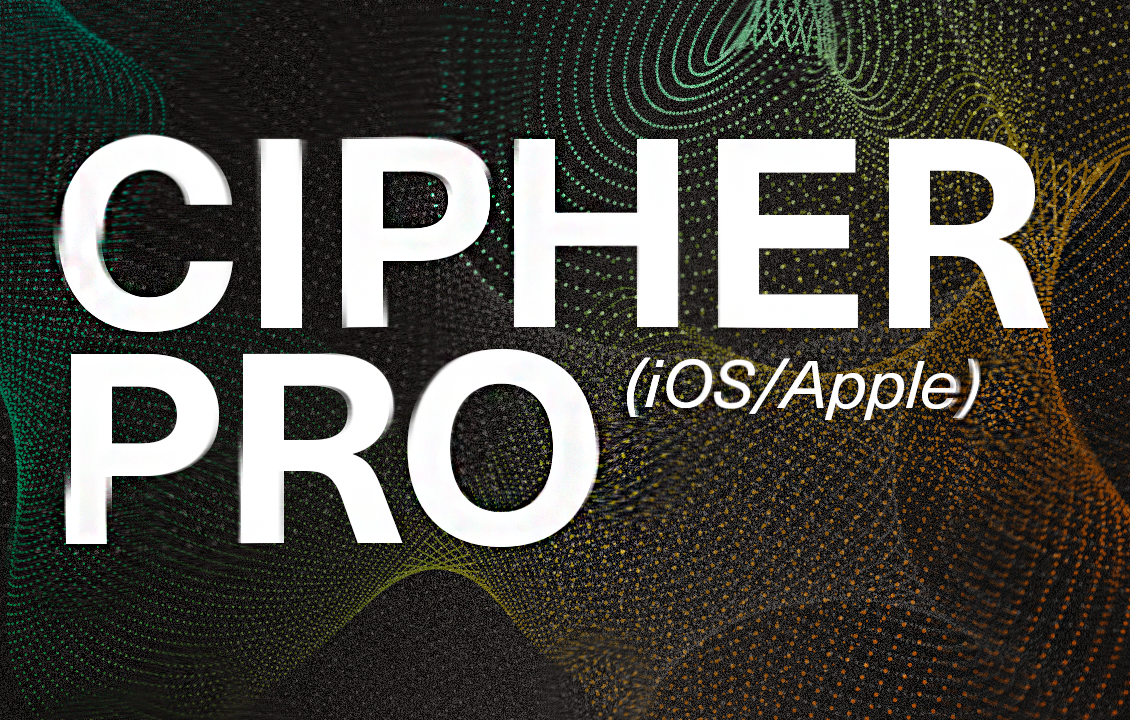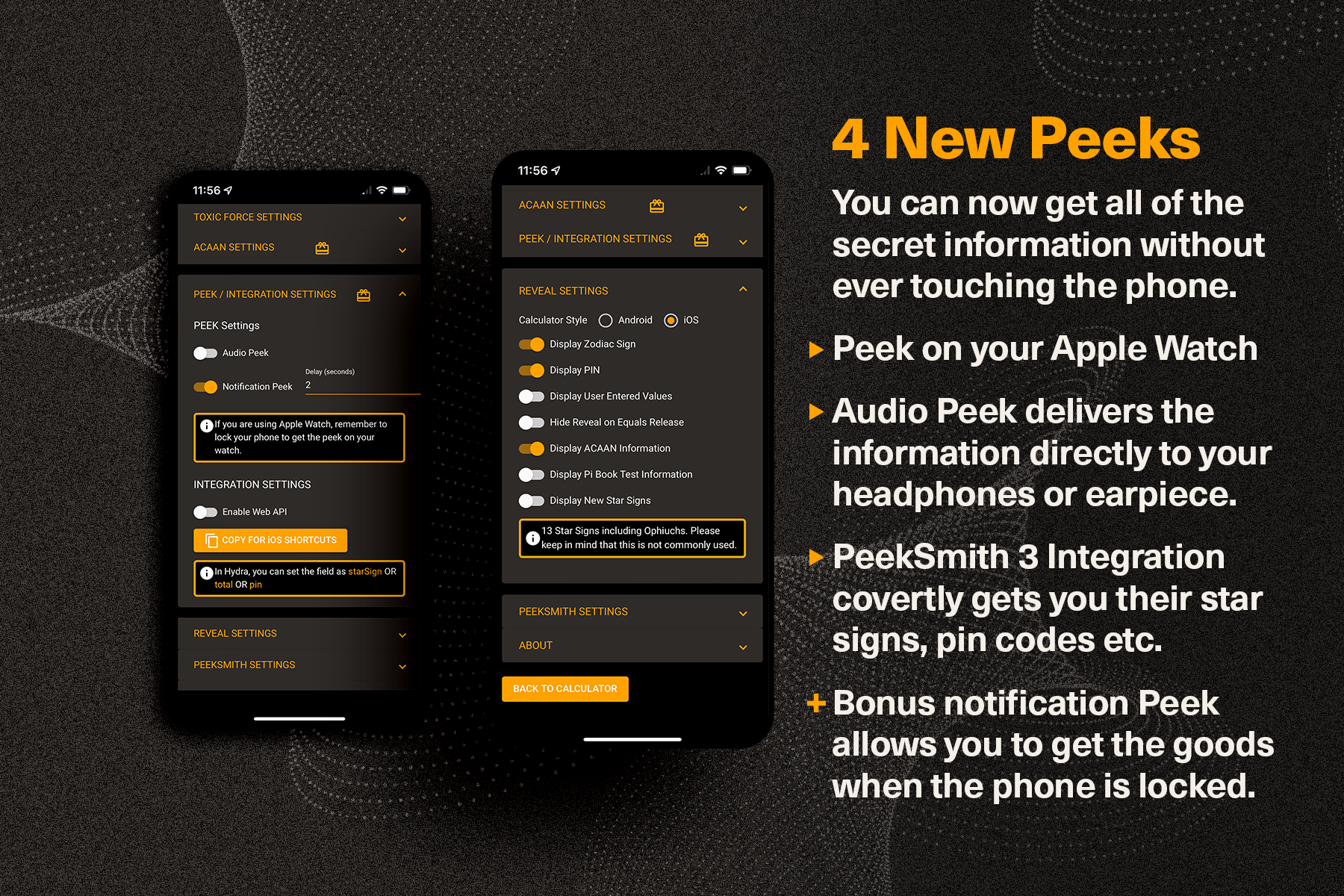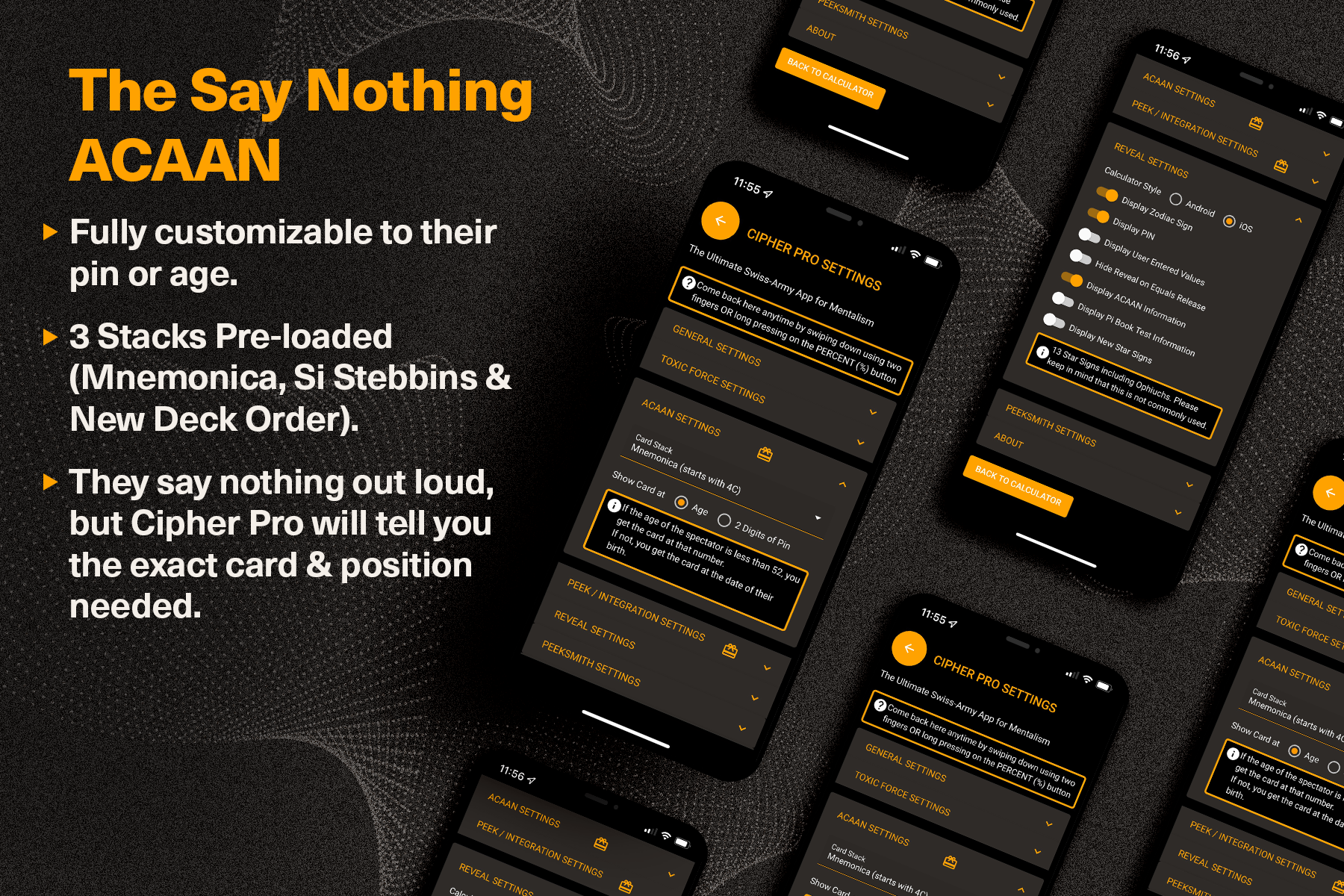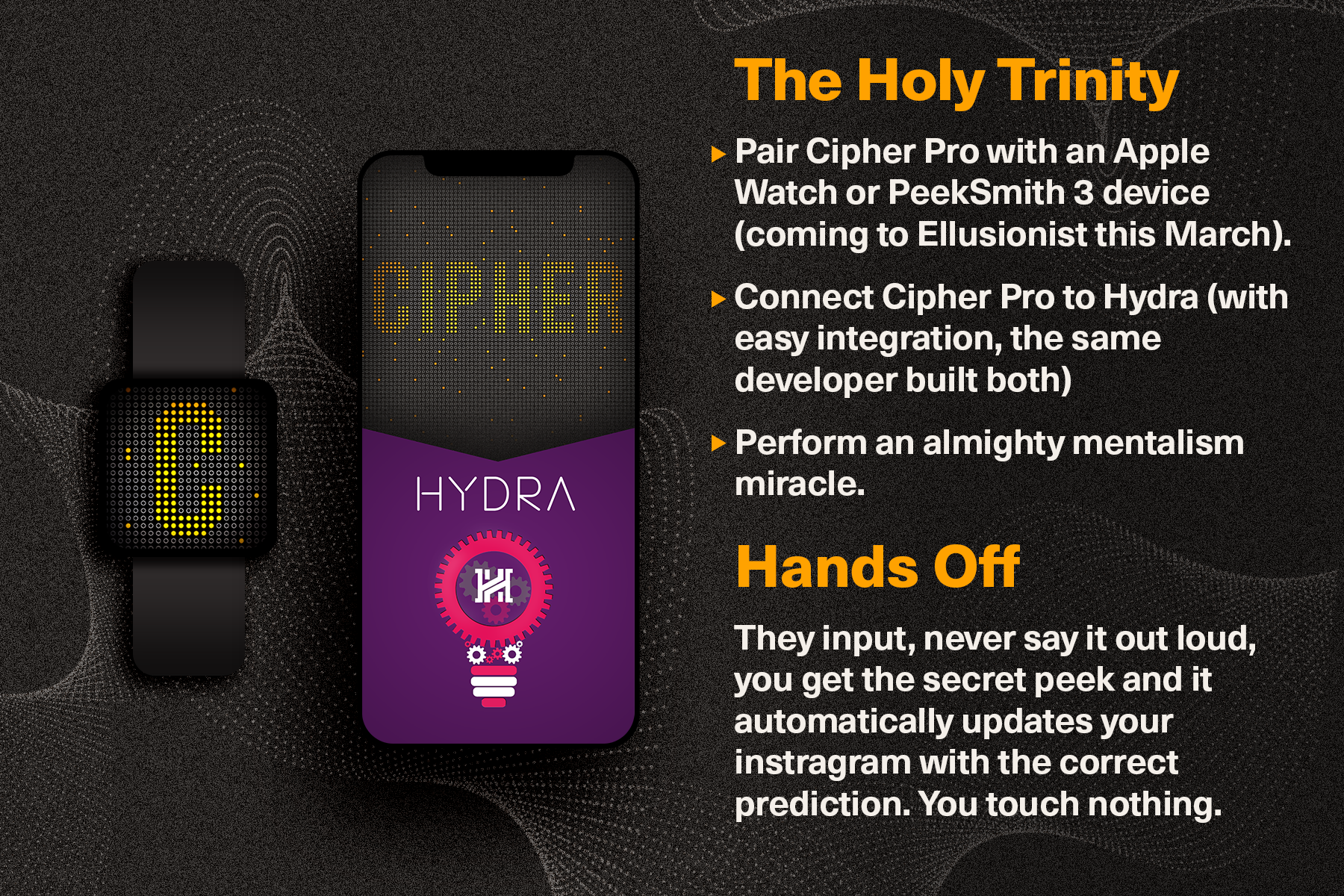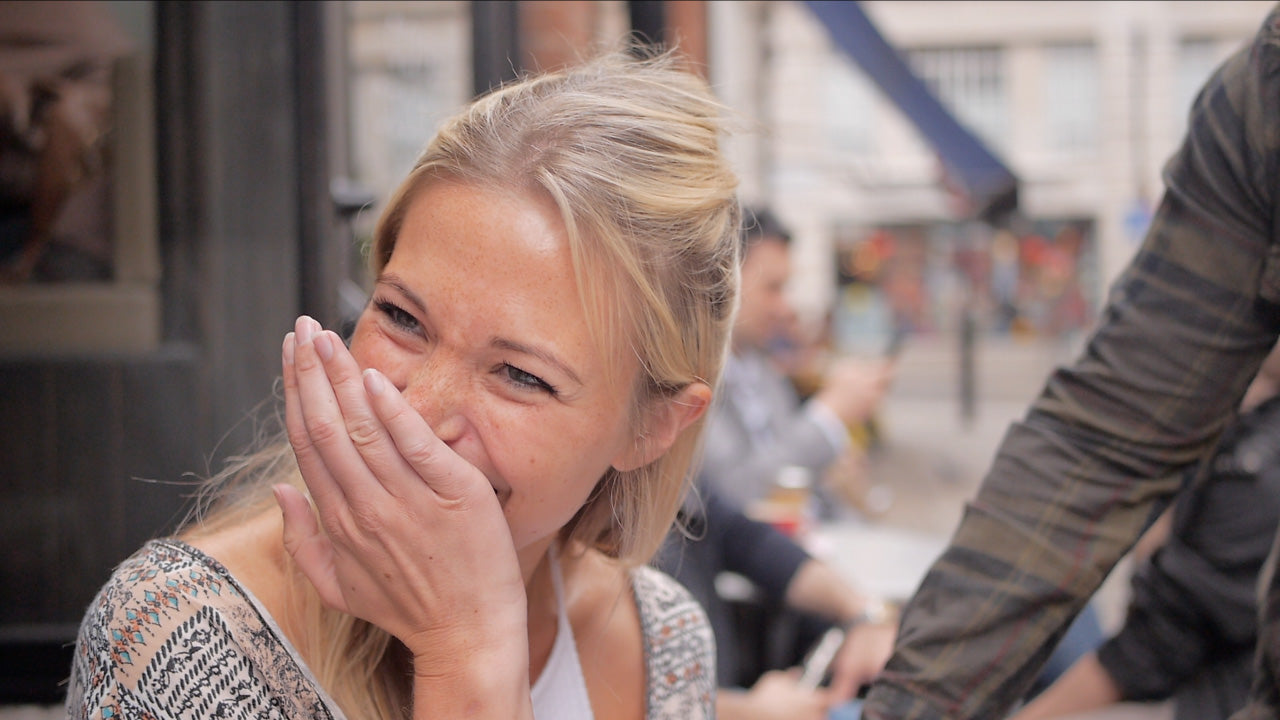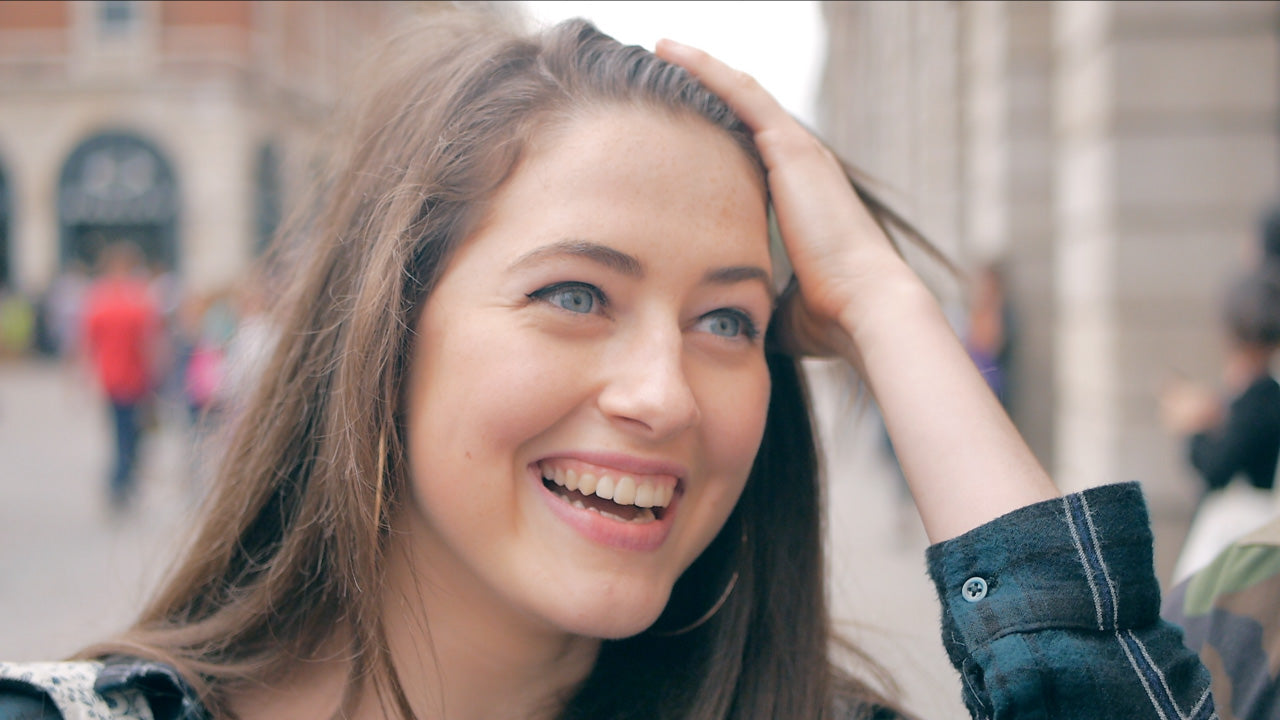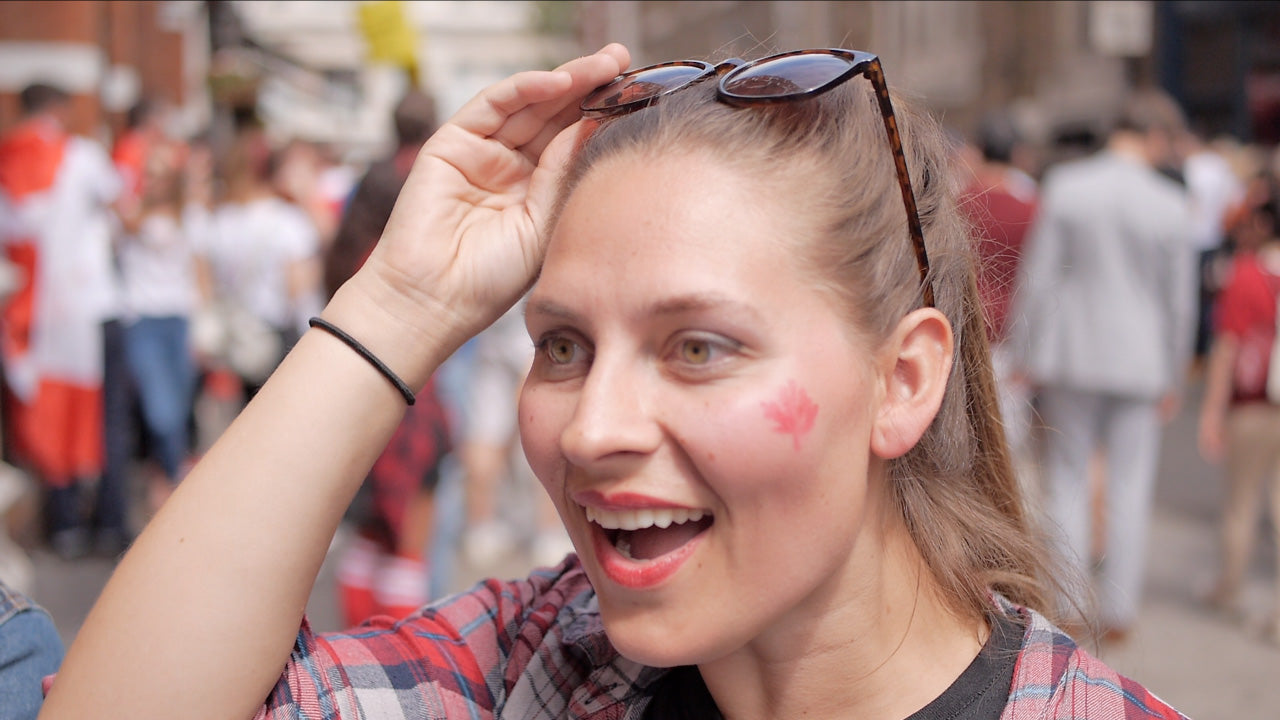 CIPHER PRO (iOS/Apple)
*NEW* Cipher Pro is an essential, Swiss-army app for mentalism, hidden on your phone. It does everything that original Cipher did + WAY MORE functionality.
☑️ 4 New Peeks (including Apple Watch, PeekSmith 3, Audio Peek & Lock-screen Peek)
☑️ New 'Say Nothing' ACAAN effect built-in.
☑️ Integrates with your existing HYDRA app for a completely hands-off miracle.
Not on iPhone? Click here to purchase Cipher Pro specifically for Android.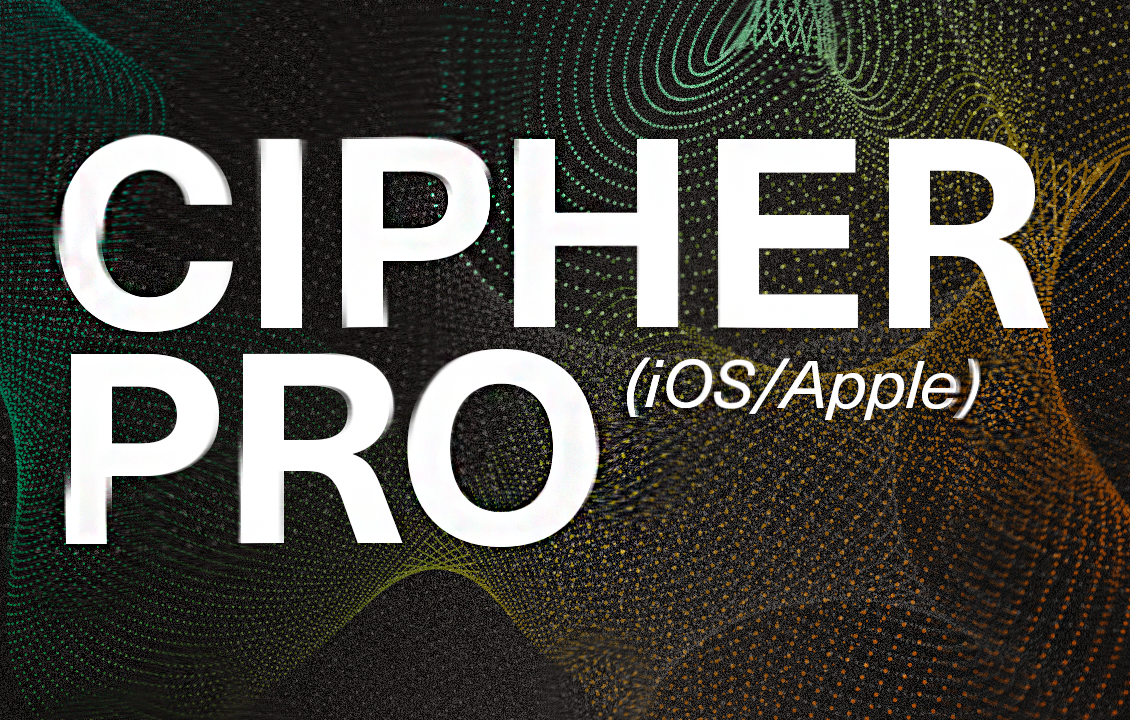 "Absolutely phenomenal..." 
- Michael Murray
---
*NEW* Cipher Pro is an essential, swiss-army app for mentalism, hidden on your phone.
It allows you to reveal:
Pin Codes
Star Signs
Birthdays
... Literally ANY Significant Numbers 
Undoubtedly the best mentalism effects you can perform are the classic Number Force, a pin reveal, and guessing a stranger's star sign.
This digital peek pad allows you to get all this information and more in one easy step. For the fairest performance imaginable.
No anagrams
No memory work
Instant Reset


What's
 

New

 

With Cipher Pro?

 With the new PRO features, you'll get 4 NEW PEEKS: 
Peek on your Apple Watch.

Audio Peek delivers the information directly to your headphones or earpiece.

PeekSmith 3 Integration covertly gets you their star signs, pin codes etc. (Which you can buy here) 
+ Notification Peek allows you to get the goods when the phone is locked.
We've also added some KILLER ACAAN logic into the app:
Fully customizable position, to their pin or age.

3 popular stacks pre-loaded. (Mnemonica, Si Stebbins & New Deck Order)


They say nothing out loud, but Cipher Pro will secretly tell you the exact card & position needed for your favorite ACAAN. 



Plus the ability to combine methods for what we're calling  THE HOLY TRINITY: 
Pair Cipher Pro with an Apple Watch or PeekSmith 3 device (Which you can buy here).
Connect Cipher Pro to the HYRDA app. (Really easy integration, the same developer built both)

Perform an almighty mentalism miracle. HANDS OFF. 
With this trinity combined, the spectator inputs their info, they never say it out loud, you get the secret peek and in real-time, the apps automatically update your real Instagram with the correct prediction.
You touch nothing.
I mean, c'mon! That's like... Untouchable when it comes to a routine. 
+ BONUS FUNCTION
You'll also be able to perform David Penn's Pi Revelations Book with Cipher Pro.
+ NO MORE RESETS
Cipher Pro is now a native iOS & Android app, not a 'web-app' like the original. This means you won't have to reset your license key multiple times. 
It's a one-time-only deal. Set it and forget it. 

Just purchased Cipher?
Any customers who have purchased the original Cipher within the last 90 days - and who haven't installed new Cipher Pro by March 22nd 2022, can email support@ellusionist.com with their receipt for a full refund. This refund can only be granted after the 2-week pre-release discount has expired.
---
"They said the day would come when machines would overtake people - That day is today. This is fast and hard-hitting."
- Peter Turner
---
Created by Geraint Clarke & Lloyd Barnes; this incredible tool will elevate your mentalism with an organic prop you have on you at all times... your phone.
Perform any time, anywhere as one jaw-dropping routine, or use this to get multiple steps ahead of your spectator.
The best-kept secret on Team E is now yours.
Download Cipher Pro.
NOTE: Don't use iPhone? Click here to get the Android version of this app.
---
LEGENDARY SUPPORT 

Since Mid-2020, we've connected with Shameer Salim, the creator of HYDRA, a powerful prediction app.

Shameer has legendary support. Everyone who owns HYDRA knows it and raves about it in the reviews.

His knowledge and ability far surpasses anything we've been able to offer before - so we feel confident that customers of Cipher Pro will be efficiently supported.

Just remember, to report a concern, please email support@ellusionist.com - and wait for a response. Shameer is too busy coding to answer every direct message through social media or email. But Ellusionist will work with users to collate and inform Shameer of any concerns as soon as they cross our desk. 

This product is rated 4.6 of 5.0 stars.
It has received 7 reviews.
The best app
I love this app Soo much the cards are nice and they come in early without waiting a week long.!!
Great tool
This is very very good. This is perfect for anyone who is into psychic readings (especially numerology).
Good job guys !
Wow such an incredible app
Warning: Before purchasing this just know that the app is new and will have quite many bugs, but SHAMEER SALIM is constantly working on updates.
Now let's talk about the new features: First, I want to mention that the app is incredible, It looks much more like the real calculator app and is now much more hassle-free, you don't have to reset your license whenever you accidentally delete the app.
Tips: You definitely have to join the Facebook group and get alerts when the new features are available
Simple effect, more abilities
Like you already see in the advertisement, this app is only for forcing and peeking. It's same as the OG Cipher. However, as we have Shameer who is a creative developer for Hydra app, this app does a lot more than the OG. Although, it still has a lot of bugs (pre-release), I still give it 5-star to encourage his hard-working days as well as his customer service. Nothing else to say, enjoy by yourself and it's worth as he gonna update more in the future. Thanks.
AMAZING
Les gooo, they finally did it! I've been waiting for this for so long. When I first got it, it was set to the Android setting and… let's just say I almost quit magic and lost all hope for humanity. Seeing an Apple calculator look like that when you just bought it is pretty freaking horrifying. But hark! I just missed a setting that fixed it. Finally balance was restored to the galaxy. What I'm trying to say is it's amazing. Much better than before. Just buy it. That's all.
Love It
Really Really love it, everything is great. Would really like it to have a offline mode though.
Lots of improvements, but one big flaw
Being a long time user of Cipher, I was going to get this one way or another. It does so much more than the original. This is thanks to it being a native app in iOS. It sending notifications to my watch is awesome. It's also a lot easier to set up. I would recommend this to anyone who doesn't have the original. Having said that, I will continue using the original.
Since the original was a bookmarked web app, it was able to appear *exactly* the same as the calculator app. I can't tell you the number of times I've accidentally opened it instead of my actual calculator. The biggest problem with phone magic is that people may assume it's an app. That was never a problem with Cipher.
Being a native app, Cipher Pro has to have its own name and icon. Yes, I know I can create a shortcut in iOS and call it calculator, but shortcuts come with really annoying push notifications. Even if you hack your way past that, if your user swipes up to close the Home Screen or to view your list of apps, they'll know it's not your calculator.
I really do like this app and I applaud the developer for the API and integrations. It's a huge step forward from the old version, but the old one was simply more examinable. I desperately hope they continue to support it.
'Even if you hack your way past that, if your user swipes up to close the Home Screen or to view your list of apps, they'll know it's not your calculator.'
This just comes with audience management and experience. You tell them to lock the phone using the power button, not to quit the app.
Magicians in general are obsessed with making it look like the real calculator on the home screen, so they can show themselves opening it. This is over-proving. Running without being chased. e.g.
'Look as I open the real iphone calculator. Look. Did you see it? I pressed it and here it is.'
If you don't want to use shortcuts, just open it from the Cipher Pro icon like the creator does (from tens of thousands of performances) and then give them the cipher pro calculator with conviction. It takes nothing away from the effect.
In both scenarios they see that you've given them 'the' calculator.
This isn't targeted at you personally Chris. You've opened up a good point that we want others to publicly read under your review :)
It's a shame we lost 2 whole stars for that one preference of not wanting to use shortcuts.