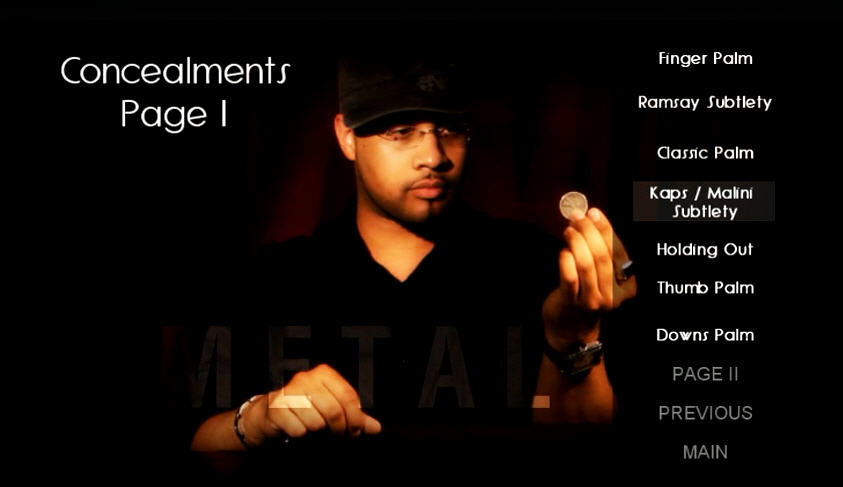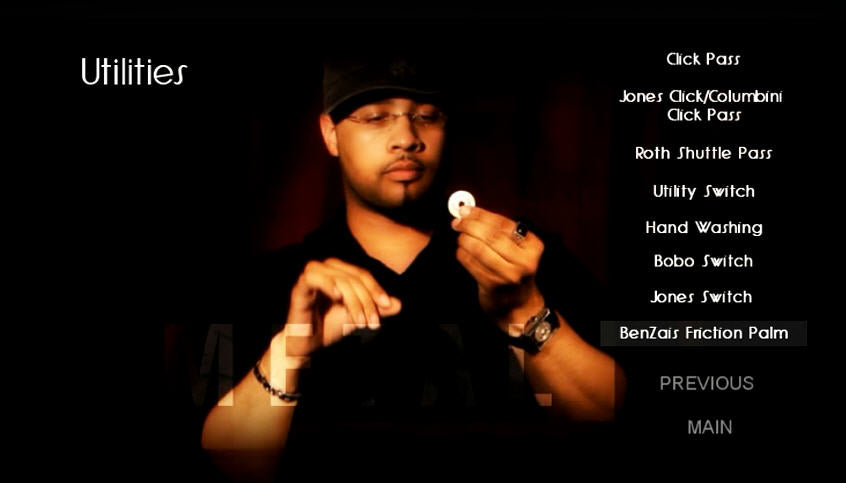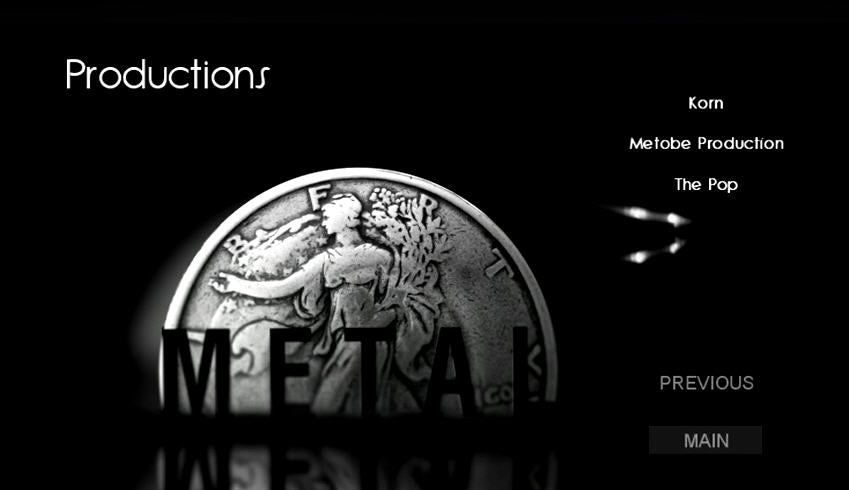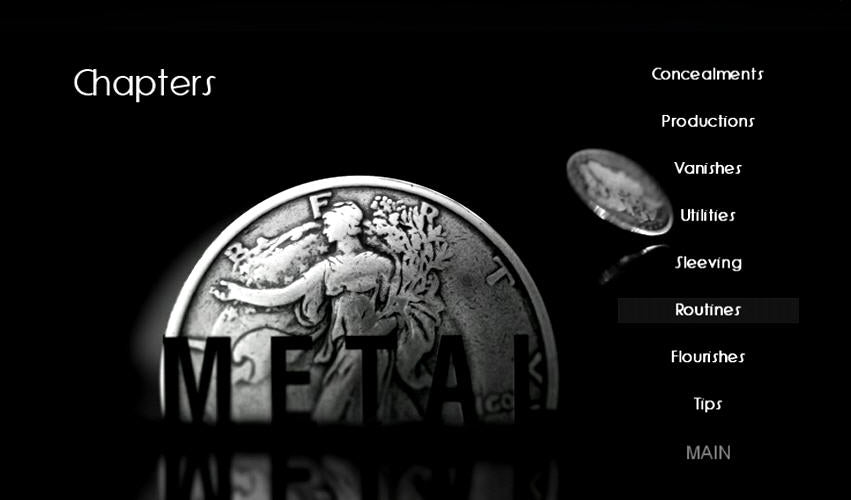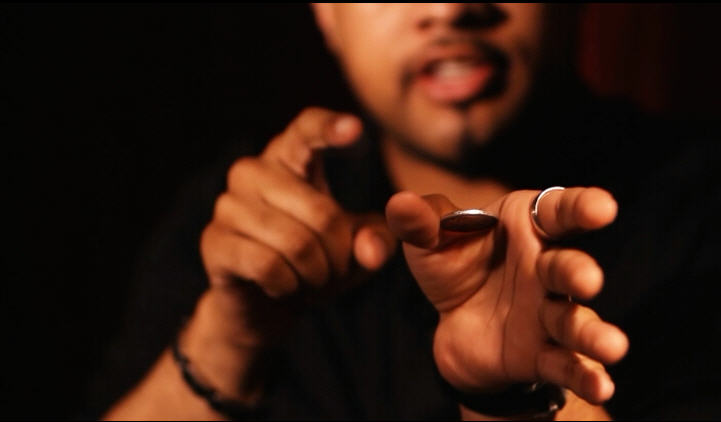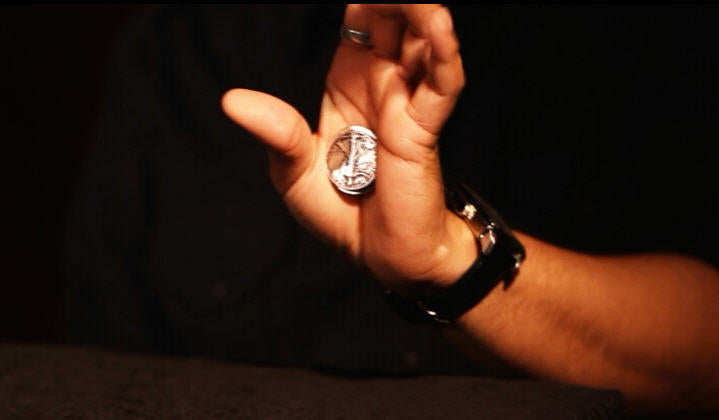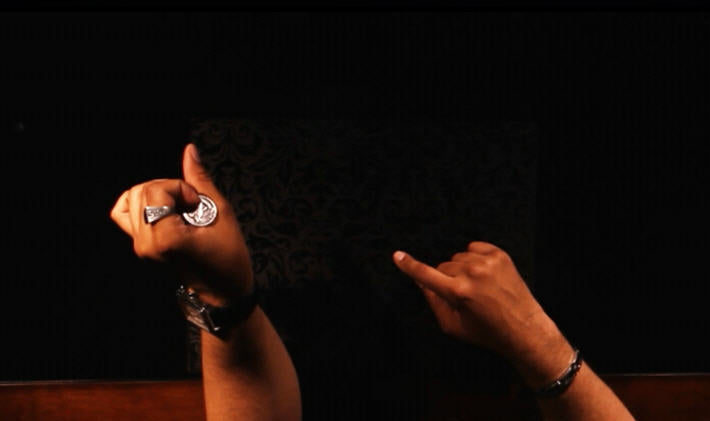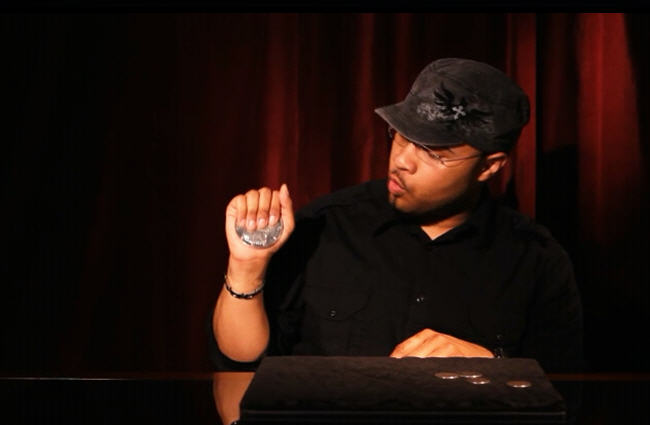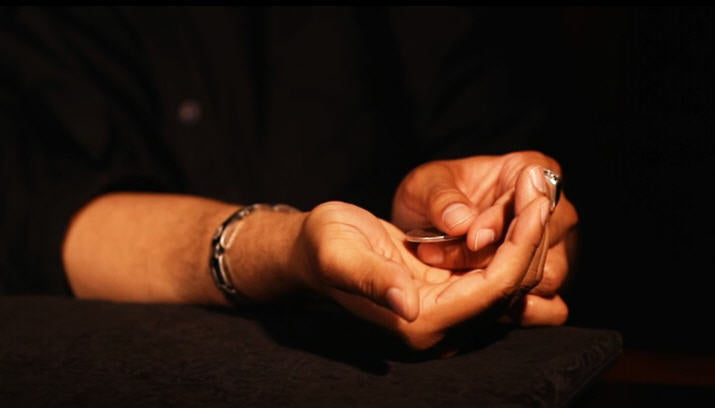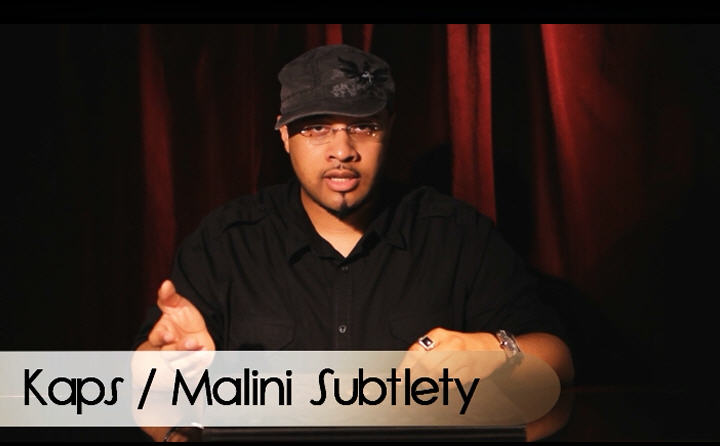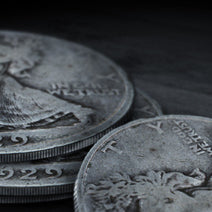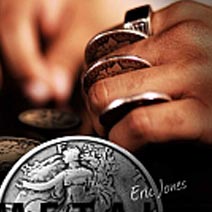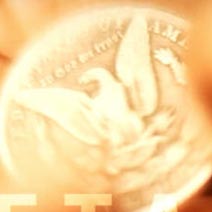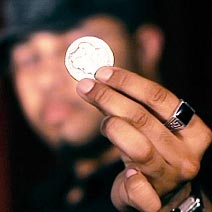 Metal: High-Impact Coin Magic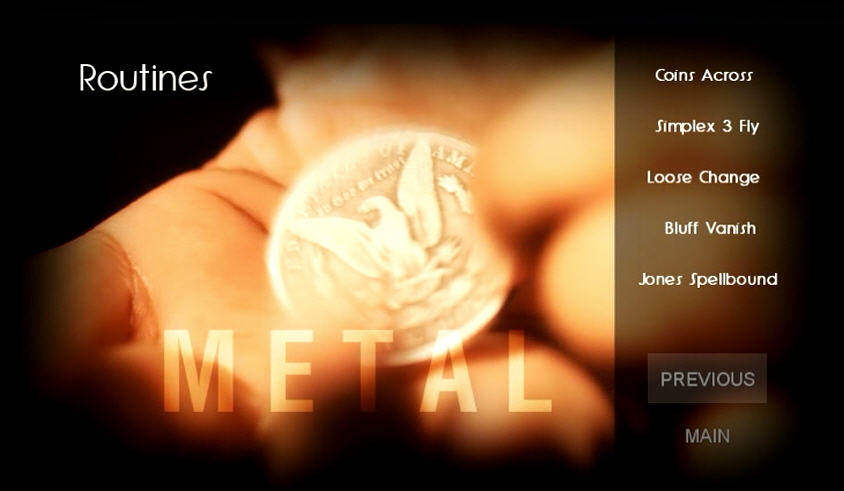 Brad wanted a single full-scale download that could range from beginner all the way through advanced, and give beautiful instruction along with ALL the moves you could ever want to learn ---- including the latest guarded sleights and the most devious moves of the past.
When you acquire Metal, you will own a reference guide to becoming great. That much will be obvious. So sit back, click Play, and get to work.
If you don't own any coins we highly recommend picking some up. Ellusionist sells
high-quality, custom Artifact coins (half dollar size)
that will glimmer as you perform.
CONCEALMENTS & PRODUCTIONS
• Finger palm
• Ramsay subtlety
• Classic palm
• Kaps / Malini subtlety
• Holding out multiples
• Thumb palm
• Downs palm
• Buckley production
• Mutobe palm
• Curl palm
• Edge grip
• Goshman / tenkai pinch
• JW grip
• Korn production
• Mutobe production
• The pop
• French pop

VANISHES
• Taking
• Quick vanish
• Putting
• Elusive vanish
• Retention vanish
• Stylized retention pass


ROUTINES
• 4-coin coins across
• Using a jumbo coin
• Simplex 3 fly
• Loose change
• Bluff vanish
• Jones spellbound

UTILITIES
• Click pass
• Jones pass
• Roth shuttle pass
• Utility switch
• Wiped clean
• Townshend Hand washing
• Bobo switch
• Jones switch
• Benzais Friction palm

SLEEVING
• Dr. E.M. Roberts sleeving
• Parallel sleeve vanish
• Sleeve retrieval

TIPS
• Getting caught
• Windows
• Closing thoughts
FLOURISHES
• Coin rolldown
• Five coin star
• Arm roll

This product is rated 4.9 of 5.0 stars.
It has received 105 reviews.
Amazing
A must buy for anyone wanting to learn coin magic
Puro talento
Translated from Italian:
Eric Jones has developed new and innovative techniques to make each of his performances very effective and natural.
Worthy heir to David Roth is now consecrated as one of the greatest coin performers of all time
...Pure talent!
Eric Jones ha sviluppato tecniche nuove è innovative da rendere ogni sua performance molto efficace e naturale.
Degno erede di David Roth è ormai consacrato come uno dei più grandi performer di monete di tutti tempi
...Talento puro!
I Wish More Downloads Were Like This
Eric Jones of course is a master at coin manipulation and is a wonderful teacher. He is easy to follow along with and is straight to the point without any uneeded stuff. The video is shot at really good angles allowing you to know exactly where the coin is and how his fingers are placed. If you are a beginner to coin magic I highly recommend this.
I look forward to getting Metal 2,3,4, & 5
Awesome!
So happy I bought Metal. Coins were always my favorite medium. Can't wait to perfect them.
Great for Beginners
I'm new to magic, and these lessons will improve your skills with coins like they have for myself. It's extremely easy to follow and the instructor is clear and precise.
The new go to video bible of basic modern coin slieghts
Here we have an Expert Coin Magic for the 21st century.
Best High Quality Learning!
There is no better video download to spring off your coin magic and understanding of the skills and routines to become proficient with coins than this wealth of information here!
This is amazing!
I don't have much to add, it's a very good way to start coin magic. It will take time to work through every move, but it's worth the money
Great Buy
The hype around Metal: High-Impact is well warranted.
Great
If you are looking for a modern introduction into coin magic - buy it. Eric Jones teaches a lot of slights and techniques and some routines to perform. The instructions and the video quality are very good and makes it easy to follow.