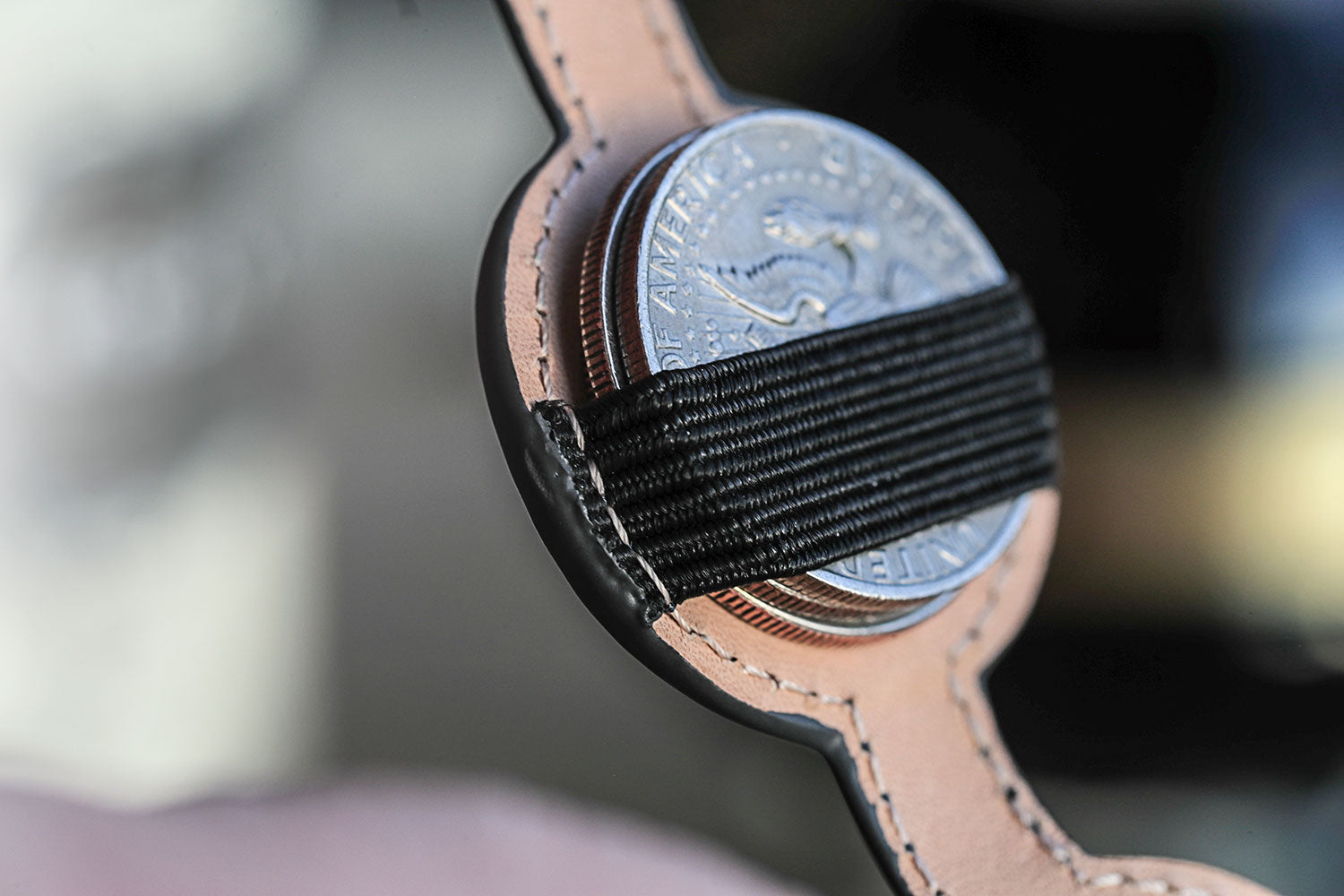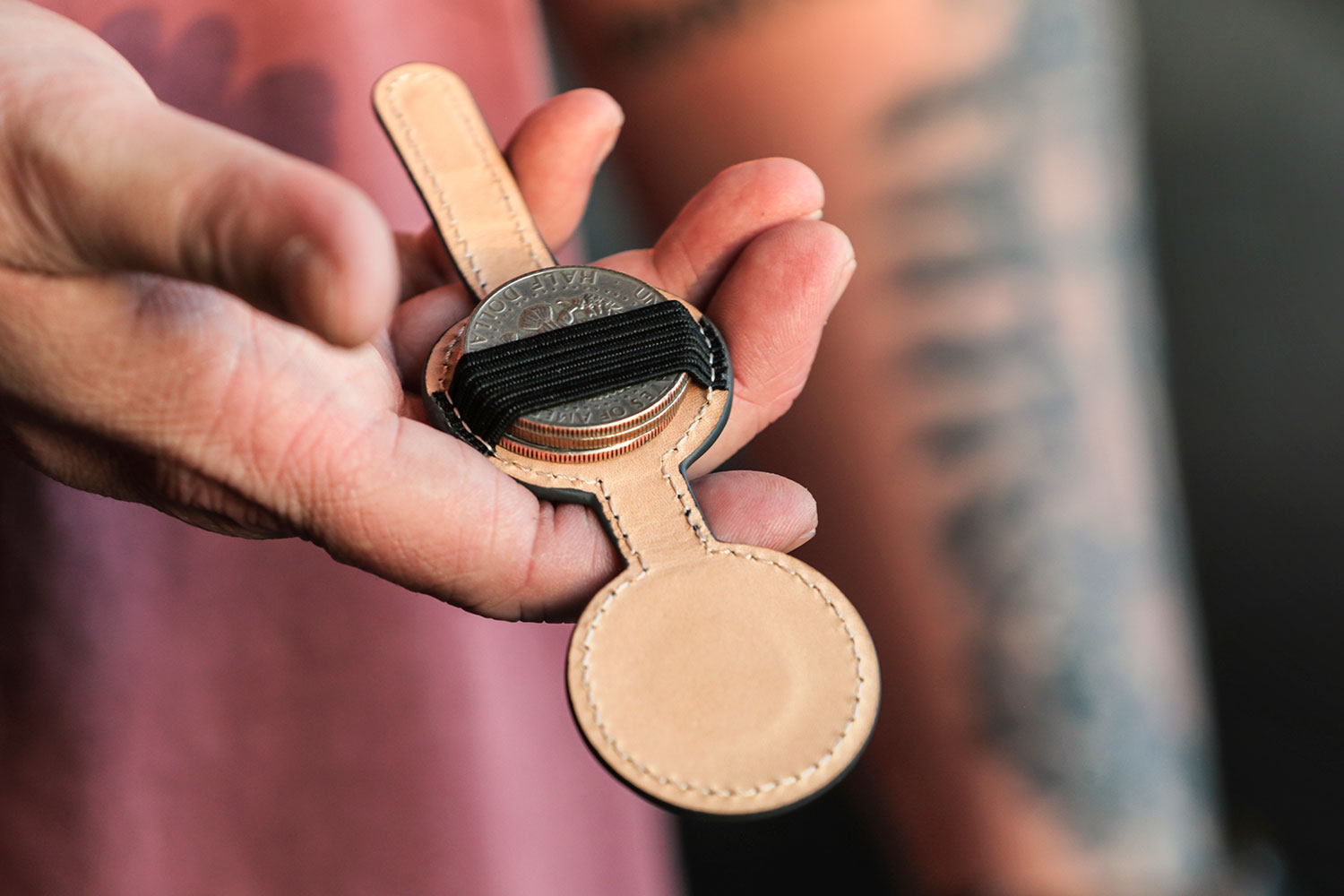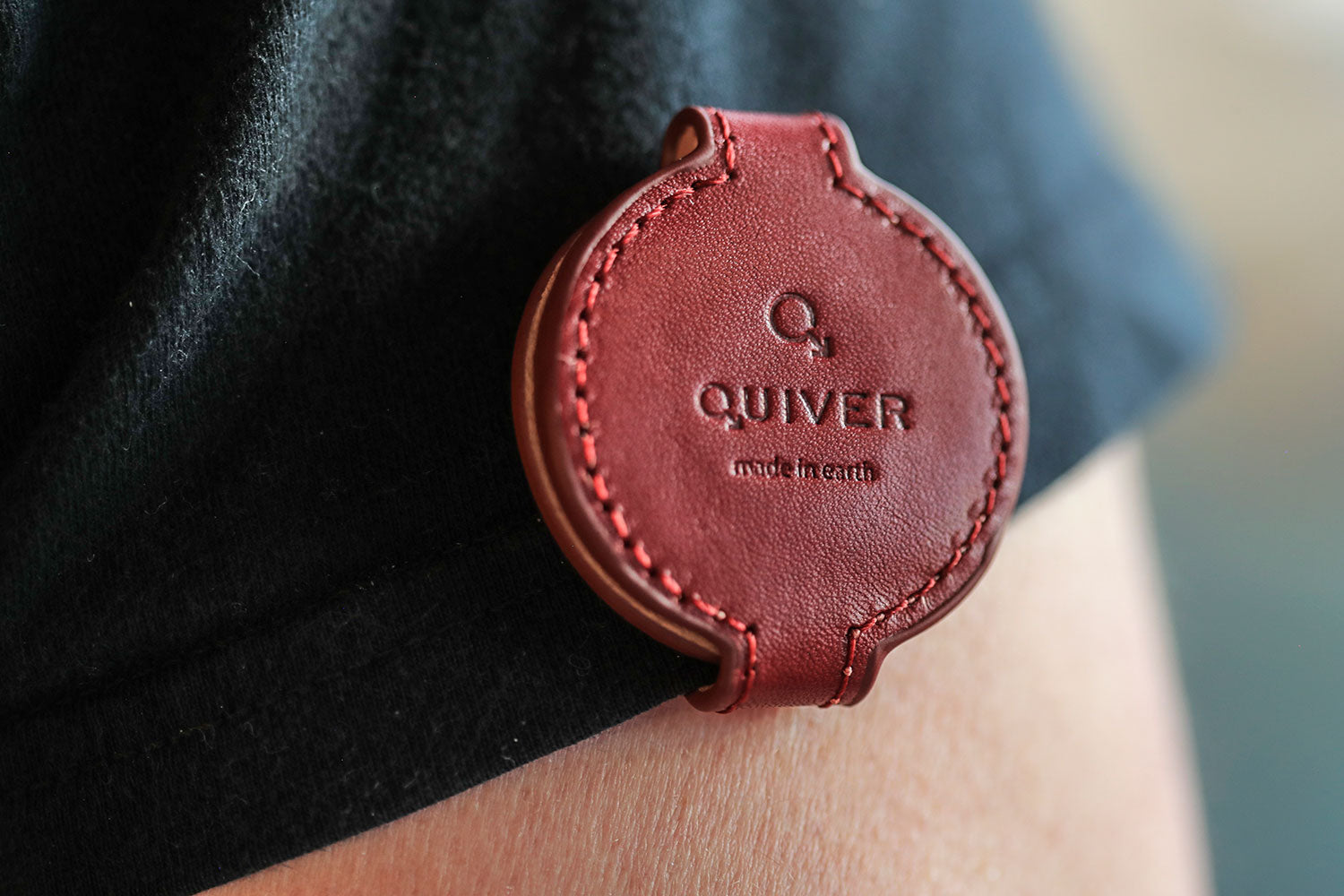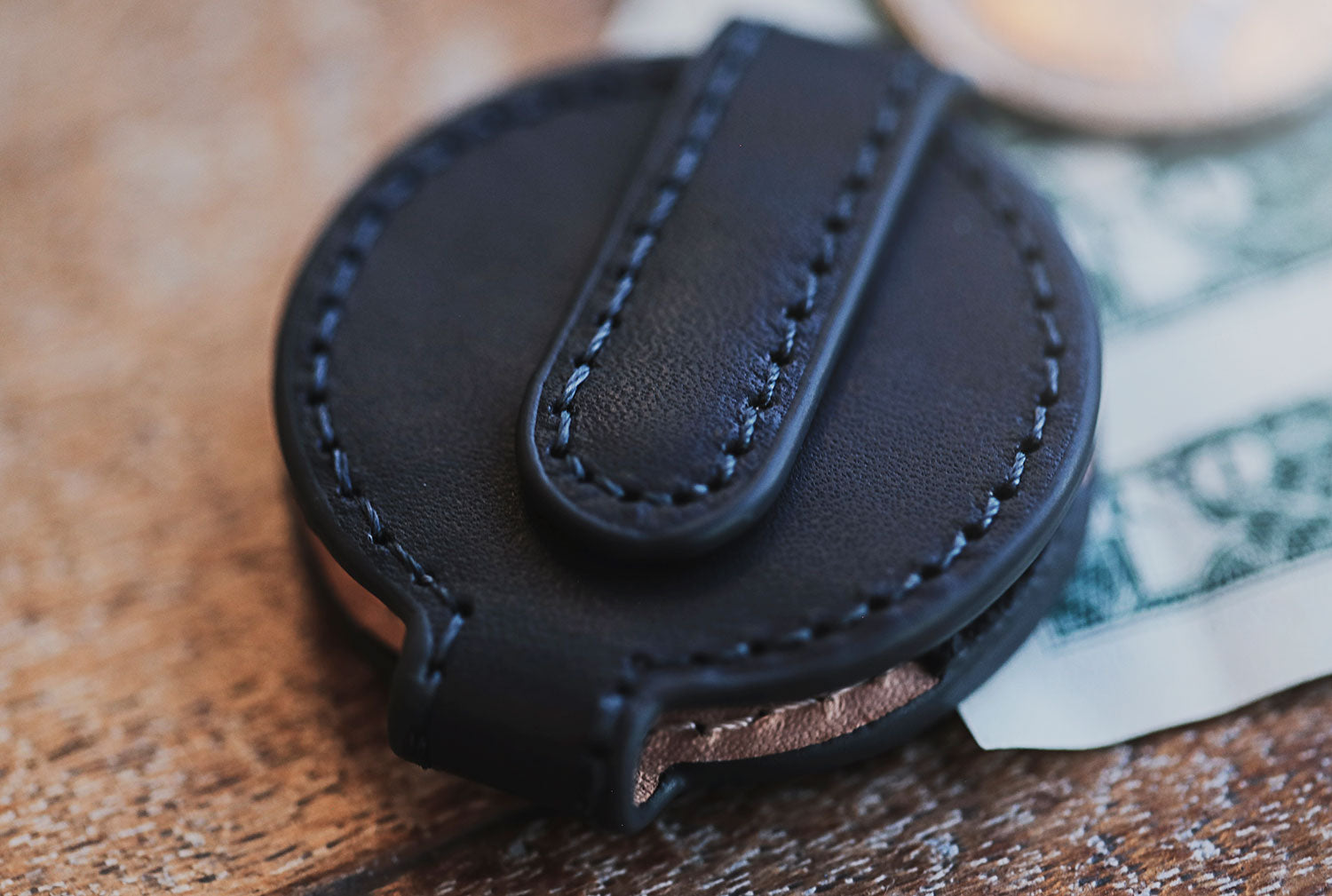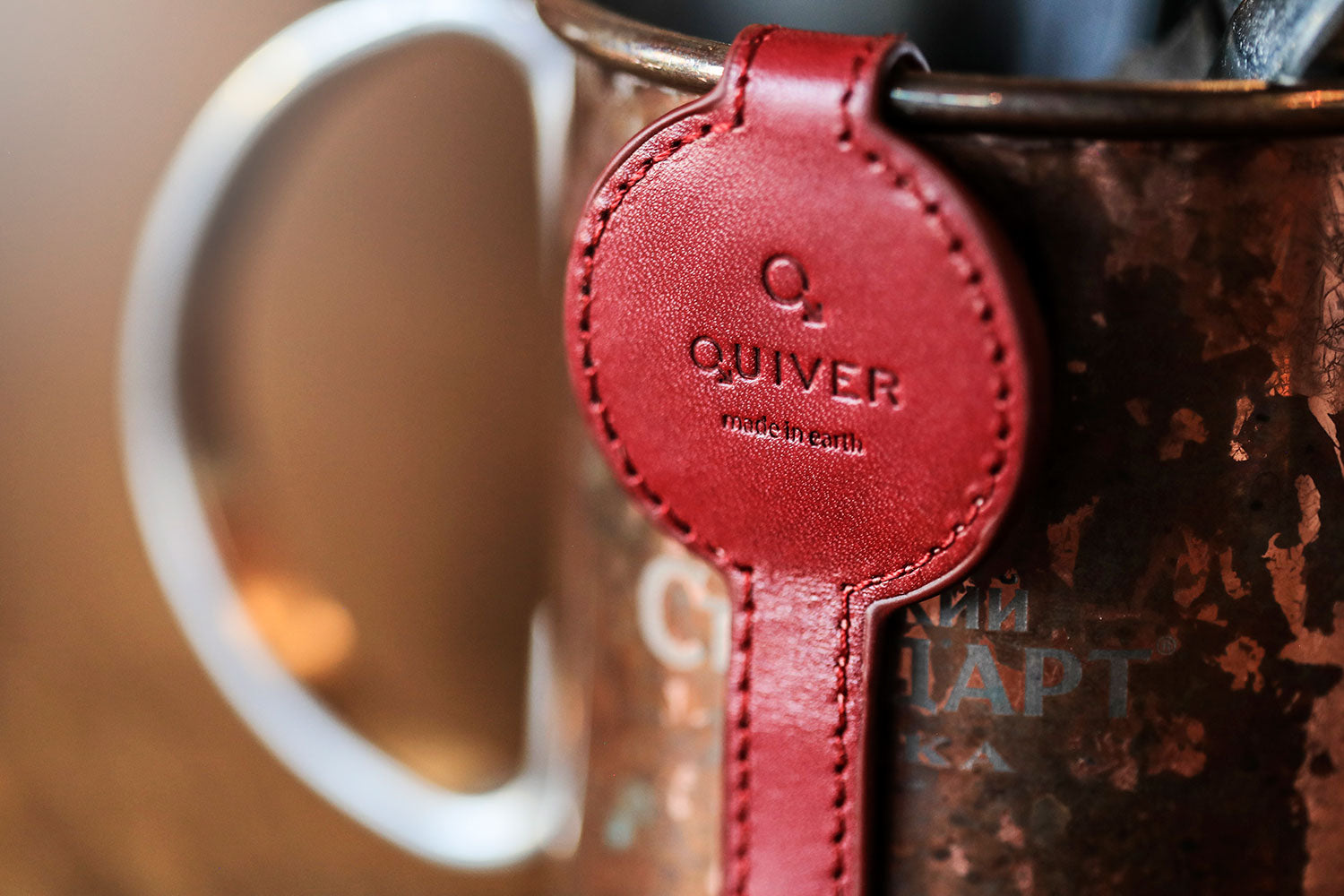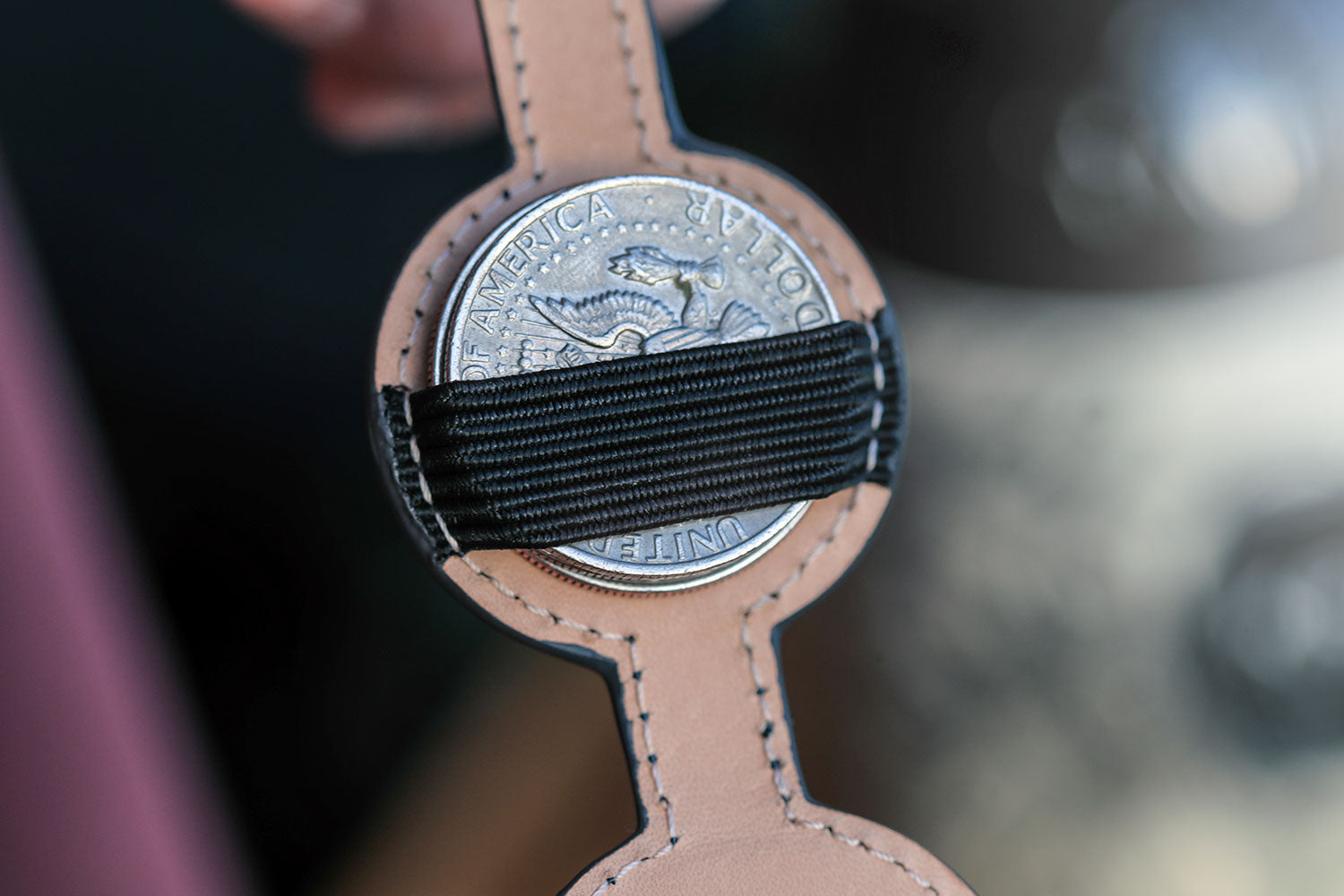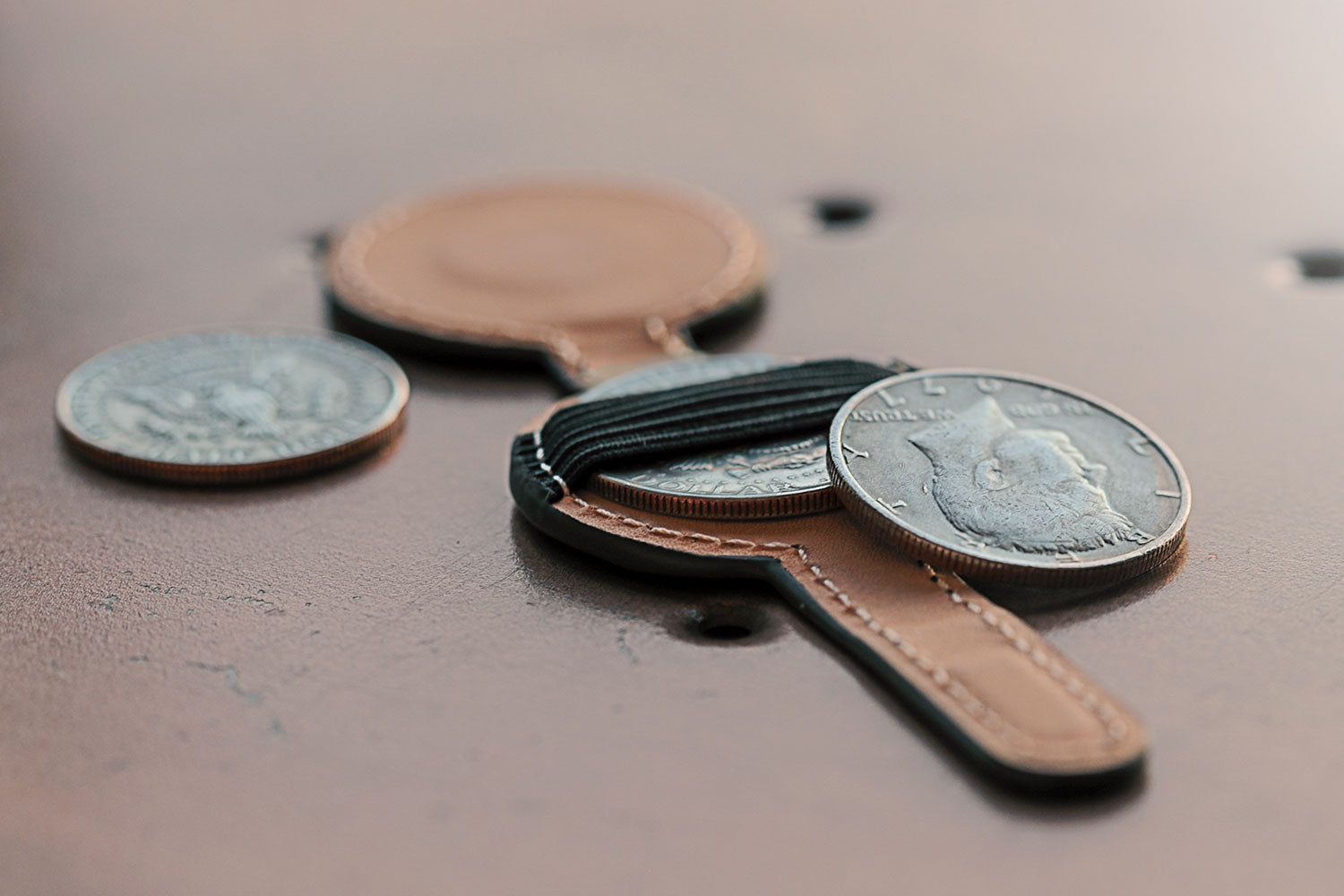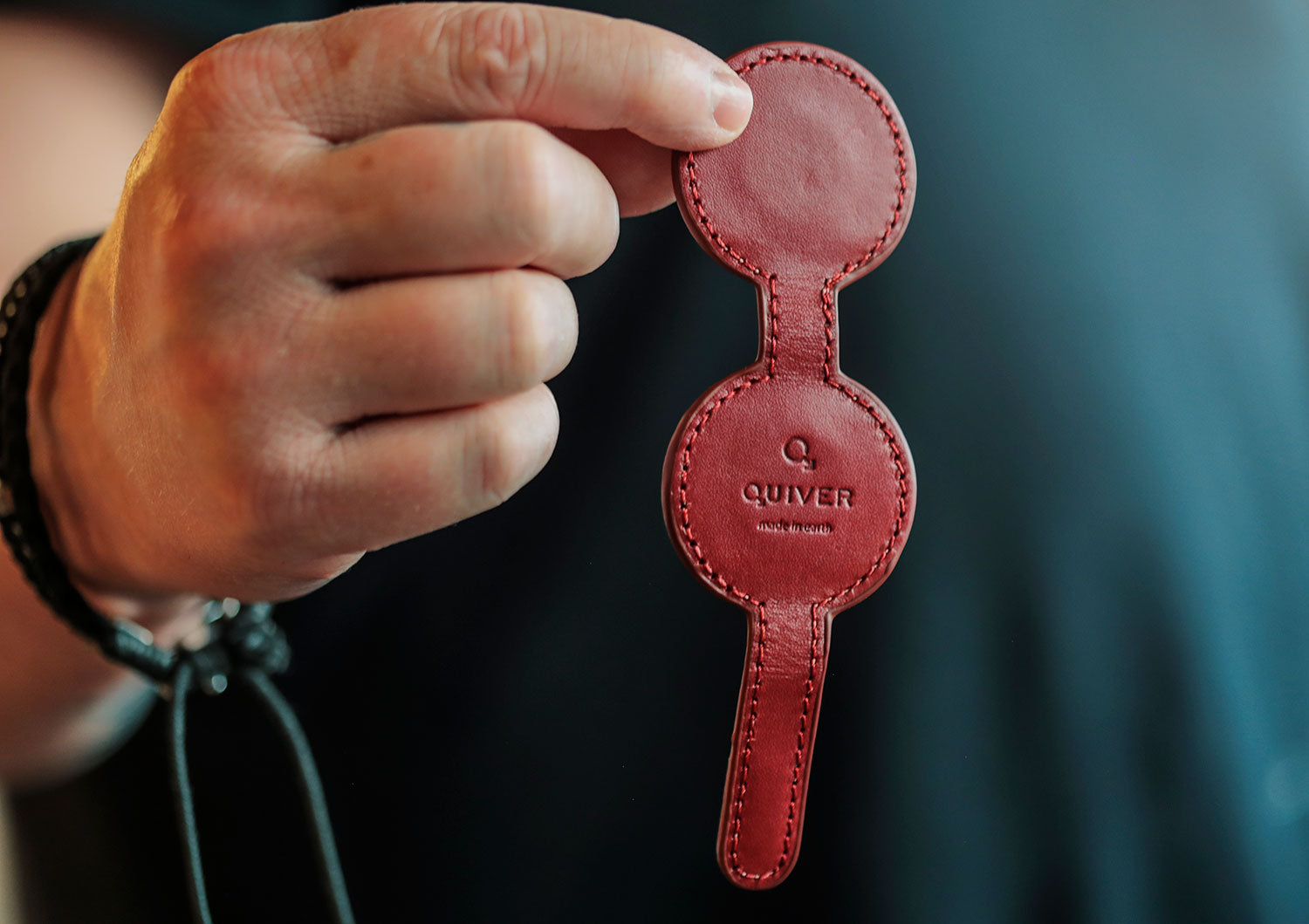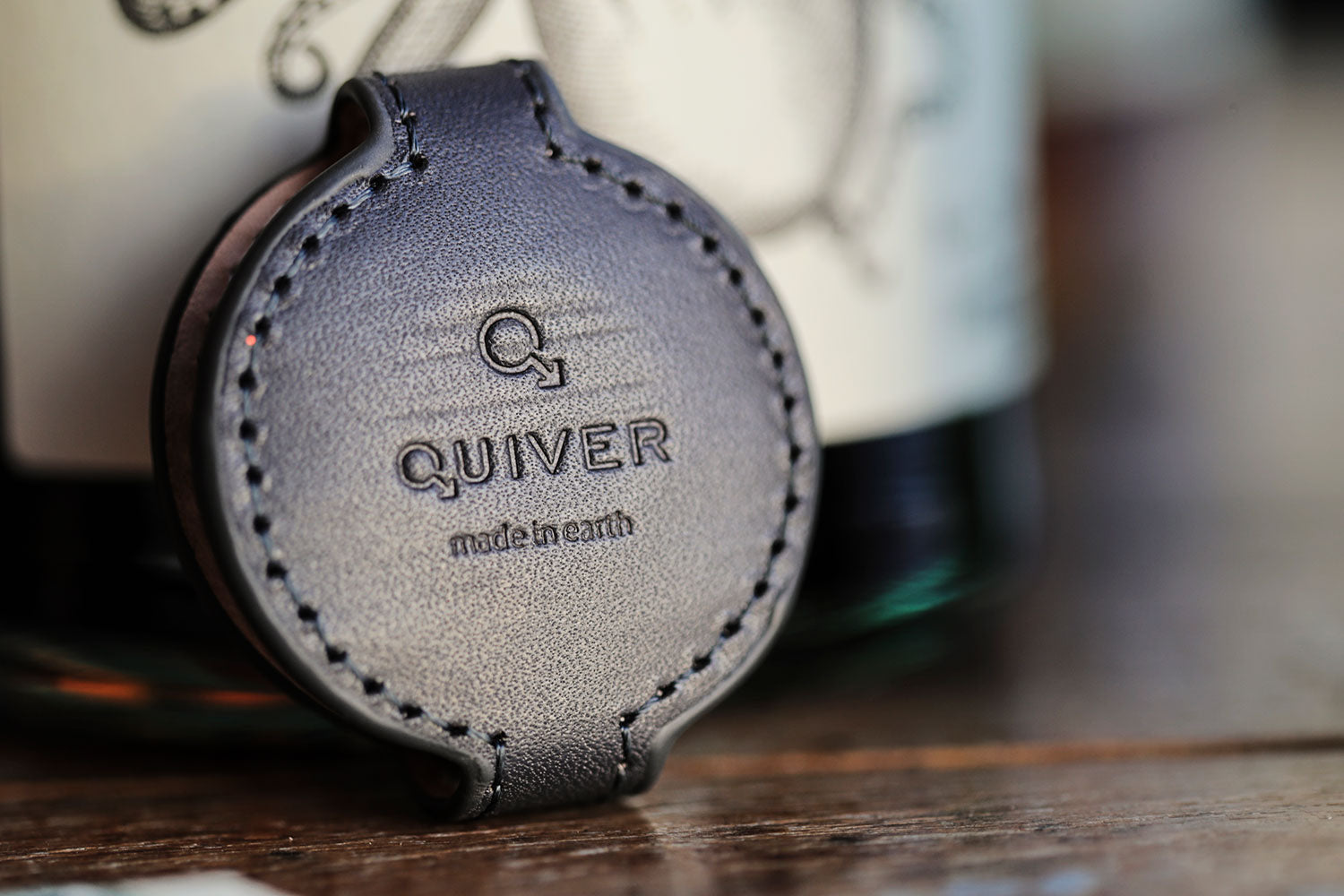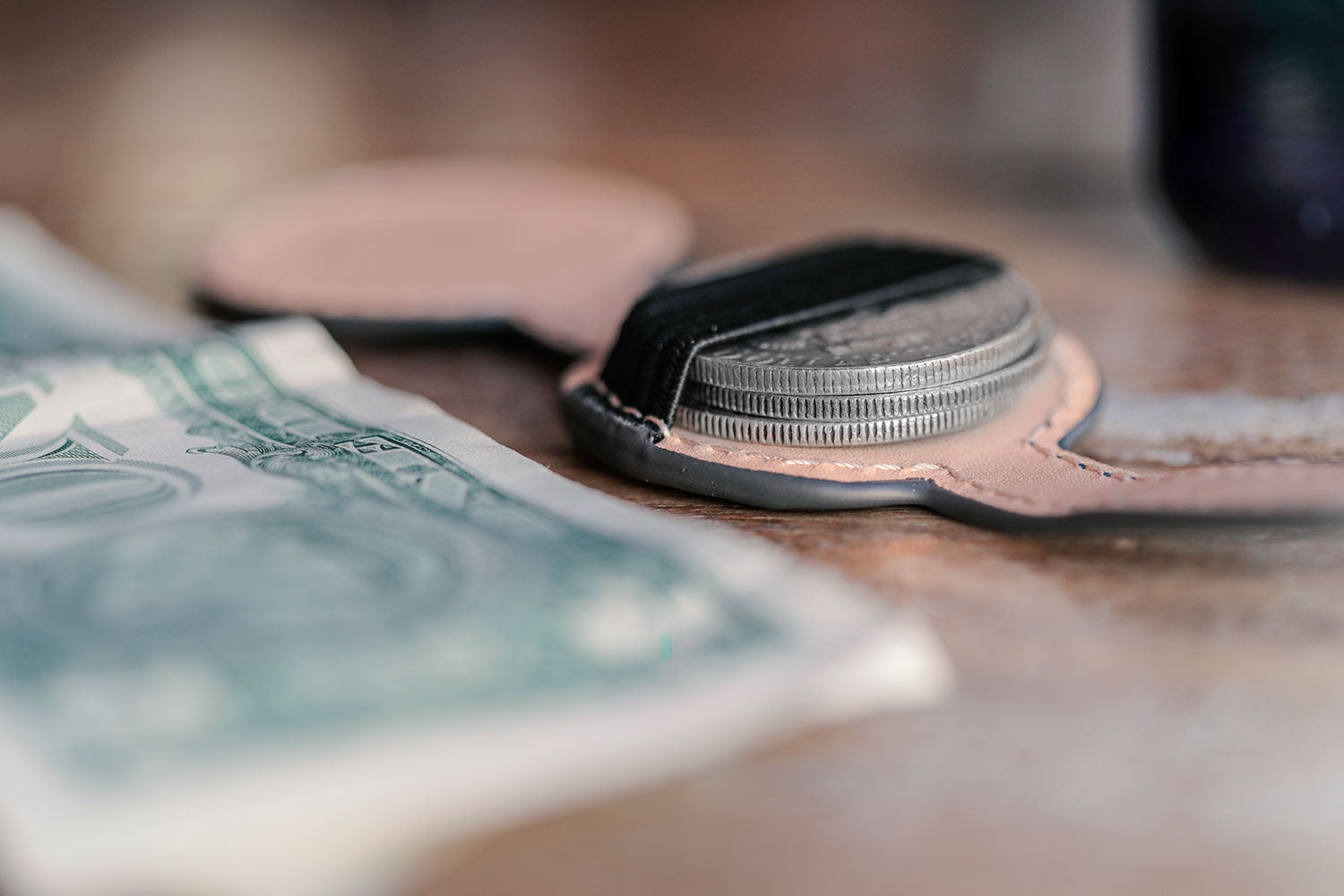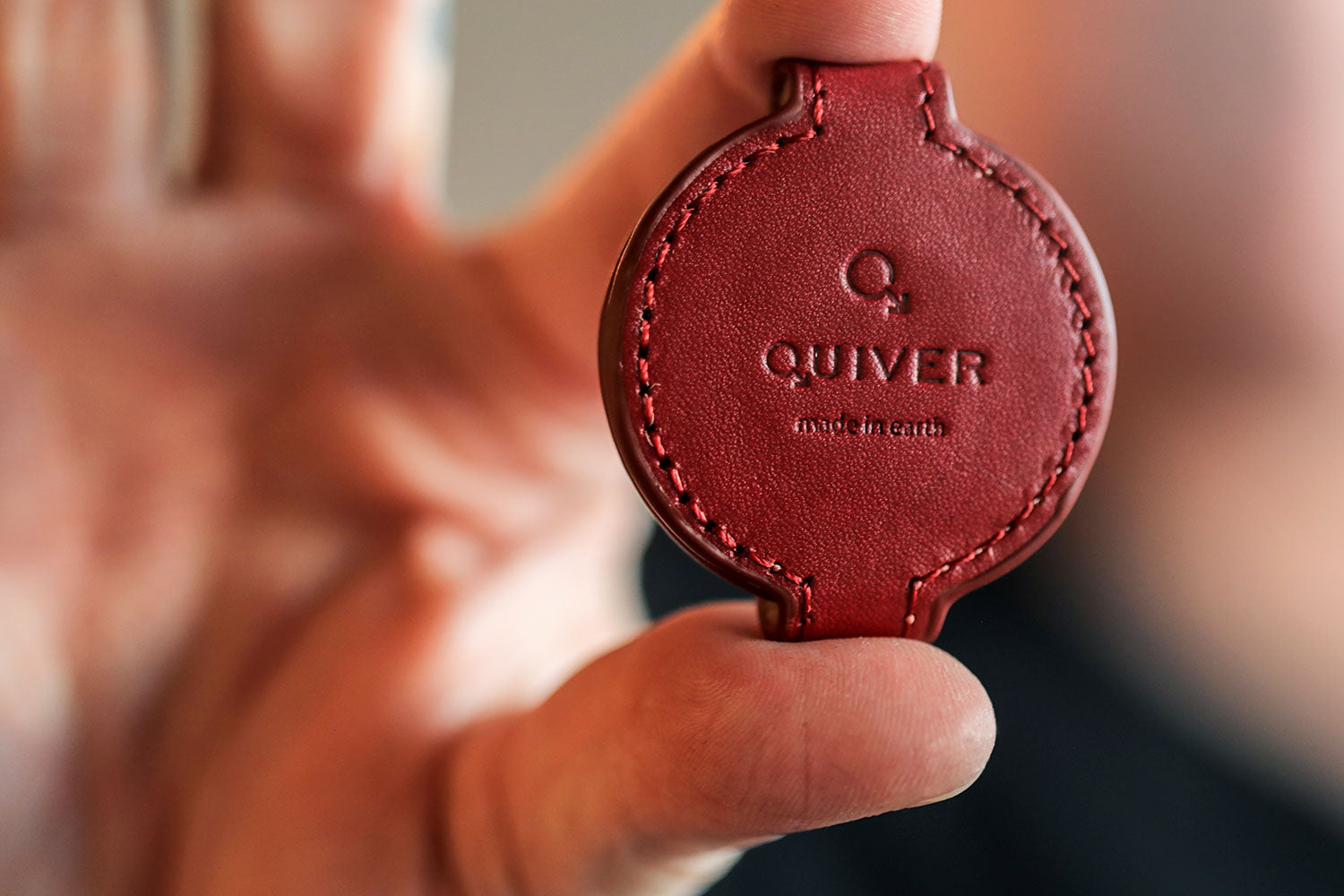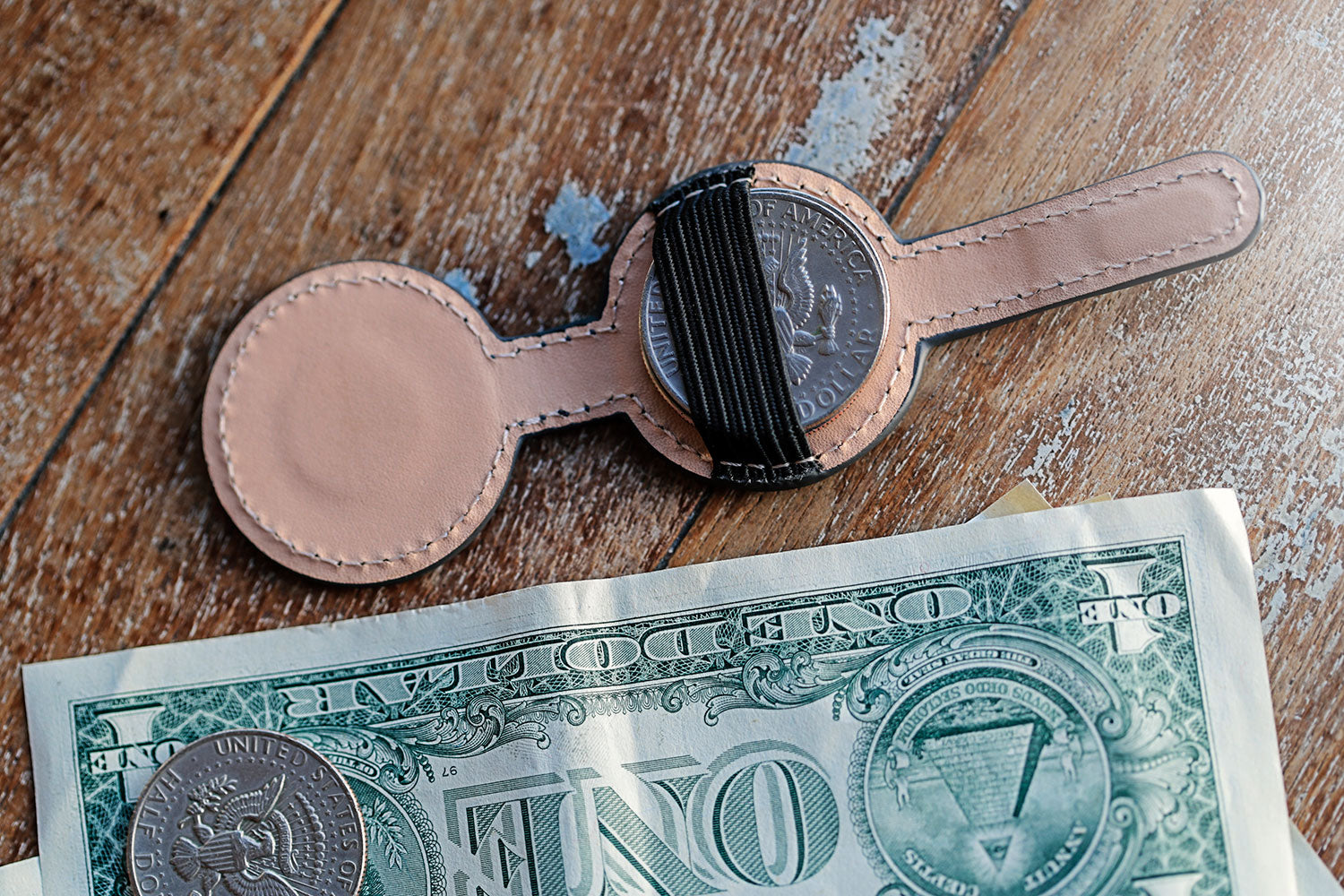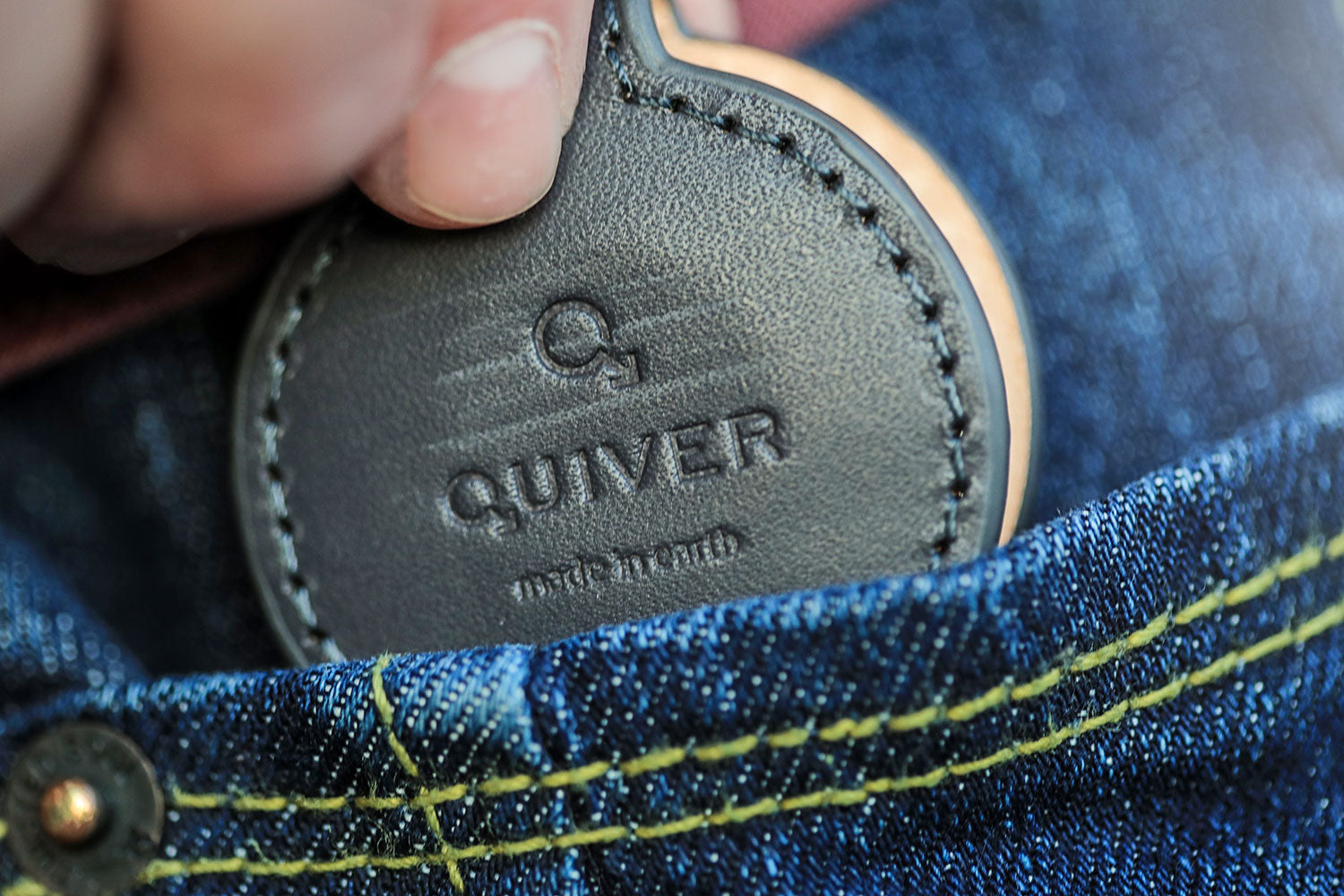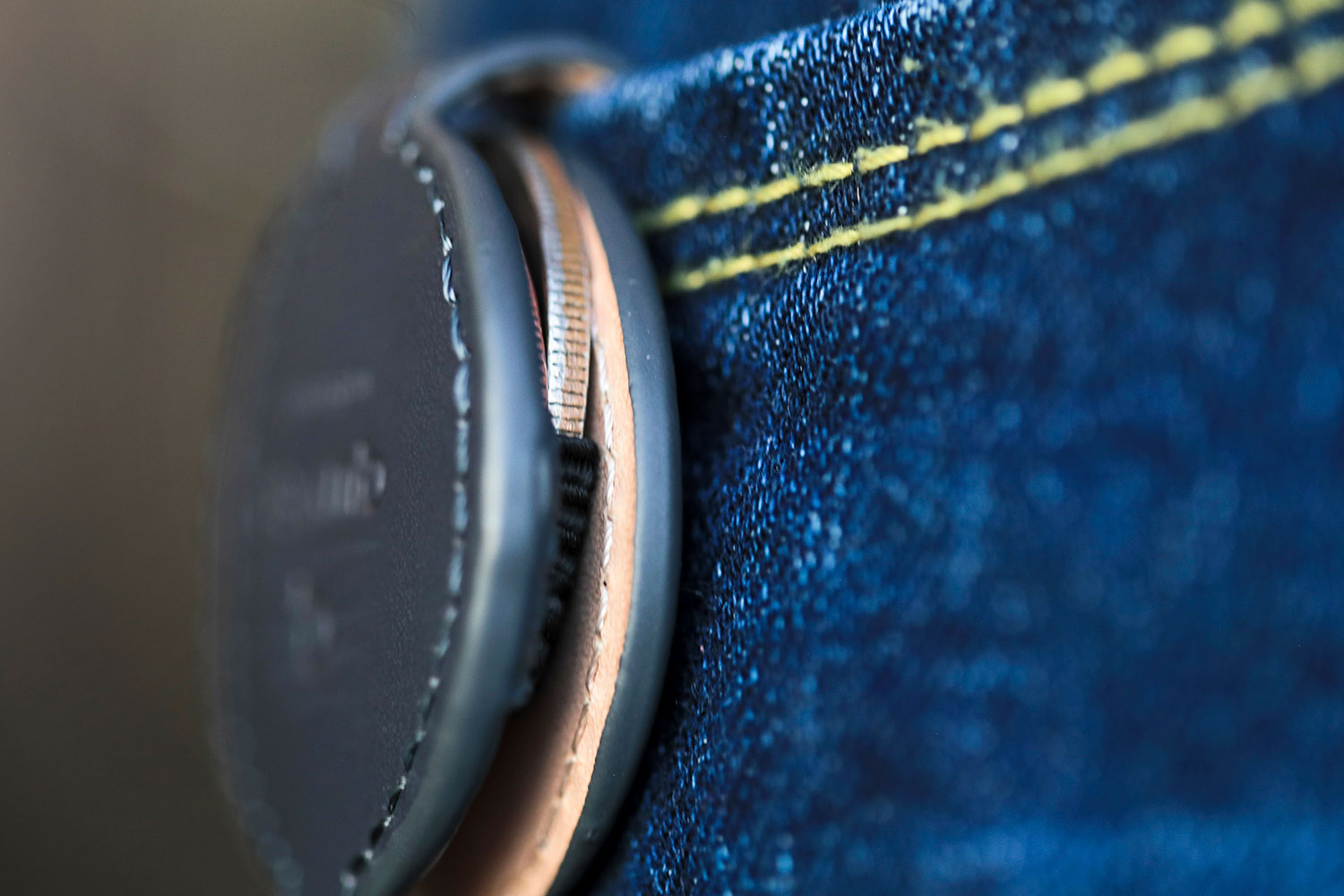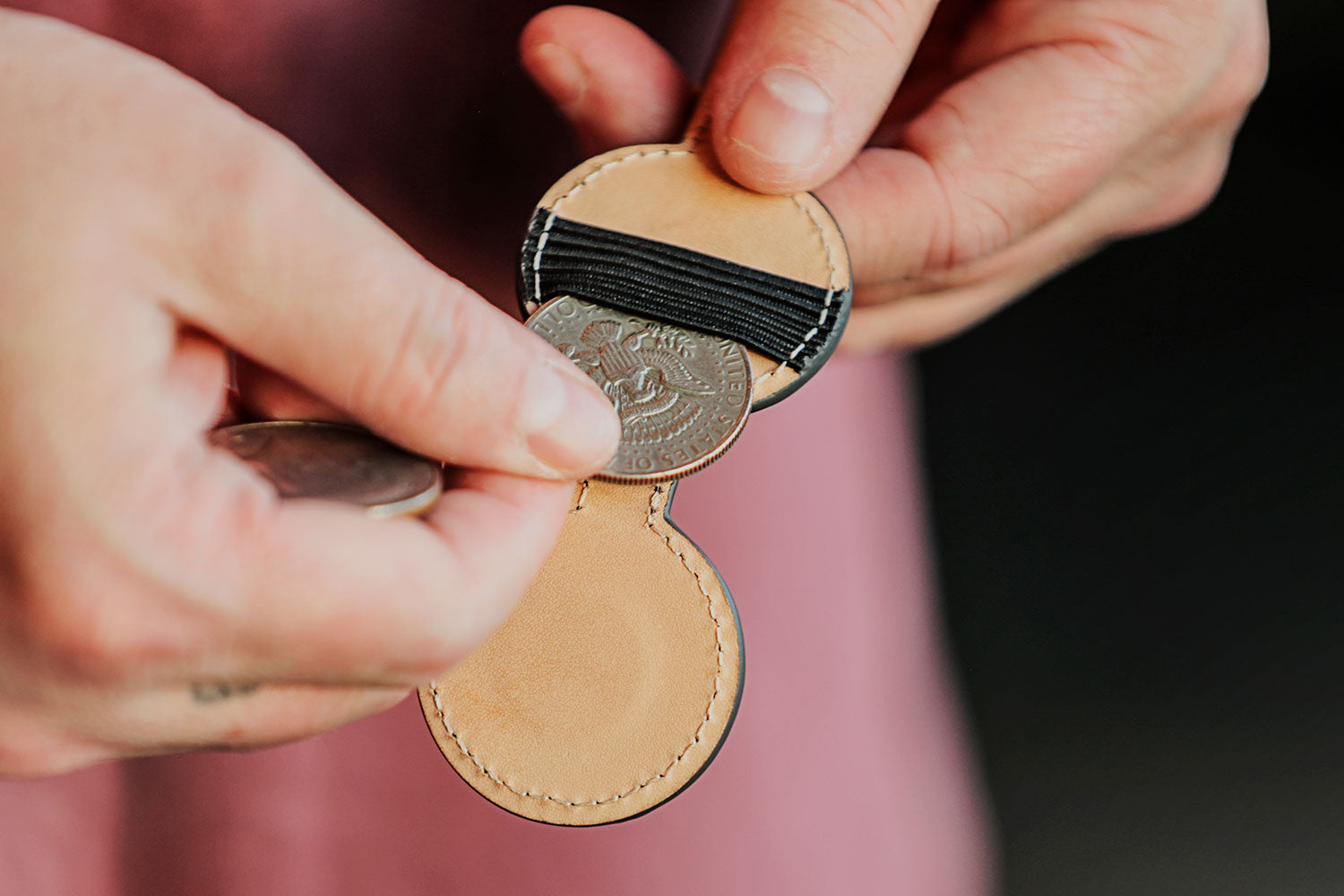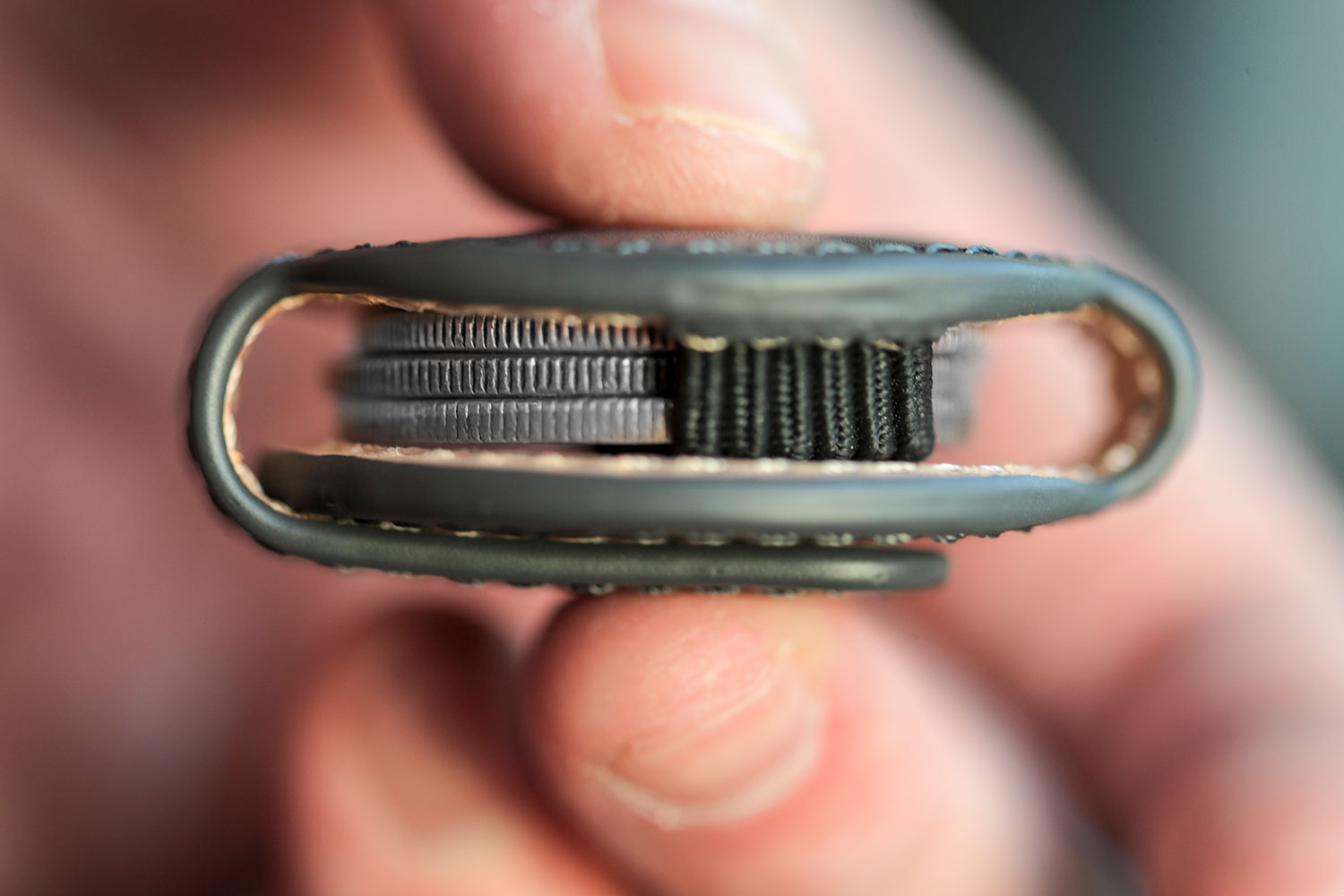 Quiver Coin Holder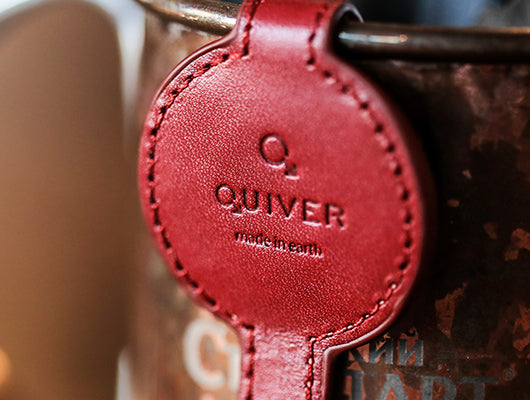 EMPTY HAND TO 'FULL OF COINS'... WITH ONE PUSH
The Quiver Coin Holder is a utility for all coin workers.
Designed to dispense a handful of coins, it sits neatly on your belt or pockets edge… locked in place by a powerful magnet.
Loose change in pocket scratches up your phone screen, or becomes impossible to palm without fumbling. 
The Quiver Coin Holder solves all of this. 
Holds a stack of 4 American Half Dollars comfortably.
Tight elastic that holds as little as one coin. 
The perfect carrier for your $119 set of Silver Edge coins. (That's how our staff use this)
Made with the same high quality real leather you've come to expect from the Quiver range. 

Available in 4 colors: Black, Tan, Red and Grey, the Quiver Coin Holder positions itself as the new 'magicians coin purse' for any coin worker. 
When in covert mode, it's inverted for easy-access to a '3-fly' portion of coins. Your audience is none-the-wiser. 
When in carry mode, it's closed into a soft leather clam that hugs your expensive shells, gaffs or normal coins securely. 
The must-have concealed carry for all coin workers. 
Choose your Quiver Coin Holder TODAY. 
This product is rated 4.0 of 5.0 stars.
It has received 7 reviews.
Simple Yet Elegant
Works very well with my set of silver edge coins! Elastic bands can be a little tight but after wearing them in it holds 4 coins perfectly.
Summary
I love this coin holder! Finally with modern and sleek design! No more boring grandpa looking magic designs
Quiver Coin Holder
Great product, fits 3 half dollars perfectly, the only reason I gave it 4 stars is because 4 and a shell is a struggle and it won't close properly
It's a good one
Well, I like the thing as it a good way to carry either a stack of 4 halves with which you would do many routines or just have up to 4 for a single routine. Both ways is alright, but having it only in that size is limiting for people using more dollar coins.
Andrew Chapman
I enjoy the build of this holder. I wish it held more than three coins and wish the magnet was just a bit stronger. However I put three regular half dollars into the holder and connect my silvers edge coins on the back of it and it's just a gorgeous piece of leather that makes carrying around coins a joy and in my opinion provided the stealthiness of silence. No coins clinking together in your pocket as you walk!
Things to like and dislike. It's OK.
I like the look and feel--it has that great Quiver quality, and the leather looks and feels great. I like that I can keep four quarters/half dollars in easy reach without fumbling through pockets.
That said, the magnet is weak--right on the edge of being so ineffective as to be useless. The thinner parts of the leather that bend are wearing out very quickly--I worry that they will not last much longer as repeated bending is making them thin and flimsy. The elastic was SUPER tight at first, and now it's so loose as to be almost useless.
Marc
Hello everyone,
I give this product 3 stars, it?s a great idea, compact, holds 4 half dollars, and if you happen to have silver edge you don?t need the elastic.
That being said, I have been working this product as a holder/holdout for my strolling gigs. I have only had it for about a month and with semi daily use the elastic is all but worn out. I only was carrying 4 barbers... those are some thin coins. Anyway I would say for $12 I cannot truly complain. But you definitely get what you pay for with this product.